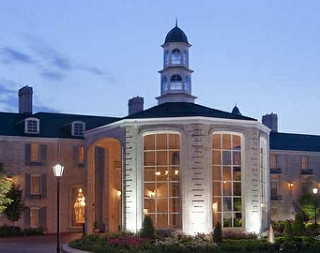 According to WhoLou sources the 263 room Frontenac Hilton Hotel at Highway 40 and Lindbergh Blvd. close by Plaza Frontenac and The Village at Schneithorst's is being shopped by the Brodsky family ownership group. Family patriarch Saul Brodsky, who passed away in 2002, built the hotel in two phases with construction of the Lindbergh Blvd. buildings in 1974 and the Clayton Rd. addition in 1984. When reached, family representative and commercial real estate developer Roger Brodsky declined comment.
For many years the hotel was managed by former St. Louisan Don Breckenridge's national hotel development company Breckenridge Hotels Corporation. When Brodsky pulled Breckenridge's contract the hotel then briefly operated as the Frontenac Grand. In 1993 the Brodsky family reached an agreement with Hilton Worldwide and has operated as the Hilton St. Louis Frontenac Hotel since.
The facility features 23,000 sq. ft. of meeting space including 17 event rooms and a business center. The hotel's 10,260 sq. ft. Ambassadeur Ballroom can accommodate 1,000 guests. Other amenities at the Frontenac Hilton include  two restaurants, a fitness center, a sauna, and an outdoor swimming pool.
The Brodsky family also has owned Le Chateau Village since 1983. The mixed-use development is adjacent to the hotel and includes offices, retail spaces, a health club, a restaurant, a catering company, and a beauty salon. Additionally the Brodsky's own the buildings surrounding Le Chateau Village which are occupied by Triad Bank, Reliance Bank, and Wells Fargo Advisors.
The hotel site was formerly the King Brothers Motel which was co-owned by Alvin Block and Lester Nieman for nearly thirty years.. The partners bought the motel, which was operating as the Smith Brothers Motel, shortly after World War II. Block passed away in 1972 and Nieman sold shortly thereafter according to Block's son David.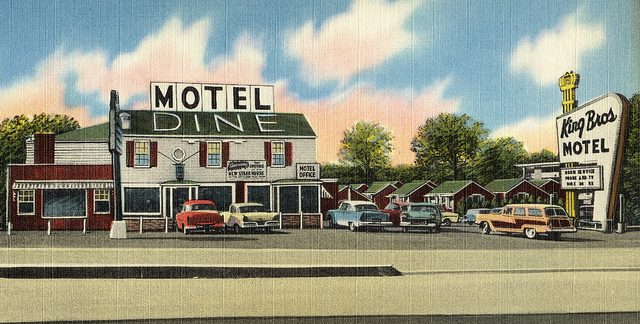 David Block graduated from Ladue High School in 1972. When reached for comment Sunday in New Mexico where he now resides Block recalled fond memories of King Brothers Motel. "That place was special, so many characters from astronauts to gangsters and everything in between."
Block related, "Frank "Buster" Wortman was a regular customer at our steakhouse (The Pilot House) located on the second floor of the building where guests would check in." Wortman controlled the East Side rackets operating out of the Paddock Lounge in East St. Louis until his death in 1968. Block said Wortman was fond of a waitress named Gigi that worked at the restaurant.
Astronaut Alan Shepard, the first American in space, also ate at the restaurant according to Block. Another WhoLou source familiar with the motel during the 1960s and speaking upon unconditional guarantee of anonymity said, "That is the place where we (local high schoolers) went after prom."