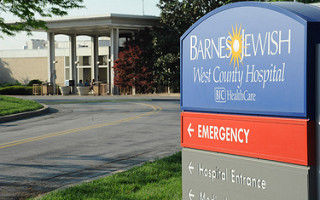 According to nextSTL sources BJC HealthCare intends to build a new hospital at Olive Blvd. and Mason Rd. on their 55-acre West County Hospital campus in Creve Coeur. The new facility will serve as a replacement for the 113 bed general medical and surgical hospital currently located on the campus. St. Louis-based Cannon Design has been selected architect for the project, which is being revealed here for the first time.
BJC bought the hospital, formerly Faith Hospital, in 1989. West County Hospital features a Siteman Cancer Center branch, an intensive care unit, and acclaimed gastroenterology and orthopedic departments. The Siteman Cancer Center is the only National Cancer Institute-designated Comprehensive Cancer Center within 240 miles of St. Louis.
According to U.S. News and World Report West County Hospital is tied with St. Louis University Hospital as the fourth best hospital in the area (out of 53). The hospital staff includes 650 physicians, 160 nurses, and 500 employees. BJC statistics from 2012 for West County Hospital include 10,800 emergency department visits, 4,400 outpatient surgeries, 2,980 inpatient admissions, and 1,800 inpatient surgeries.
Cannon Design is also handling design responsibilities for the new pediatric hospital BJC intends to build at Highway 40 and Mason Rd. The site was the former headquarters for Troop C of the Missouri State Highway Patrol from 1968 to 2008 and is just over three miles to the south of the West County Hospital campus. The hospital will also feature an outpatient ambulatory care facility.
In 2008 BJC purchased the 16-acre property for an estimated $8 million when Troop C relocated to St. Charles County. Most recently West County EMS and Fire Protection had been using the facility while their headquarters at Clayton and Mason roads was being renovated. Paric Corp. was selected general contractor for the project.
According to sources BJC intends to directly compete with Mercy Children's Hospital which is located less than three miles from the BJC site on the campus of St. John's Mercy Medical Center. The facility is currently St. Louis County's only full-service pediatric hospital. Mercy Children's Hospital treats nearly 100,000 children per year.
WhoLou broke the BJC pediatric hospital story more than a year ago and has been the only news service covering the development since. An attempt to reach BJC vice president of corporate and public communications June Fowler for comment was unsuccessful.