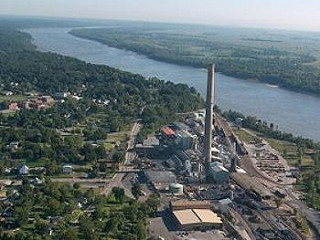 According to WhoLou sources Environmental Operations Inc. CEO Stacy Hastie is seeking to team with Alberici regarding the expansive Doe Run port project. Environmental Operations and J.H. Berra Construction are partners in Riverview Commerce Park LLC (RCP). RCP is developing the proposed 400 acre industrial park and port at the former Doe Run lead smelter site on the Mississippi River in Herculaneum.
RCP and Doe Run agreed to a five-year lease purchase agreement late last month. According to a company press release the proposed project could create nearly 2,000 permanent jobs and more than 4,000 construction-related jobs in Jefferson County. The port will be the first phase of the project which has been reported as being expected to cost as much as $1 billion to complete over the next several years.
The port will be built to have the capacity for handling 3 million tons of freight each year. The existing dock will be upgraded and the ground cleared to allow expansion of shipping facilities by July. It will be open for rail service by the end of the month and river service is expected in the next two or three months.
The company already has corporate commitments to use the port and is actively pursuing new business leads according to sources. Mississippi Sand LLC will ship 600,000 to 700,000 tons per year through the port according to a press release. The Mississippi Sand ownership group includes contractor Fred Weber Inc.
RCP is alleged to be specifically interested in Alberici because they own and operate a port facility in St. Louis. That port focuses on modularization of construction cargo and also features barge shipping capabilities. The facility has a berthing distance of 1,300 meters which is nearly three times longer than the national average. Alberici Constructors Dock is located in the Near North Riverfront Neighborhood at the foot of Humboldt Street at the Mississippi River.
A message left for Hastie on his Environmental Operations office phone seeking comment was not returned. An attempt at reaching him by email was also unsuccessful.