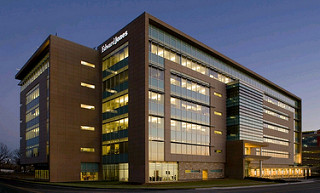 Architectural firm Christner Inc. and engineering consultant KJWW have been awarded a general services contract for ongoing services by Edward Jones Investments. The two beat out a field that also included Arcturis, Cannon, and Ross & Baruzzini according to Edward Jones representative Jackie Knolhoff. The winners first collaboration for the booming financial advisors is a major renovation of Building 201 at the Edward Jones North Campus in Maryland Heights.
The renovation project is alleged to cost $15-$20 million and is being managed by McCarthy. According to Knolhoff the project will also feature construction of a new garage and is expected to be completed by the middle of 2014. McCarthy has completed several of the most recent major building projects at the north campus and according to sources is positioning itself for a jump start on the competition regarding a big project expected to break ground in late 2014.
WhoLou sources allege Edward Jones intends to build a six-story office building on the 56 acre campus that will break ground in late 2014. The $70 million structure will allegedly be 200,000 sq. ft. in size. Edward Jones representative Regina Deluca-Imral commented, "Since this expansion will meet our current needs, we do not have a definitive timeline to construct a new office building and garage on our Maryland Heights campus at this time. All of our building plans depend upon our firm's growth."
In March Edward Jones reported record growth for 2012 with nearly $5 billion in revenue and a $555 million profit. Assets under management also rose by $78 billion totaling $669 billion according to the St. Louis Business Journal.
*image credit – Edward Jones North Campus by McCarthy