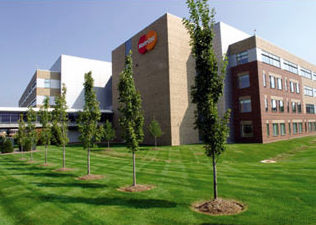 MasterCard intends to undertake a significant renovation project at their Global Technology Headquarters which is situated on 52-acres in O'Fallon's new urbanism development WingHaven. Nearly 2,000 employees at the 550,000 sq. ft. complex are responsible for overseeing the computer systems that settle MasterCard's credit-card transactions from around the world.
Between 30 million and 40 million credit card authorizations are processed per day at the site. MasterCard representativeAmanda Gioia commented, "We have been in this building for more than 10 years, and we are taking the opportunity to make interior updates, including new carpeting and some painting."
St. Louis firm Remiger|SUDA is alleged to be architect for the project which will include a major workstation design change. Gioia's emailed statement continued, "We are adjusting our traditional cube setup so that the spaces can become more collaborative, making it easier for employees who are working together on projects to talk and interact as needed." WhoLou sources allege cubicle dimensions at MasterCard will shrink from 8×8 to 8×6 and the redesign will allow the company to hire more employees without having to expand.
In 1997 MasterCard began a nationwide search for a location where they could merge their multiple technology sites located in the St. Louis area. Missouri, O'Fallon and St. Charles County put together a $44 million incentive package that included more than $27 million in highway improvements, more than $10 million in tax credits, and a discounted rate on electricity service from AmerenUE to keep MasterCard from moving its technology headquarters to a suburban area near Dallas, TX. MasterCard representative Jim Fotenos has avoided repeated attempts by WhoLou requesting more information.