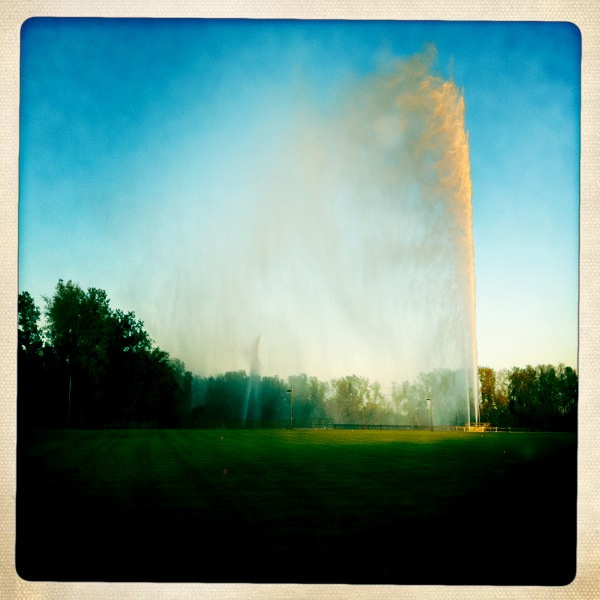 With $577 million dollars worth of improvements being proposed to the Arch grounds, here is a small, simple possibility.
Most of the time, the industrial castle of a Cargill grain elevator and the candied fluorescence of the Casino Queen hotel dominate the eastward view from the Arch across the river. But behind these obstructions is the mechanism for one of the tallest fountains in the world —the Gateway Geyser. It has been there, in East St. Louis, for the last seven years.
Few visitors to the Arch even know the geyser exists — nothing on the grounds directs them to look. Even an employee stationed behind the Arch's information desk said she only heard about it from her father, who noticed it while he was driving. With the fountain's sporadic schedule, erupting only on certain parts of the day during certain parts of the year, having a sign that electronically counts down to each blast could make the geyser an asset to the Arch Grounds. On a small scale, a countdown could cultivate a sense of intrigue.
The Gateway Geyser took four million dollars to build, but it could take a sign to make an event out of something that already takes place. The fountain is a deserving spectacle when its active, particularly up close, blasting 8000 gallons of water into the sky each minute.
Architect Eero Saarinen originally planned for twin memorials to celebrate the union of the two sides of the river, but the eastern complement to the Arch was scrapped when funding ran out. Constructed in 2005, the Gateway Geyser and its surrounding landscape, the Malcolm W. Martin Memorial Park, were meant as the long-awaited fruition of Saarinen's dream.
Though the two Gateway monuments remain alienated, something as ancillary and inexpensive as a countdown sign could do a lot of work to link them. On a windless day, the fountain reaches a height of six hundred feet, aligning with the acme of the Arch.
Gateway Geyser from the Illinois side of the river: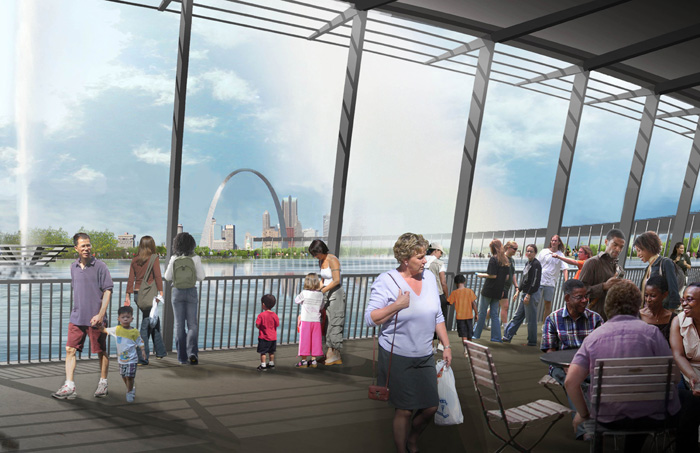 More images of the Gateway Geyser via Google image search and Flickr photo forums.