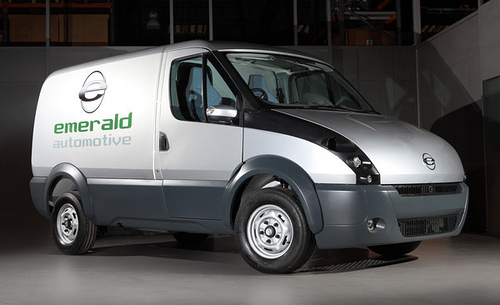 British green-auto manufacturer Emerald Automotive is being assisted by commercial real estate firm CBRE in their search for a Hazelwood location that would house a proposed $160 million plant. Emerald selected Hazelwood in July of 2011 as the site for the plant that would produce hybrid vans and potentially employ nearly 600 by 2014.
WhoLou sources allege that while CBRE and Emerald are still scouting several Hazelwood sites one in particular has stood out. The Hazelwood Logistics Center site which is adjacent to Lambert International Airport offers rail service and has existing buildings. According to WhoLou sources Emerald is interested in possibly leasing vacant building space on the site to its would-be suppliers.
In April of 2010 BancorpSouth Bank of Tupelo, Miss. filed suit against embattled developer Paul McKee alleging he defaulted on a $28 million loan for the 150-acre Hazelwood Logistics Center property. In November of 2011 Federal Judge Henry Autrey ruled in favor of the bank.
In May, native son and co-founder of mobile payment service Square Jim McKelvey joined the Emerald Automotive board of directors. McKelvey has also founded Mira Digital Publishing and Third Degree Glass Factory. McKelvey's connections to Silicon Valley venture capital is important in Emerald's quest to find funding for the project according to the Post-Dispatch. CBRE senior vice president Tripp Hardin declined comment Friday morning but confirmed he was assisting Emerald in their search for a Hazelwood location.