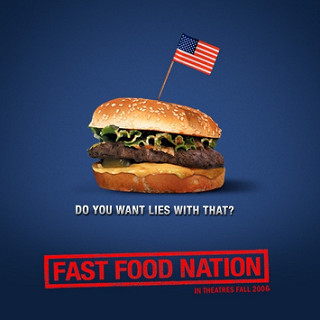 Anyone interested in land use, economic development, health and nutrition, or workers rights in St. Louis should be thrilled to have a seat at this intimate discussion with Eric Schlosser. McKendree University and Slow Food St. Louis are hosting an intimate dinner and conversation with Eric Schlosser, author of Fast Food Nation tomorrow (4/24) at Farmhaus Restaurant (details below).
Mr. Schlosser's investigative journalism exposed the impact that the fast food industry is having on our health, environment, and economy. He has reported on a variety of subjects from migrant farm workers to the prison system, and co-produced two award-winning films, "Food, Inc." and "There Will Be Blood." Mr. Schlosser will also be speaking at a Sold Out event April 25th at McKendree.
Fast Food Nation was one of the first books to bring food ethics to the forefront, predating the Michael Pollan craze by a few years. By these standards, Eric Schlosser is a local foods veteran. His wisdom and ease in discussing all sides of our food system is essential in a corporate and political environment as unique and complicated as St. Louis'.
When it comes to food and its origins, St. Louis is perched in a precarious position. We are home to the largest, farthest reaching, and most controversial agricultural biotech company in the world. New biotech startups (both medical and agricultural) are promising a boon to the St. Louis economy in the coming years. But we are also home to some of the most innovative and successful local agricultural programs that promote small Missouri farmers and organic community gardens.
Citizens who care about farmer's rights, hunger issues, and environmental issues tend to fall along a divide in thinking: big agriculture versus local agriculture. Workers from both sides of this divide in St. Louis interact frequently in small, but noticeable ways. Some agricultural biotech executives participate in local organic community sponsored agriculture (CSAs). And big agriculture is a prolific grant-maker in our nonprofit community.
People on both sides of this divide interact, but they do not necessarily talk about food ethics with one another. There are ample opportunities for high-level discussions around the ethics of food and farming in St. Louis, but we often hold our breath because it is so personal to all of us. St. Louisans' livelihoods depend on the agriculture economy in our area, whether it is on an international biotech level, or a truck farmer coming in from the outskirts of our region. Employees on both sides of the global agriculture issue take immense pride in their work.
A visit from a figure as prominent, but also as thoughtful and thorough as Eric Schlosser, provides an opportunity for us to open the door to productive discourse. Local and global agricultural issues will continue to affect our area in the months and years to come. In addition to industrial agriculture's well-established presence, St. Louis is becoming an entrepreneurial destination city for the biotech industry. On the local agriculture side, one of our area's largest and most successful community food programs, Gateway Greening, just announced huge plans for 2012. They will expand school and community gardens, grow 12,000 pounds of food at City Seeds Urban Farm, and start a partnership with FarmWorks, an urban farm and job-training program on the riverfront. Agricultural developments in the St. Louis area are never-ending.
Additionally, Missouri Harvest: A Guide to Growers and Producers in the Show-Me State, was just written and released by St. Louisans, Maddie Earnest and Liz Fathman. This guide to farms, vendors, and restaurants that locally source in Missouri provides a resource to consumers in our area that is unlike anything we've ever had before. Earnest's long-time relationship with many local farmers through her role at Local Harvest Grocery provides an intimate look at what the area has to offer at the local level. With 108,000 individually owned farms in our state, there is no shortage to discuss when it comes to farming here.
If you want to have your finger on the pulse of what's happening in food and farming in St. Louis and around the world, the Eric Schlosser dinner will be a great place to hear new ideas, and share some of your own. The cost of the dinner is $125 per person, which includes food, drinks, tax, and gratuity. To purchase tickets, please click here. Date/Time/Place: Tuesday, April 24th, from 6 to 10 pm at Farmhaus Restaurant (3257 Ivanhoe, 63139).