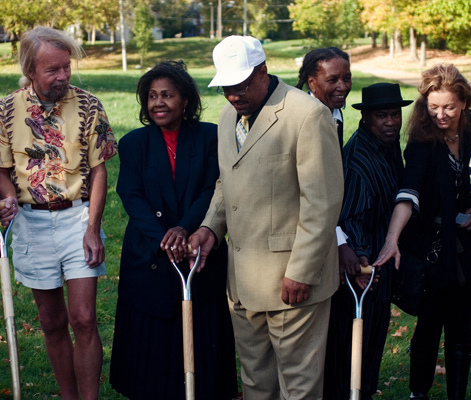 Earlier this year I wrote about the challenges to walkability in the West End/ Cabanne neighborhood. Although progress of removing street barriers depends solely on the finite resource of political will, and the West End's long blocks are a structural deterrent to walking, Great Rivers Greenway is moving forward with plans to connect Forest Park to UMSL with the St. Vincent Greenway.
Residents, dignitaries, and political leaders from St. Louis City and the West End neighborhood broke ground last Thursday for Phase II of the St. Vincent Greenway. This phase, a 2.2-mile section of the eventual 6 mile Greenway follows the existing Ruth Porter Mallway from DeBaliviere and Delmar to Etzel and Blackstone. Construction on the trail was delayed to allow coordination with the engineering on the Loop Trolley project.
Once completed, the St. Vincent Greenway will share the current Northbound lanes of DeBaliviere with a dedicated track for the Loop Trolley. From Delmar the greenway will traverse the Ruth Porter Mall, and then roughly follow Engleholm Creek to connect Forest Park to the University of Missouri-St. Louis, and to Ferguson via the Ted Jones Trail (PDF).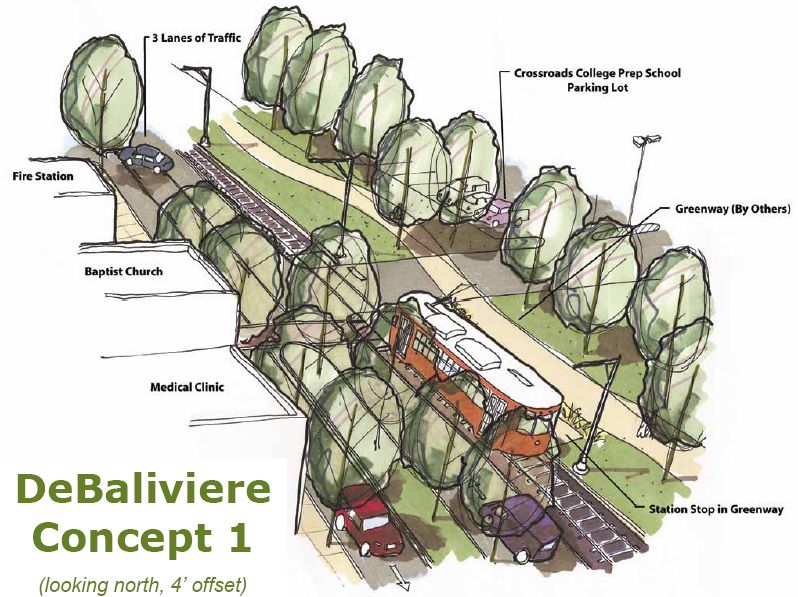 This project marks a departure for Great Rivers Greenway. GRG, a regional governmental organization funded by $12 million in annual tax revenue, has focused much of its early effort on readily achievable projects. Most of the 150 miles of greenways and trails constructed by GRG and the Metro East Parks and Recreation District have been built along existing corridors separate from residential neighborhoods. The St. Vincent project marks a turning point with GRG finally harnessing the transformative power of their Great River Ring vision to catalyze neighborhood redevelopment.
Confronted with challenging surroundings and a charged local history (Ruth Porter Mallway was created in 1975 to honor a champion for fair housing), GRG has created a Community Development Corporation charged with redeveloping empty lots and vacant properties along the route. Traditionally, GRG has solely used their standard graphics and design on each project; however, on this project local teenagers were trained in metal working by artist D. Tillery to build custom benches and trashcans for the route.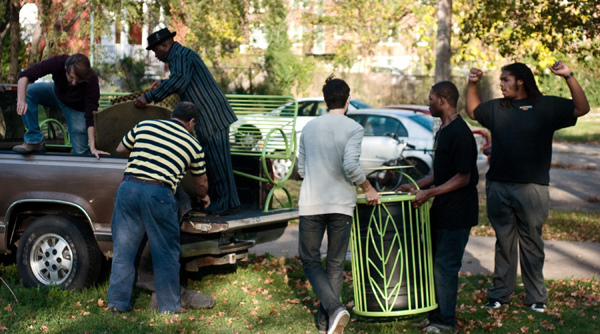 Finally, GRG is attempting to translate neighborhood vision into public art along the route. The Ruth Porter Mall was once known for a large mural honoring Porter (image here). Today, murals, public furniture, and similar tools for place-making are sorely needed throughout much of the West End as in many neighborhoods of the city and inner-county. As the example of the Philadelphia Mural Arts Program proves, Place-attachment (PDF) should be understood as a critical component of community organization. Although GRG's mandate is only for recreational trails, the transformational impact of the trail should be fully harnessed to create regional access in tandem with desirable local places. If the process of creating and designing these places is one of community collaboration, the end result will be empowered neighborhoods and stabilized communities along greenways throughout the region.
View the current and proposed greenway routes:

View GRG Greenways in a larger map
On Wednesday, October 19th at 3:30pm GRG and Washington University will hold a ribbon-cutting ceremony for the first phase of the Centennial Greenway. When finished, the Centennial Greenway will connect Forest Park to Creve Coeur Lake Park. The ribbon cutting will be held outside Steinberg Hall on Forsyth Boulevard just West of Skinker.