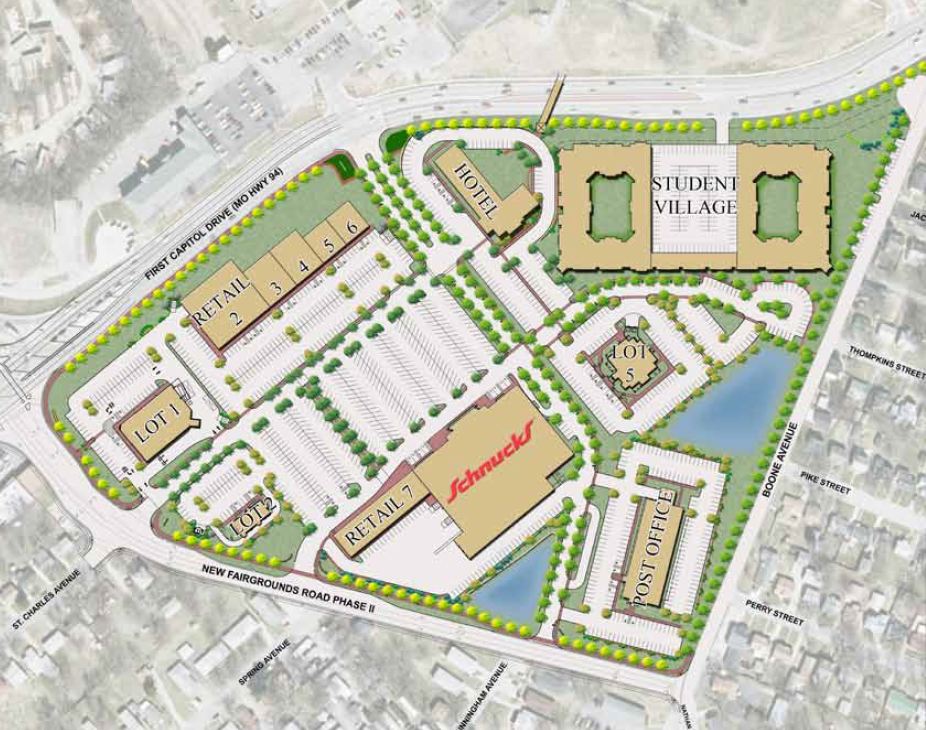 Ground is breaking again on a retail development project in the City of St. Charles. This time though it is not being hailed as solely economic development, but rather as "the creation of an exceptionally beautiful and accessible retail center that will not only provide economic revitalization in that area, but also one of the city's most fascinating entry points off Interstate 70." (Post-Dispatch). Yet this is hardly the reality of what is to be built on the eastern portion of Lindenwood Campus across First Capitol Drive.

The development, called Lindenwood Town Center, consists of a relocated nearby Schnucks grocery store with an adjoined retail strip, hotel, student housing, three standalone out-lot businesses, a post office, five unit retail strip, and pharmacy/drug store. In total, a $69 million project.
Yet, the new Schnucks store is hardly new to St. Charles. The current store, along Duschense Drive, to be relocated is one mile from the new site. It has been reported that the new location will allow the store to expand and add seventy-five new jobs. However, since the old store would be vacated with no new tenants lined up, the current store will instantly become a blighted development.

What is more disappointing though, is that the small businesses in a large retail strip along Duchesne Drive across from the current Schnucks store will presumably lose a lot of their business because the traffic along the road will significantly drop due to the absence of Schnucks. Relocation may benefit Schnucks, but what about the impact on adjacent small businesses. Will there be a net gain in jobs? Will the businesses simply move to the new retail strip? And why shouldn't Schnucks expand at the current location?

Like Schnucks, the Post Office is also a relocation, from Fifth Street next to SSM St. Joseph Health Center. By moving to Lindenwood Town Center, the Post Office would be able to double the amount of current parking. Then, SSM St. Joseph Health Center would take ownership of the former Post Office site allowing for it to expand by building a new parking garage. This is likely a win for the community as a whole. However, there's no reason for the two to be fastly linked, despite the comments made by Councilman Dave Beckering, Ward 7, "I want (SSM St. Joseph Health Center) to stay here, I want to see it grow," he said. "If they're not growing, they're dying. I want to keep the one we've got. It's very good. I don't want to lose it." Is there literally no other place for the Post Office to relocate?

The new pharmacy-drug store would not be a relocation, but would be competing against Walgreens which is less than a mile away. Thus, it is also presumable that Walgreens would be negatively impacted, potentially costing jobs. However, if Walgreens does relocate to Lindenwood Town Center, the existing store would join the current Schnucks site as newly blighted property. Unless purchasing capacity changes within the retail footprint of this area, such development is musical chairs at taxpayers' expense.

What is more disappointing though is the auto-centricity of Lindenwood Town Center. It is disappointing to students, who the development is aiming to attract, who need pedestrian and bike friendly access. Furthermore, Ward 2, Alderman Larry Muench said of the development in the same article on March 11th, ""Lindenwood Town Center will bring jobs to my (ward) where there are people in need of jobs that don't have transportation."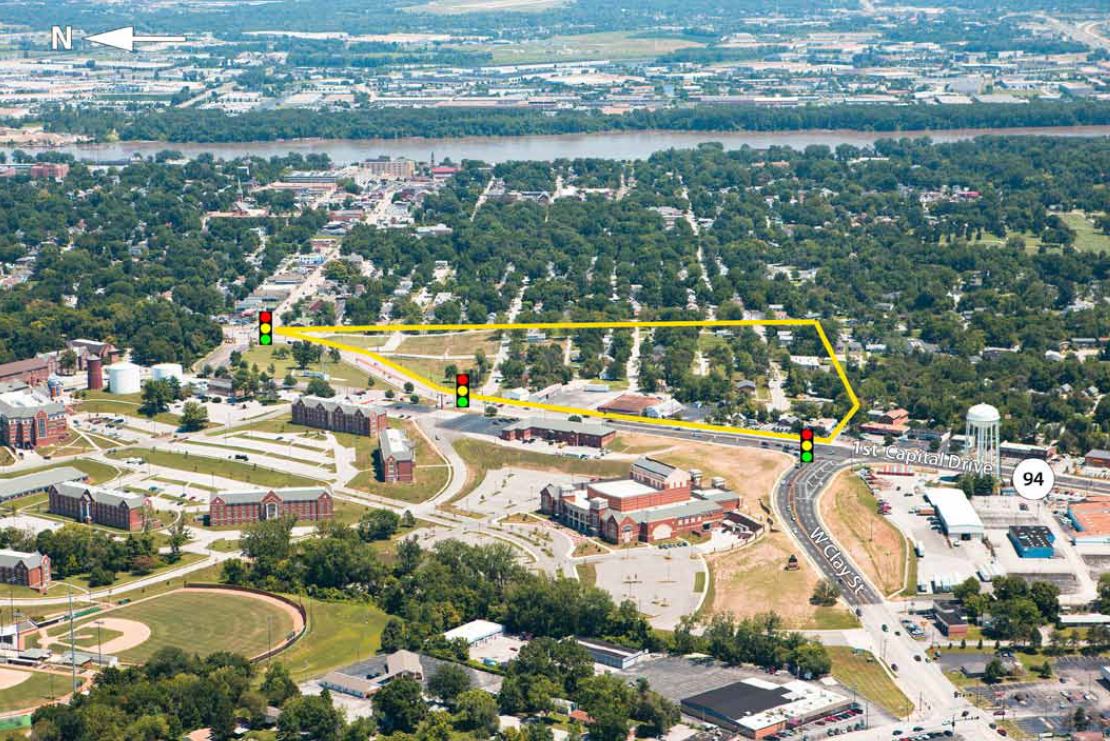 And while this will be the first project in St. Charles to be developed under the Green Points plan, the parking lot is still vast, and there are no street-facing buildings. In all, without a car, safely traveling to Lindenwood Town Center will be dangerous and uninviting. Simply put, this is a suburban development that requires a car. Lindenwood Town Center will not be accessible to shoppers or workers "that don't have transportation."

Yet, what is most disappointing is not the relocation of businesses to the center or the suburban plan of the development. It is the fact that Lindenwood and the City of St. Charles pushed out residents and small businesses in order to claim new economic development in the city. And what was the biggest concern expressed by a member of the council? That the student residences might be too tall. Yes, too dense. Councilman Tom Besselman, Ward 2, voted "no" as reported by St. Charles Patch. He was concerned that the proposed five-story structure was just too high and pushed to limit it to four, without success.

Most of the land for the development was purchased from homeowners whose homes were subsequently demolished. For what net gain? Furthermore, as part of the development, new Fairgrounds Road will be built, turning into West Clay Street at the intersection with First Capitol. Because of this new road, multiple small businesses have been forced to close and move. Businesses like a small hardware store, an automotive store, and an outdoor gardening and pond store. That these stores in addition to others, along with the homeowners that were bought out by the City of St. Charles and Lindenwood merely to reshuffle the retail deck is tragic. The claim that this is productive economic development is purely false.

What the citizens of St. Charles are really getting are displaced residents and businesses, newly vacant land at the old Schnucks site, and a new parking garage at the hospital. While hundreds of thousands of square feet of vacant retail sit idle nearby waiting to be filled.
I believe that Lindenwood Town Center needs to be reworked. If Lindenwood University truly wants to maximize the space they have on the site, they need to build multi-story multi-use buildings along First Capitol Drive. Make First Capitol more pedestrian friendly, by scrapping the idea of removing pedestrians from the street and building a pedestrian bridge over First Capitol between Lindenwood Campus and Lindenwood Town Center.
Instead of a new and larger Schnucks store, build a Culinaria, Schnucks' urban concept grocery, along First Capitol. Build a parking garage with ground floor retail in which students can start businesses. The truth is a grid layout of multi-story buildings, student-centered retail, and pedestrian and bike friendly facilities would make Lindenwood Town Center a success for students, consumers, and the surrounding transit-dependent workers, bringing something truly unique to St. Charles.