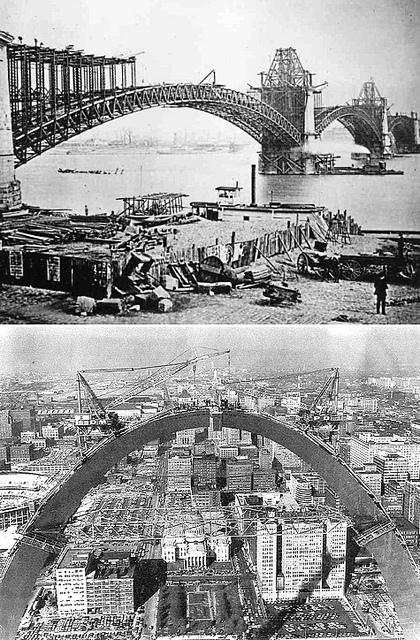 We are not Detroit. We are not Pittsburgh. We are not Cleveland. We are haunted by the same kinds of ghosts, but the ghosts wear different clothes. We are not St. Louis circa 1876. We are not the St. Louis of 1950. The boundaries may be the same, but these days the imaginary parapets serve different purposes. The refinement and luxury of 1904 has eroded under the rub of reality, the daring and opportunity of the journey of even hundred-years prior has become an unsupervised schooner set adrift at sea. We continue to honor an ideal that no longer exists, a sense of trans-historical self that has been subverted by the emptying of warehouses, the abandonment of neighborhoods, and the strategic shirking of any collective responsibility. Having been regularly tested, we have regularly failed. We are not alone in this history; our Rust Belt brethren have much the same record.
Yet, there is something enduring in all of these cities. Beating and pulsing, the hue of life circulating in encrusted factories turned incubators, in new neon signs rising above teeming streets, in cafes dispensing local brews of every breed, in rehabilitated row homes with more dignity in one brick than the entirety of Iowa. We have recognized possibility where our antecedent only saw poisoned prairie. The Detroit commercial, while the product of some public relations Svengali miles from any revivalist mission, has communicated this sense of urban potential and simultaneously captured the national attention. The Super Bowl-watching hoi polloi may not want to stake claim to a Motor City warehouse, but they're suddenly all rooting for a place often conceded to the scorched-Earth policies of the postindustrial world.
We could certainly harangue the viewing public for consuming this saccharine Detroit narrative, for getting goose bumps from nothing more than a husky-voiced narrator and an arguably well-paid Eminem. We could dismiss it as another example of a very insidious and dynamic automobile industry, working for its bottom line while resurrecting film clips consigned to the editing room floor of any number of Detroit-centric reality shows. Nevertheless, the television spot works. Detroit has reentered the consciousness of Americans as a place of life, a place with a spirit – an identity wrapped up in its sense of creation and construction. Detroit has lungs, even if those lungs prefer to see the city from the window of a luxury vehicle. There is a new narrative – cities, even the most broken, are determined to be in vogue.
Since Sunday, St. Louis has asked for its own Detroit moment, or at least what a 30-second spot could detail. What do we have to offer the contemporary narrative? The answer: more than we want to admit. We were the front door to the second New World; we were the foundries for pioneers and trailblazers – men and women venturing across a western terrain that held either Eden or an inanimate hellscape. Yet, there was no waiting. There was little time to worry. We cut our teeth on the grayness of information and the lack of answers, motivated to act by the unseen and unheard. For that was The Great Era of Curiosity, when we did more than explore – we entered every day with the energy to eclipse the norm. This is the first cemetery of common uncertainty, where all anxiety frayed and fringed in the face of the frontier. We were the home to the riverboat gambler, the trapper, the captain, the hunter, the hustler, the immigrant and migrant, the business-owner – textiles and bricks and cars and beer and an endless conveyance of flying machines. We were second to none, not the Paris or Florence of any continent – we were the St. Louis of America. A posse ad esse. This was where the possible became the real.
Today, we are bruised and blemished and bloodied by 60 years of structural failings, by racism, by intra-regional animus, by endless dislocations, by demolition and by big promises with little payoffs. We are infinitely pocked with lots, both empty and parking (as if there was a difference). We have obsolete government structure, designed to be inert and ineffectual. We rely on landscaping and convention center events, market incentives charged with manipulating development. Tourism. Sports. When did we stop experimenting? When did the frontier disappear? When did we pass the laboratory of life on to other places? The fact is, the frontier is still here at every turn, at every moment – we just forgot where to look. We forgot to look inside of each other, inside of our problems, inside of our neighborhoods, and inside of our leaders. We kept looking out for solutions, instead of peering in for answers. When we begin to rely on finding frontiers at home, we will start asking for more from each and every day – from every form of progress and power. We will demand better leaders, better ideas, and better outcomes. Our defeat at the hands of the latter half of the 20th century must become the first step towards the new possible.
Our potential – our relevance – is in adopting a commitment to experimentation. Our goal must be to take risks, to become more entrepreneurial, more assertive and ambitious in what we want our city to become. We must be imaginative and curious, transgressive of tradition and transformative in vision. Our responsibility is to understanding the past and taking the present piecemeal from those that think they deserve control. We do all of this in the name of claiming the future – a better and healthier and more just city. We are tasked with remaking St. Louis and, concurrently, renaming this world as something in which we have a daily stake. Today, we must announce the reopening of the great unknown, the unwritten future of a city with immense possibility. We are a city of firsts right this second. We are the front door of the next frontier. This is where we become the new pioneers.
May we one day be so lucky to see that in white text on a black background.