nextSTL is the preeminent online source for information and thought provoking commentary and analysis on issues large and small in St. Louis. With 2,100 blog posts from more than 45 authors and regular updates and commentary on Twitter and Facebook, the site is a must read for anyone who cares about the future of our cities.
Focused on a variety of urban issues, the built environment, politics and policy, transportation and preservation, the blog has been cited by the Wall Street Journal, the St. Louis Post-Dispatch, KMOX, St. Louis Public Radio, and many other local news sources as well as The Atlantic Cities, Architect's Newspaper, Planetizen, Next City, and Streetsblog.
Social Media
Twitter – 24,000 followers, 31,000 Tweets, live event coverage and links to the most relevant and engaging news and opinion
Facebook – nearly 7,500 Likes and home to discussion of recent stories and other issues
Instagram – the photofeed of people, places, and things from across St. Louis and elsewhere
Scribd – the nextSTL library of more than 500 urban planning documents, city meeting agendas, project plans, research and other material
Flickr – all the photo archives of nextSTL
Pinterest – someone told us we should have an account
Why nextSTL?
Every day decisions both large and small are made that shape our built environment. Many of these decisions are made with no public input or worse yet, with no particular knowledge of the subject at hand. A demolition is approved, a variance granted, a policy changed, streetlights chosen—and this is the process that over time creates our city. Where we live, where we work, where we travel are the result of this often mundane process. Only by being attentive to the choices before us can we effect a more livable future for our neighborhoods and cities.
More important than any stance on a particular issue is that people are attentive to the choices before us and how we can build a more livable future for our neighborhoods and cities. Too few of us are engaged in our communities, and this neglect has led to much of what we now dislike about our towns and cities. Because of this, those who choose to become engaged can and will have substantial influence.
Alex Ihnen – Owner / Editor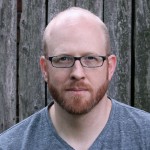 Born and raised in North Manchester, Indiana, Alex attended Indiana University and earned both a bachelor's degree in journalism and a master's in public affairs. He has also studied at the University of South Australia in Adelaide and the Universita per Stranieri in Perugia, Italy. At Indiana Alex won the Little 500 cycling race made famous by the movie Breaking Away. He and his wife moved to St. Louis in 2004. The proud parents of daughters Lucy and Harriet, and son Oscar, the family lives in University City. He can be found on Twitter and Facebook. The views expressed on this site and related social media by Alex are his alone and do not represent the opinions of his employer or any organization with which he is affiliated.
Email: alex at nextstl dot com