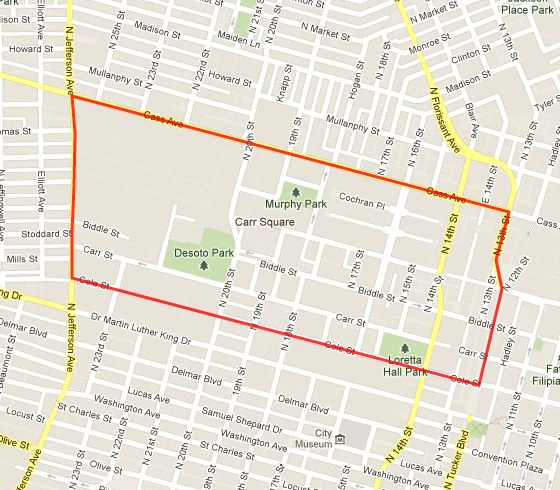 The Carr Square neighborhood is located in north St. Louis. It is south of Cass, north of Cole, east of Jefferson and west of Tucker/N. 13th Street. Carr Square had a 19% decline in residents from 1990-2000. 98% of its 2,339 residents are black, 1% white and 1% Hispanic/Latino. But then from 2000-2010, the neighborhood gained 19% to reach 2,774 residents with some new construction. There is no website for this neighborhood on the city neighborhood page.
Carr Square's 1,327 housing units are 74% occupied, 99% rented and 1% owned. Can that be right? The numbers suggest a lot of apartments and condos and no owner occupied properties. But, the stats don't lie. This is one of those parts of town that has seen such massive disinvestment and lack of care and respect from it's inhabitants and leaders, that it is basically a wasteland. There are huge swaths of unused land, mainly the north west corner where Pruit-Igoe used to be, that are just jungles of weeds.
There are so few reminders of St. Louis' history here, it's disturbing. It's been leveled. It's been filled in with some good intentions, but unsustainable rental/subsidized housing that attracts very little growth potential, nor historic meaning or urban context.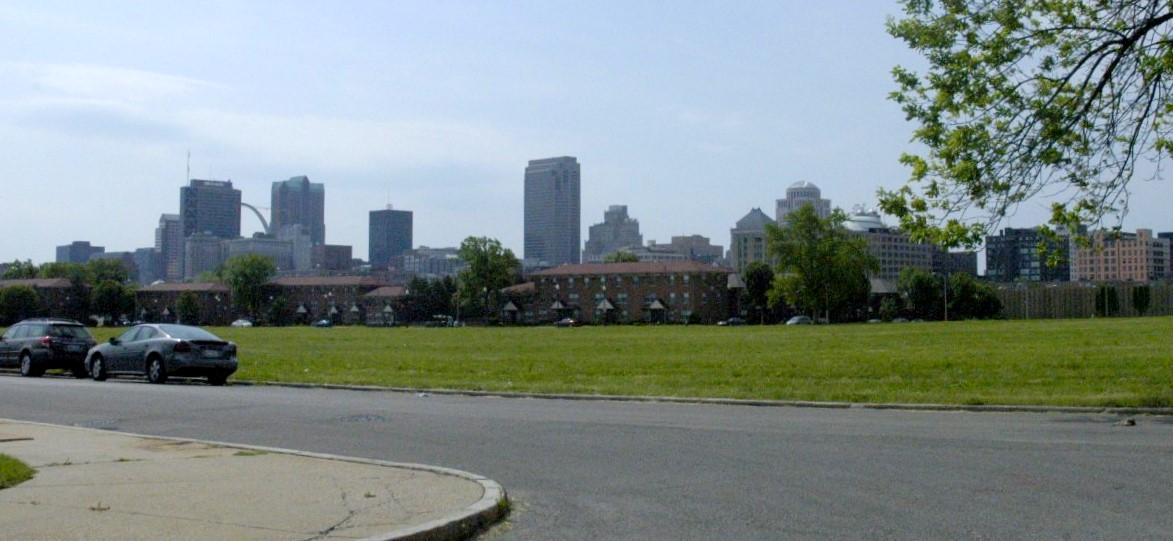 There are a couple of old buildings, the Carr School being one of them. Please click on the link to see some amazing photography from Built St. Louis. Here's what is looks like today: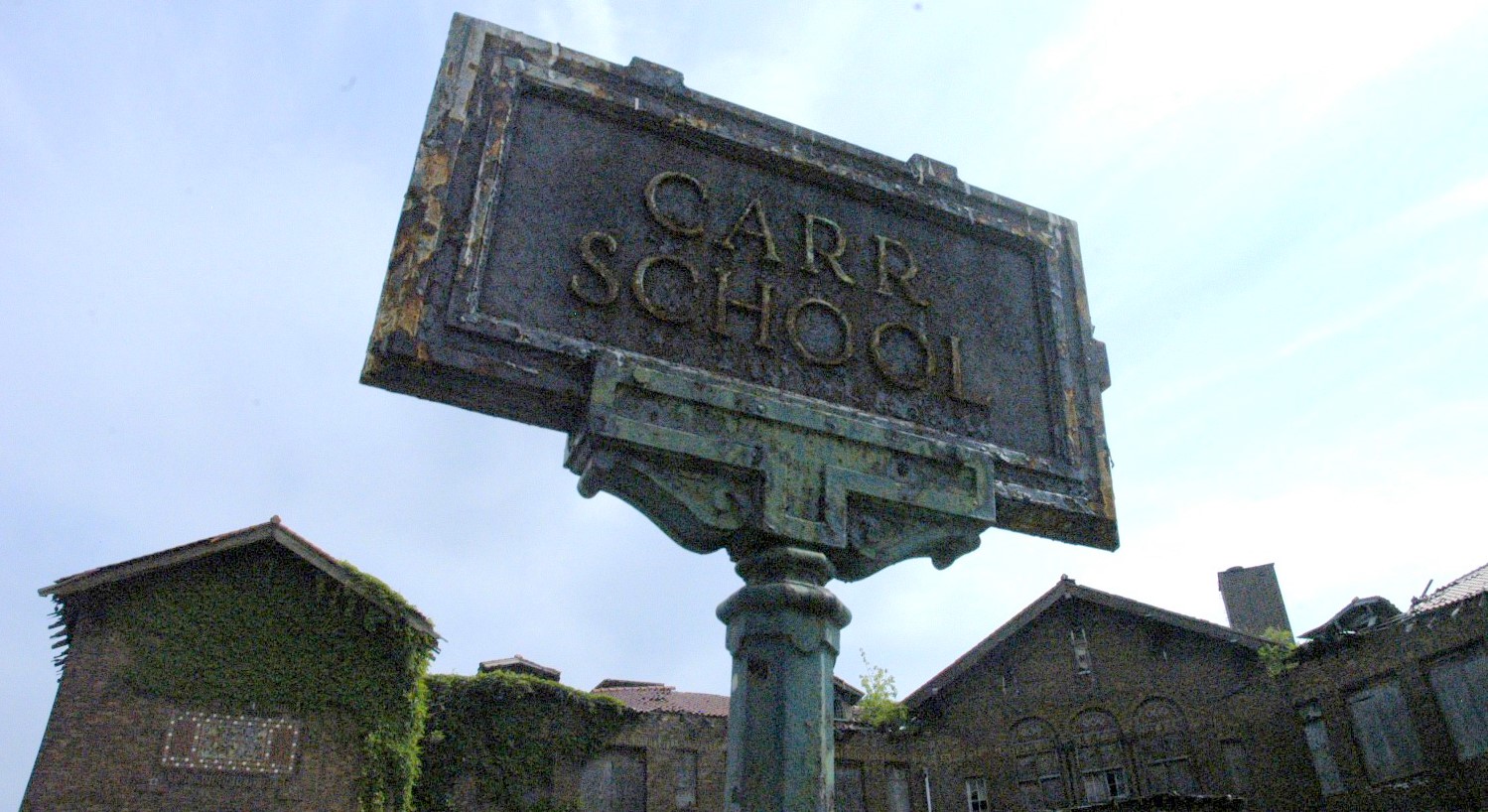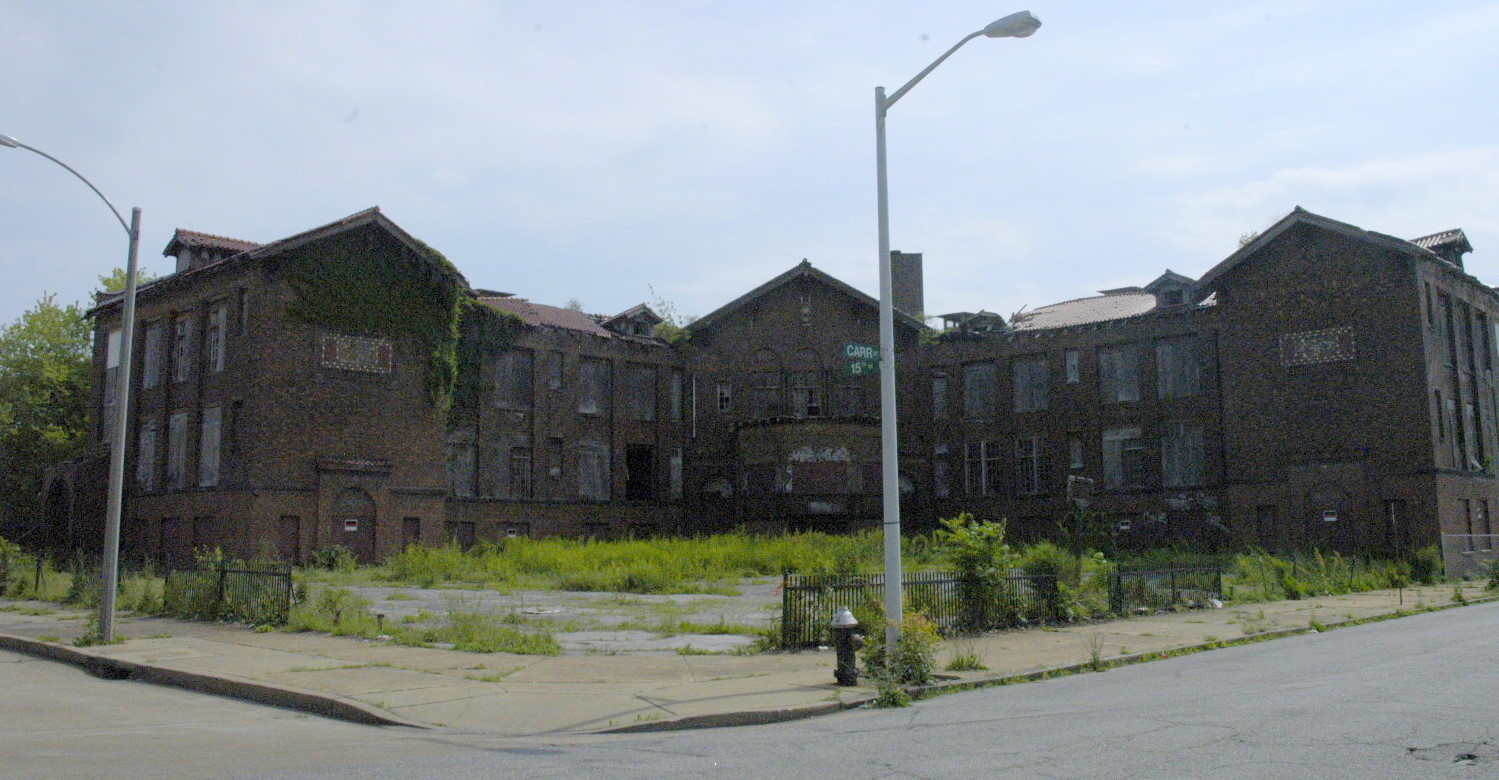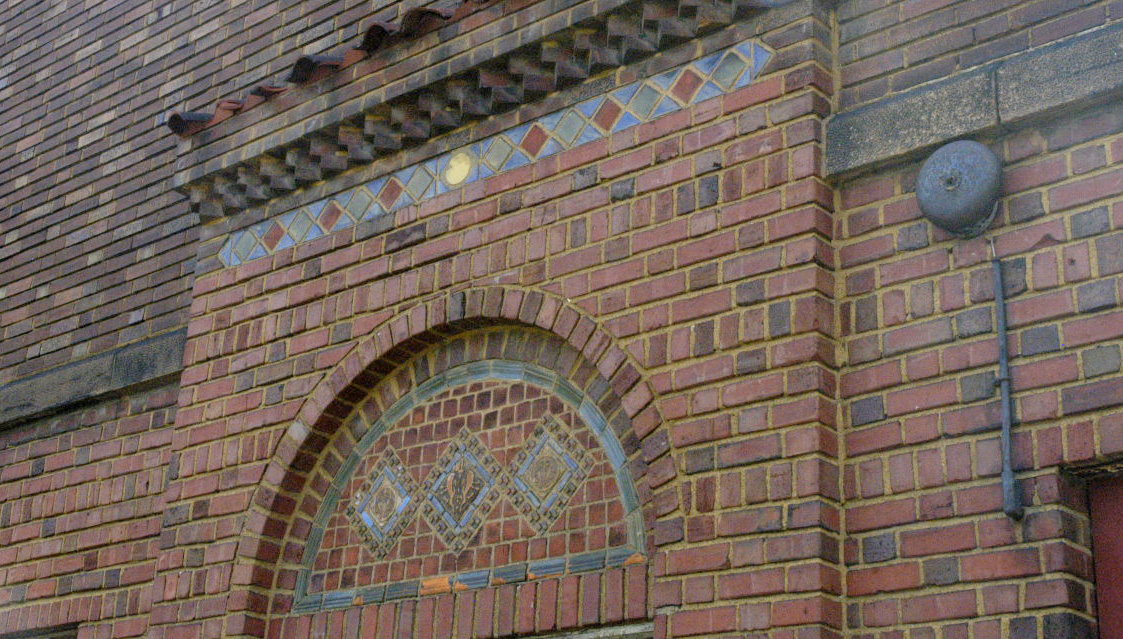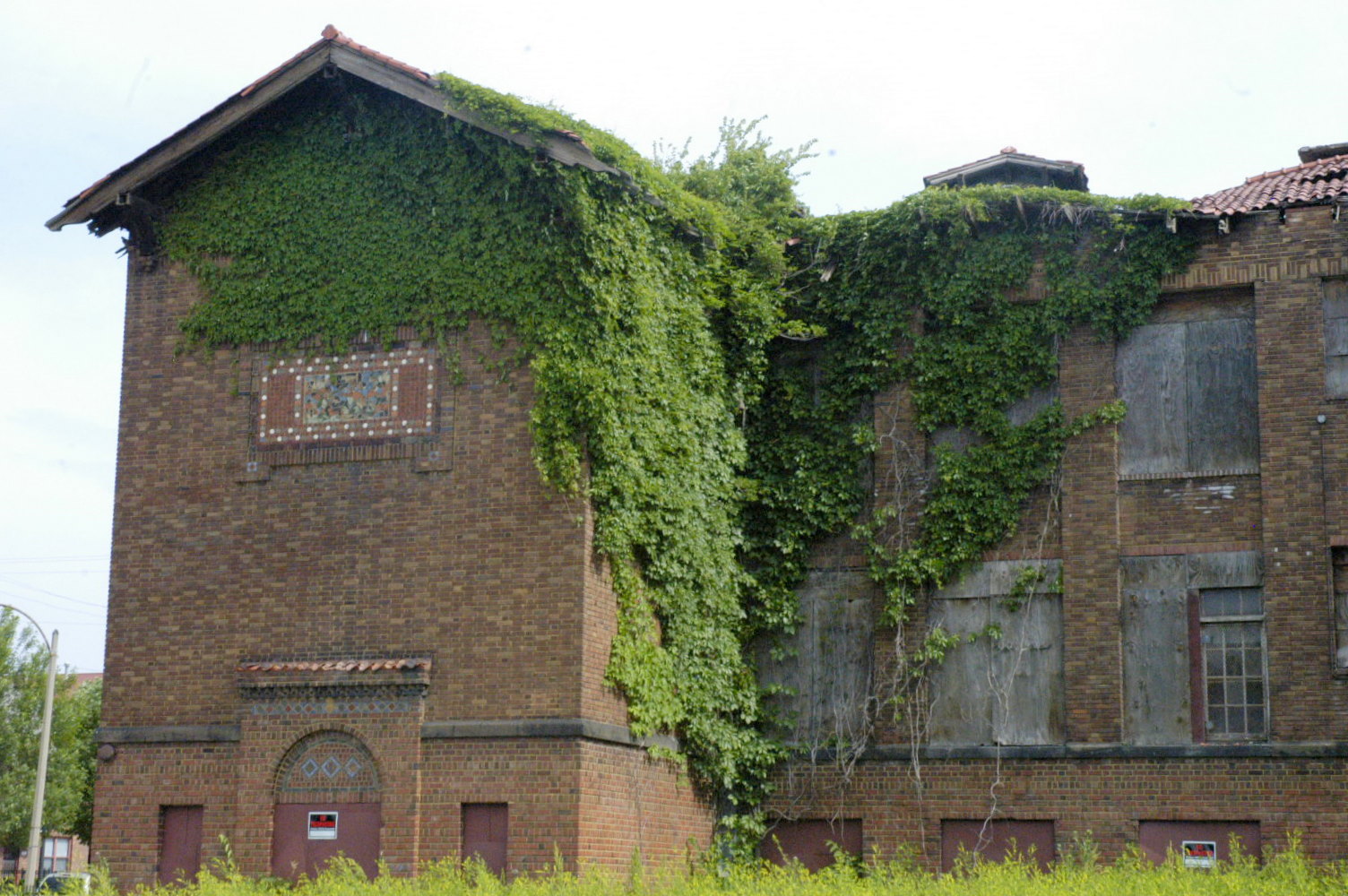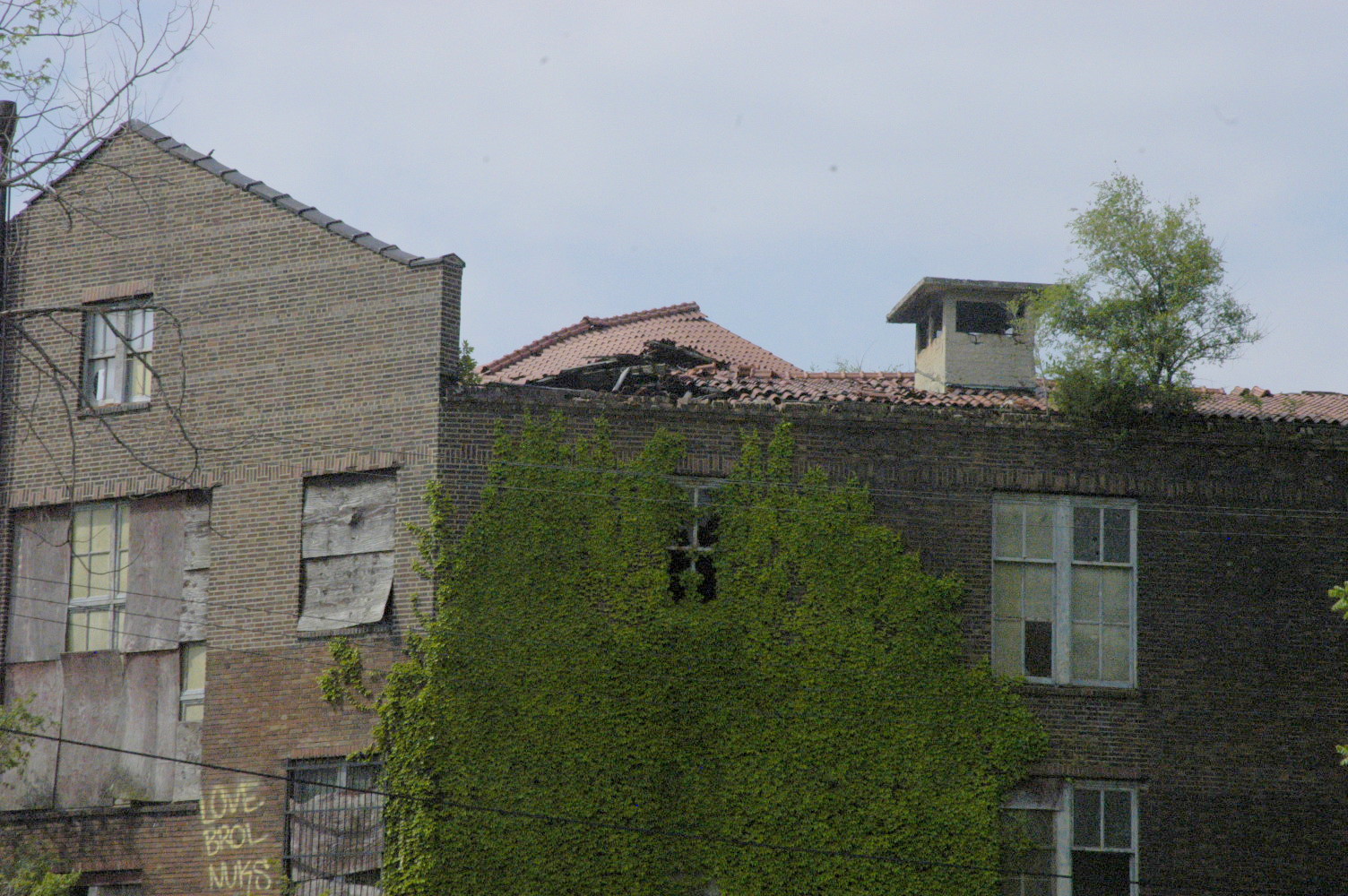 Here are a couple other remaining structures from our heydey: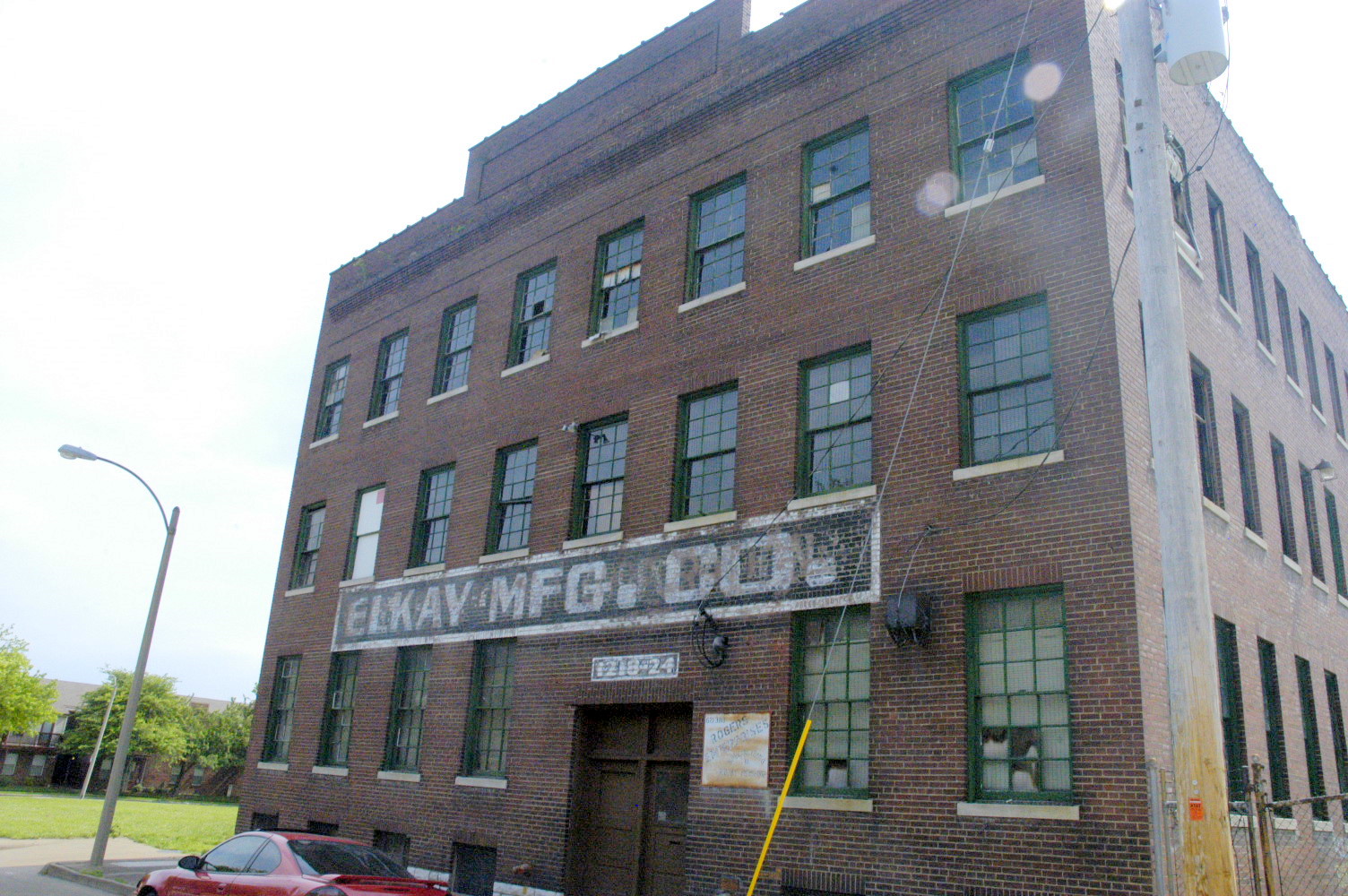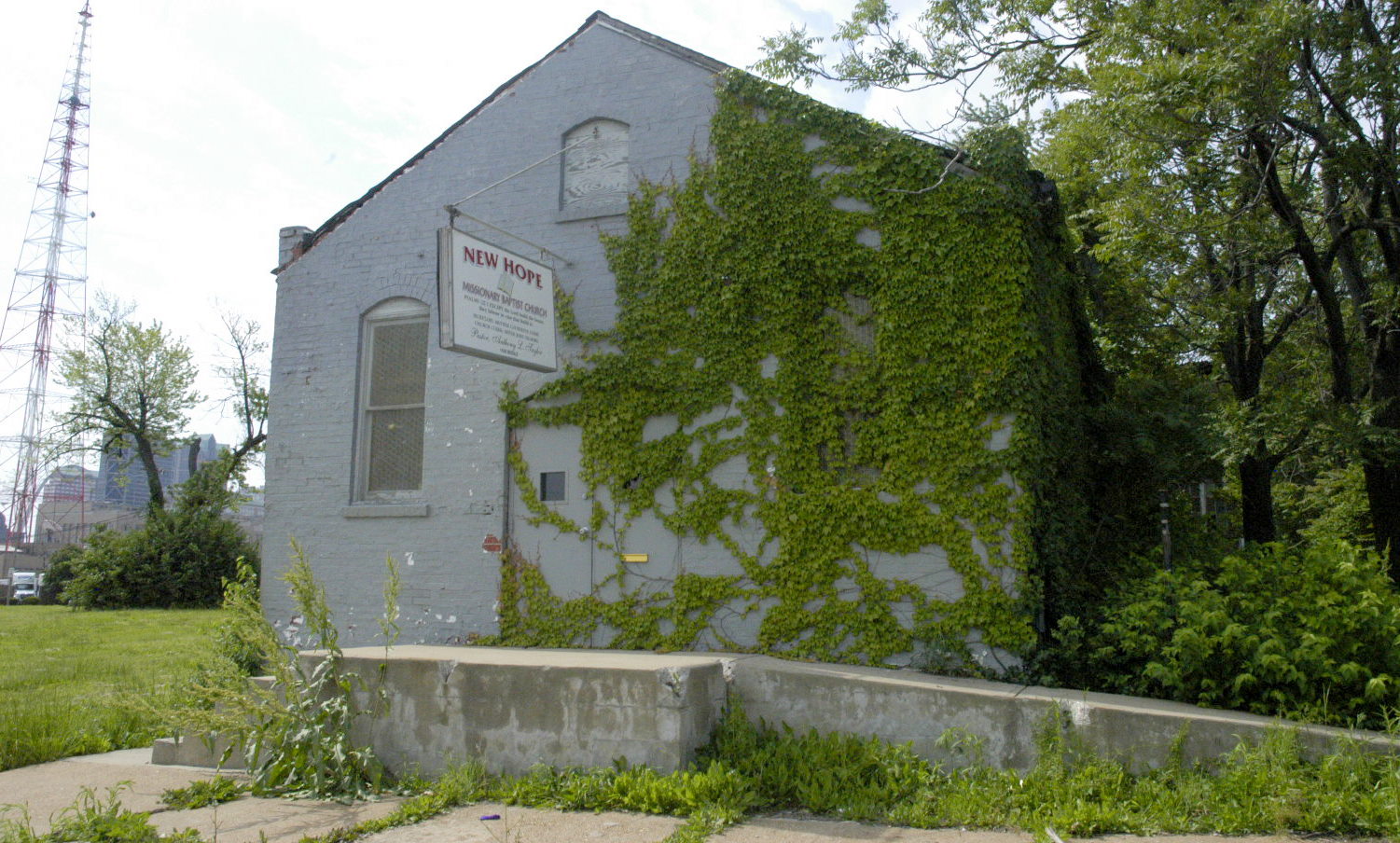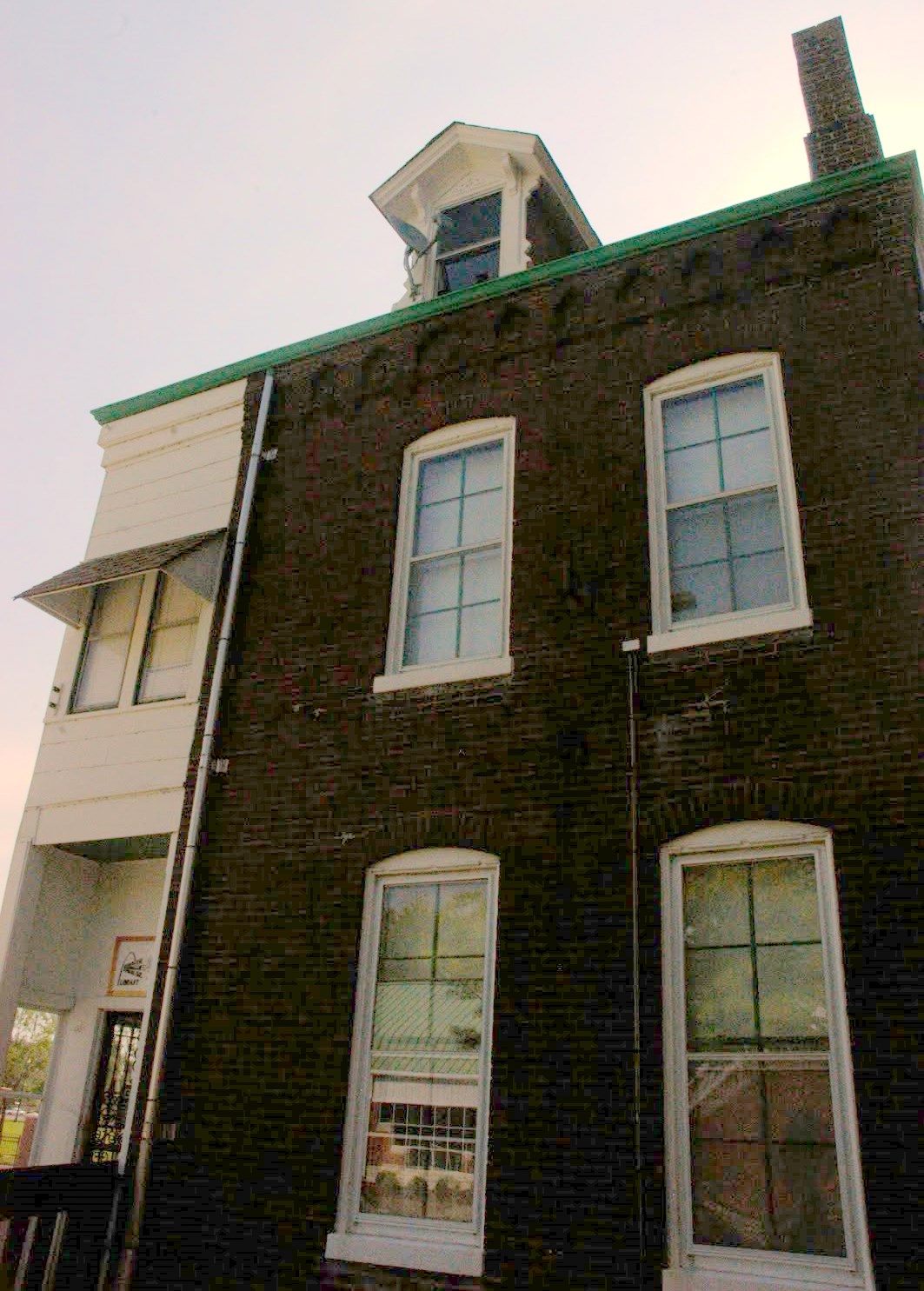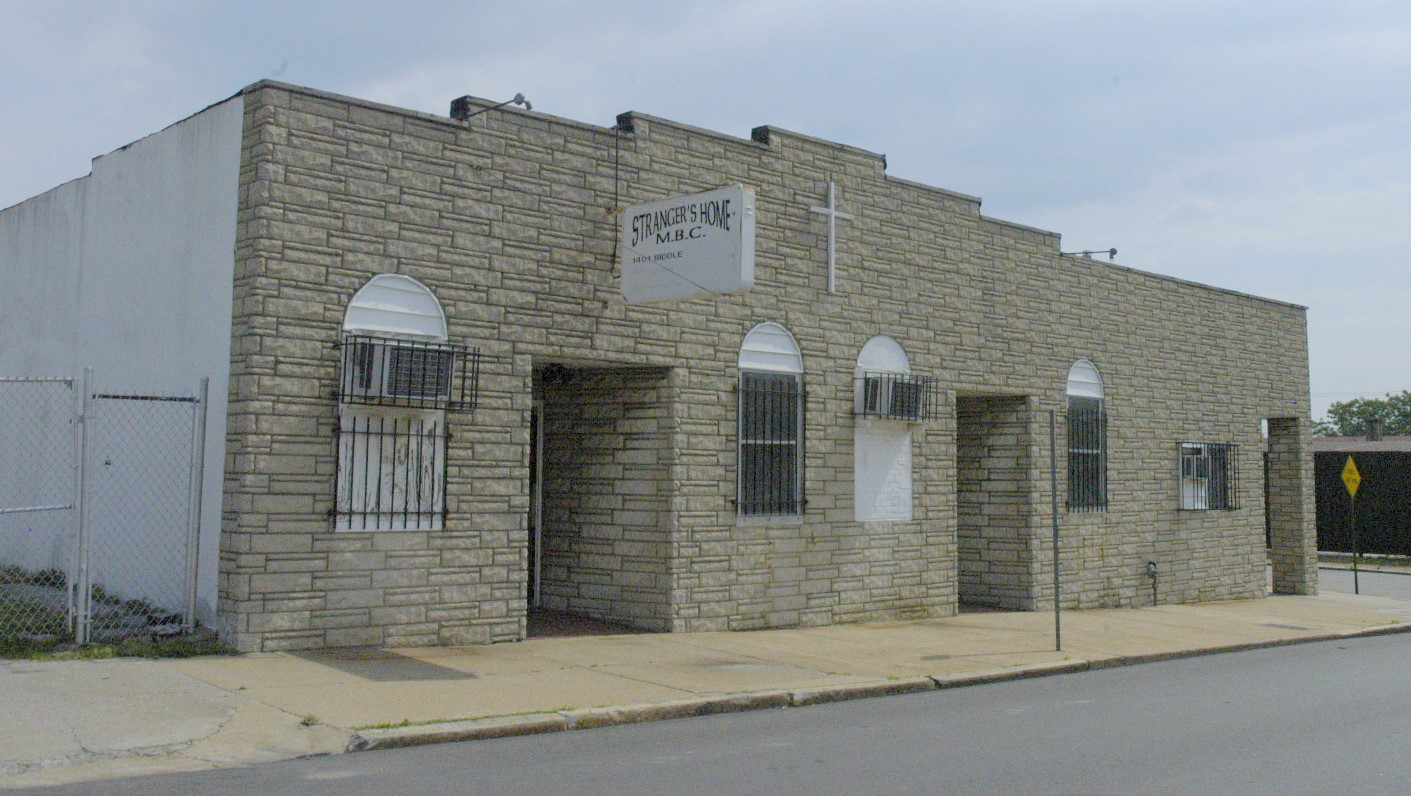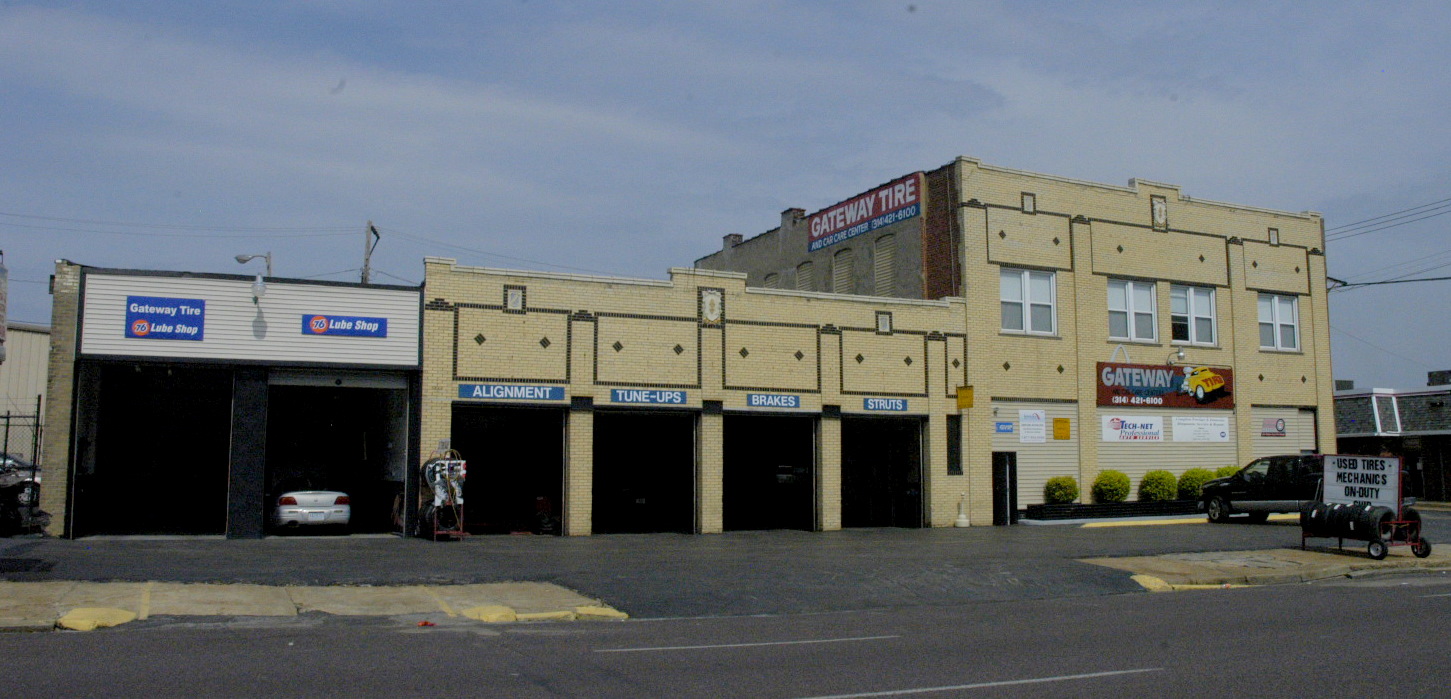 Carr Square may have the most underutilized, open land of any city neighborhood I've seen to date.
Anyone who has word/thoughts to the contrary is welcomed to speak up. This is merely my opinion.
I was recently on the roof at the City Museum and rode a Ferris wheel where the cars face north toward CS; if they were pointed east or south, you would get sweeping views of Downtown and Down Town West giving you an idea of how great the city still is. But the aerial view of Carr Square helps prove my point that this area is a low density, urban wasteland with some low rise subsidized rental apartments, condos and not much else.
But the weird thing is, I had one of the best north city experiences yet in my visit to Carr Square. Firstly, my 3 year old and wife were with me today. We stopped into Kram Fish on Biddle Street to check out the retail side of the business that's been around since 1904. This place is a simple fish stand with buffalo, cat, carp, etc. They also have some frozen fish and shrimp, but no salt water fish. Nonetheless, it's a cool little place with soul.
Secondly, we knew we had to get some solid photos of St. Stanislaus Kostka. If you haven't heard of this parish, you should do some reading on the history. In short, this proud Polish-American Catholic church founded in 1847 has been fighting to retain their heritage and financial anonymity from the larger St. Louis Arch Diocese. The Catholic Arch Diocese tried to take over the finances of this church and close them down. The church has raised it's own money over the years through generous contributions of parishioners, corporations and other notables such as baseball great Stan Musial.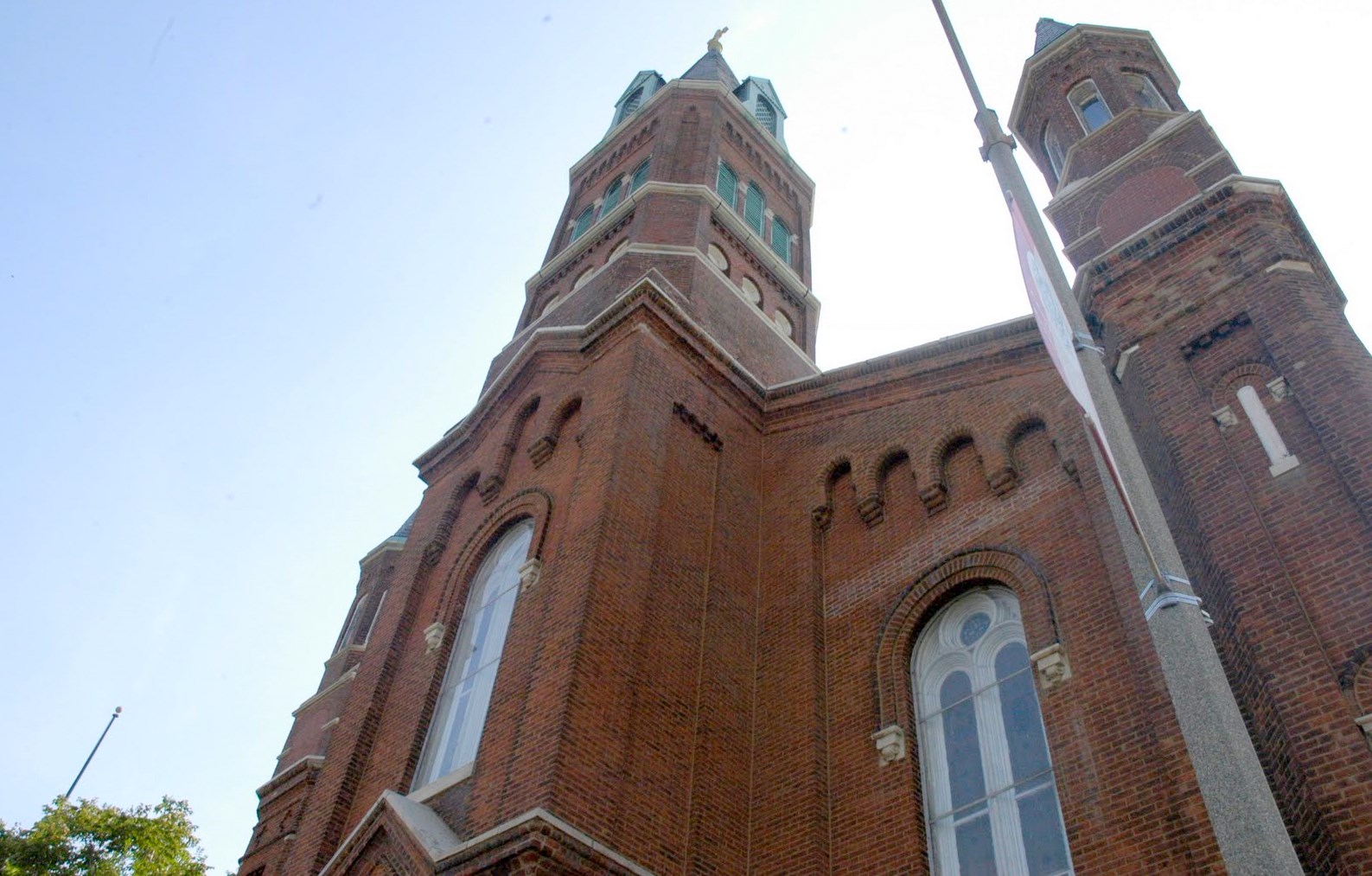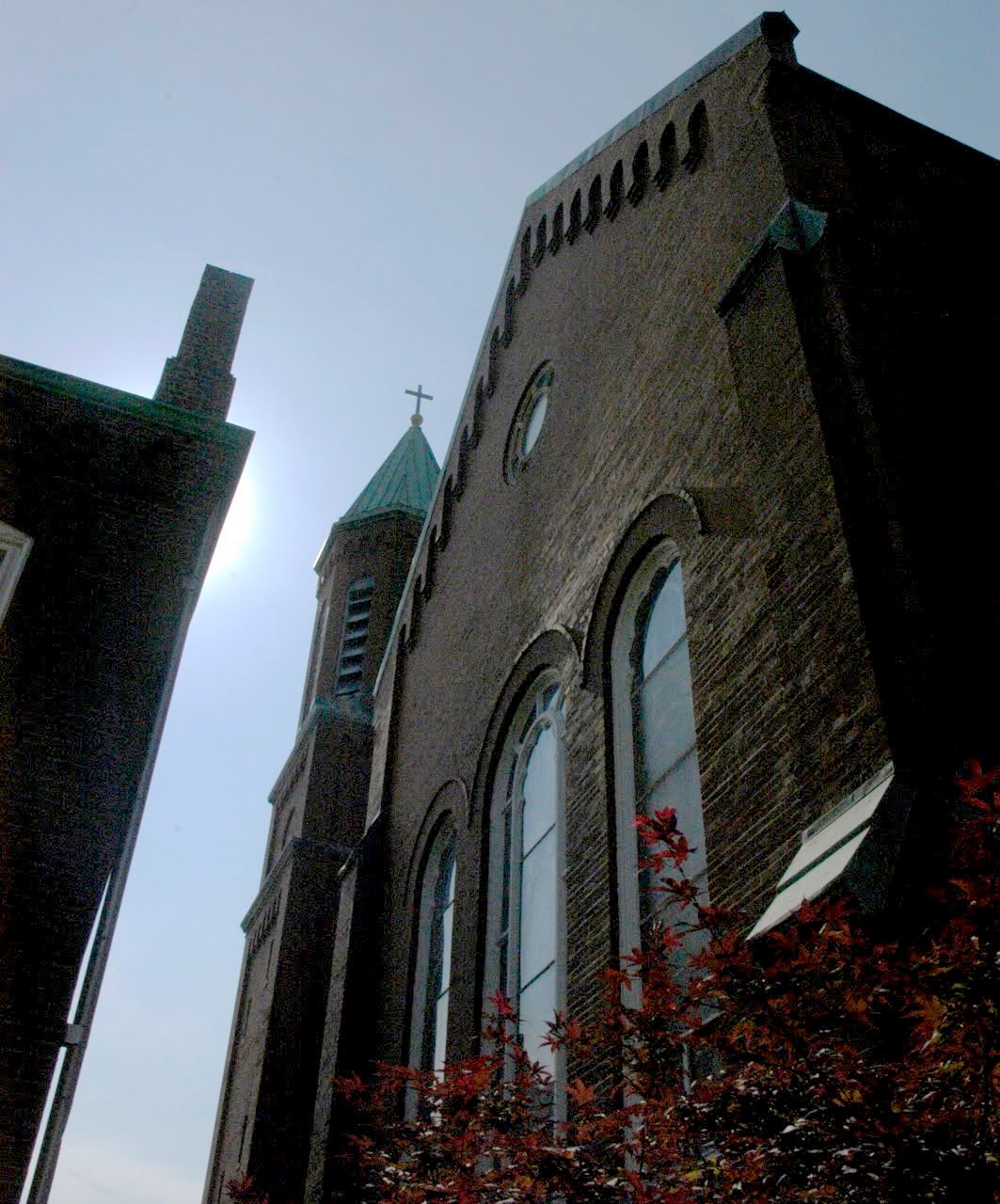 I've always been peripherally aware of this issue in north St. Louis, but today we were graced by the generosity and kindness of people that love their church, heritage and history more than most Catholics I've ever met. My wife was outside taking pictures of the church when two gentlemen approached her, and struck up a conversation. Usually when you have a camera in hand and no credentials, people are suspicious of your intentions. I assumed this was the same type of thing. Not so.
My wife came back to the car and told me that these fellas asked her if she wanted a personal tour of the inside. Sure. So we were lead on an insider showing and telling of the history of many pieces inside the church.
We also got some good anecdotal stories on Pruitt Igoe and it's effect on bringing down Carr Square. But the church has remained. One interesting tidbit we mined was that the tenants of PI would shoot holes in the roof of the church. Kudos for St. Stans for not packing it up and shutting down. They took a stand, waited out the worst of times, and now have a strong parish and church once again.
Anyhow, here are some photos of the inside of the church: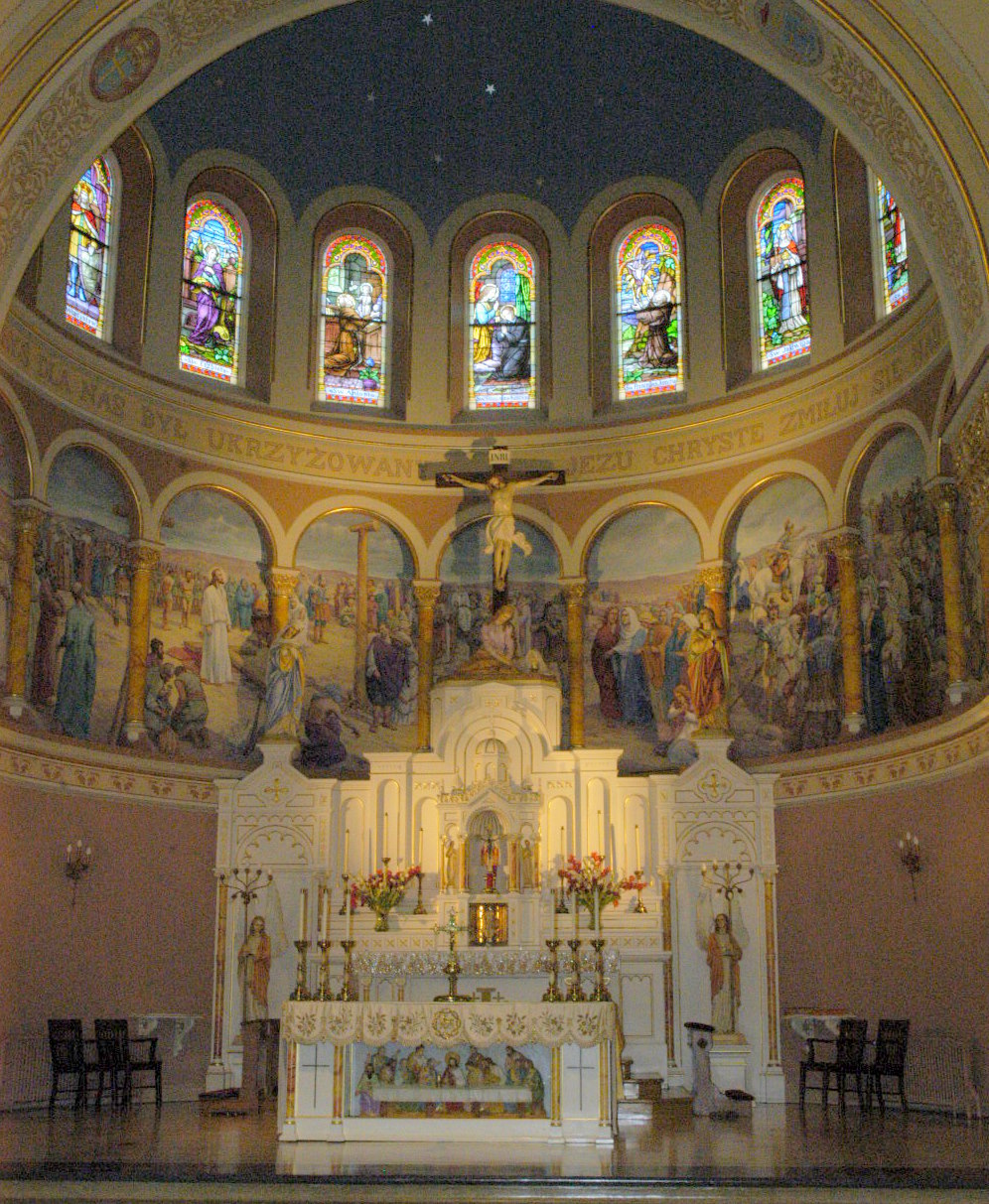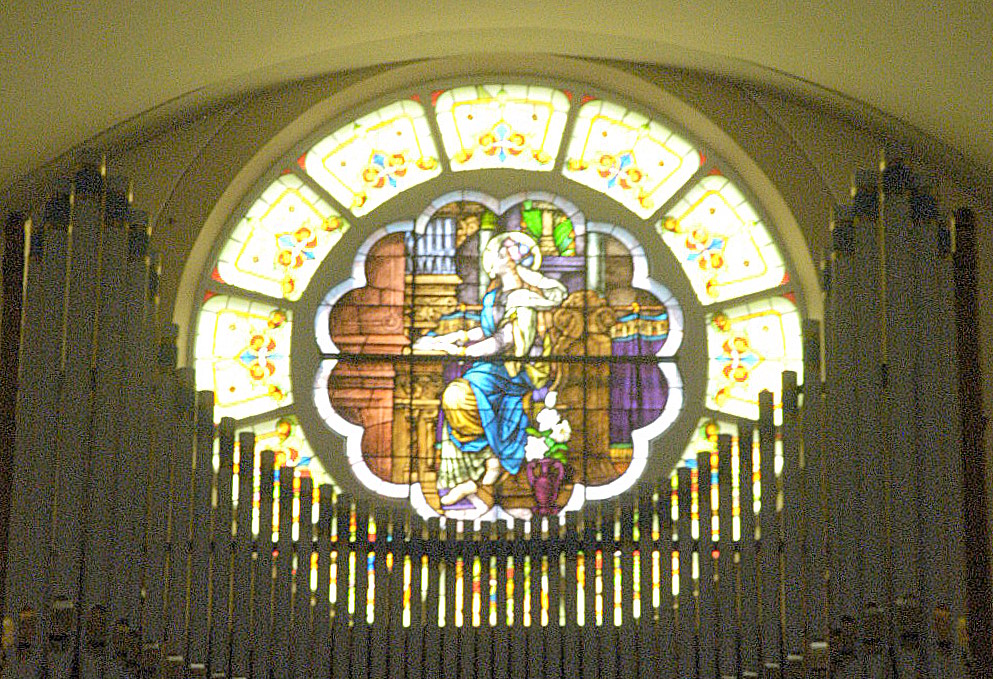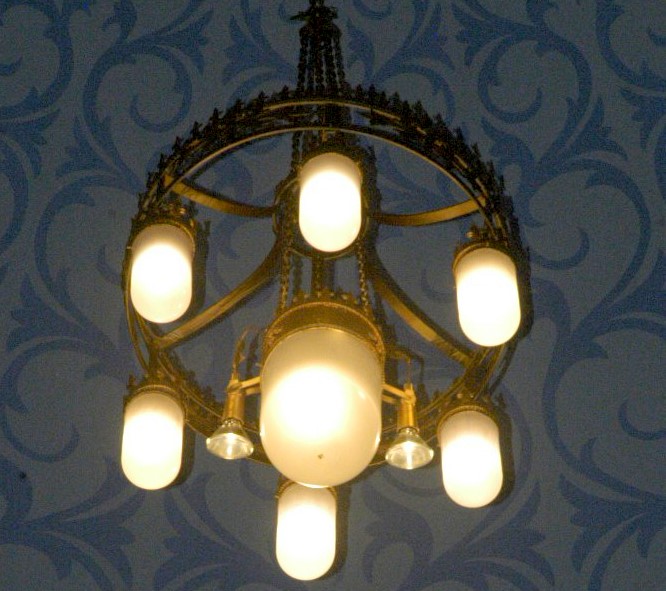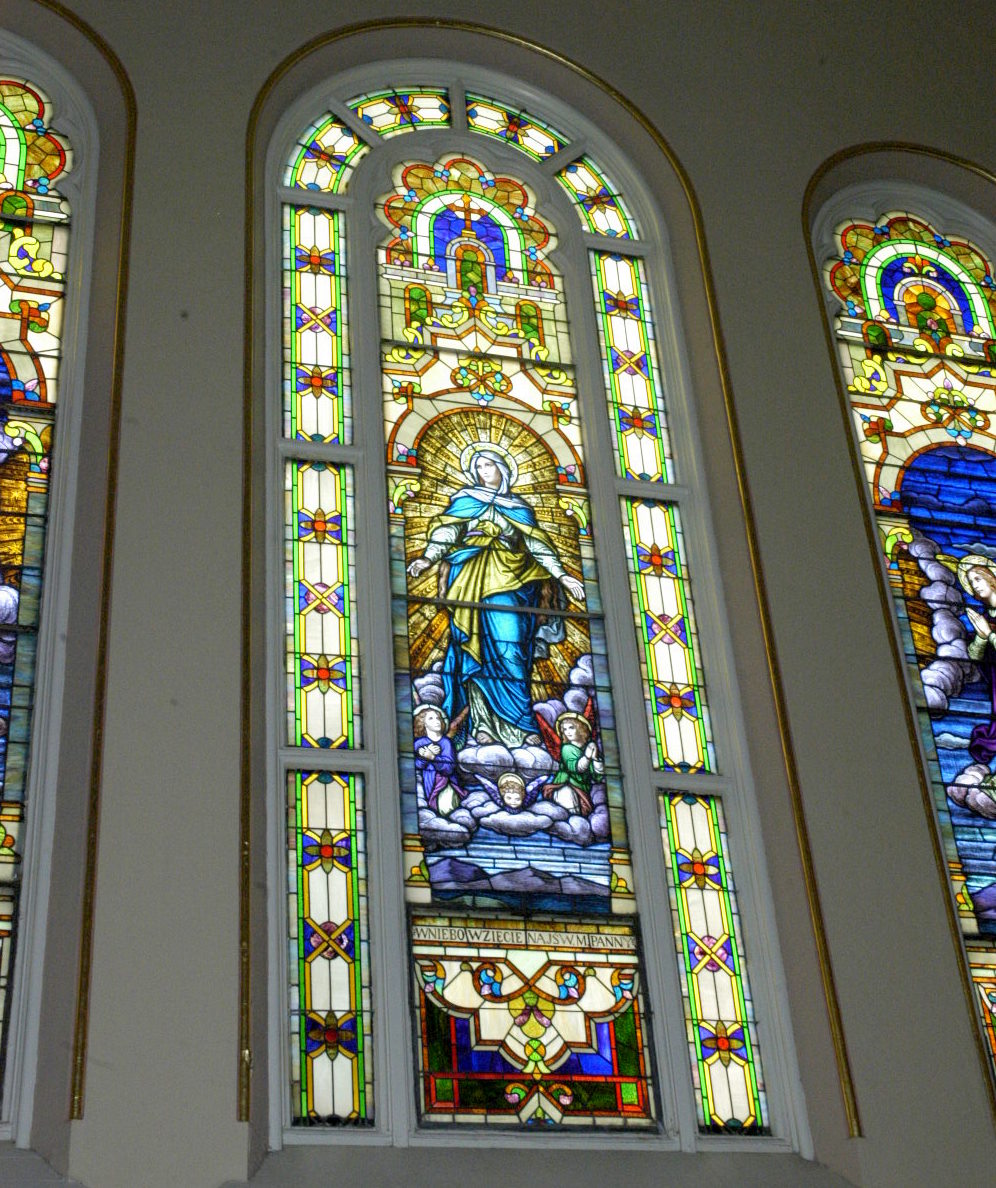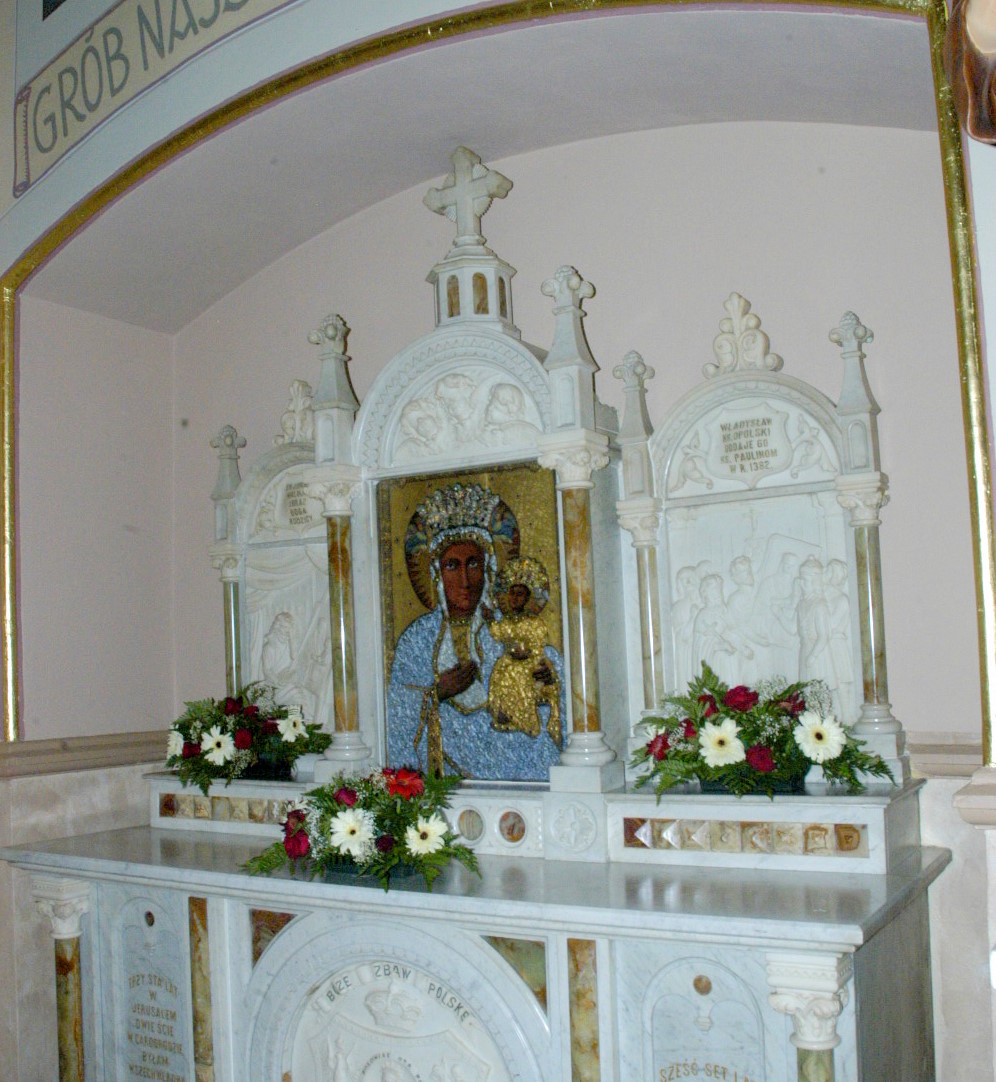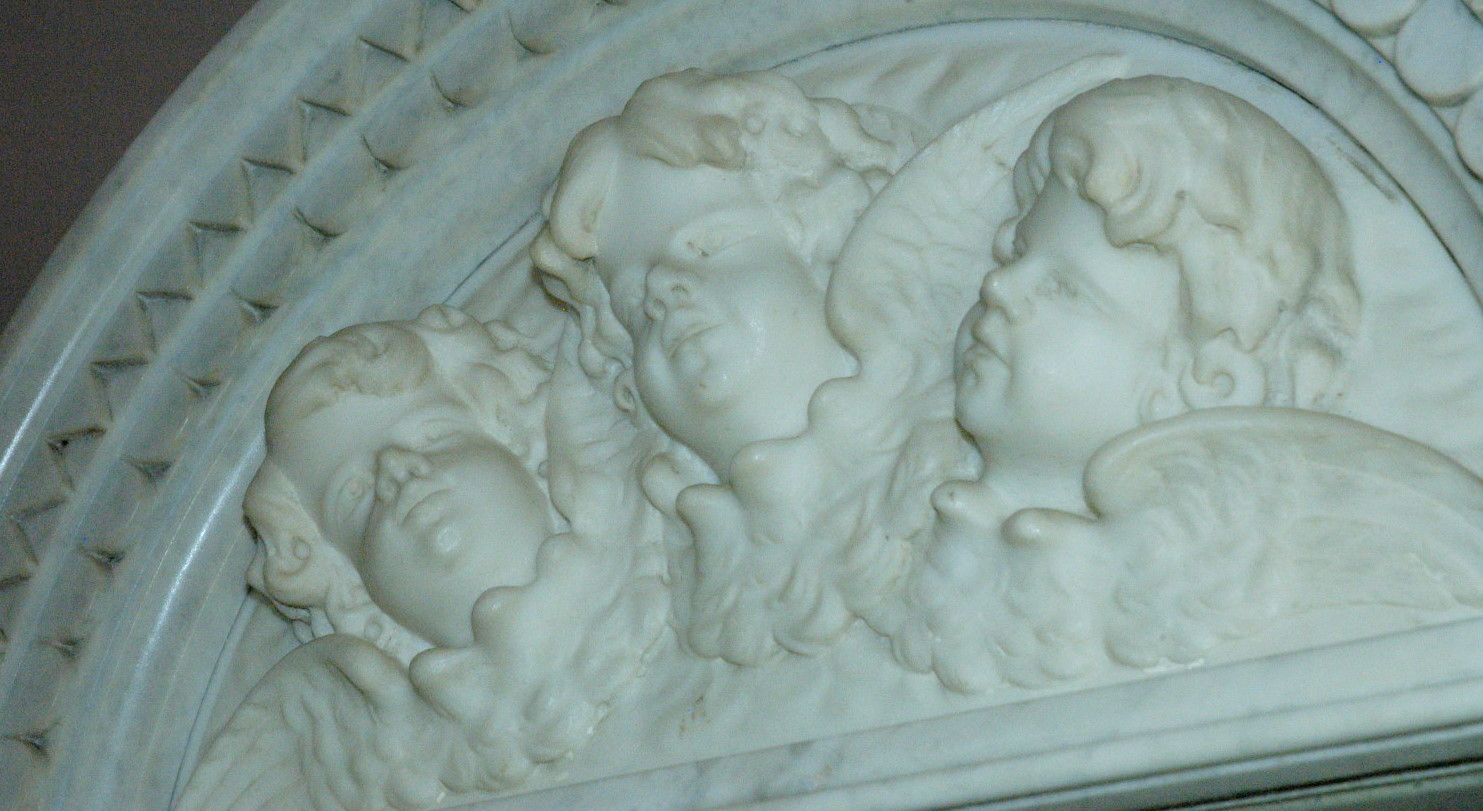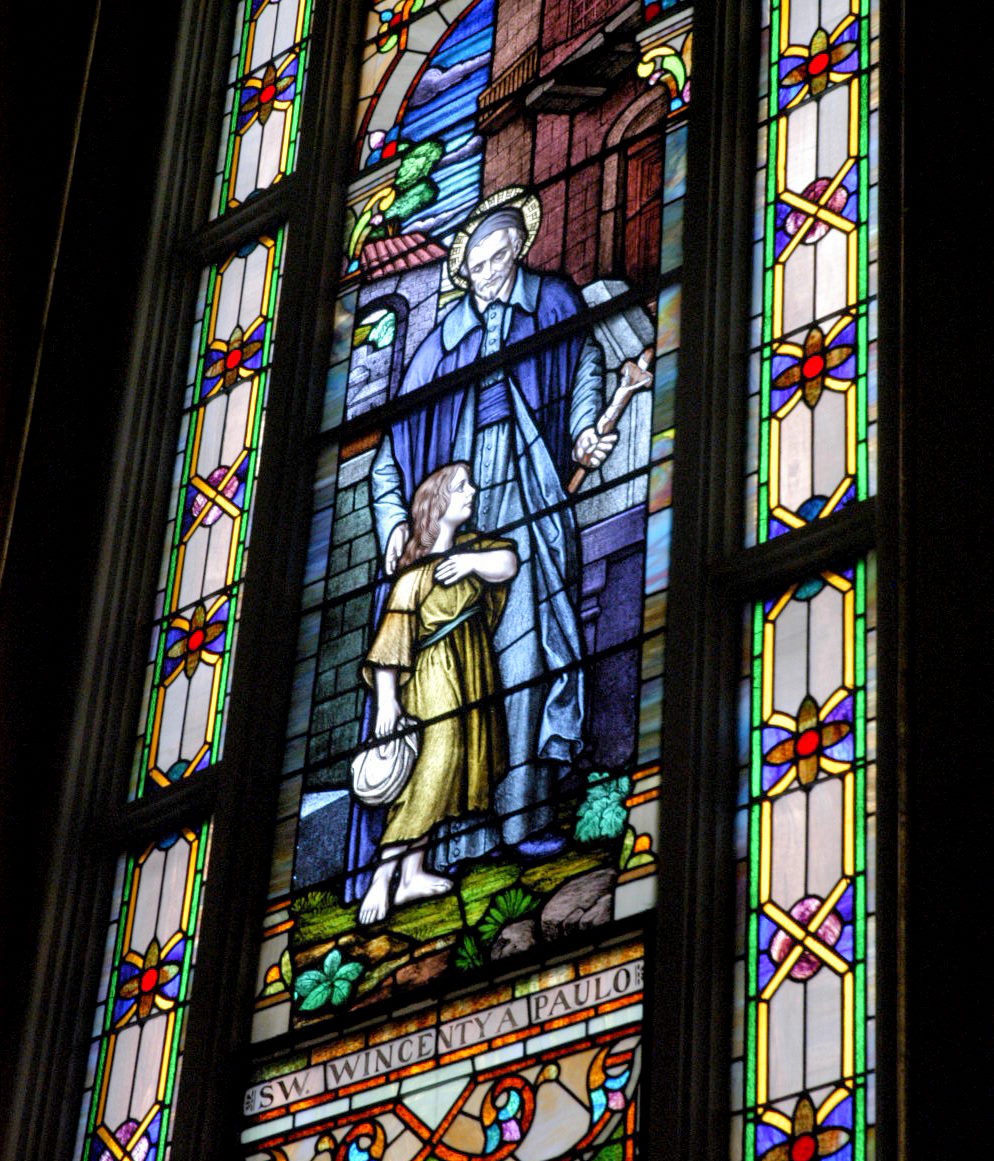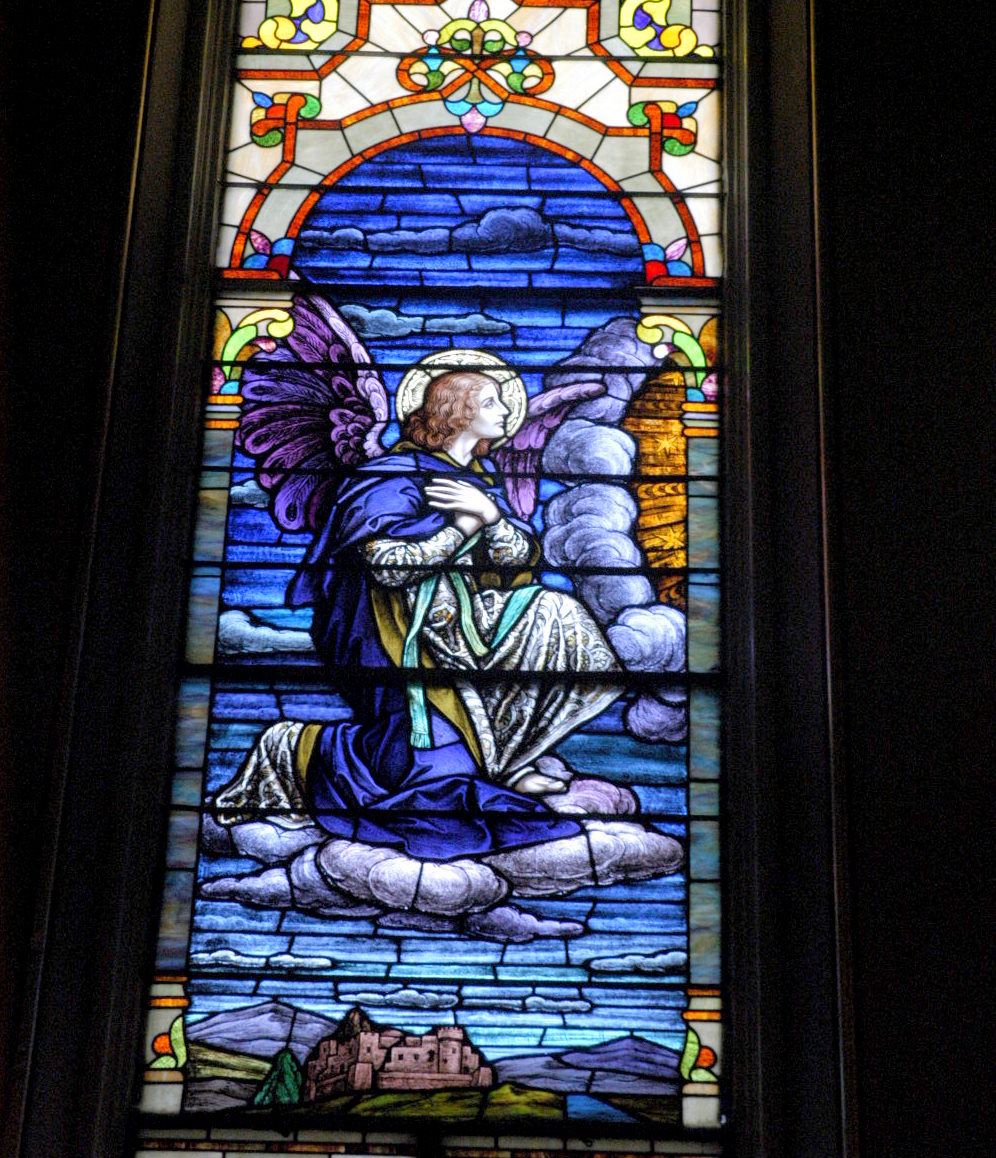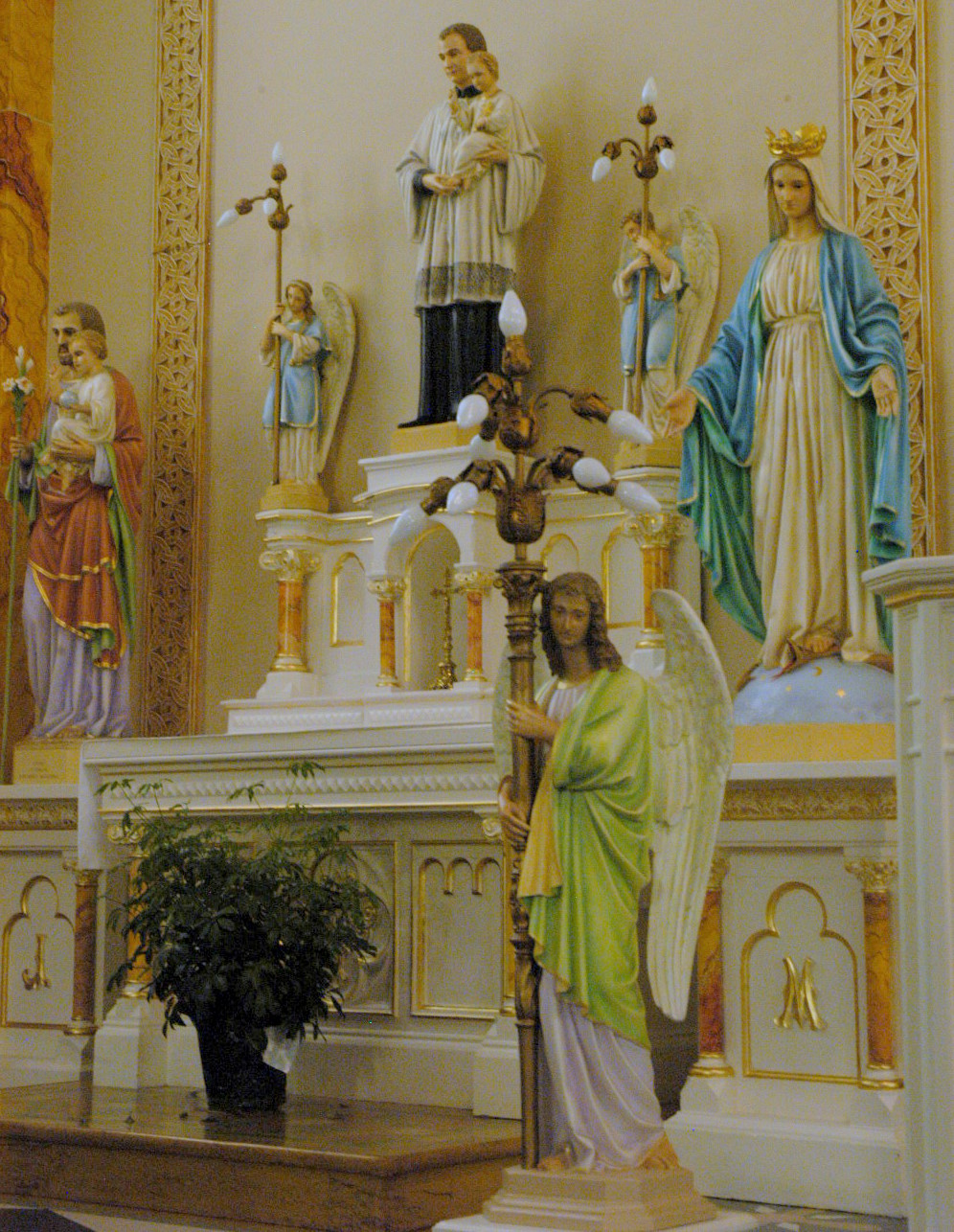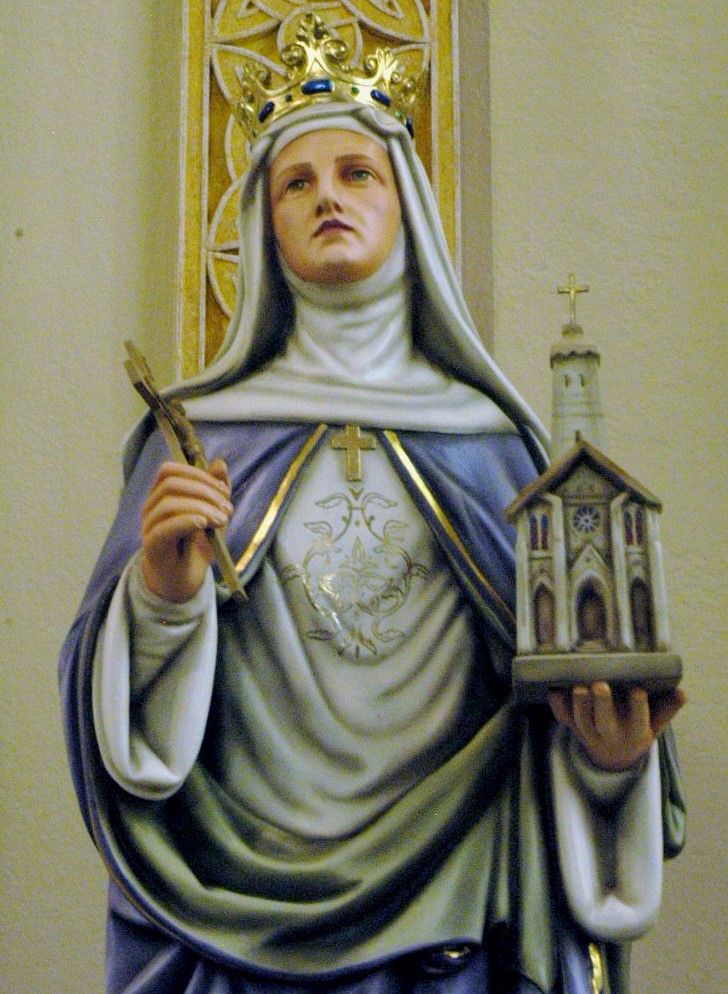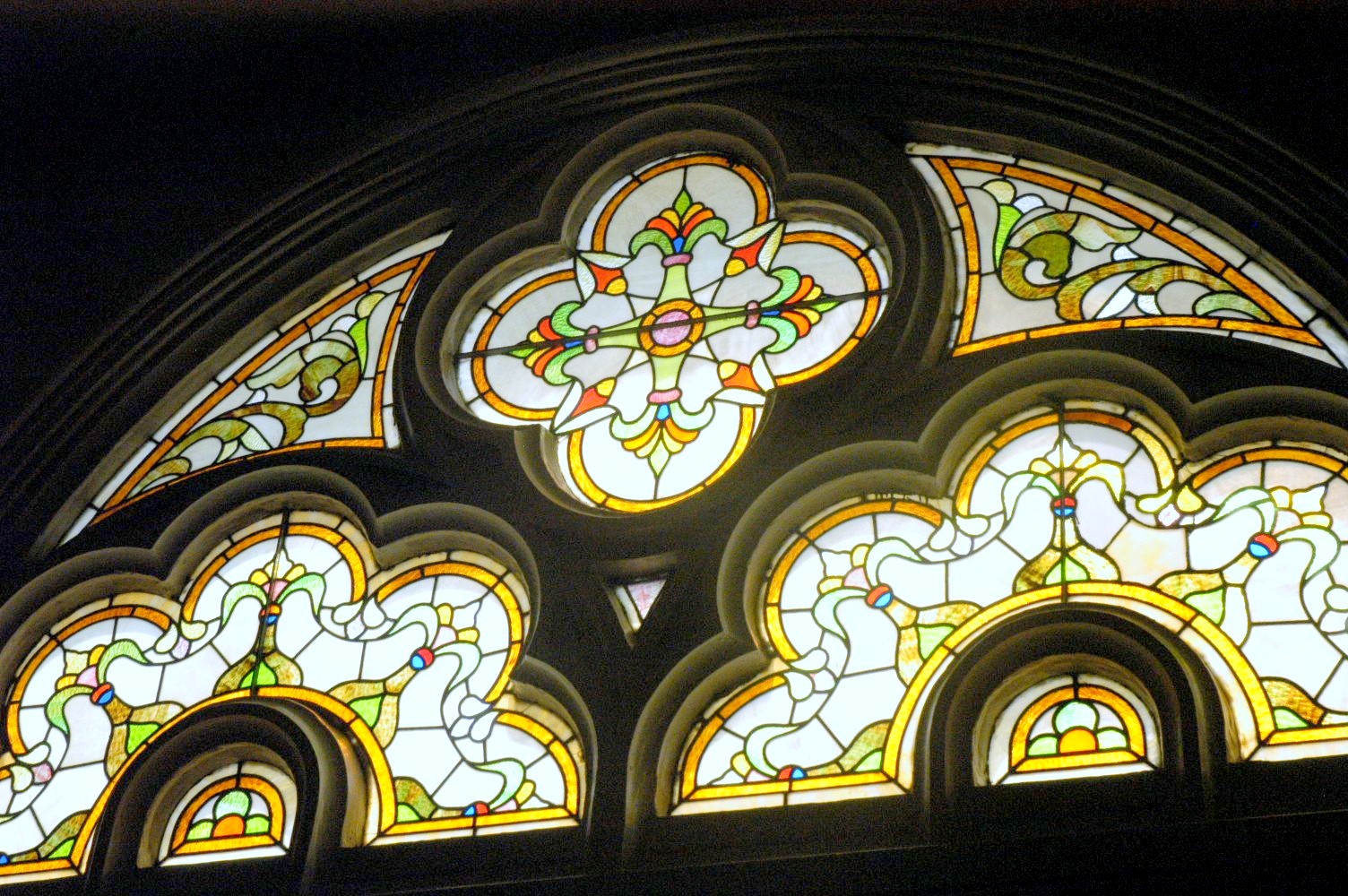 We were lucky to have had this experience, as frankly there just isn't anything else going on Carr Square other than these large planned community-like (I'm assuming) subsidized apartment "complexes" complete with a neighborhood center and strip malls providing some junk food and services to the locals.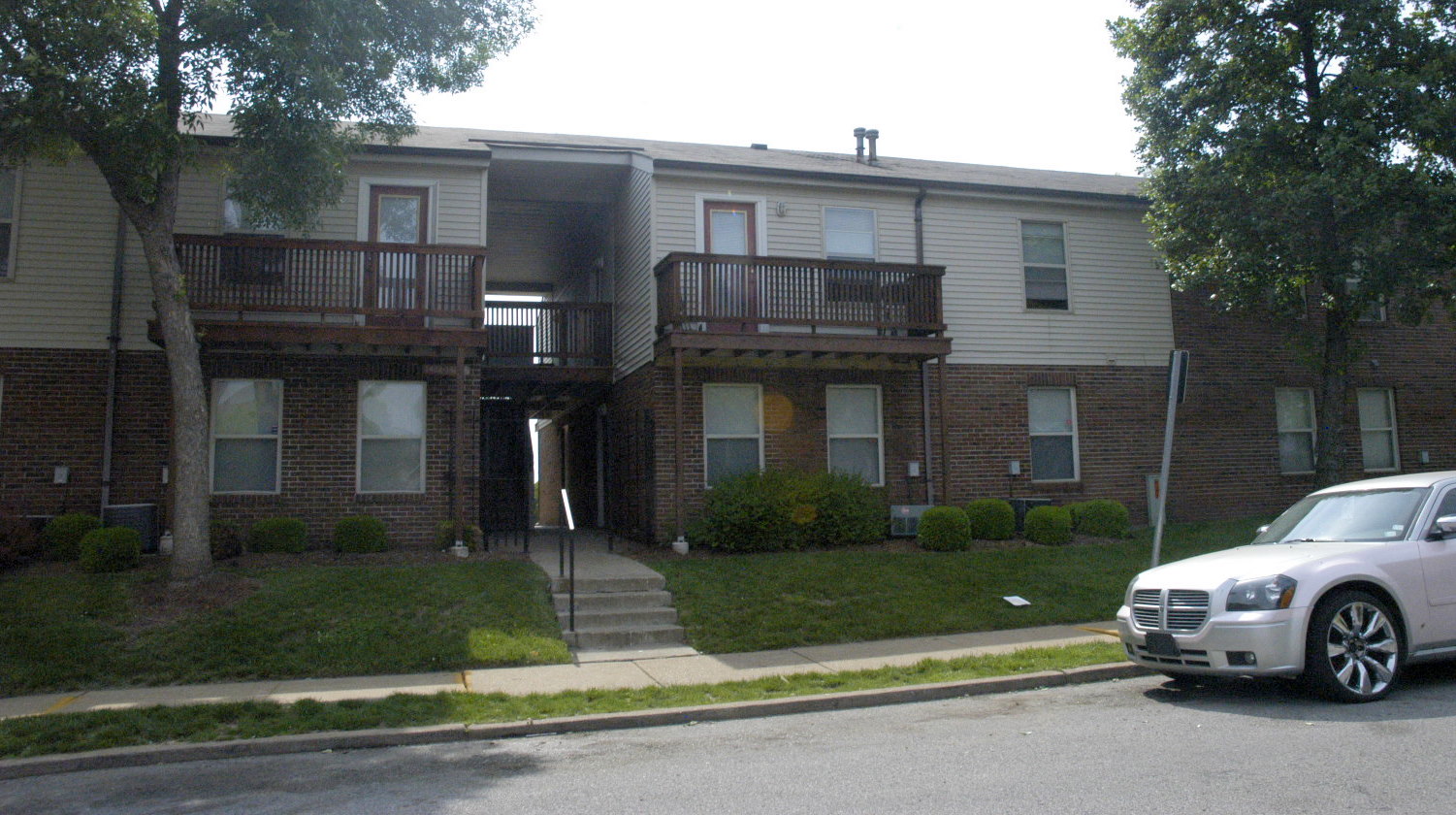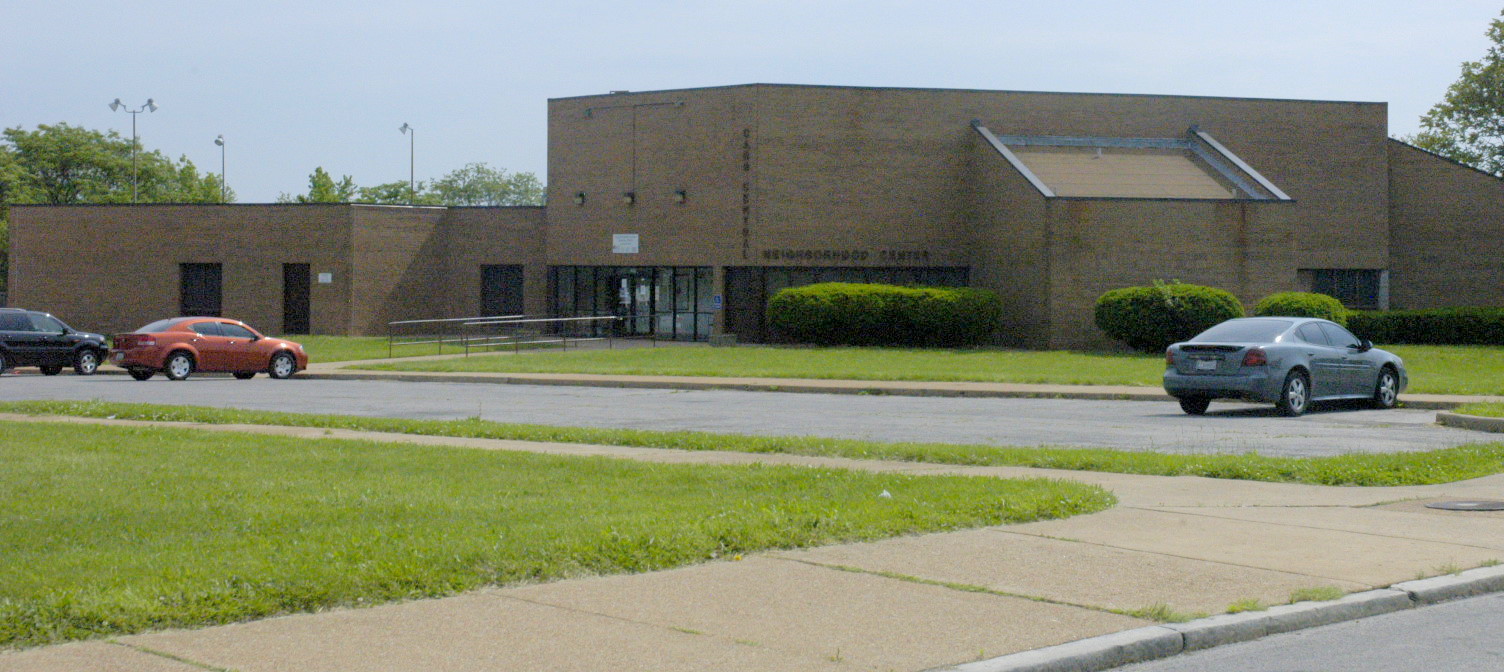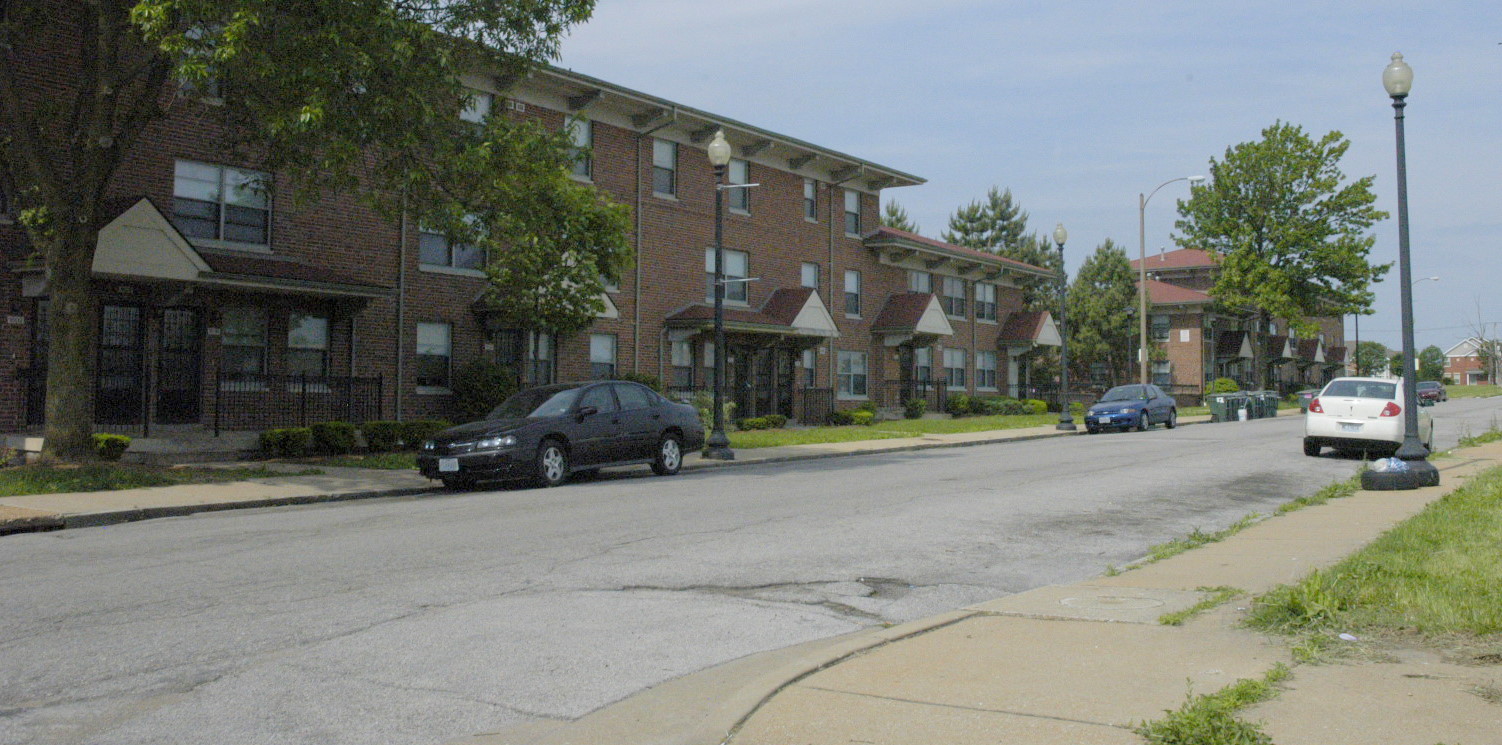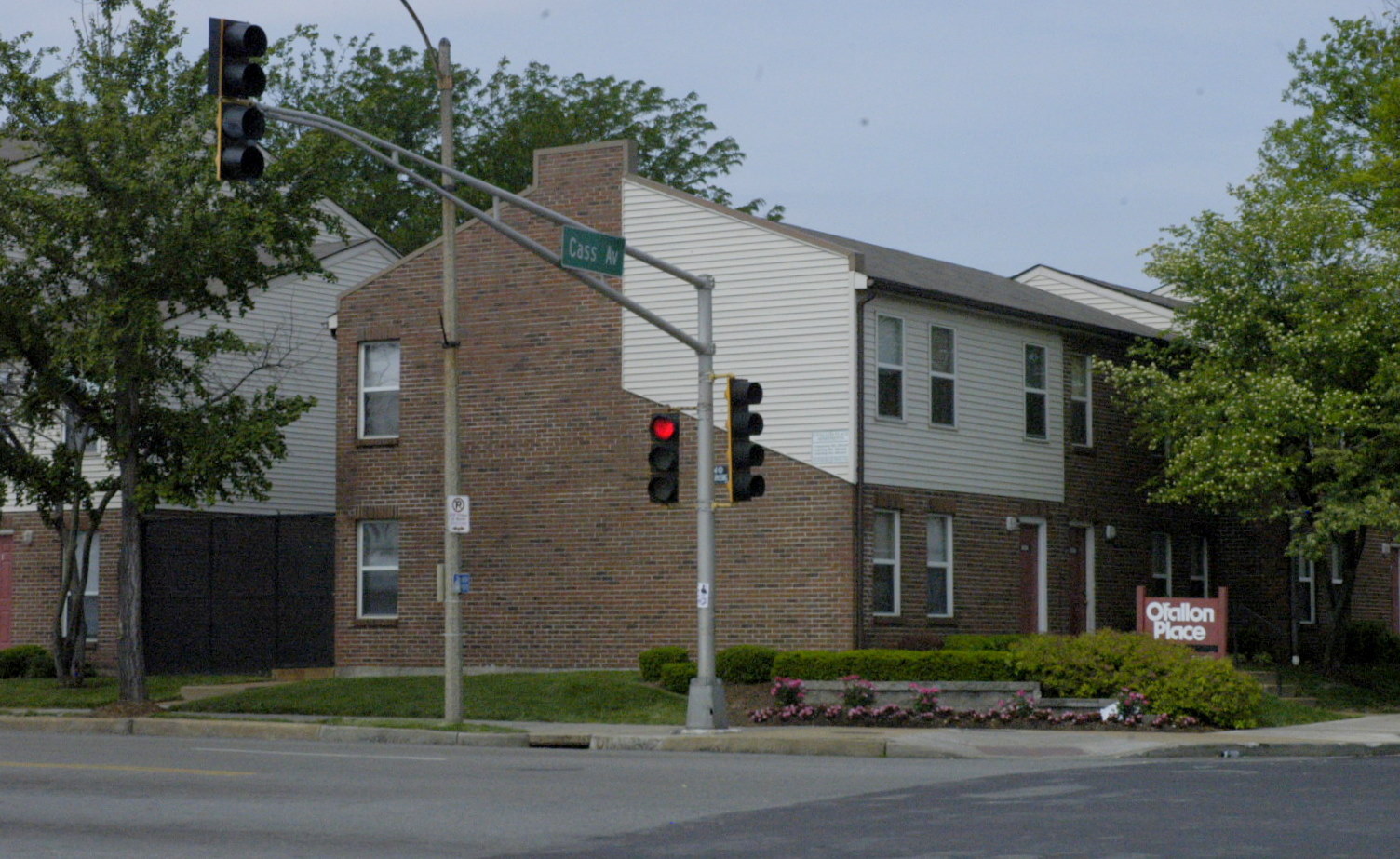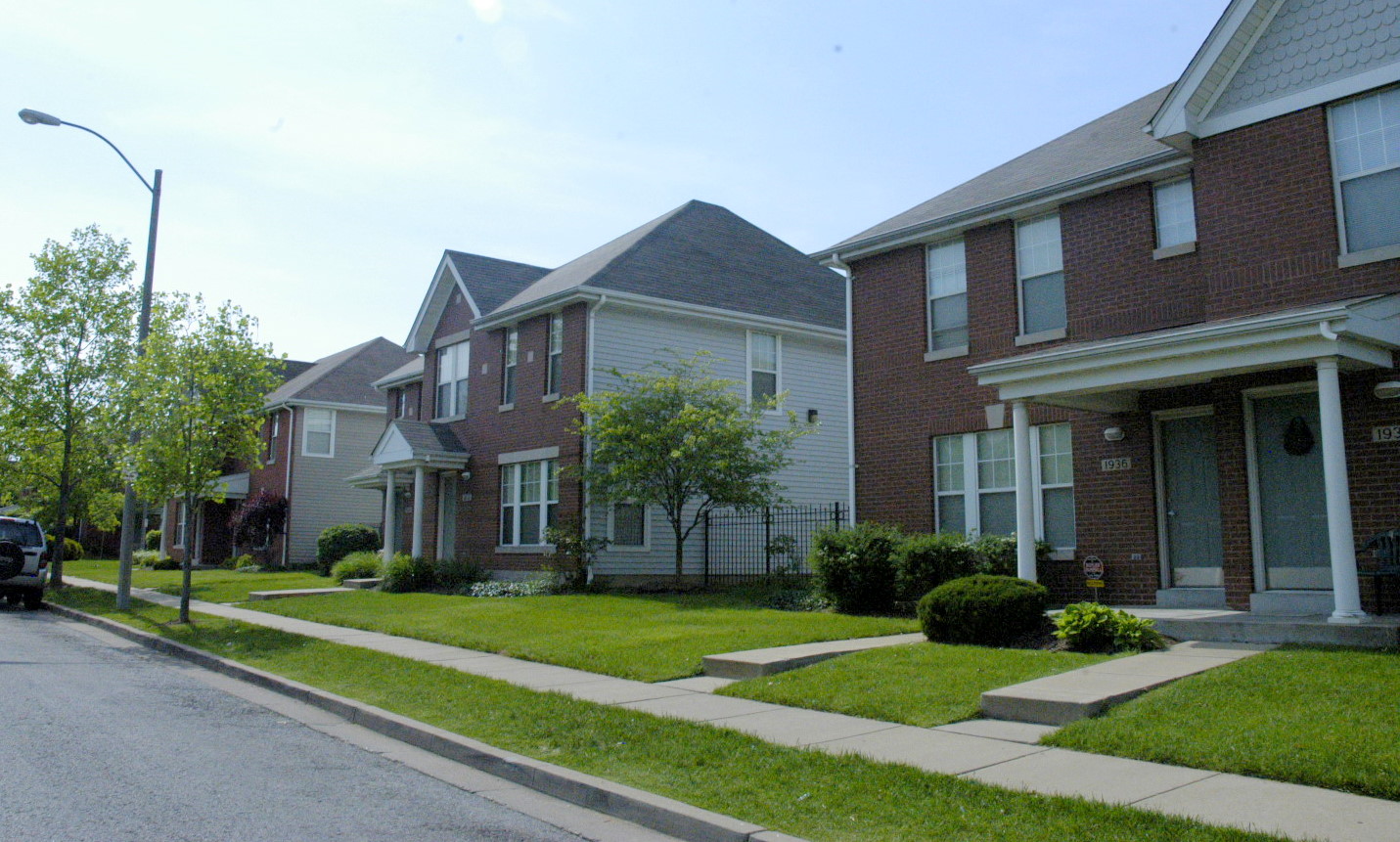 Pruitt-Igoe has been back in the news in a big way lately. First, an award-winning feature length documentary titled The Pruitt-Igoe Myth reexamined the experience of living at PI and the reasons for its eventual demise. The state of the land where the development once stood is the subject of mroe than one urban design thesis, but Framing a Modern Mess stands out as a very informative study as it compares PI and the St. Louis Arch grounds. And the Pruitt-Igoe Now design competition is requesting submissions for reimagining the space that has sat vacant since the towers were imploded.
If you haven't seen images of Pruitt-Igoe previously, here's a quick glimpse of what we're talking about. And check out the nextSTL review of The Pruitt-Igoe Myth: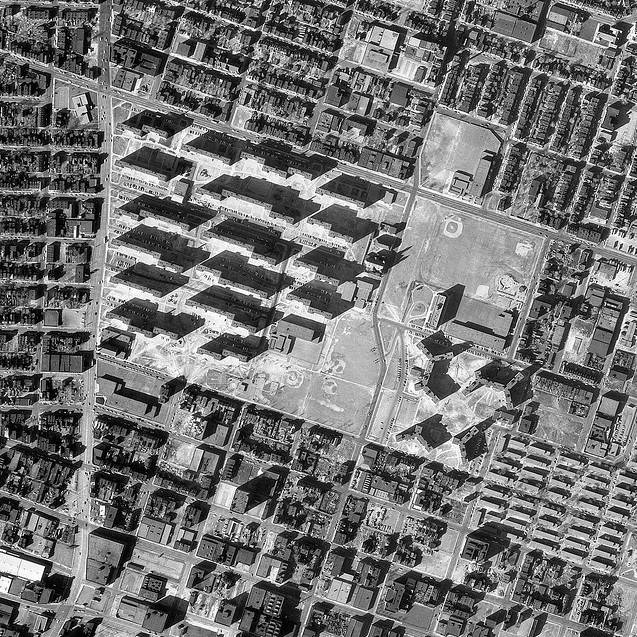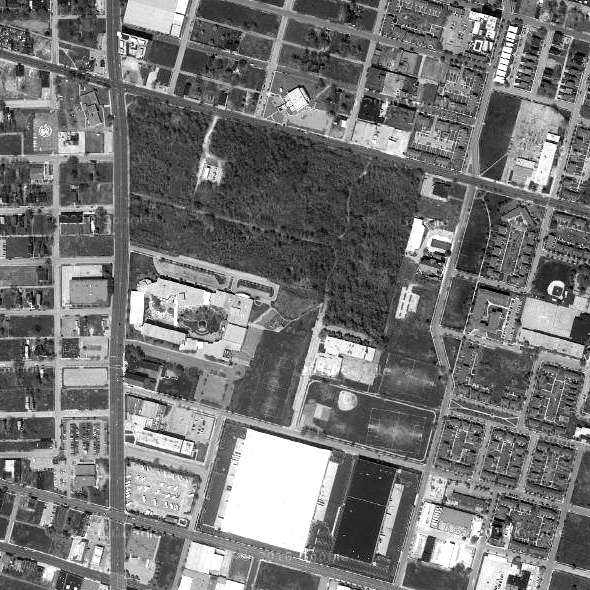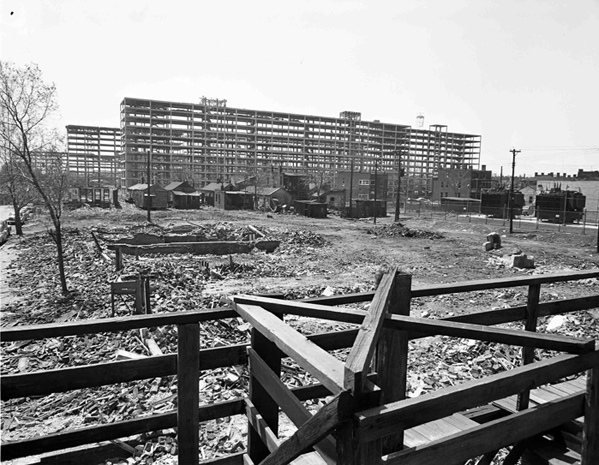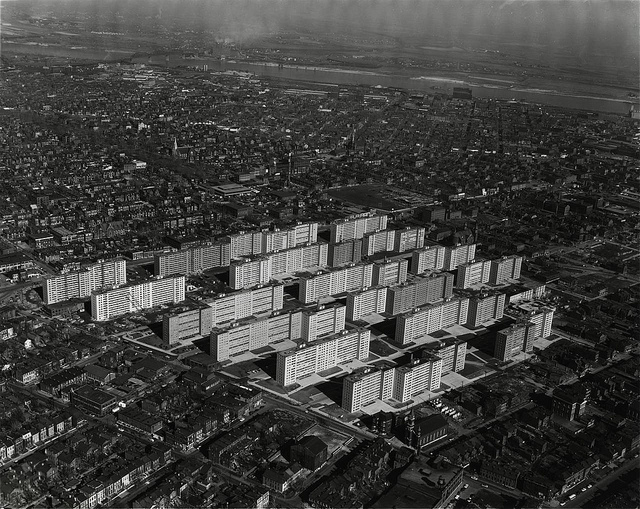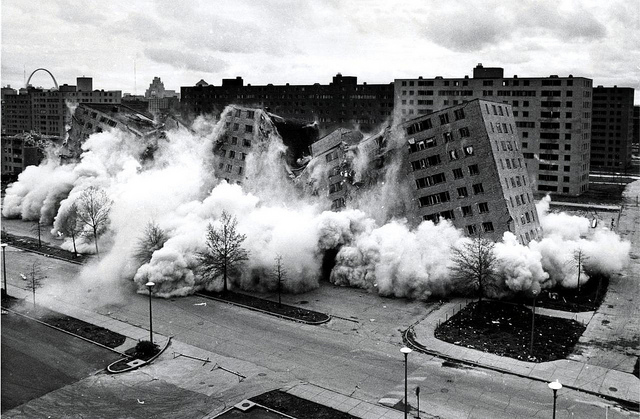 These parts of St. Louis are in the NorthSide plans of suburban developer Paul McKee. I think we should look forward to any investment in this part of town. Here's the St. Louis Post Dispatch map that shows the proposed phases and investment dollars of the NorthSide plan. The red circle highlights the area that includes Carr Square: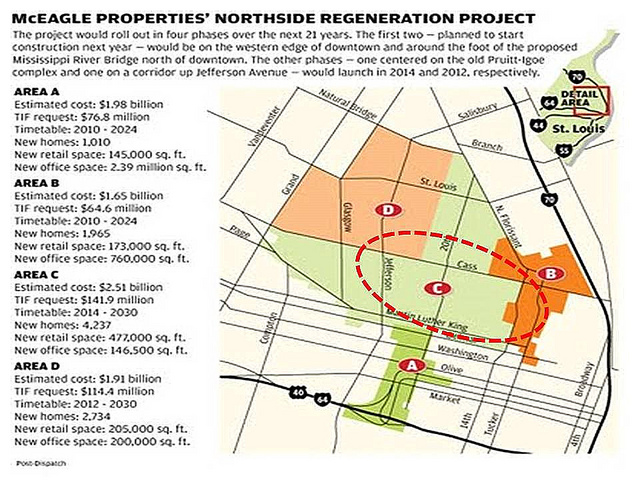 This part of town is in dire need of some investment, and being that it abuts Down Town West, it will be an important gateway neighborhood to the north side. If McKee, etc. can come up with a contemporary, urban, mixed use, sustainable plan for redevelopment, this could be one of the greatest and unexpected improvements in the city's long history.