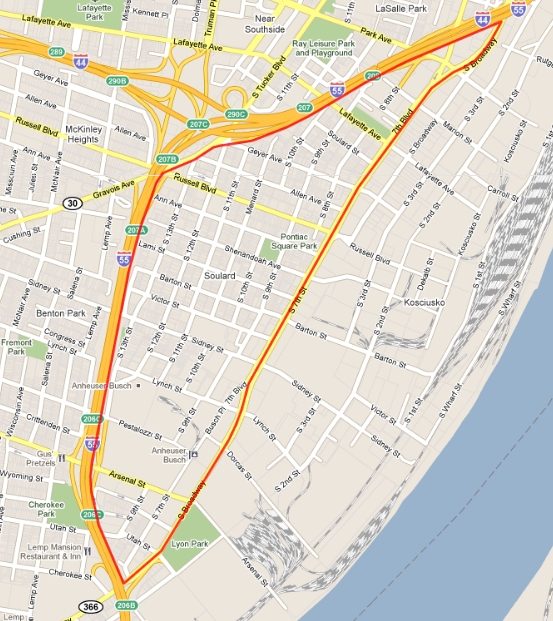 Soulard is a south St. Louis neighborhood bound by 7th/Broadway to the south east and I-55 to the west and north. The 2000 census data counted 3,187 residents (11% decrease from 1990) of whom 80% were white, 16% black, 2% Hispanic/Latino and 1% Asian. There were 2,216 housing units @ 82% occupancy rate, split 28%/72% owner/renter.
Soulard is arguably St. Louis' most well known neighborhood. Everyone knows where the brewery is, everyone knows where Mardi Gras is, everyone has a favorite bar/restaurant here. It's probably in the top 5 for most recognized neighborhoods, region-wide for sure. It's a destination spot, as well as a residential neighborhood. Here's a summary from the Soulard website:
Soulard, a City of St. Louis Historic District and on the National Register of Historic Places, is well known for its festive and sometimes boisterous Mardi Gras and Bastille Day celebrations. This near south side neighborhood also has a wonderful residential tradition.
Originally part of the common fields of the City of St. Louis, some of what is now Soulard was given to Antoine Soulard, surveyor general of Upper Louisiana, by the Spanish governor in the 1790's as payment for his services. Soulard's widow, Julia, stipulated in her will that two city blocks be given to the City of St. Louis for use as a public market. She died on May 9, 1845. Her bequest survives today in the form of the Soulard Market.
The remainder of her property was inherited by her three sons, who gradually subdivided and sold it as the city expanded to the south.
By the mid-19th century, large numbers of Germans had settled in Soulard, along with some Irish. Later would come Bohemians, Slovaks, Croatians, Lebanese and other immigrants, all intent on creating a new home in America. Each ethnic group contributed to the interesting economic and social mix. The backdrop, the Soulard architecture and street scape, which displays a spectrum of interesting detail and a robust character, added a unique texture to this mix. Through the surviving residential and commercial structures of Soulard one can trace the history of 19th century St. Louis. Modest, sturdy multi-family structures are mingled with stately Victorian townhouses and a few elegant mansions.
After World War II, Soulard, like many urban neighborhoods, fell on hard times. Flight to the suburbs, disinvestment and demolition undermined the stability of the neighborhood.
This downward trend was reversed, however, starting in the 1970's. People returned to Soulard to reclaim the unique architectural heritage and to mold the Victorian-era living spaces to meet modern needs. In the process, they created a sense of community while investing millions of dollars in the neighborhood.
As in the old days, Soulard today is a socially and economically diverse community. The century plus old homes have attracted people of all ages and from many different walks of life. Real estate prices range from $60,000 for a shell to over $450,000 for a completed home, as the neighborhood continues to build and improve. This web site offers insights into the neighborhood, its revival and its present residents.
Without a doubt, Soulard is one of St. Louis' great neighborhoods. It's a prime example of quality structures weathering the storms of both mother nature and changing human behavior patterns. The neighborhood was severely battered by a cyclone in 1896: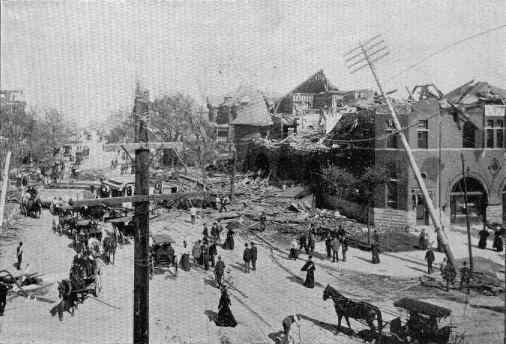 We almost lost it to suburban flight too, as it was a straight up slum in the 1970's. It's just a prime example of what the power of successful rehabbing of original structures can do for the city and makes a desirable/historic place for people of all ages to enjoy for generations to come.
This is a vibrant neighborhood with an active nightlife. I used to live here in the mid-late 1990's and the neighborhood is completely different than it was then. It is constantly changing with its properties evolving into new and exciting uses. From the art deco police station that is a Mad Art Gallery (this is the 3rd of these 1930's police stations I've found; 1 on Hampton at Watson in the Southwest Garden neighborhood and another on Samuel Shepard drive in Midtown):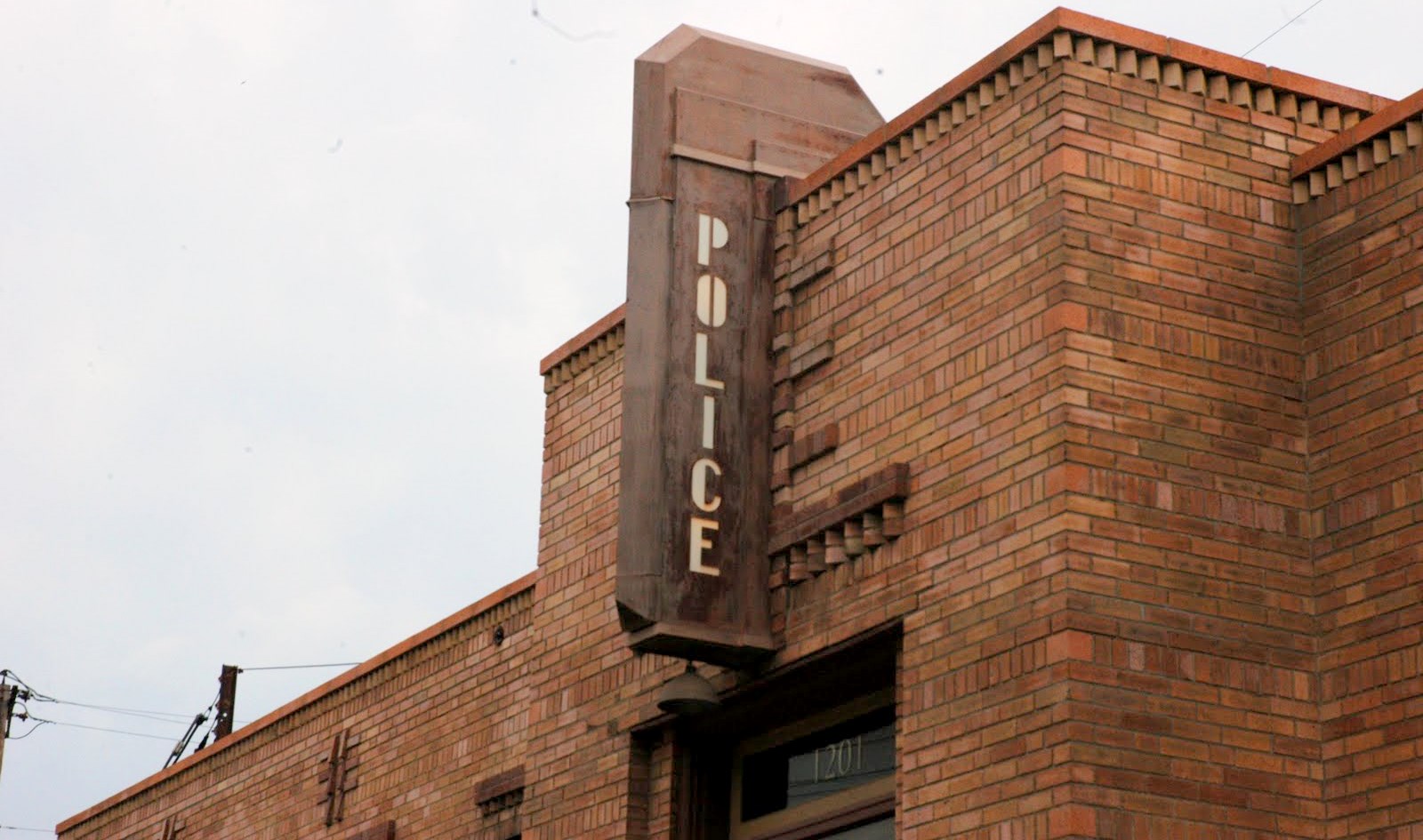 To the former Welsh Baby Carriage factory converted to apartments: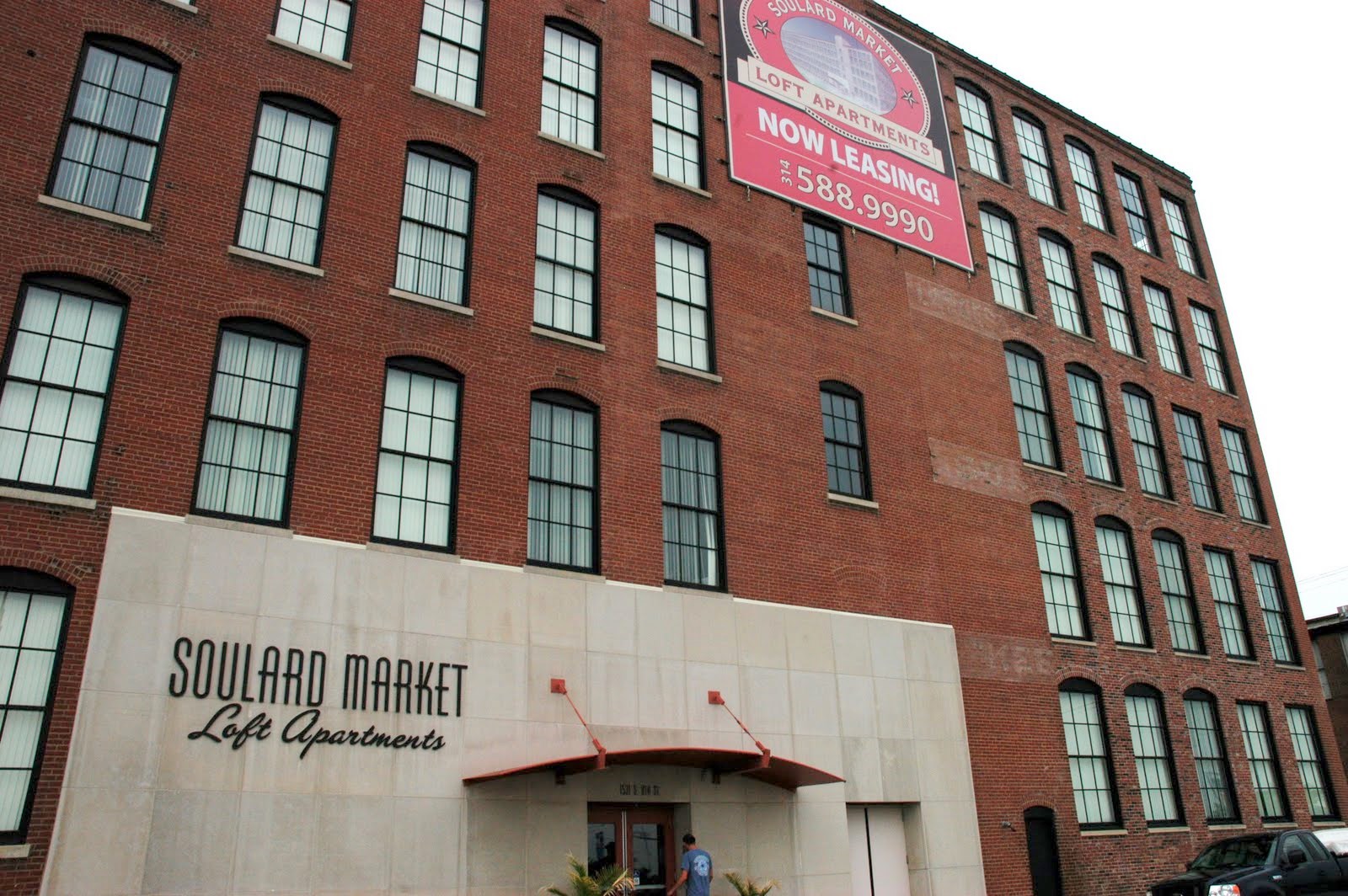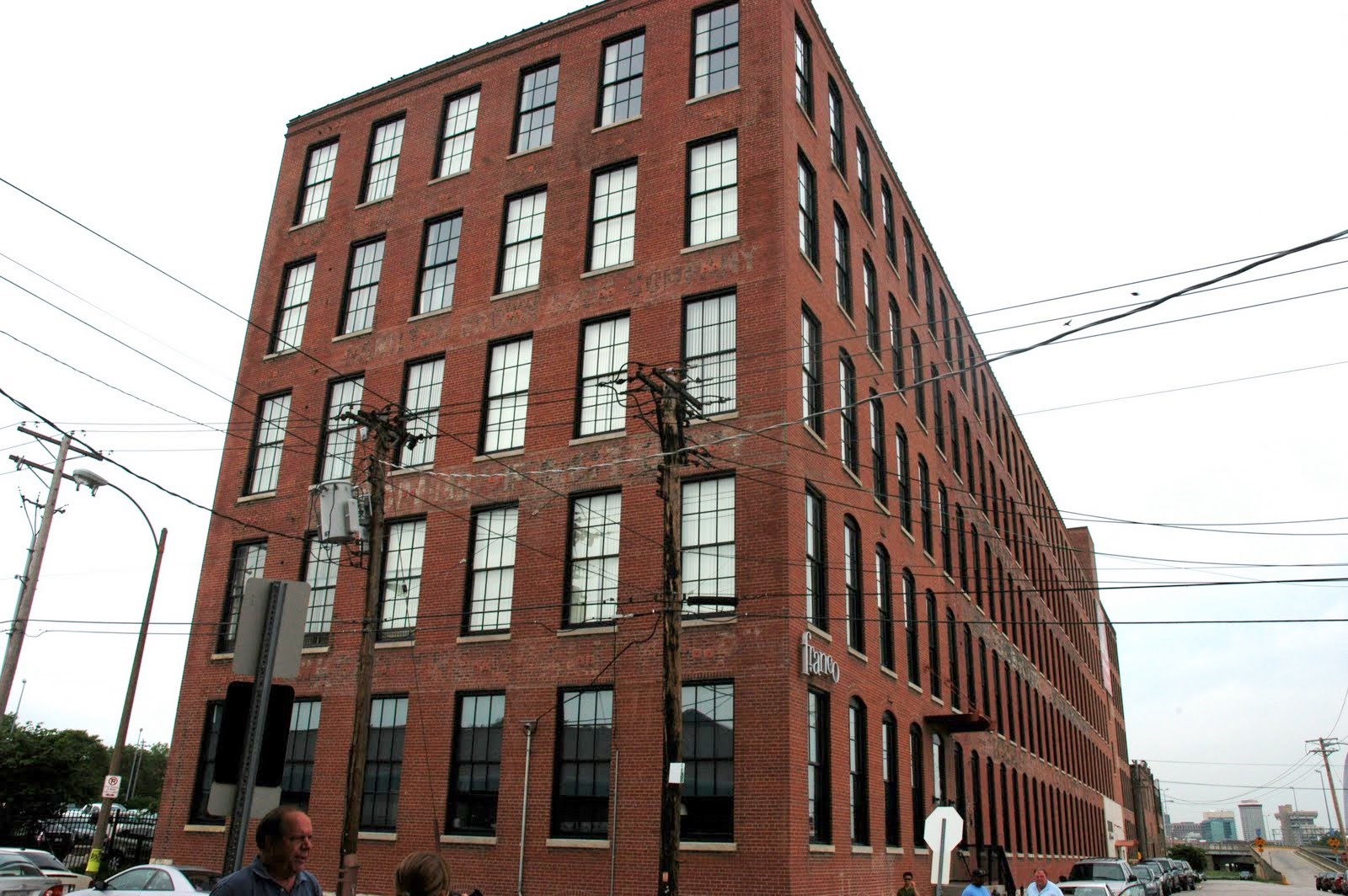 To the former International Shoe Company conversion to senior living housing (note the renovated city hospital or Georgian in the background):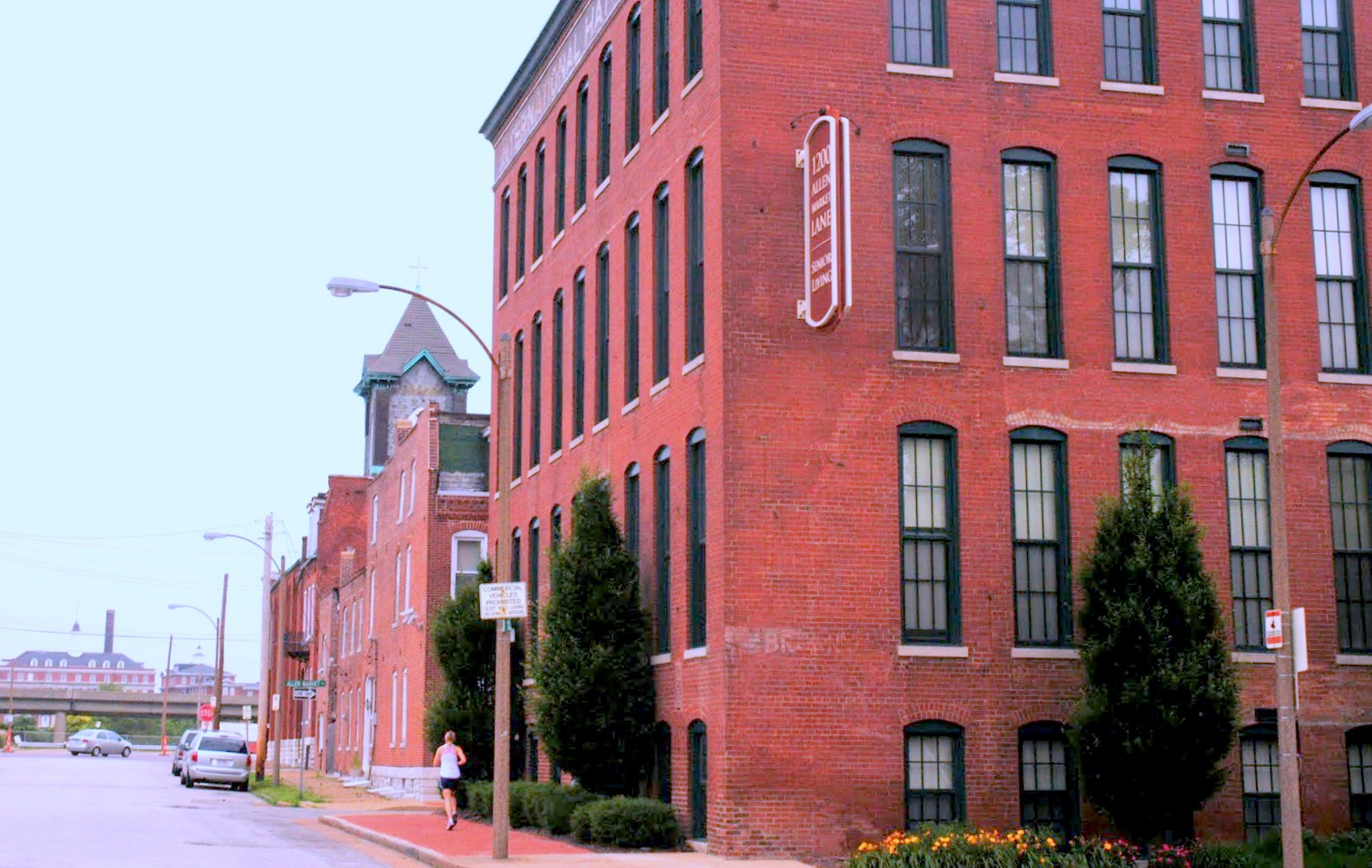 Other positive changes since I stayed in Soulard include the addition of a large community garden and two dog parks which have added to the many options for a quality urban lifestyle: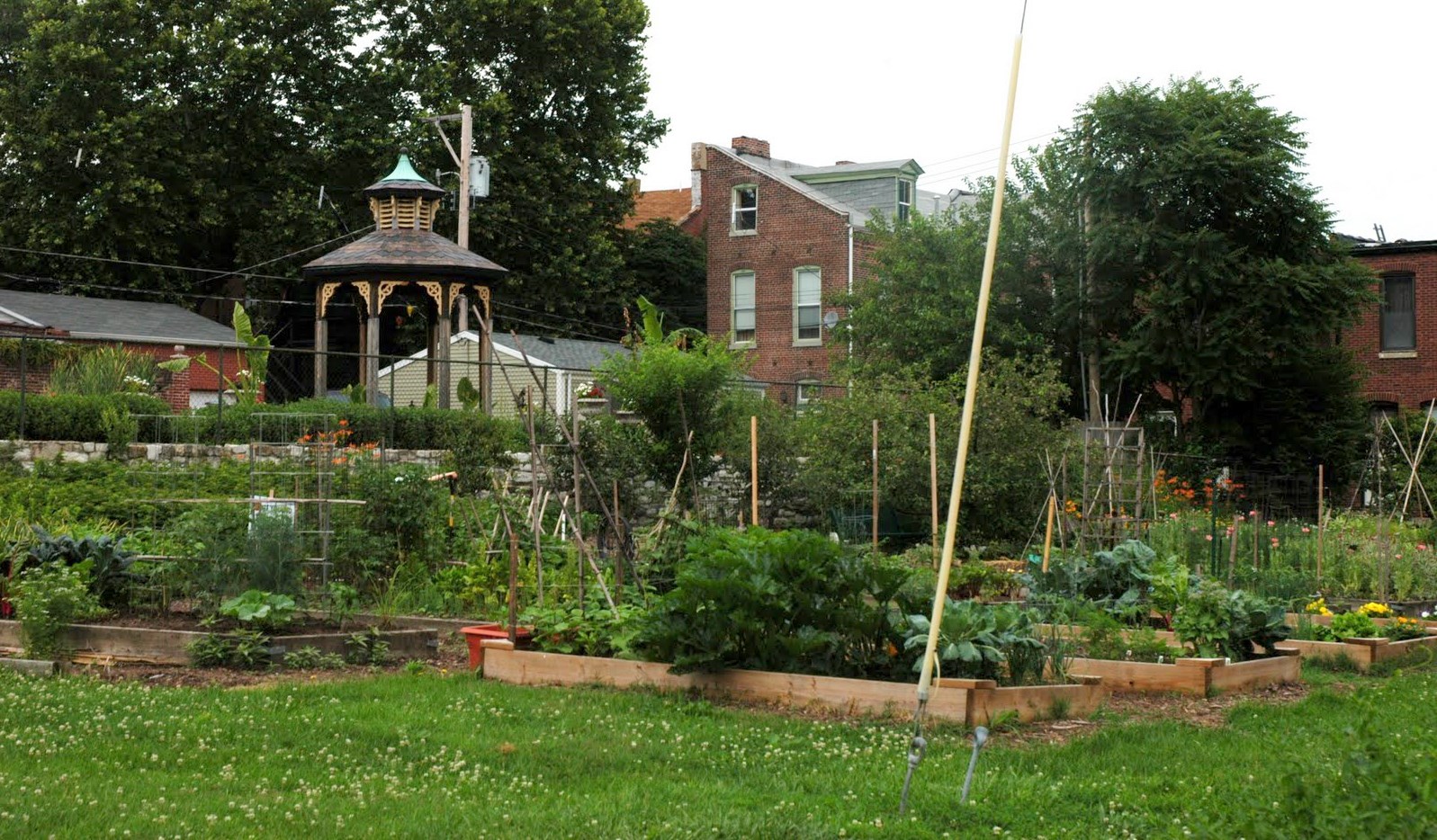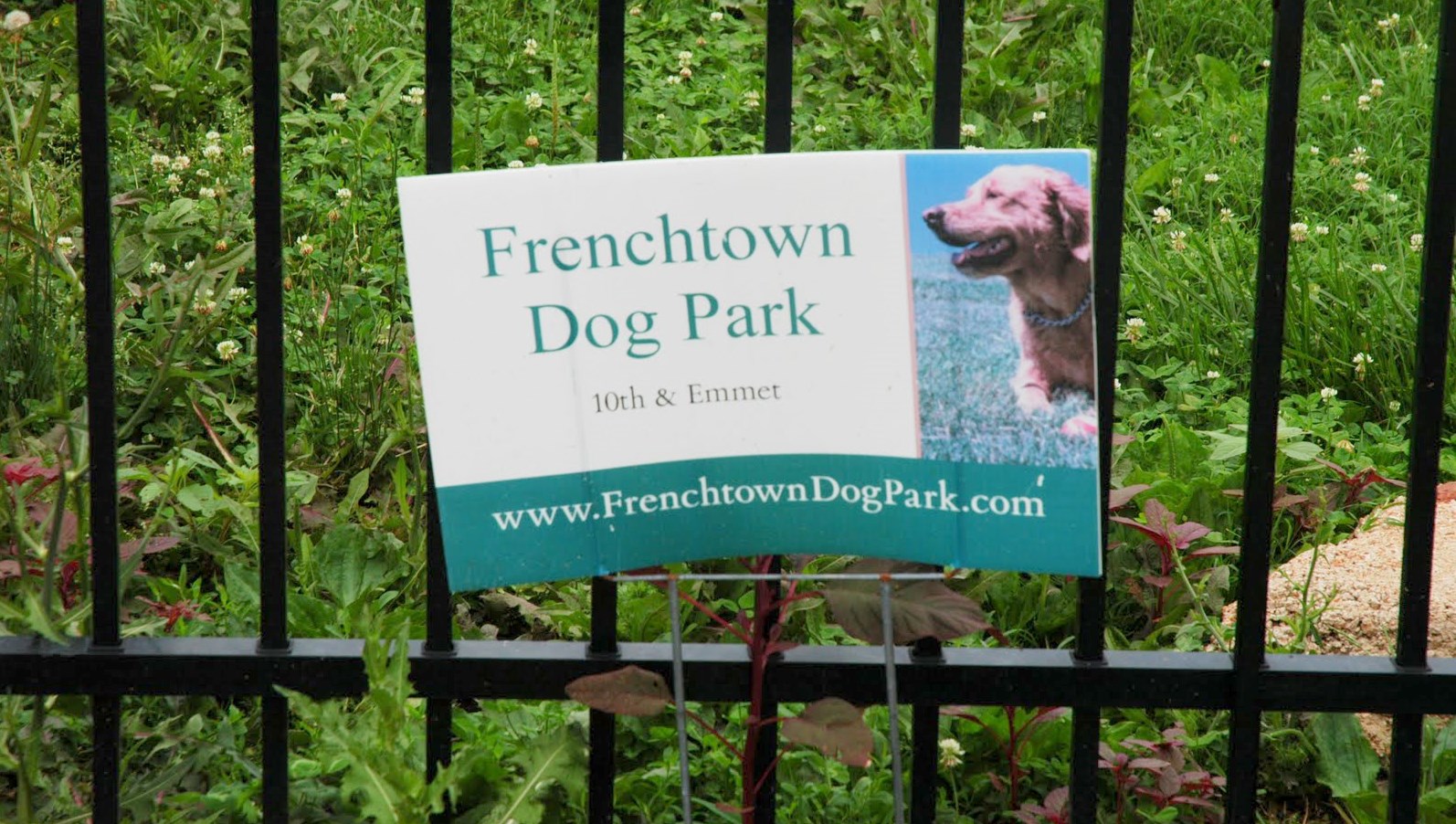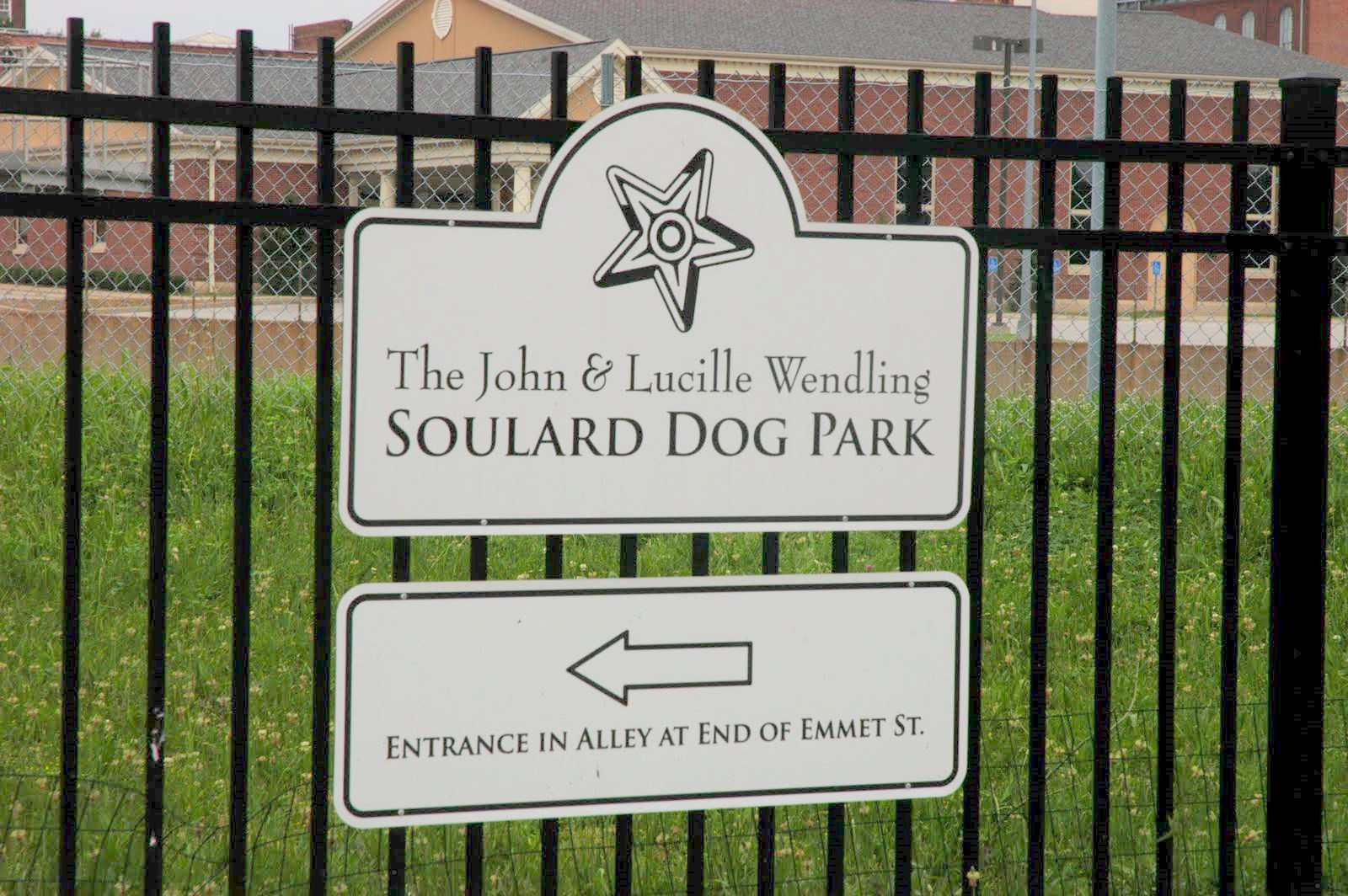 Schools and churches have been converted to apartments and catering businesses: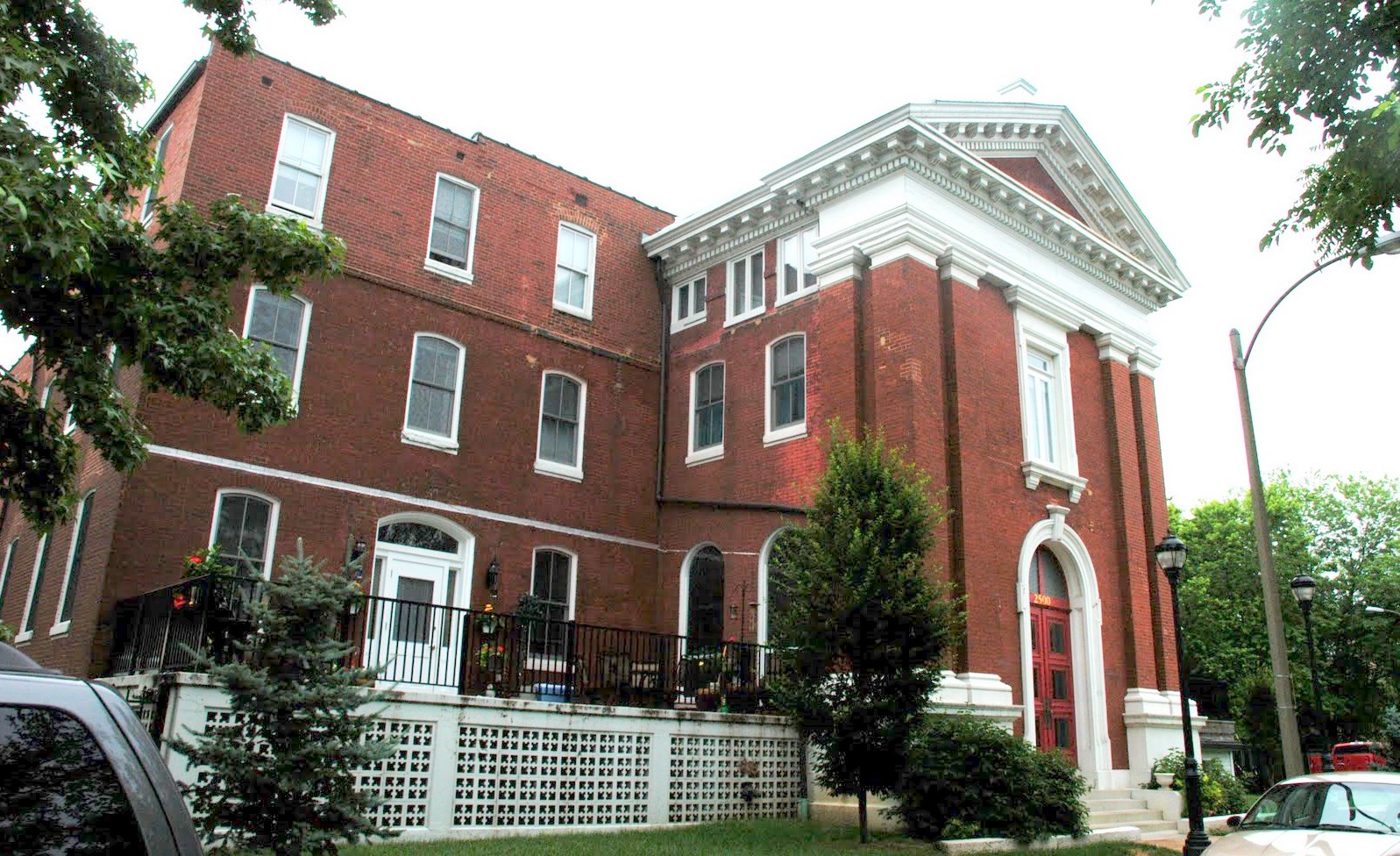 The Smile building, once a roller rink, auto parts store, soda factory, electric rail parts factory has been converted to lofts: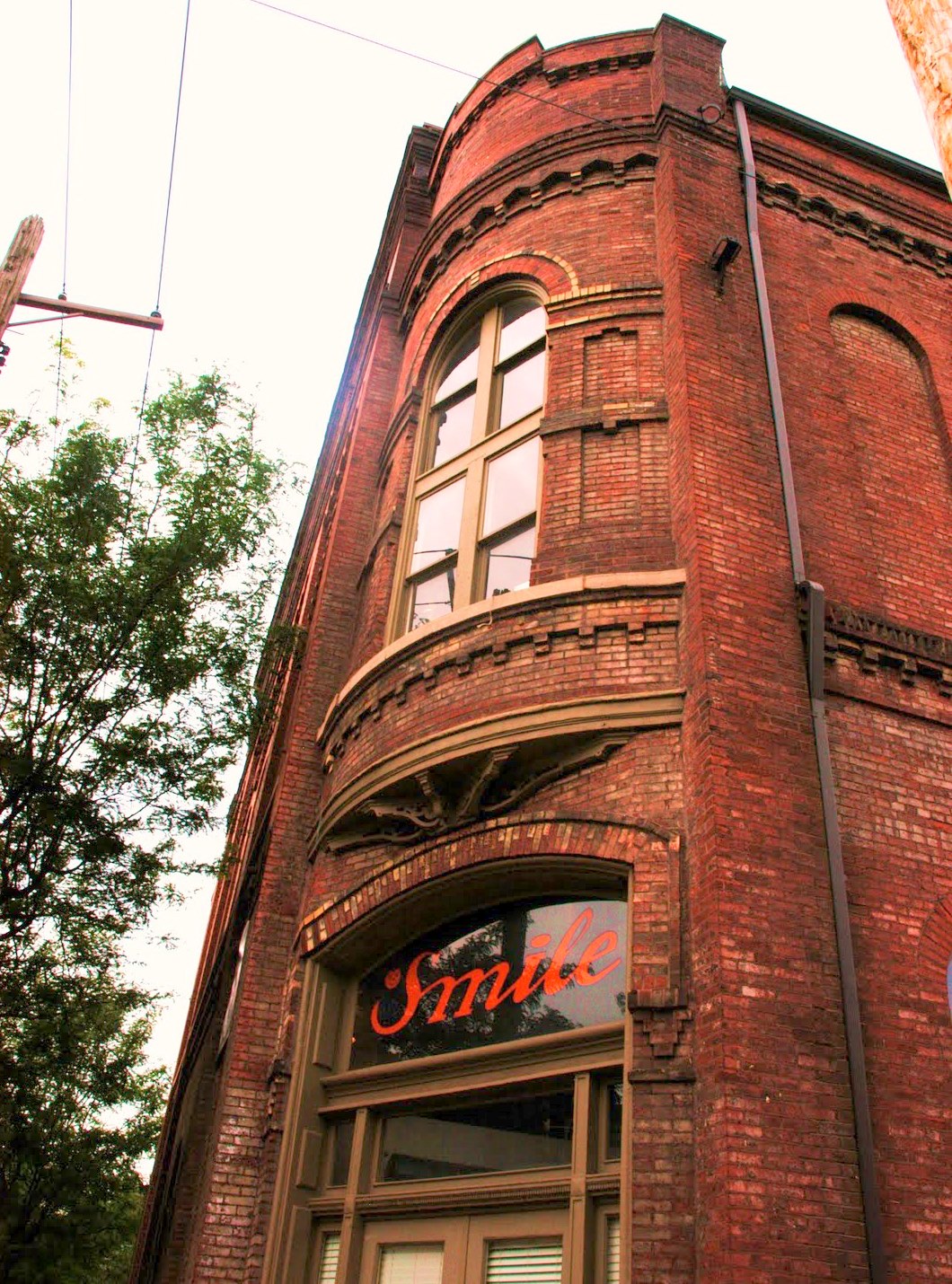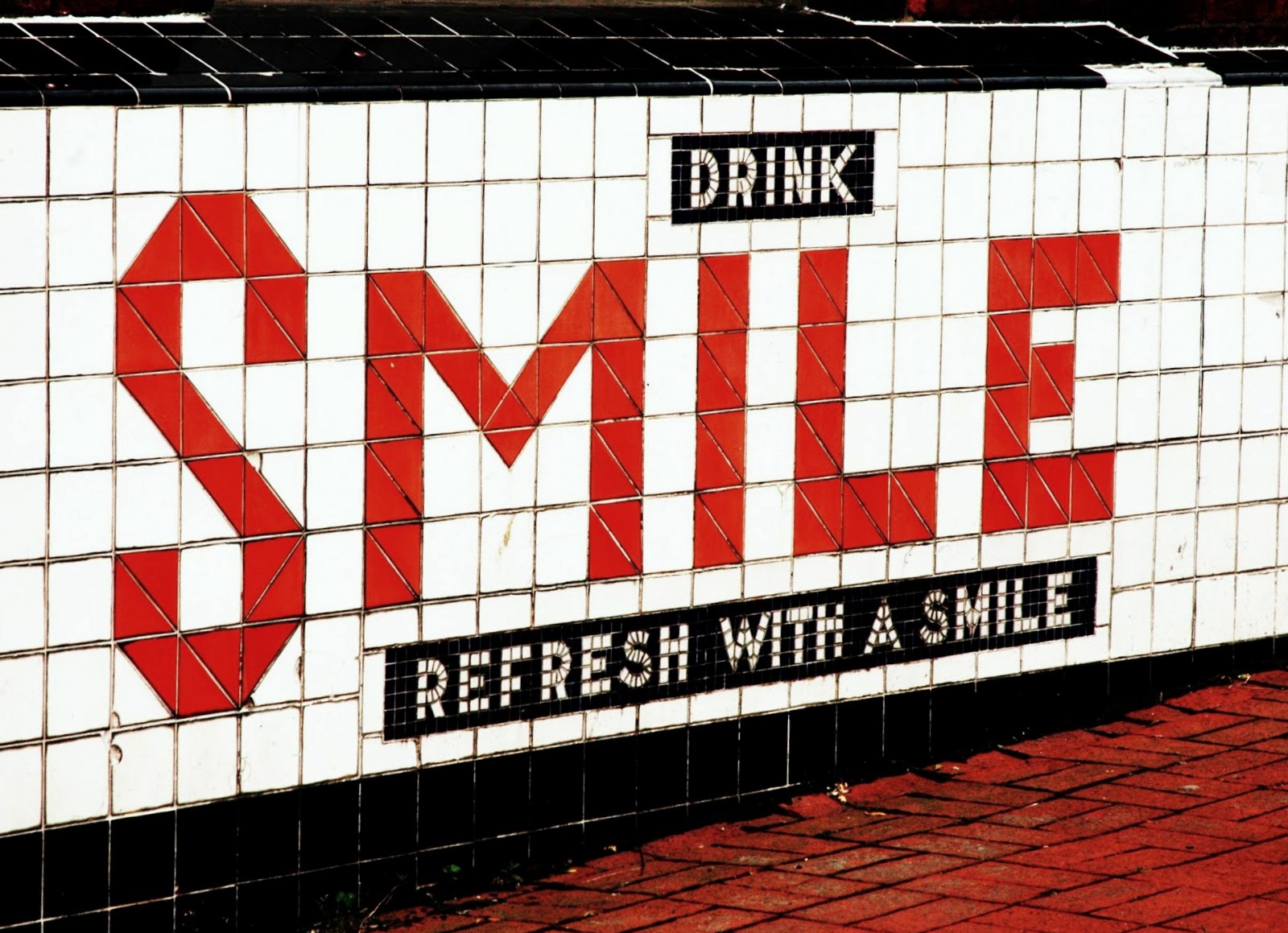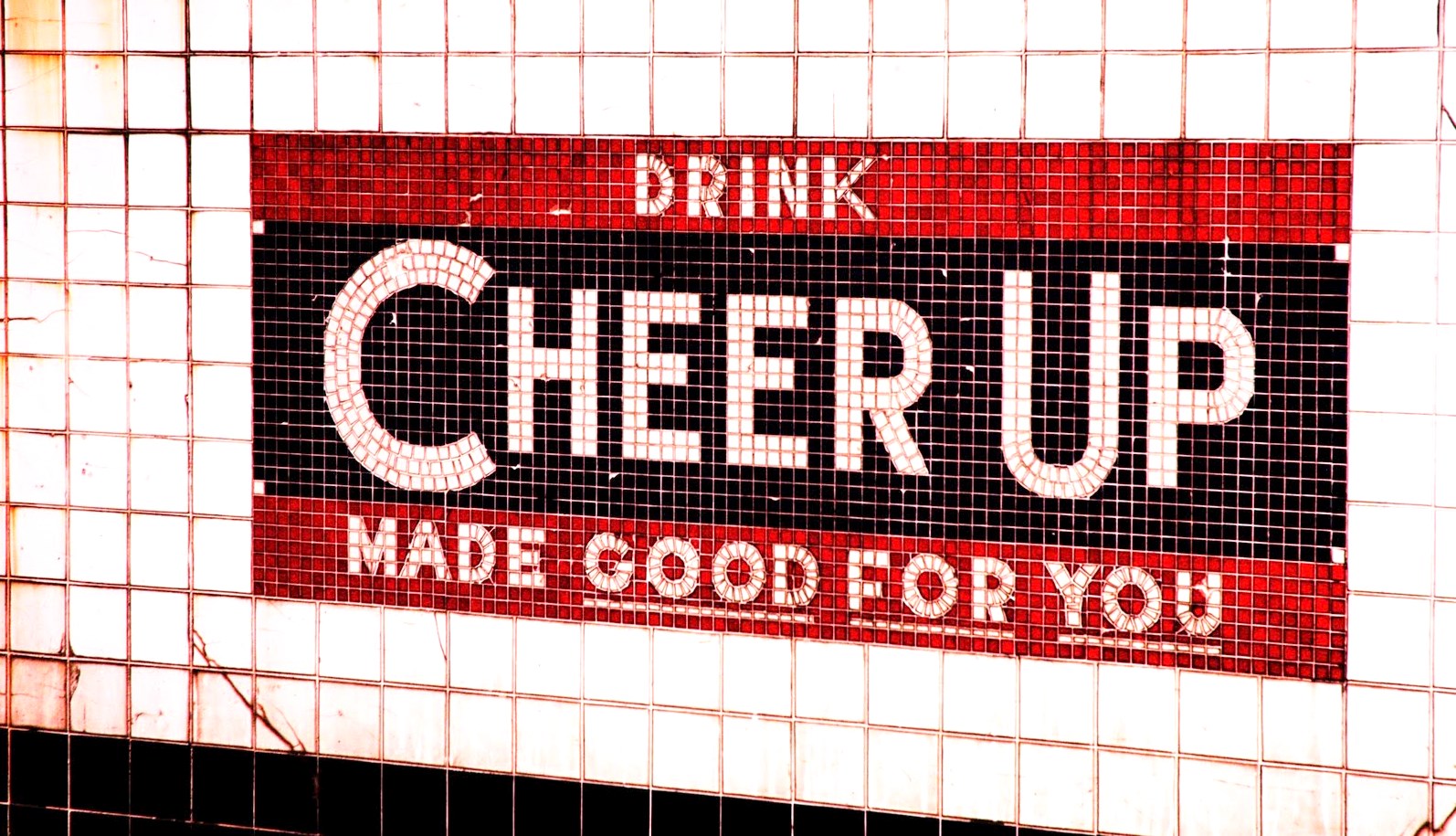 The Barton Street Lofts are enjoying a new life: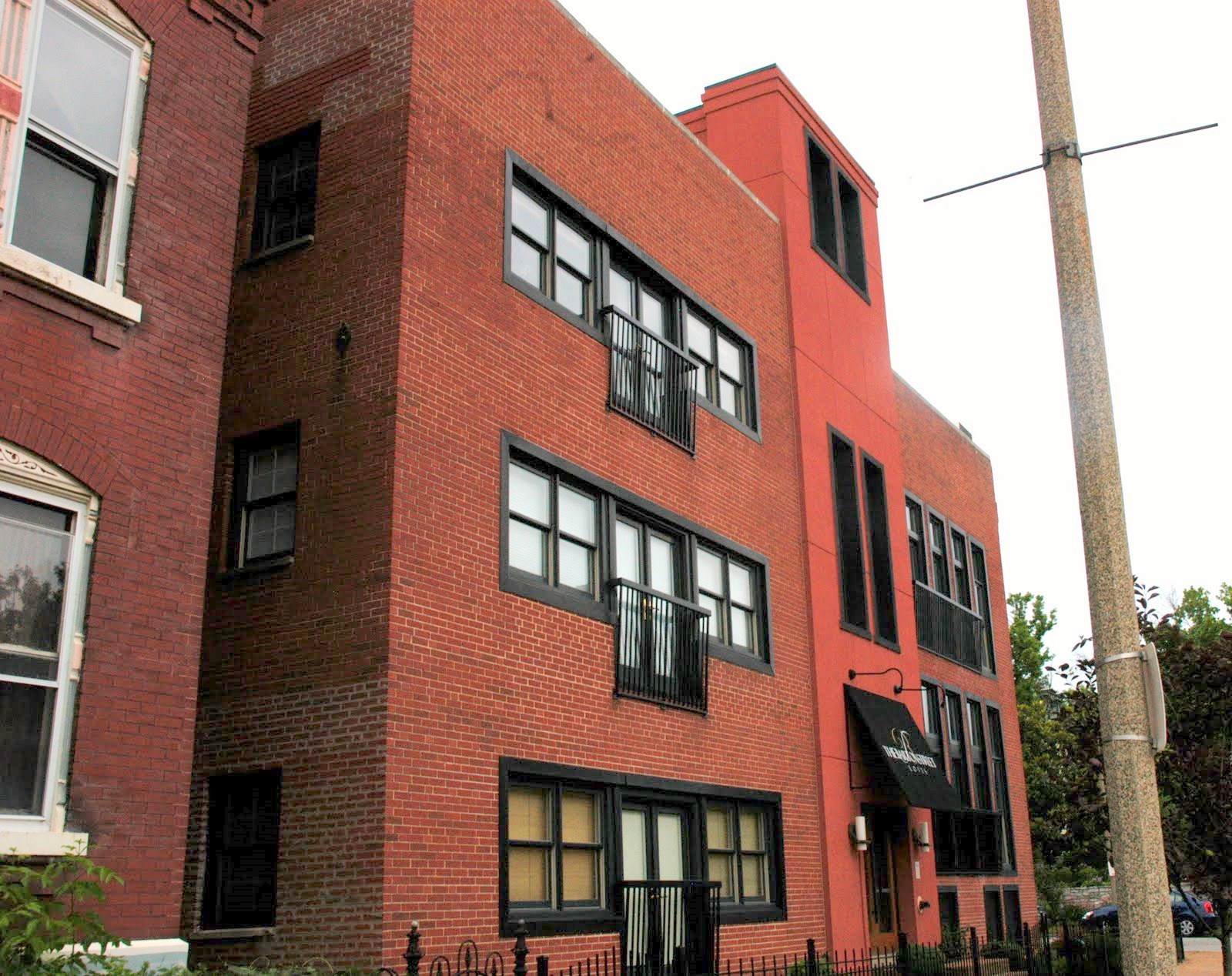 There are a few remaining structures within Soulard that are rehab ready, but they are not is great numbers (single story building below is on the market for $35K):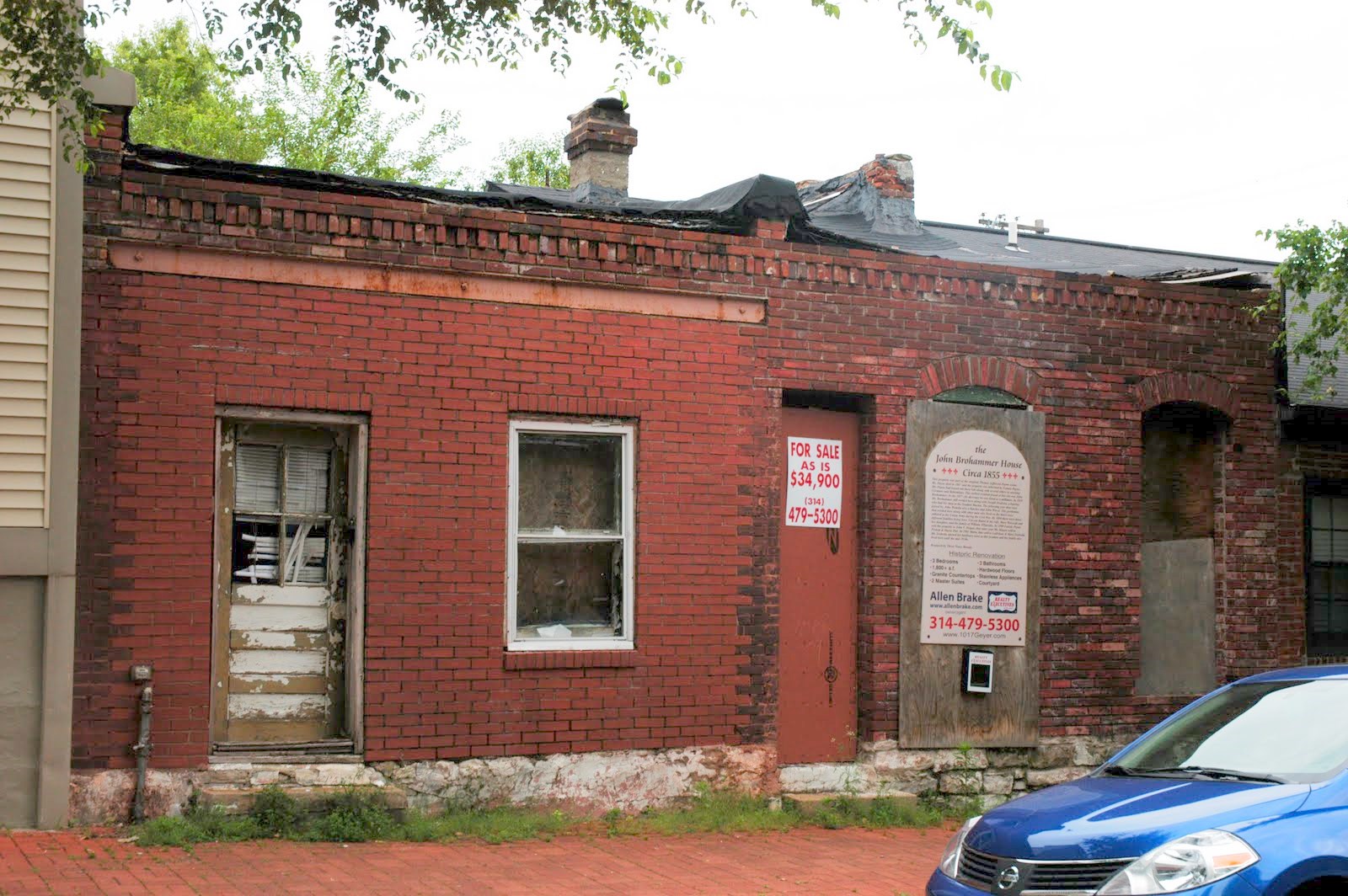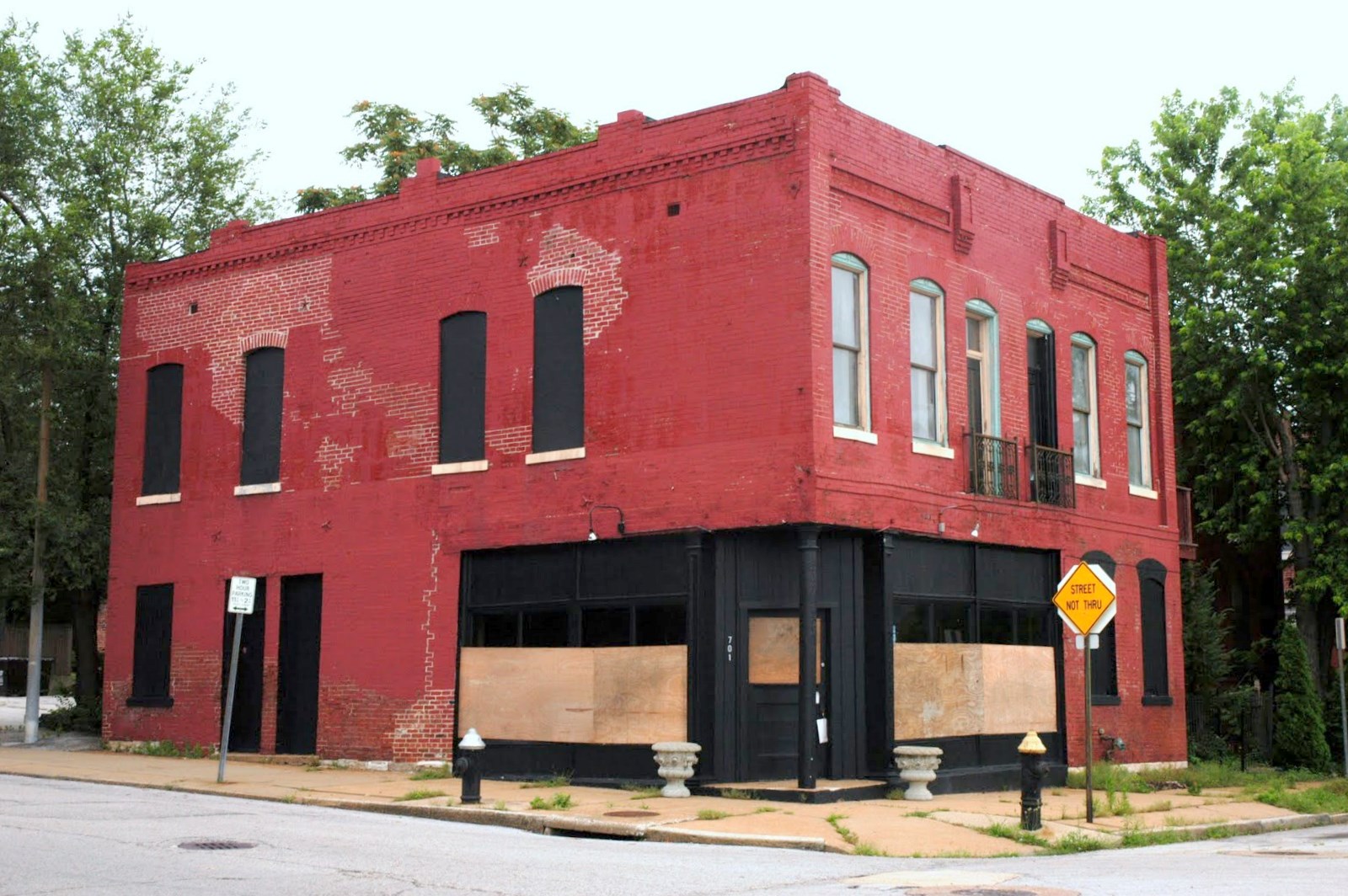 Soulard is very walkable with many, many restaurants, bars and services within its confines. There is also the historic Soulard Farmer's Market which is a St. Louis treasure and a blast on Saturday mornings. It's one of those special places that makes you feel like you're in a big city: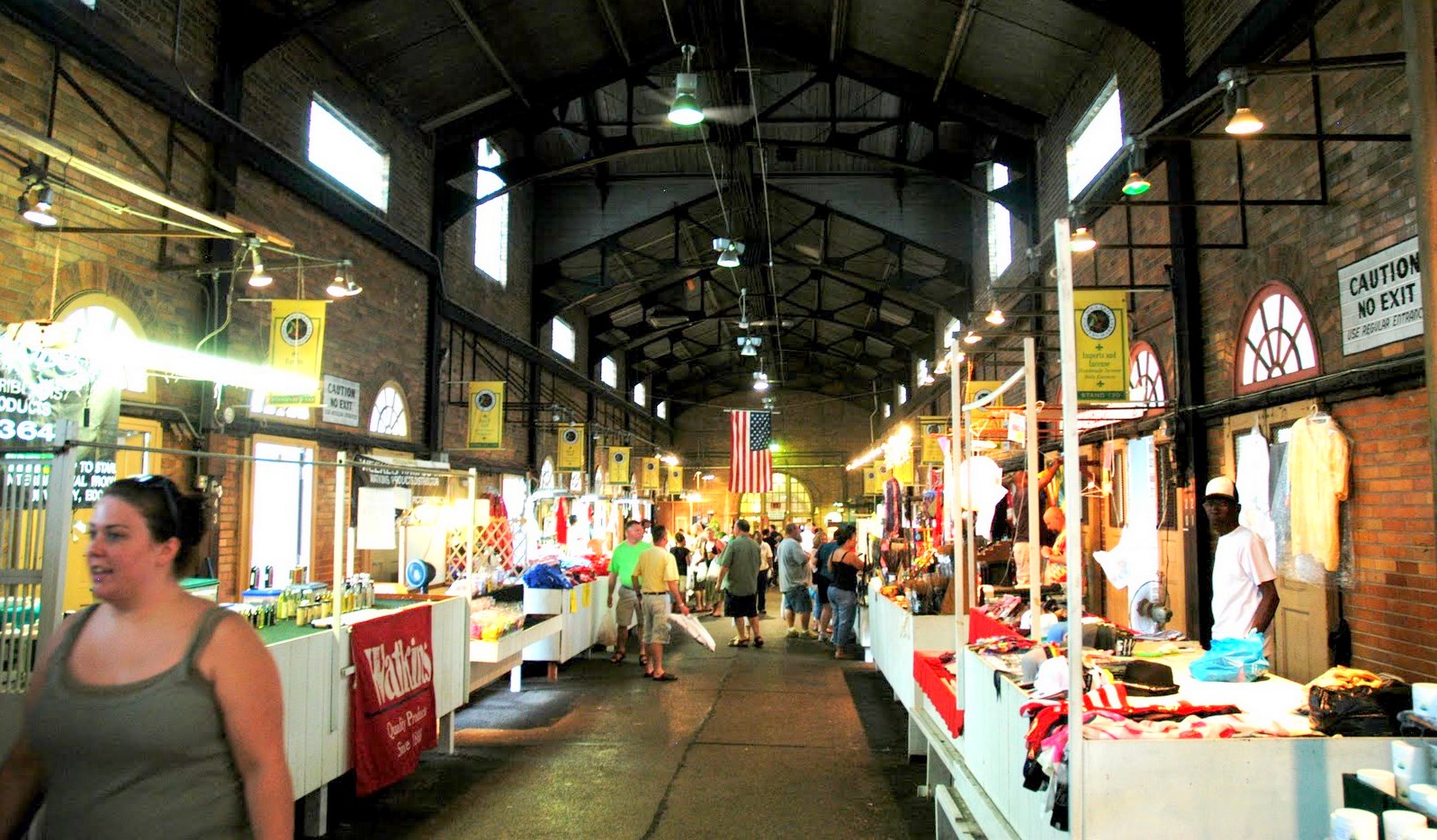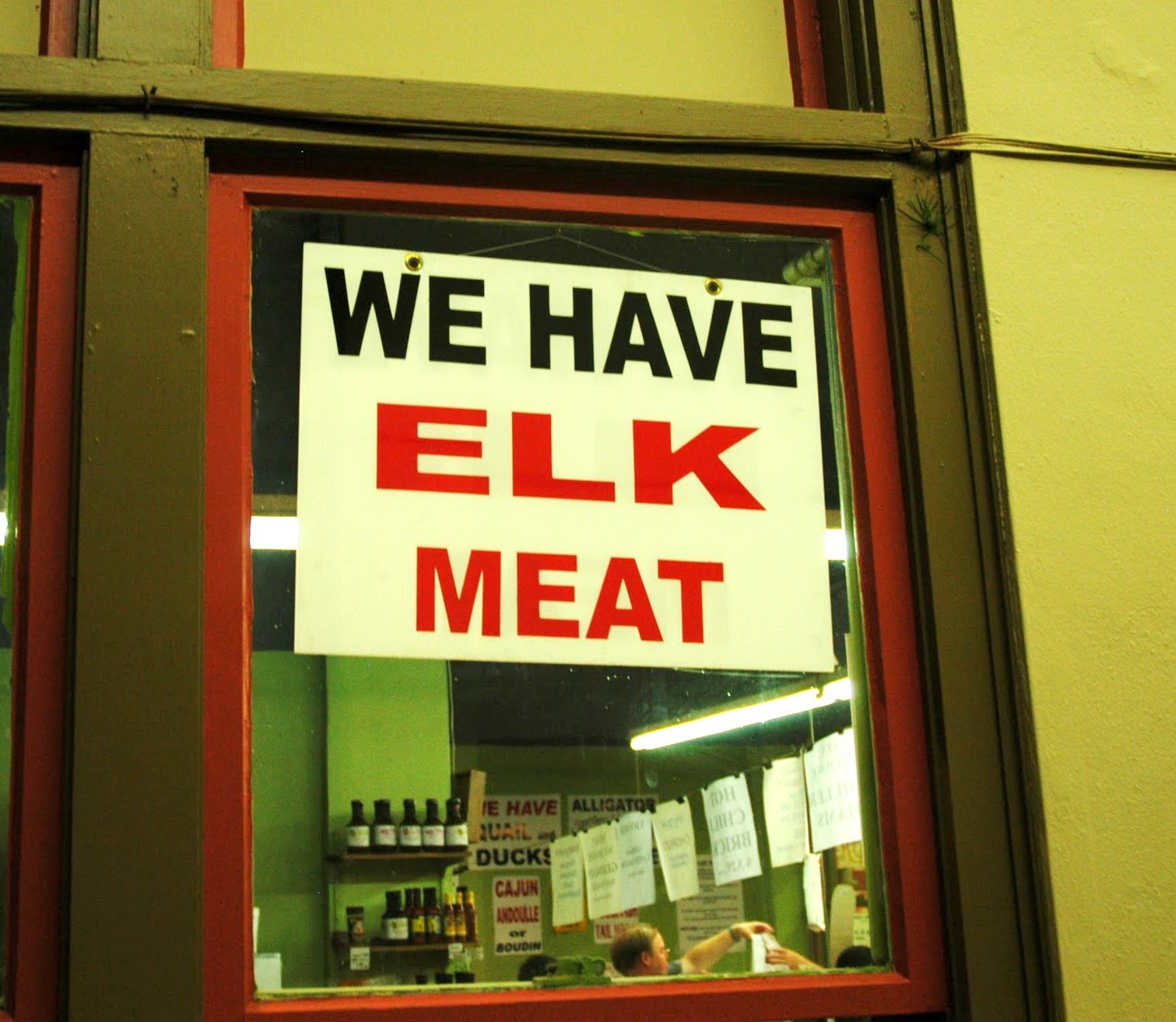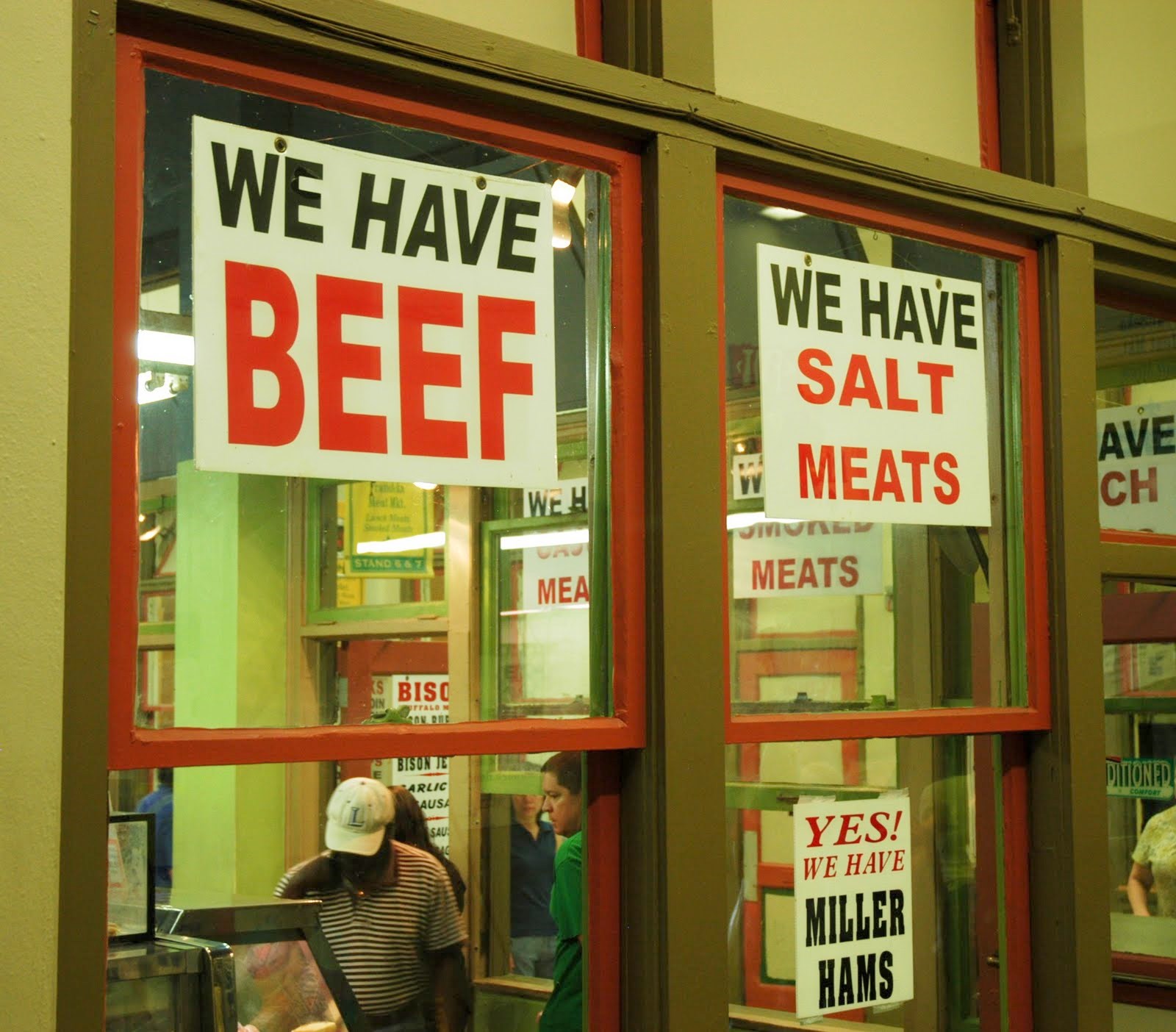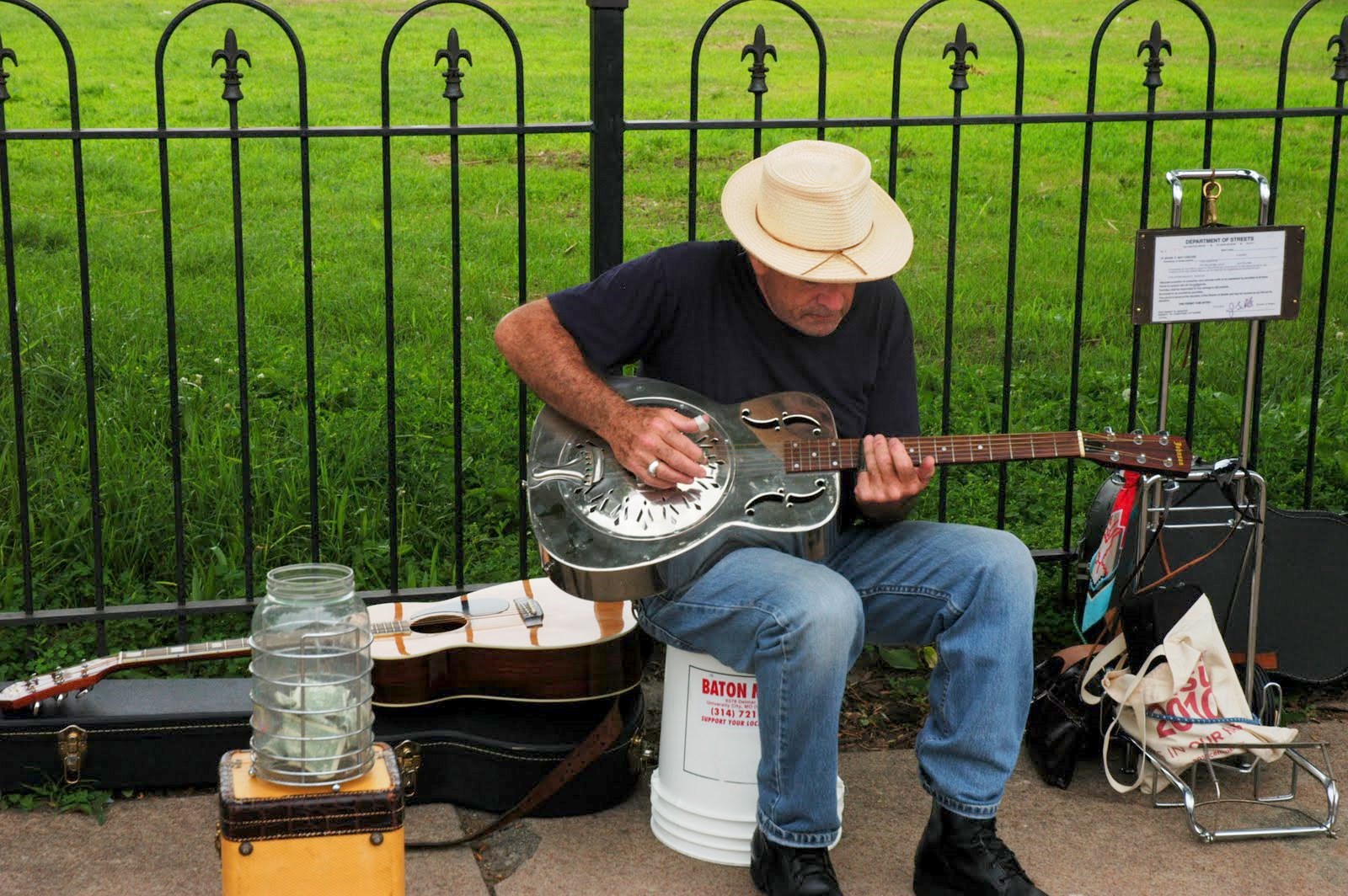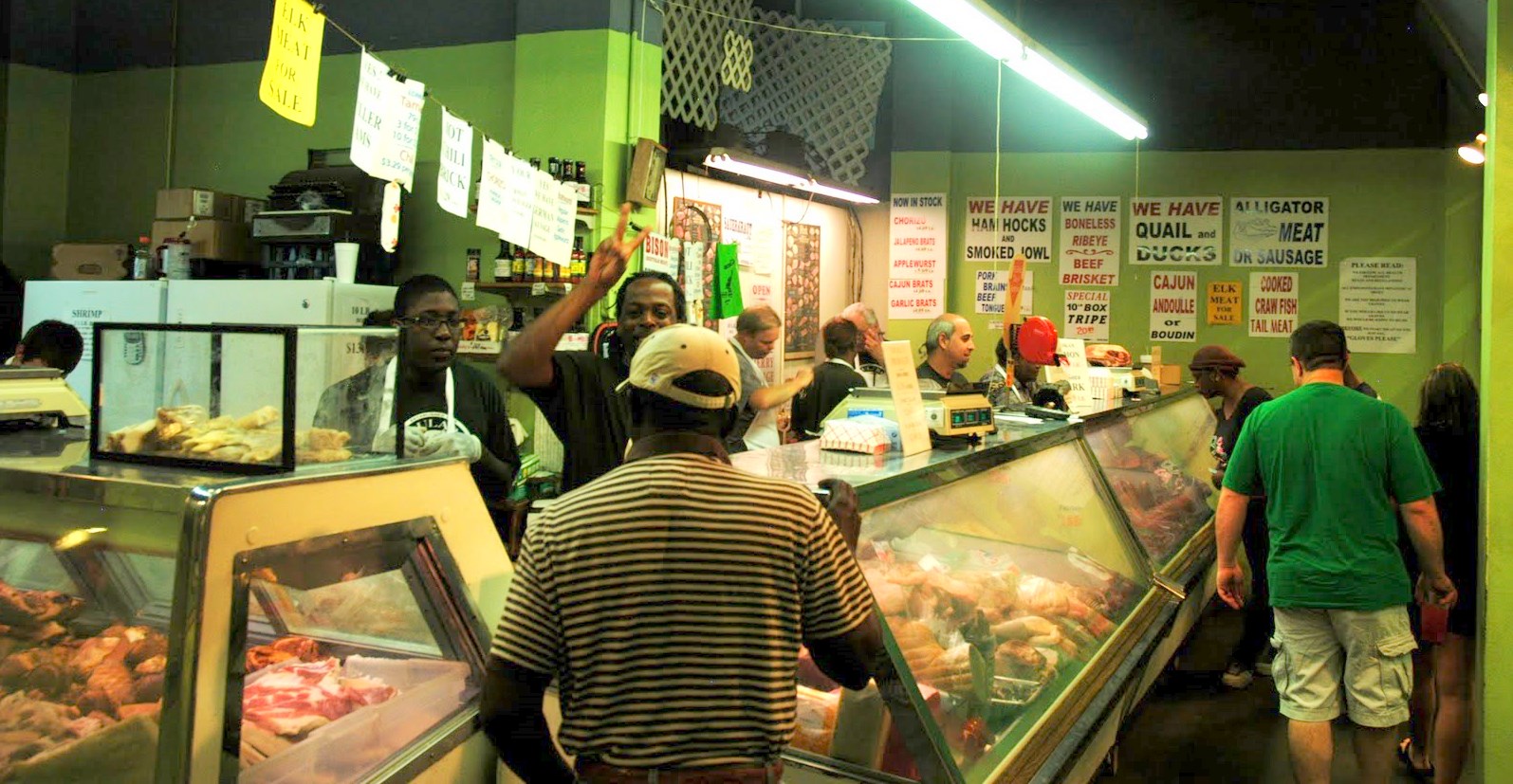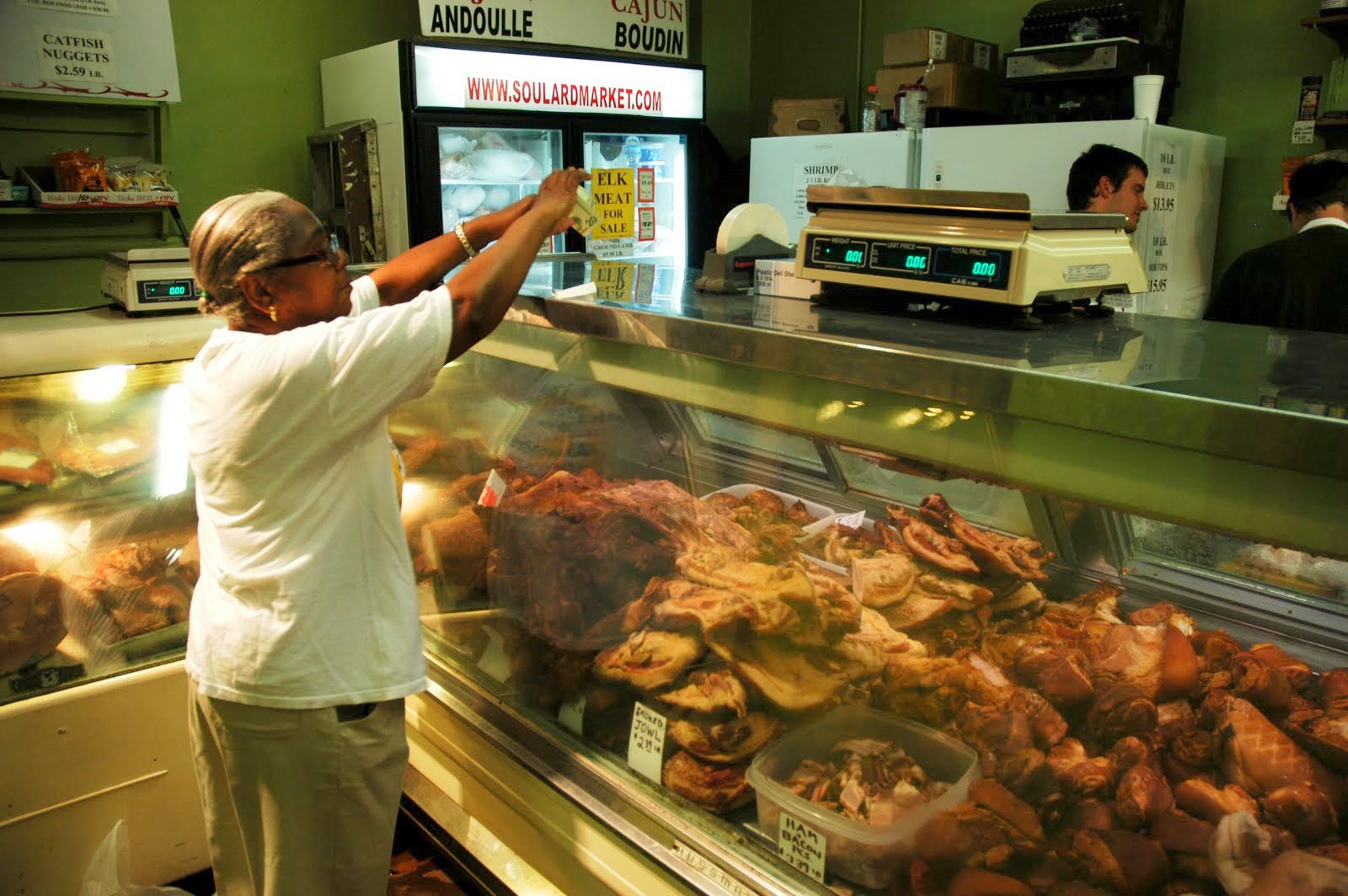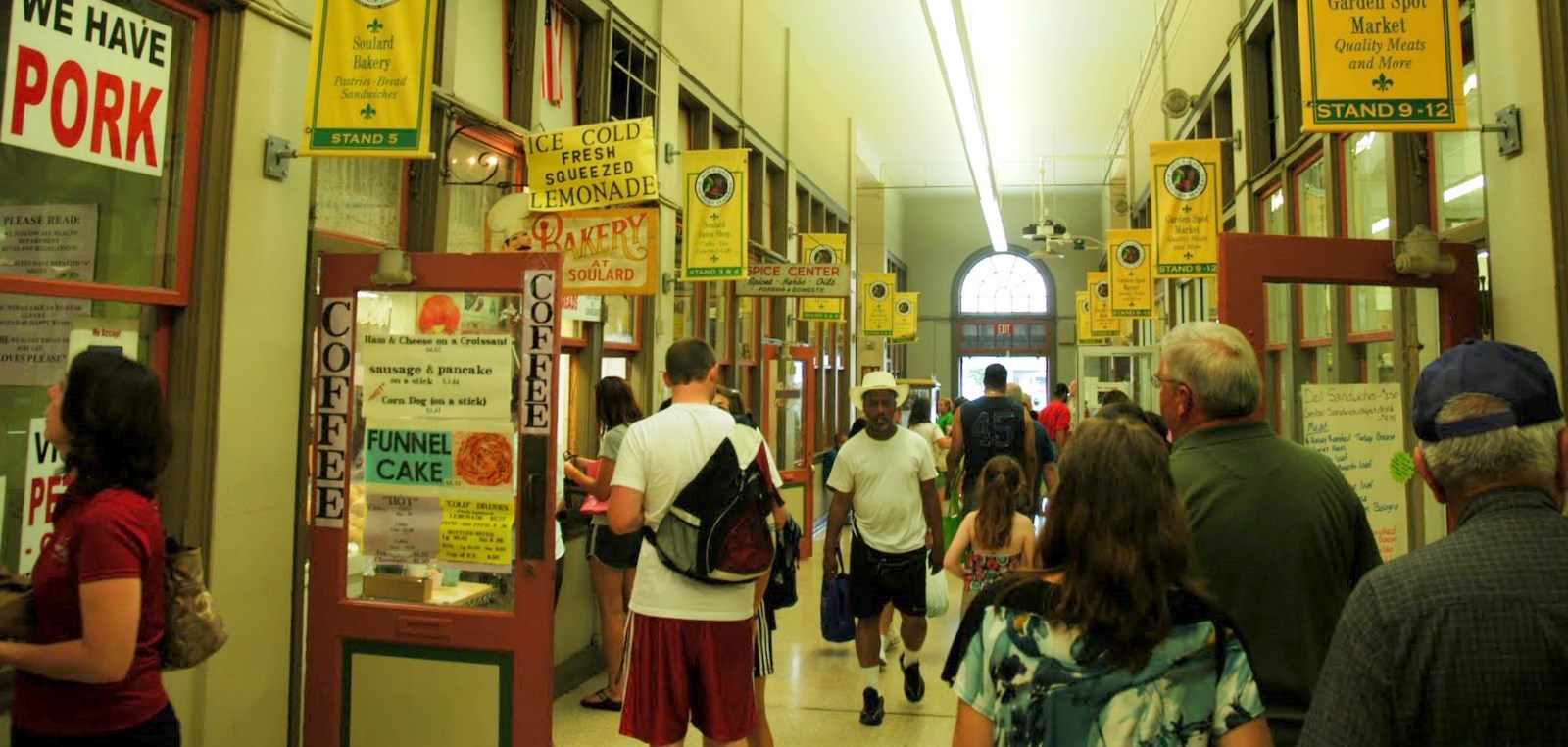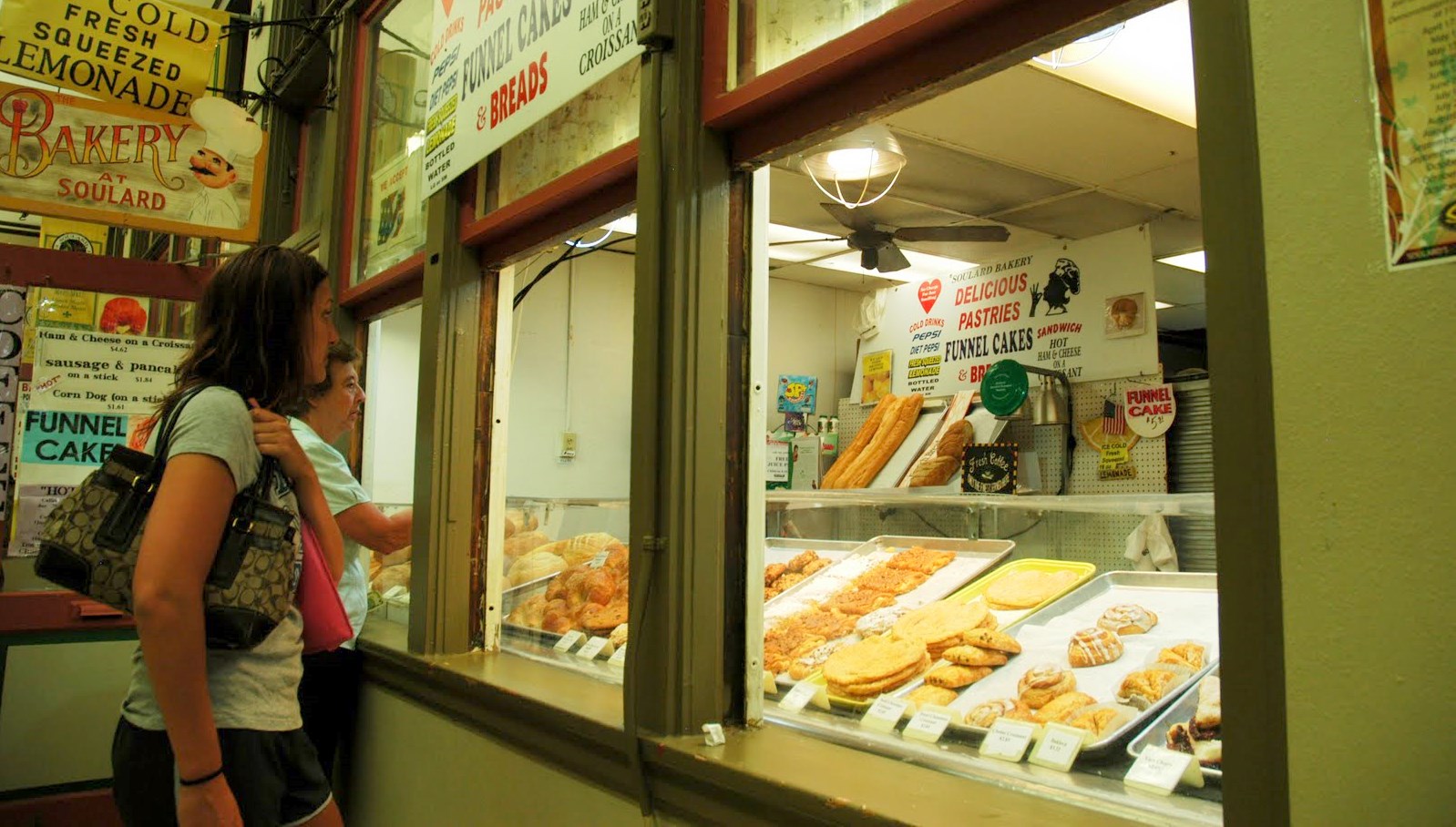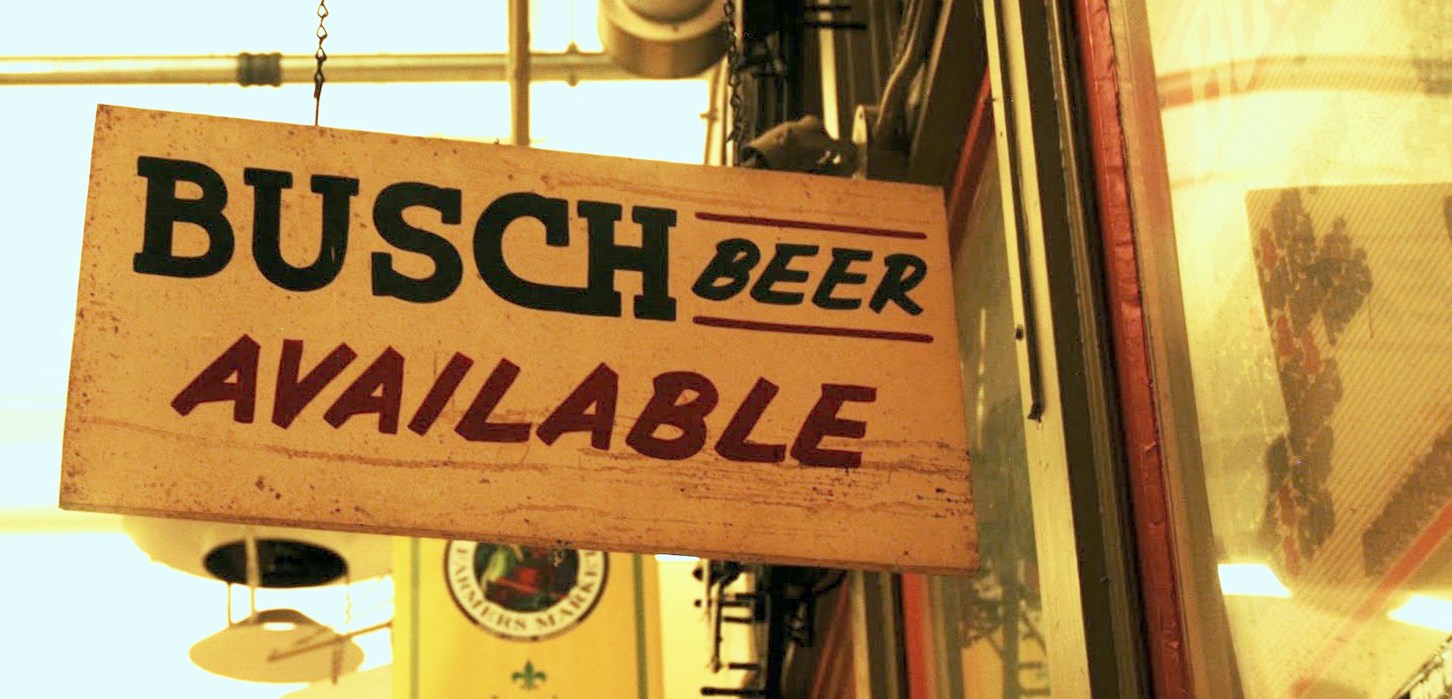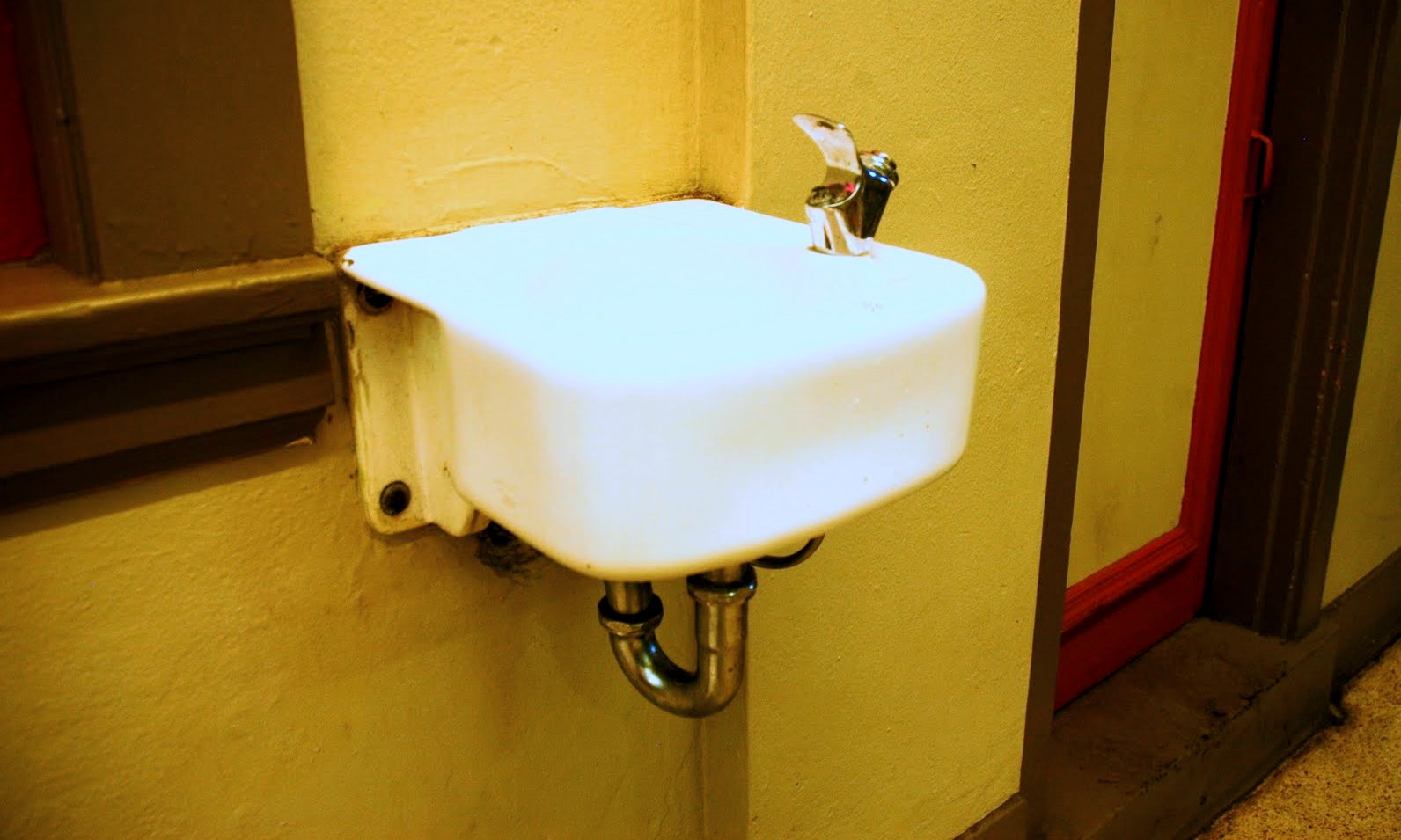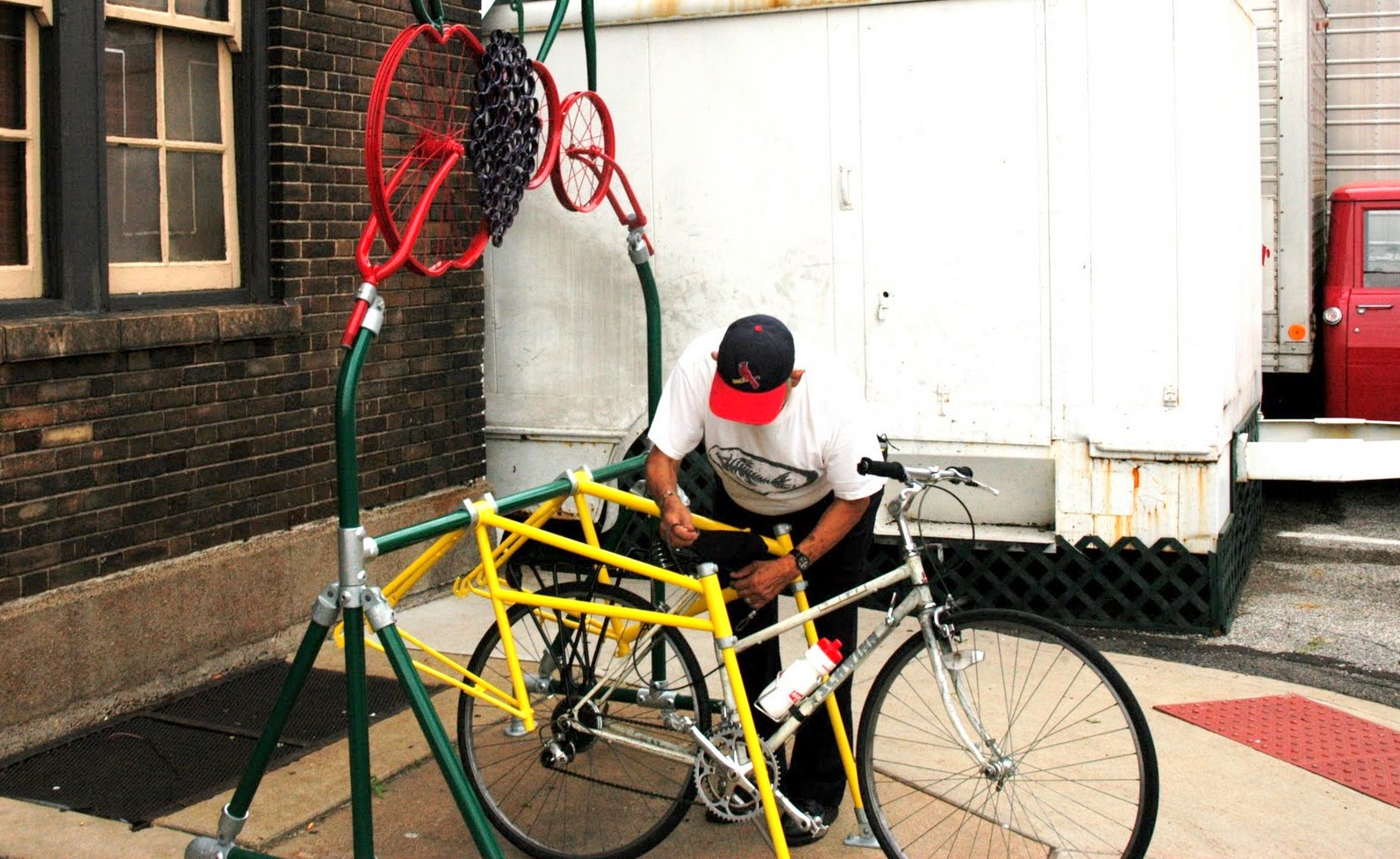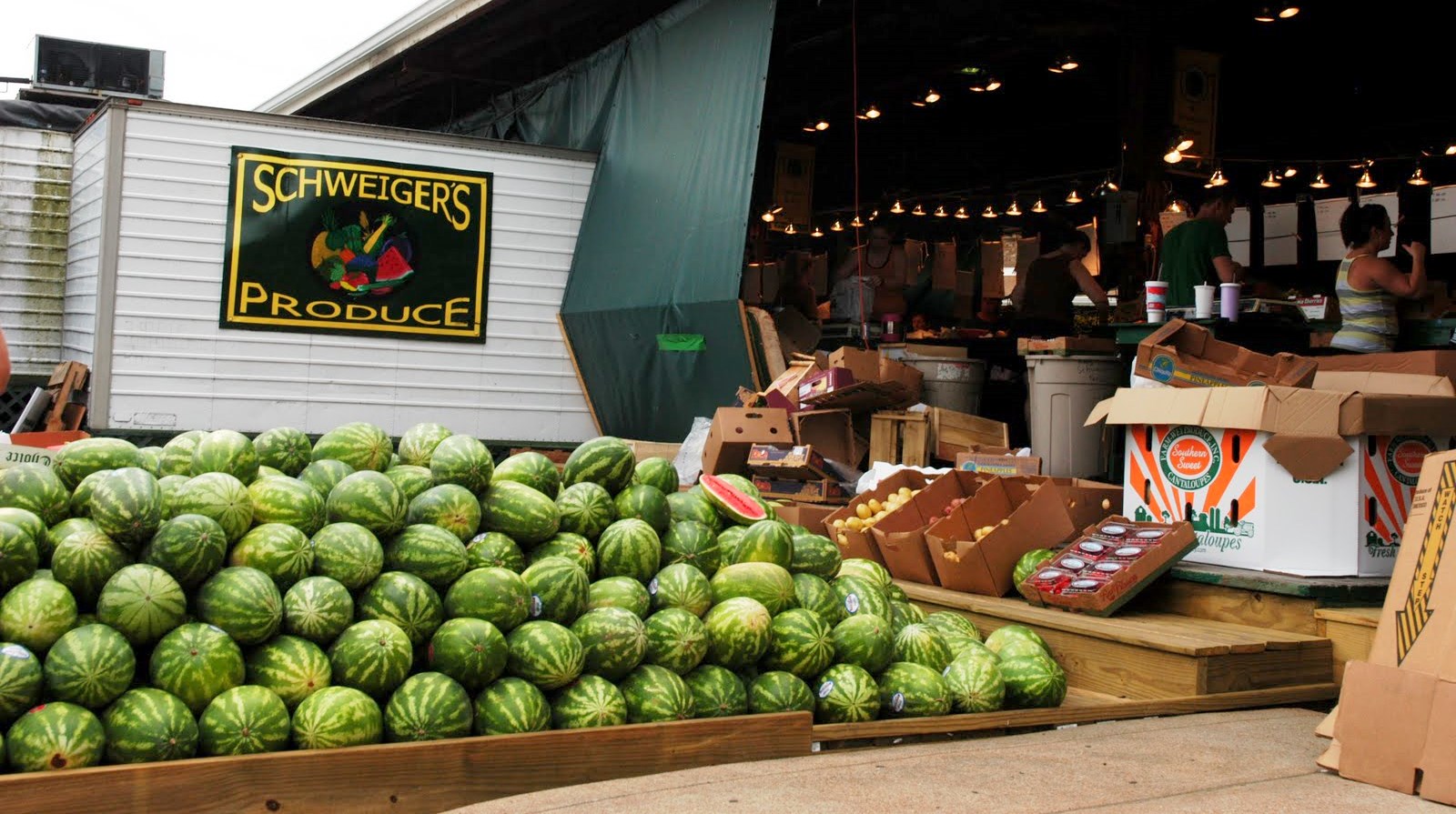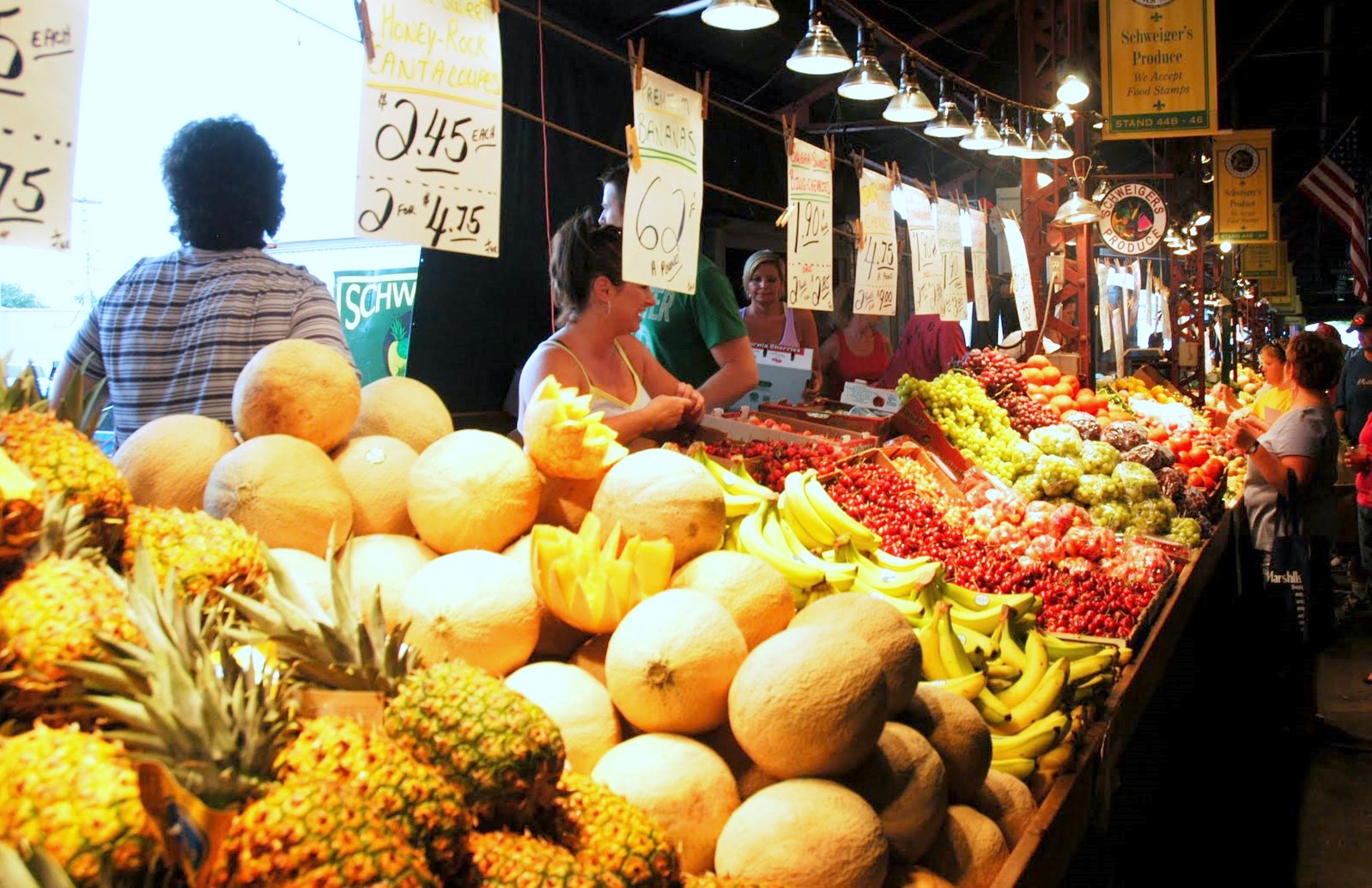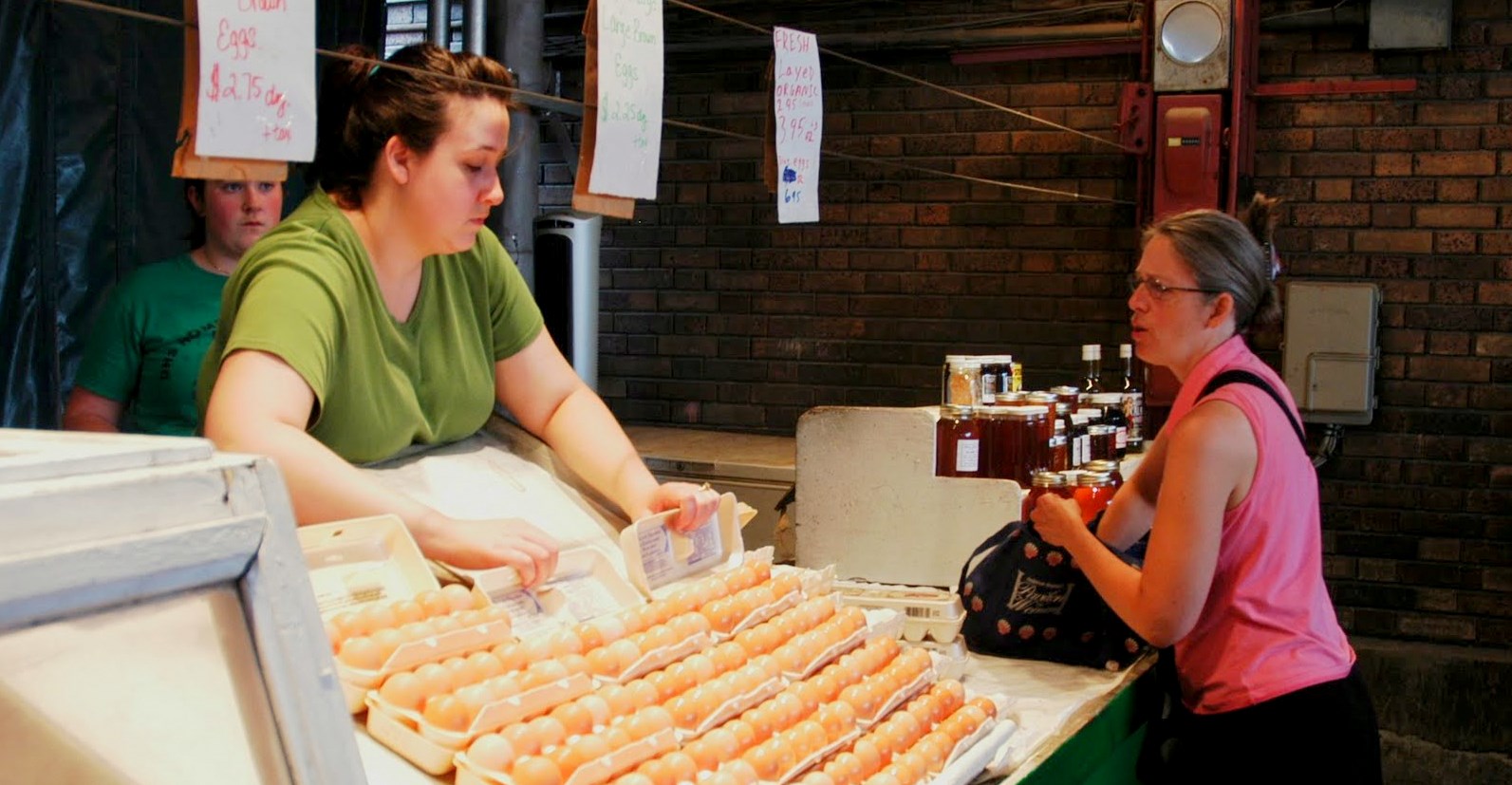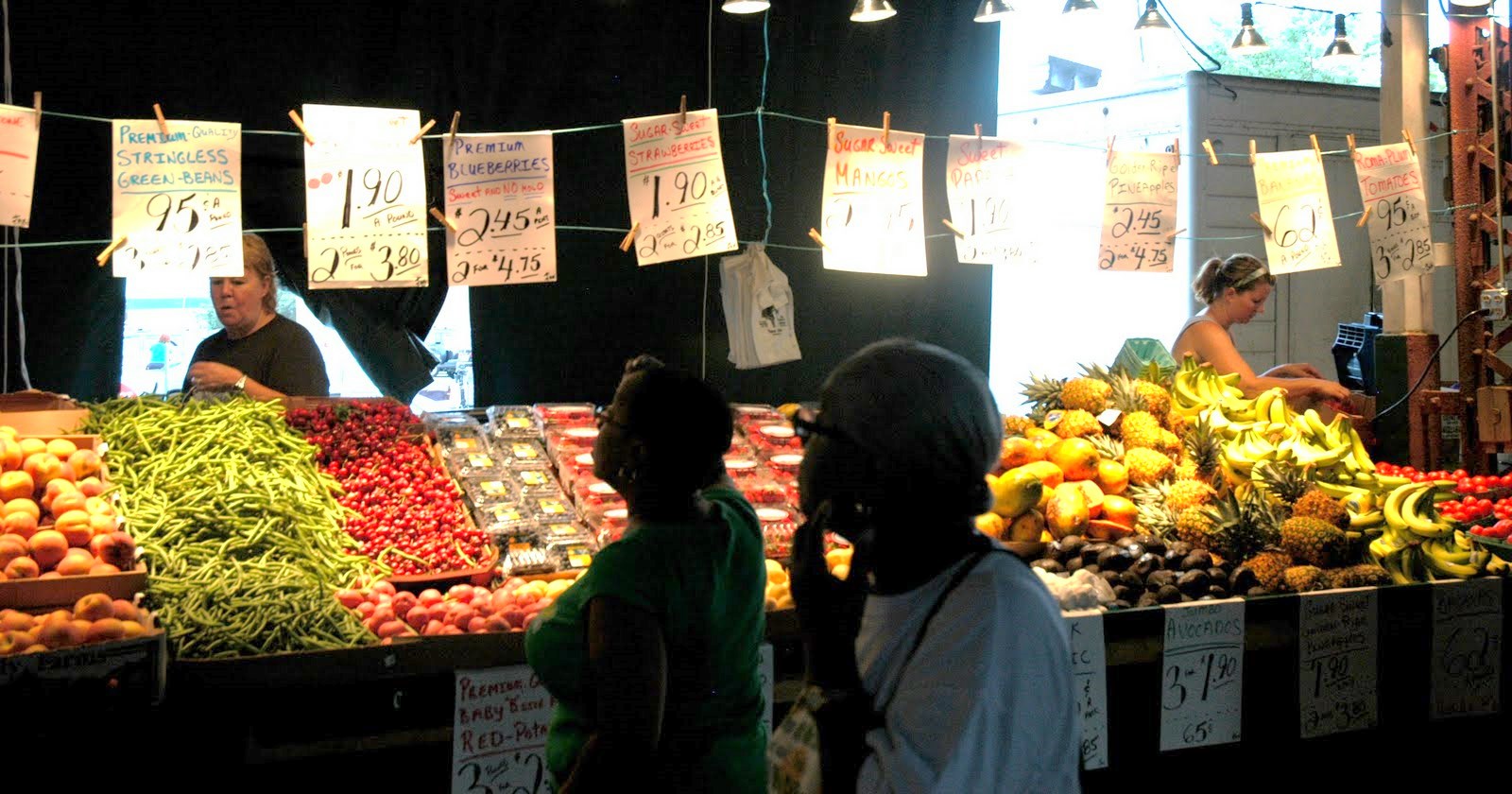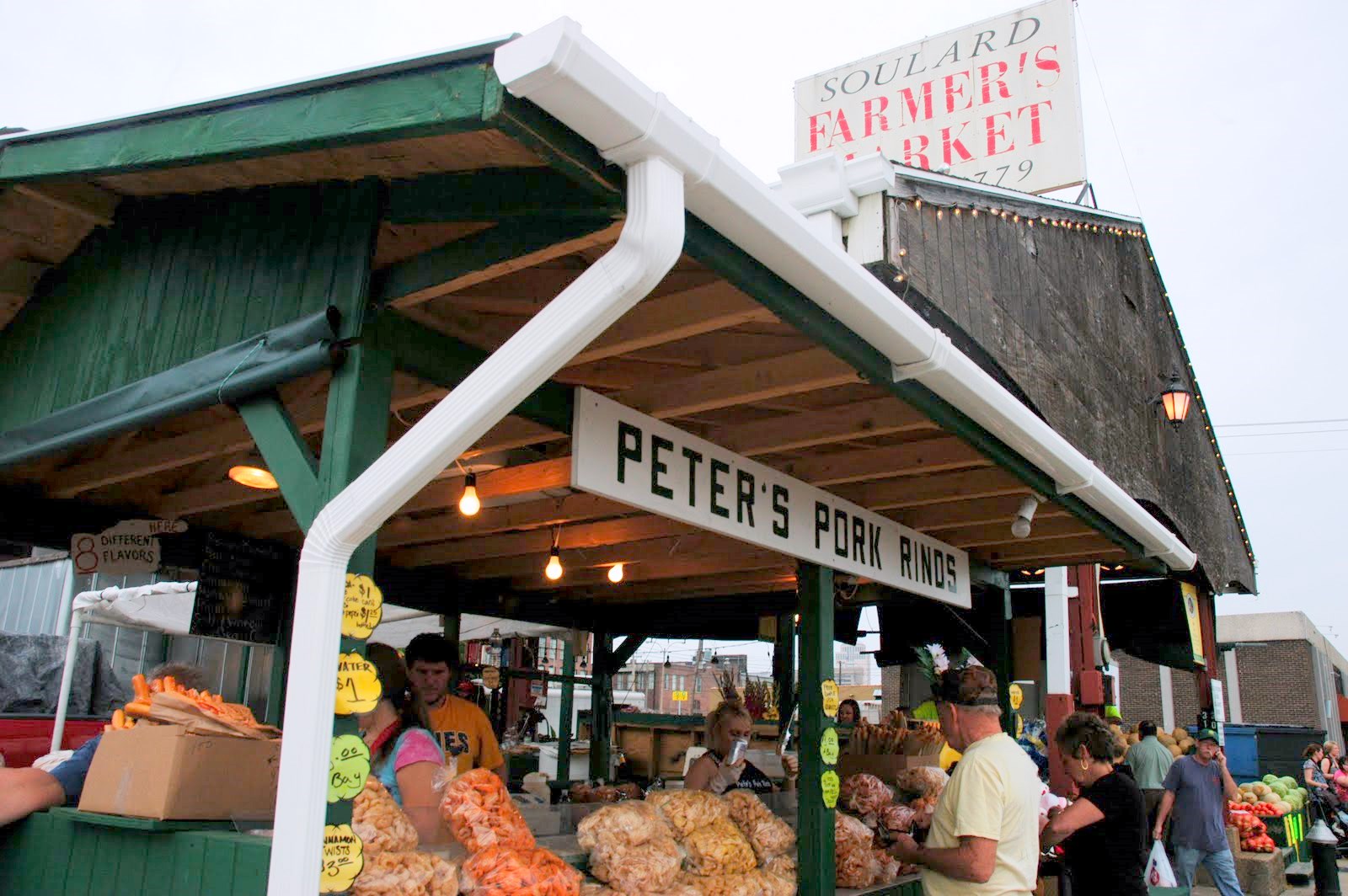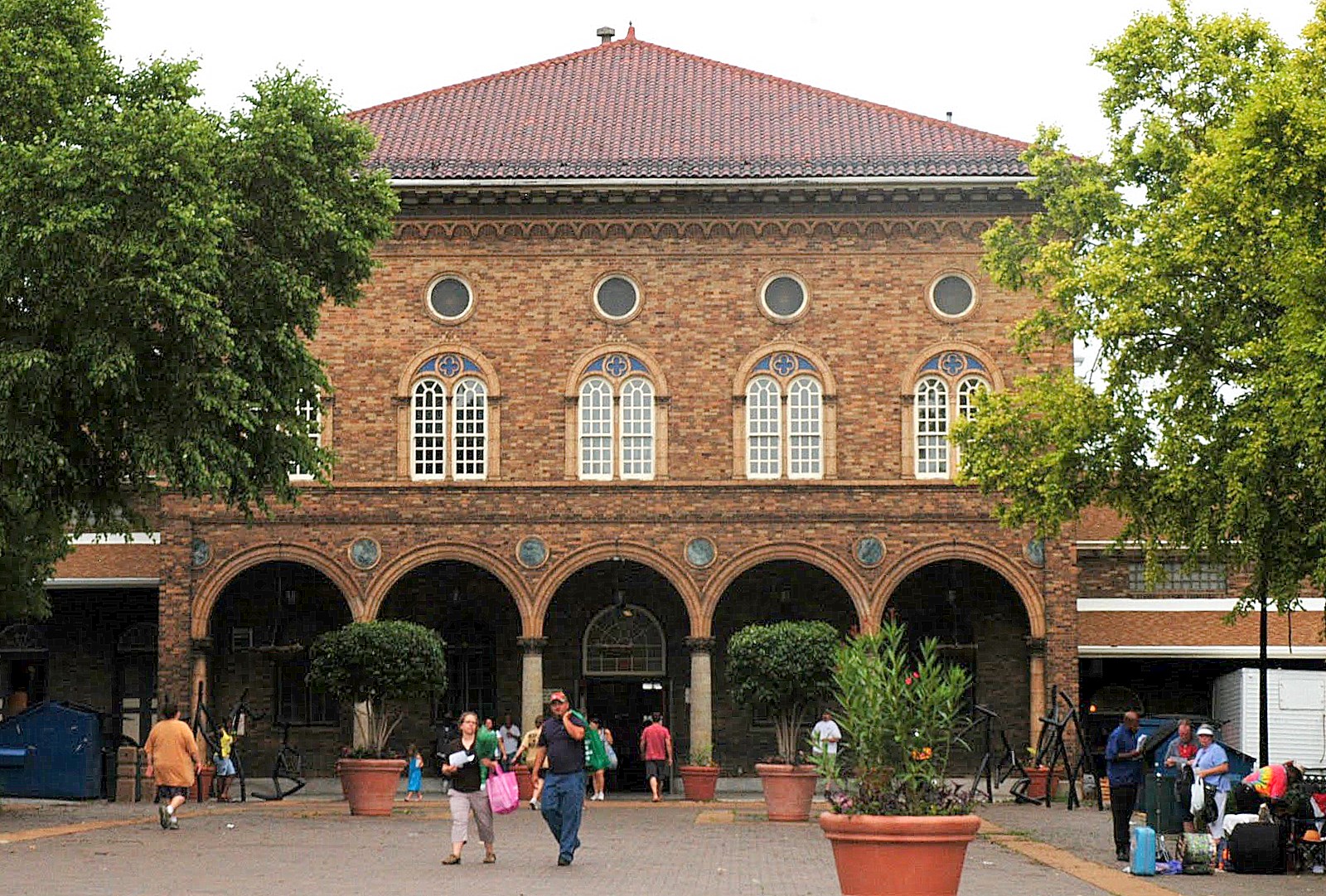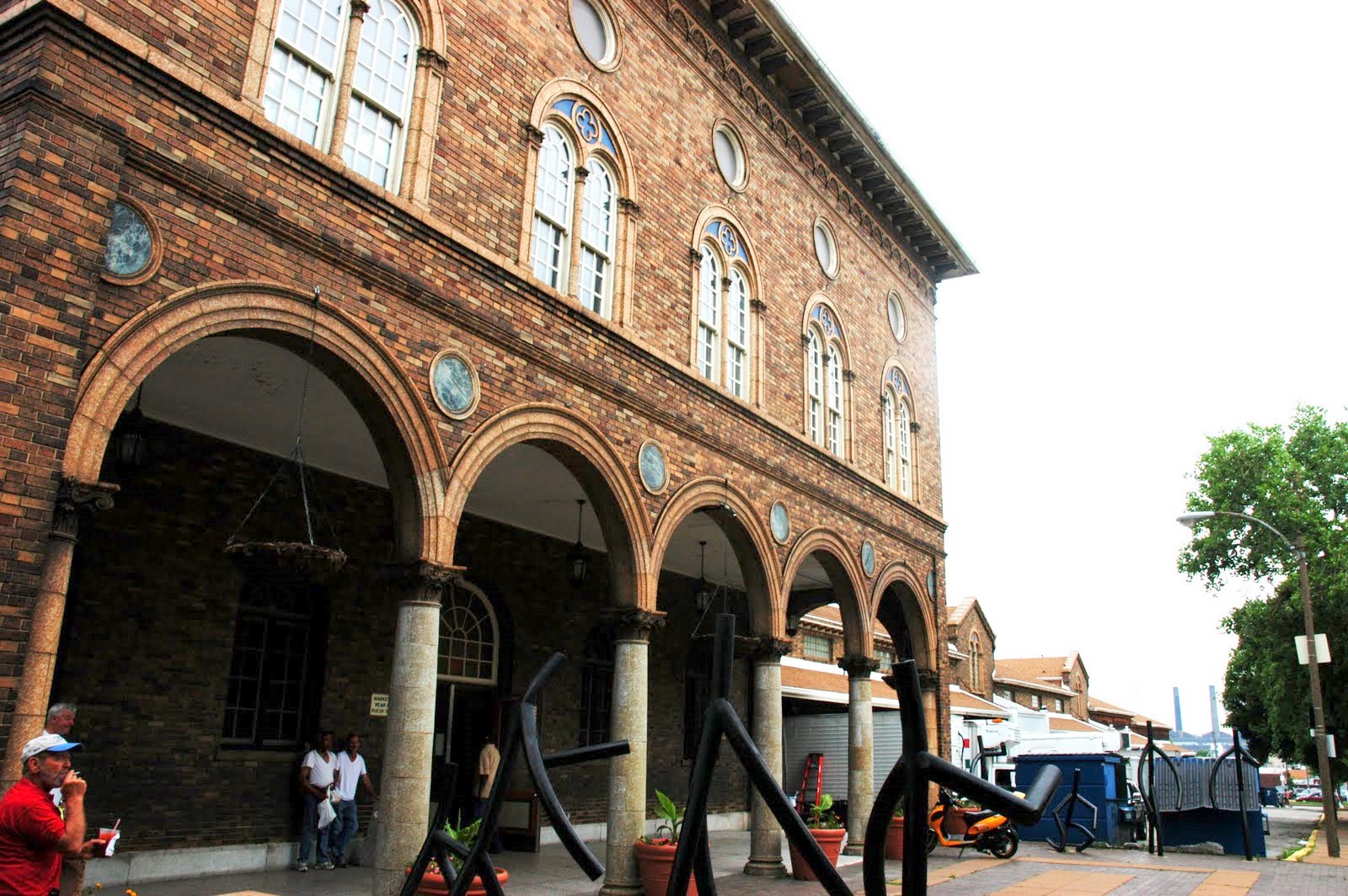 I firmly believe that a visit to Soulard Market is as true a cross section of the people that live in the entire city as any. You will see people from all walks of life here. If you want to see what St. Louisians are really like, you'd be better served to go to Soulard Market on a Saturday morning than to any Cardinals/Rams/Blues game. Most of the people at professional sporting events are not from St. Louis proper.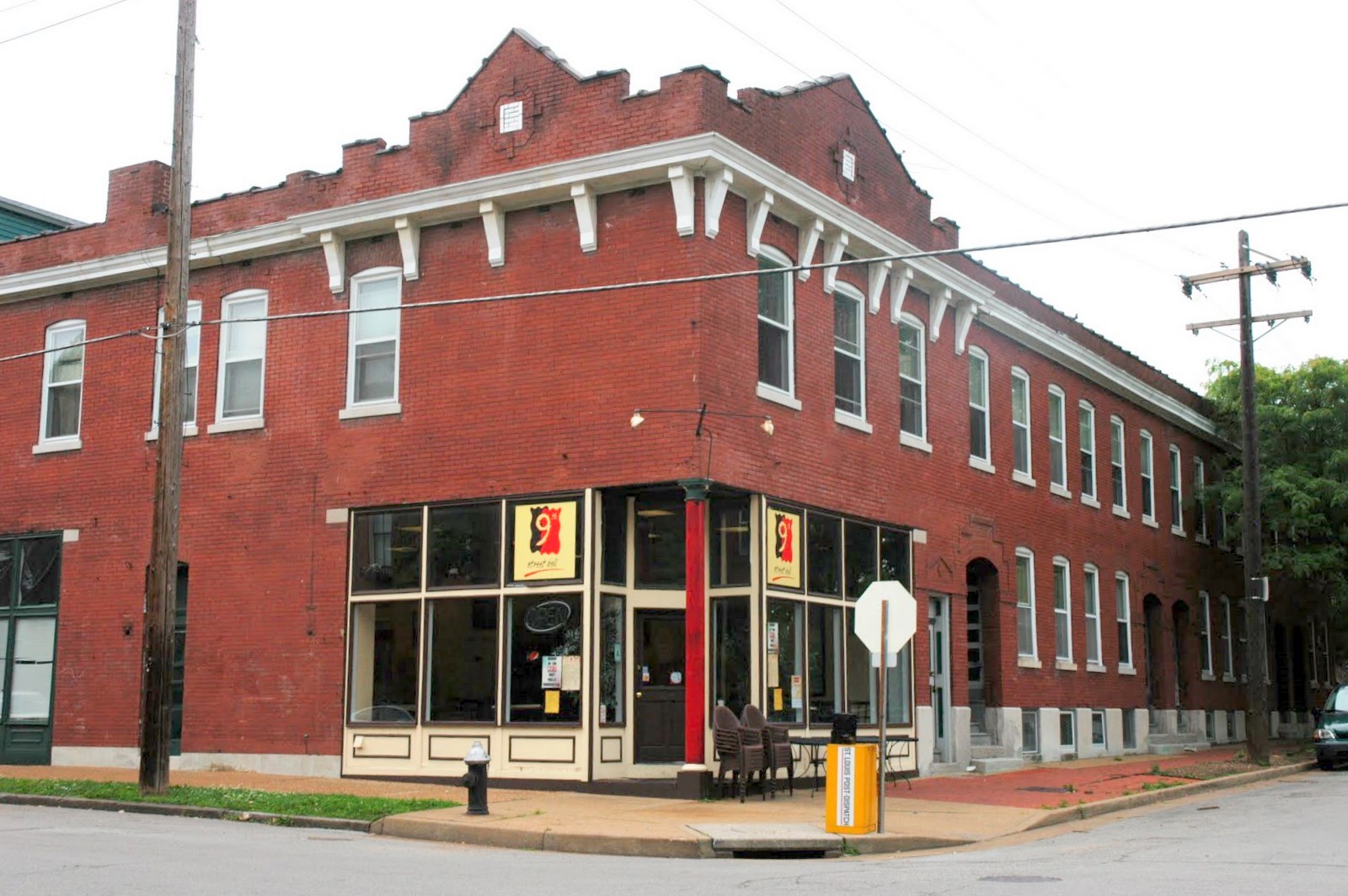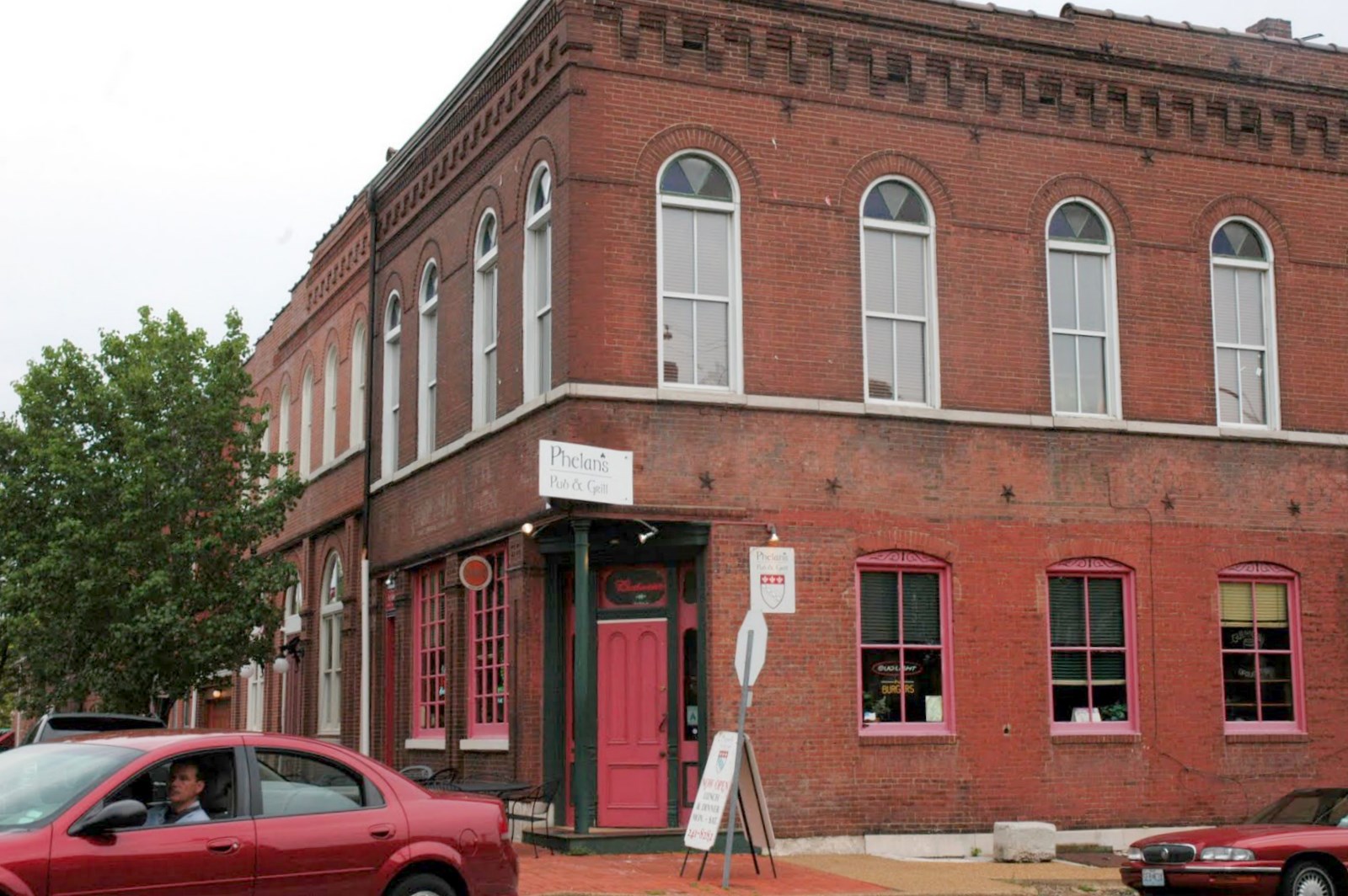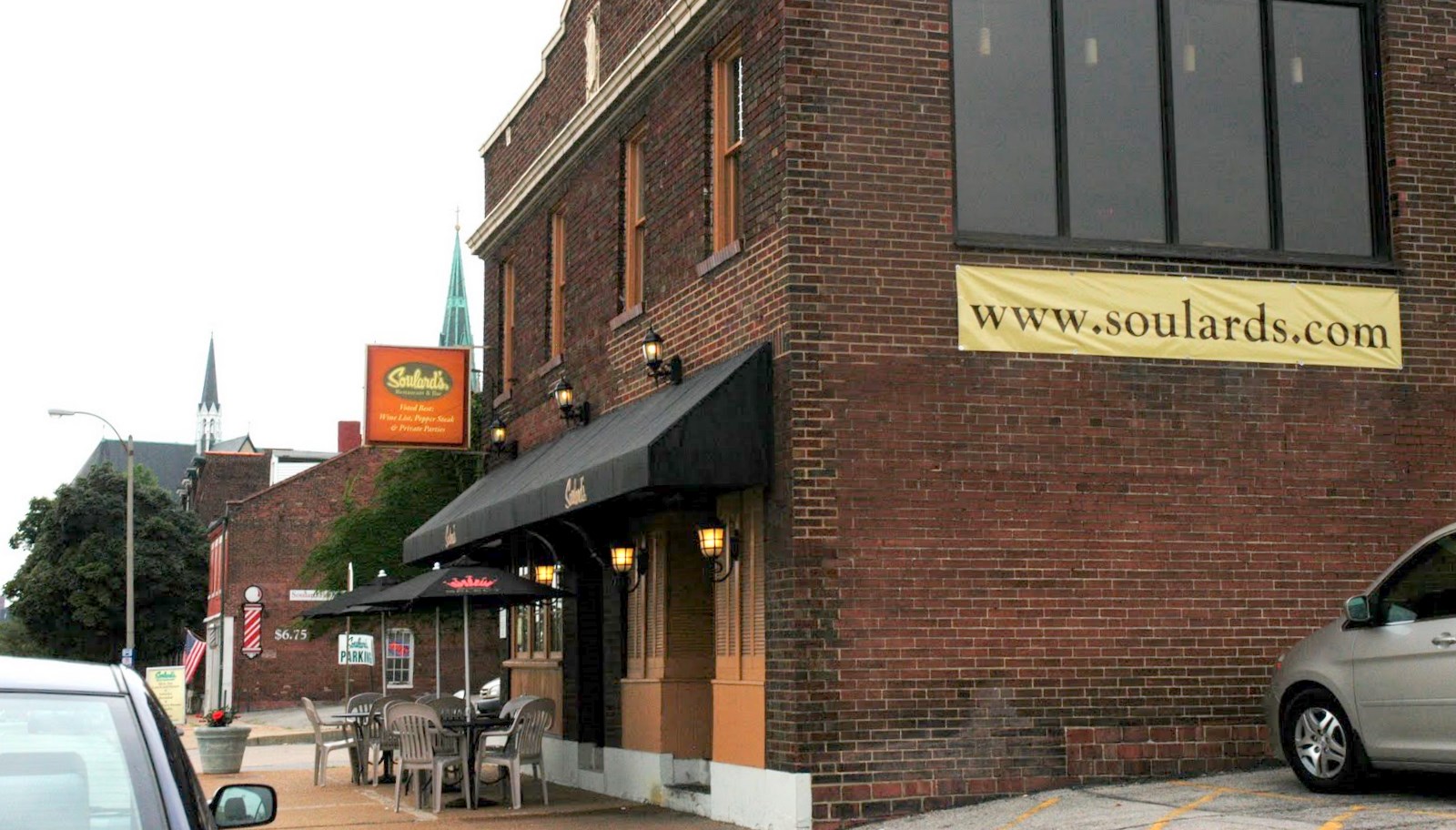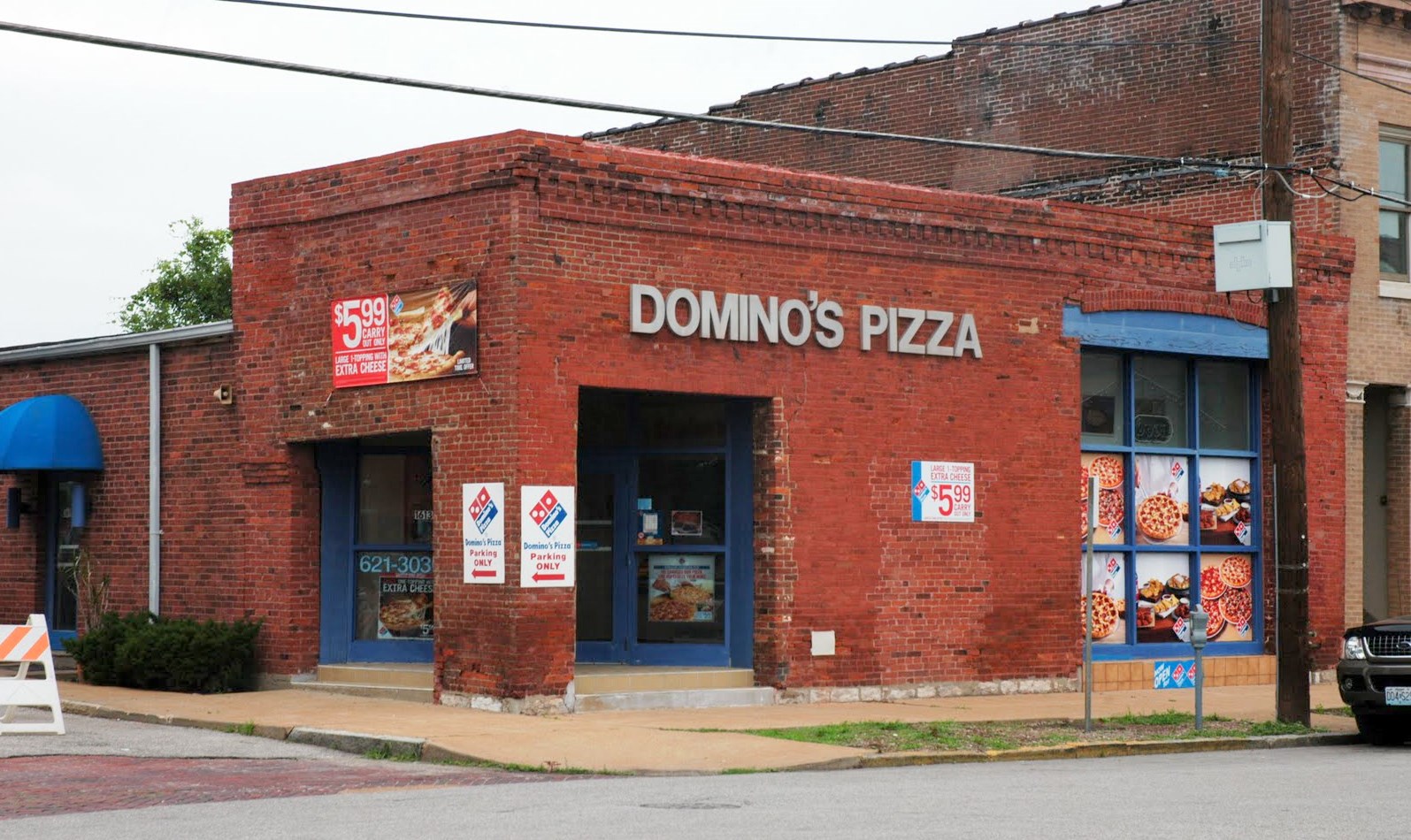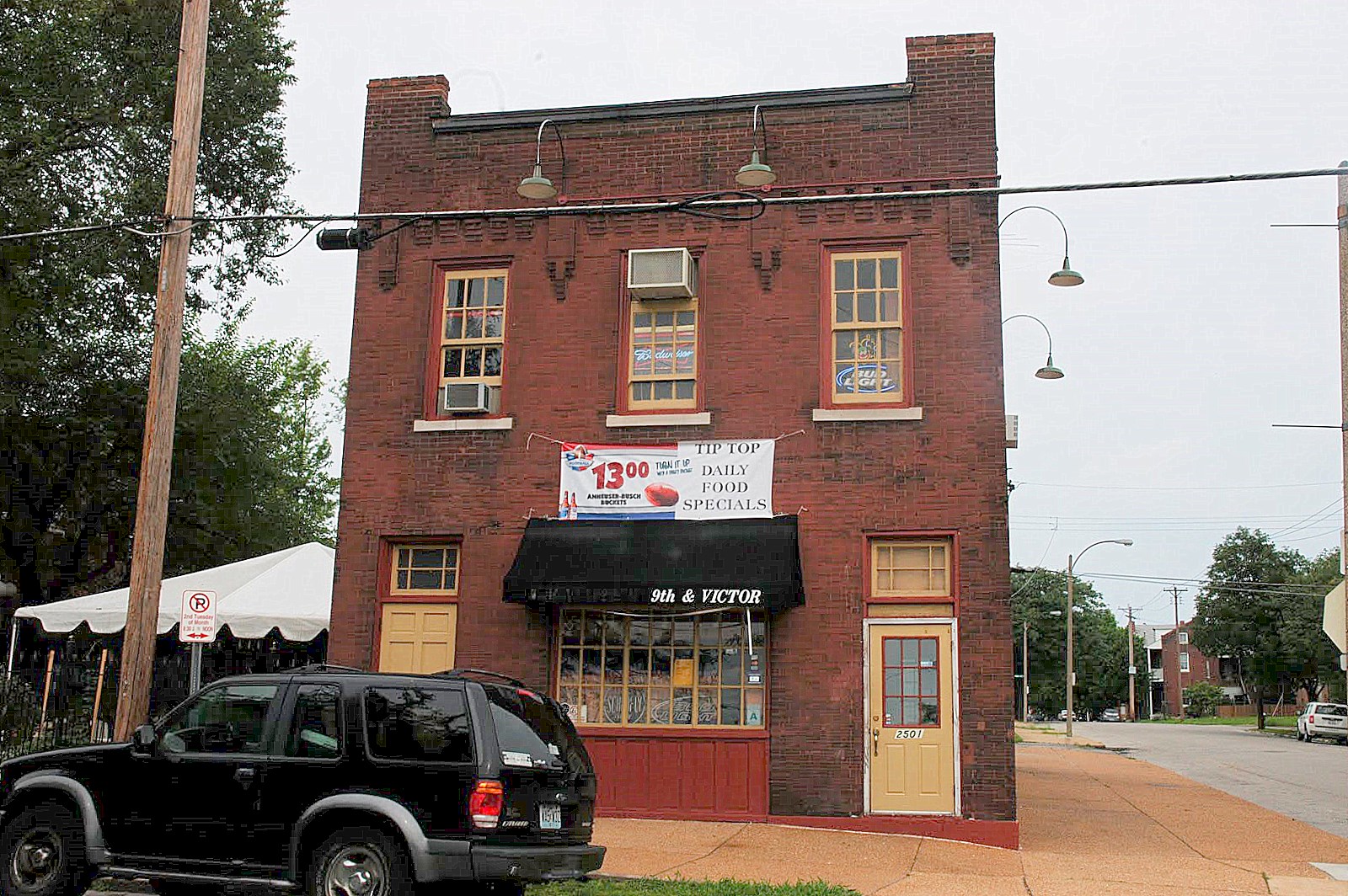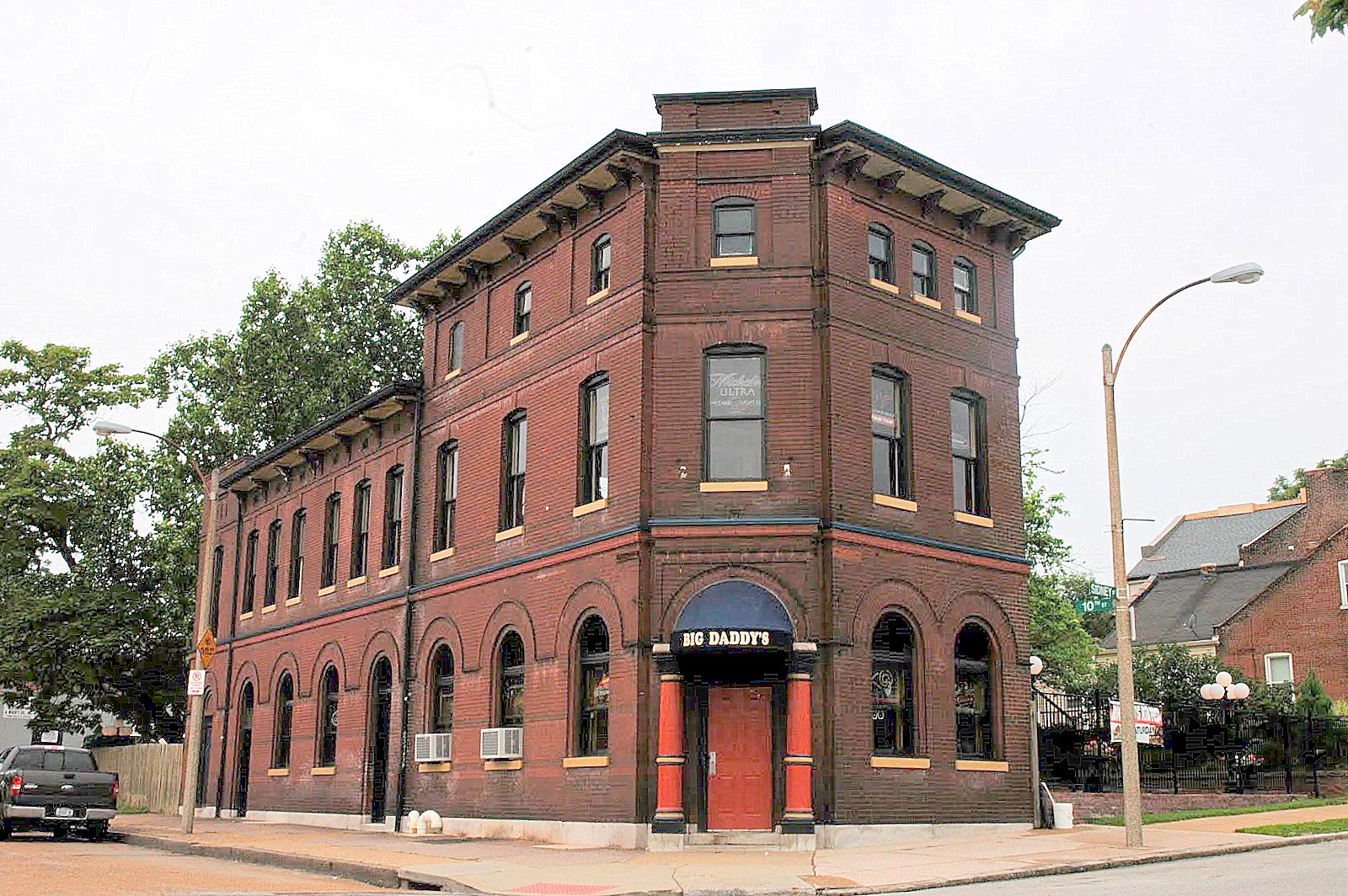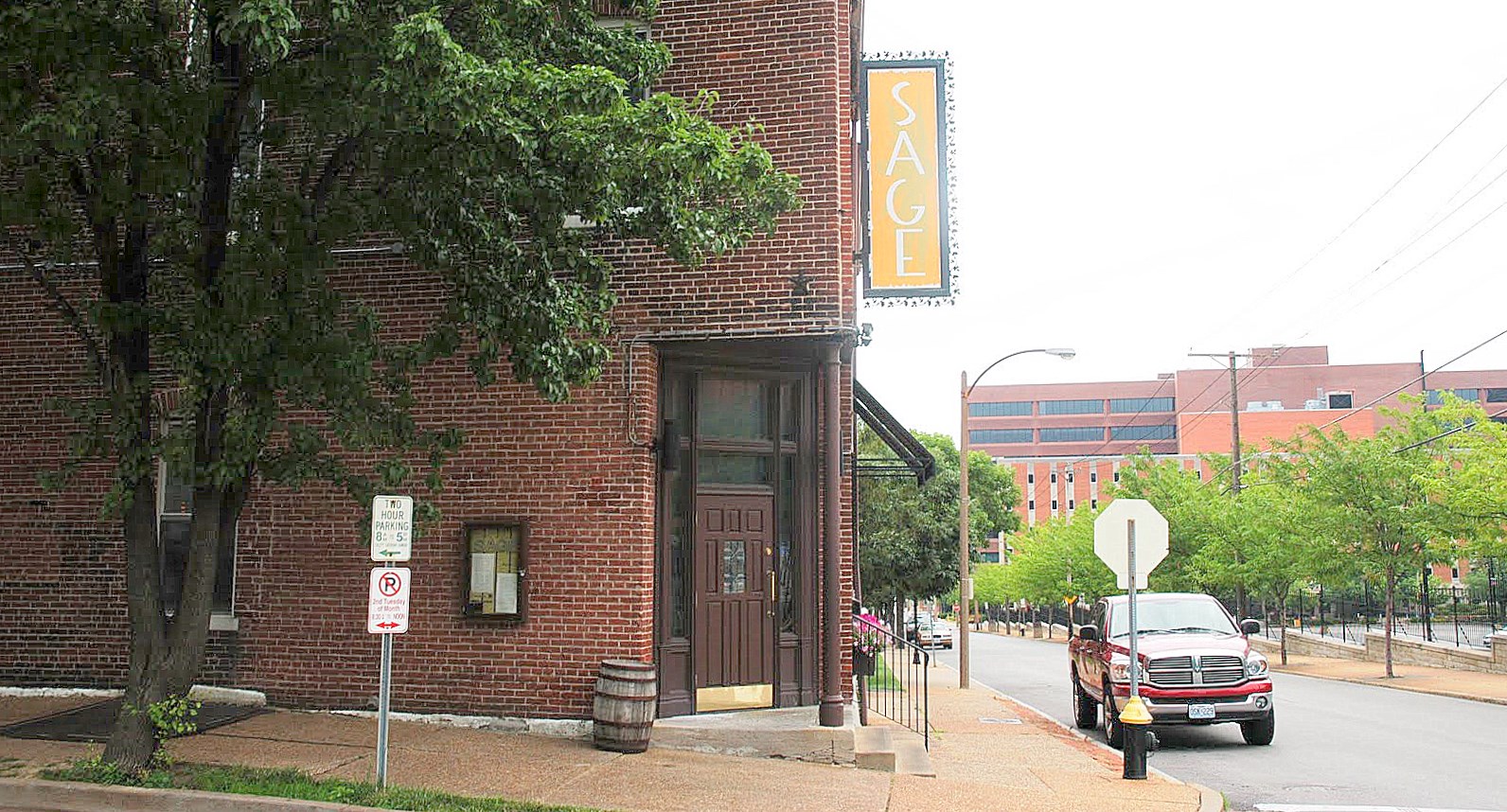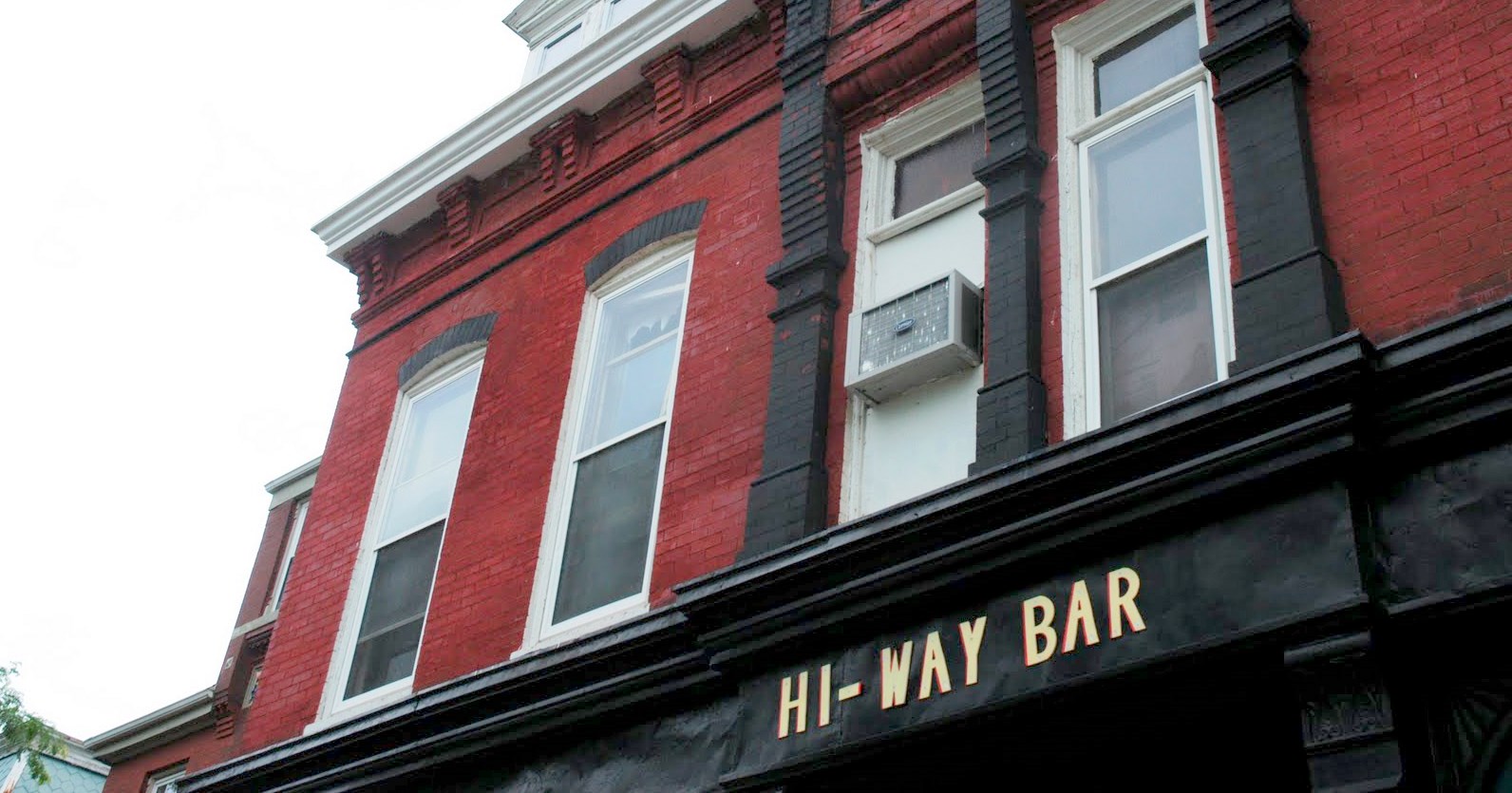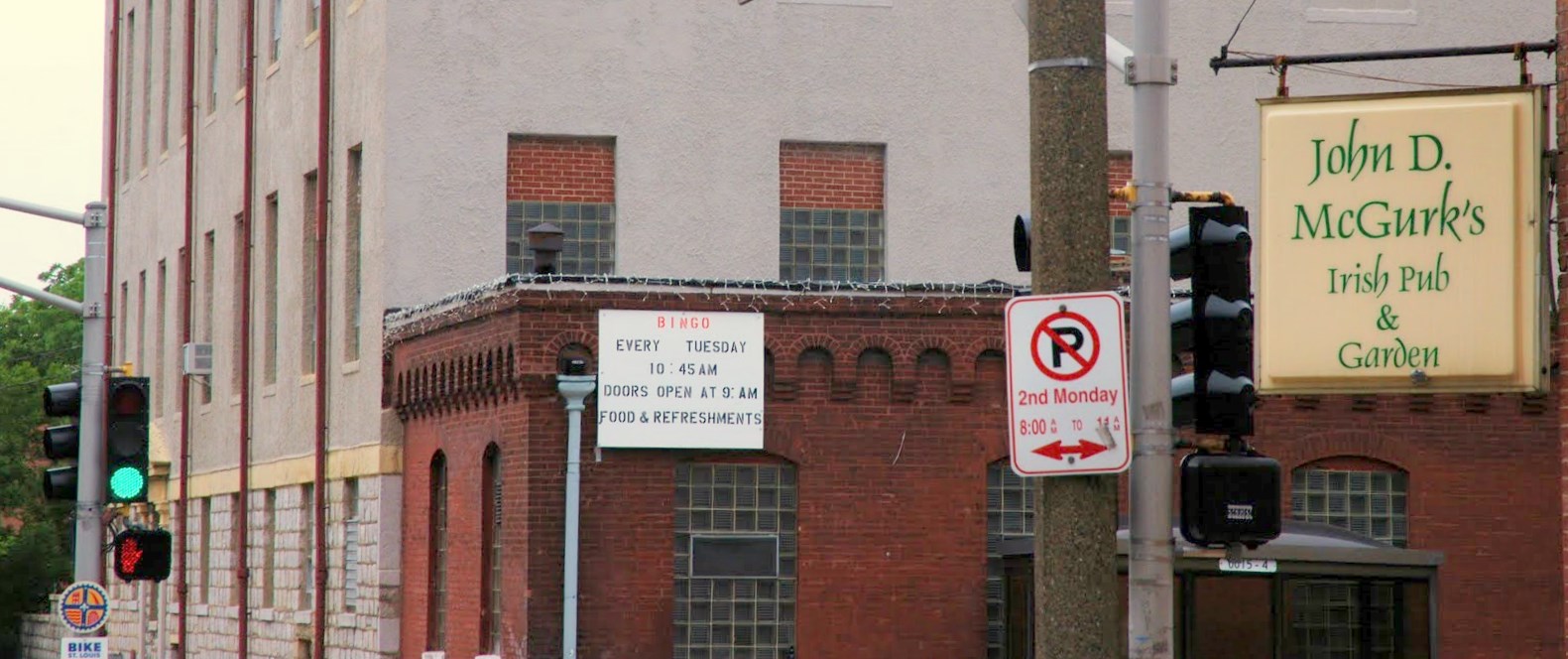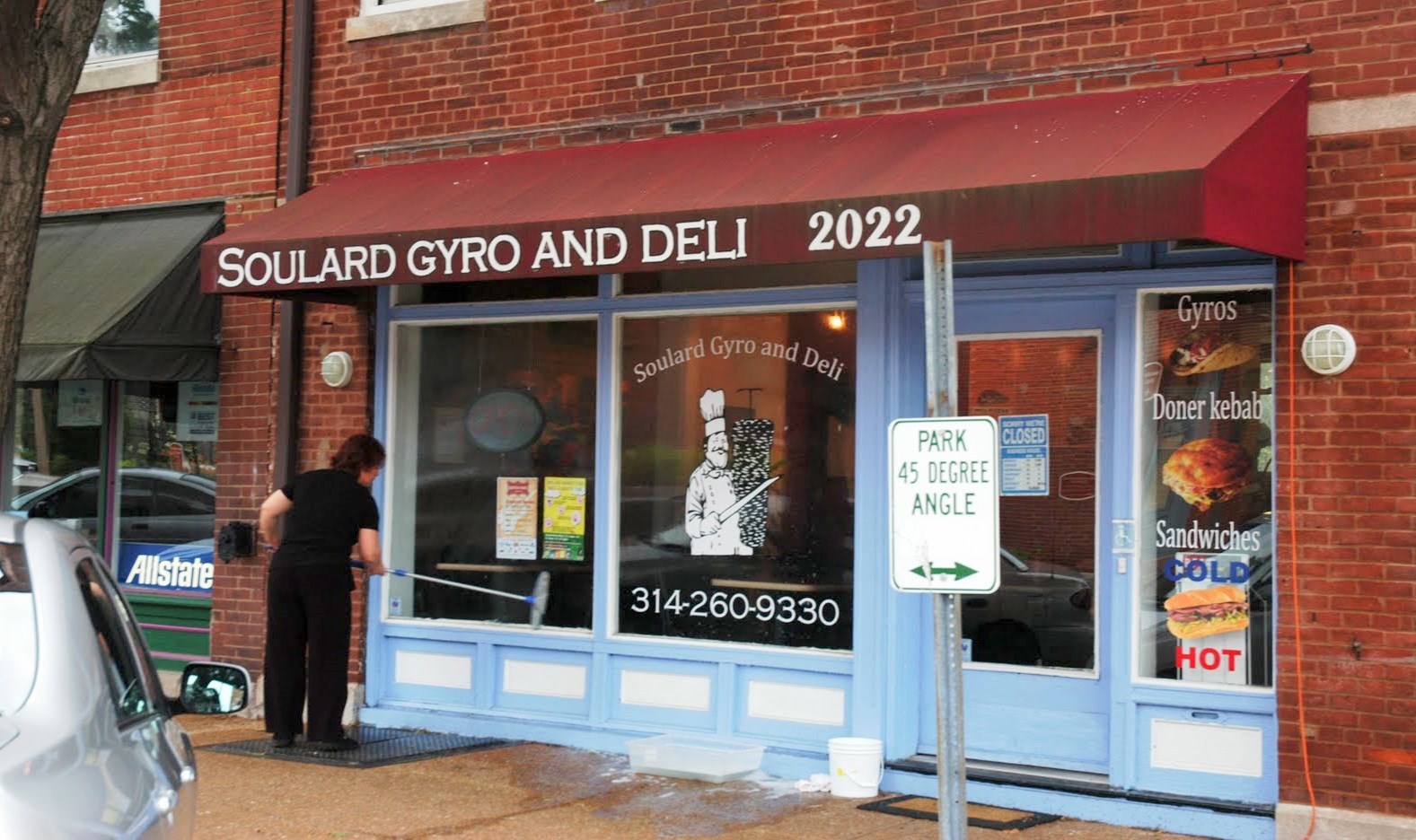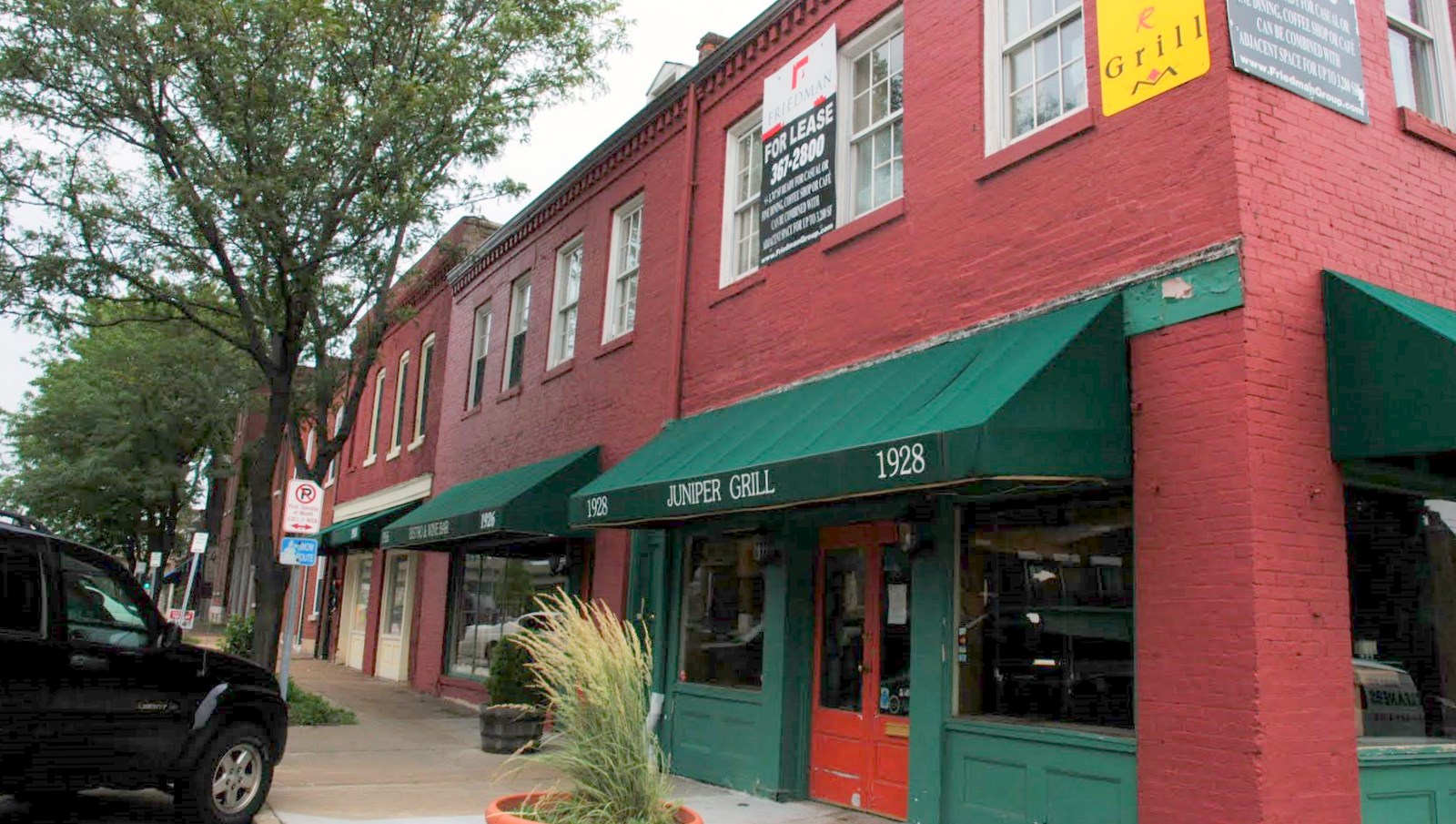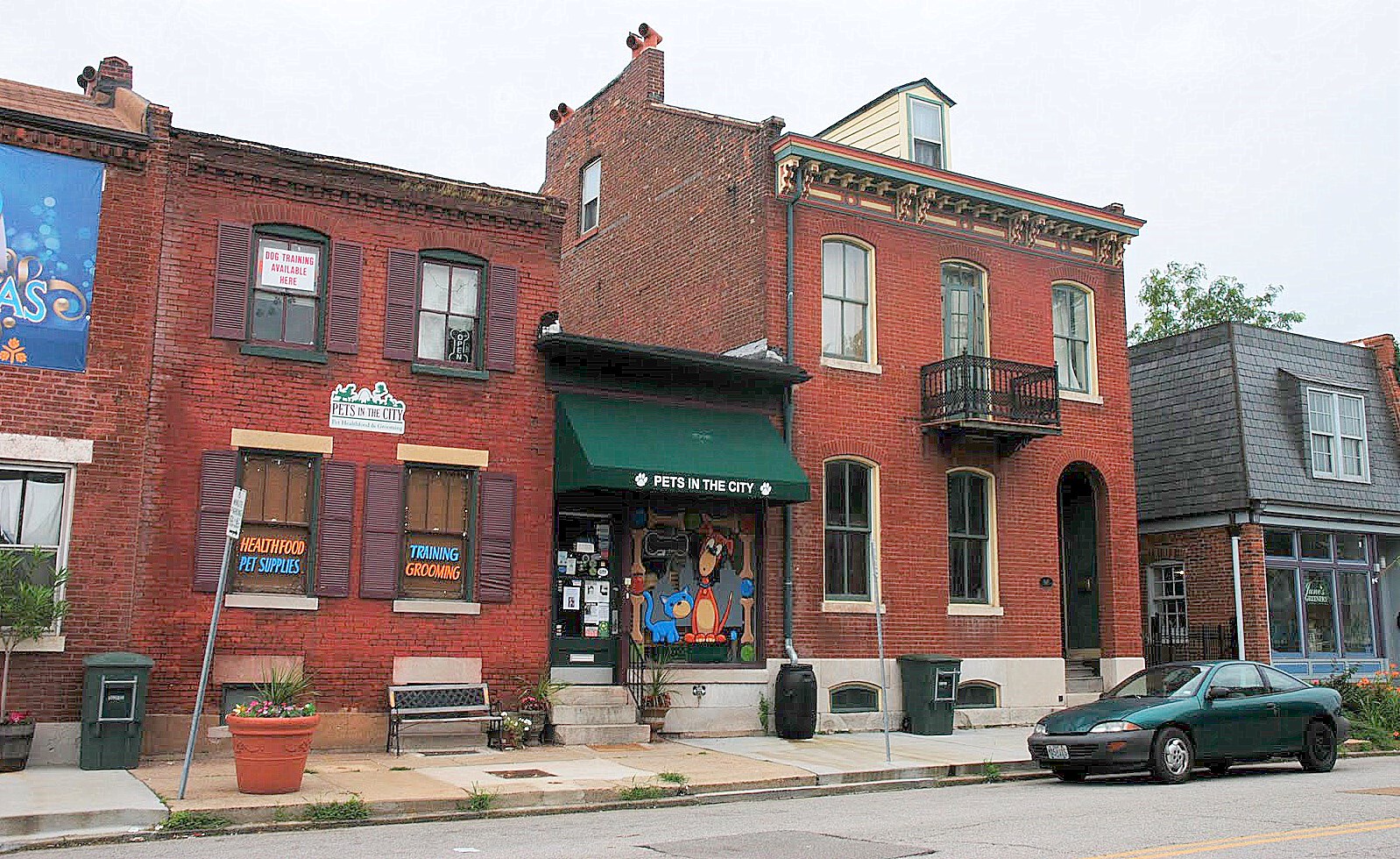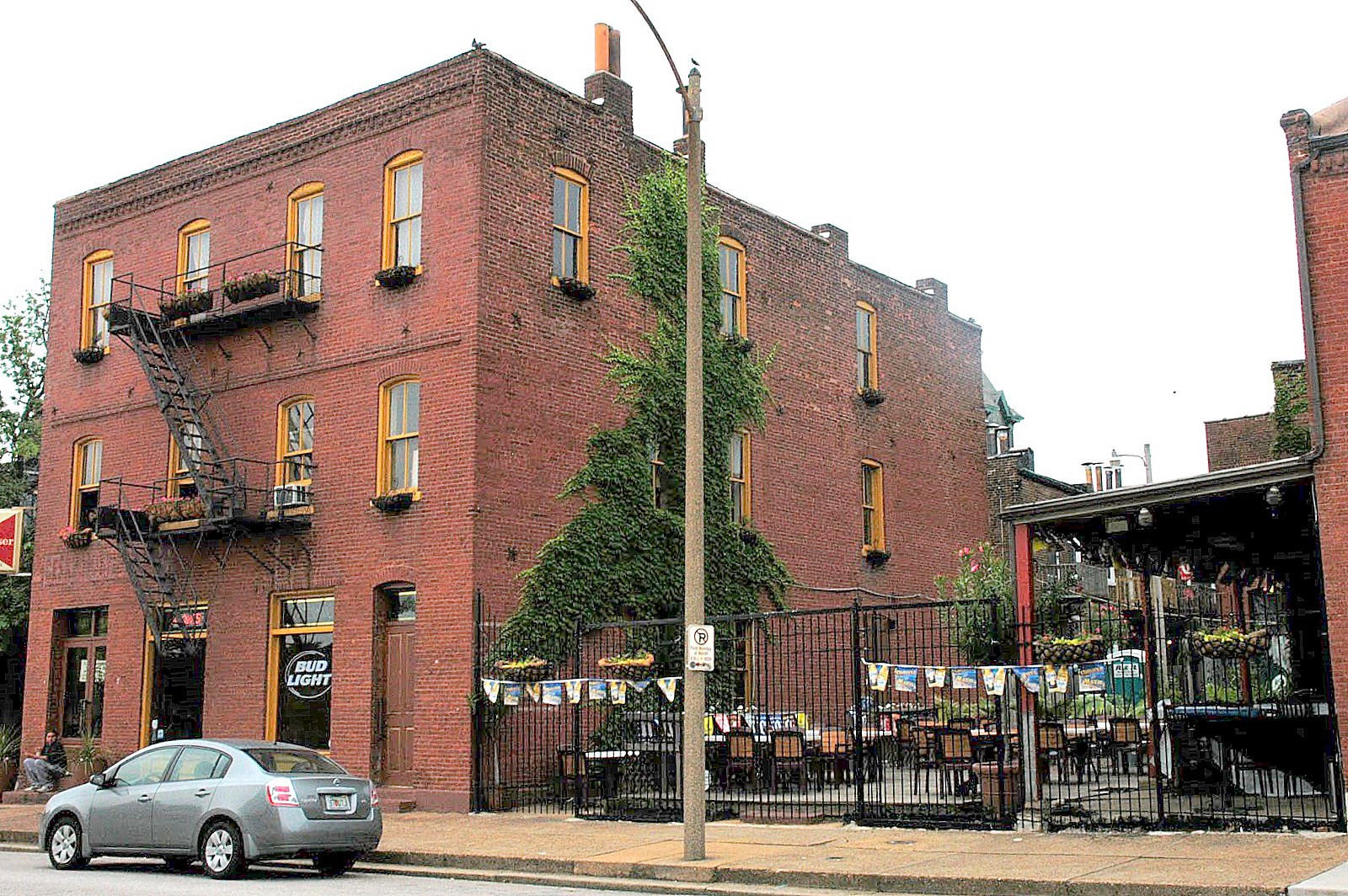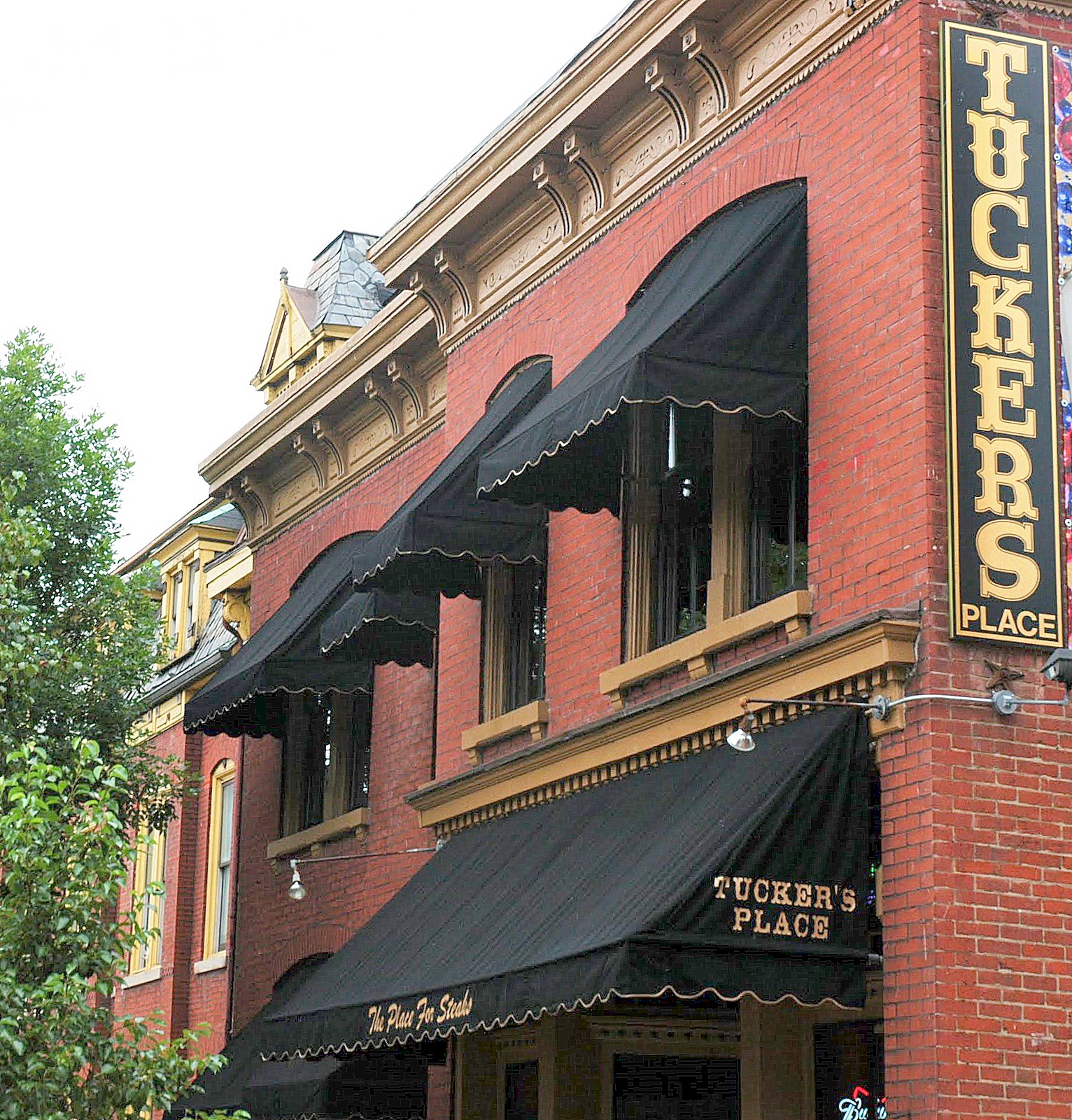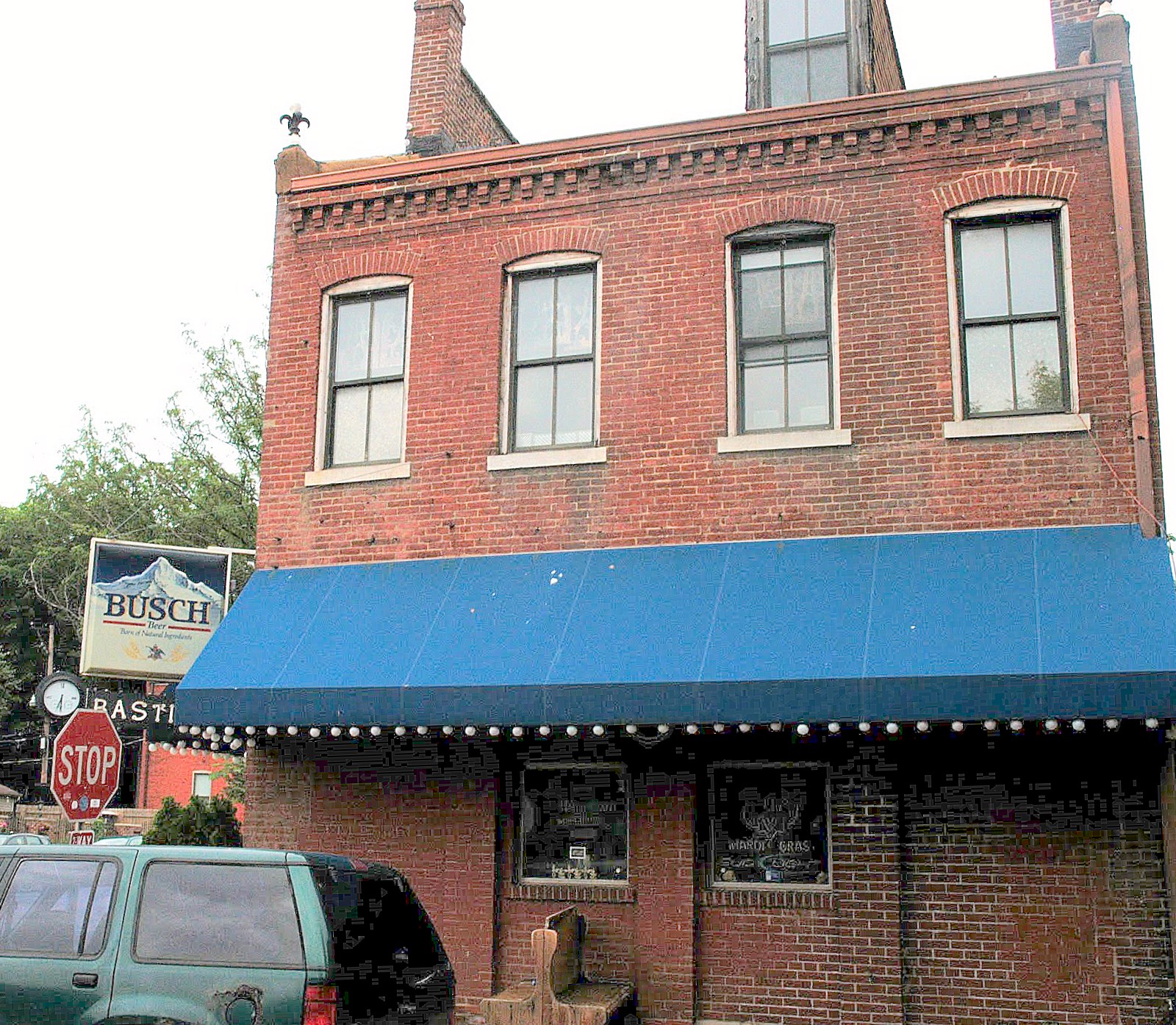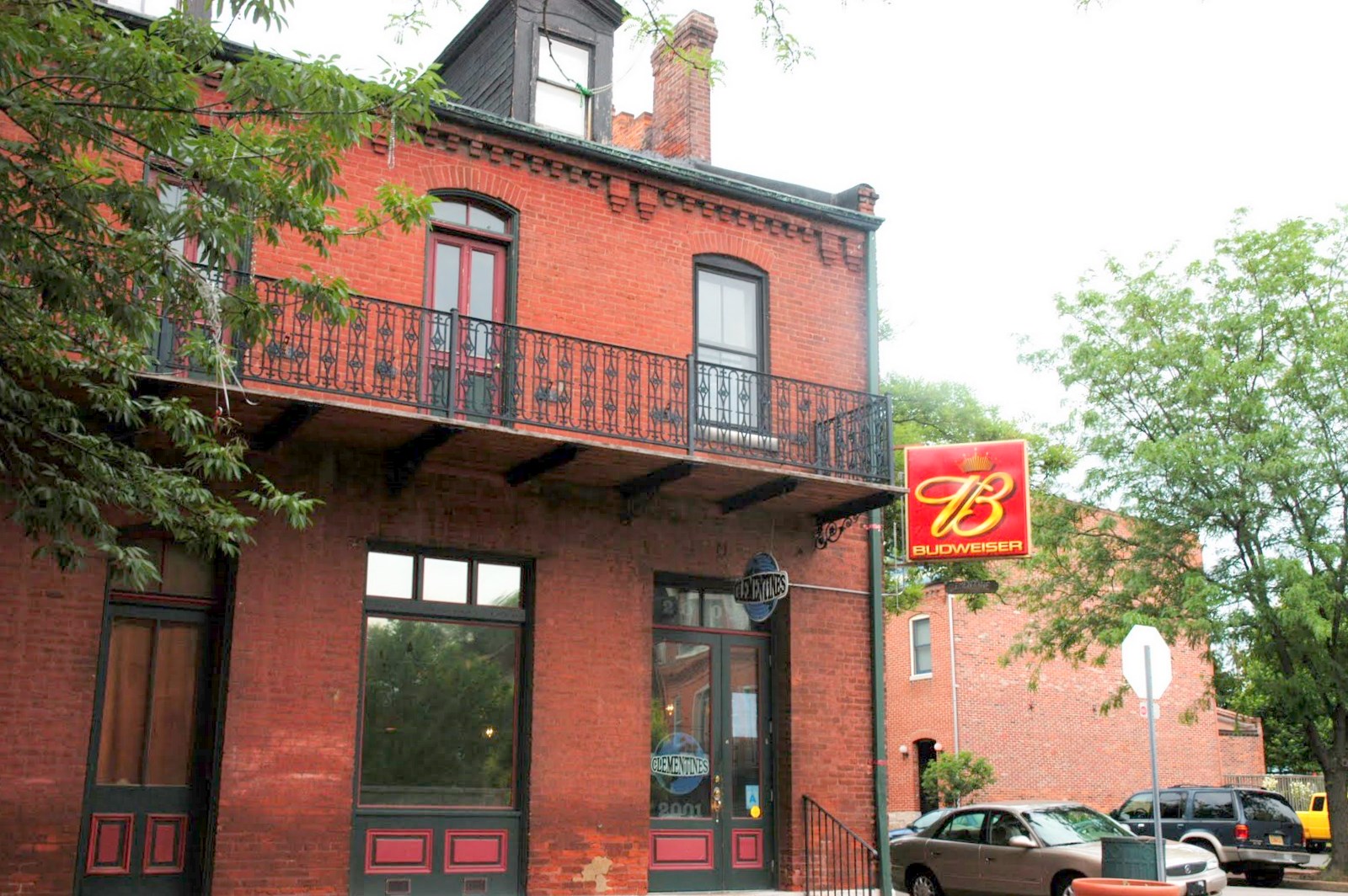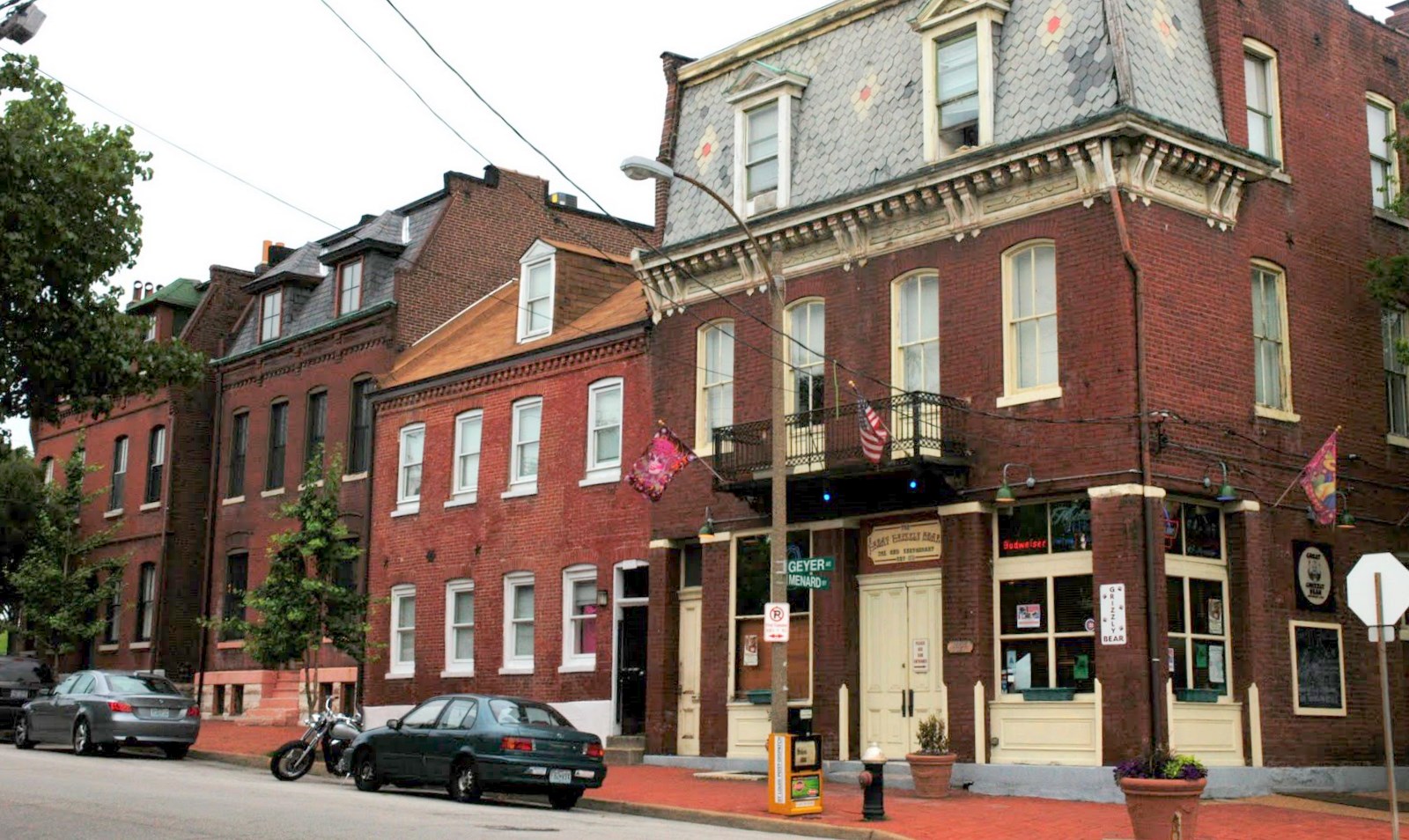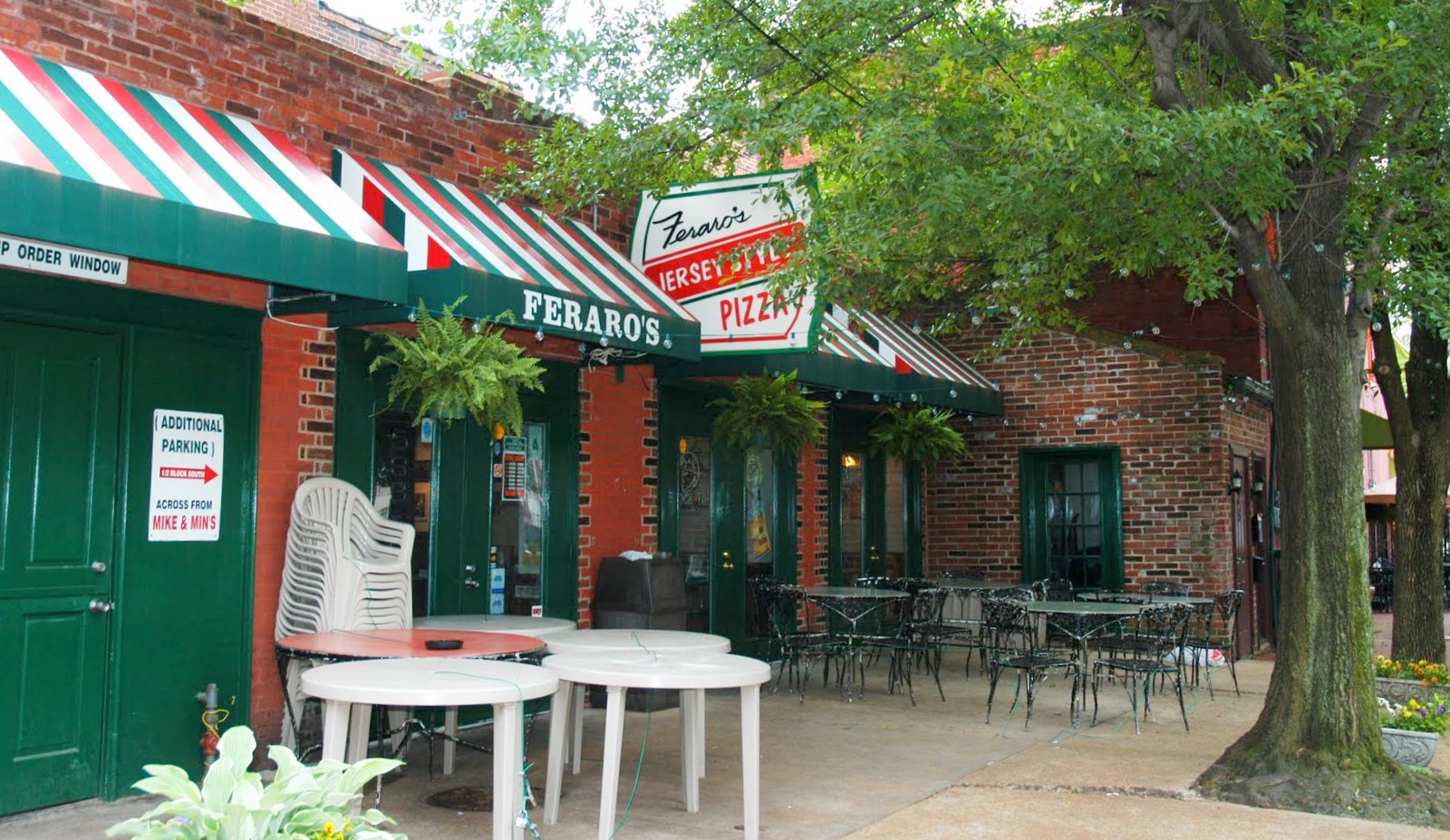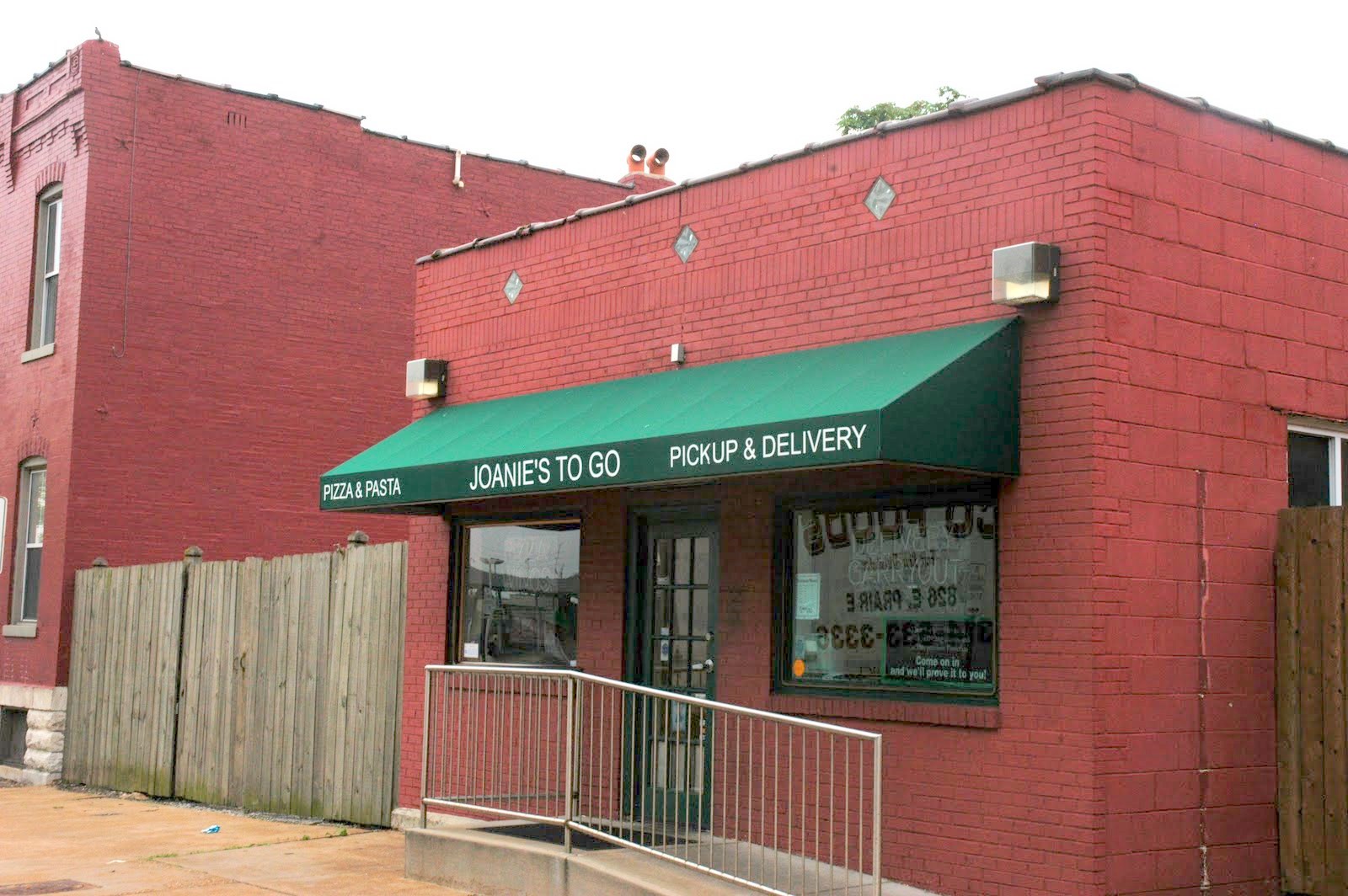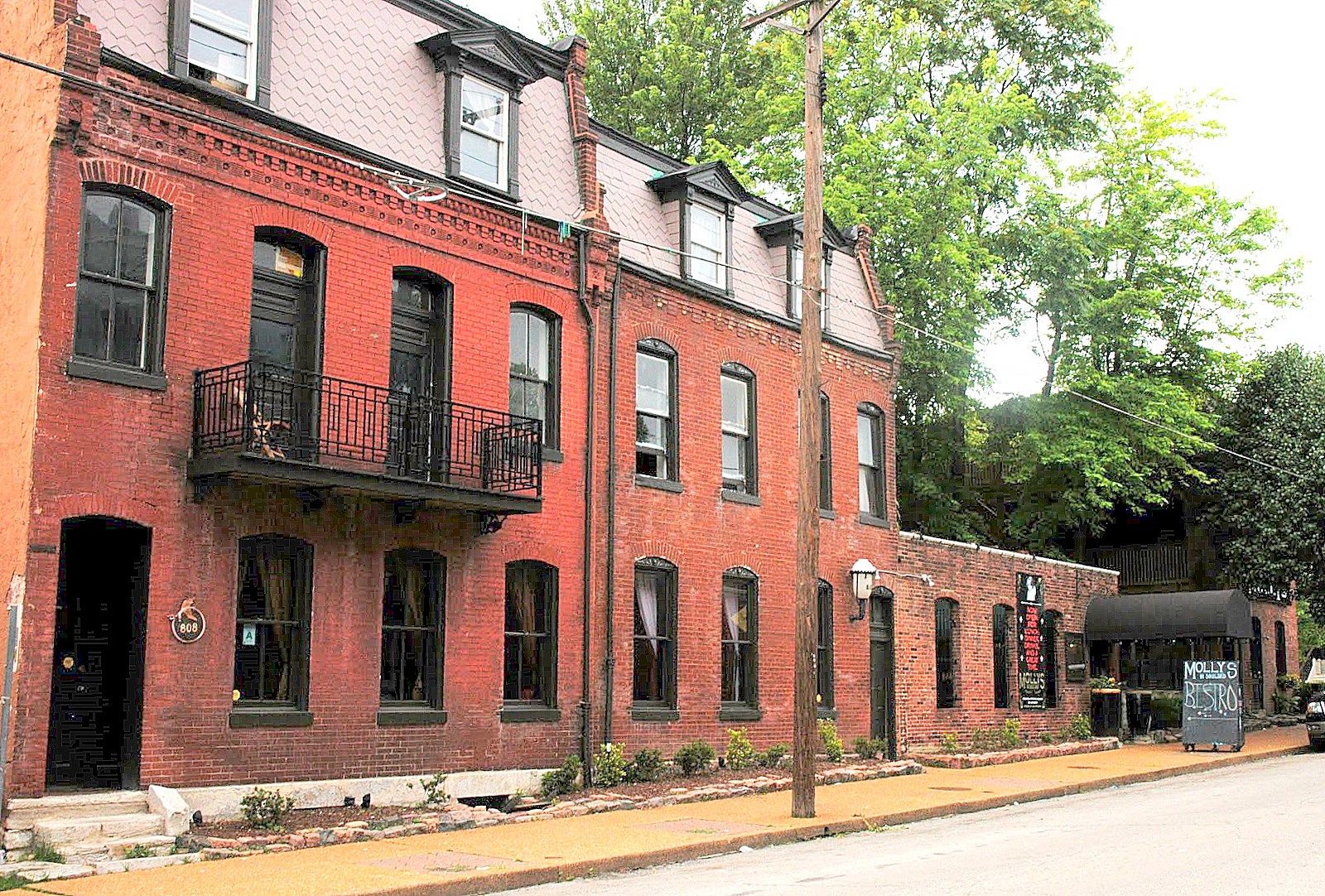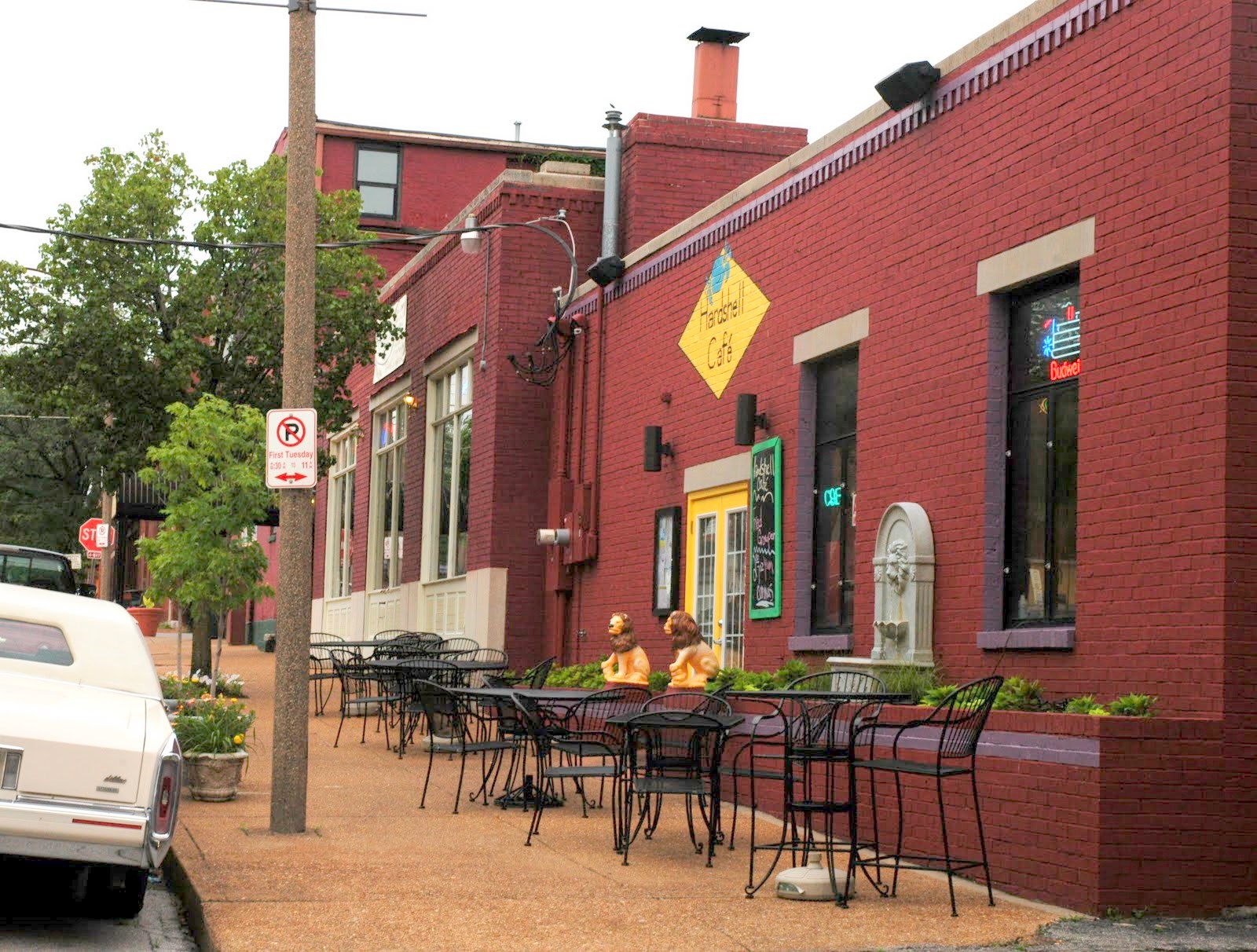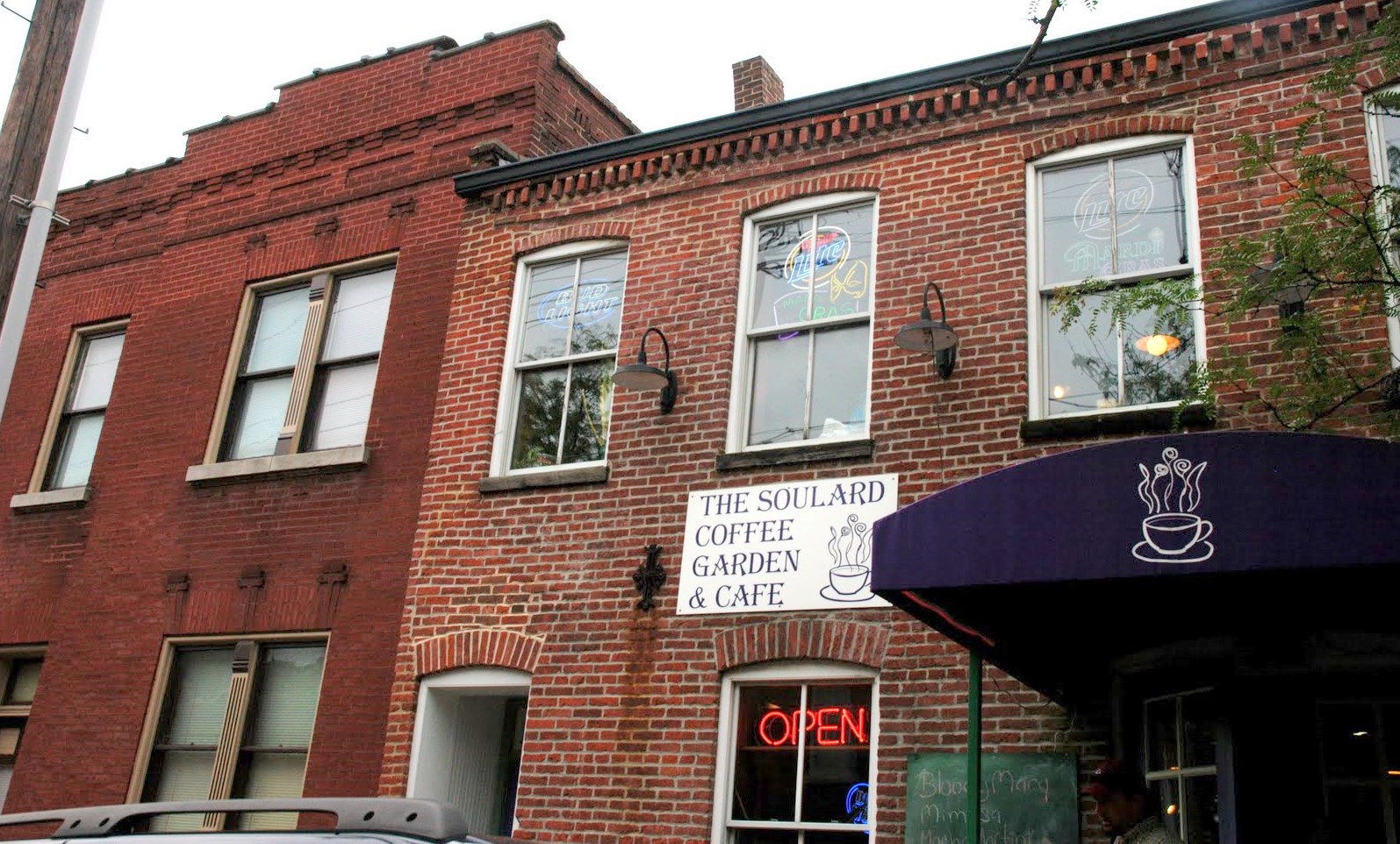 My personal favorite in Soulard is the Cat's Meow: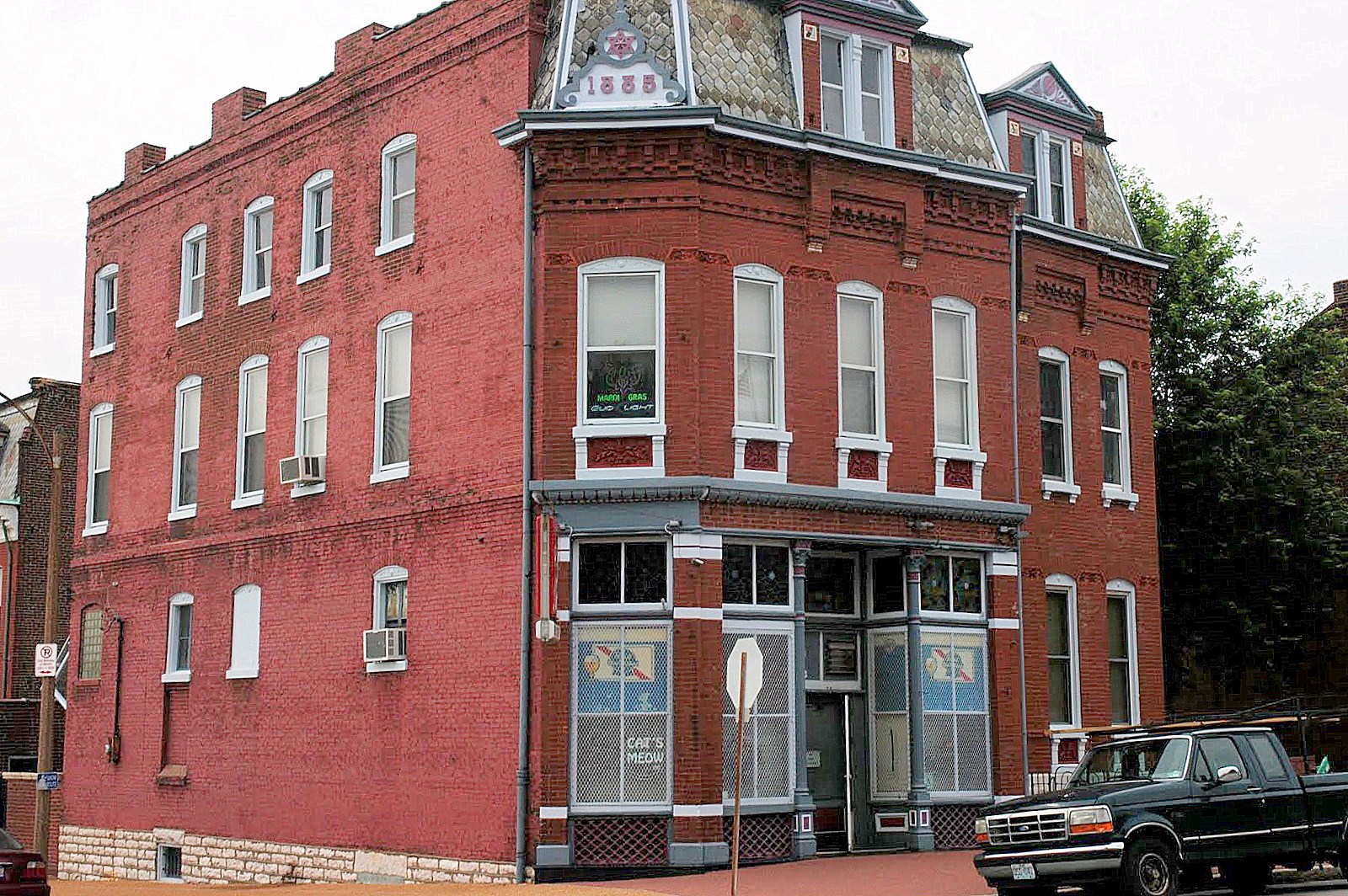 It's not all just bars and restaurants, there are intra-neighborhood dentists, laundry mats, service stations and of course Vincent's Market, serving the hood since 1912: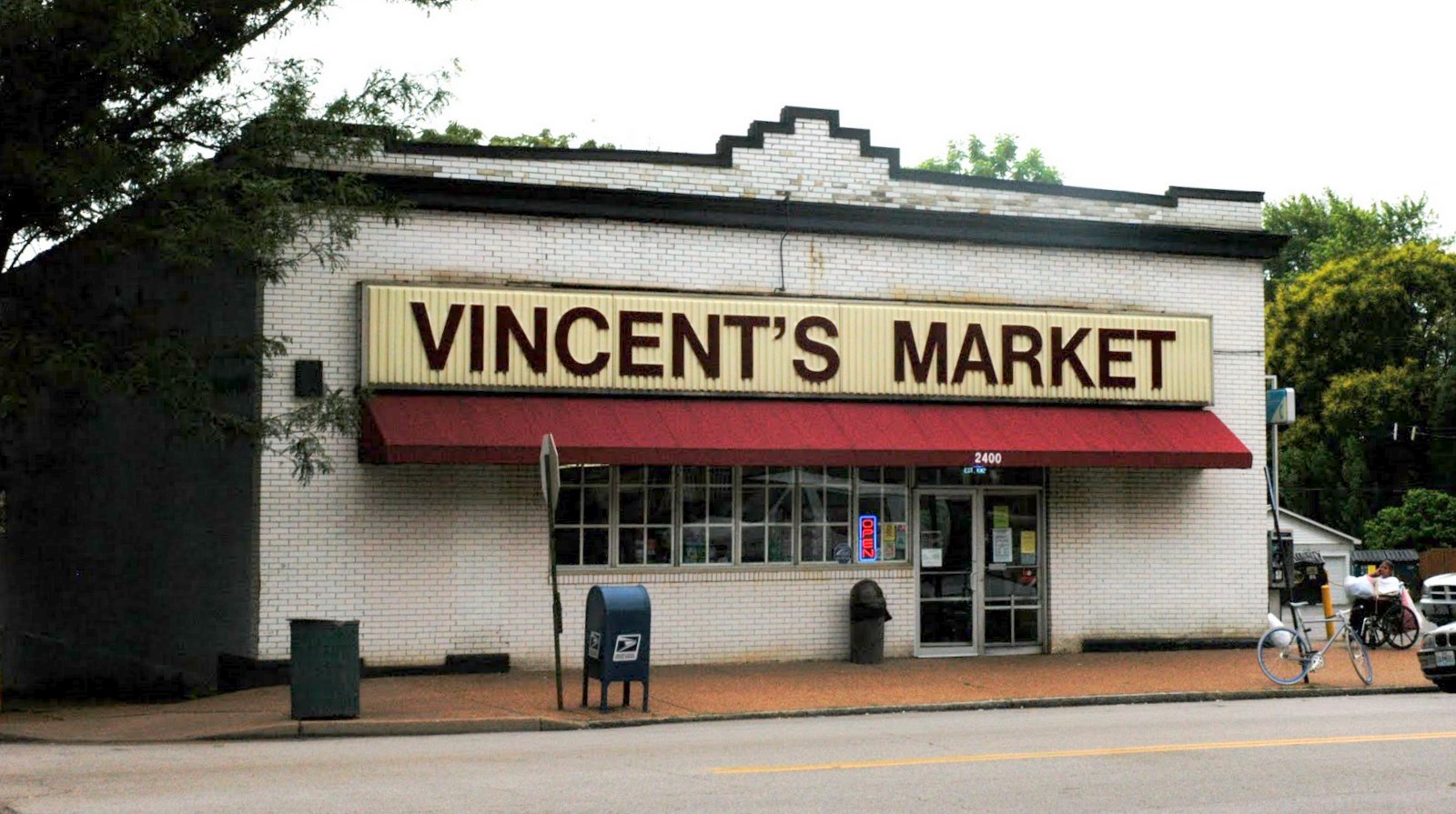 There's obviously a lot to like in Soulard. And living here is unique as the sights and smells of the brewery are prevalent throughout the neighborhood.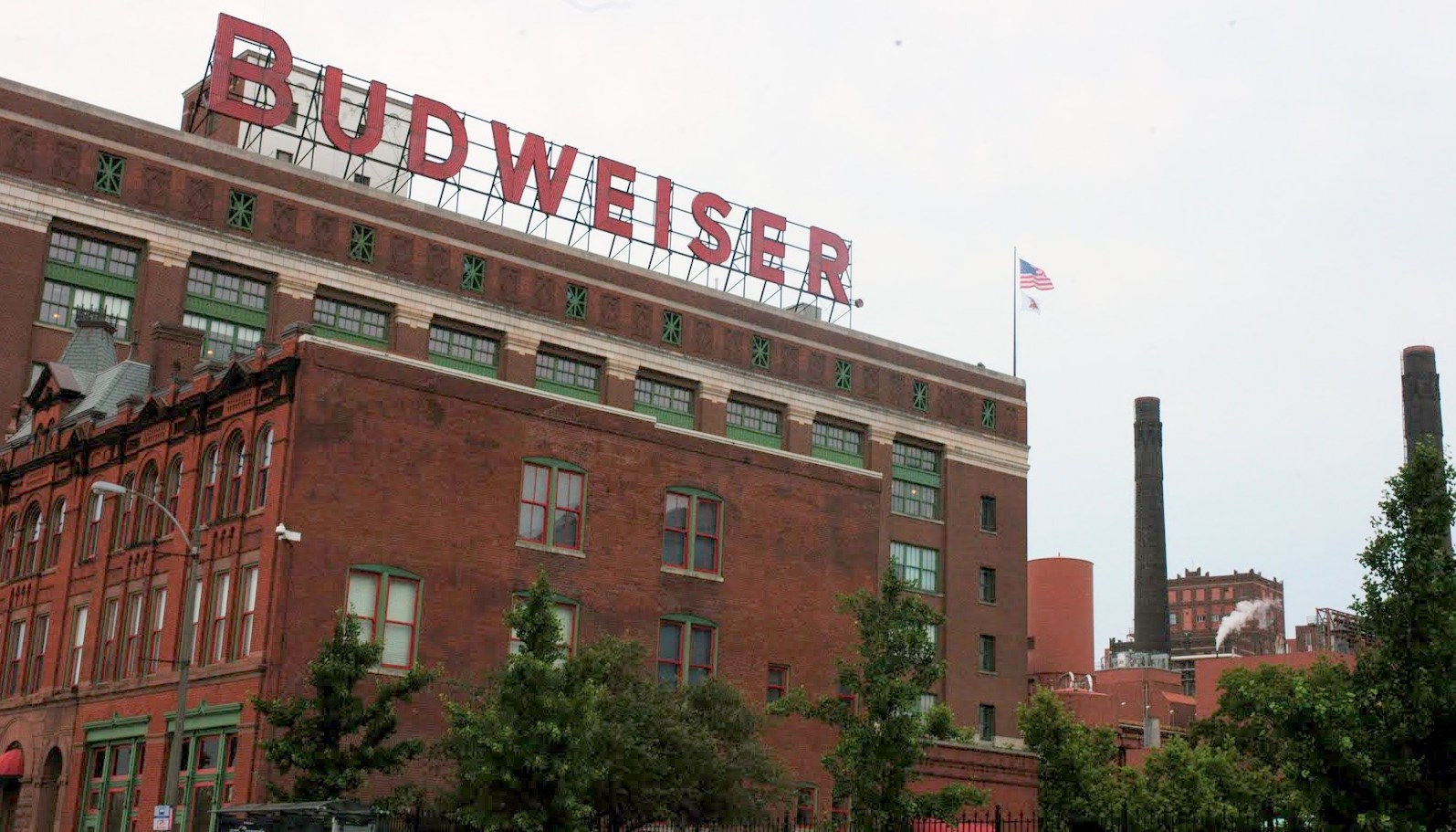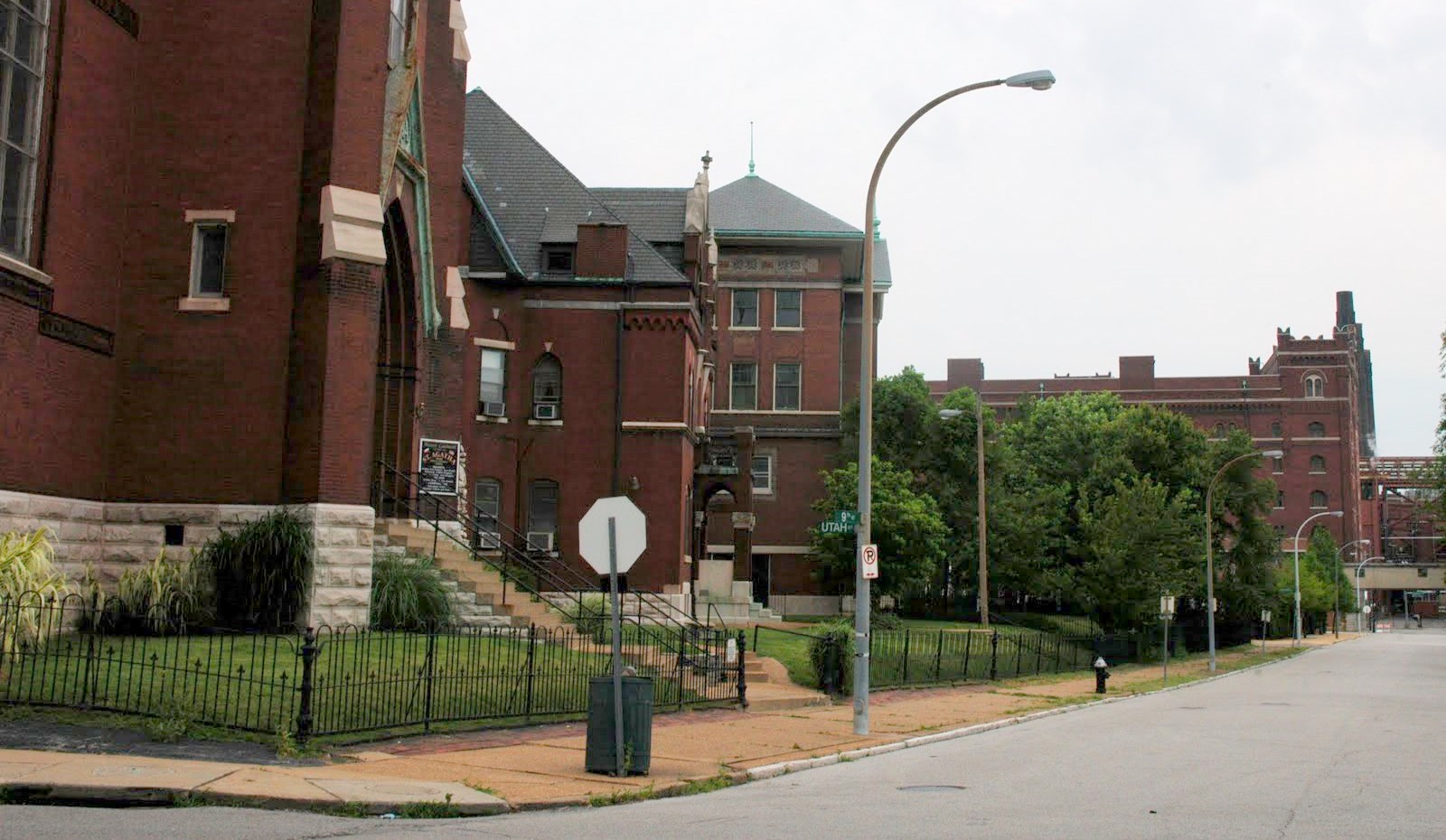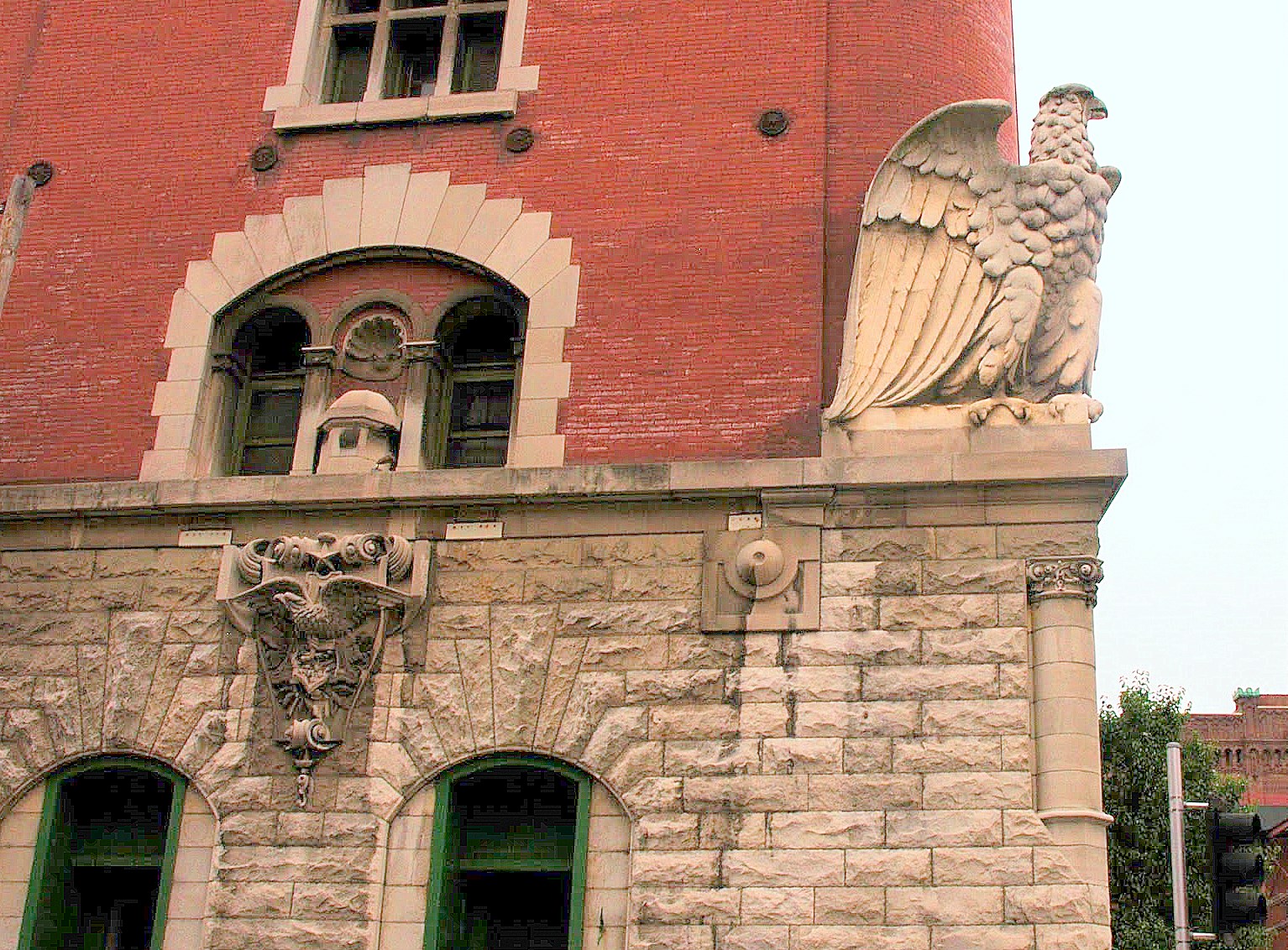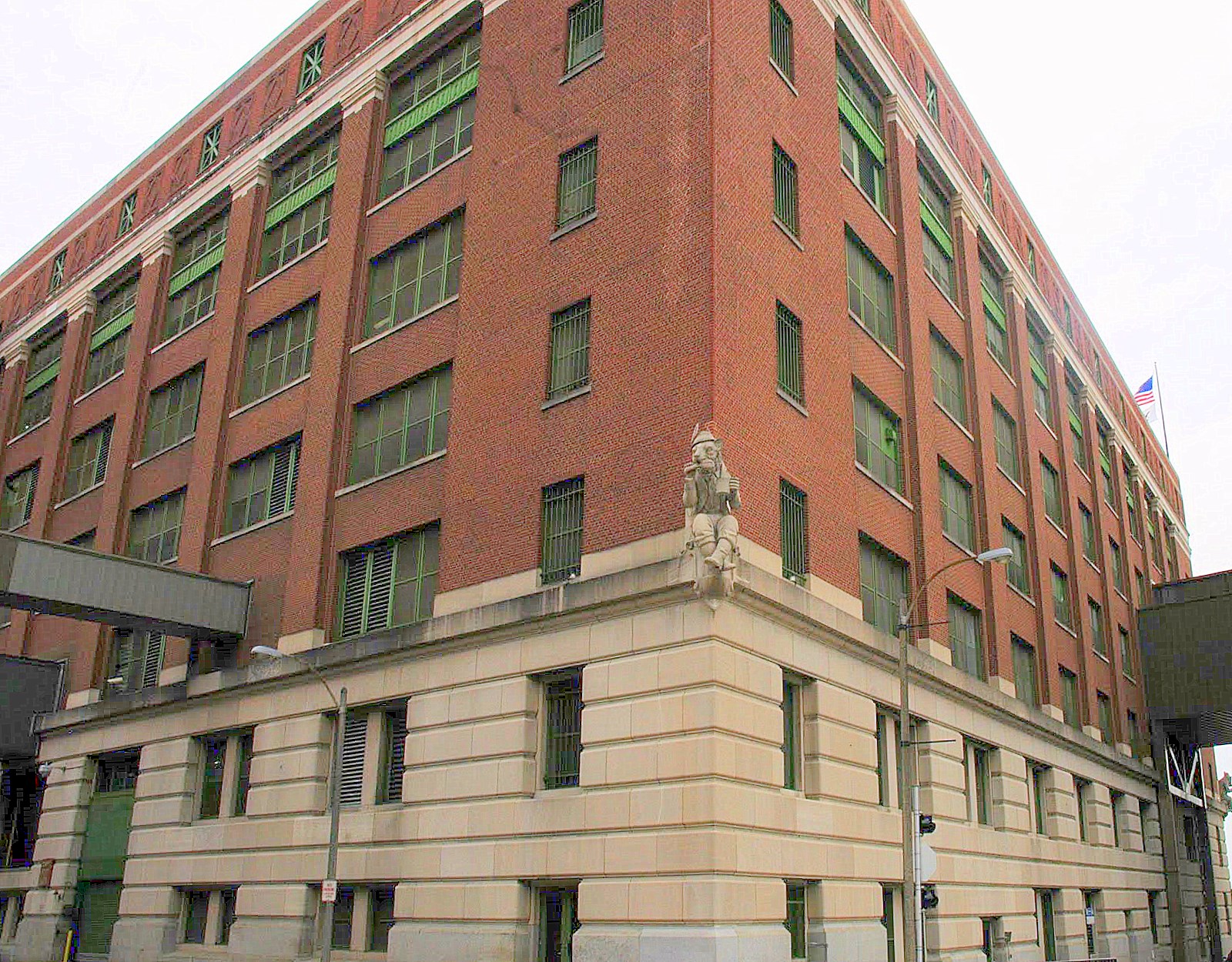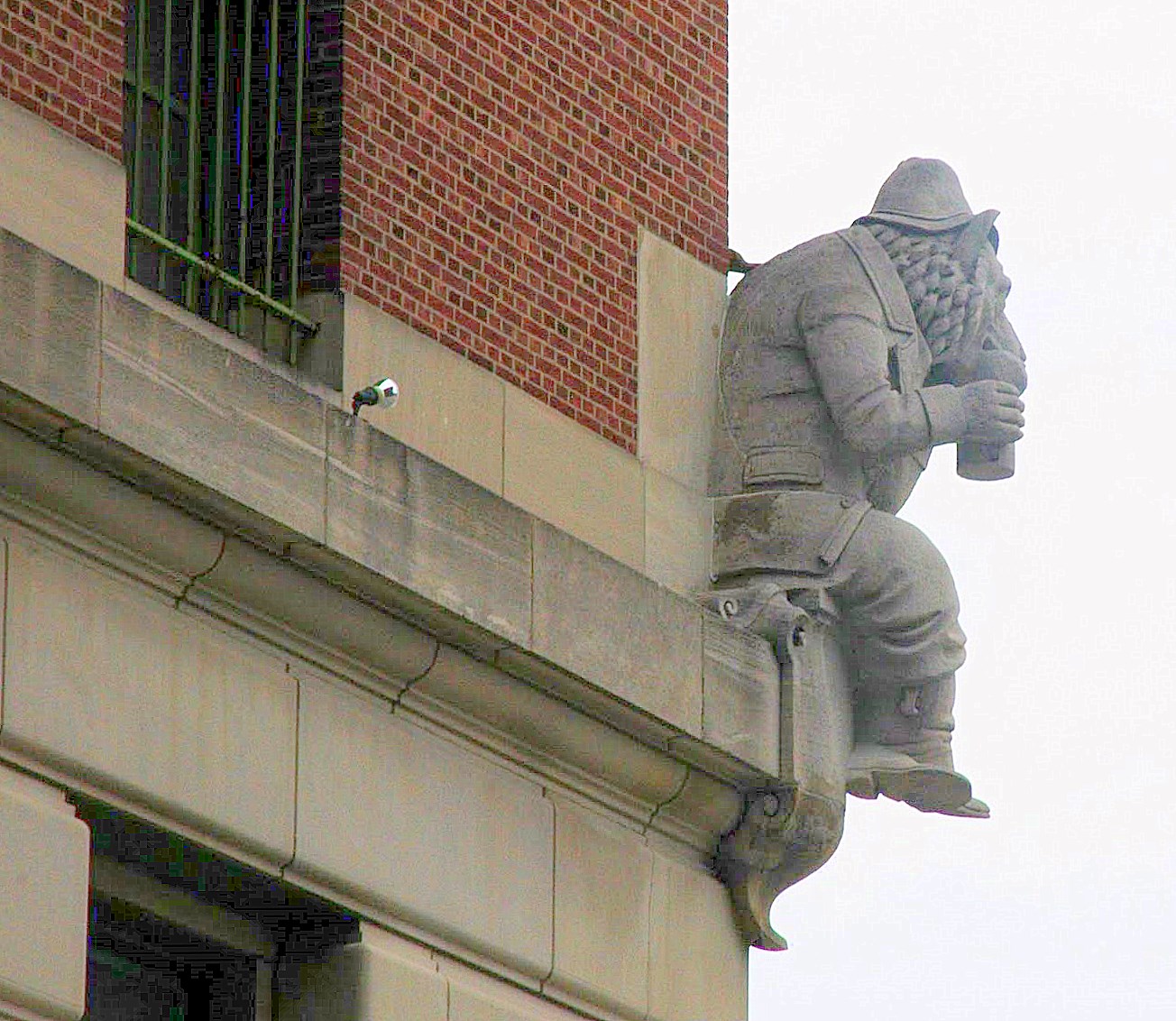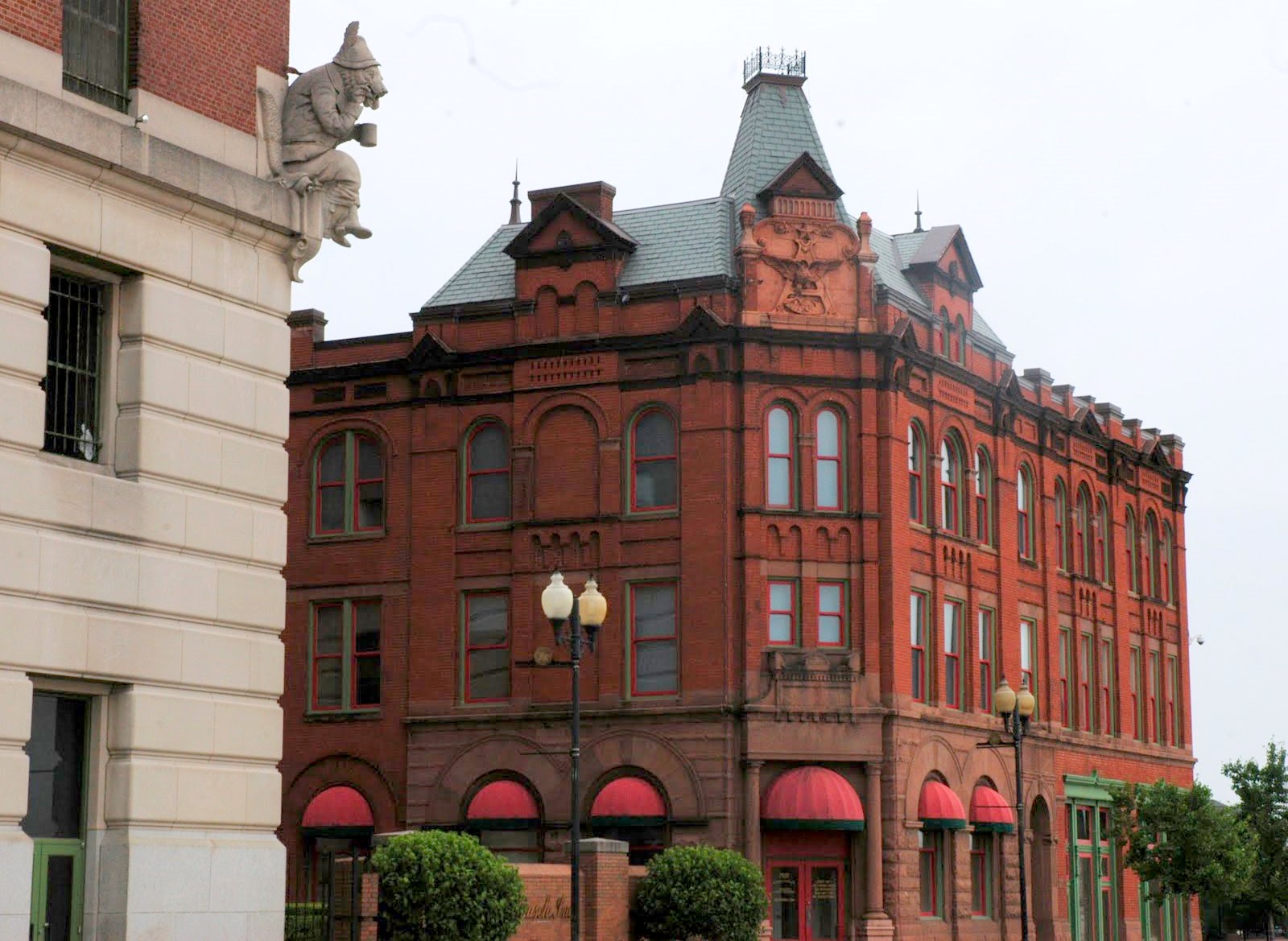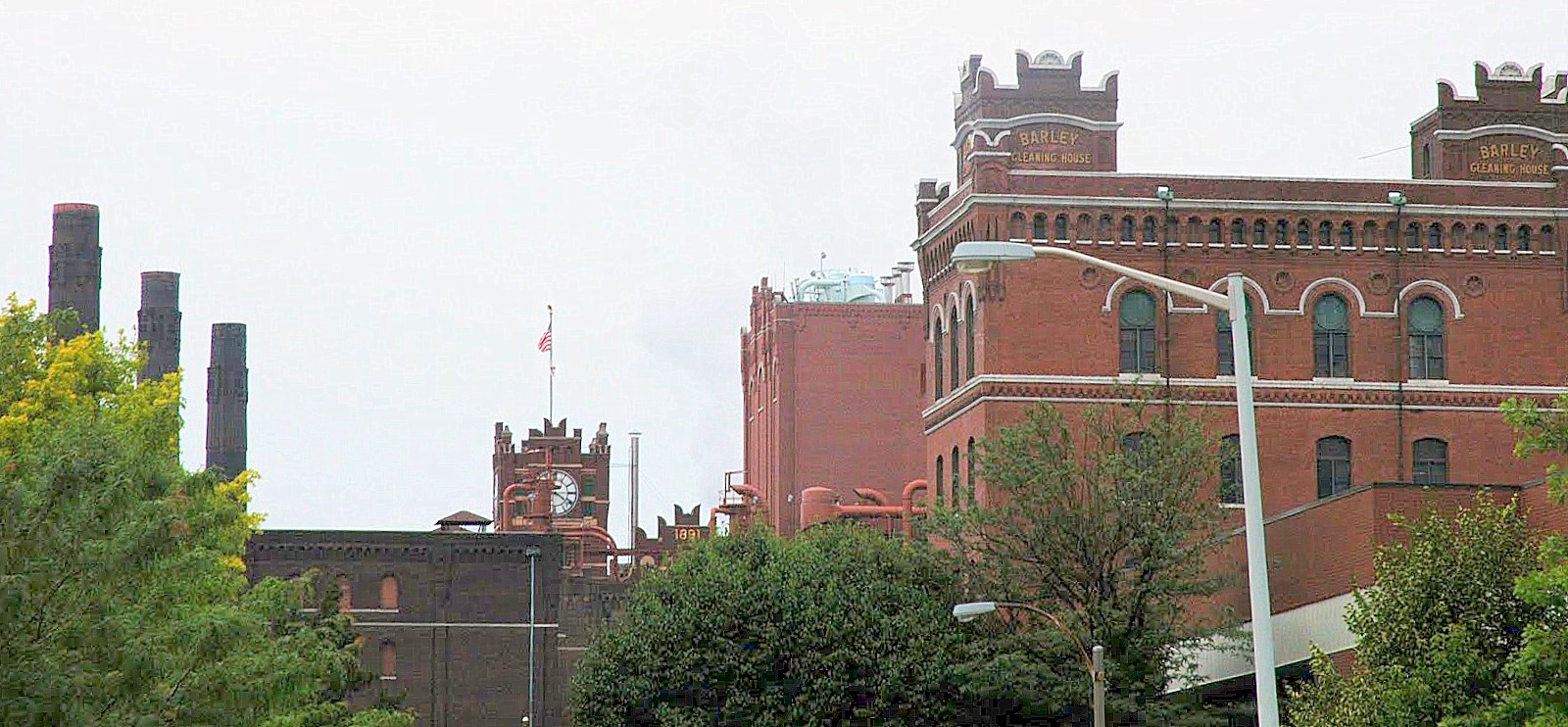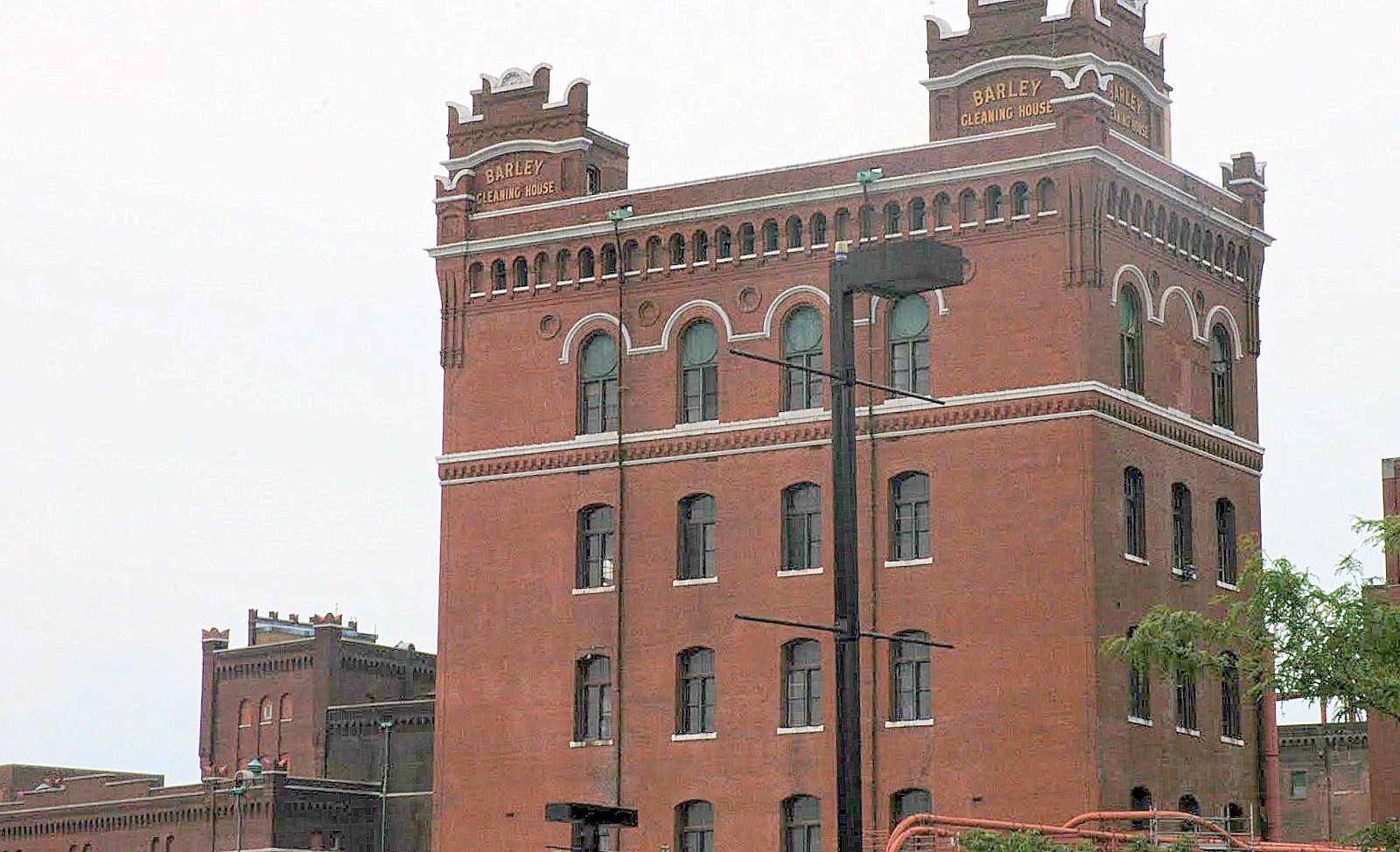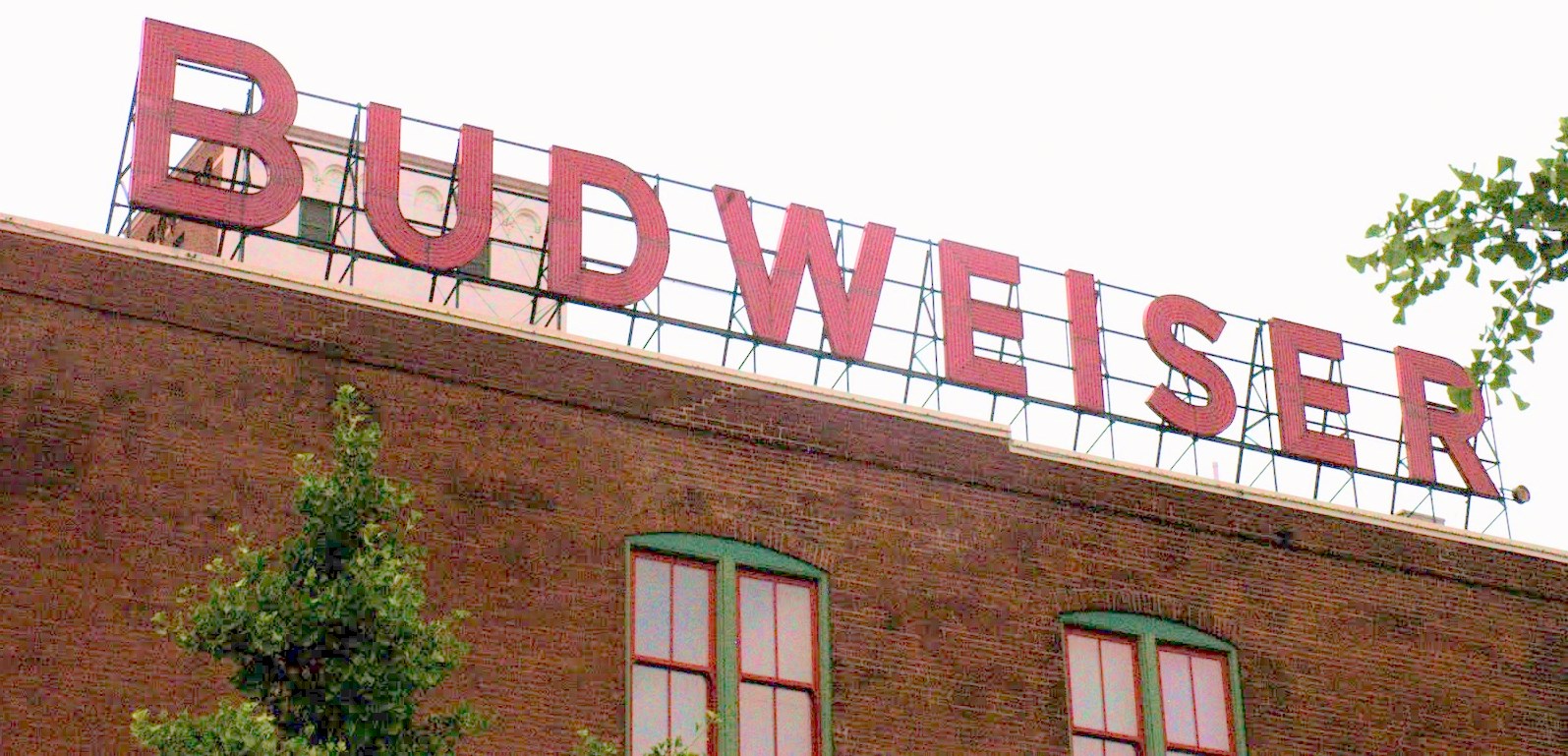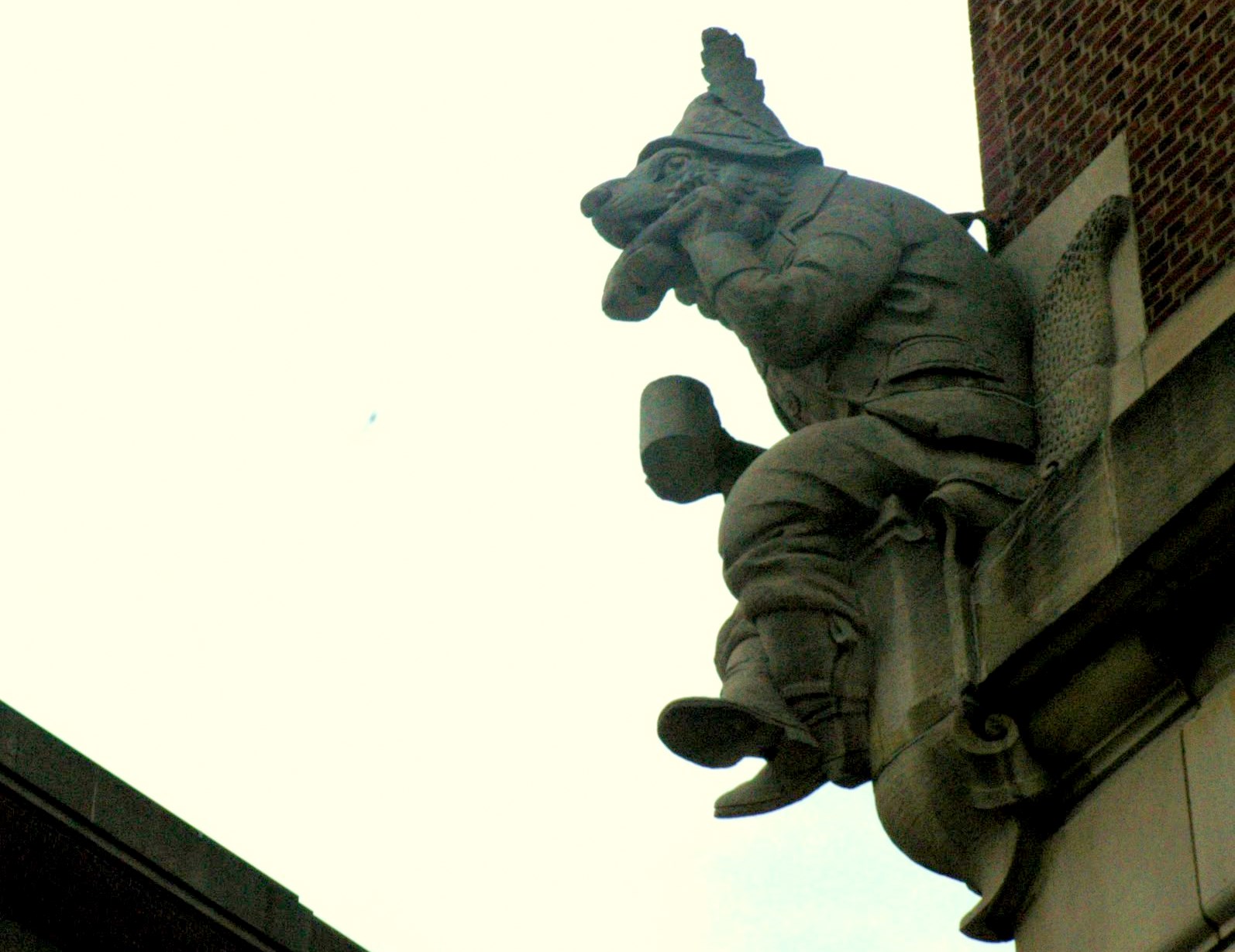 The residential properties are awesome. Most built right to the street, but there are areas where the homes are perched atop some higher elevations due to the naturally hilly topography leading toward the river.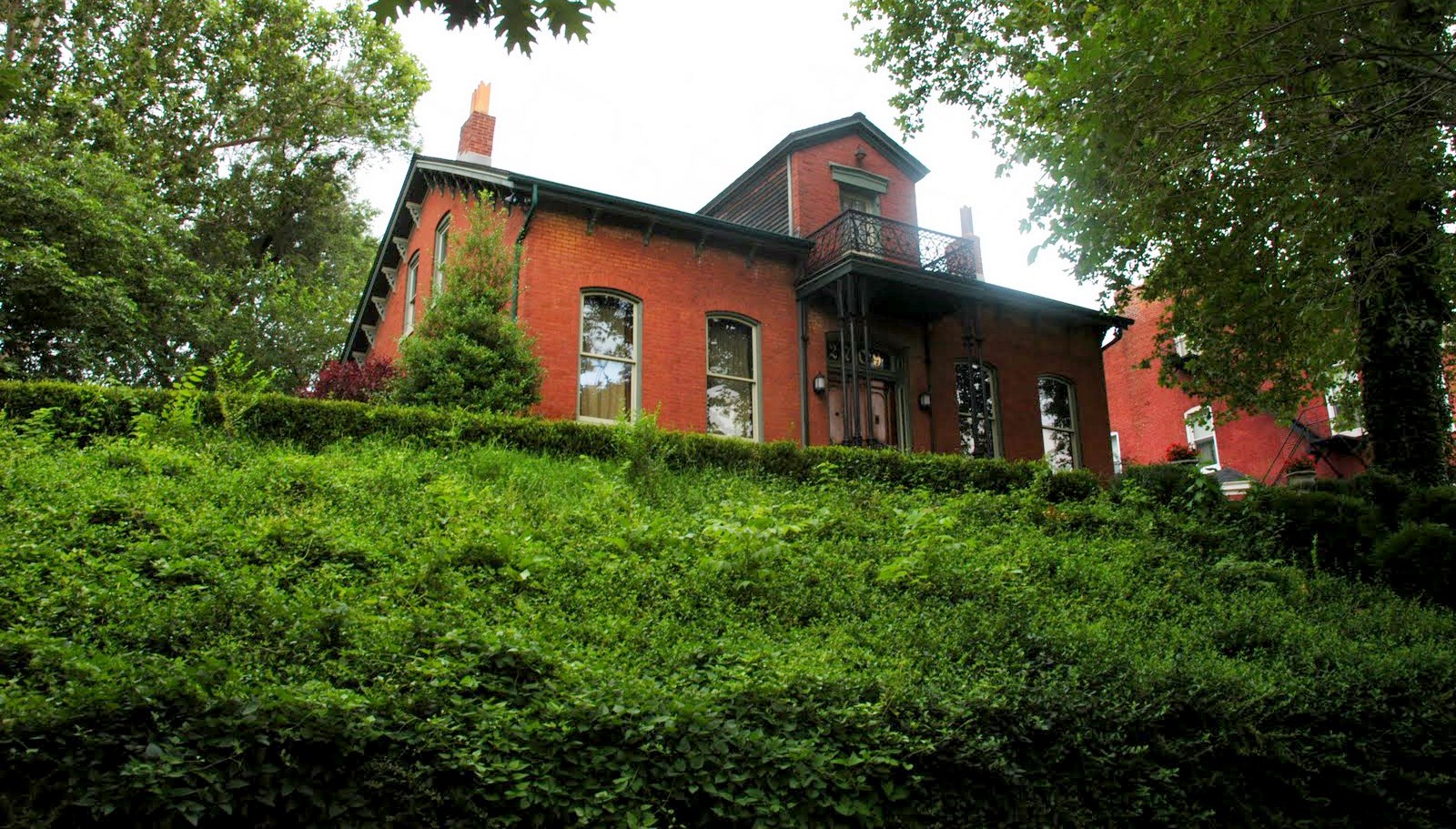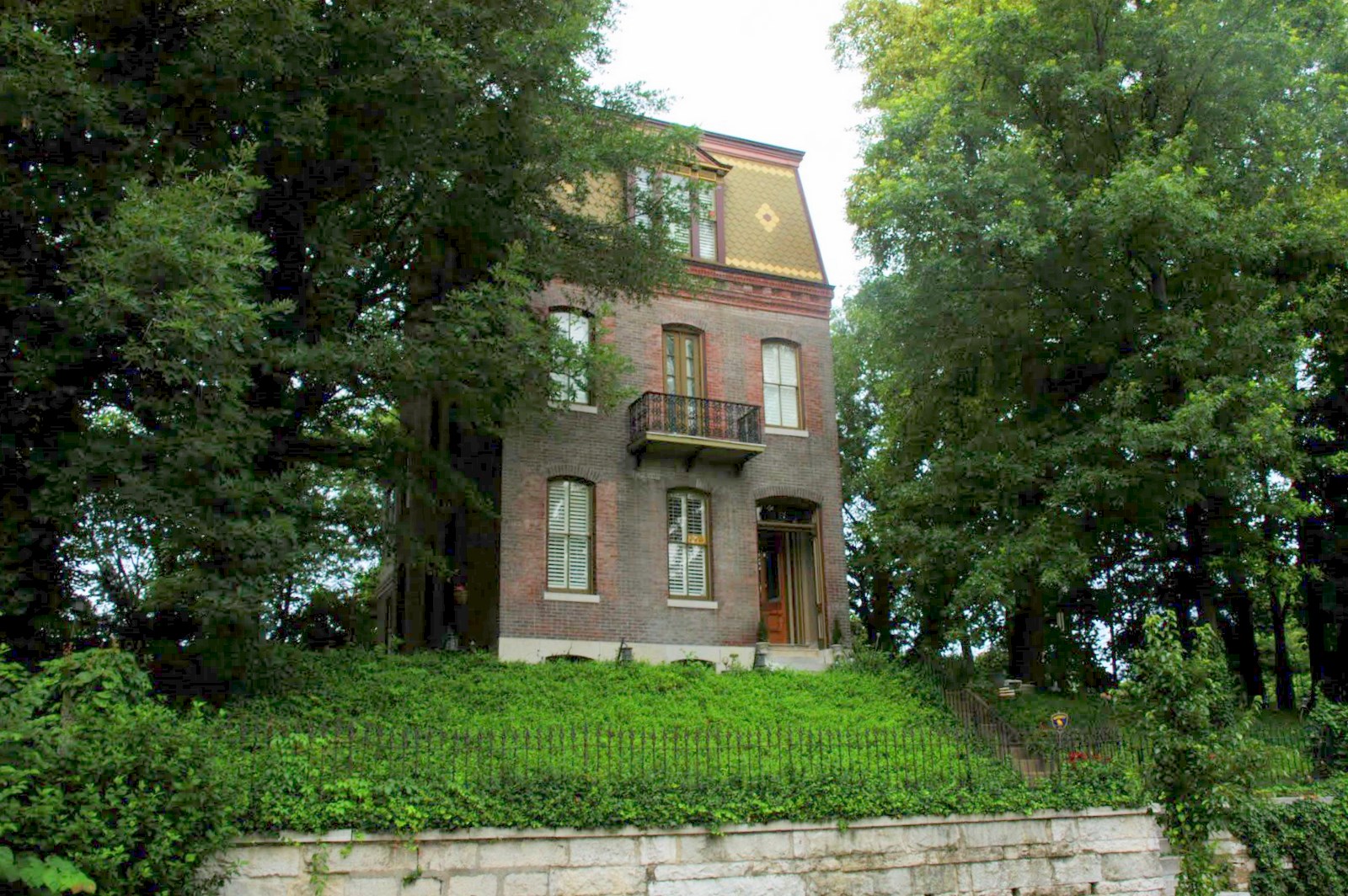 One of the things I've admired about Soulard is that it still seems somewhat gritty or real and not overly pretentious or contrived as an "entertainment district" can sometimes feel. It's a destination spot, but people live here and although I-55 did it's best to disconnect it from its sister hoods: Marine Villa, Lasalle and Benton Park, it's still very much part of our city.
I guess the real story of Soulard is the row houses and the tight urban street scenes, of which there are many, many photogenic street scenes. From the modest, gated front yards and lush landscapes: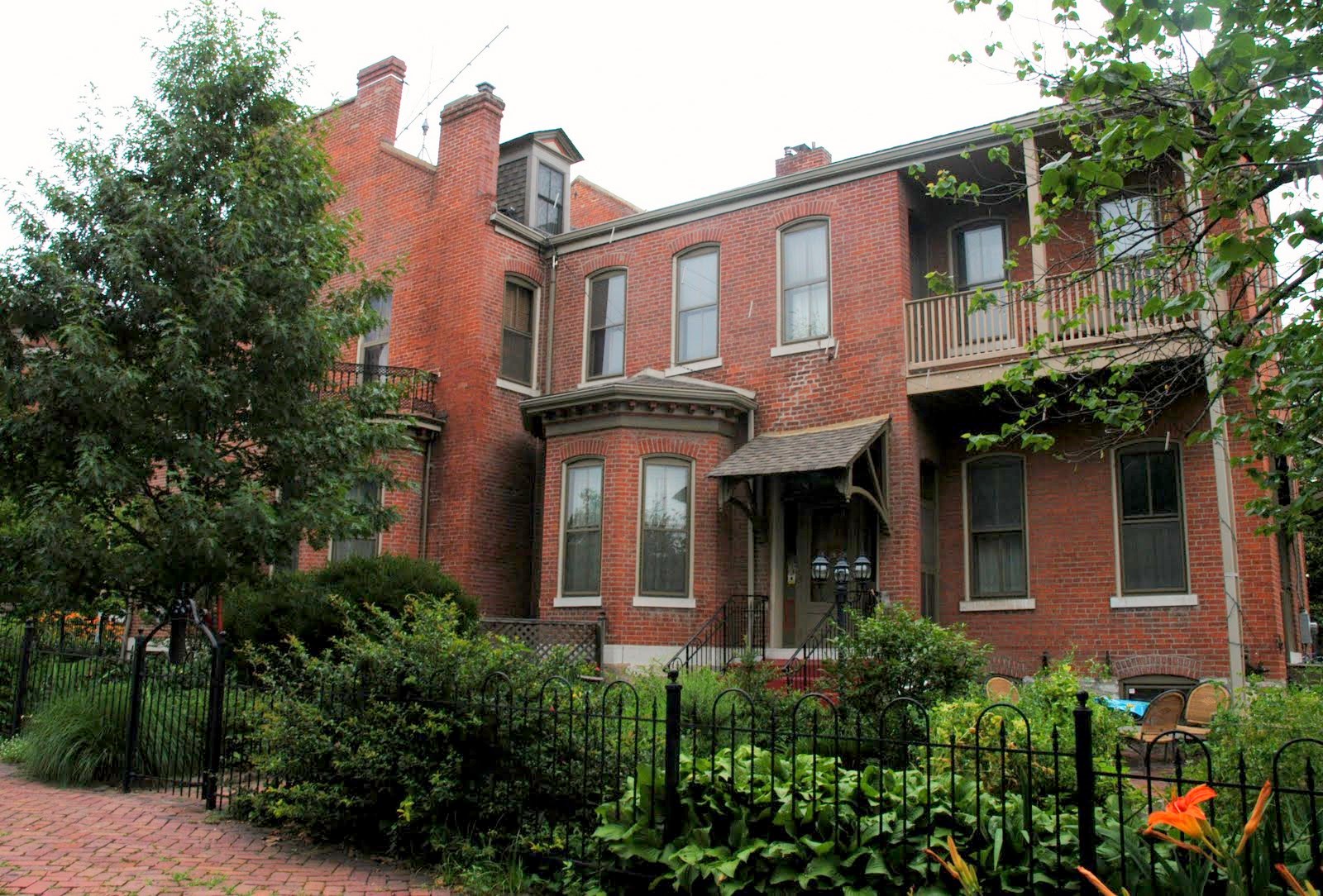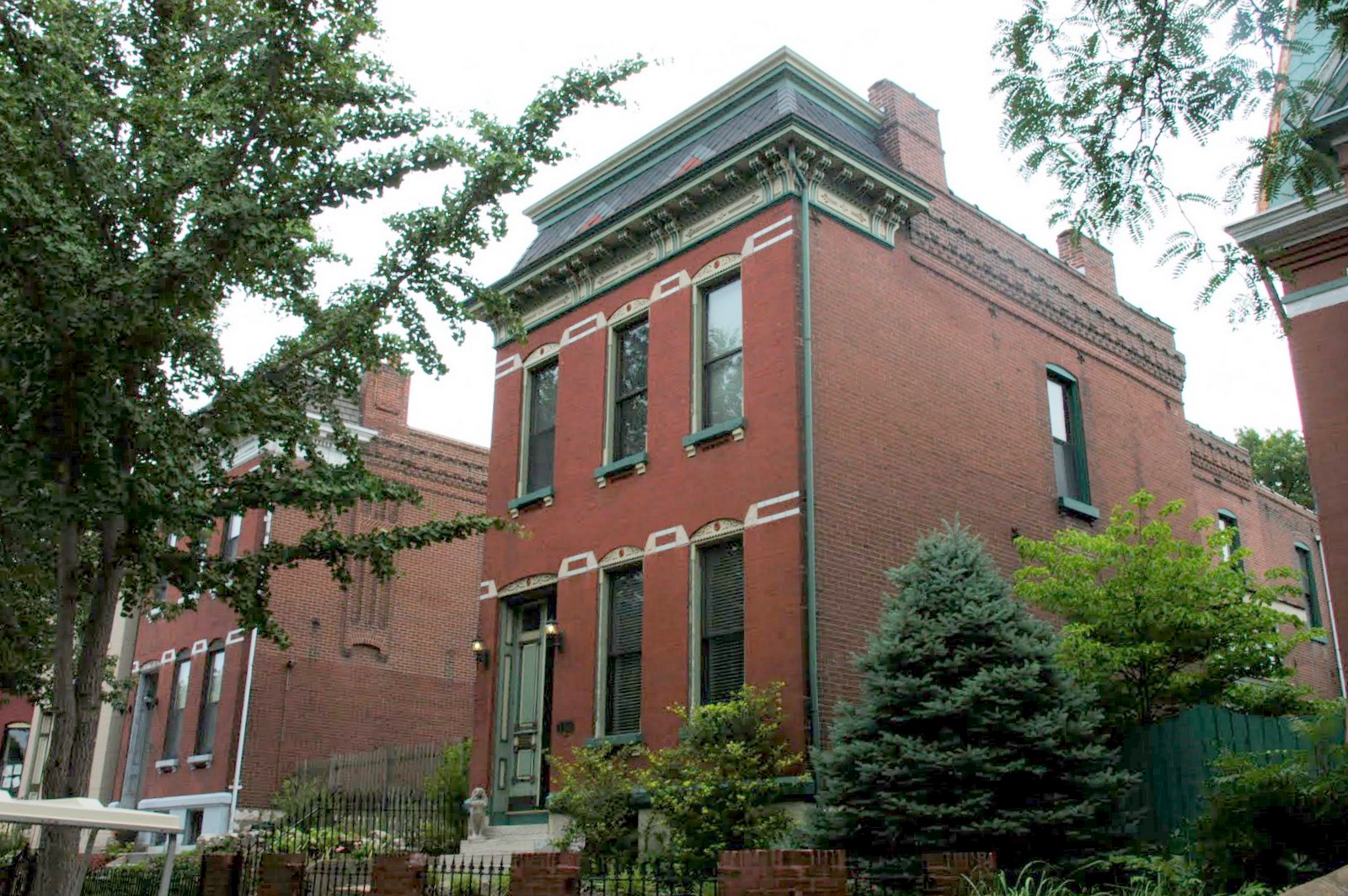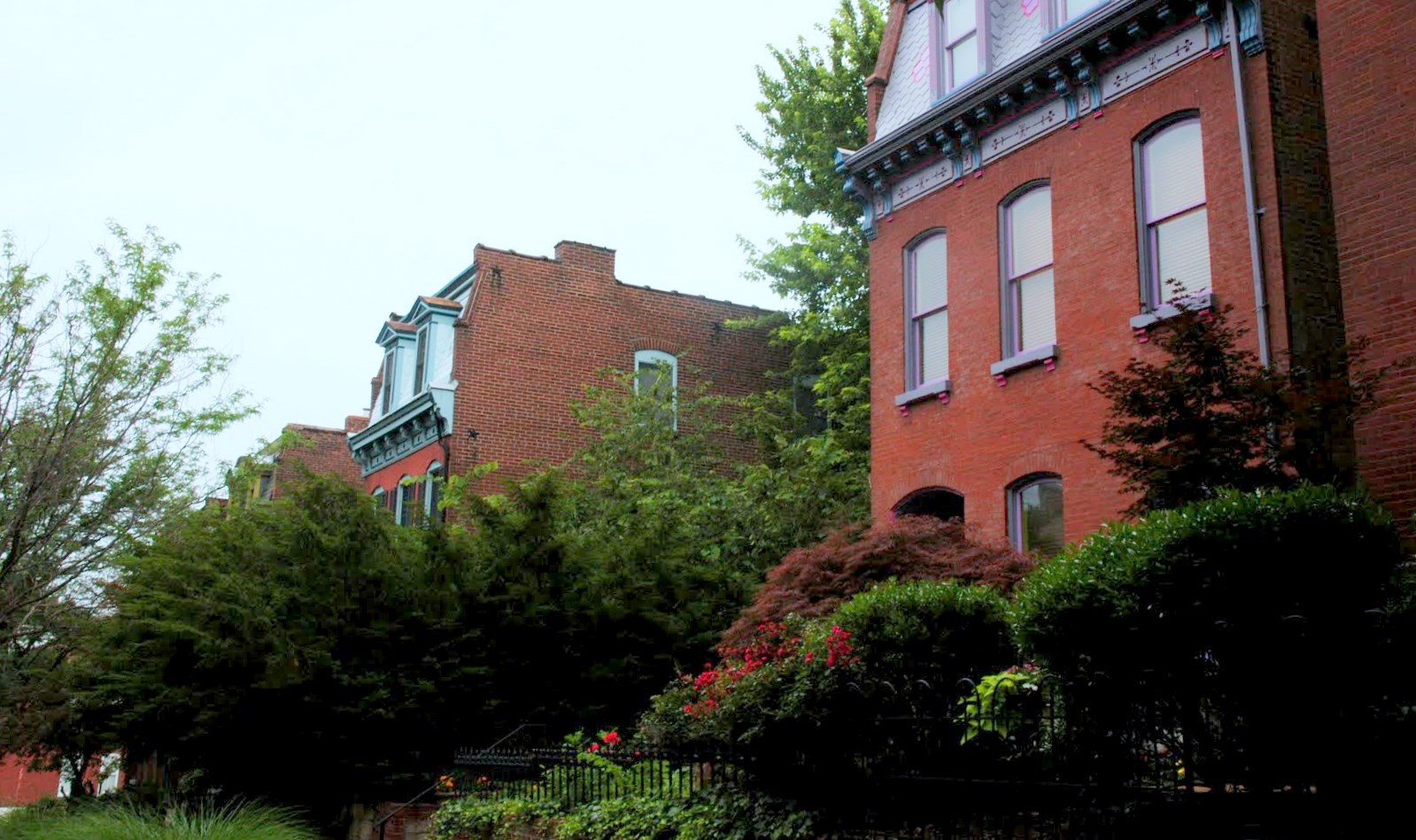 Churches are part of the dense makeup of the neighborhood: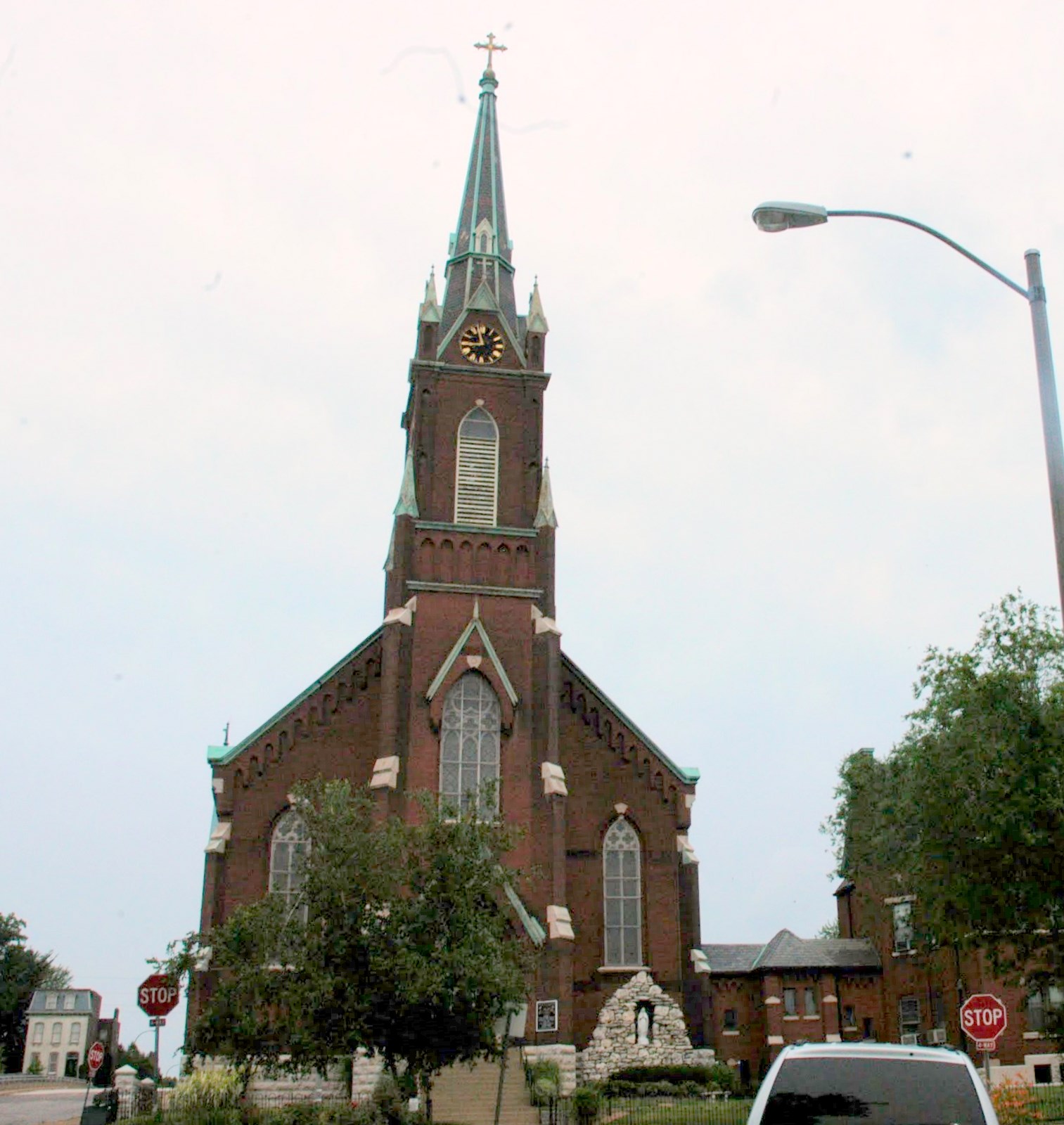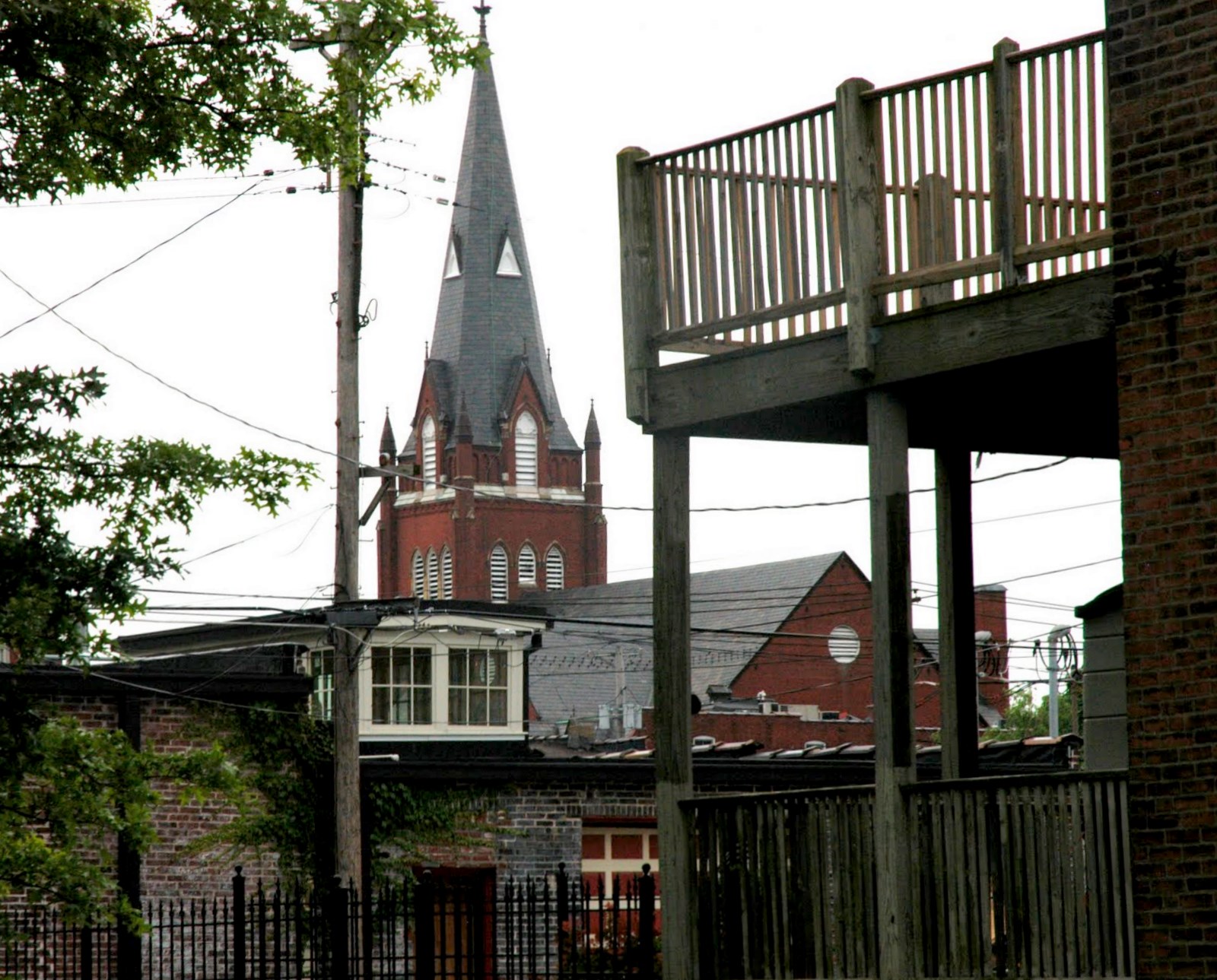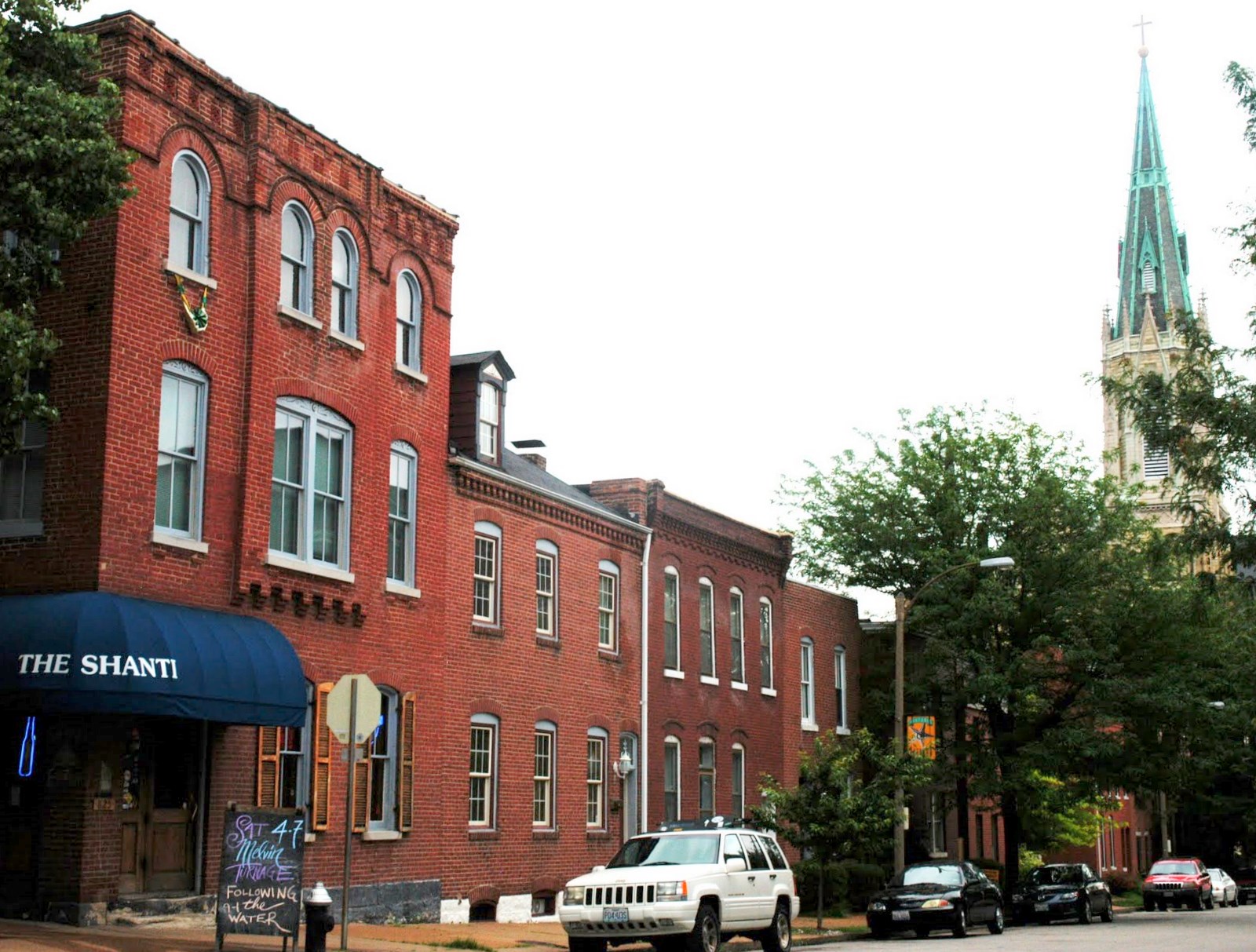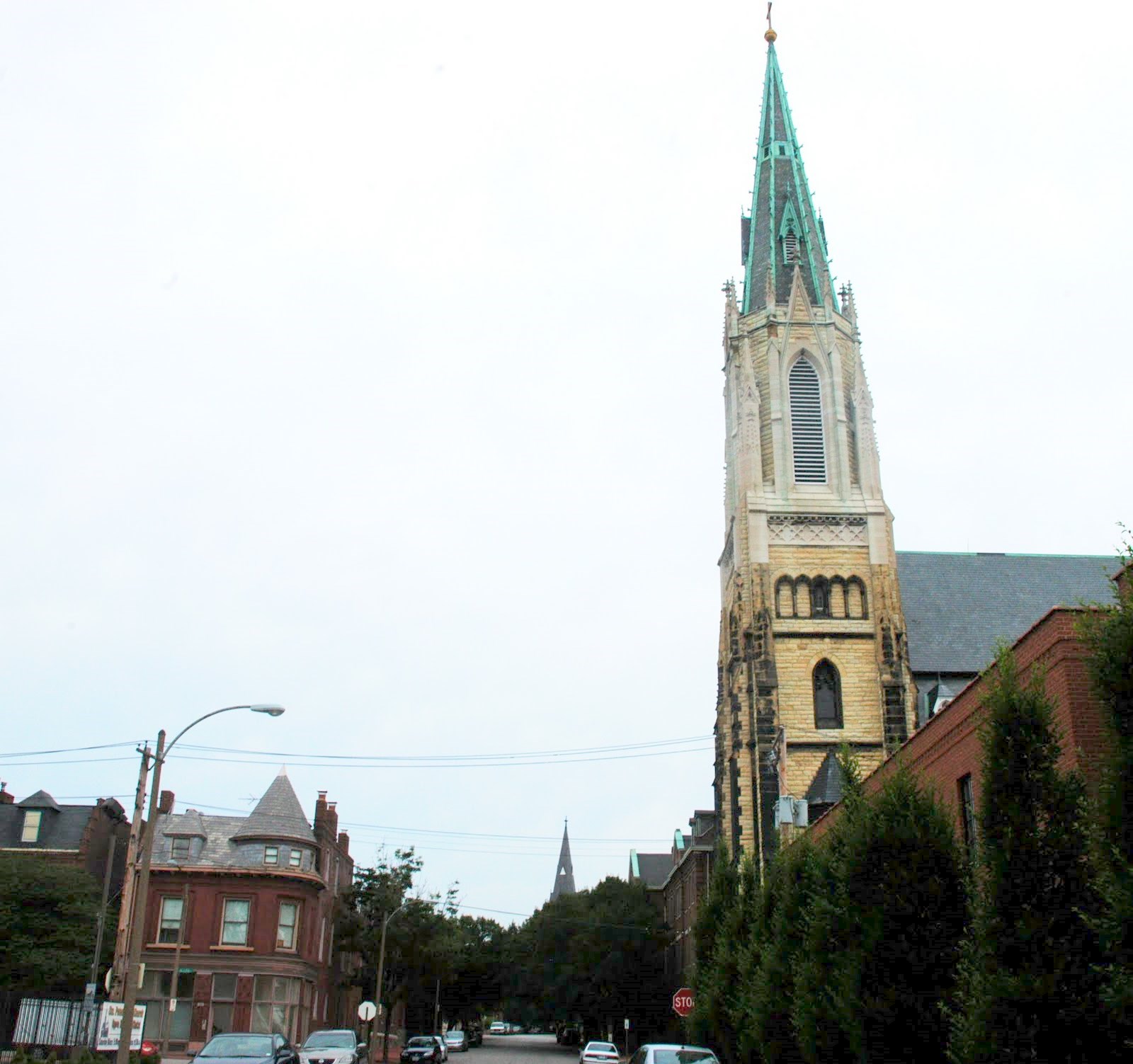 The street scenes and row houses are really what make Soulard what it is: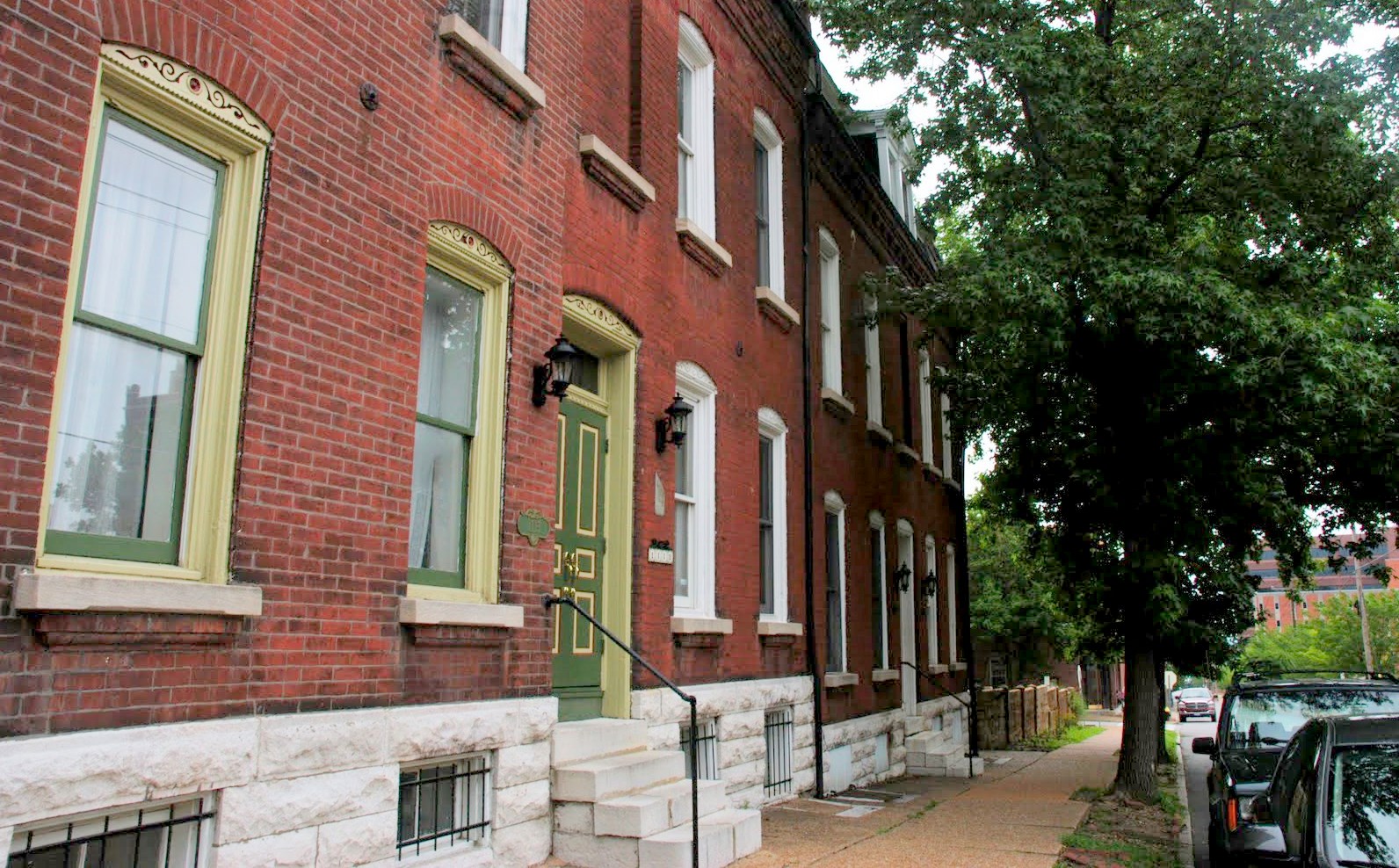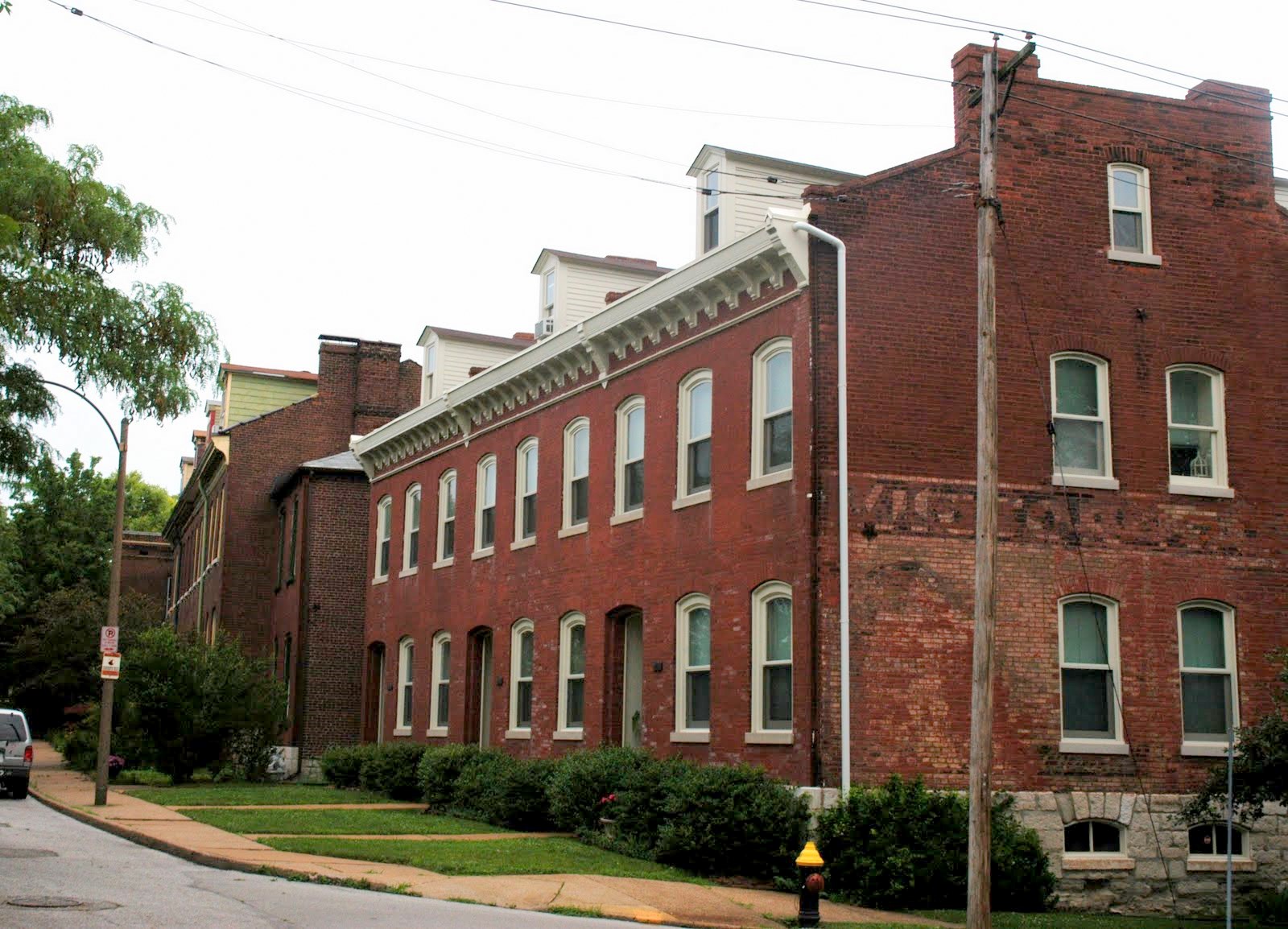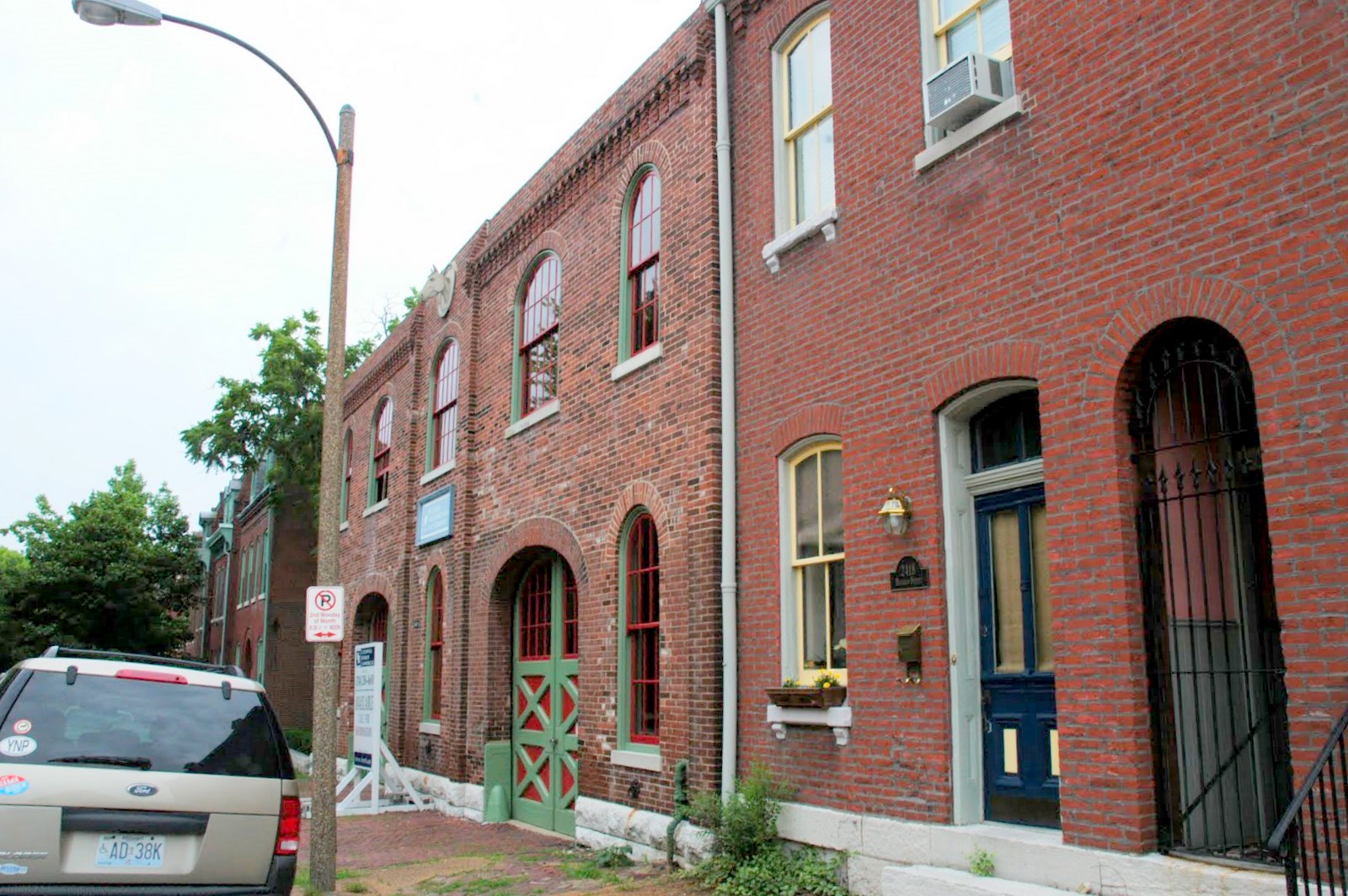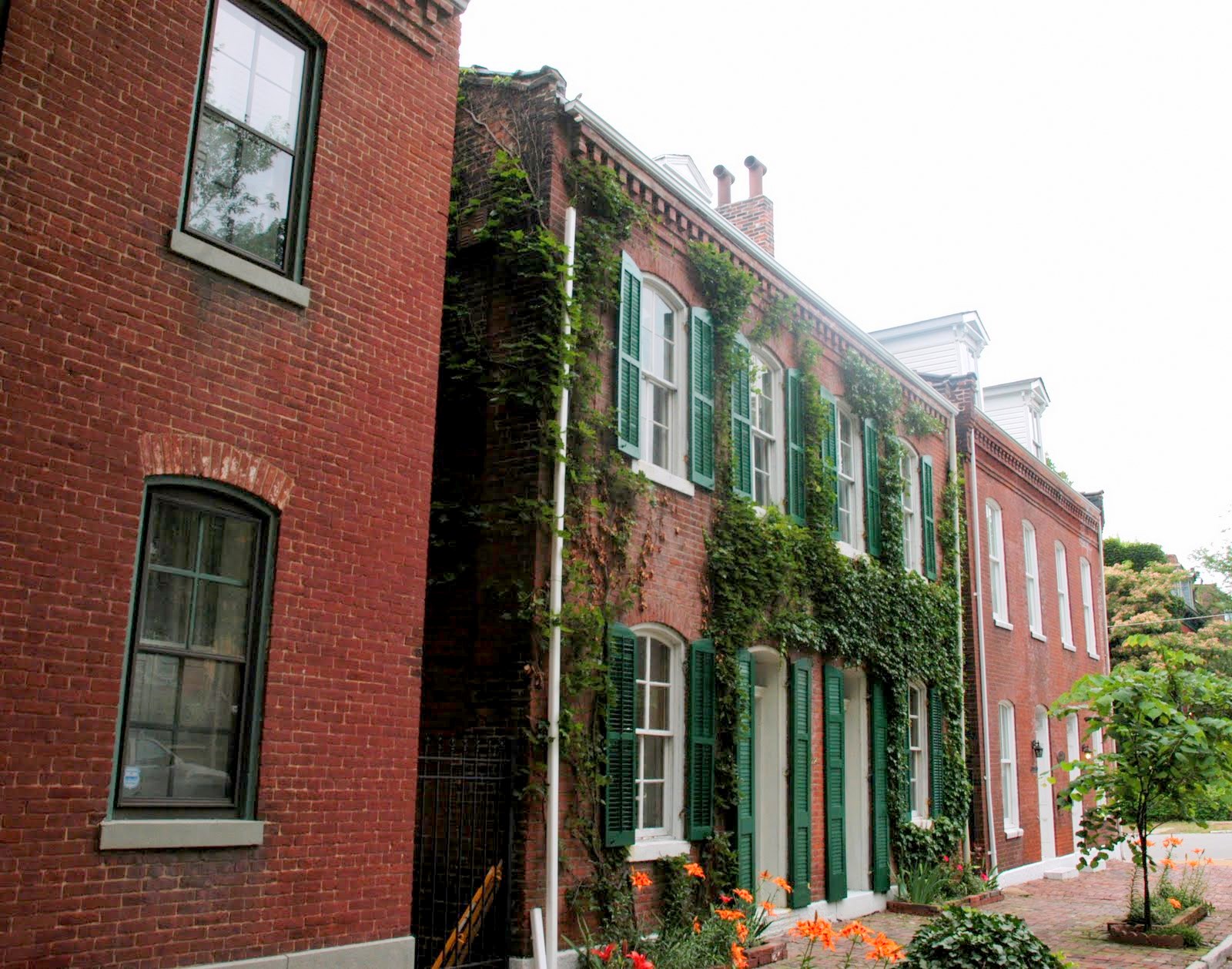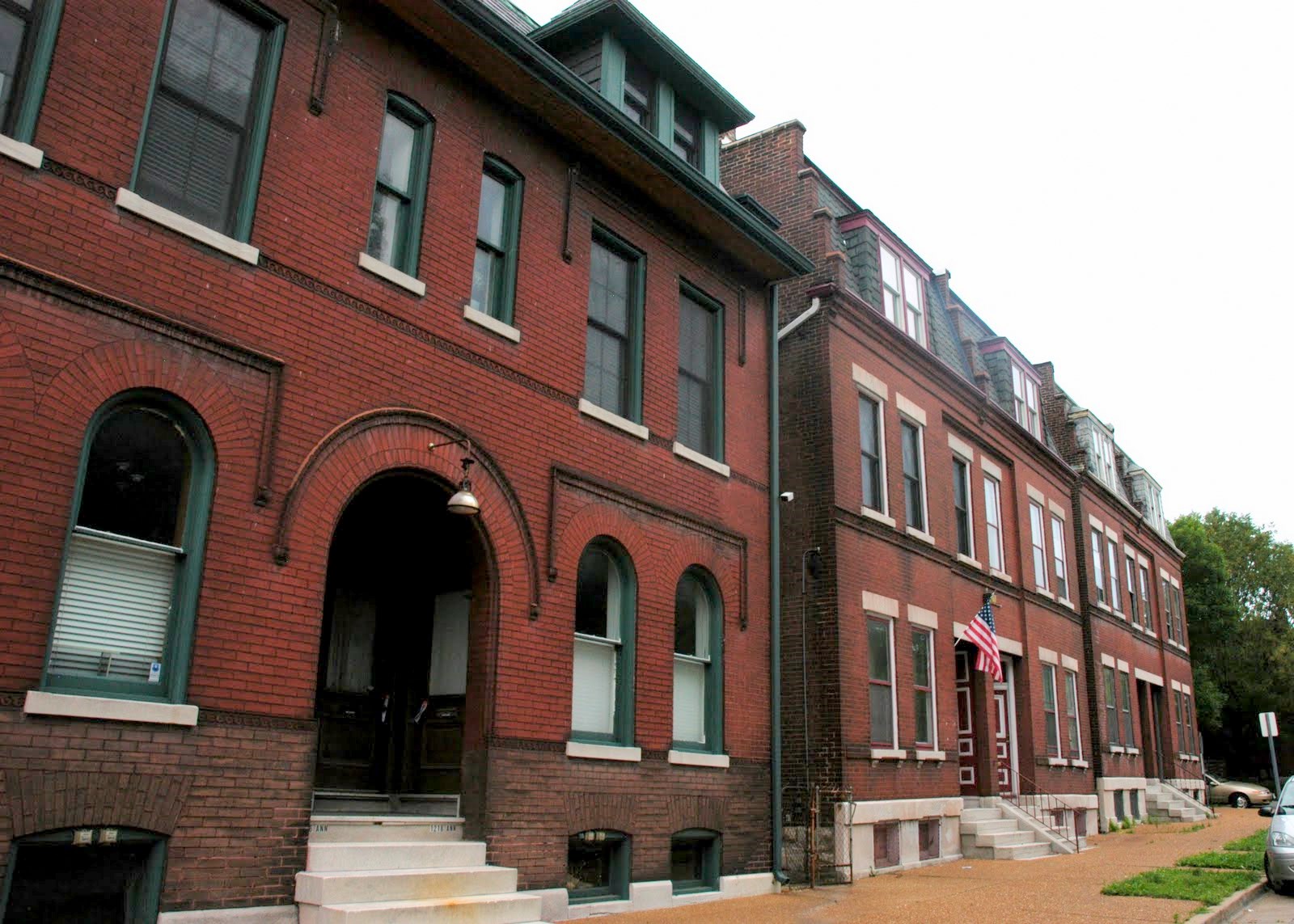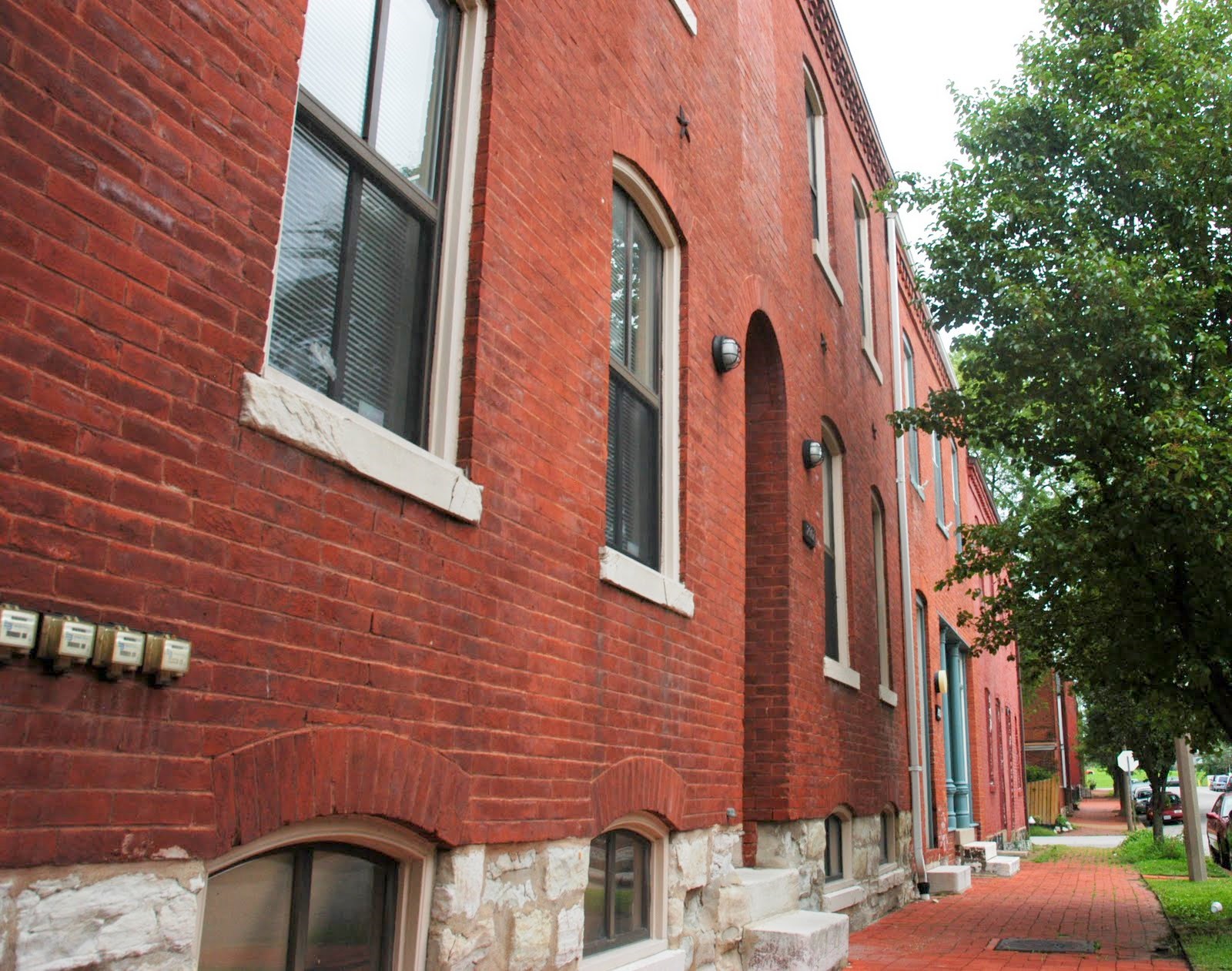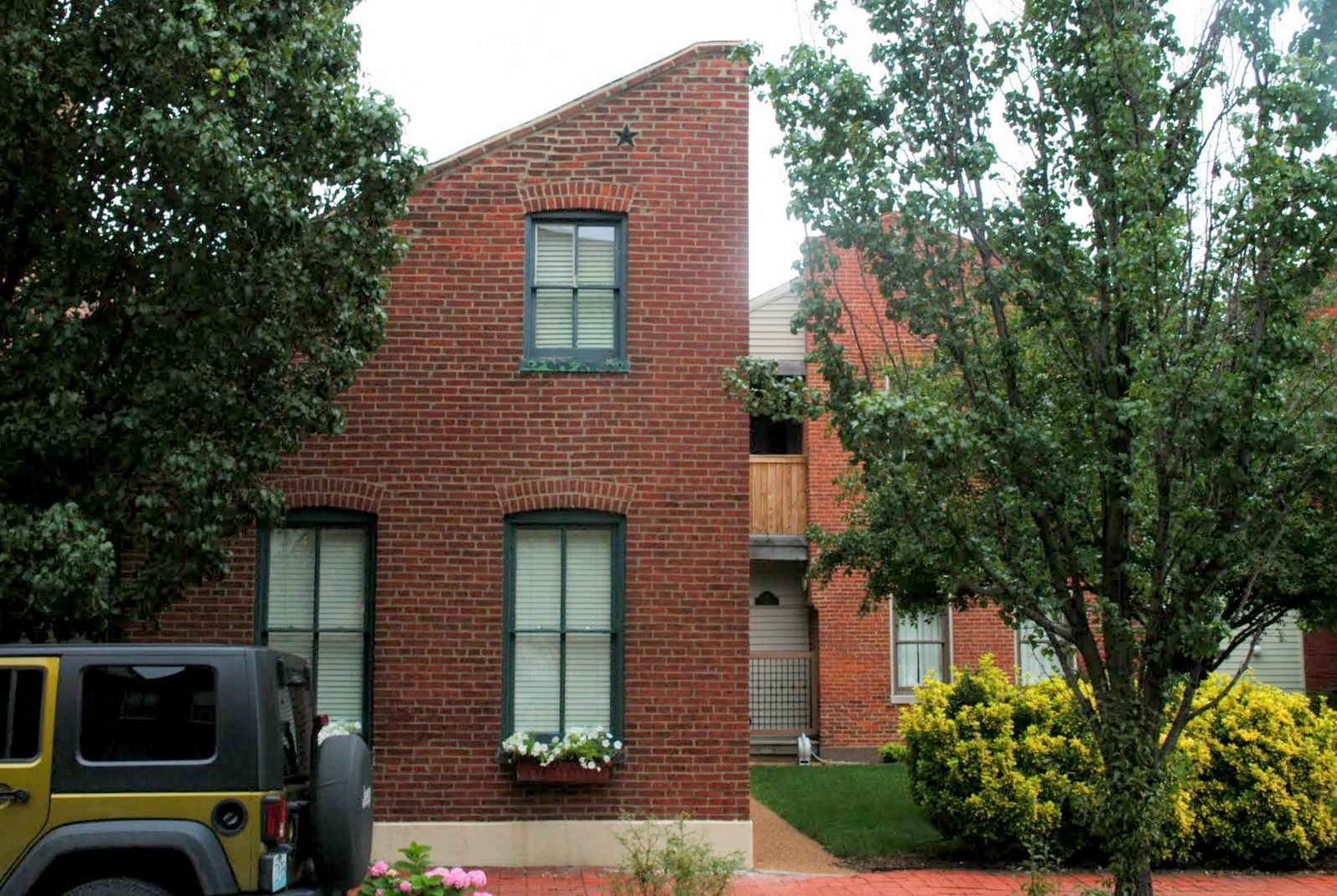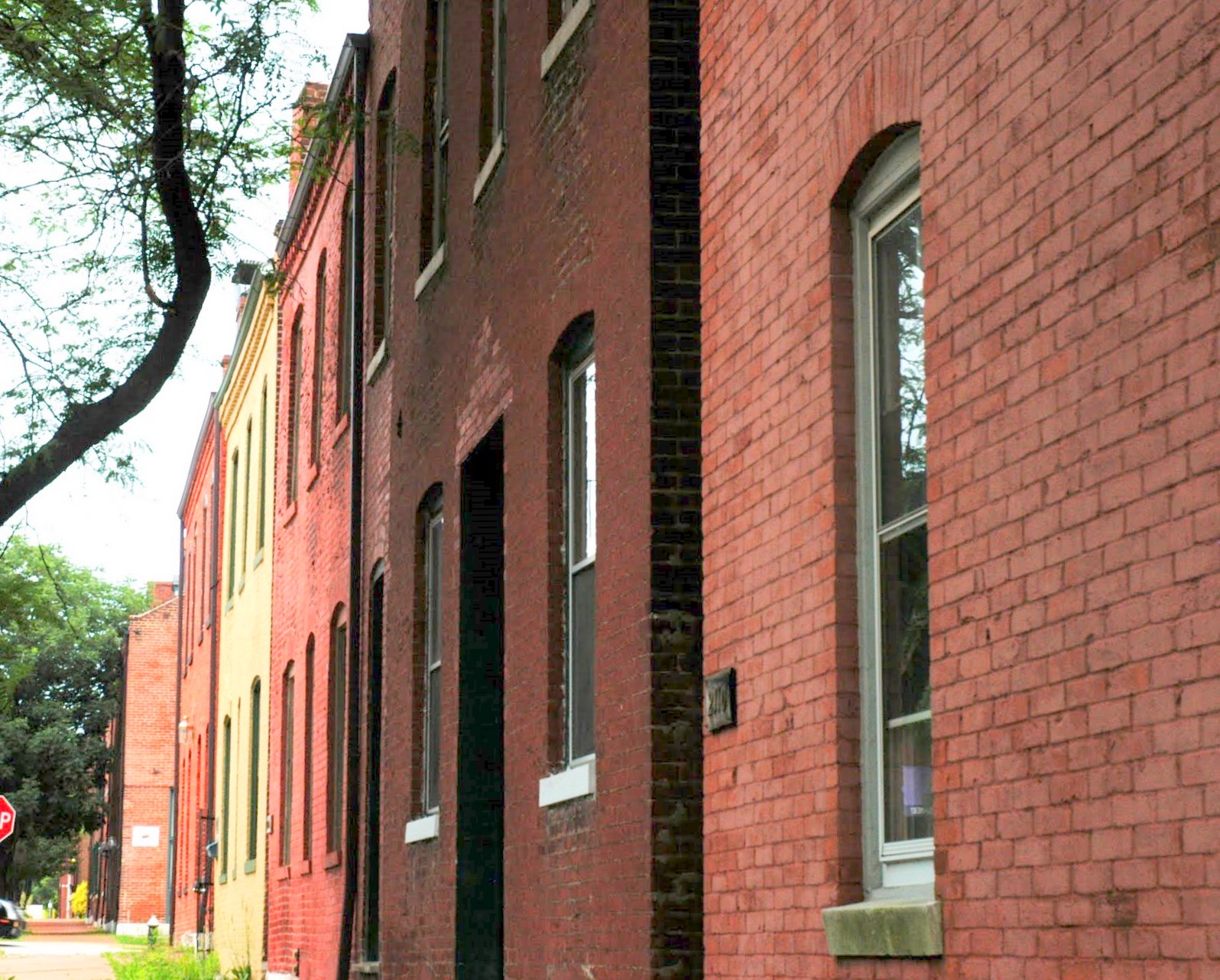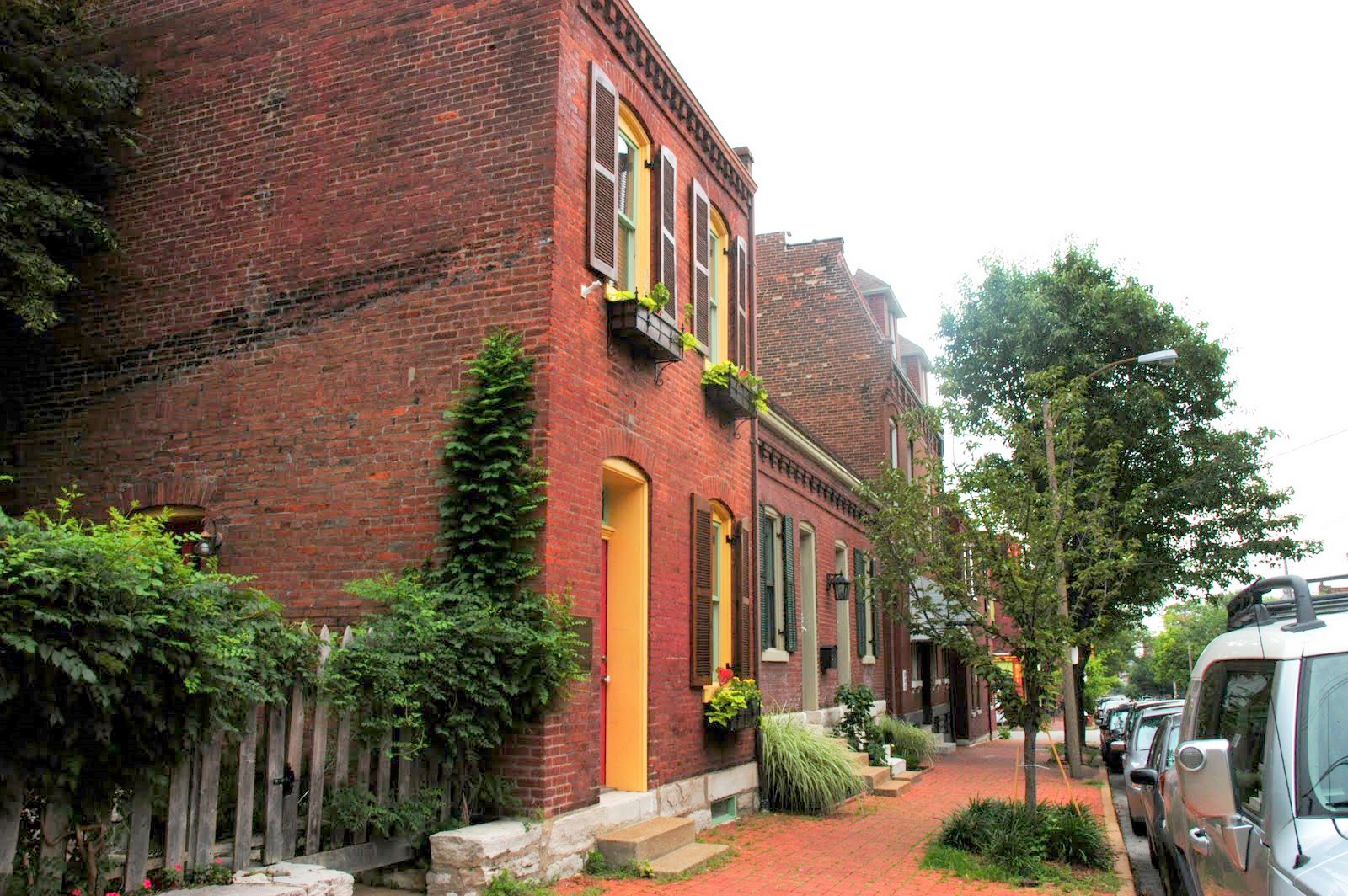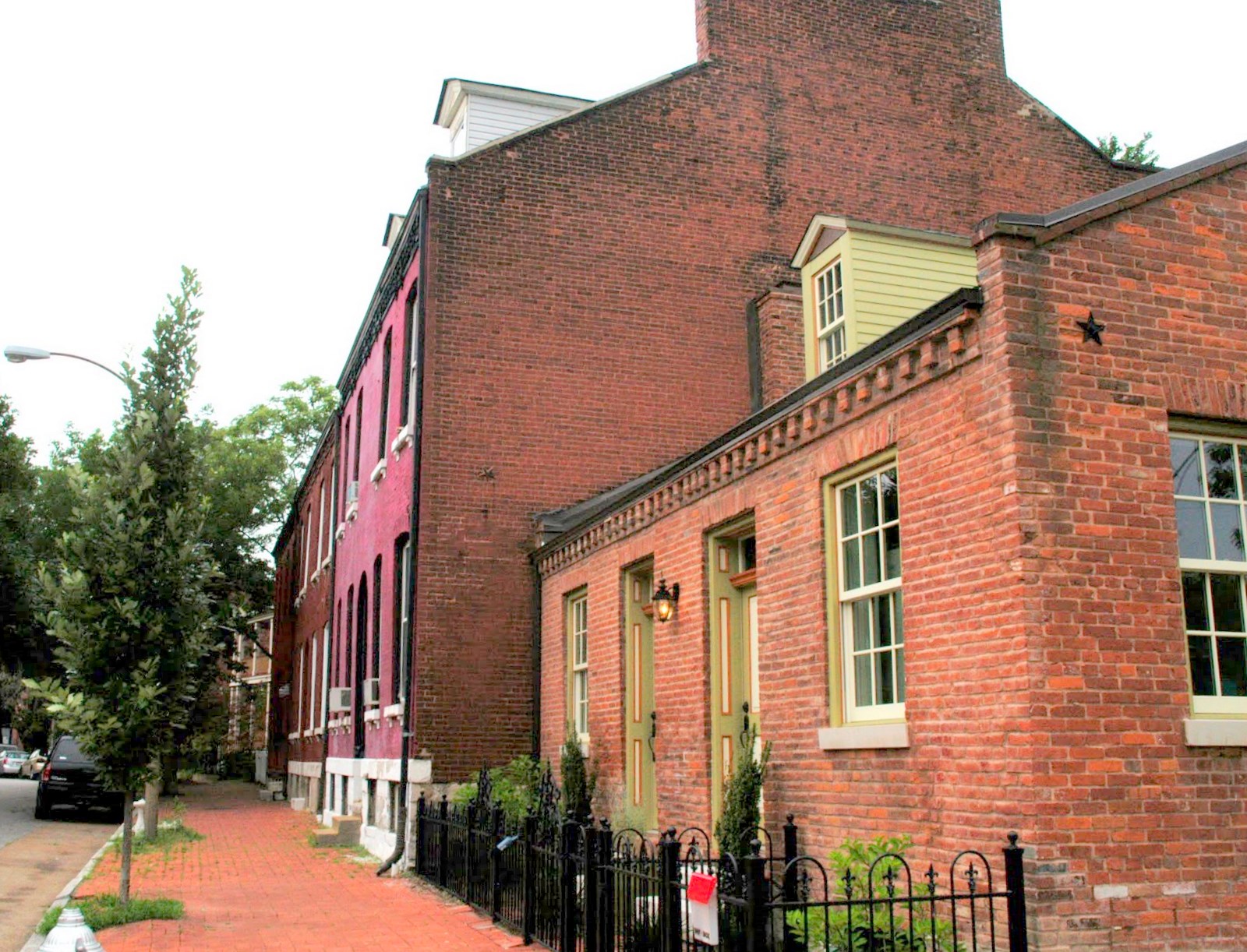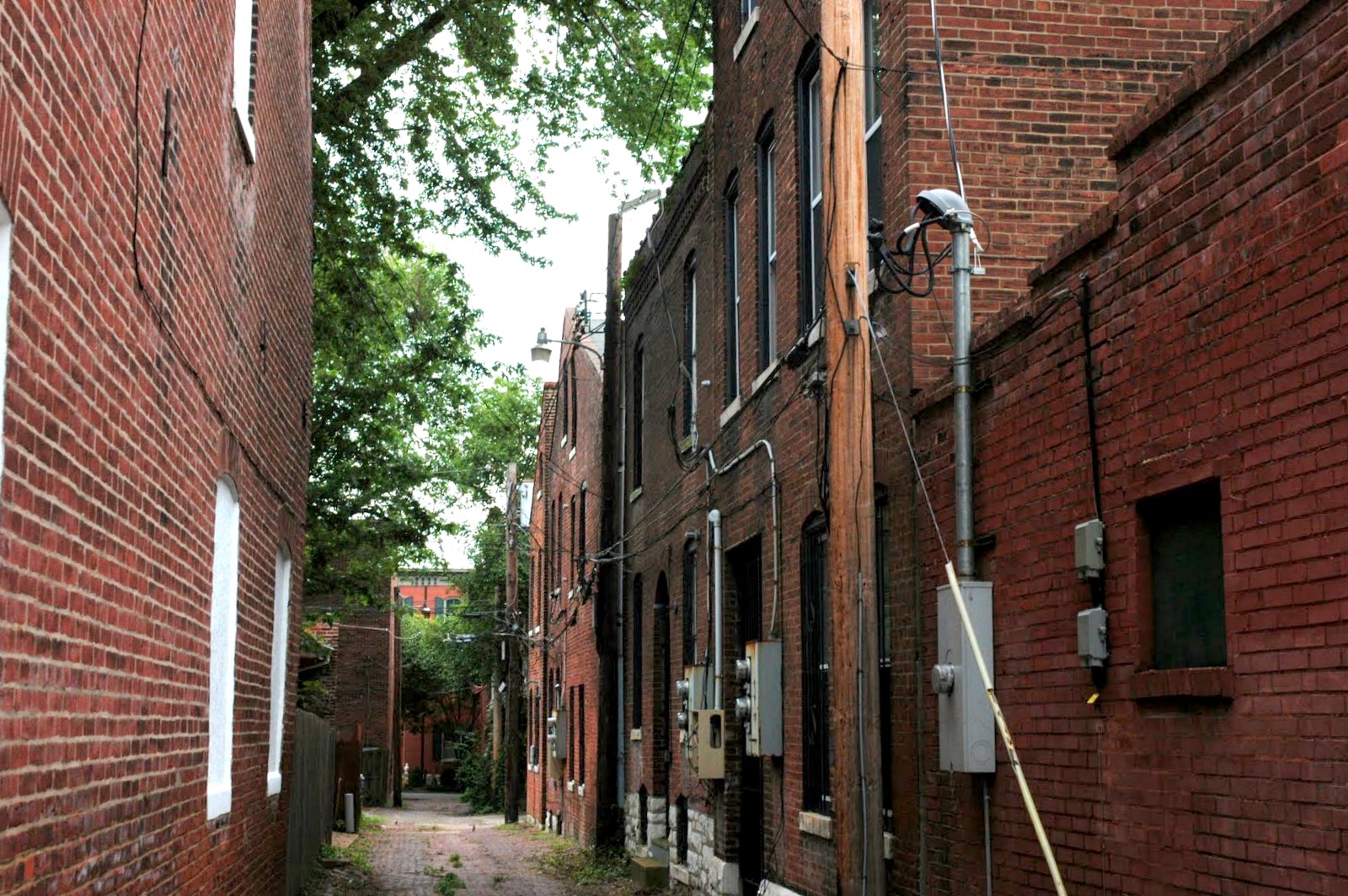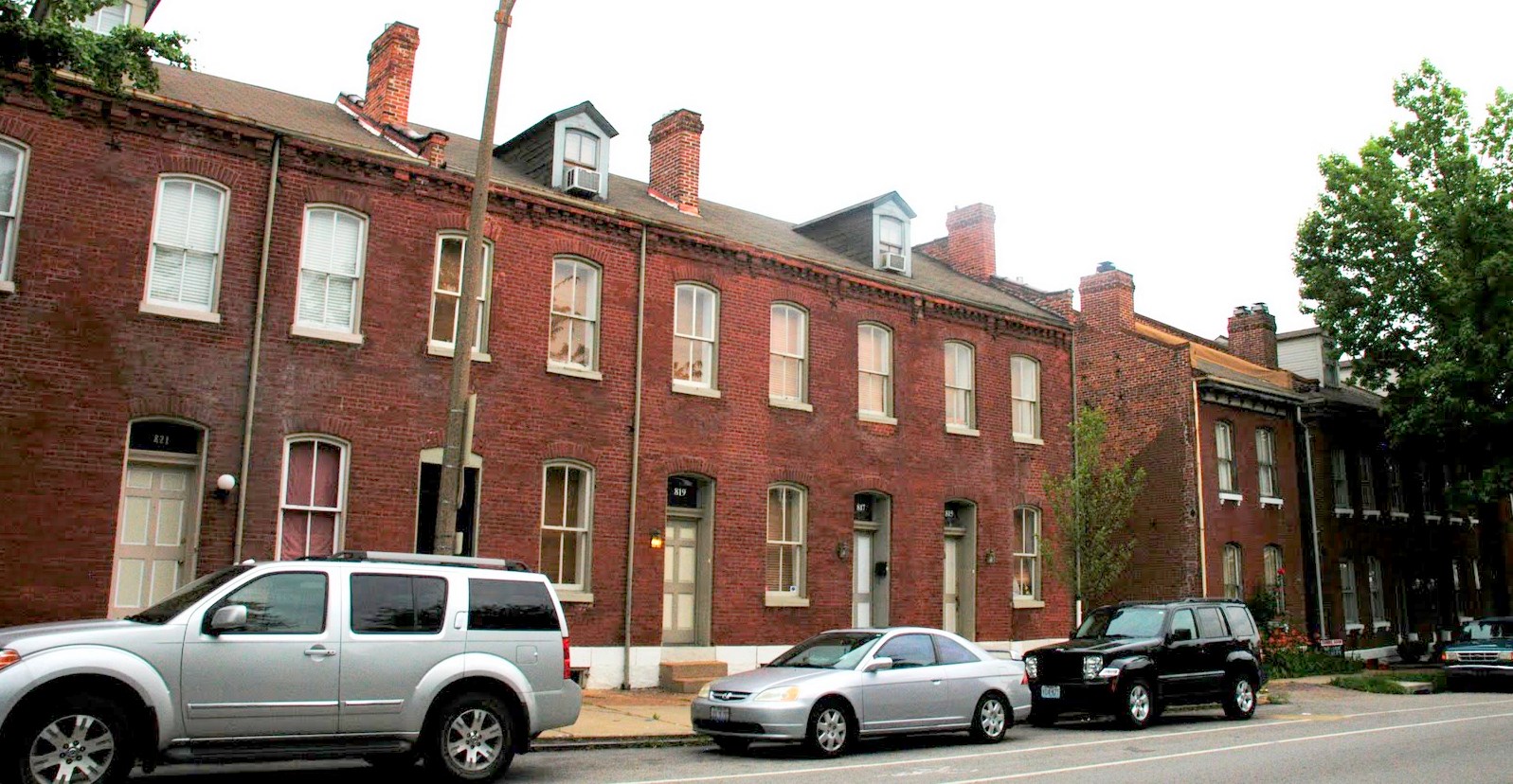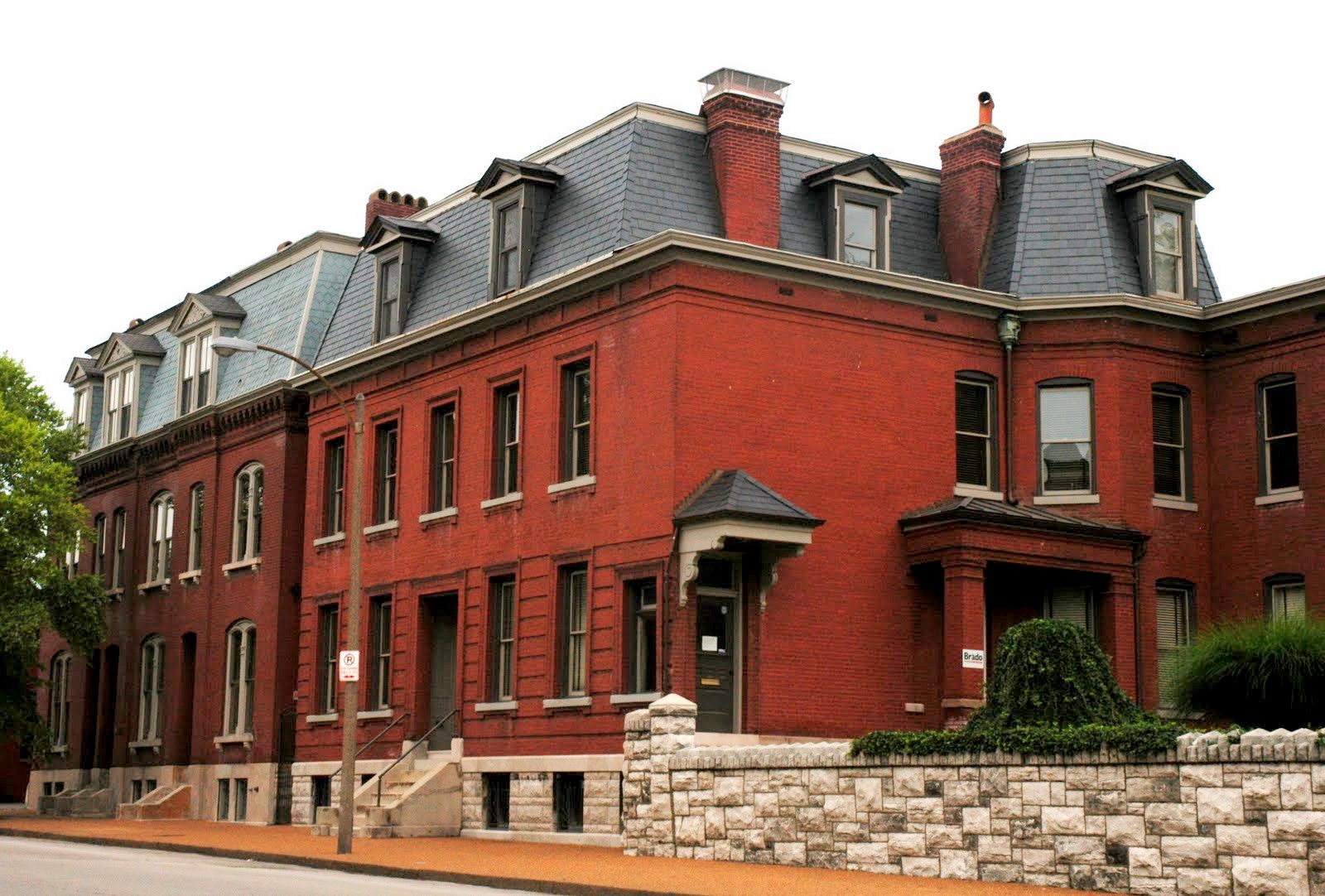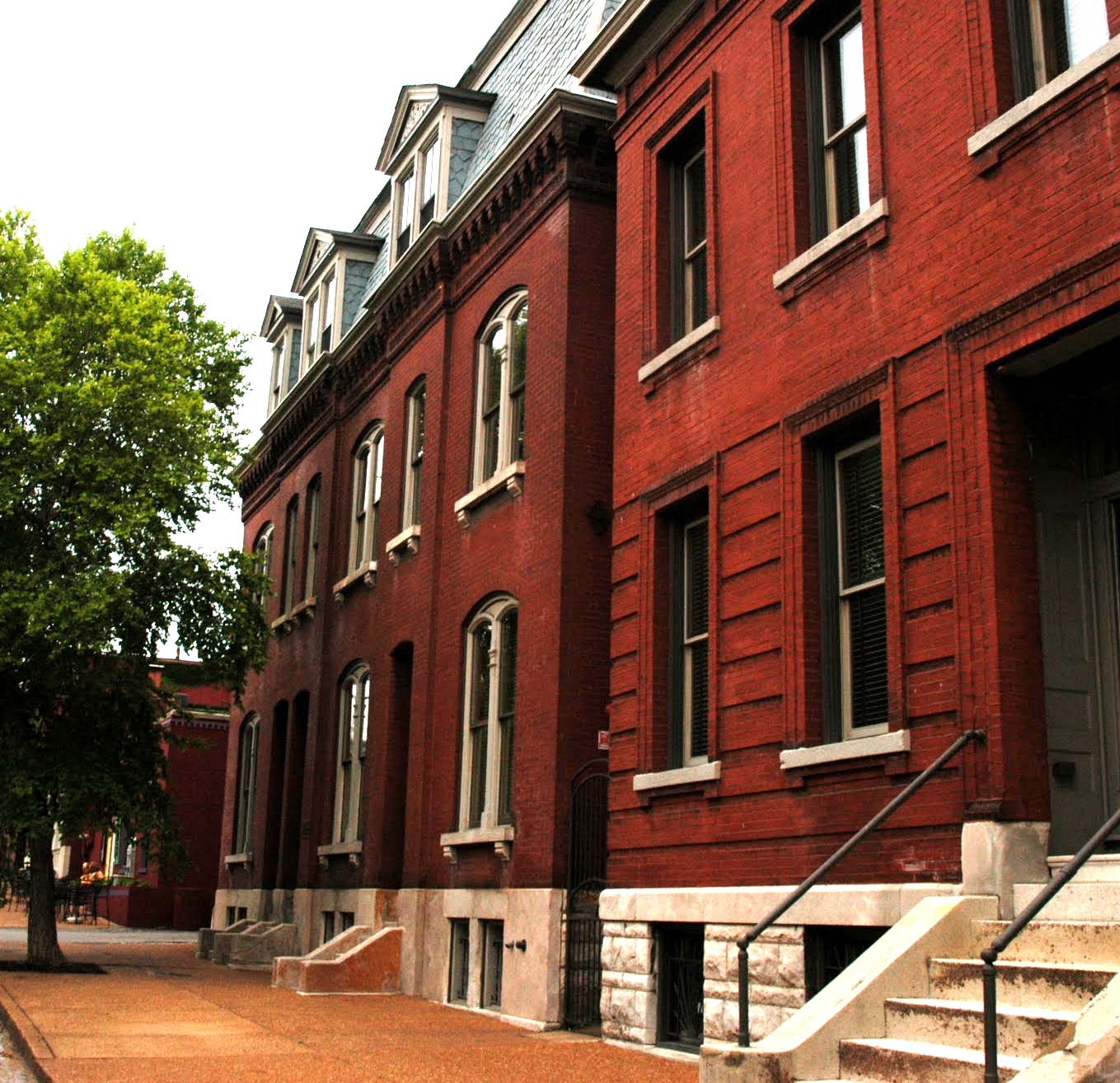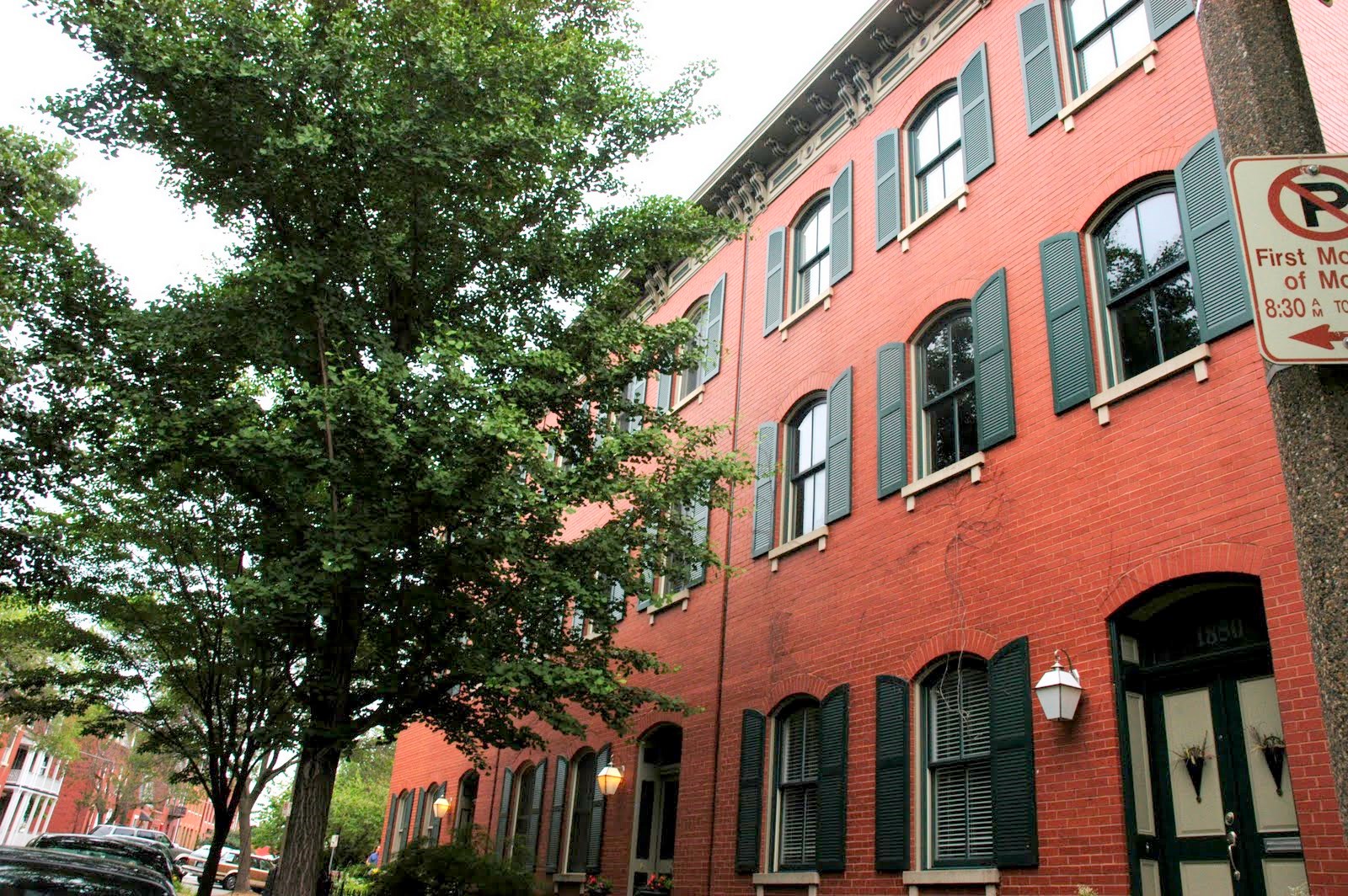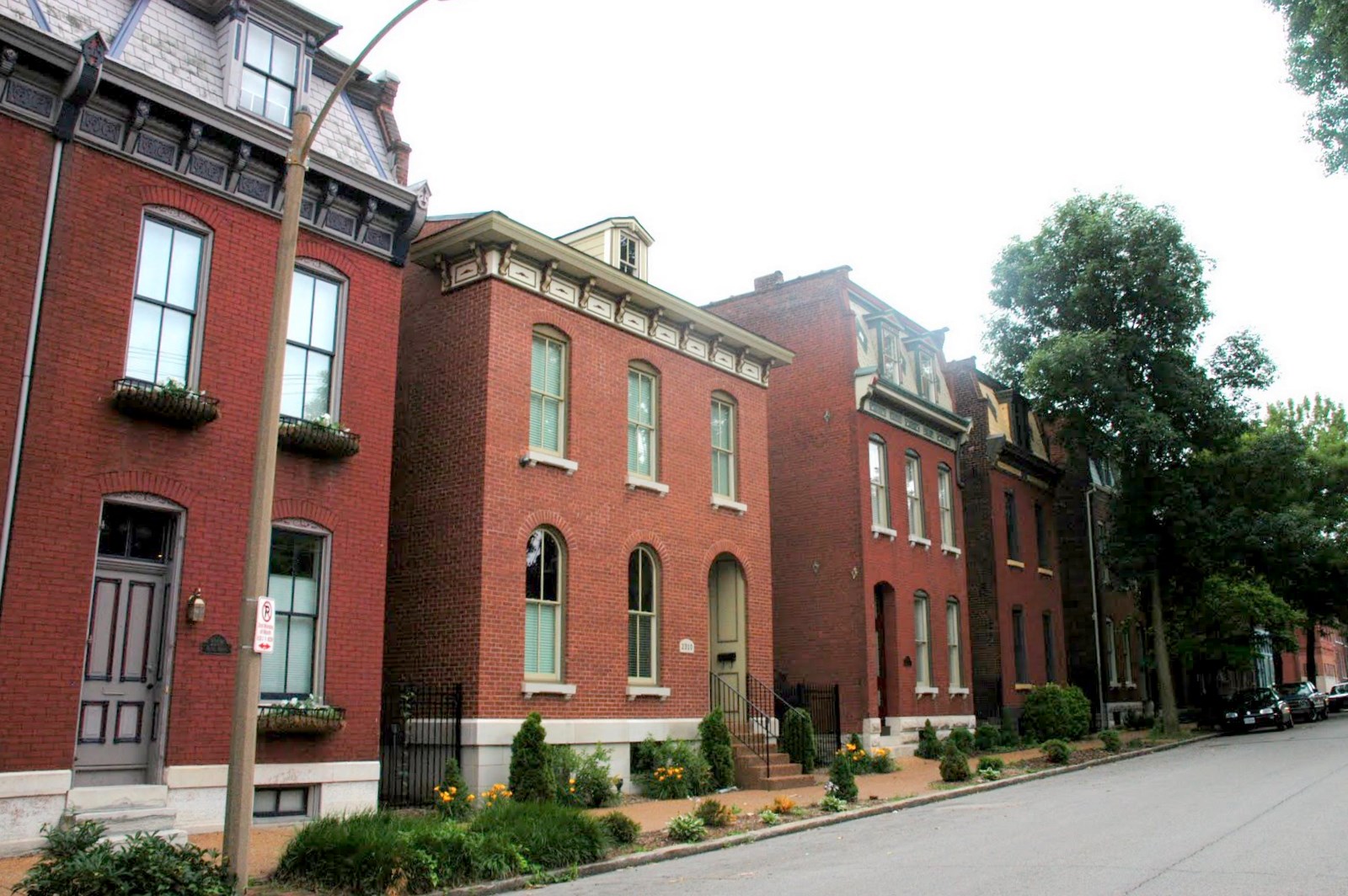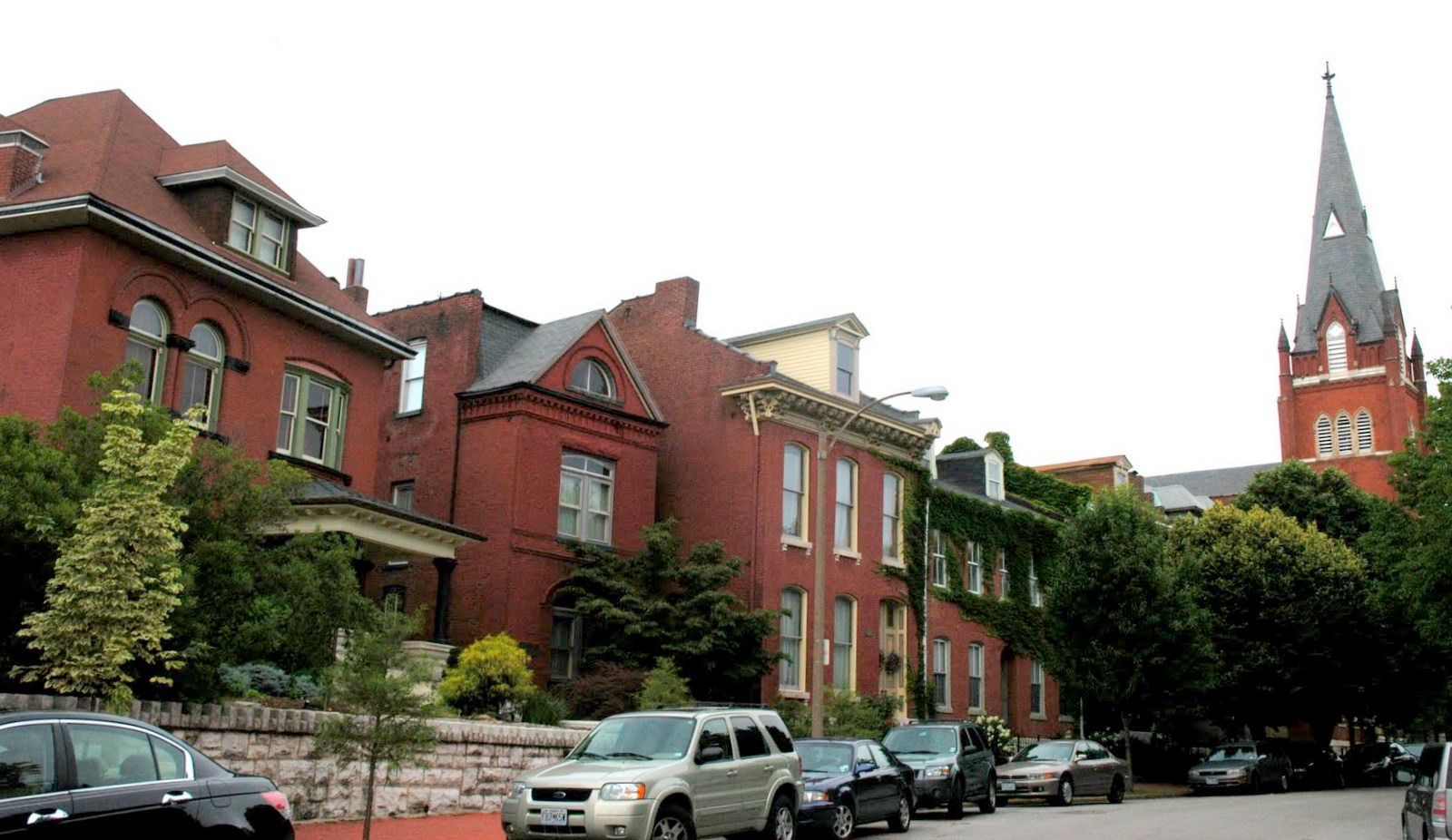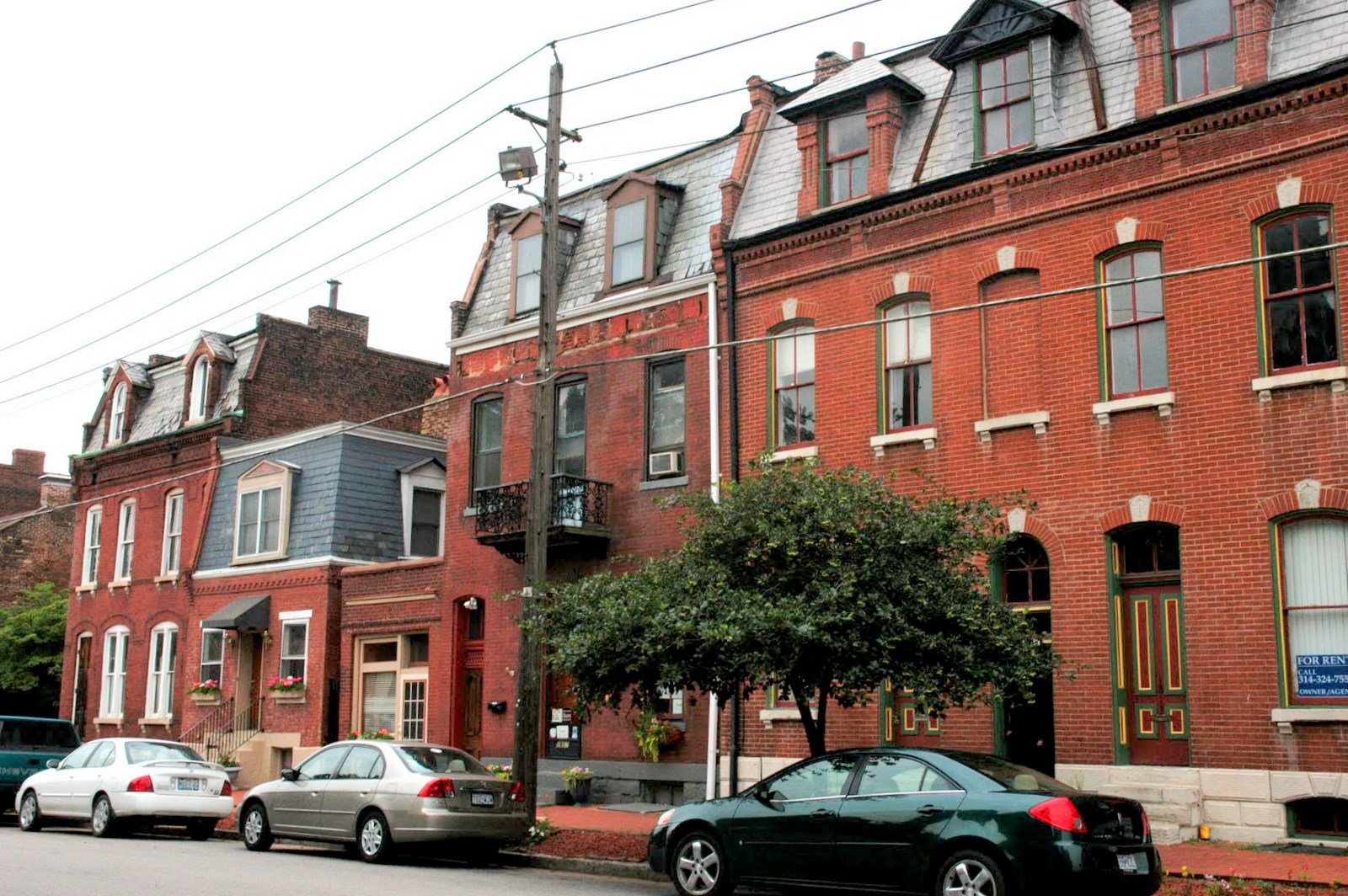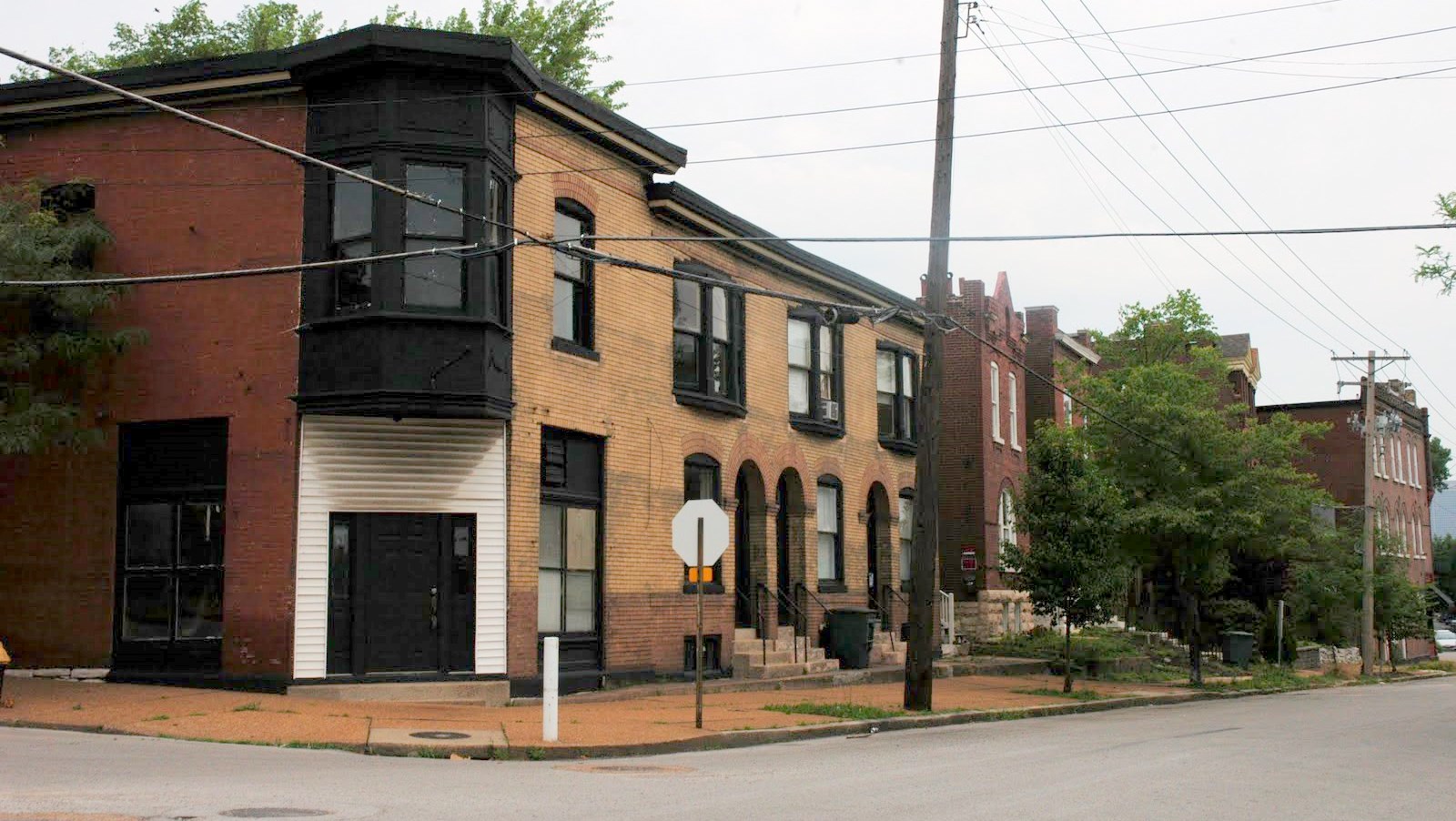 There are some mansions as well: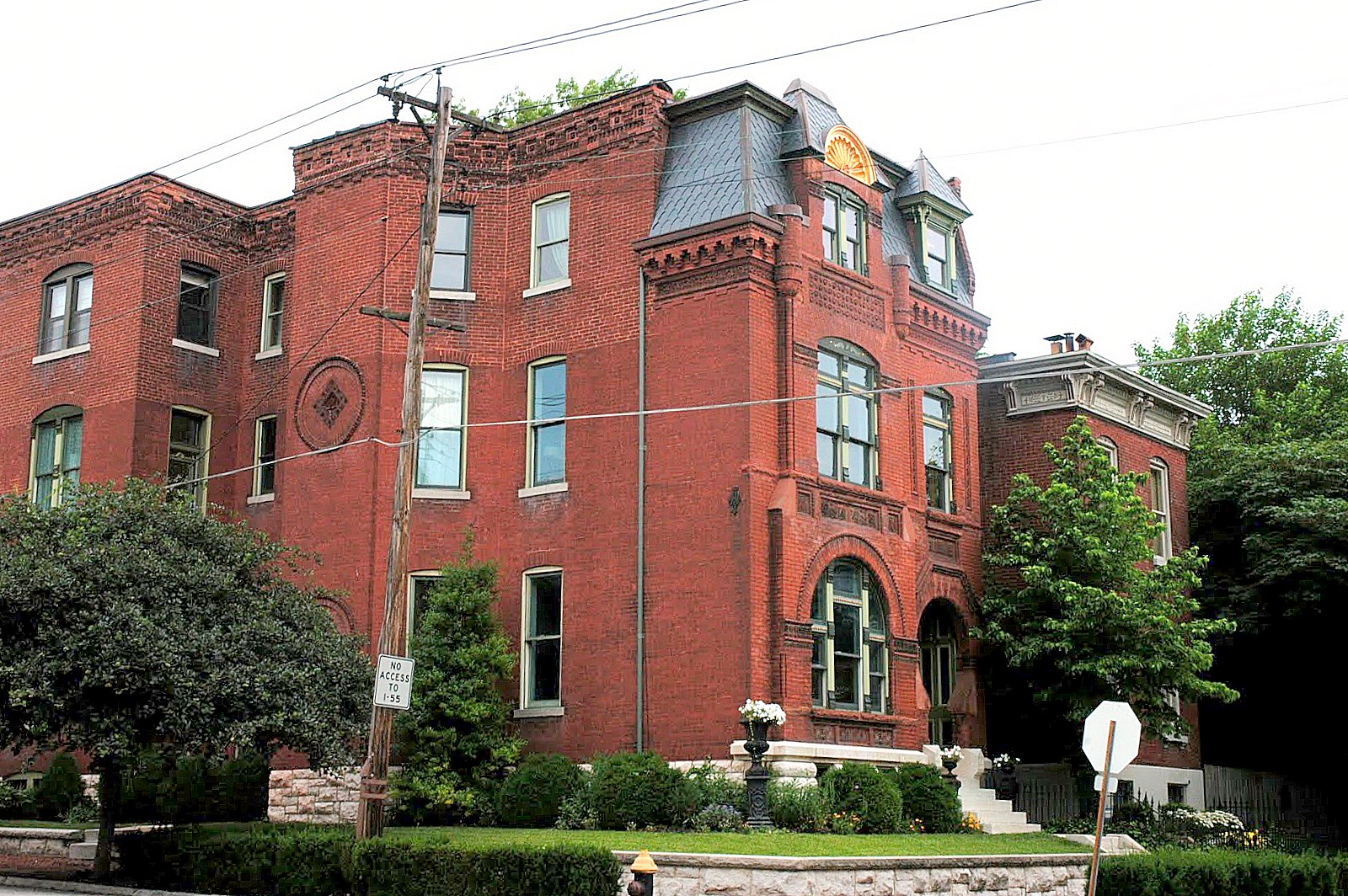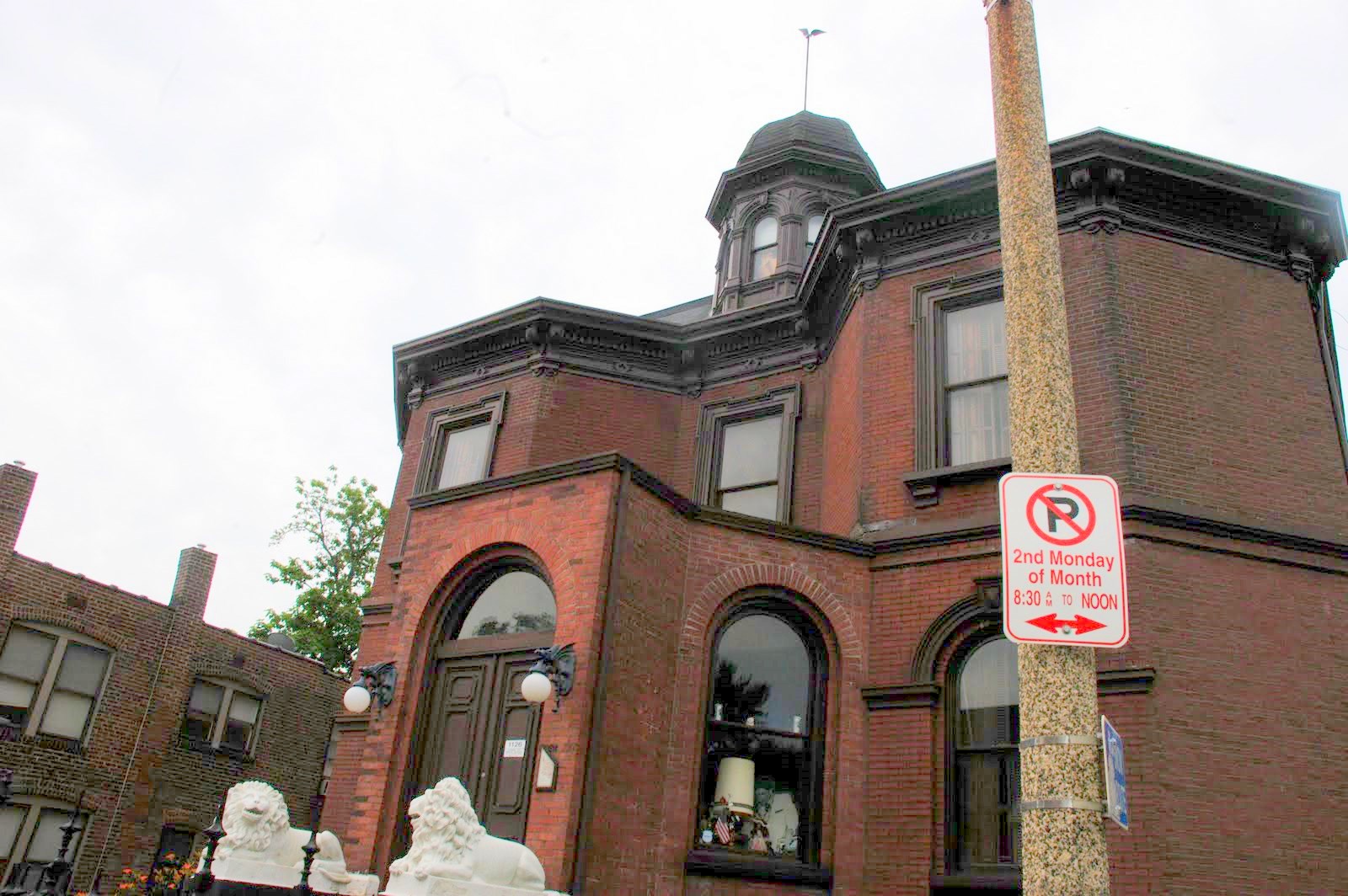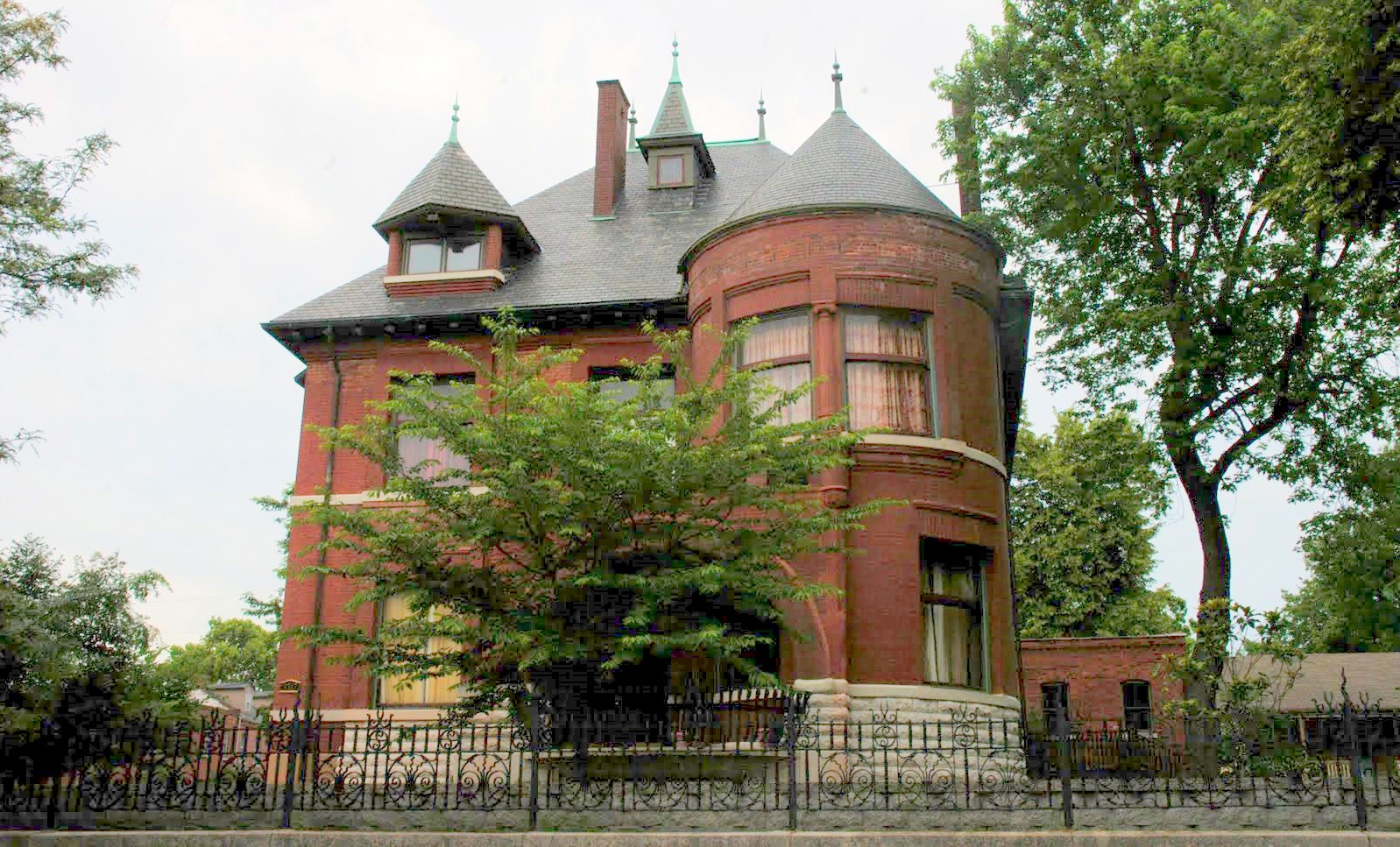 Finally, some of my personal favorites: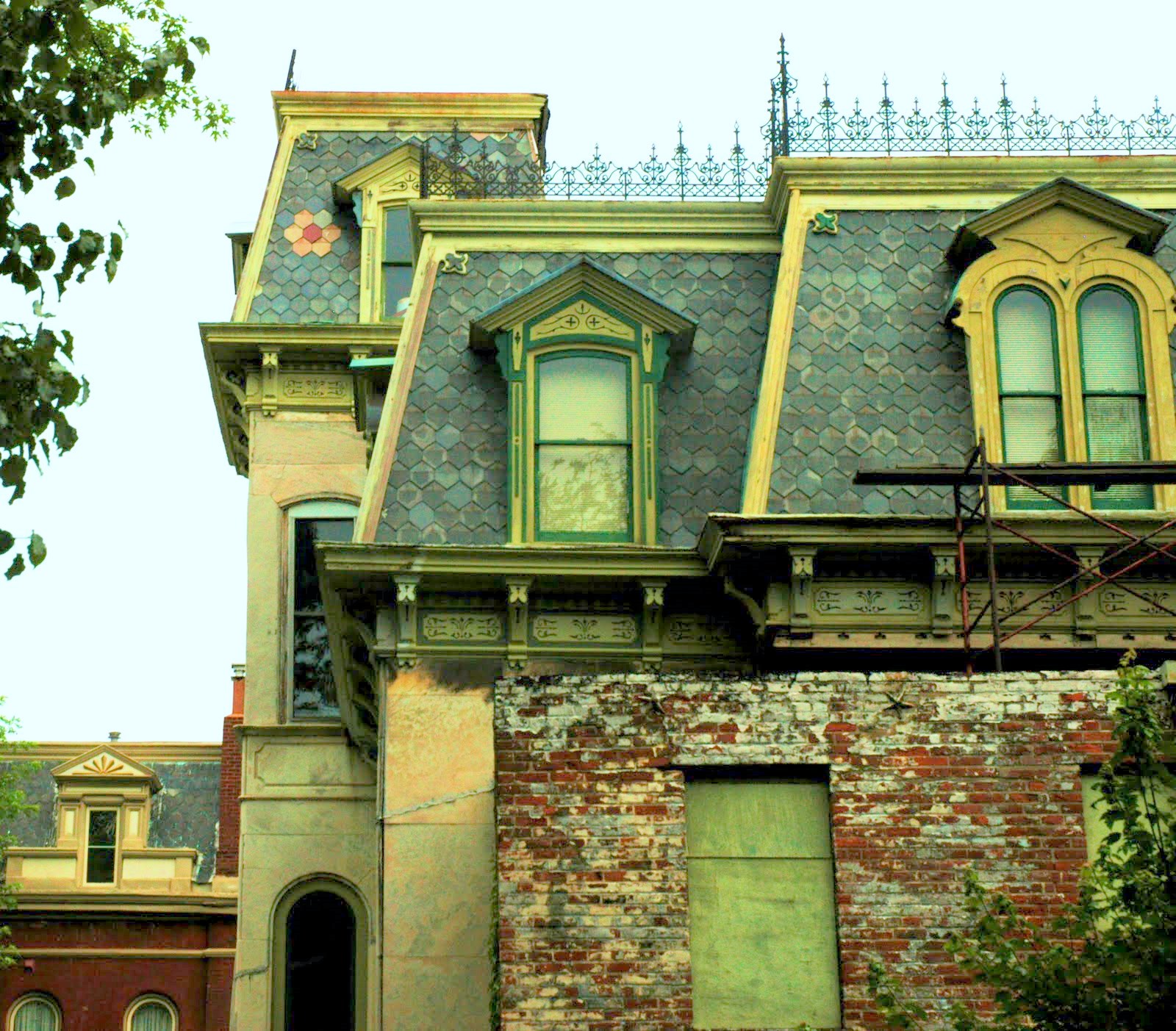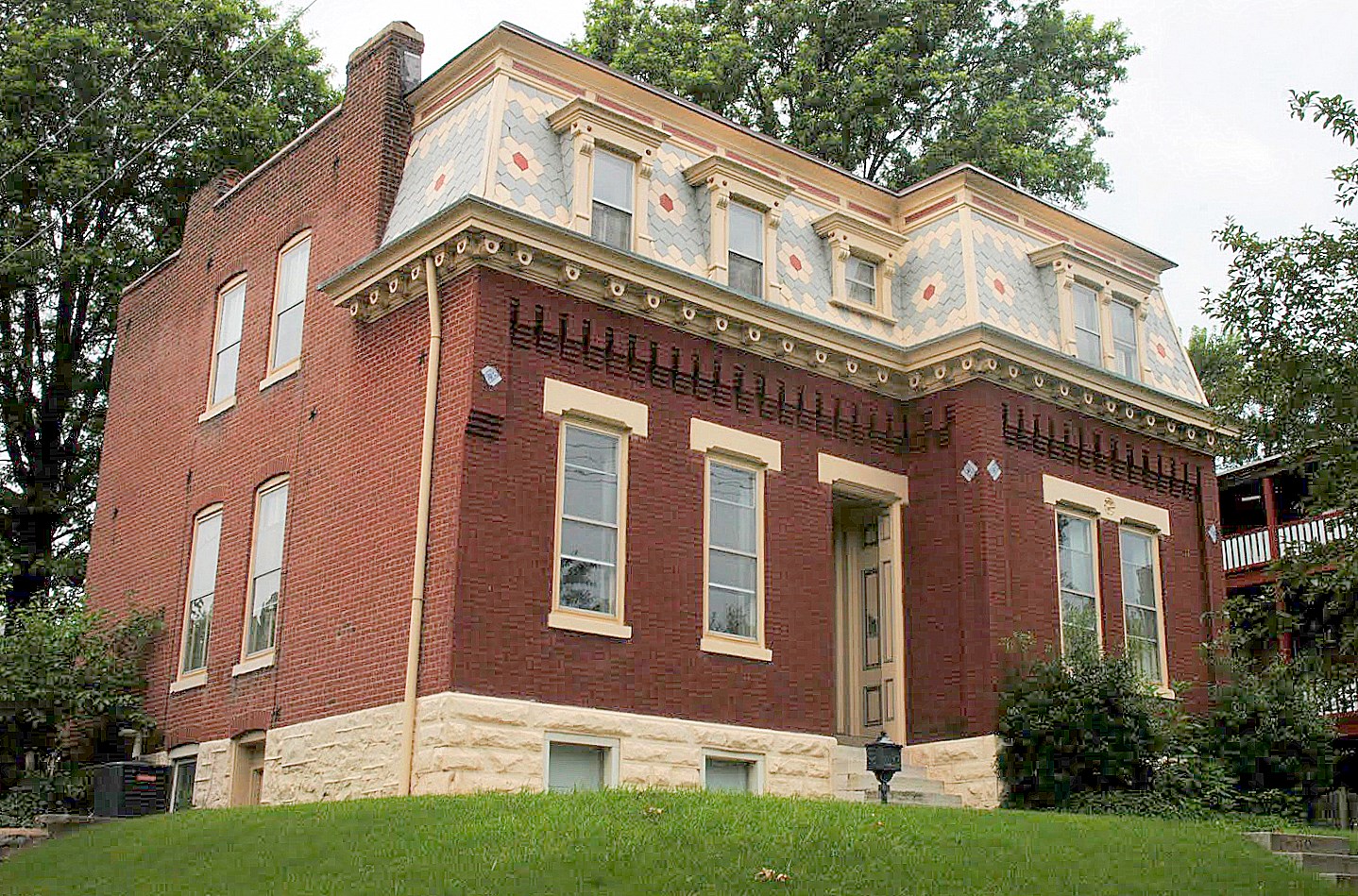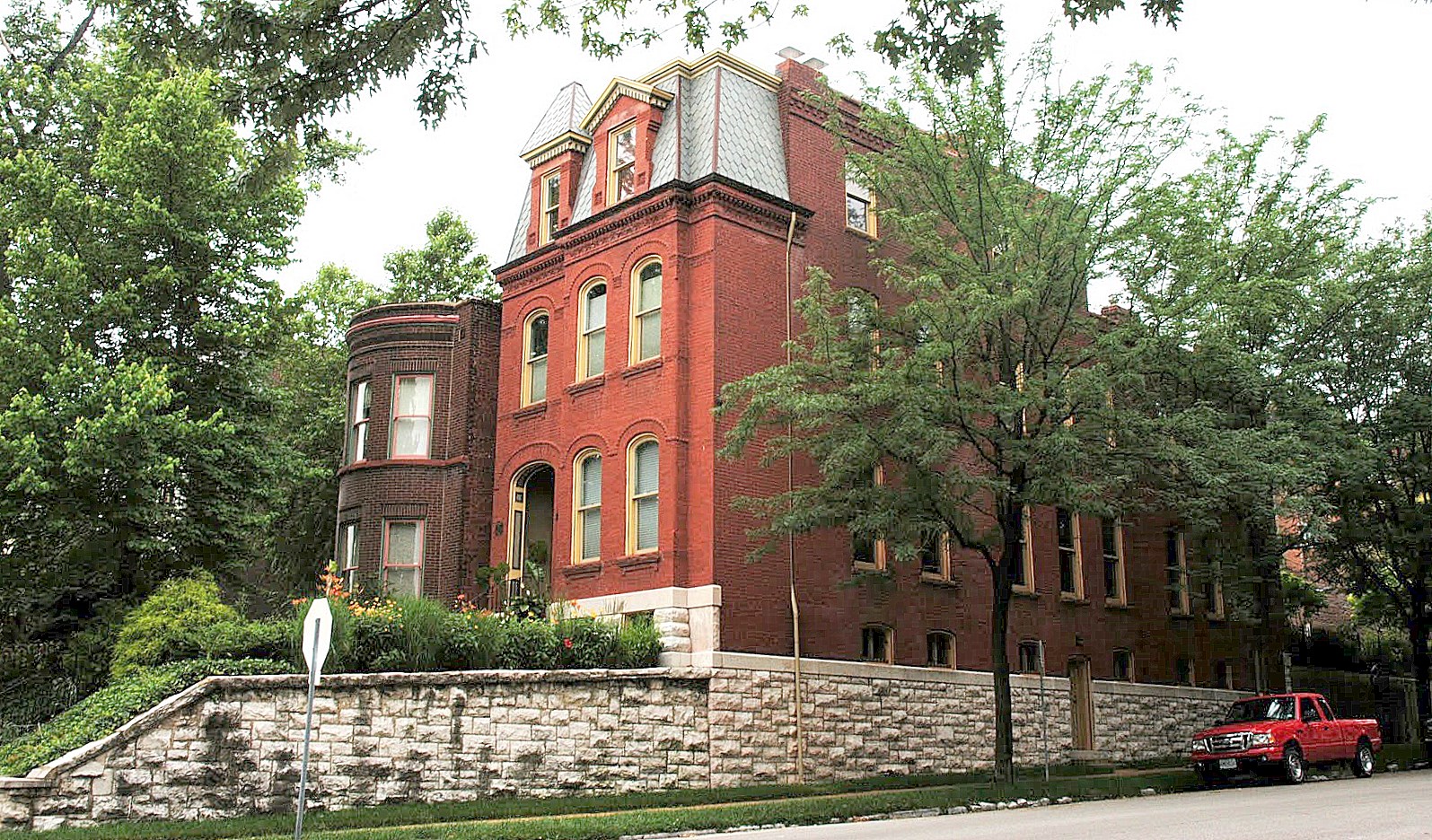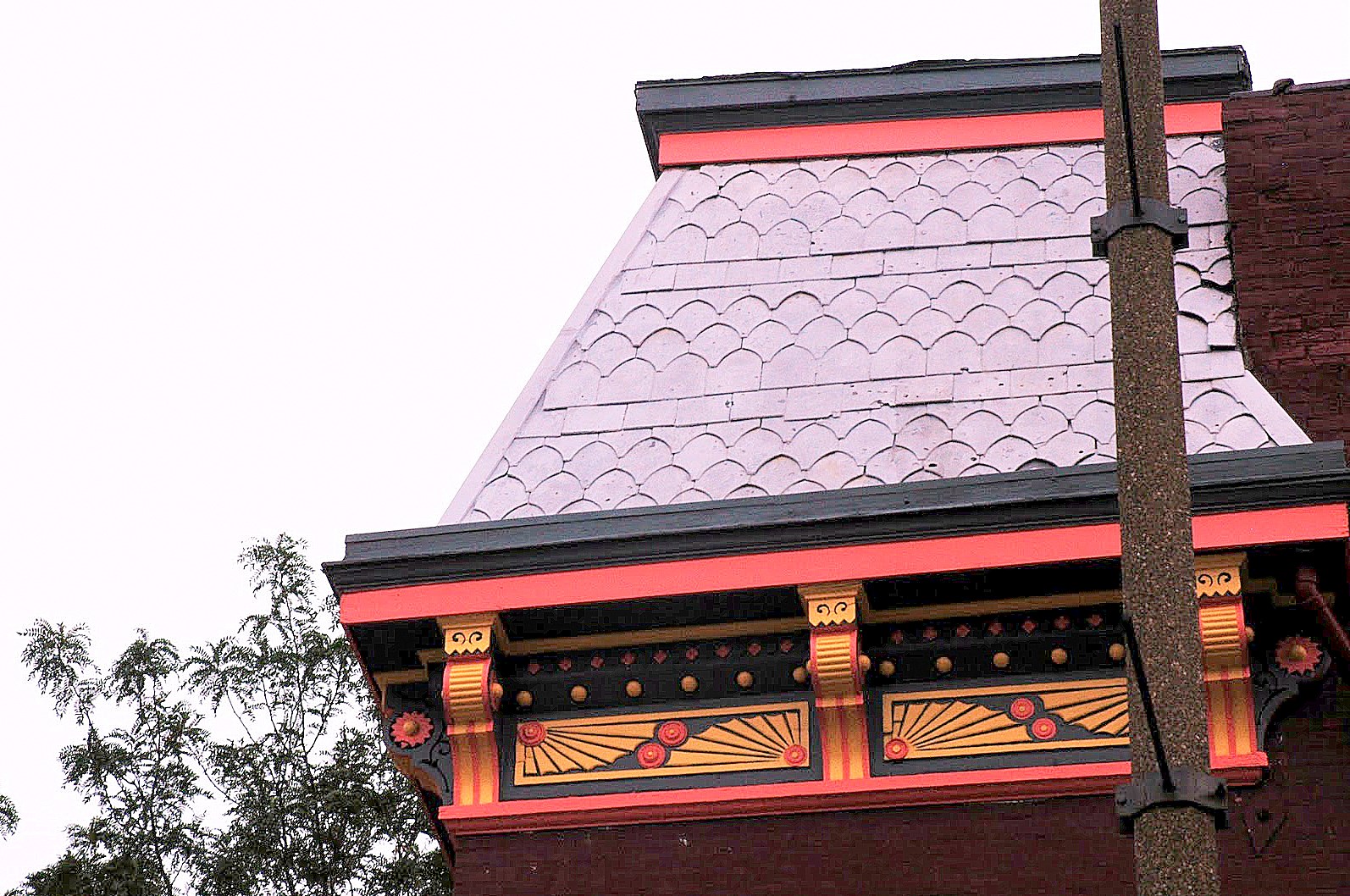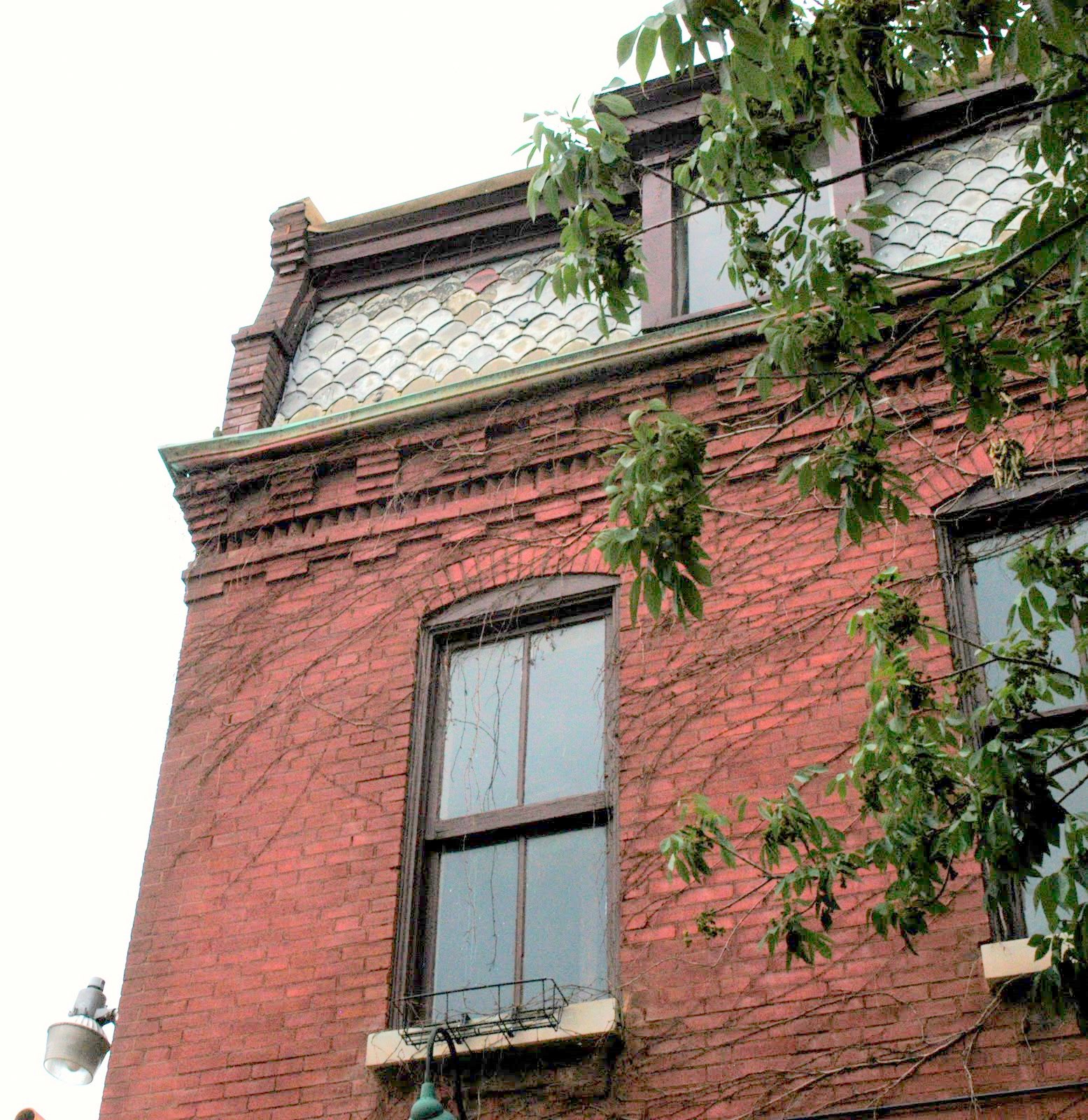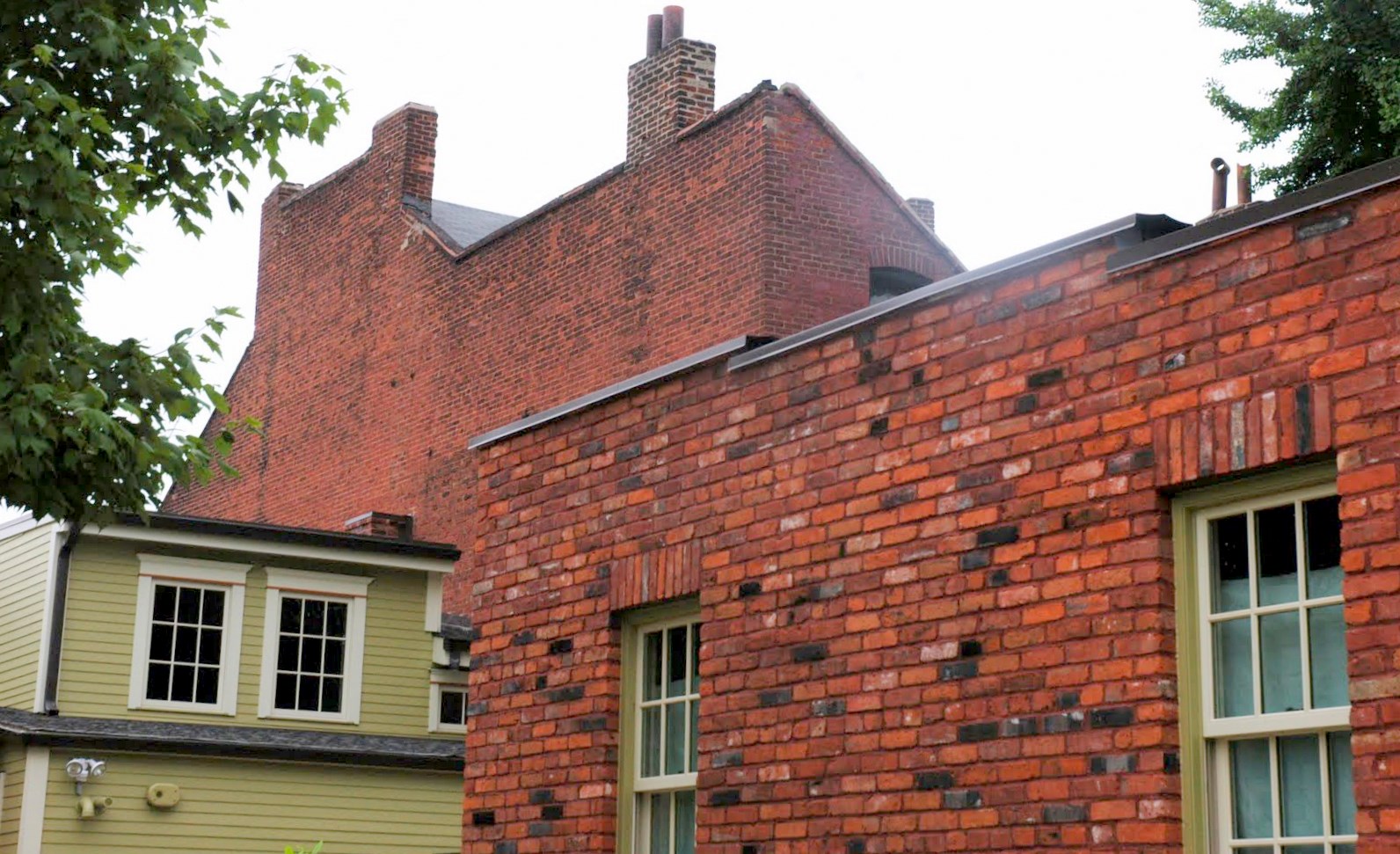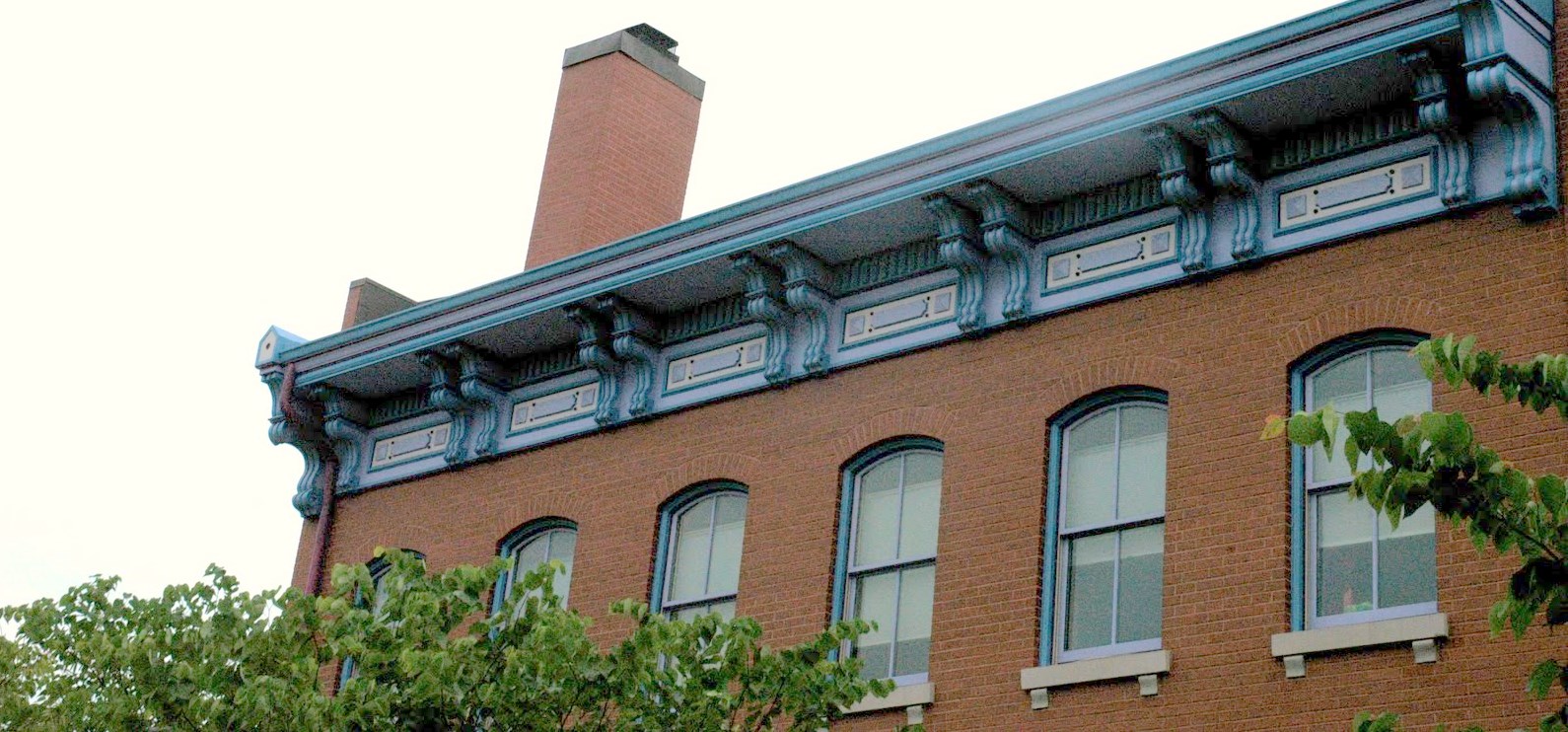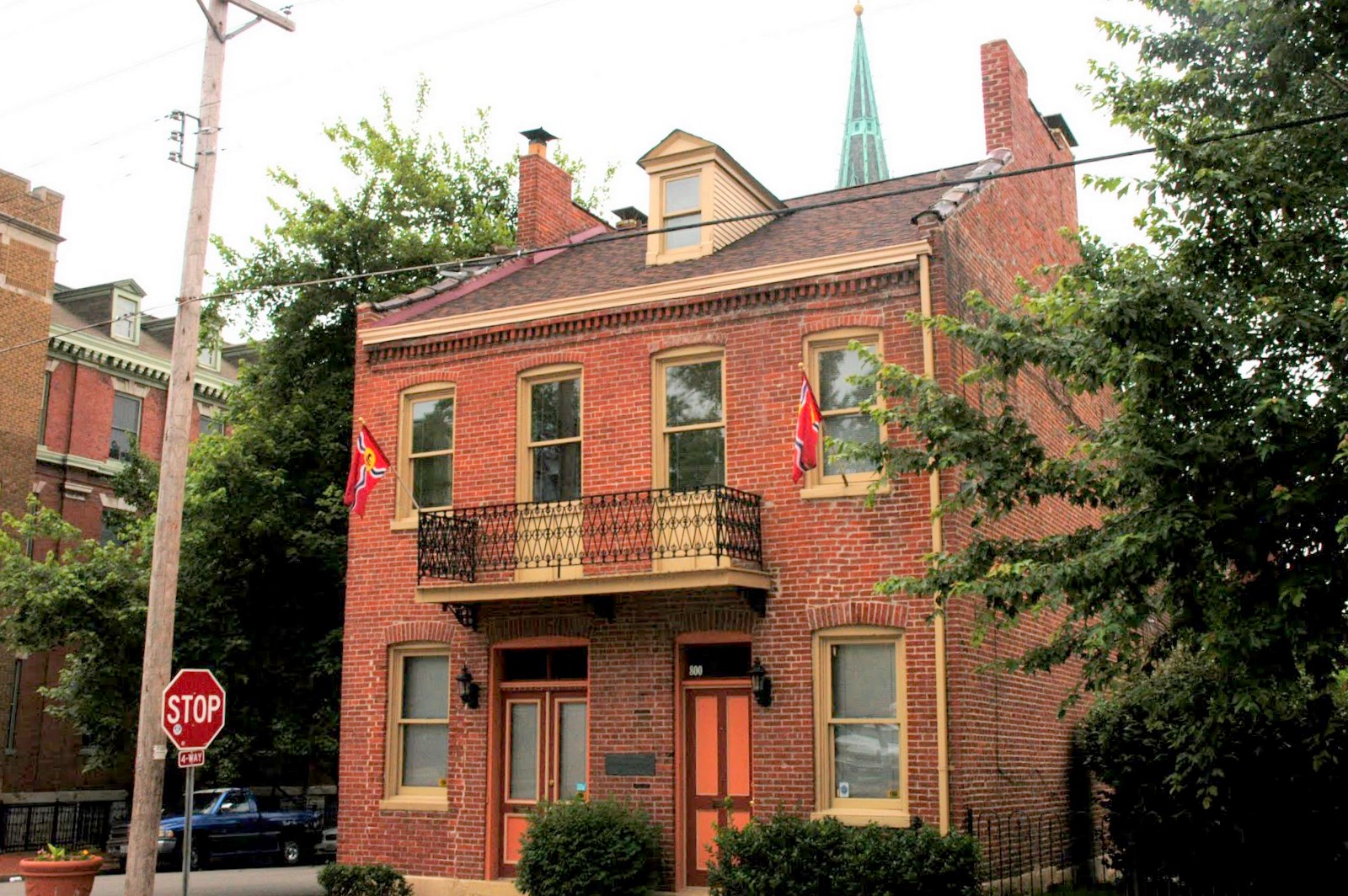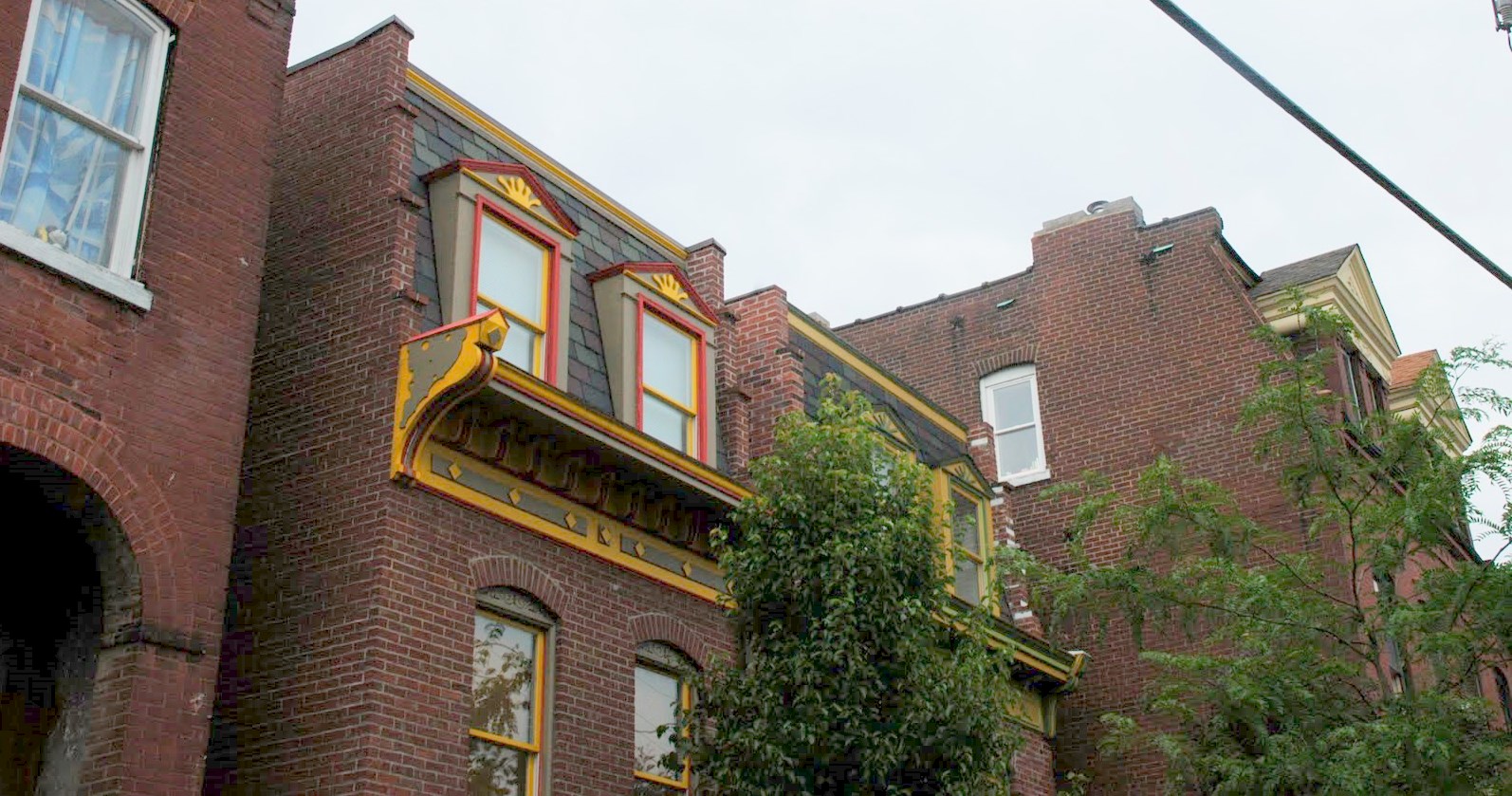 Soulard is definitely one of the most visited neighborhoods around, so much of this post is probably familiar to most. However, here are a few ghost signs and sites that were newly discovered: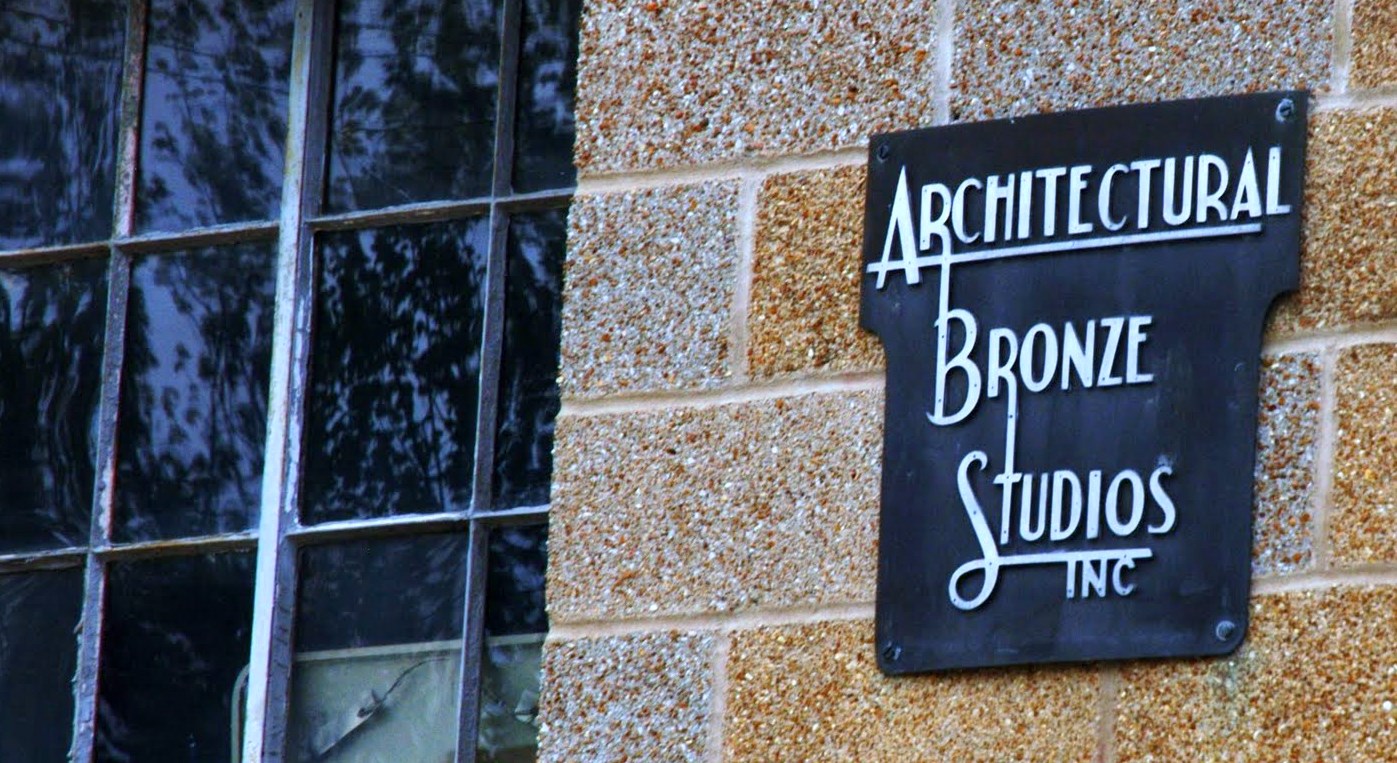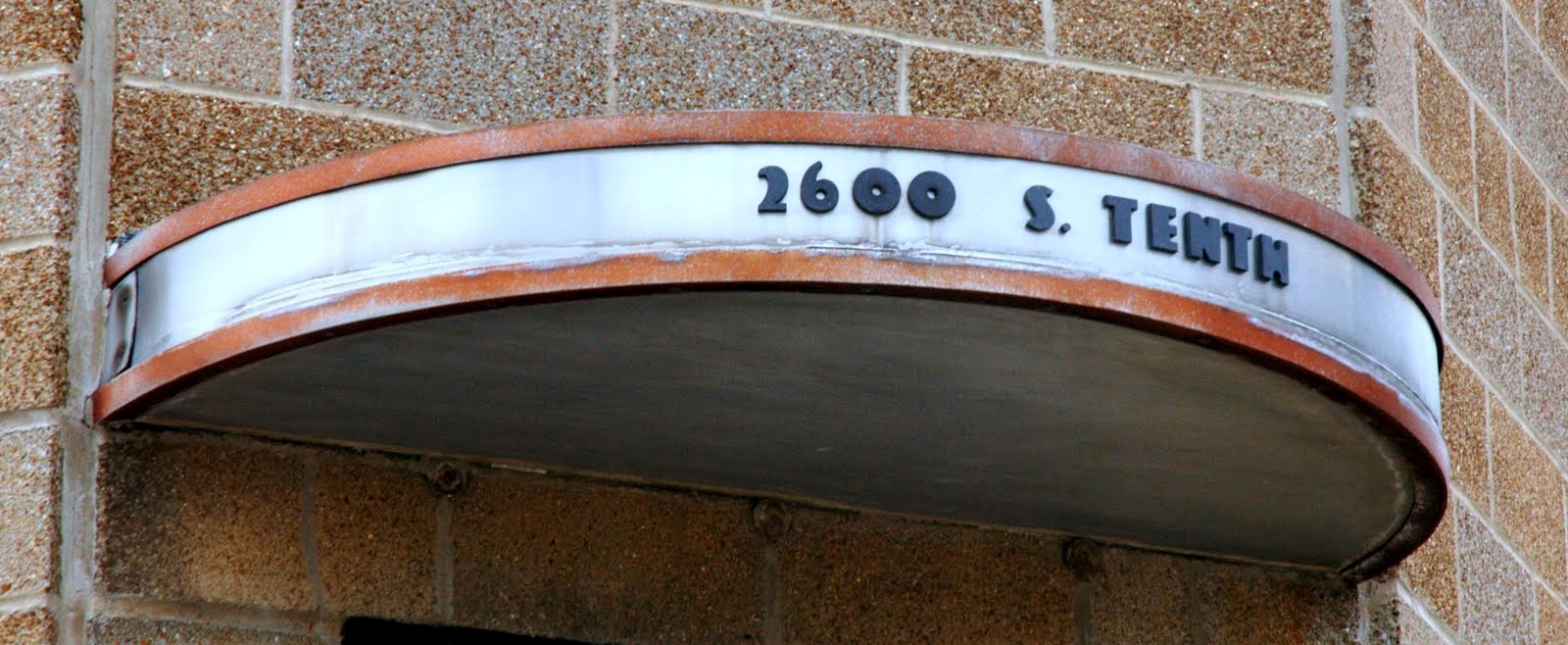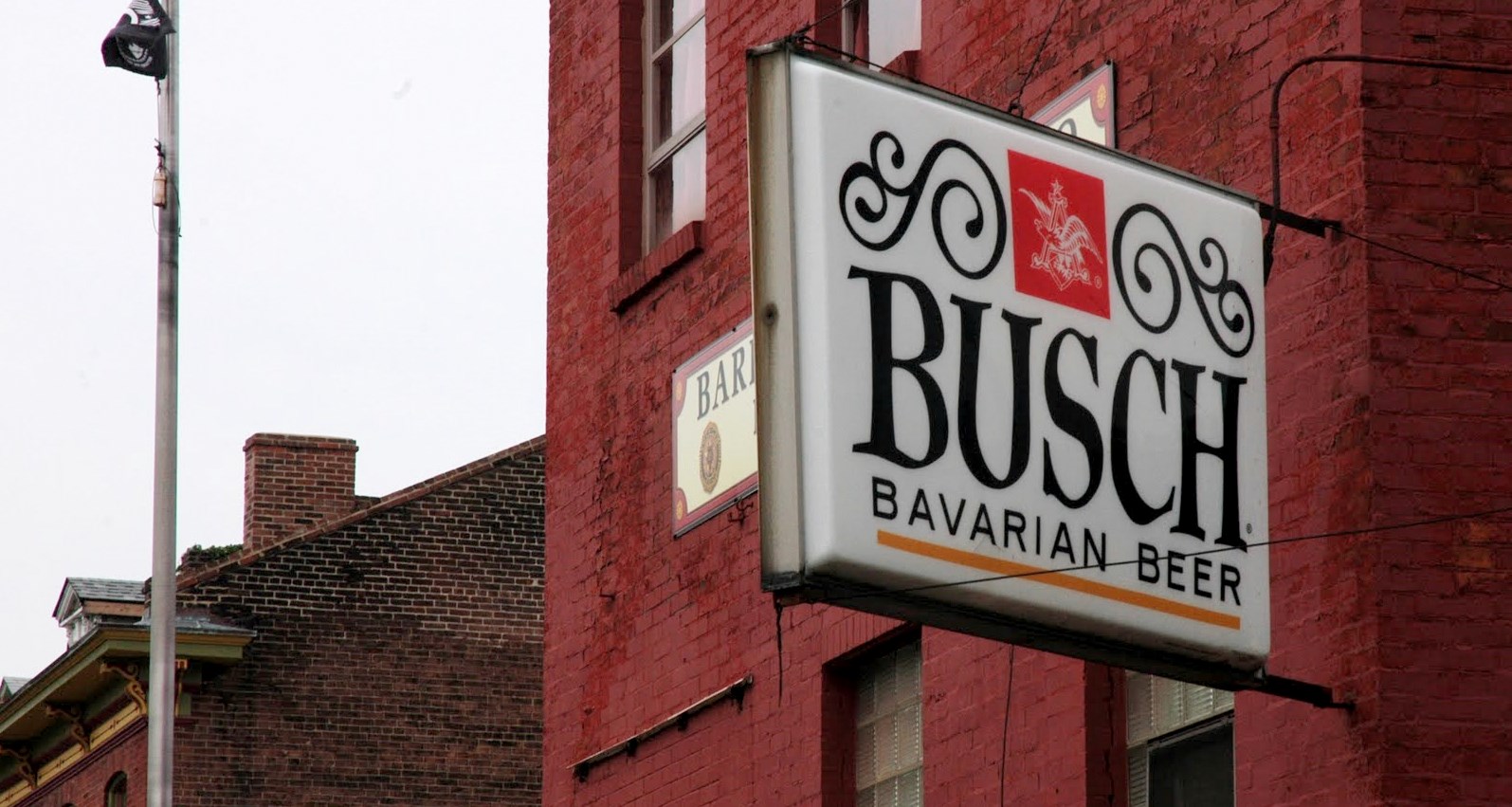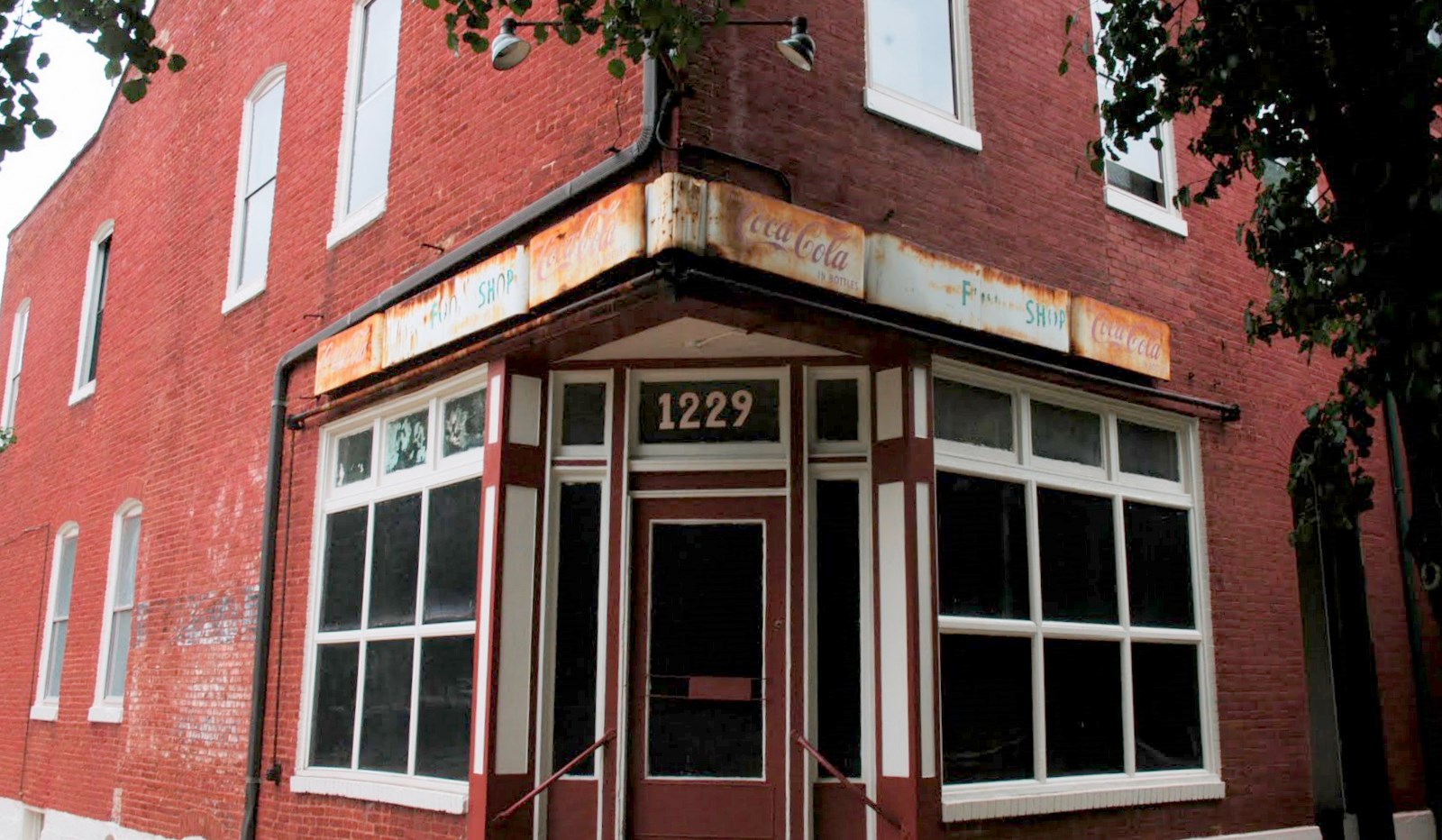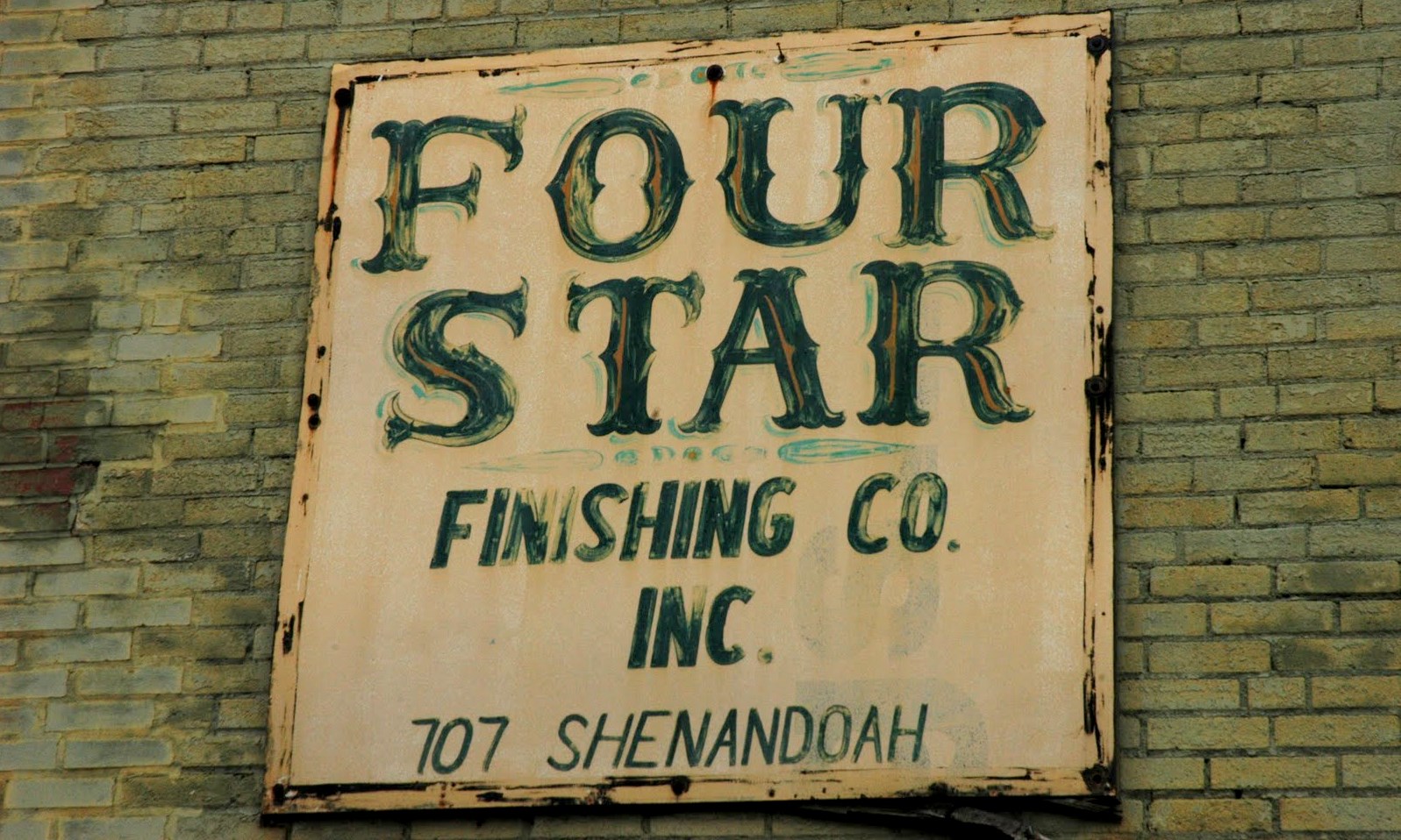 St. Louis has a rich history in wrestling, if you ever get a hankering, you can satisfy your curiosity at the South Broadway Athletic Club. Truly a site to behold: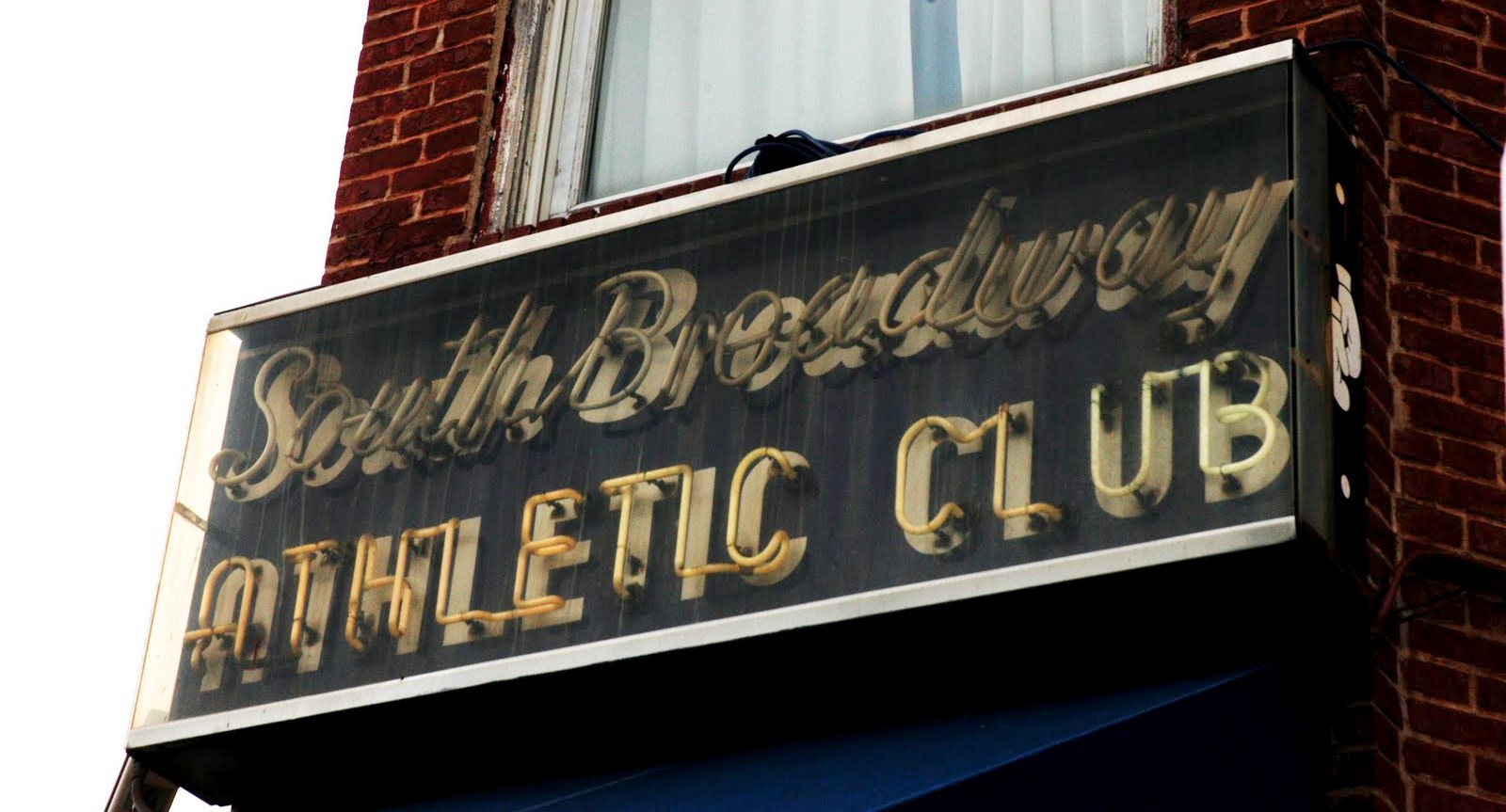 And some ghost signs including the former Dreamland Candy Shop: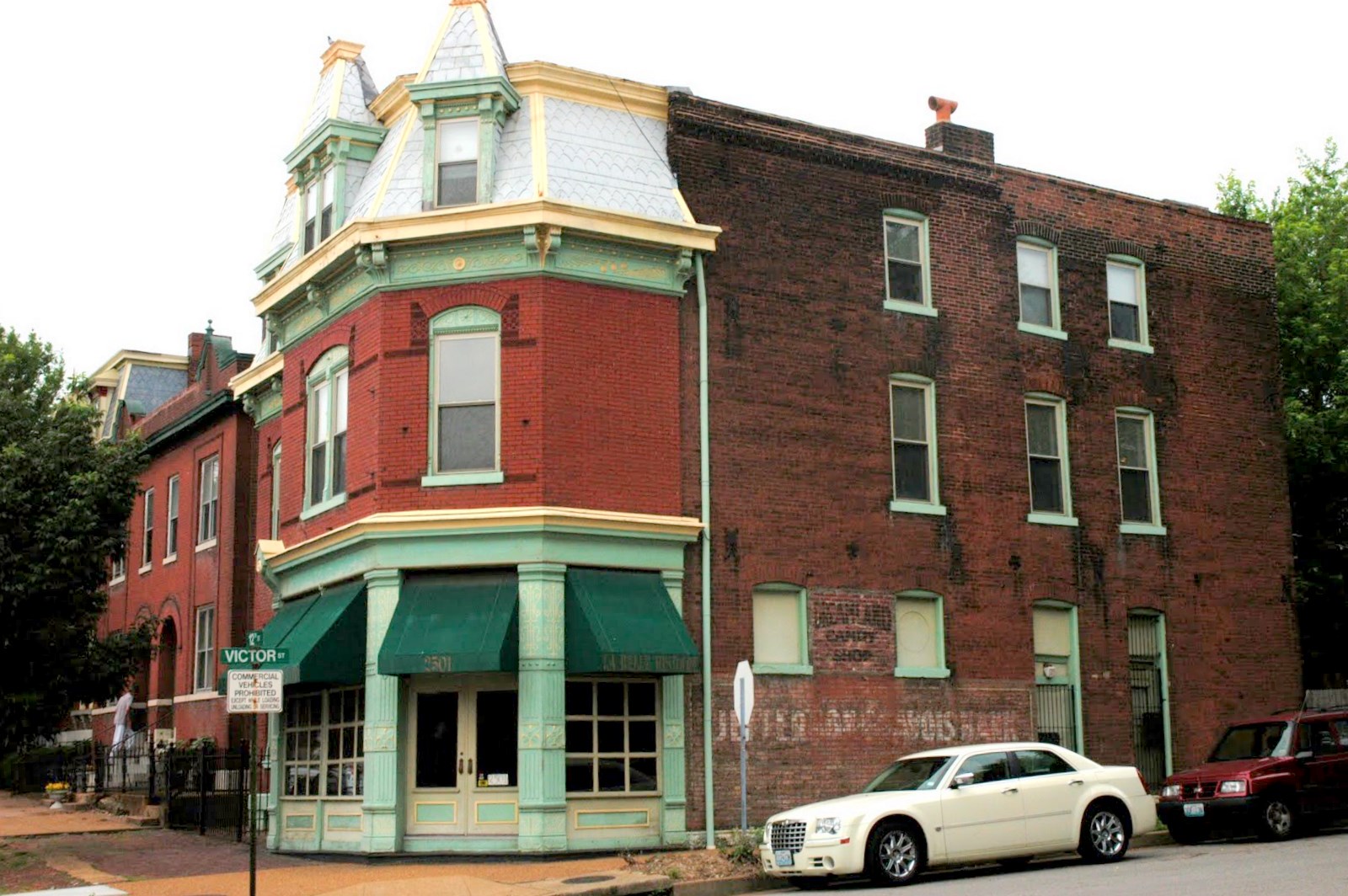 Does this say bowling balls?: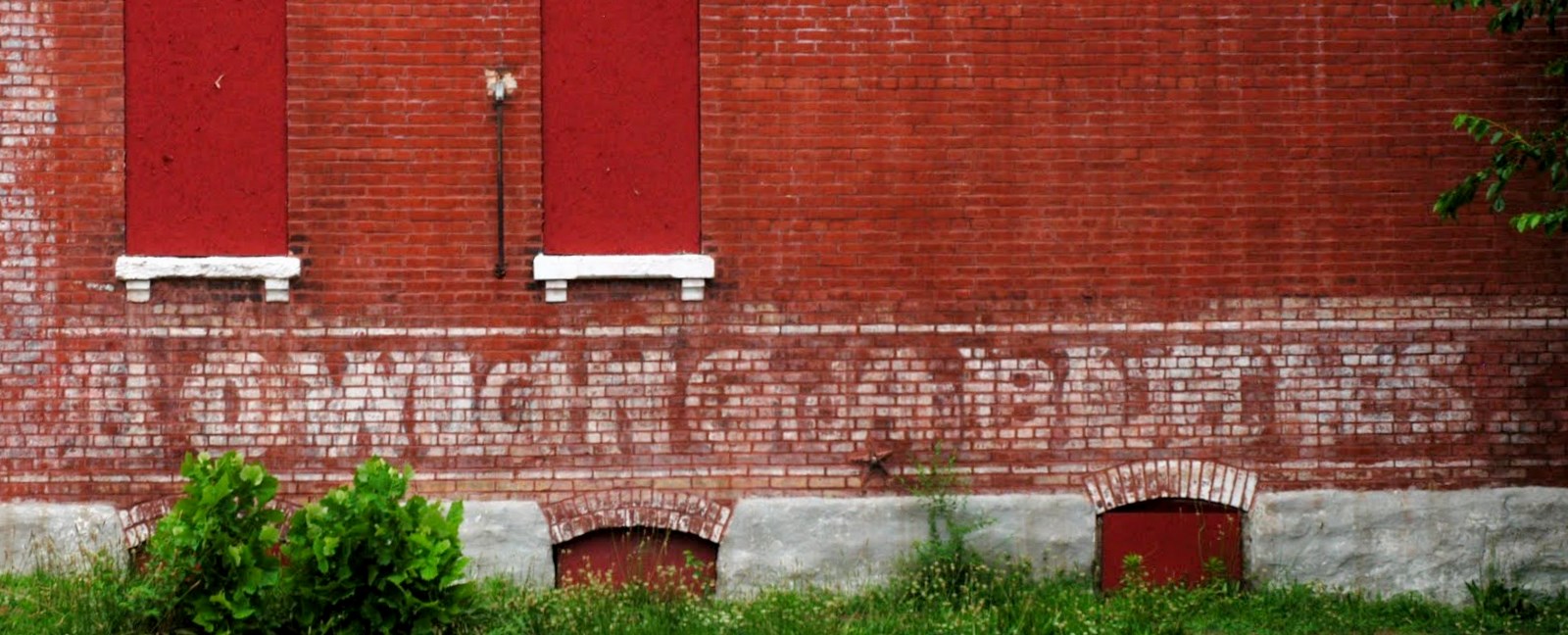 Hires' Root Beer: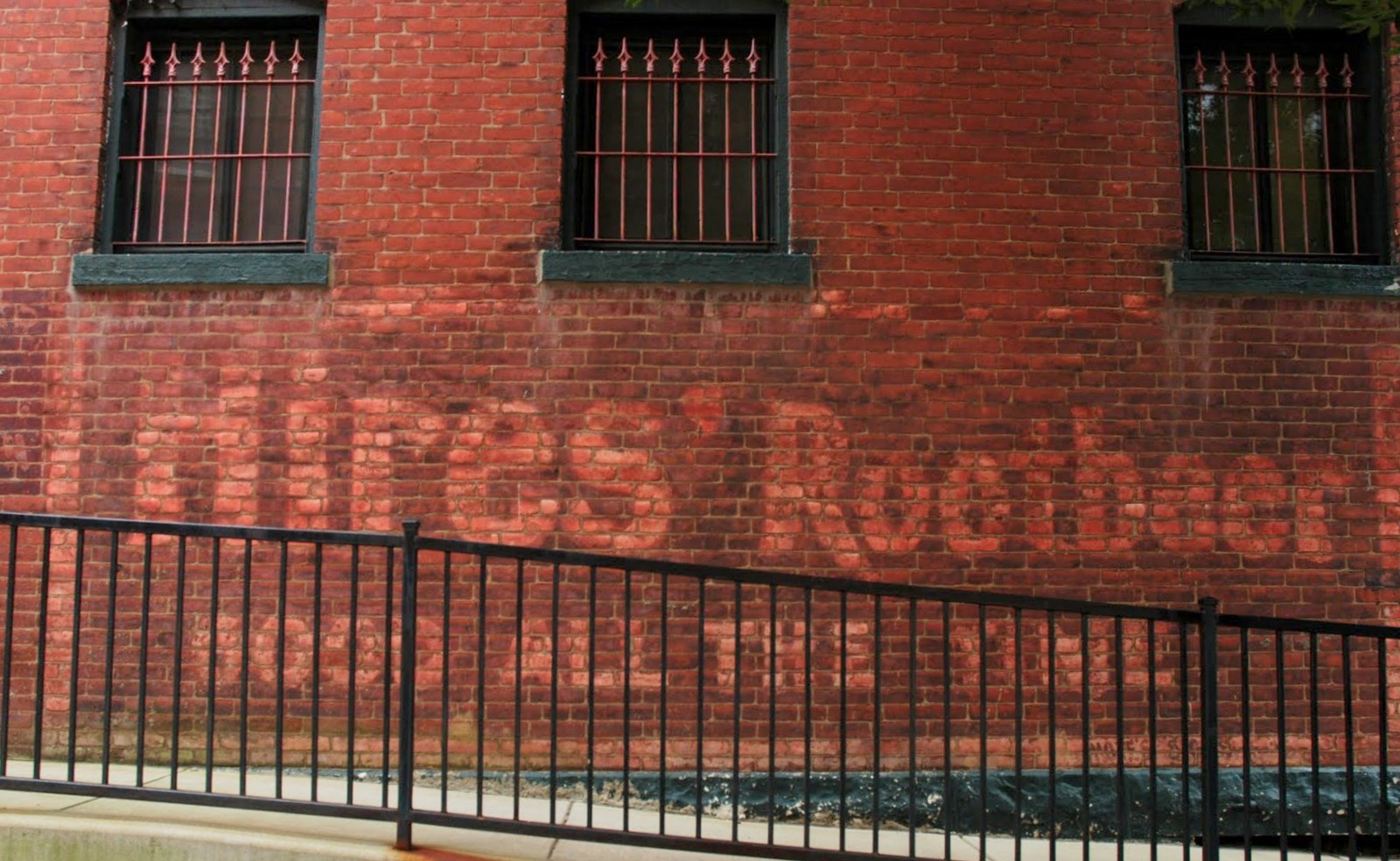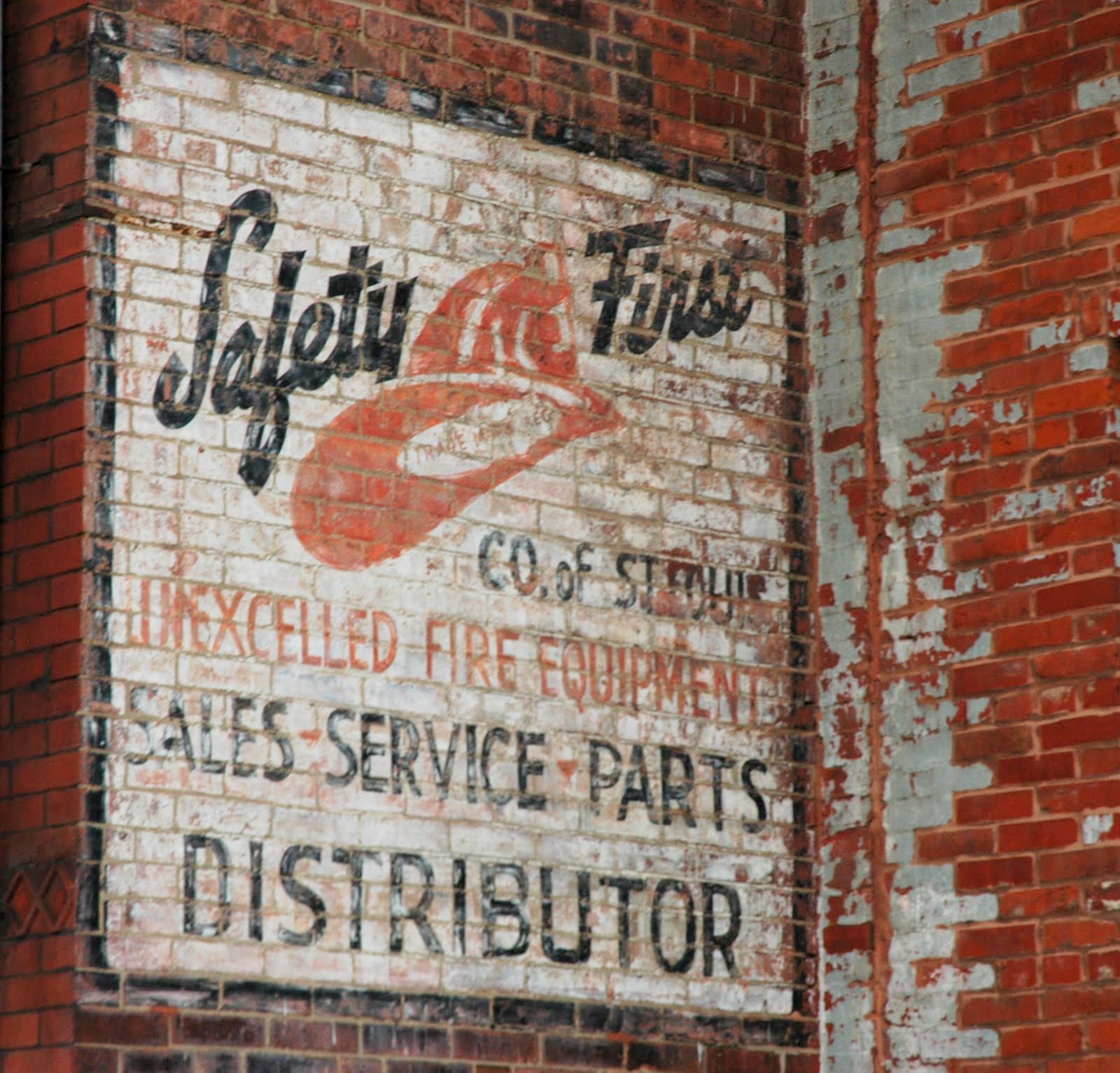 Thanks to all those with 1970's rehabbers with vision and determination that took Soulard under their collective wing and turned this former battered and bruised slum into a showplace and regional destination spot.
So if the mood should strike you, make like the Irish and head over to McGurk's one of the finest beer gardens in the city, to properly toast this great neighborhood.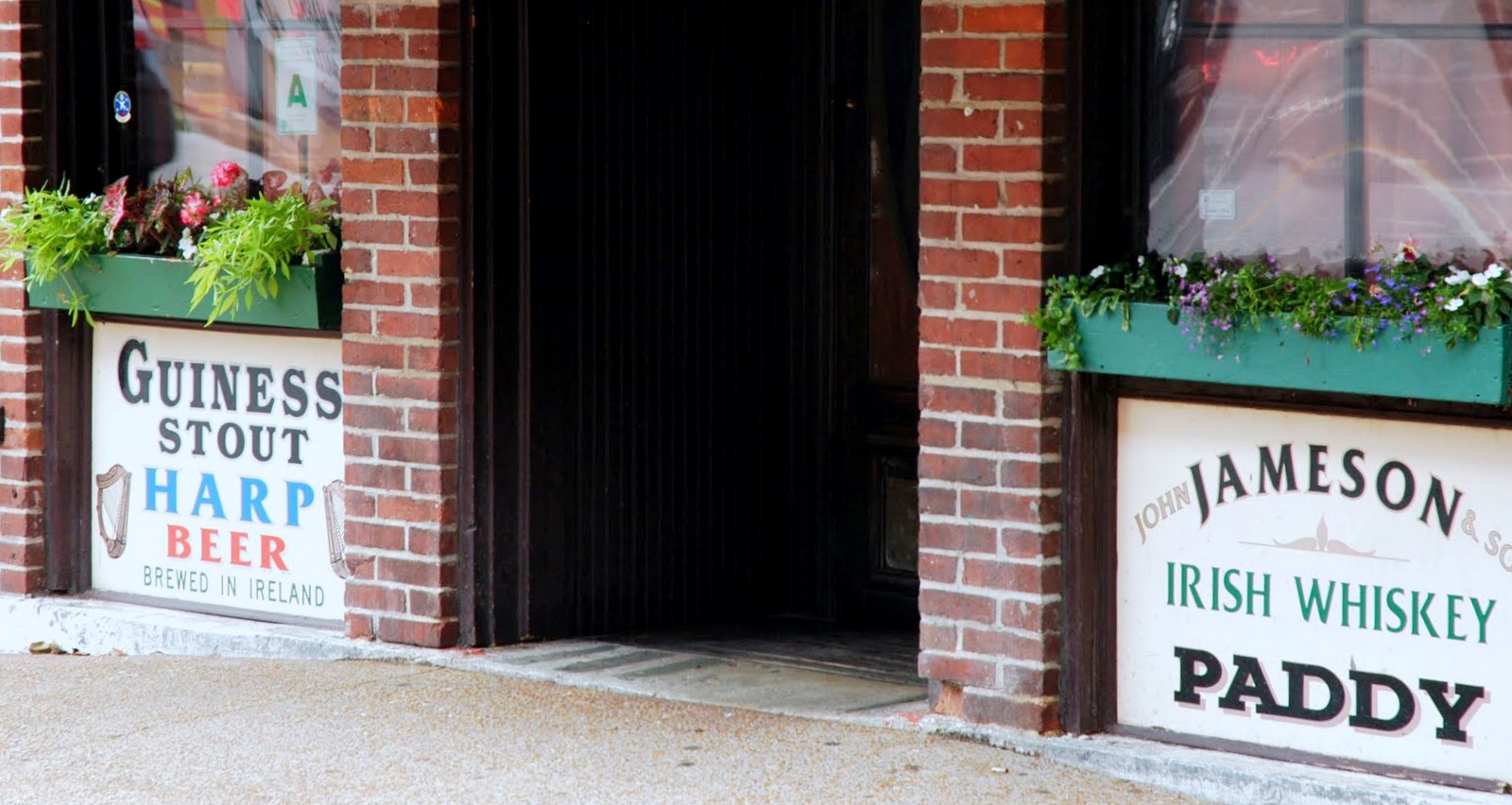 Cheers to Soulard!