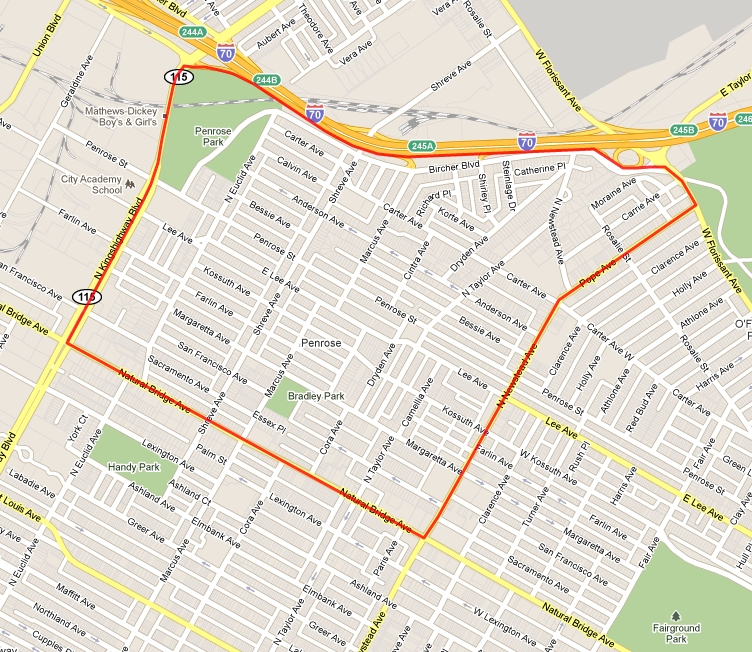 Penrose is a north St. Louis neighborhood bound by I-70 and West Florissant to the north, Natural Bridge to the south, Kingshighway to the west and Newstead and Pope to the east.
The 2000 census data counted 7,435 residents (down 13% from 1990's count) of whom 98% were black. This neighborhood has been all black since 1970. There were 3,565 housing units counted, 85% occupied (61%/39% owner/renter split). That's a high occupancy rate, so I'm hopeful that this will be another well cared for St. Louis neighborhood.
From the Penrose website:
Colorful streetside banners greet motorists driving down Kingshighway near Natural Bridge Avenue. "The Neighborhood of Choice," their bright letters proclaim, giving notice of Penrose, an African-American residential community of neat brick homes and can-do spirit. It is a place where "choice" is more than a catchword. The neighborhood is a diverse community with a good balance of homeowners, renters, and businesses. The architecture of the area is reflective of the rich architectural heritage found in St. Louis. Many active neighborhood organizations are involved in improving the neighborhood and building a strong community.
I like this statement as well:
Penrose's strength today lies in the dedication of its residents, many of whom have lived in the neighborhood for 30 years or more. Through "choice," they have refined their community, building an atmosphere of cooperation and improvement. Here, as elsewhere in St. Louis, the idea of "neighborhood" comes much from human spirit as from streets and landmarks.
Having never stepped foot in Penrose before, the back story is essential for painting the picture, so I can capture and appreciate what I see today:
Penrose's neighborhood identity was a long forming. In the early 19th century, the area was characterized more by land speculations than by actual settlement. It took it's name from Clement B. Penrose, whom Thomas Jefferson appointed land commissioner in 1805. Penrose lived on a nearby estate and was of the region's prime land investors. Another early land owner was statesman Henry Clay, a shaper of the Missouri Compromise.
Penrose did not take on take on the contours of a community until the late 1880's, when farmers and dairymen, most of German heritage, moved their families into the area. By 1900, the community, though still rural, was sufficiently settled to boast two German churched, St. Engelbert Catholic Church and Salem German Evangelical Church.
With the 1920's commercial development and transit lines raised land values around the northern edges of St. Louis. Most of Penrose's subdivisions date from that era, when single family brick homes sprang up along Euclid, Shreve and Lee avenues. Although some of these subdivisions were the work of outside investors, others were developed by long time residents, a prime example being the area around Steinlage Drive, a street named for a local German family in the dairy business.
The early 1960s were years of transition for Penrose. As older residents moved out, African-American families moved in. The well-constructed houses were ideal for moderate-size families offering many their first opportunity for home ownership. Middle- and upper-income African-Americans, including teachers, nurses and city and government employees, made Penrose their new home. A significant number came from home. A significant number came the Ville, located to the southeast and long the city's premier African-American neighborhood.
As Penrose's African-American population increased from 33 percent in 1960 to 95 percent in 1970, African-American institutions helped solidify the neighborhood. St. Peter's A.M.E. Church relocated to the corner of Shreve and Margaretta in 1962. In 1974, the Julia Davis Branch Library, its name honoring the noted St.Louis educator, opened on Natural Bridge.ator, opened on Natural Bridge Avenue.
Soon residents began to organize, showing their commitment to community improvement. One of their first tasks was to define exactly where Penrose began and ended. Choice, not history, became the factor of deciding neighborhood boundaries – Kingshighway on the west, Natural Bridge on the south, Newstead on the east and Interstate 70 on the north.
What an excellent summary. Not sure I understand the "by choice" theme, but maybe someone can explain it to me. I asked the alderman if he knows, I'll update if I hear back. And the banners that were mentioned on the website were nowhere to be found today.
Anyhow, this neighborhood came on my radar for "up and coming" neighborhoods through a St. Louis Magazine mention in their April, 2010 "Where to live.." story. Here's a quote from the story on p. 76 of the magazine:
Penrose is about to become one of the easiest neighborhoods to rahab in. "My first piece of legislation when I became alderman was to make the 21st Ward a Preservation Review District," says Alderman Antonio French, founder of PubDef.org.
The Landmarks Association of St. Louis recently surveyed the Penrose and O'Fallon neighborhoods to make them eligible for historic tax credits. The next step will be a partnership between the O'Fallon and Penrose neighborhood development councils, the city's Land Re-utilization Authority, an architectural firm, and a contractor. "We'll be going into these city-owned LRA properties, working with our architect and coming up with plans to turn them into something new, then preselling rehabs," French says. This is the first large-scale, systematic program of its type in the city, he notes. "I think there's two kinds of buyers for these old homes, " French says. "One is the DIY rehabbers…Then there is another kind of buyer who really wants to live in one of these beautiful old homes that have already been rehabbed. For those folks, all they have to do is see the plans, and say, 'OK, I want that; I'll sign here."
The future seems bright; and by my observation, there are plenty of rehab opportunities in Penrose: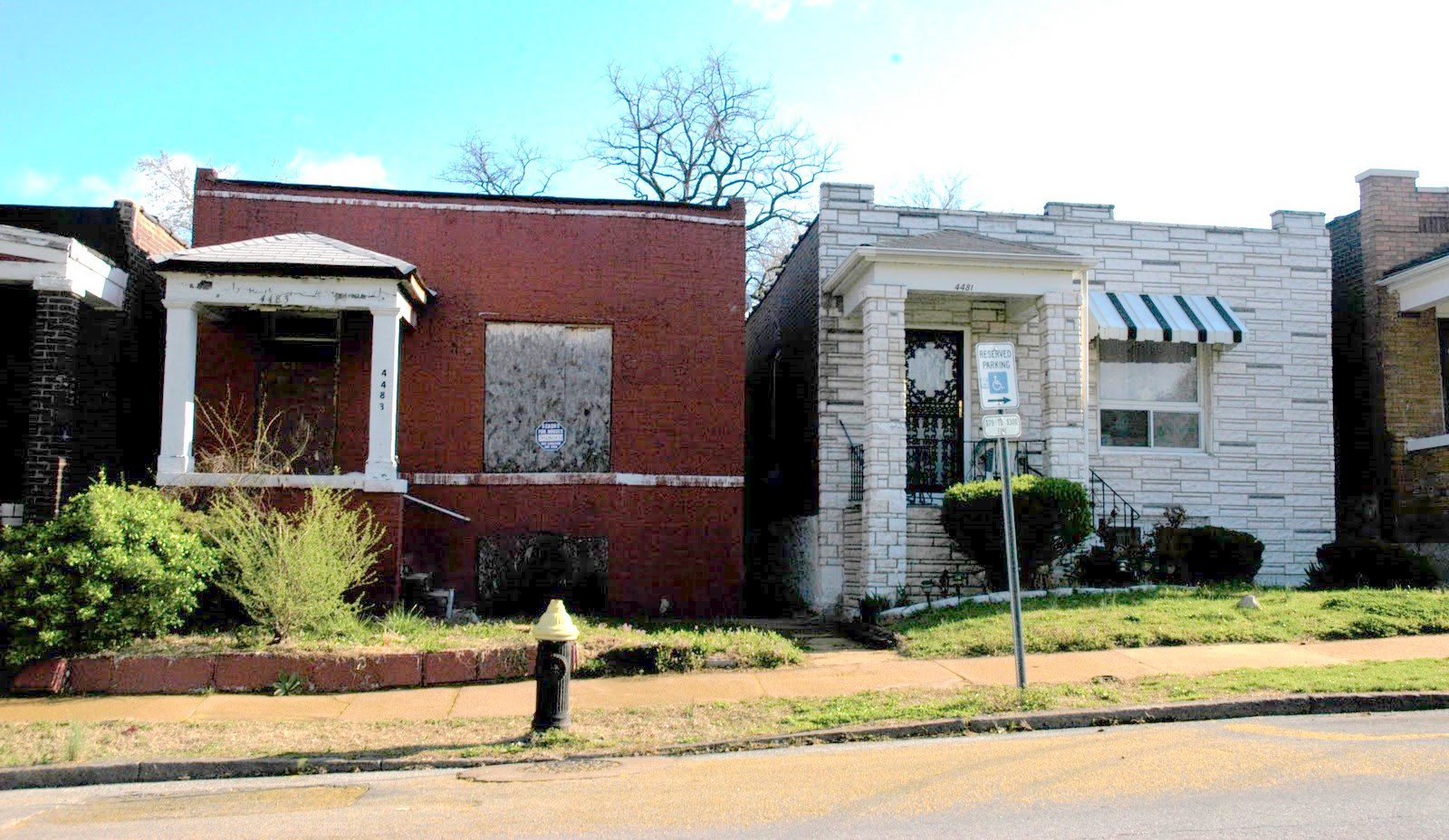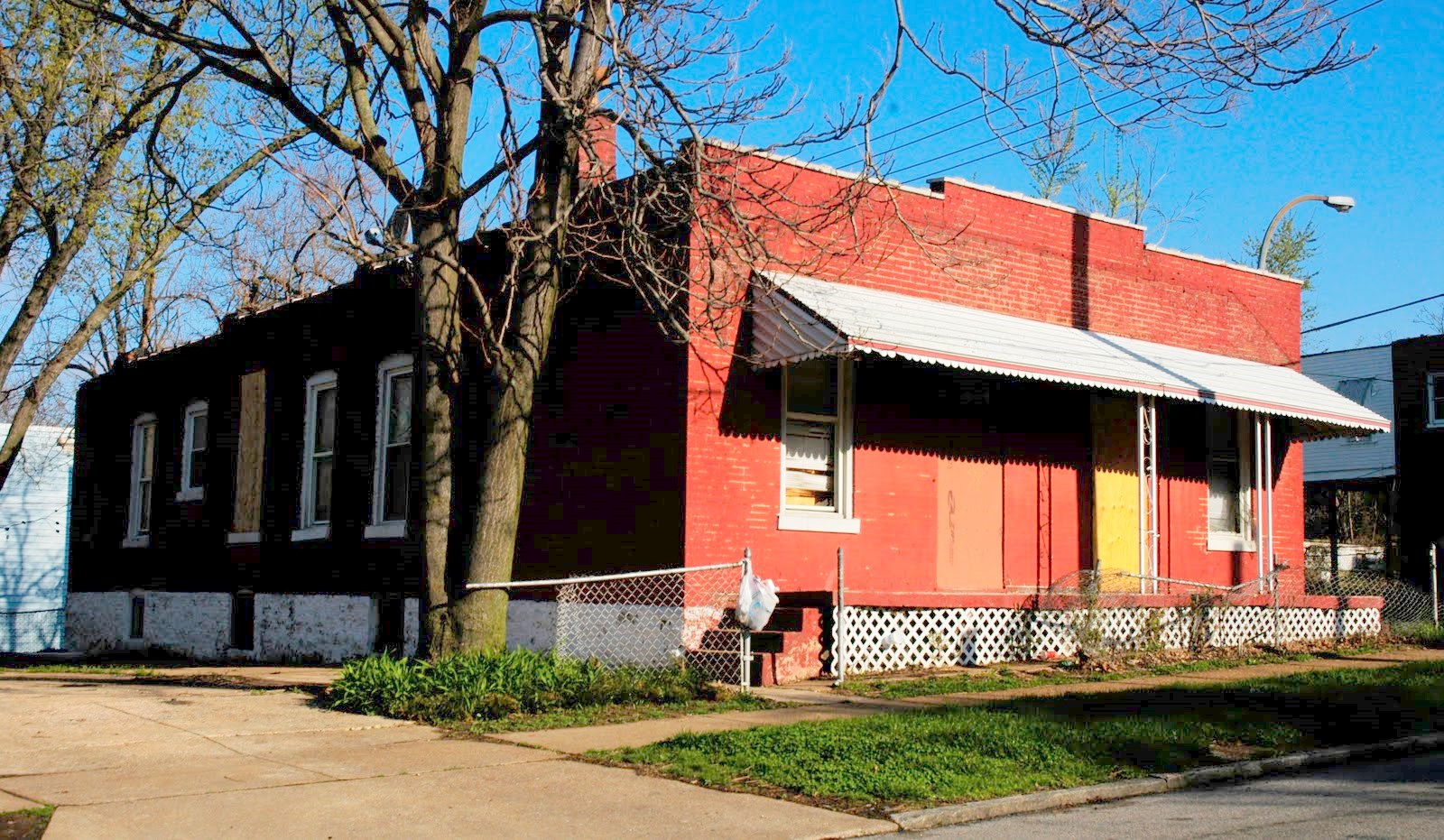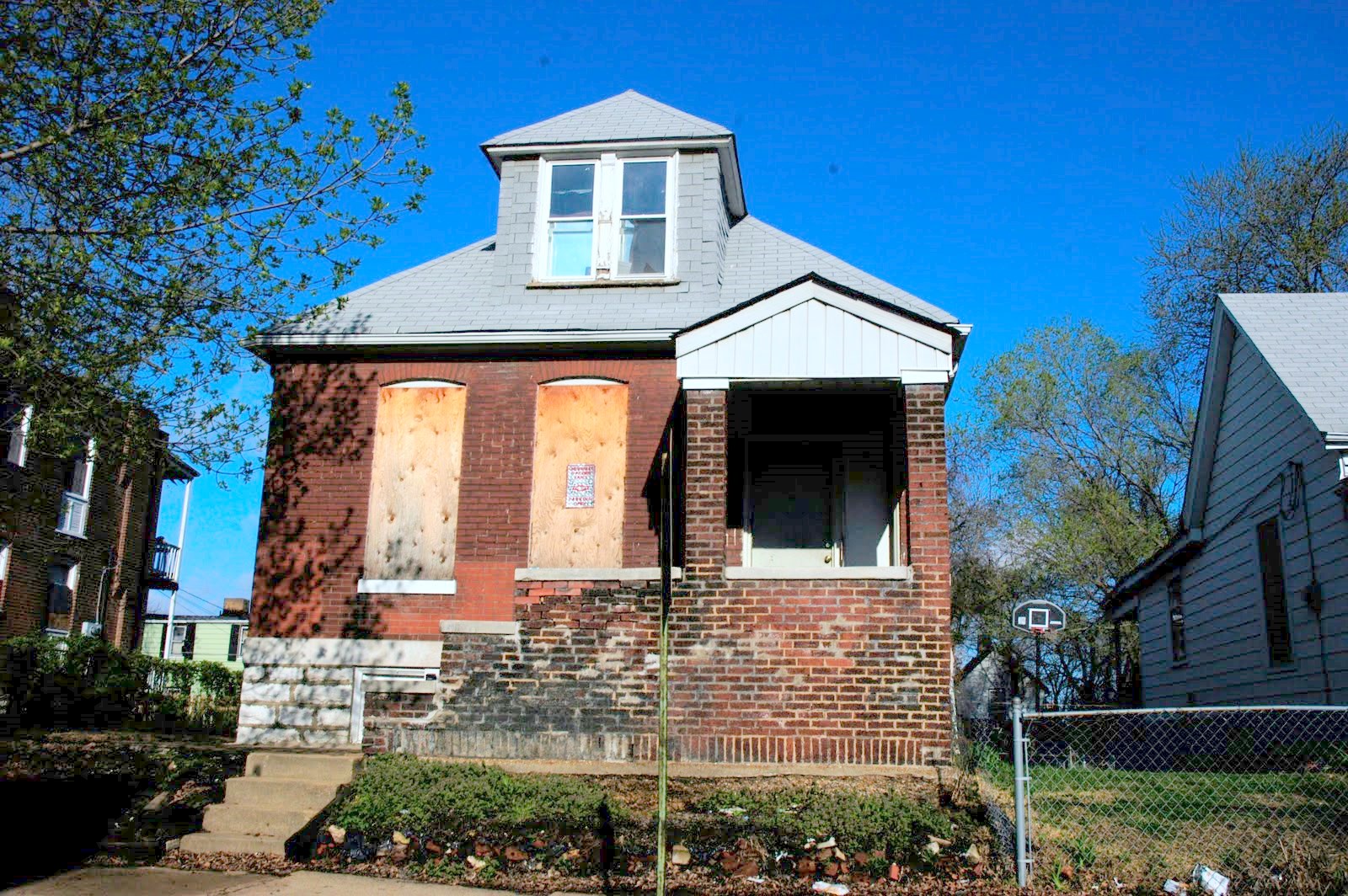 The good news is, for the most part, the LRA and abandoned homes are carefully boarded up to prevent further decline from the elements and are awaiting proper rehabs. There are only a couple examples of burned out or falling down homes in Penrose: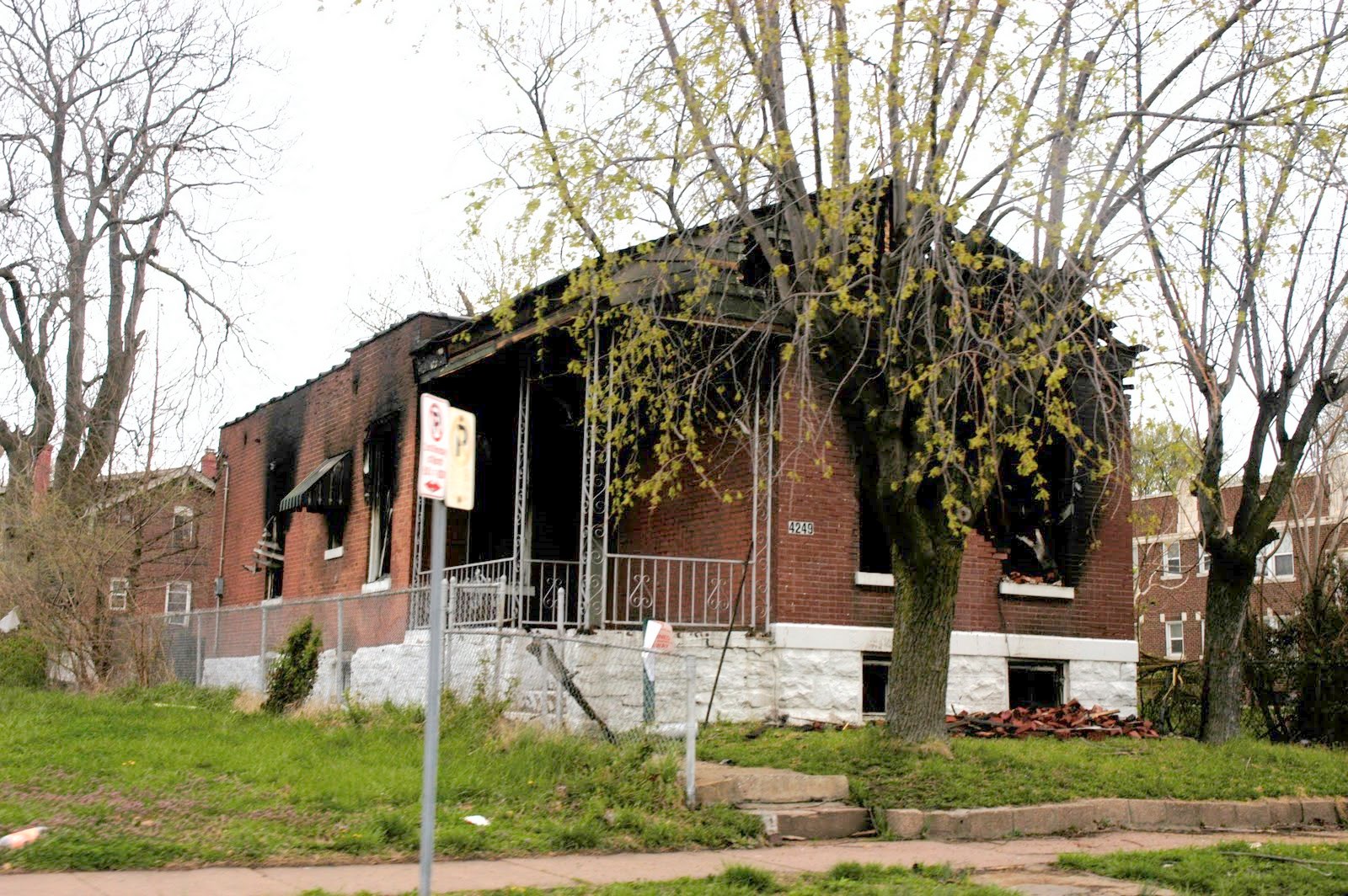 The neighborhood is overall quite solid and stable, with lots of pedestrian and car traffic. This seems like a densely populated neighborhood with a mix of classic St. Louis architectural styles: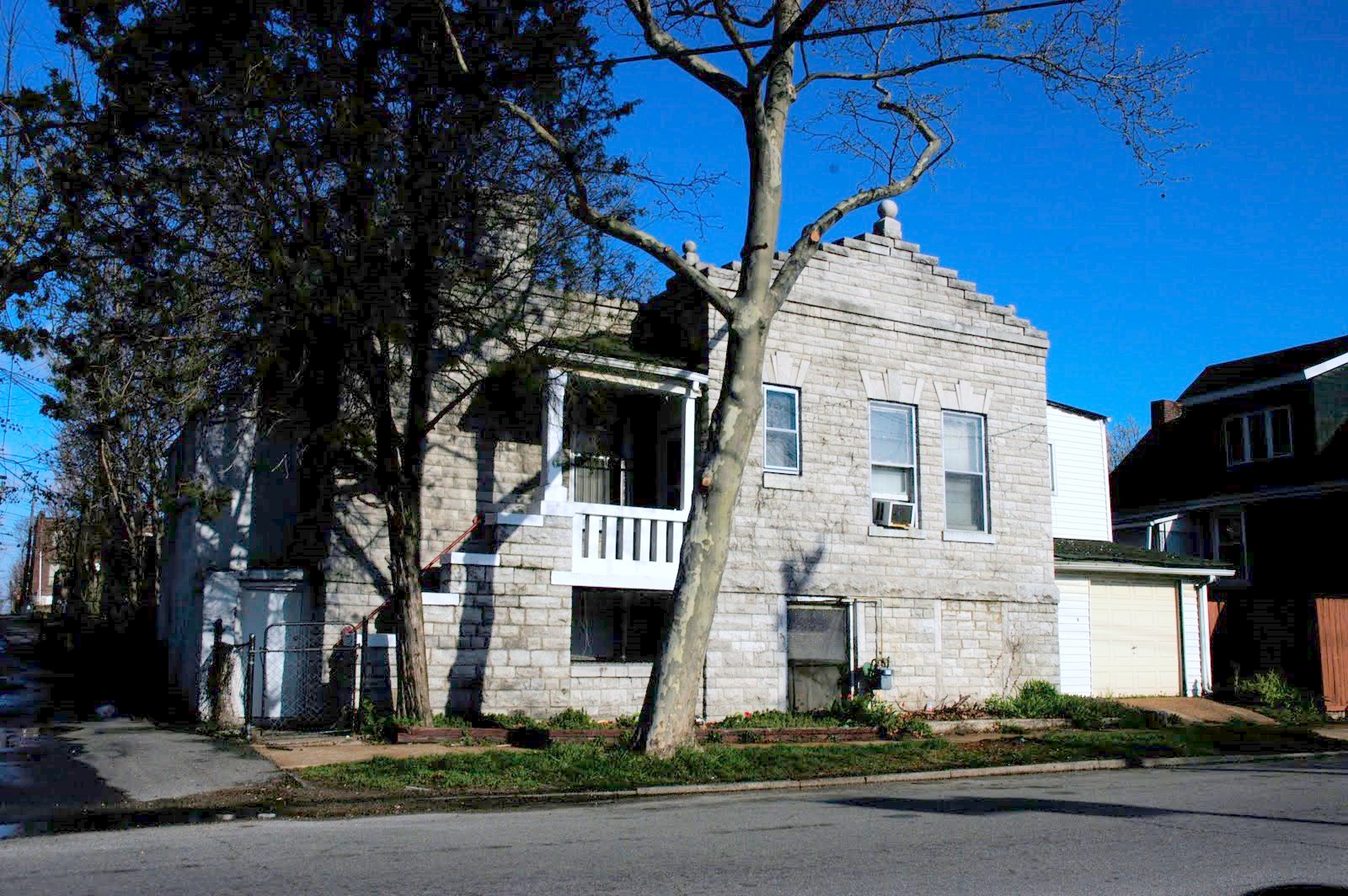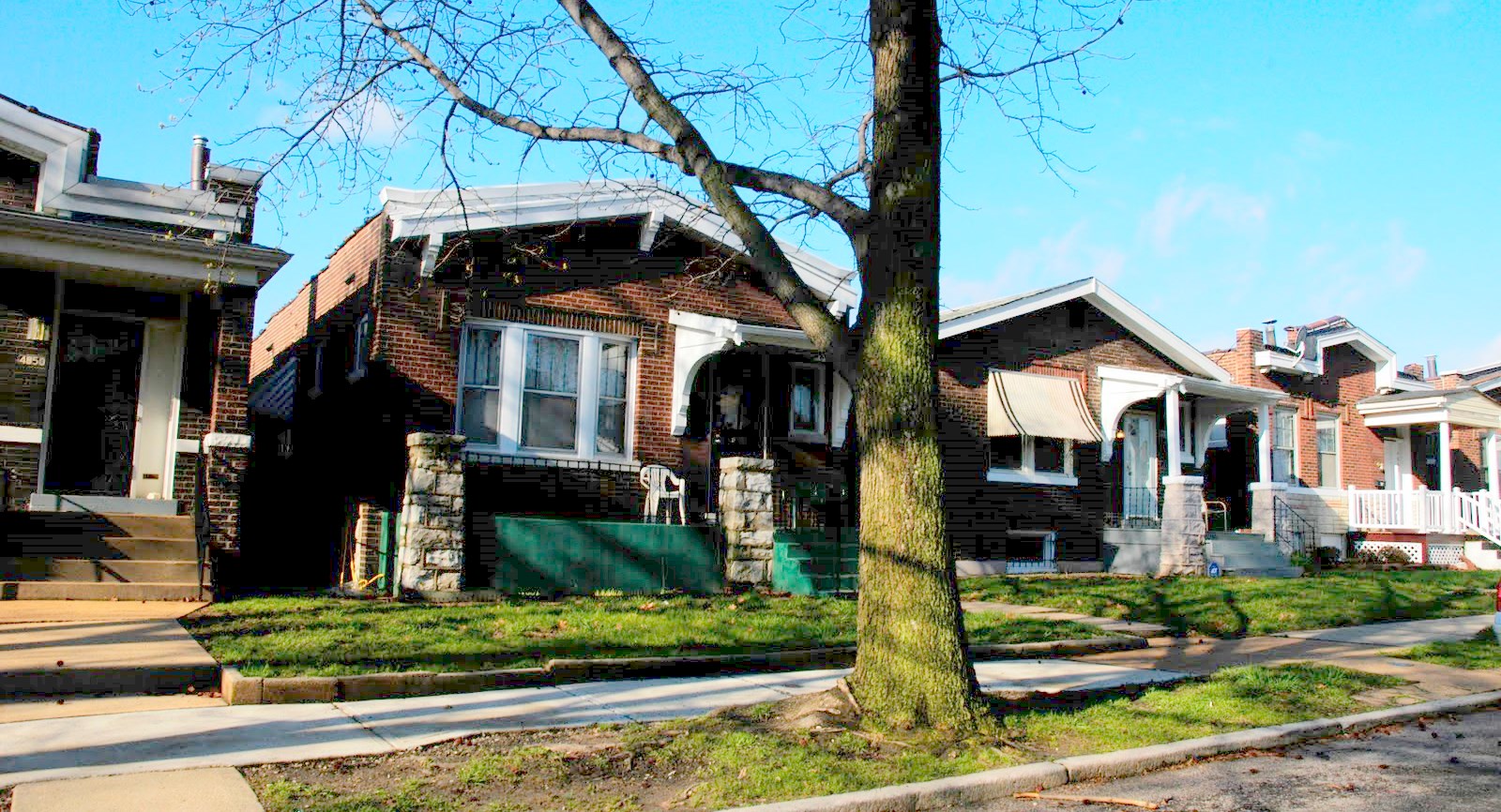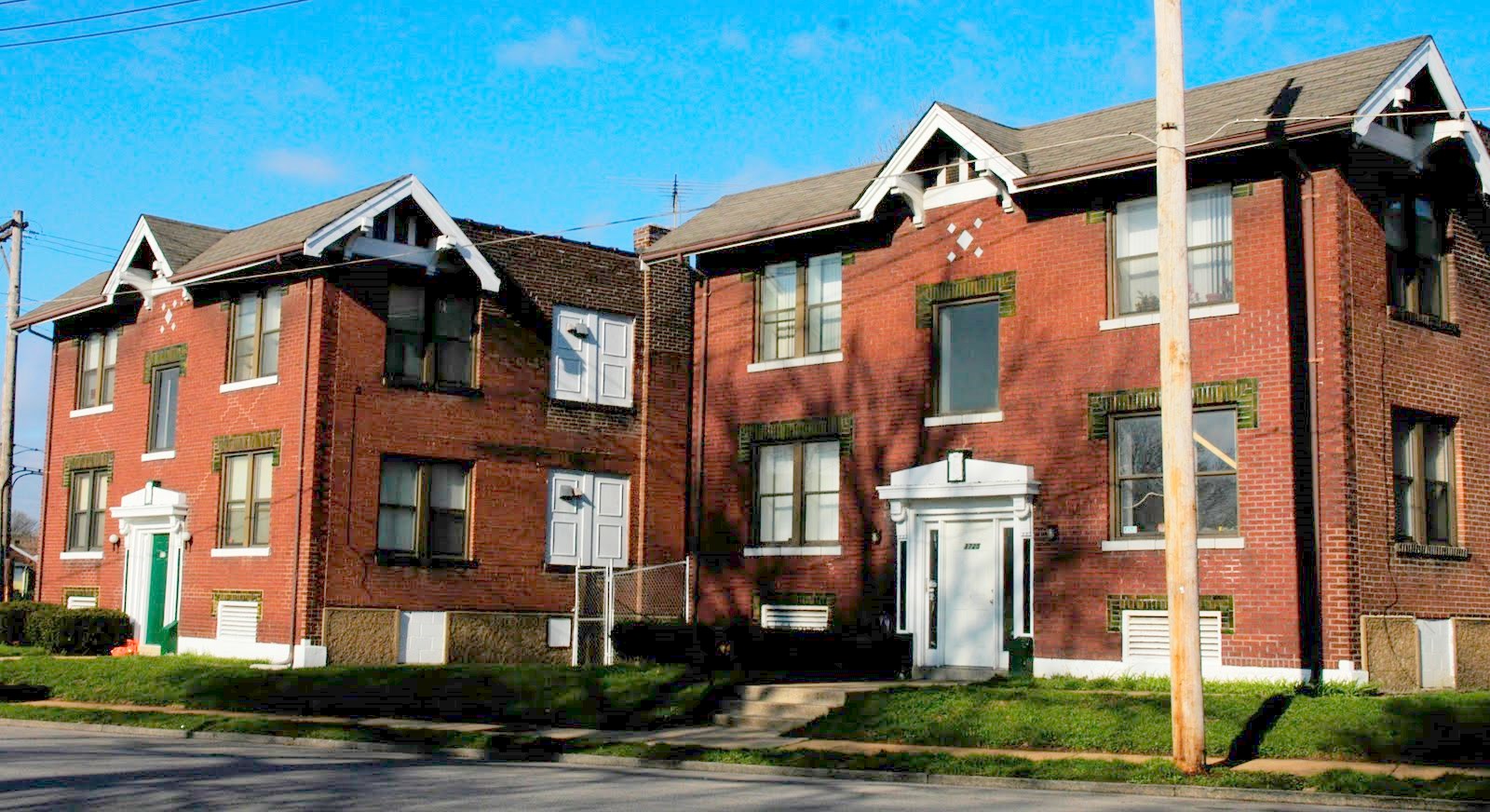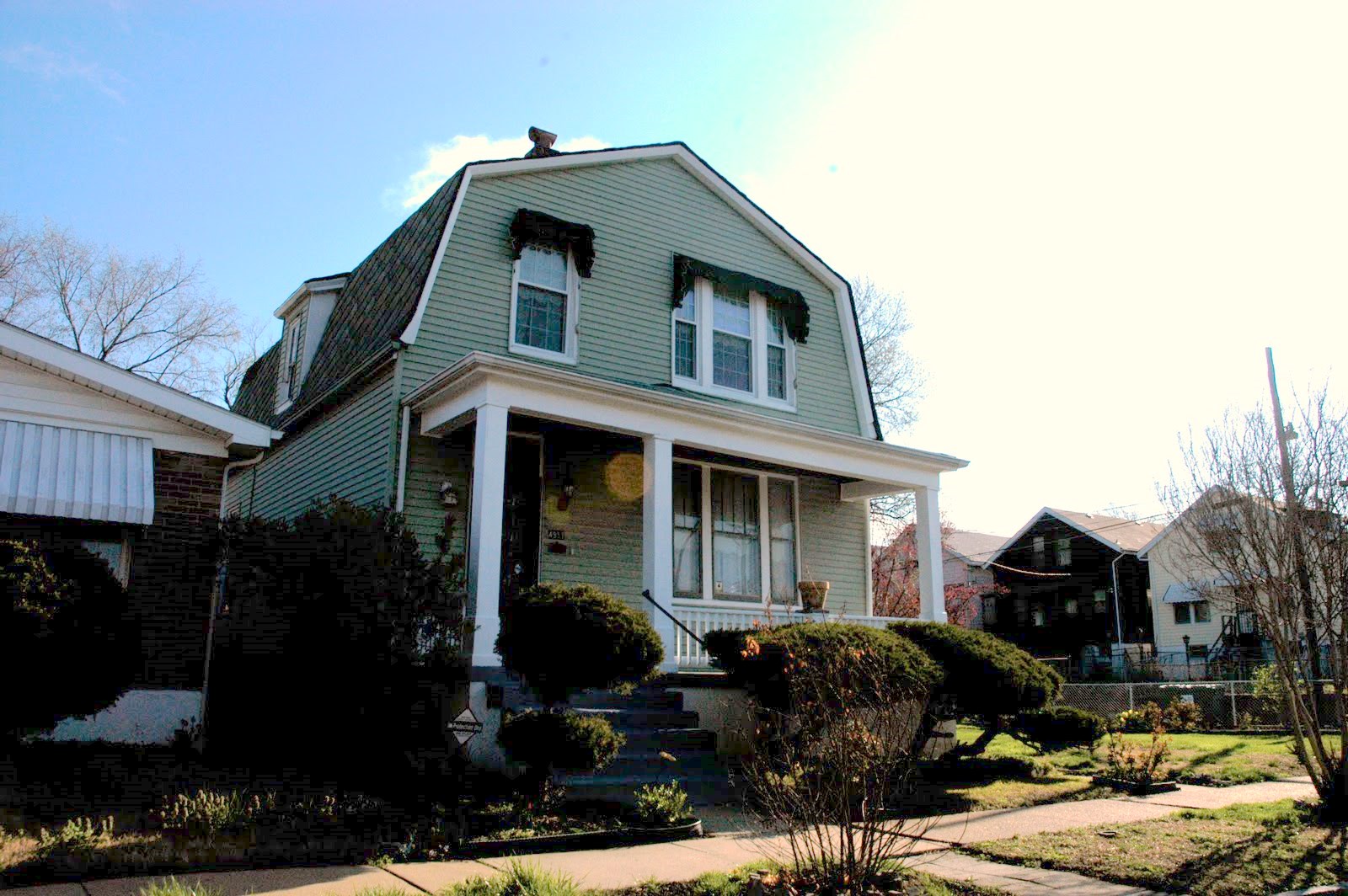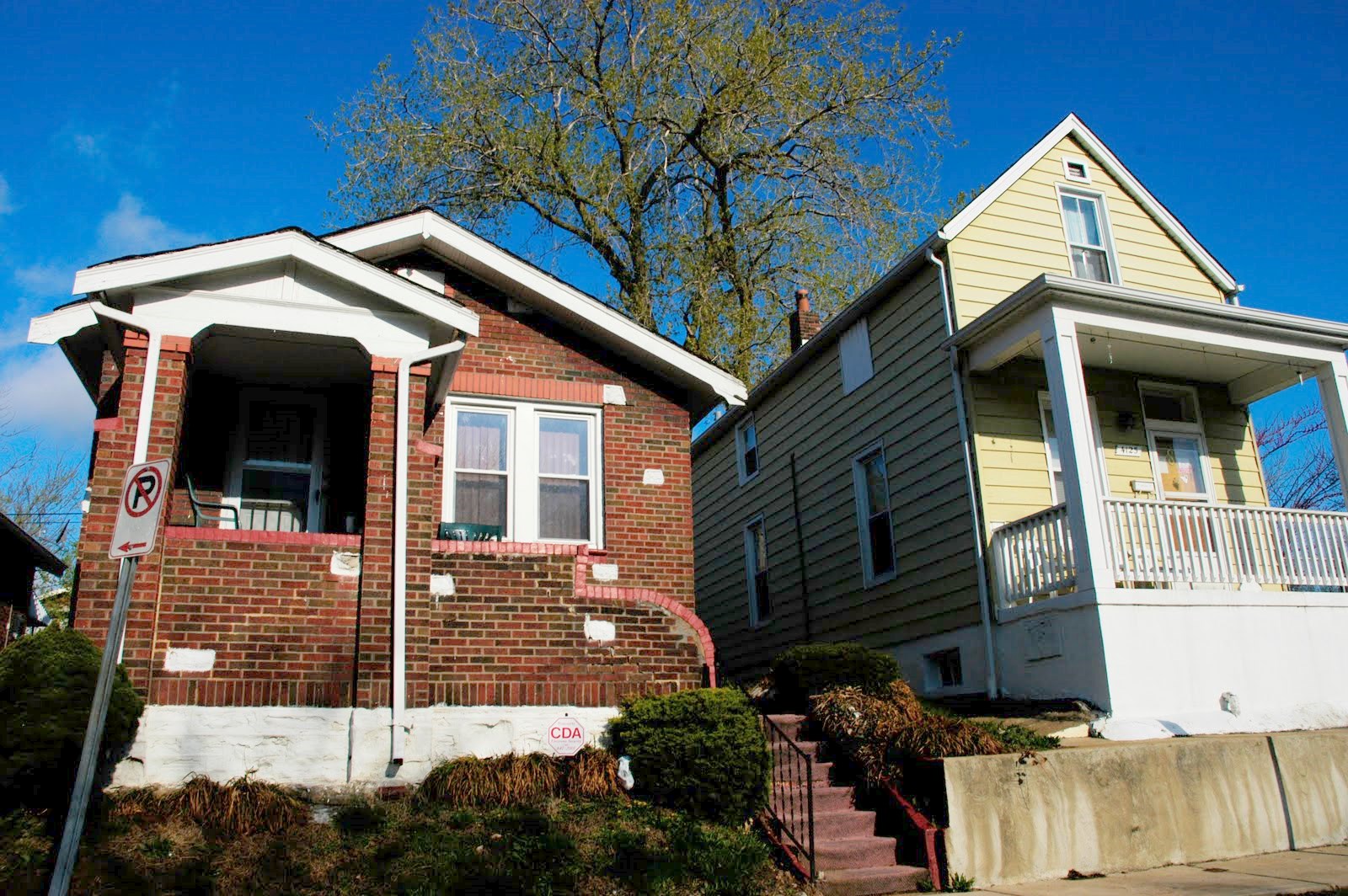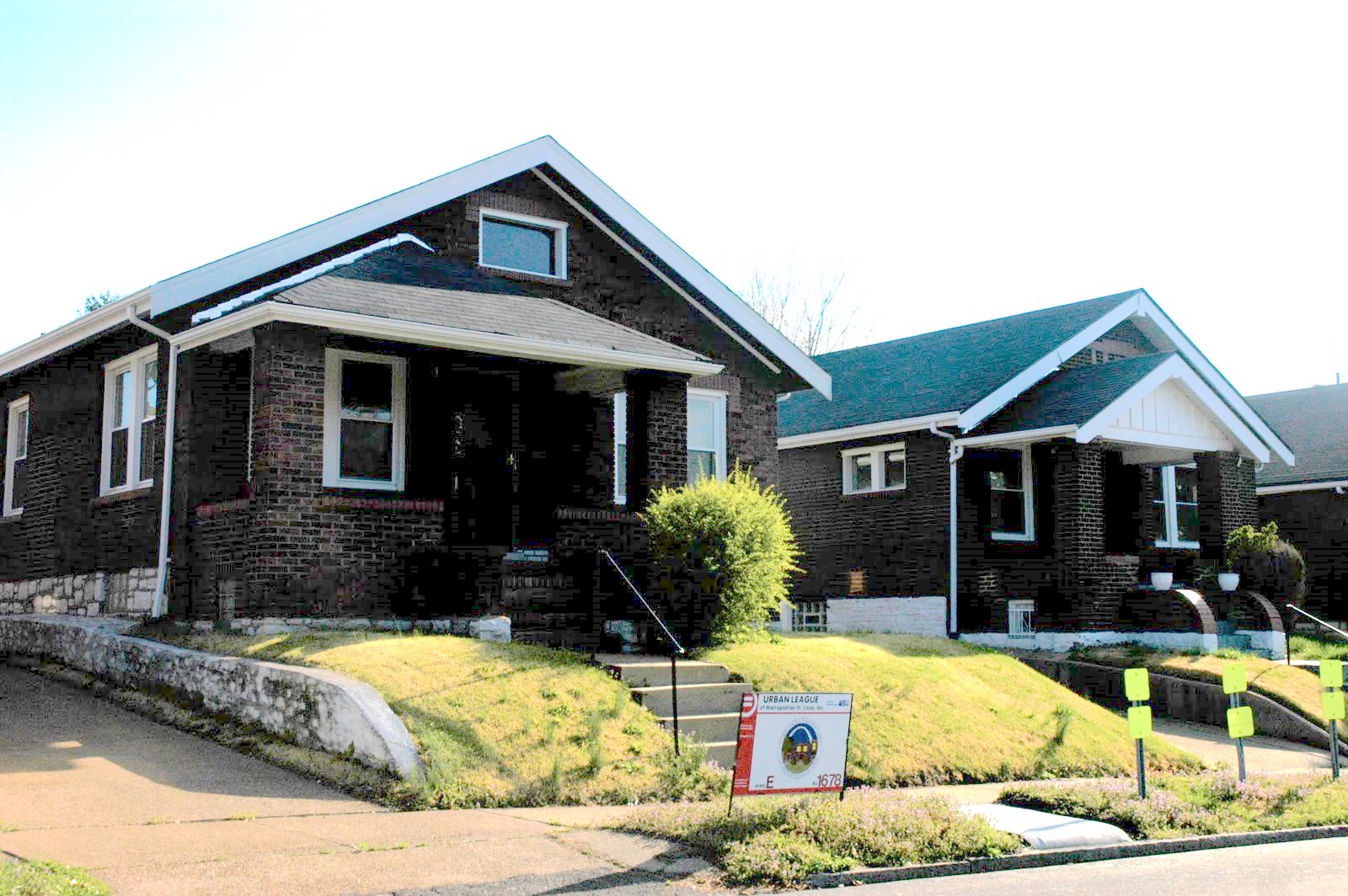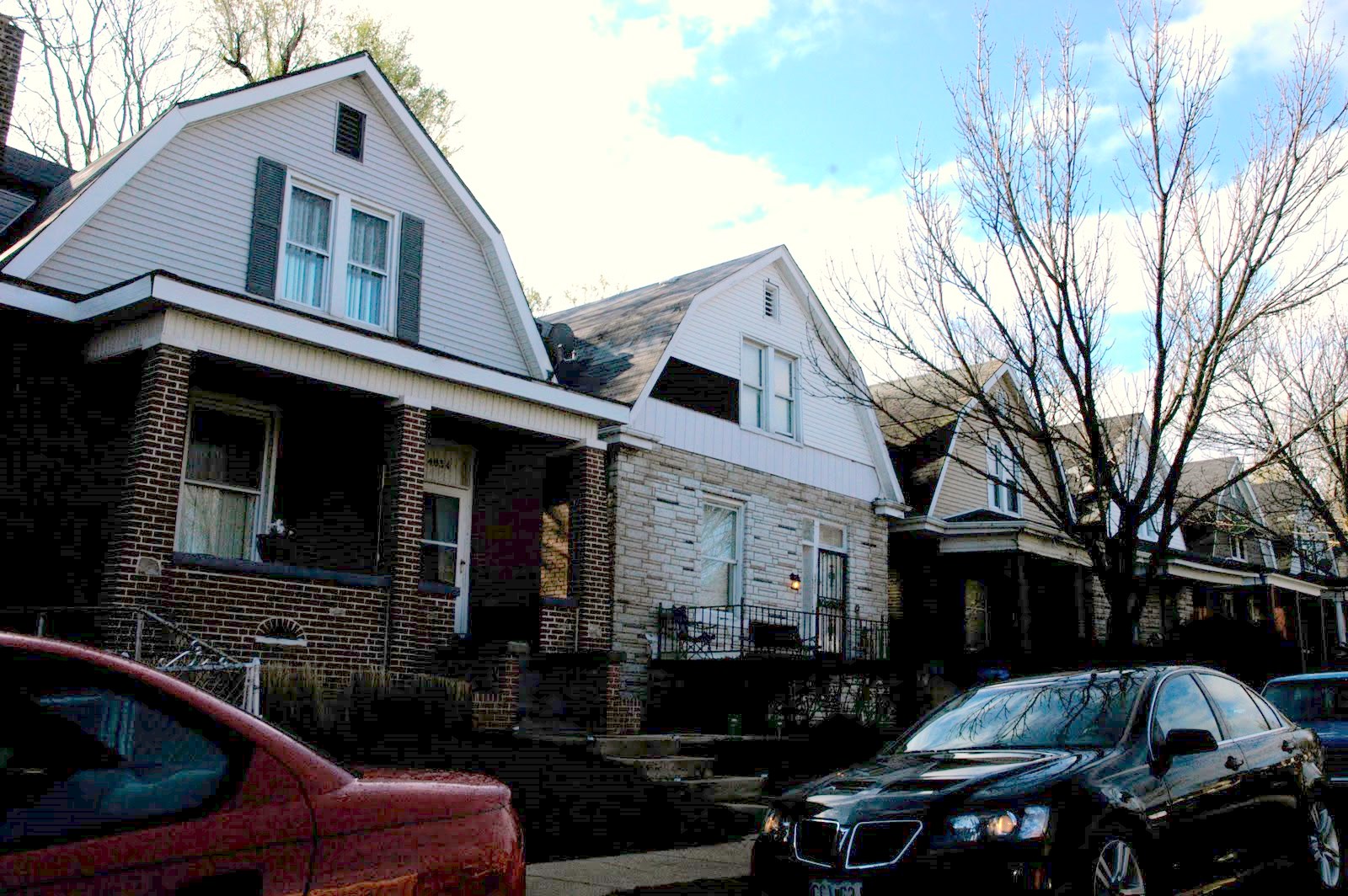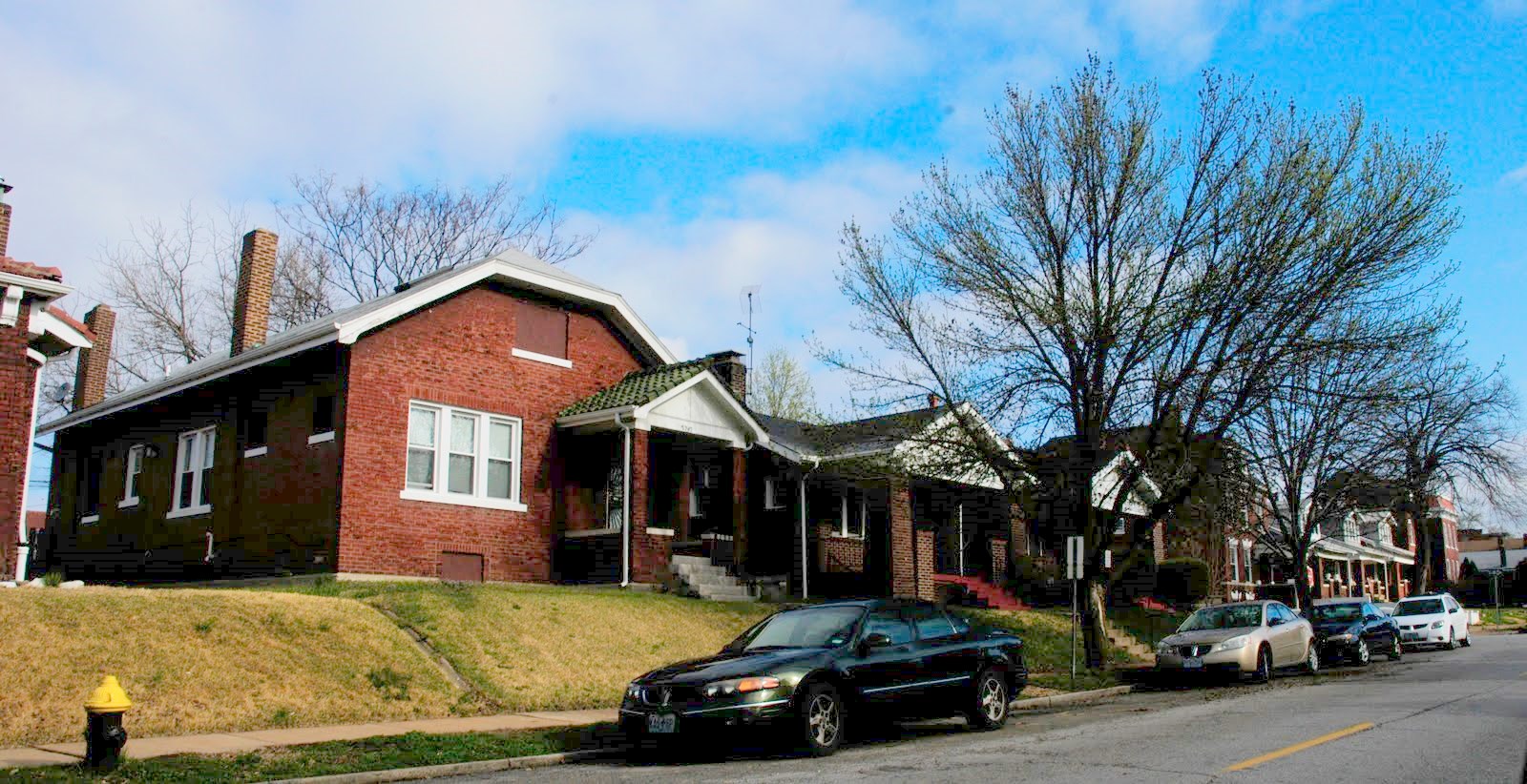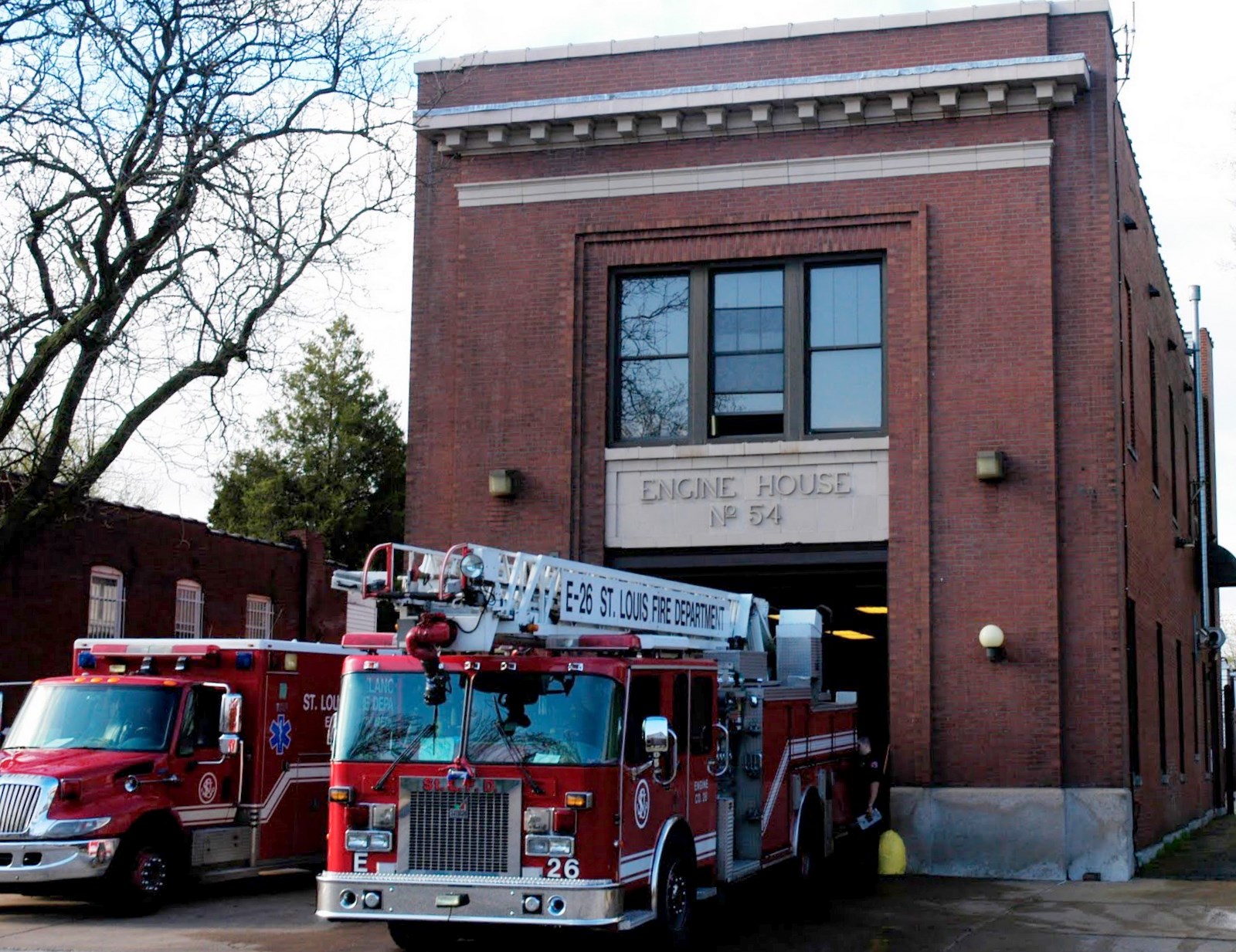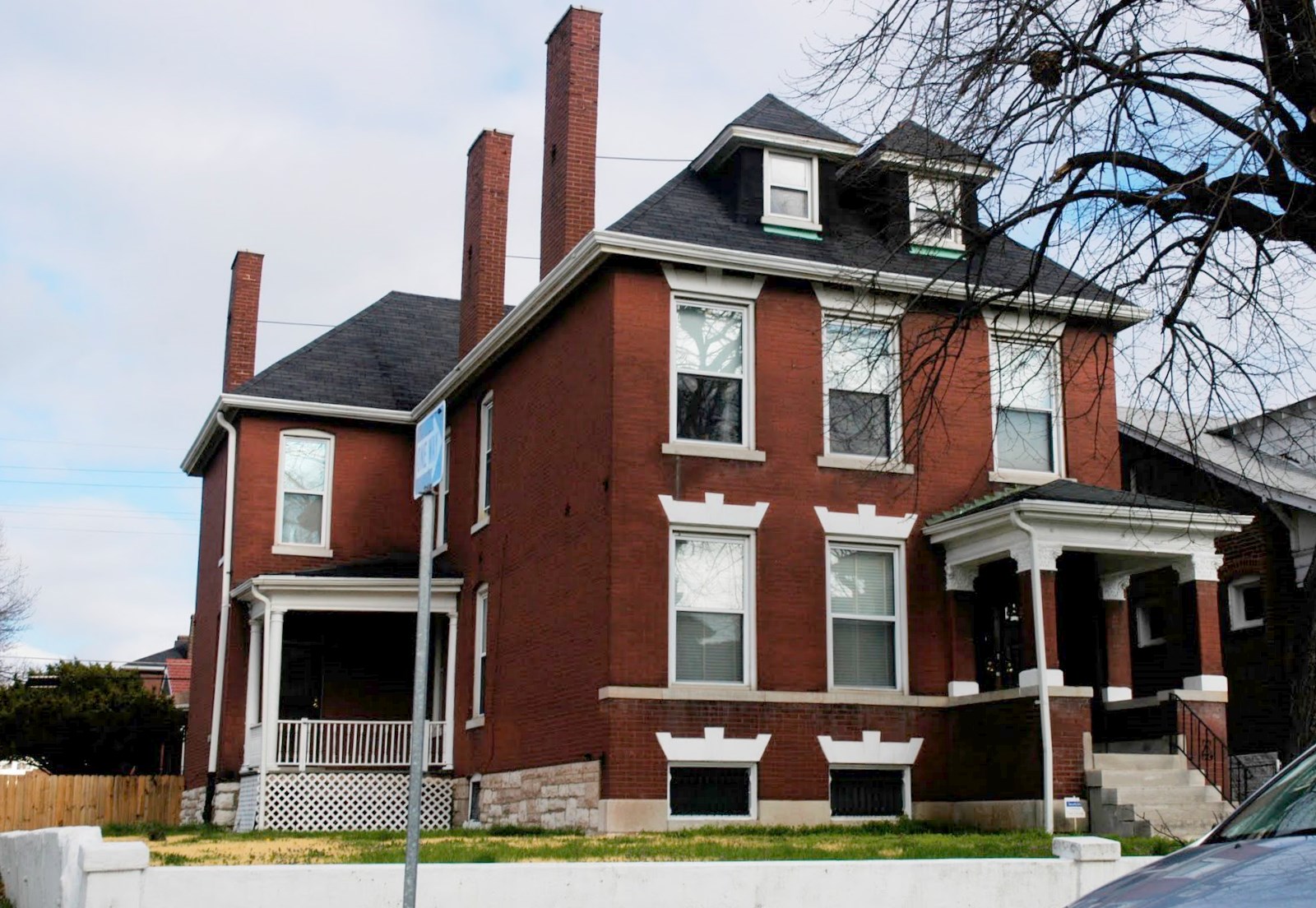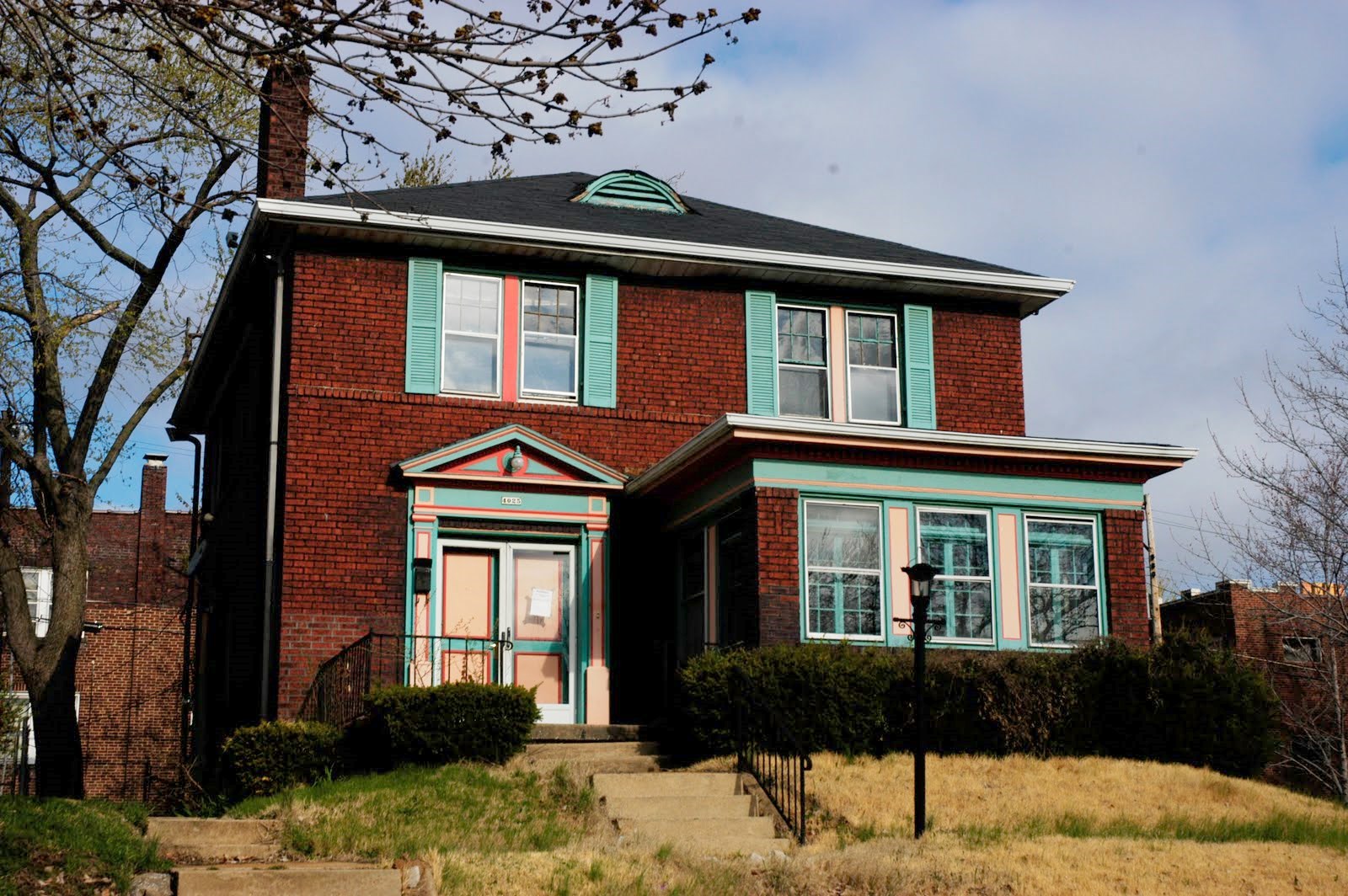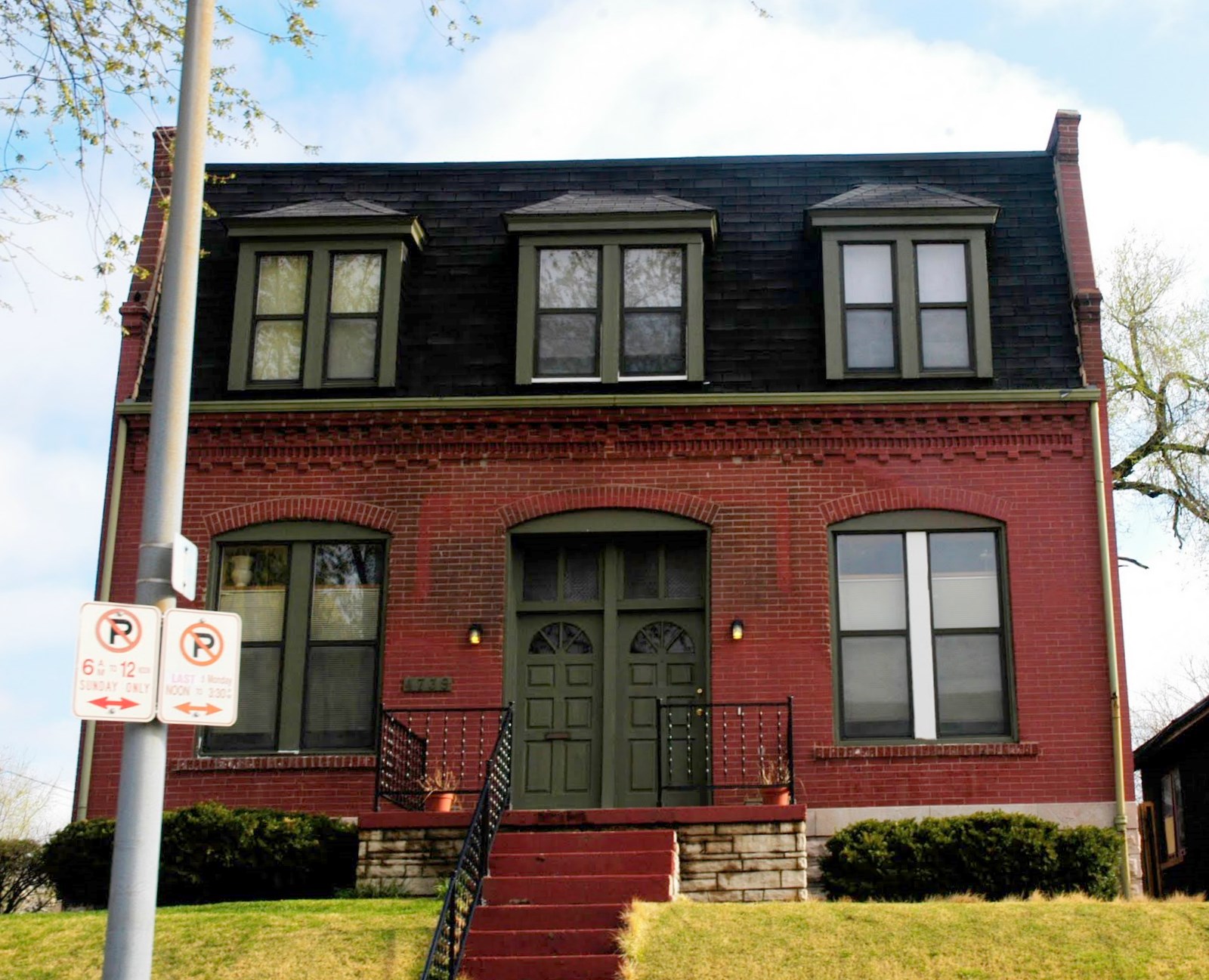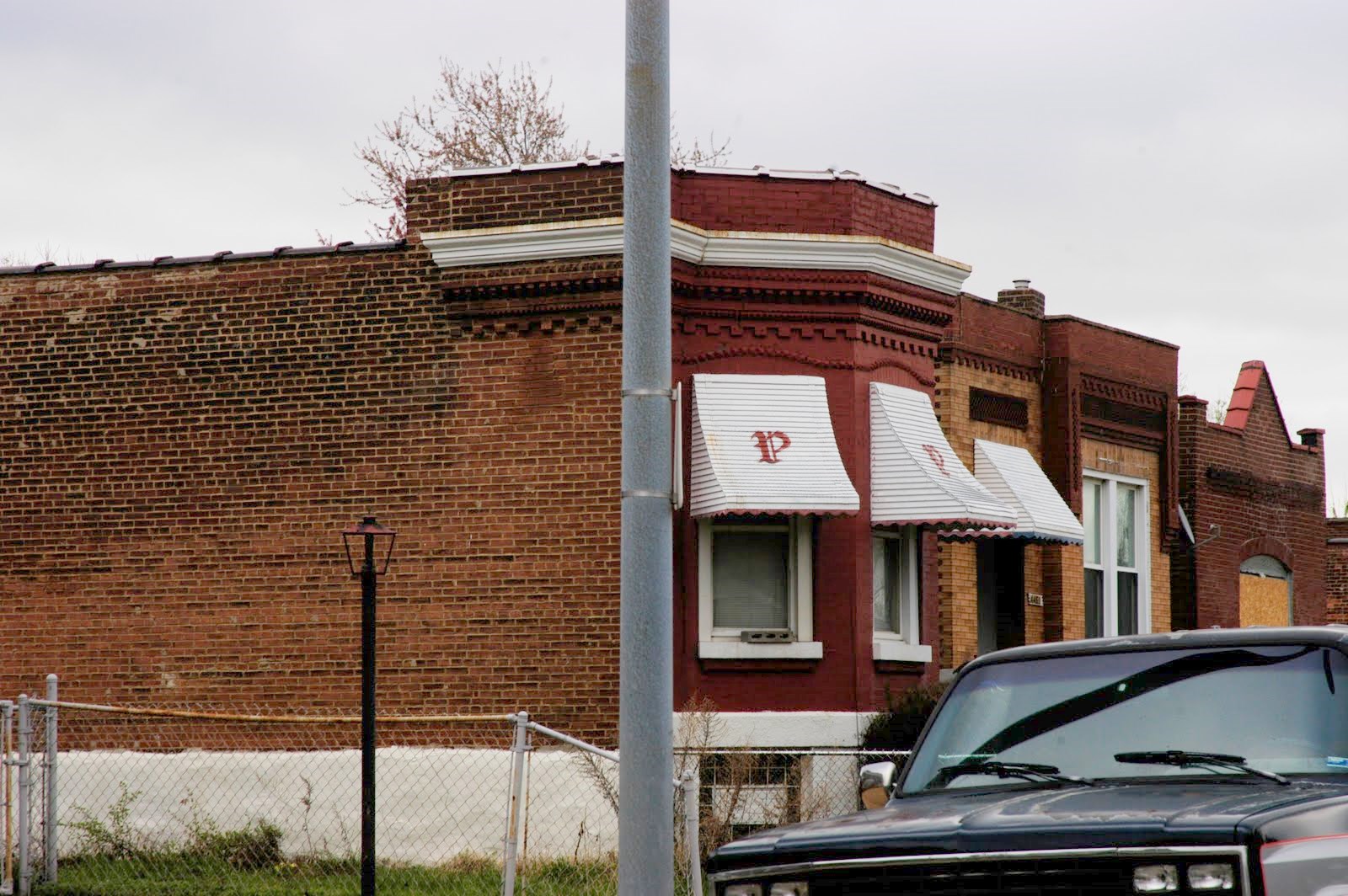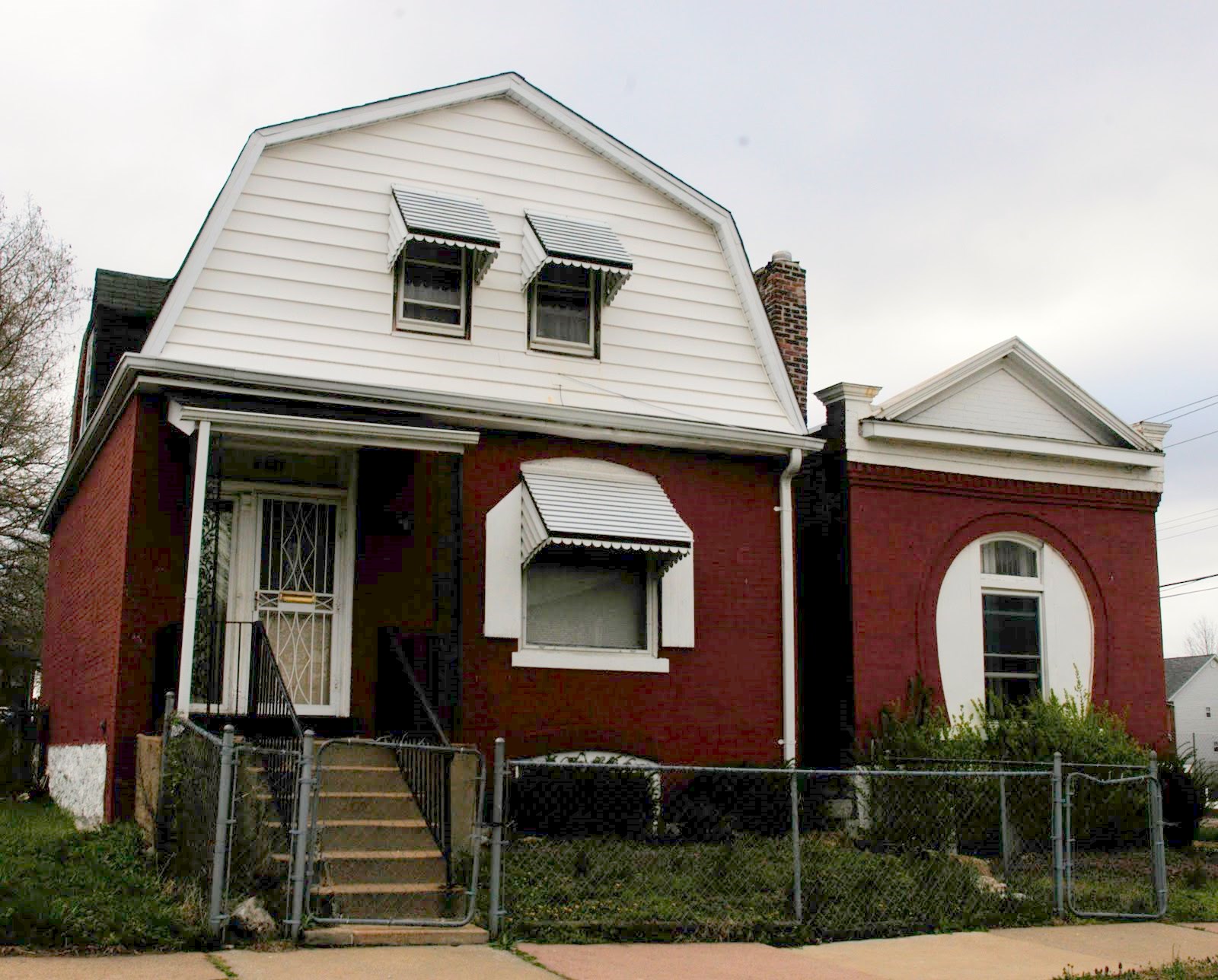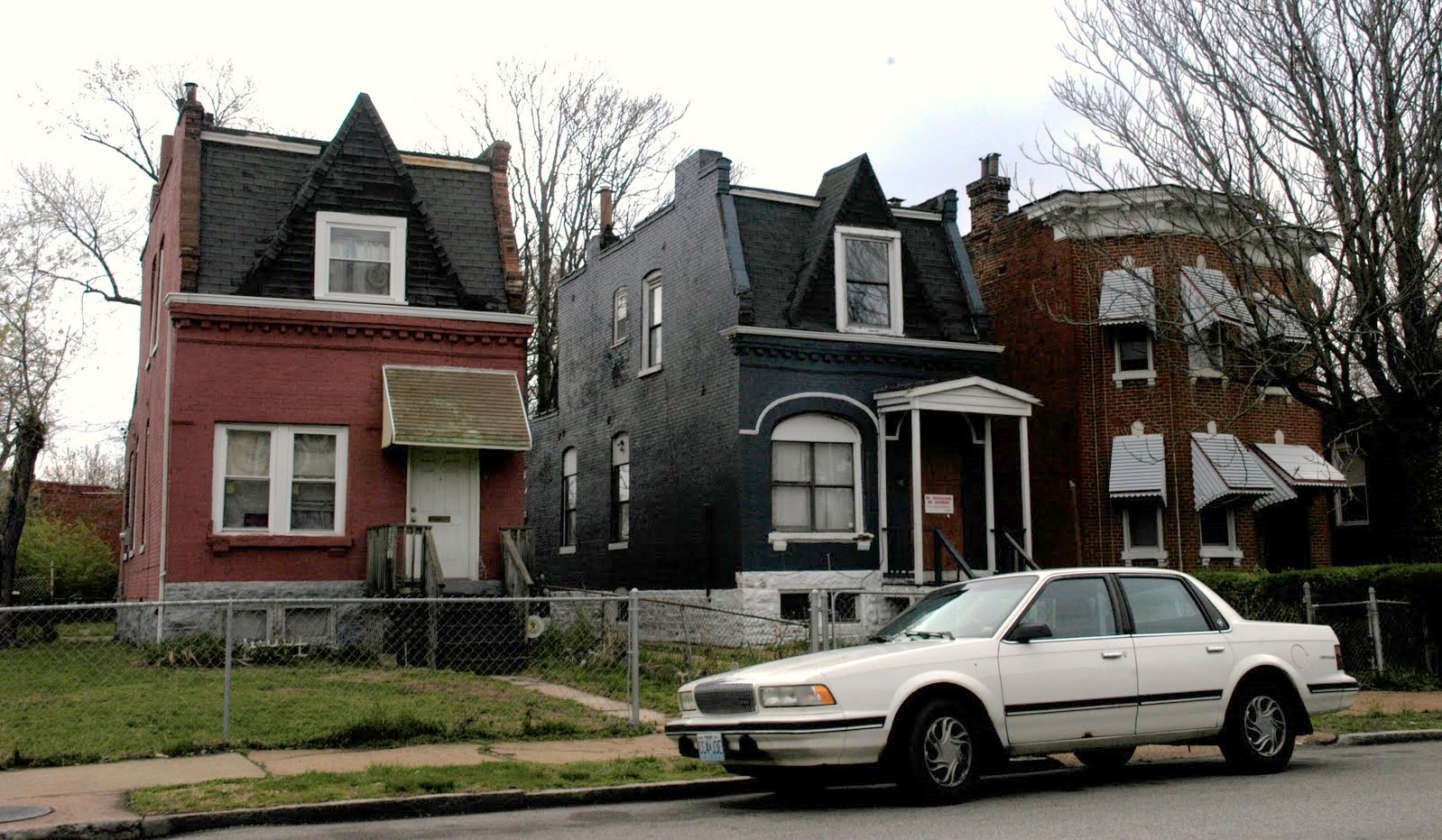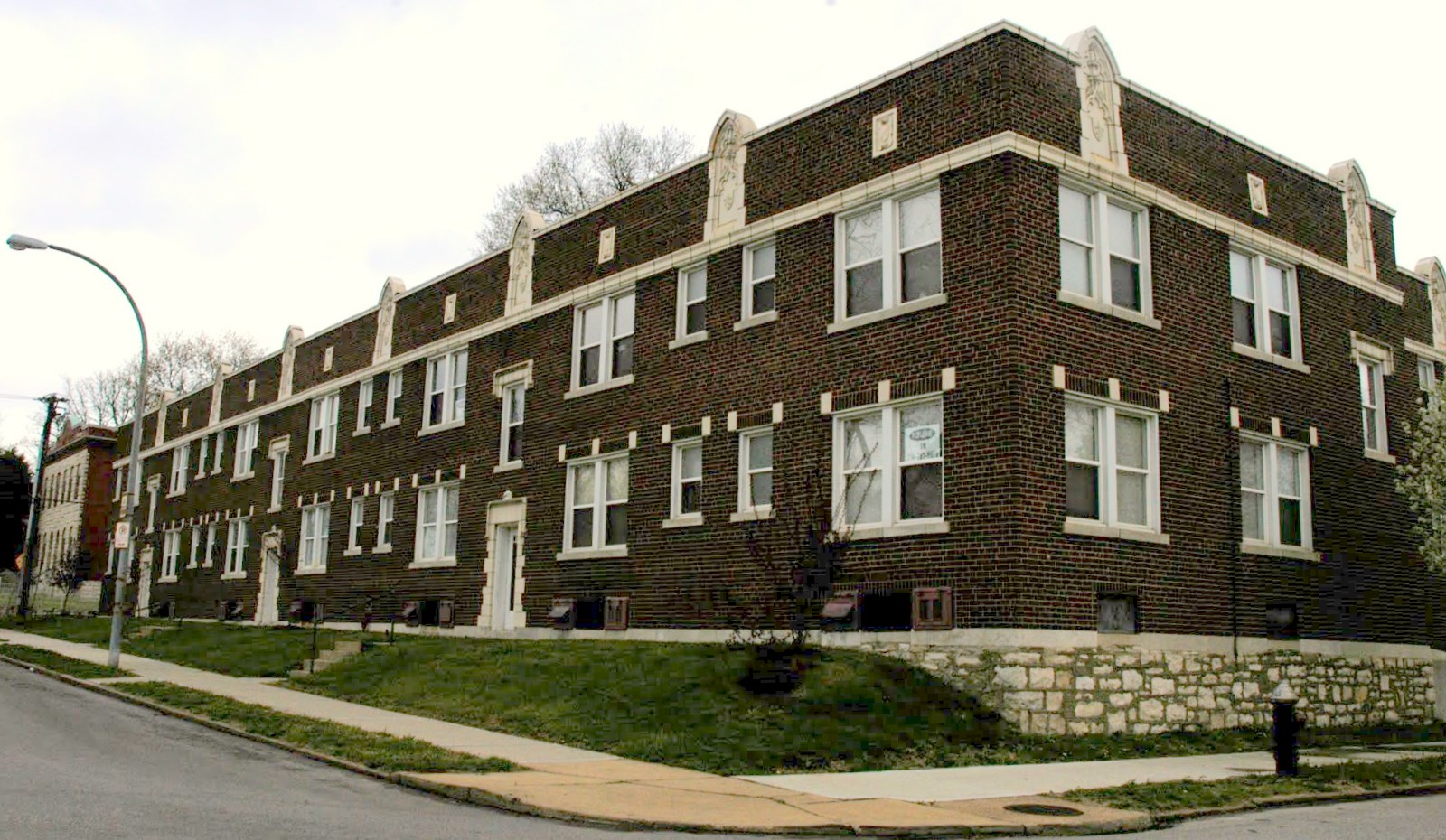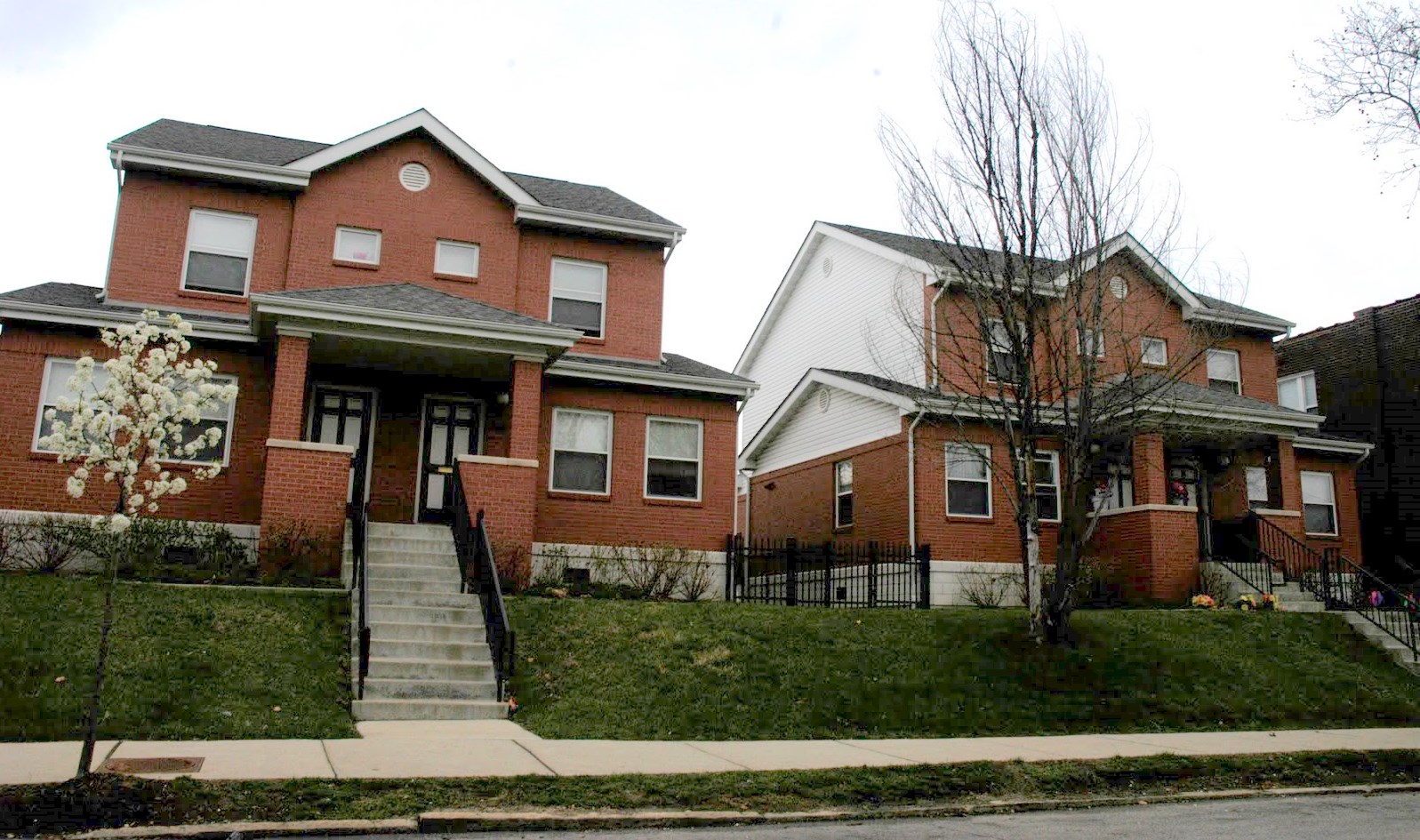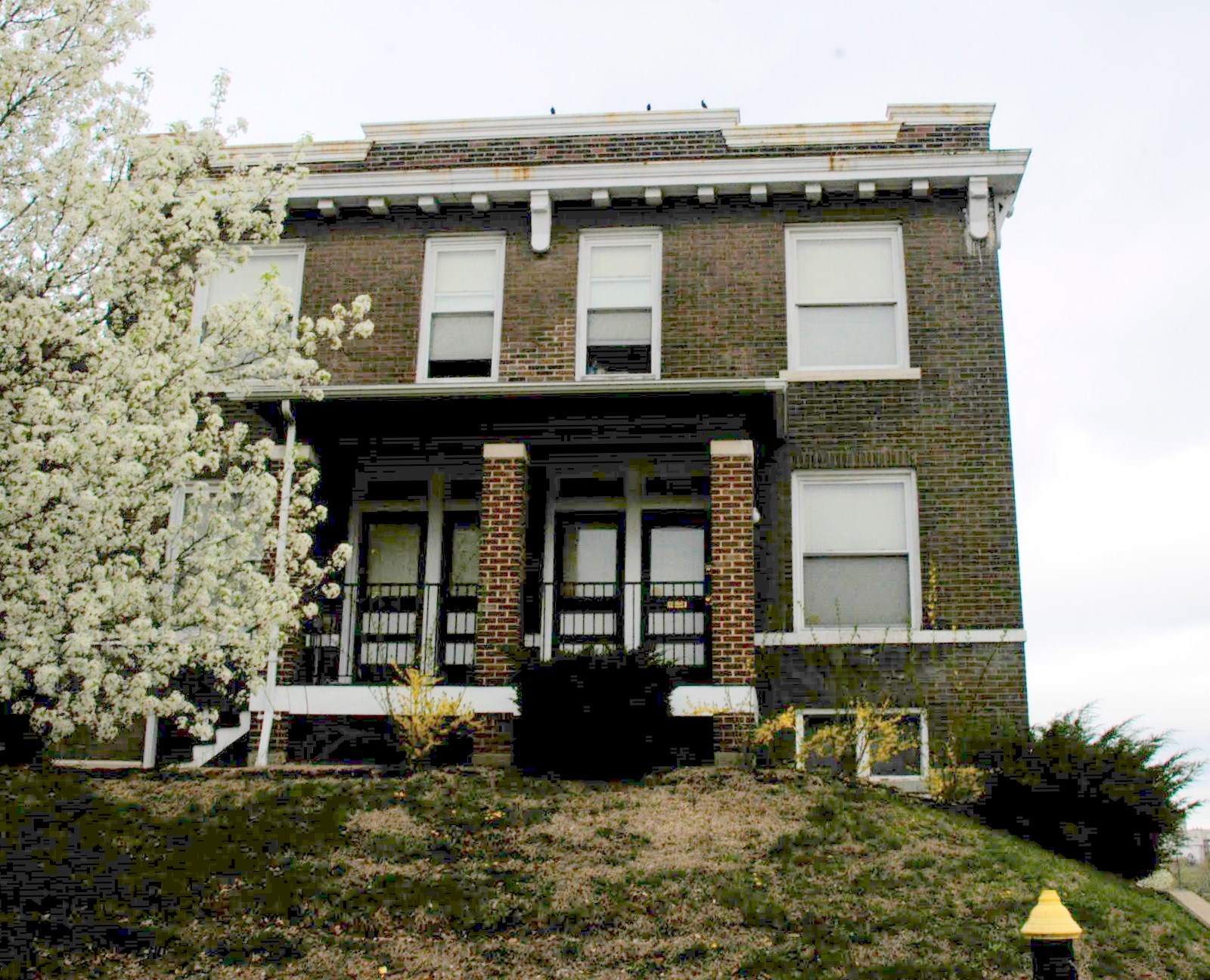 Penrose doesn't really seem to have a centerpiece, or grand street that defines it. Penrose park is right by the Interstate and is on the far north west outlaying corner of the neighborhood. If anything is the centerpiece of the neighborhood it would be Mac's Meat and Produce and the other tidy retail storefronts along Shreve near I-70 in the shadow of the St. Louis Catholic Academy: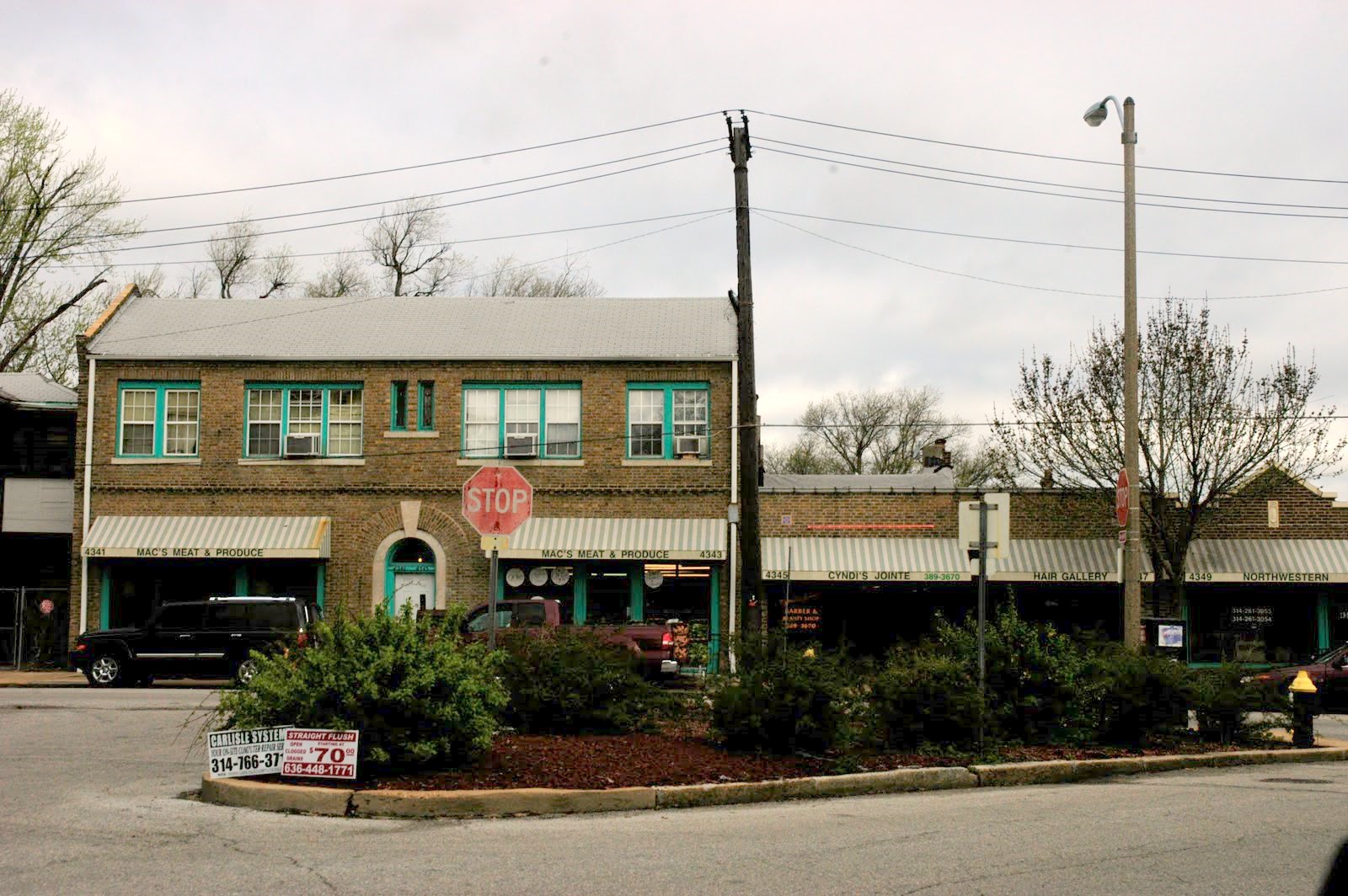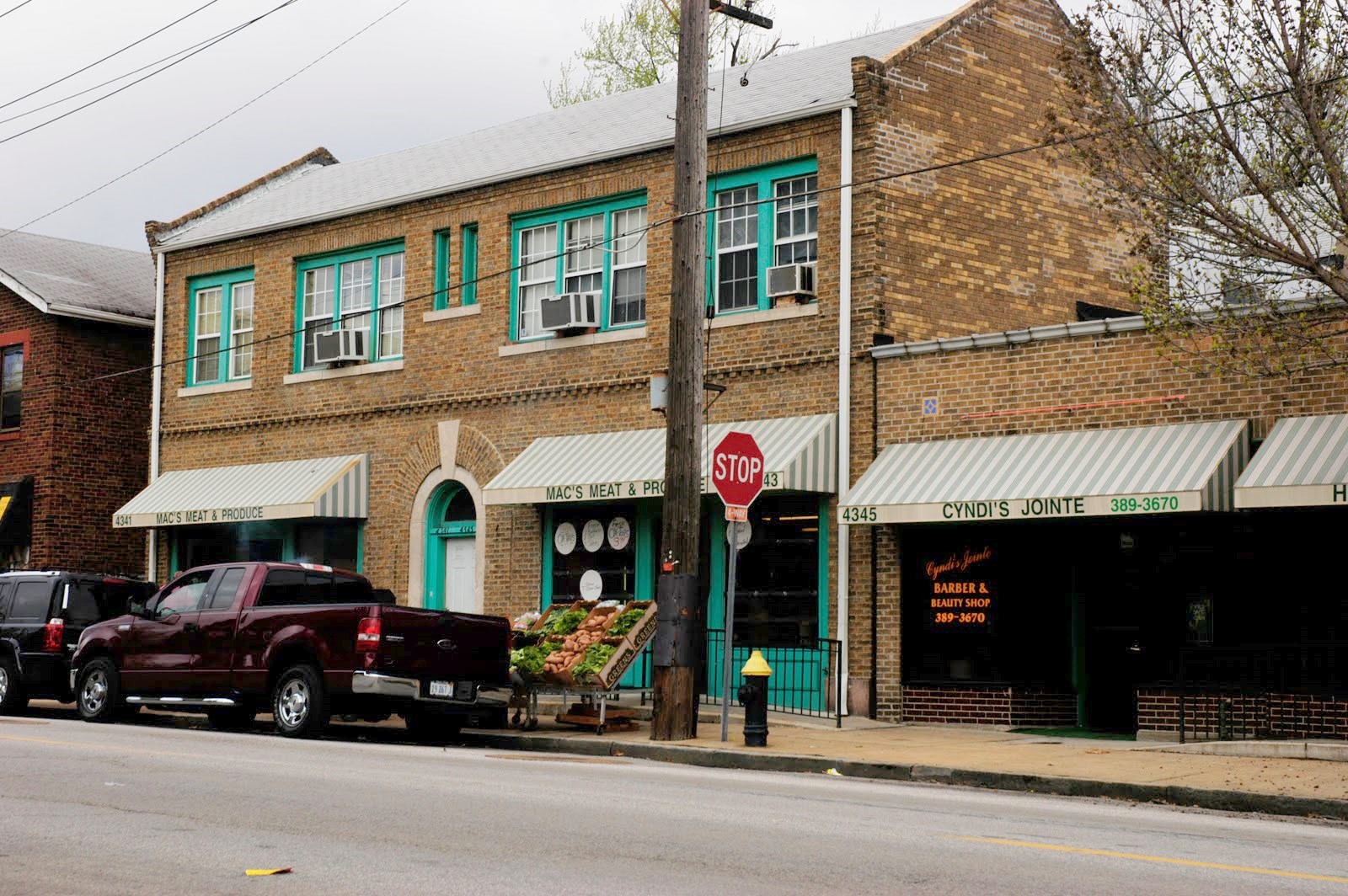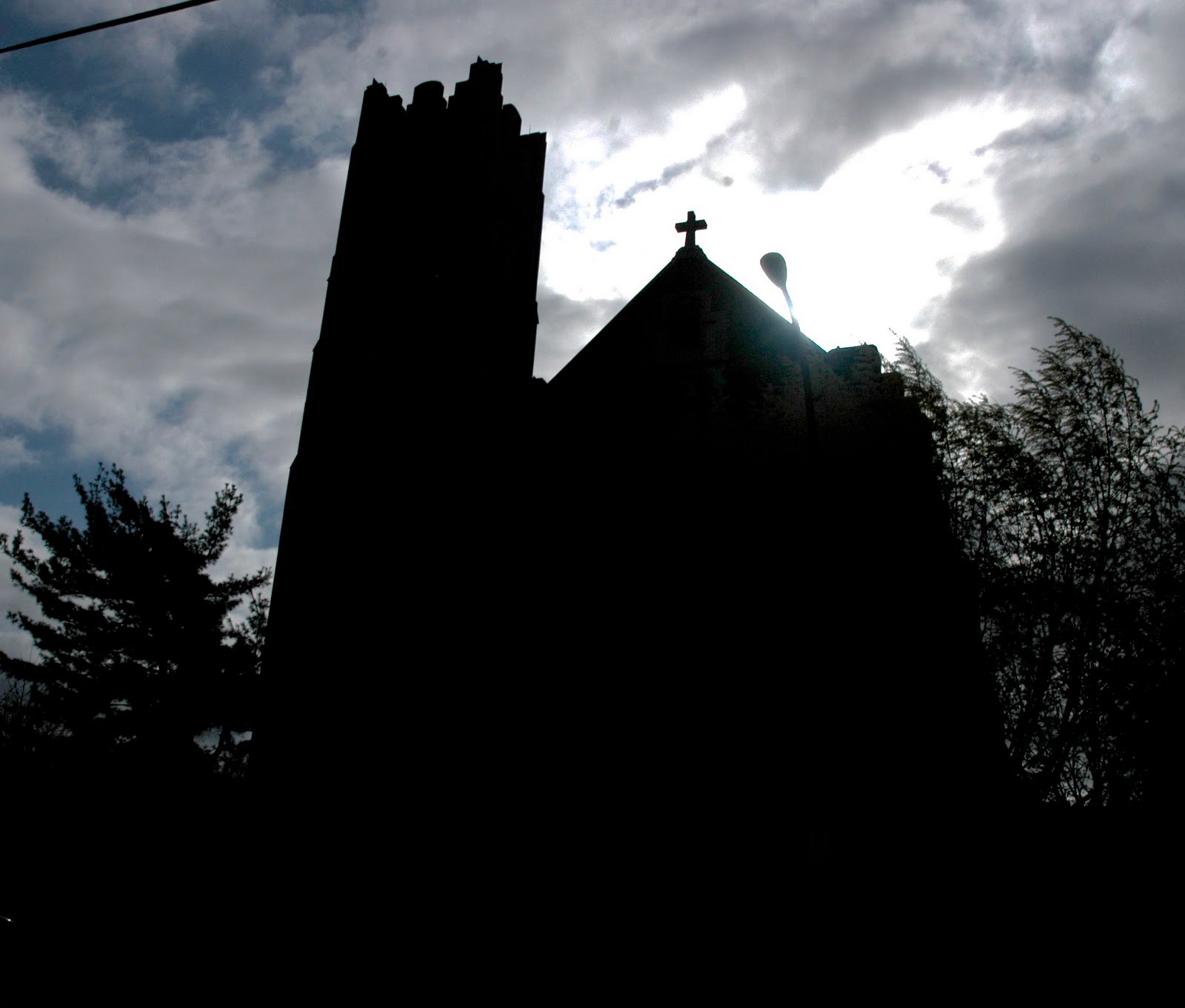 I'm a sucker for fresh produce being presented/sold on the street, and BBQ'd meats smoking at 8:30 in the morning.
Some cool old signs: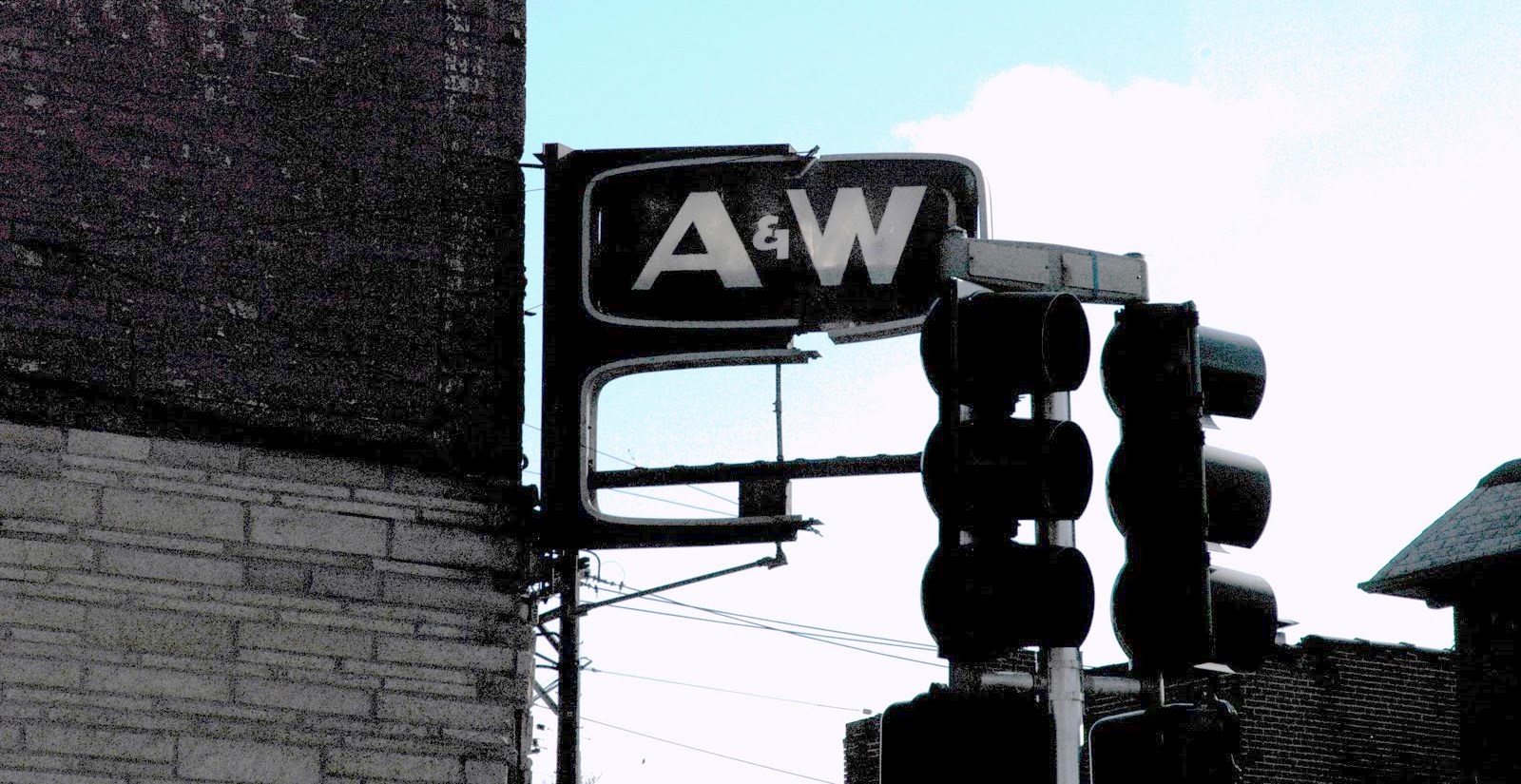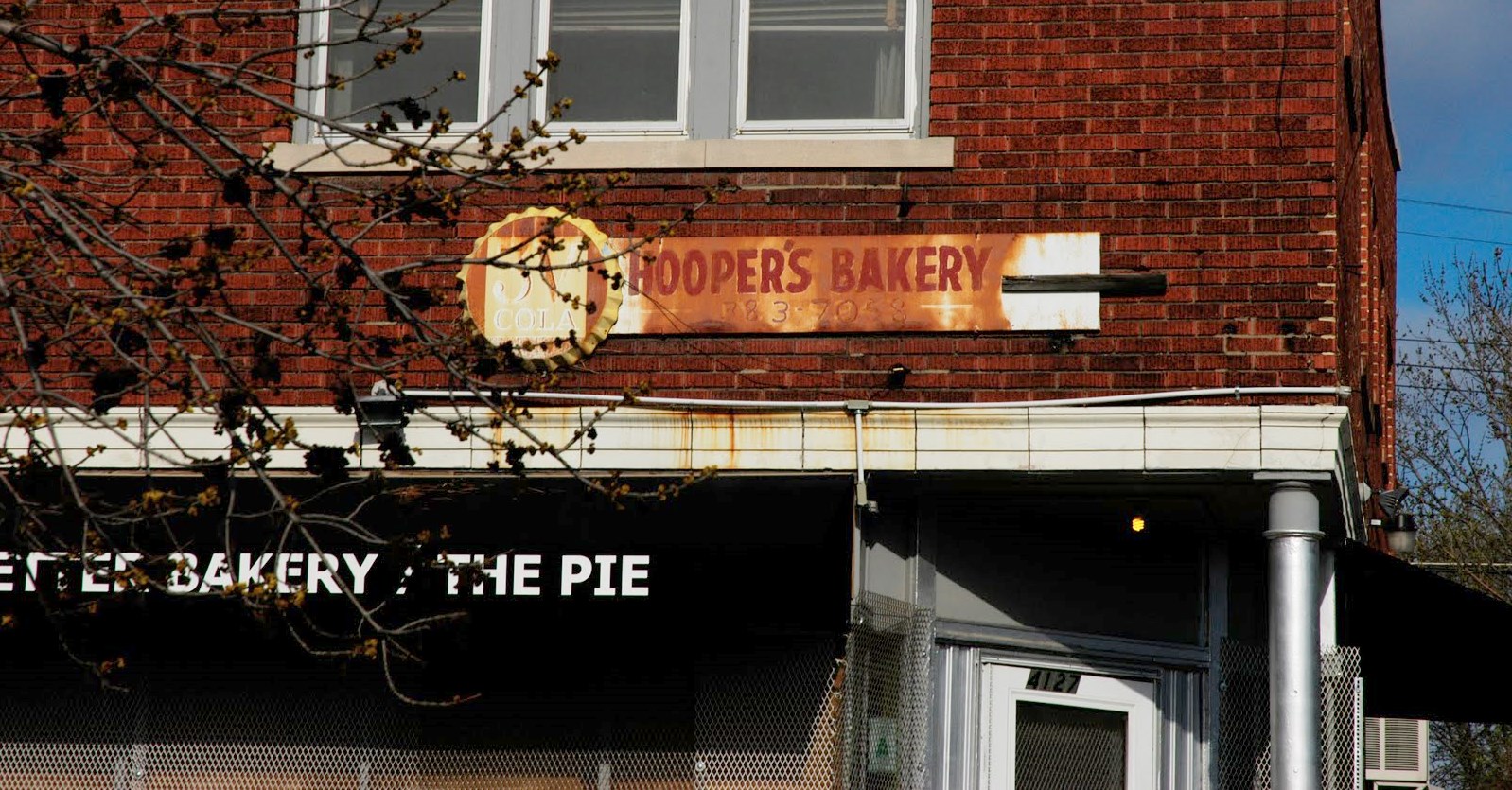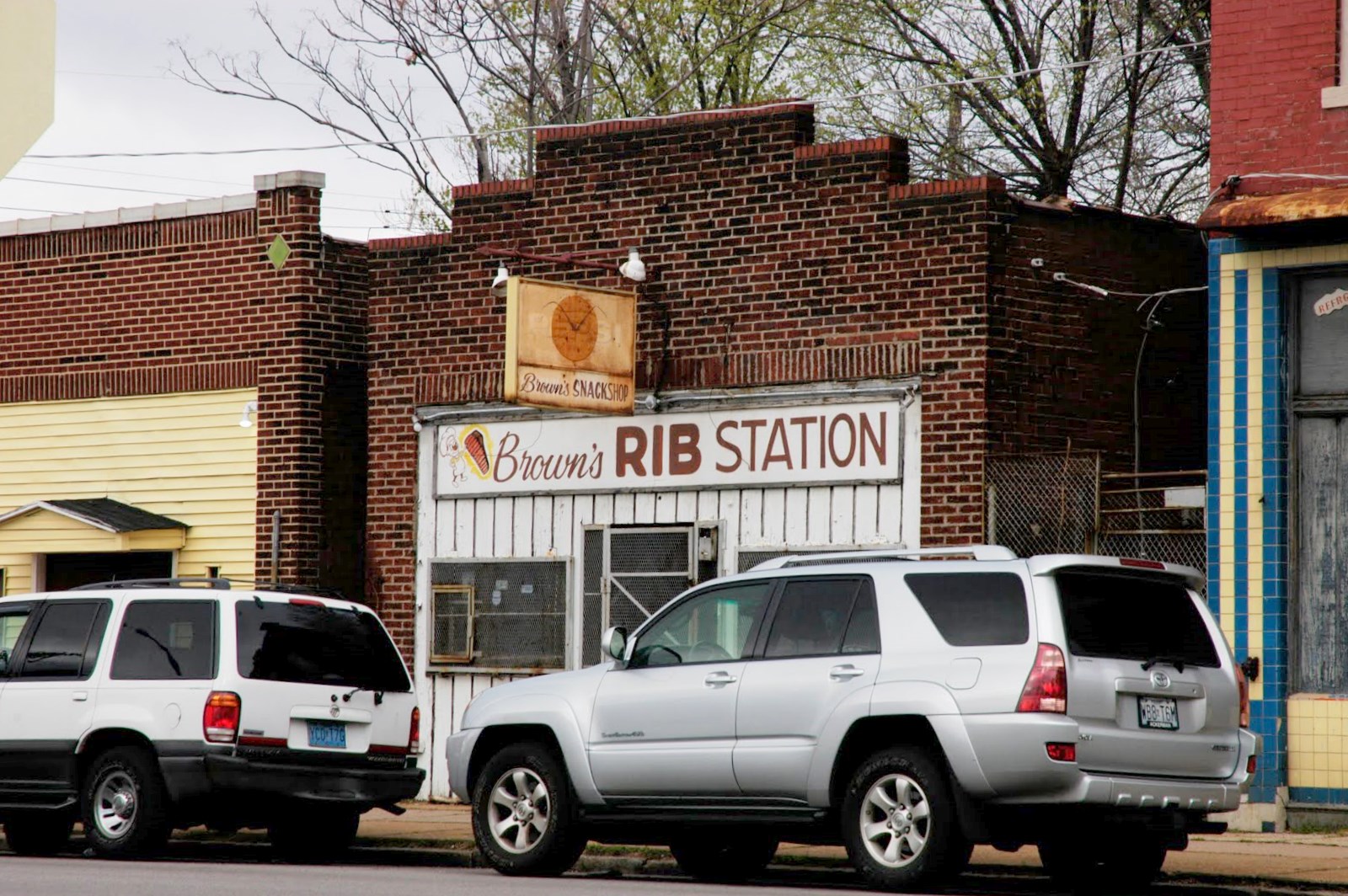 Some signs of new life along Newstead: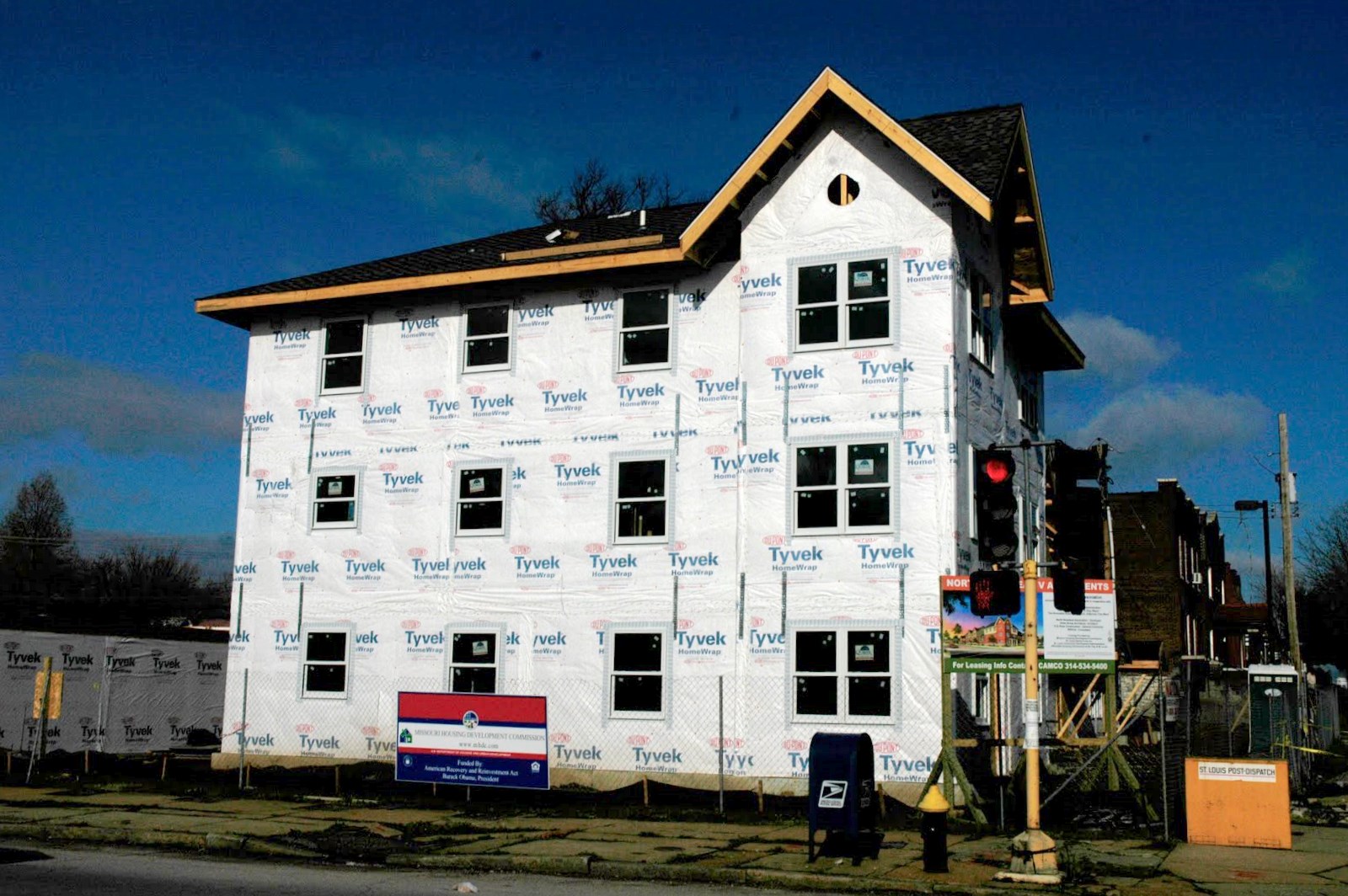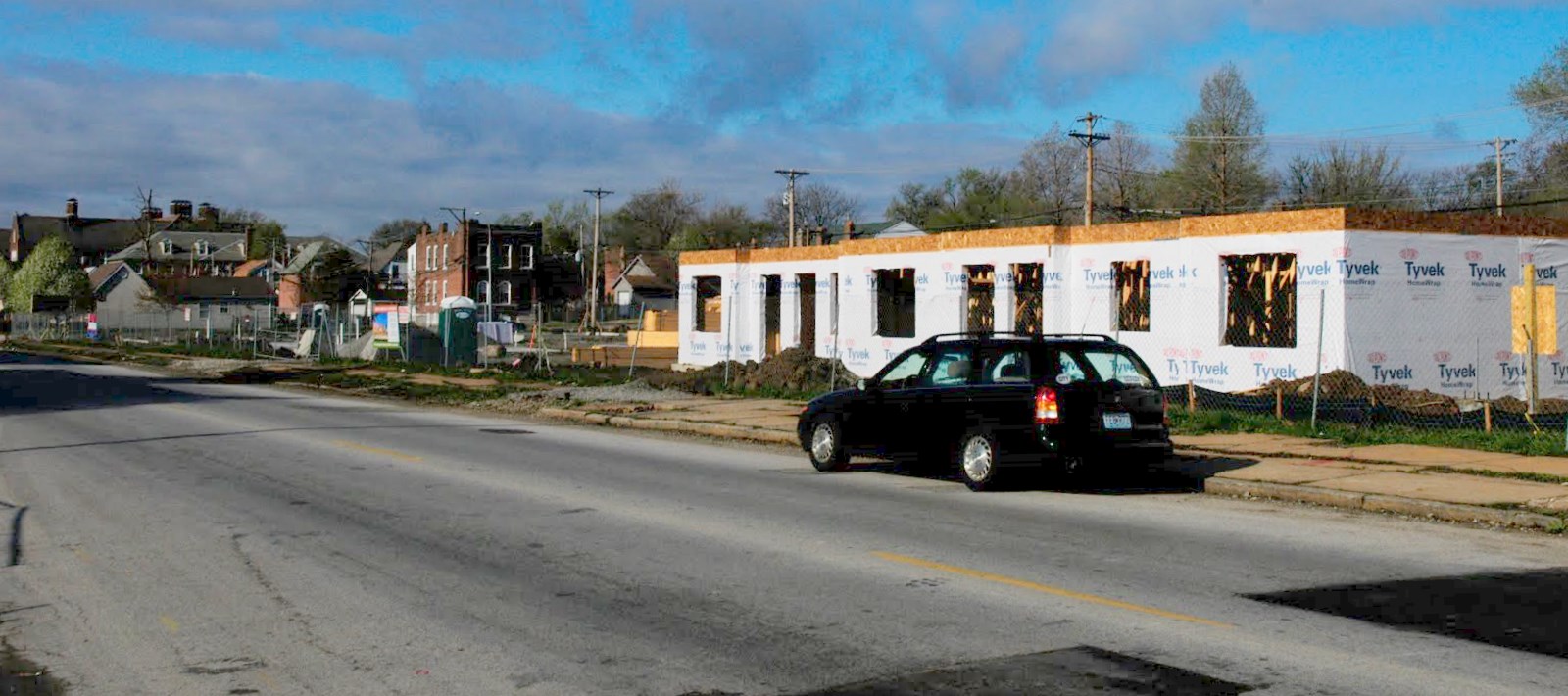 The North Newstead Apartments run the length of Newstead between Lee and Kossuth.
The neighborhood takes a strange suburban turn around Newstead and Taylor where there are some contemporary mistakes that don't fit within the neighborhood. Kings Estates is a good example of what I'm trying to convey: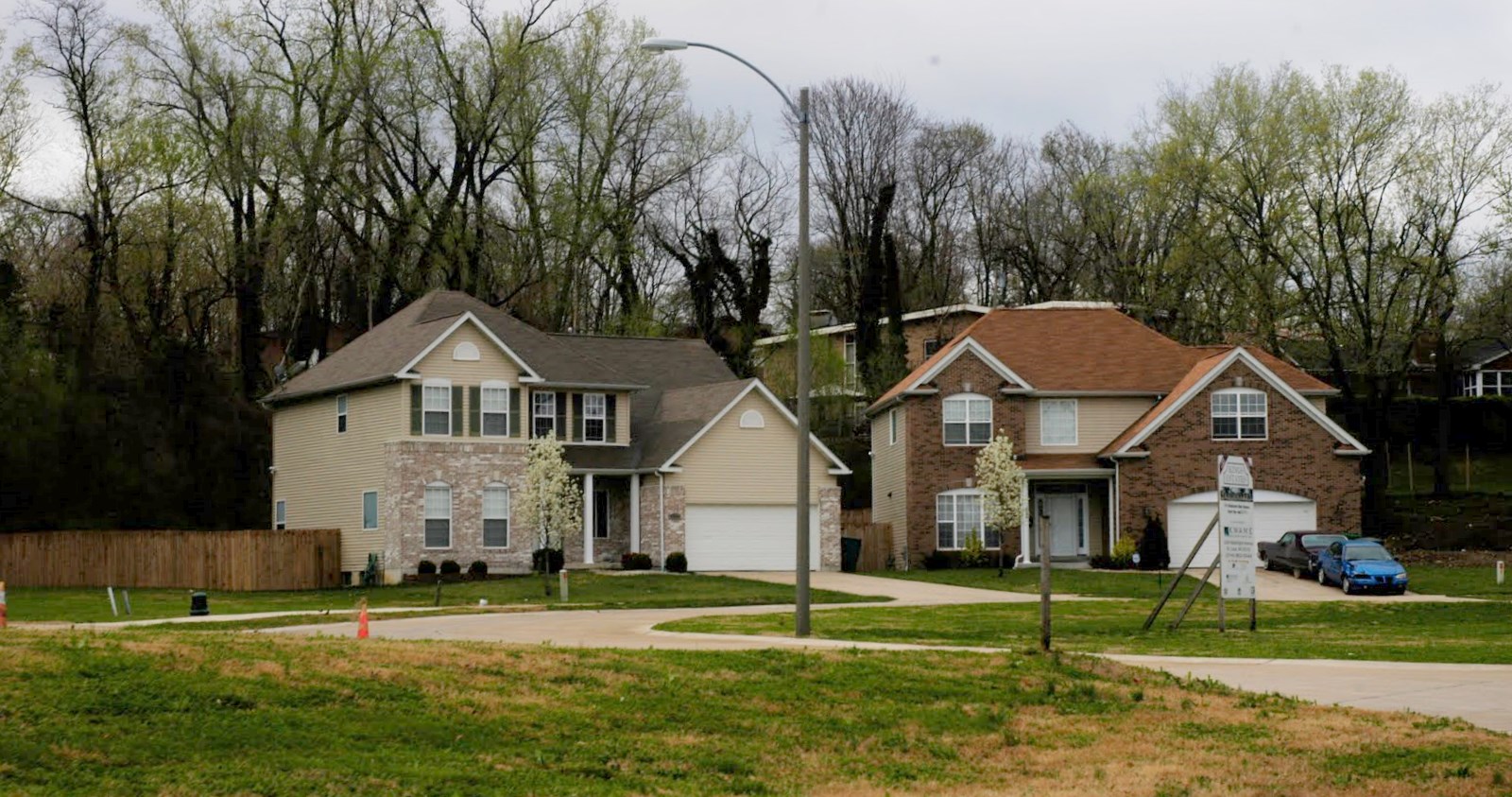 Old, meet new: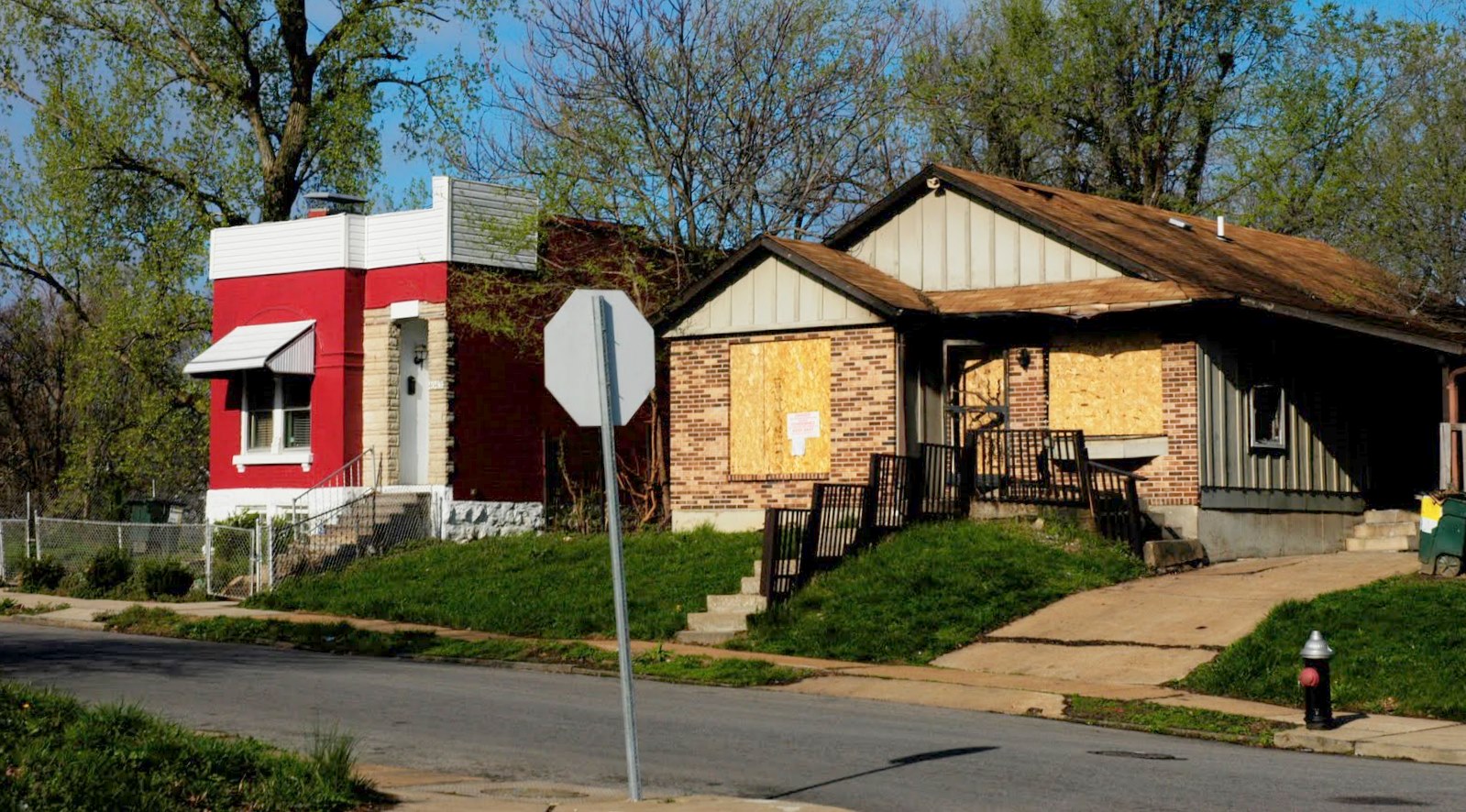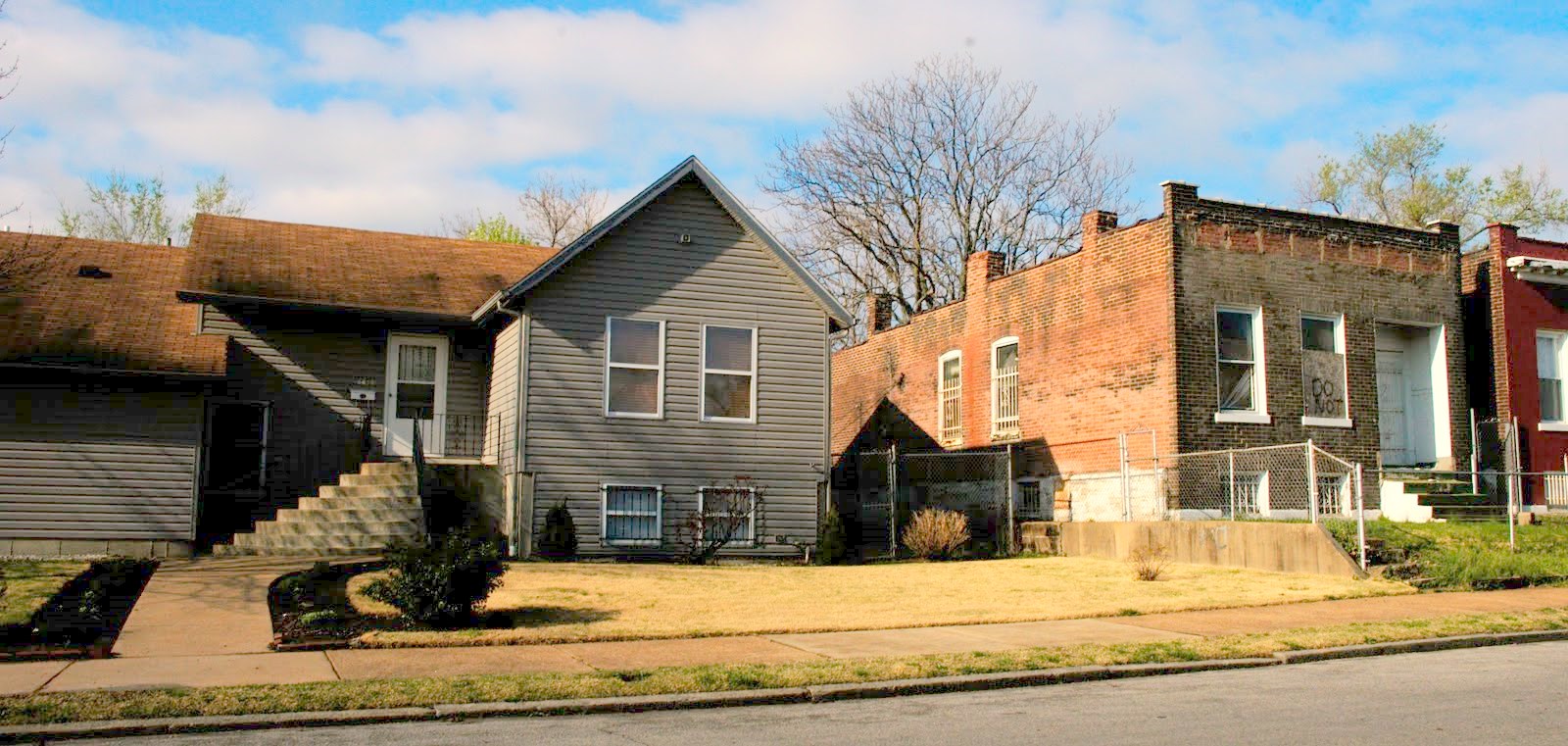 There is also a suburban cul de sac at San Francisco Court that reminds me of Boulevard Heights just south of River Des Peres: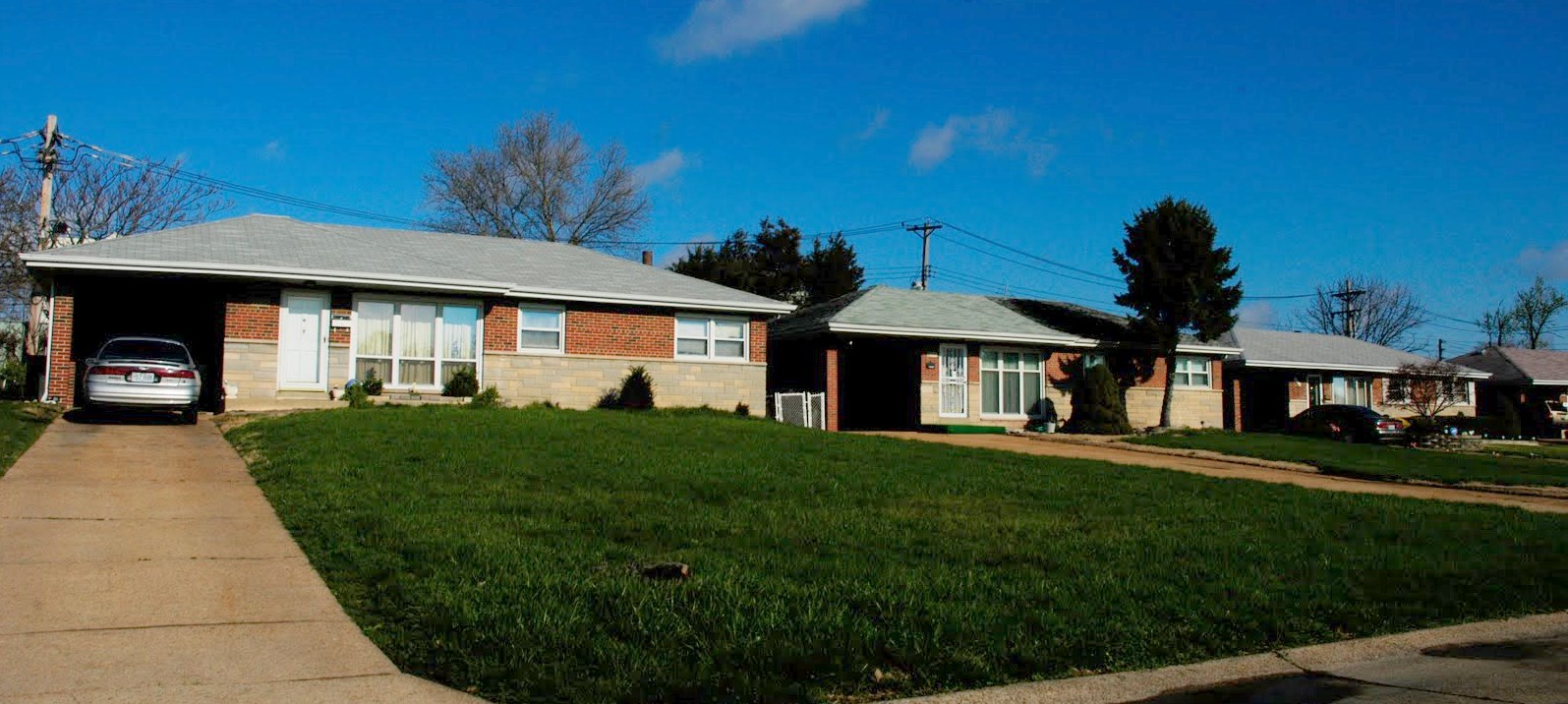 The Prince Hall Family Support Center has a large campus in Penrose: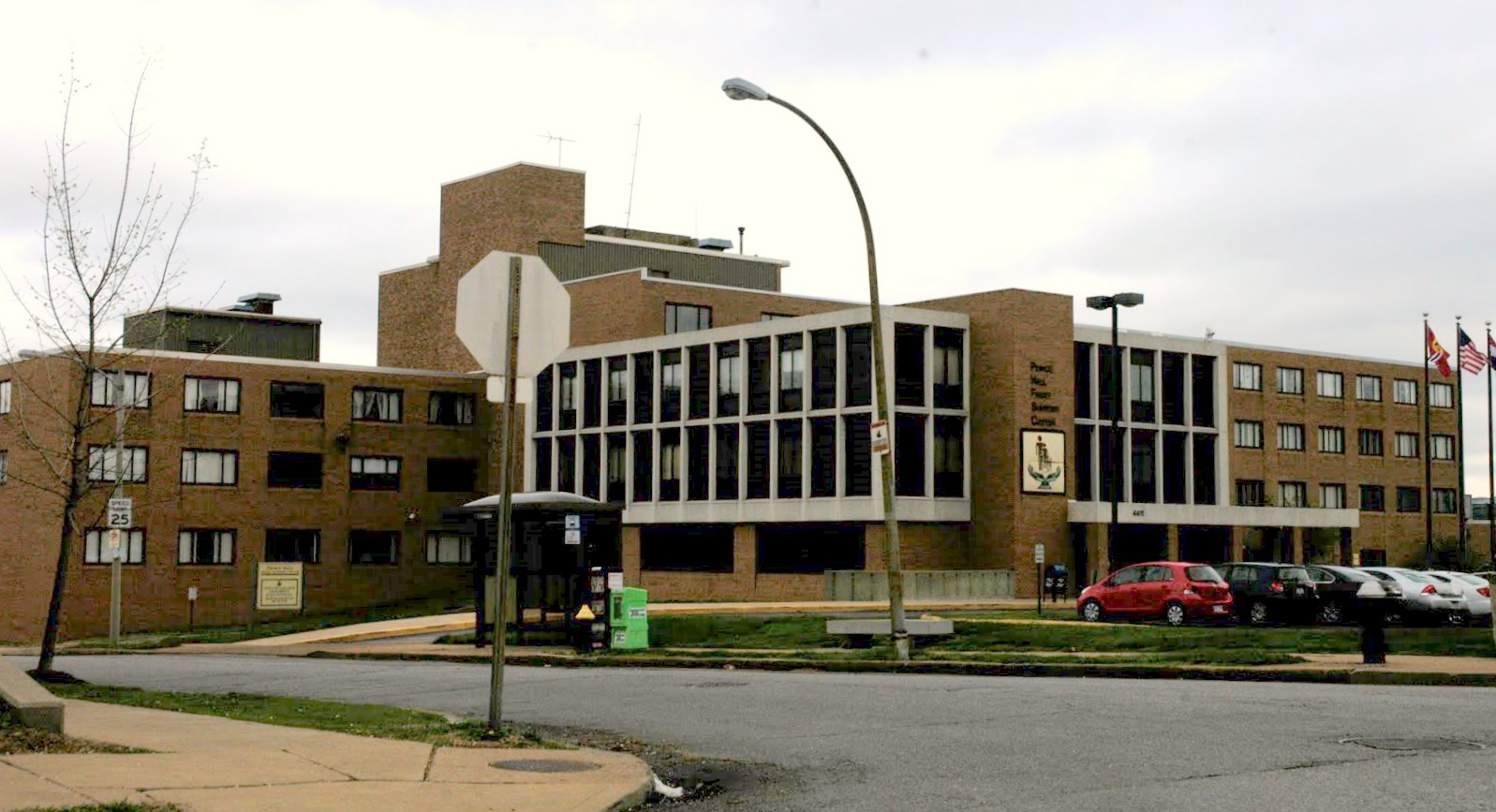 One of my favorite parts of the neighborhood is the garden street of Steinlage Drive between Bircher and Dryden: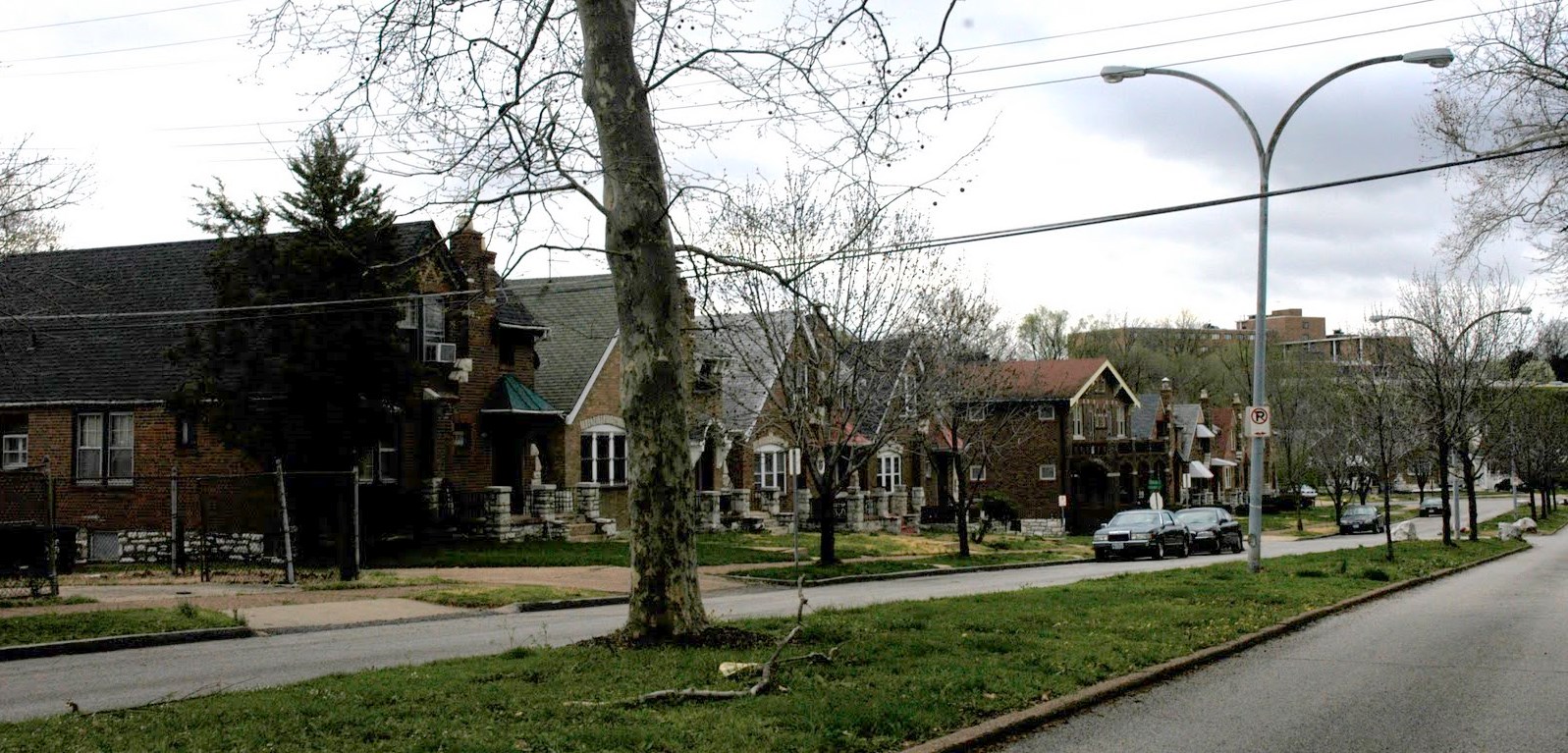 There are some serviceable, yet uninspiring businesses along Natural Bridge, nothing really photo worthy. Do you really want to see pictures of Walgreens, etc? There is a cool looking Commerce Bank on Nat. Bridge (photo was crap, couldn't post it – image is from Google Streetview). There are some exceptions to the contemporary auto-centric developments along Nat. Bridge: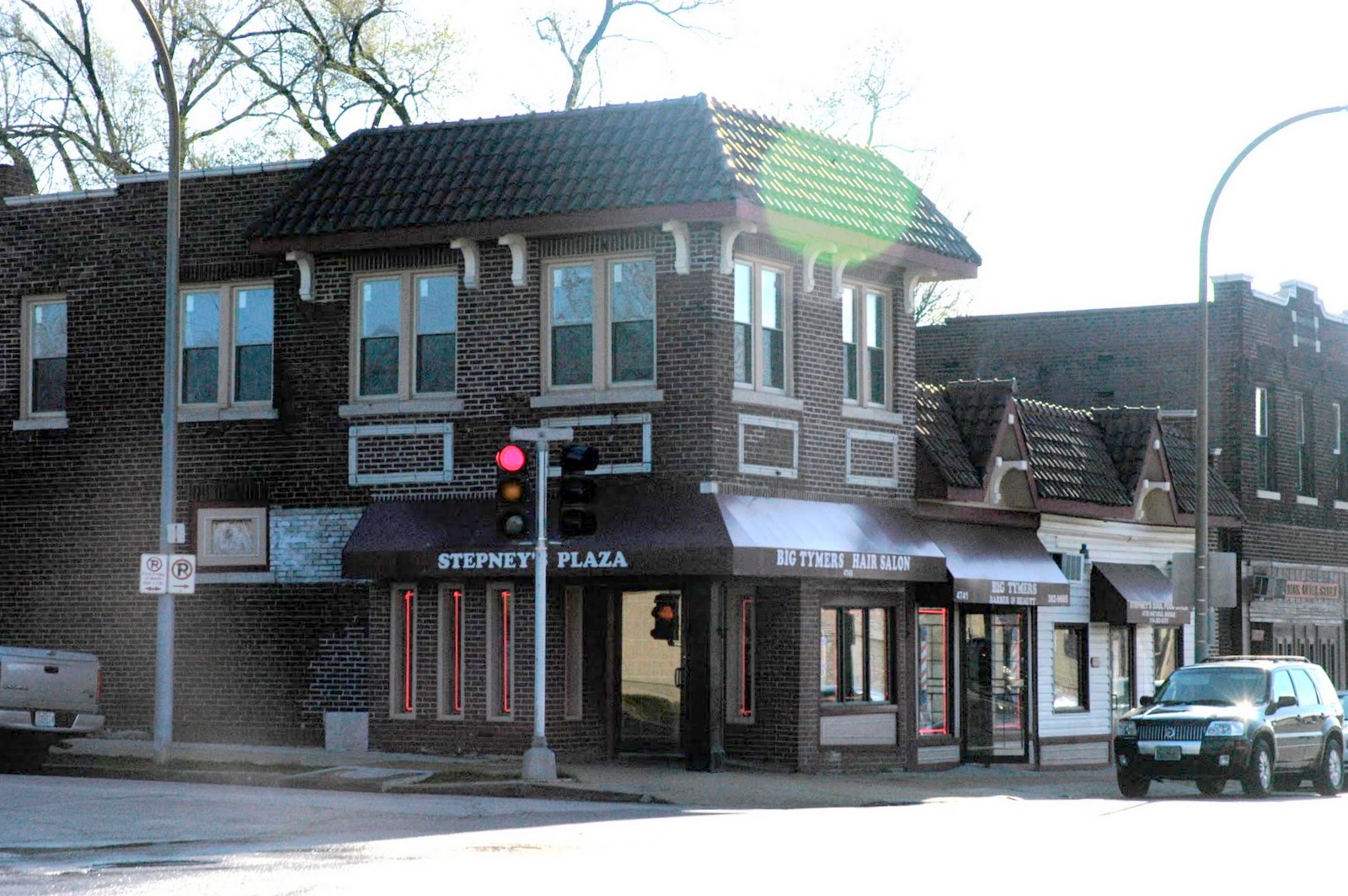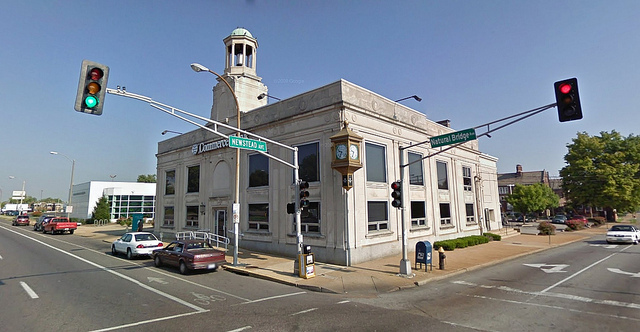 There are several churches and schools within Penrose. The Greater Progressive Baptist Church, Scullin School (self-made steel man from Ellendale?), Bunche International Studies, Ashland School: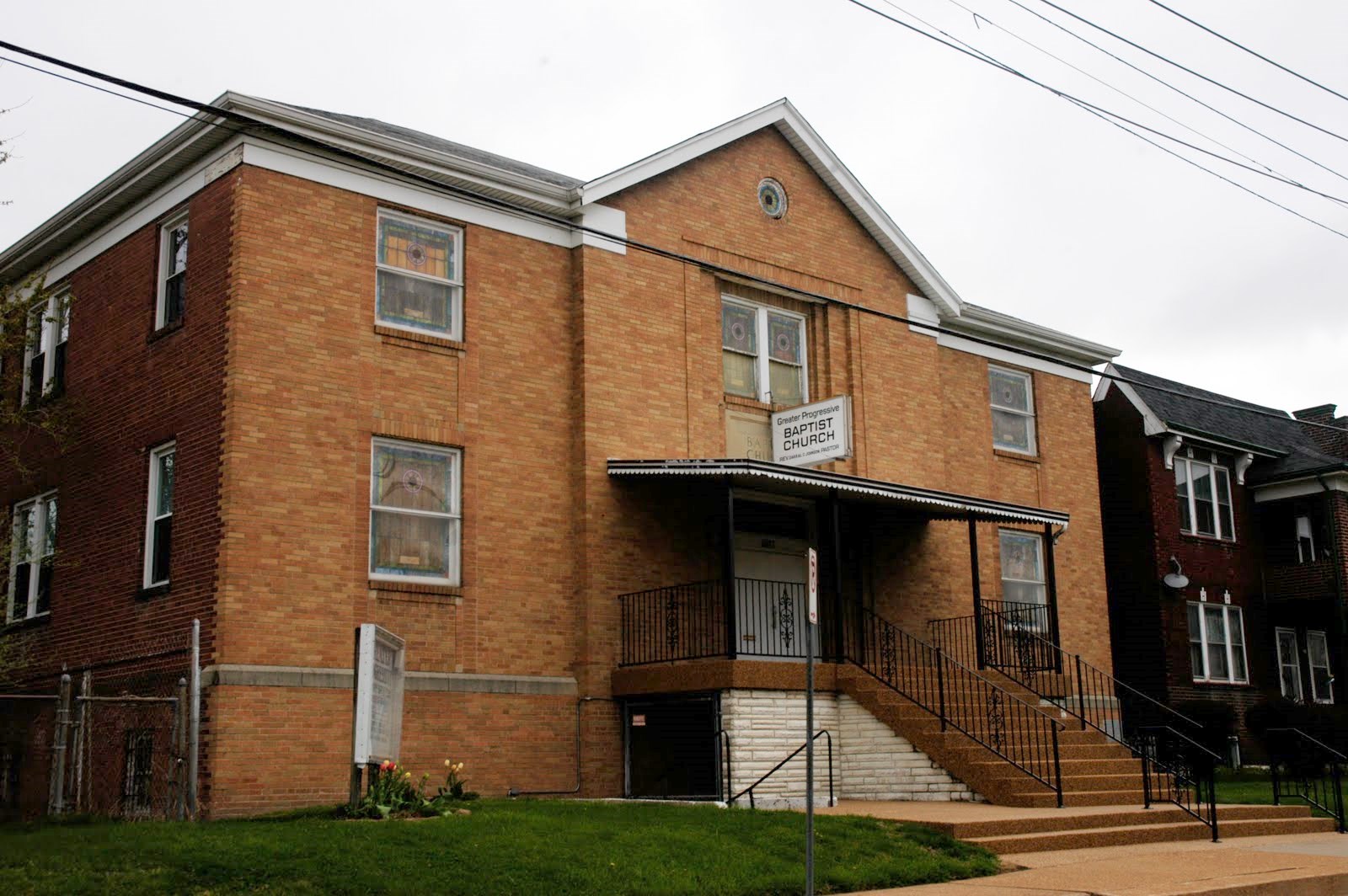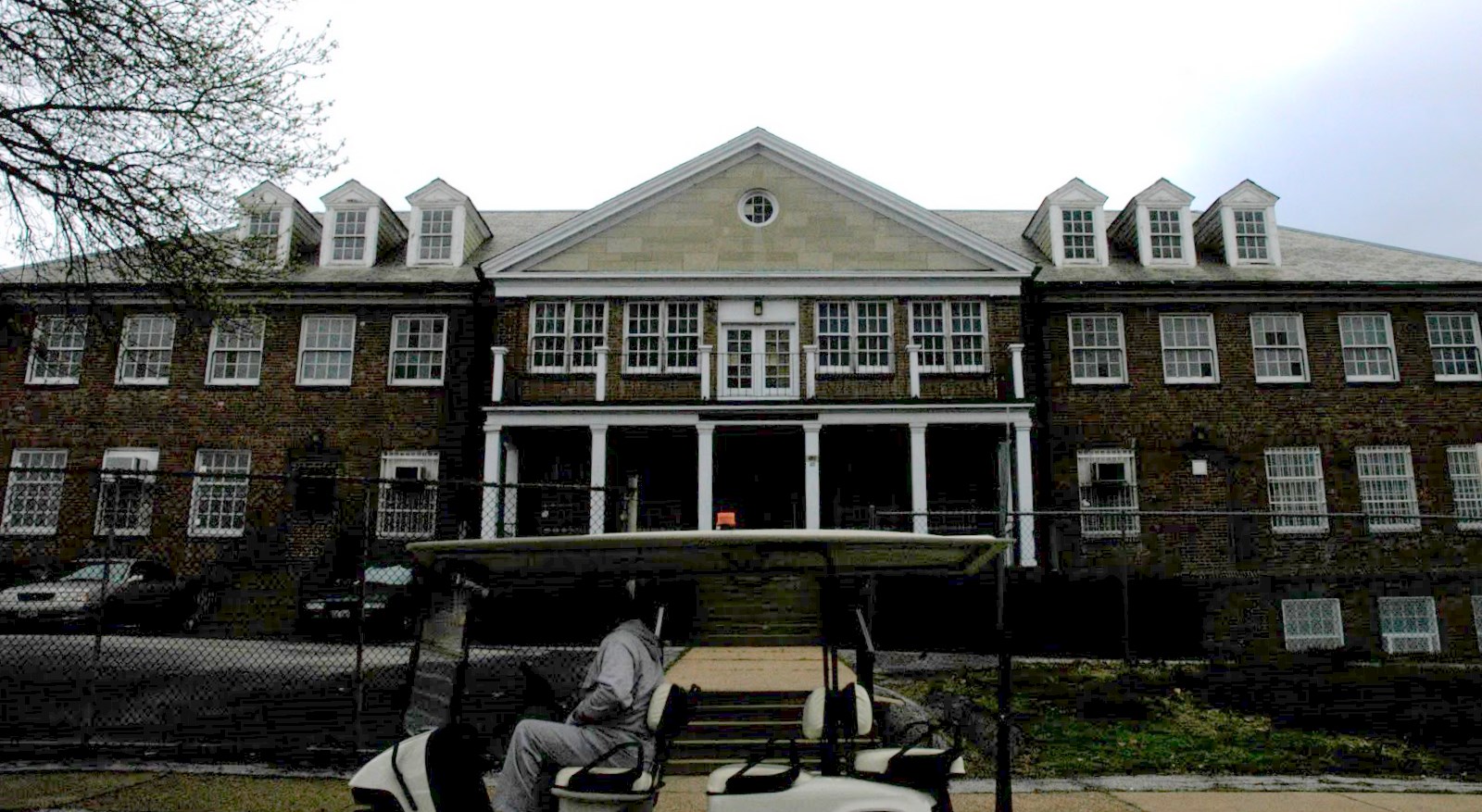 But the exposure most St. Louisians probably have to Penrose are the familiar views of Bircher Street just south of I-70 between the Shreve and W. Florissant exits: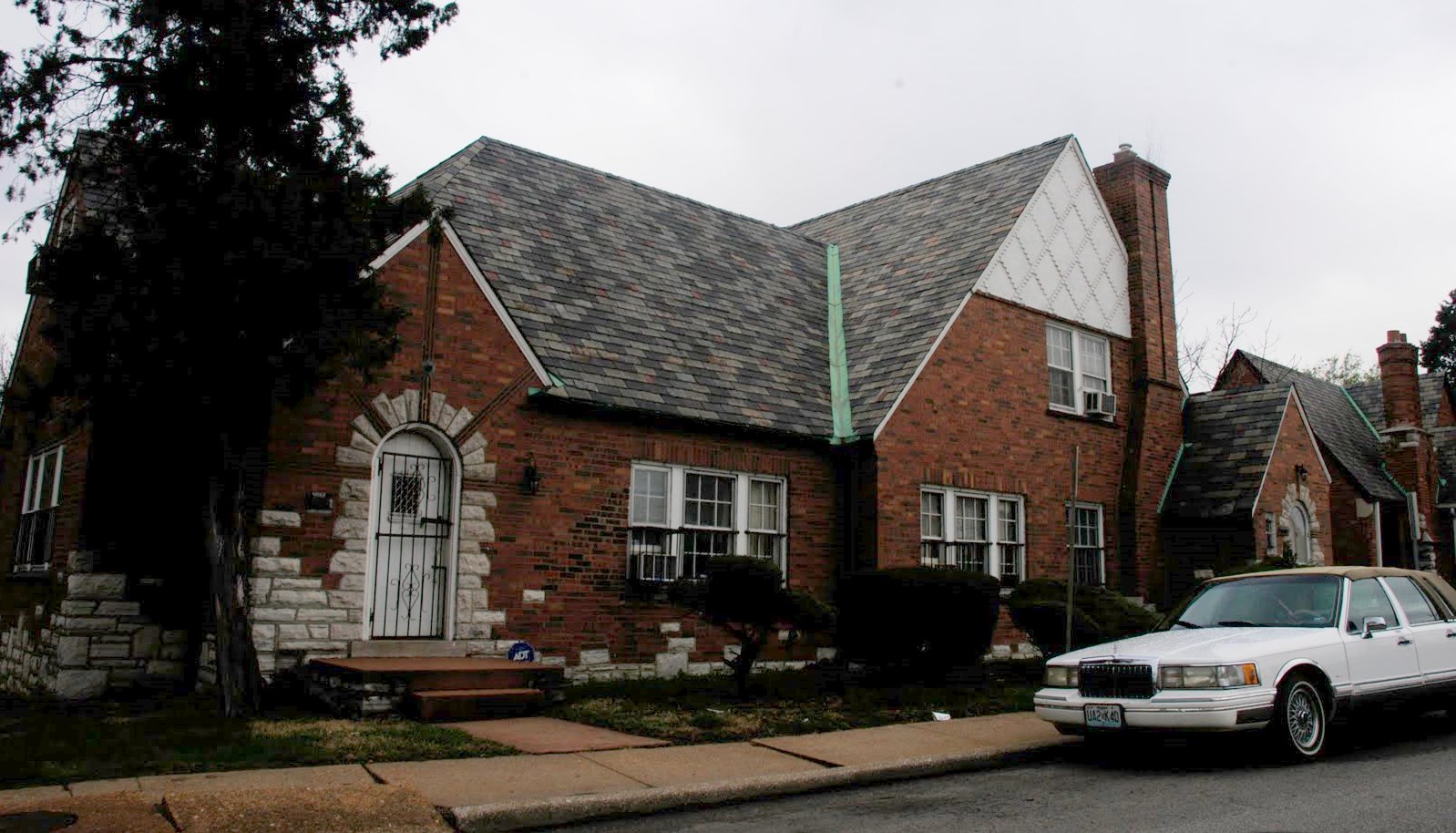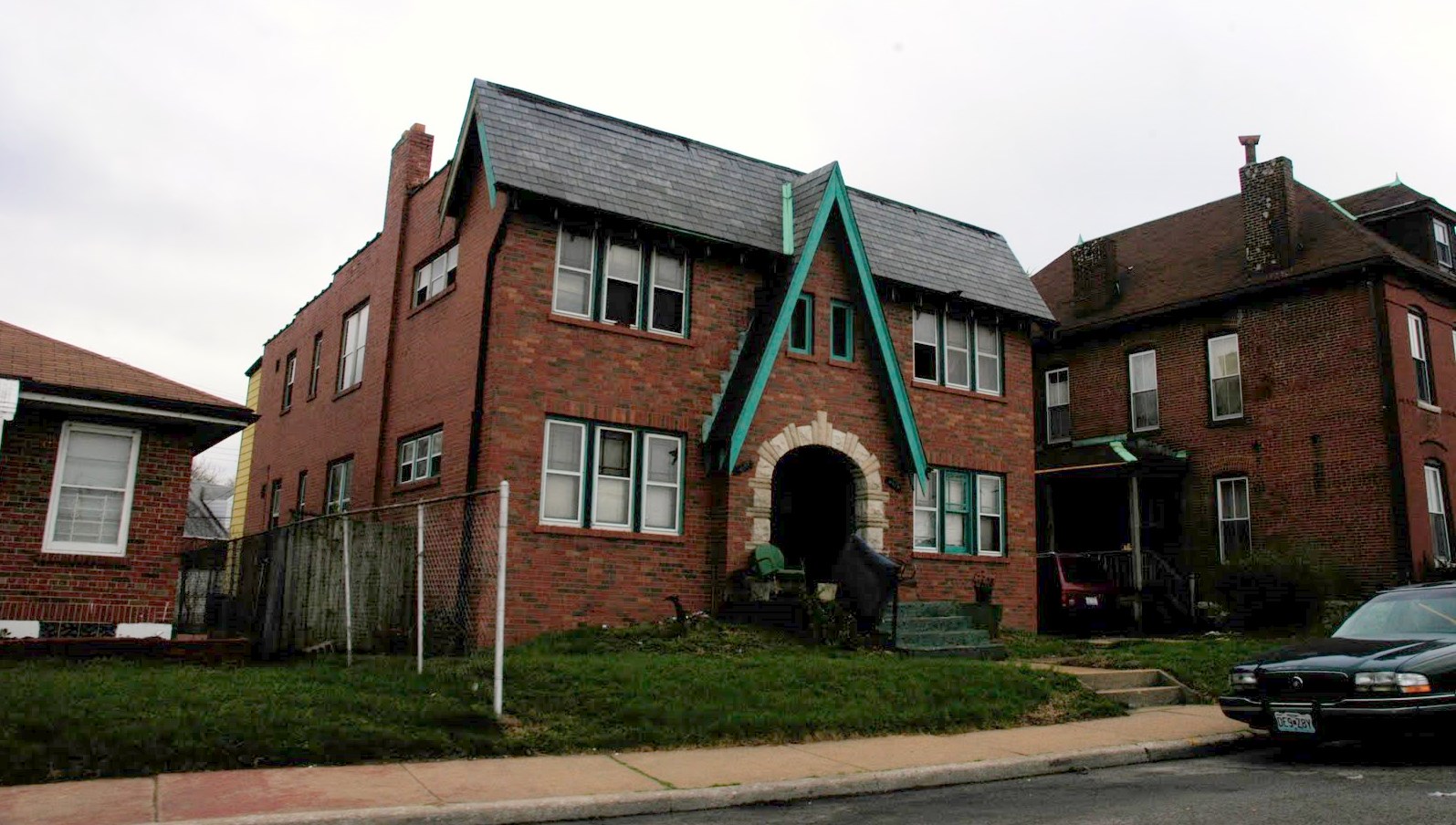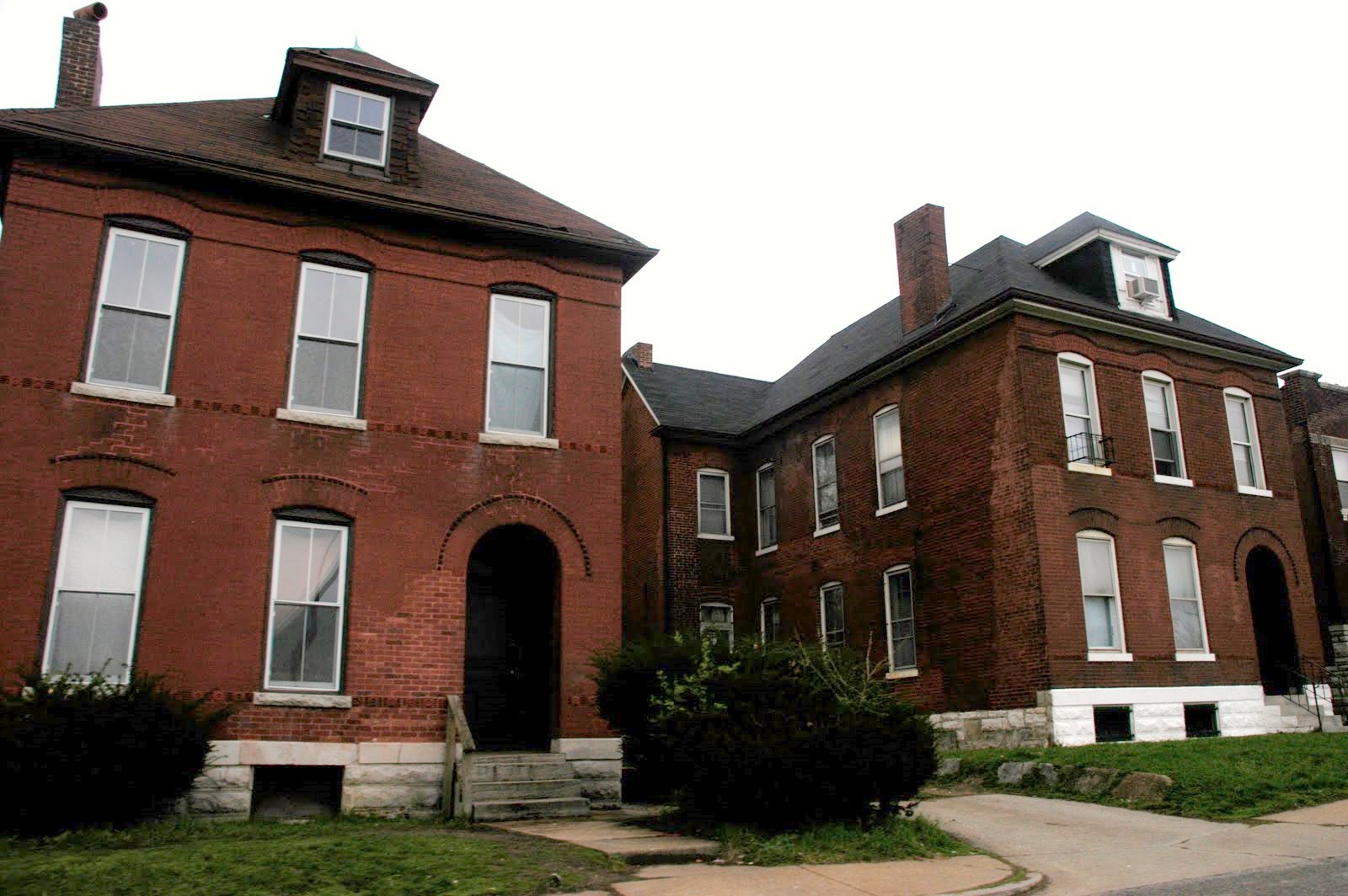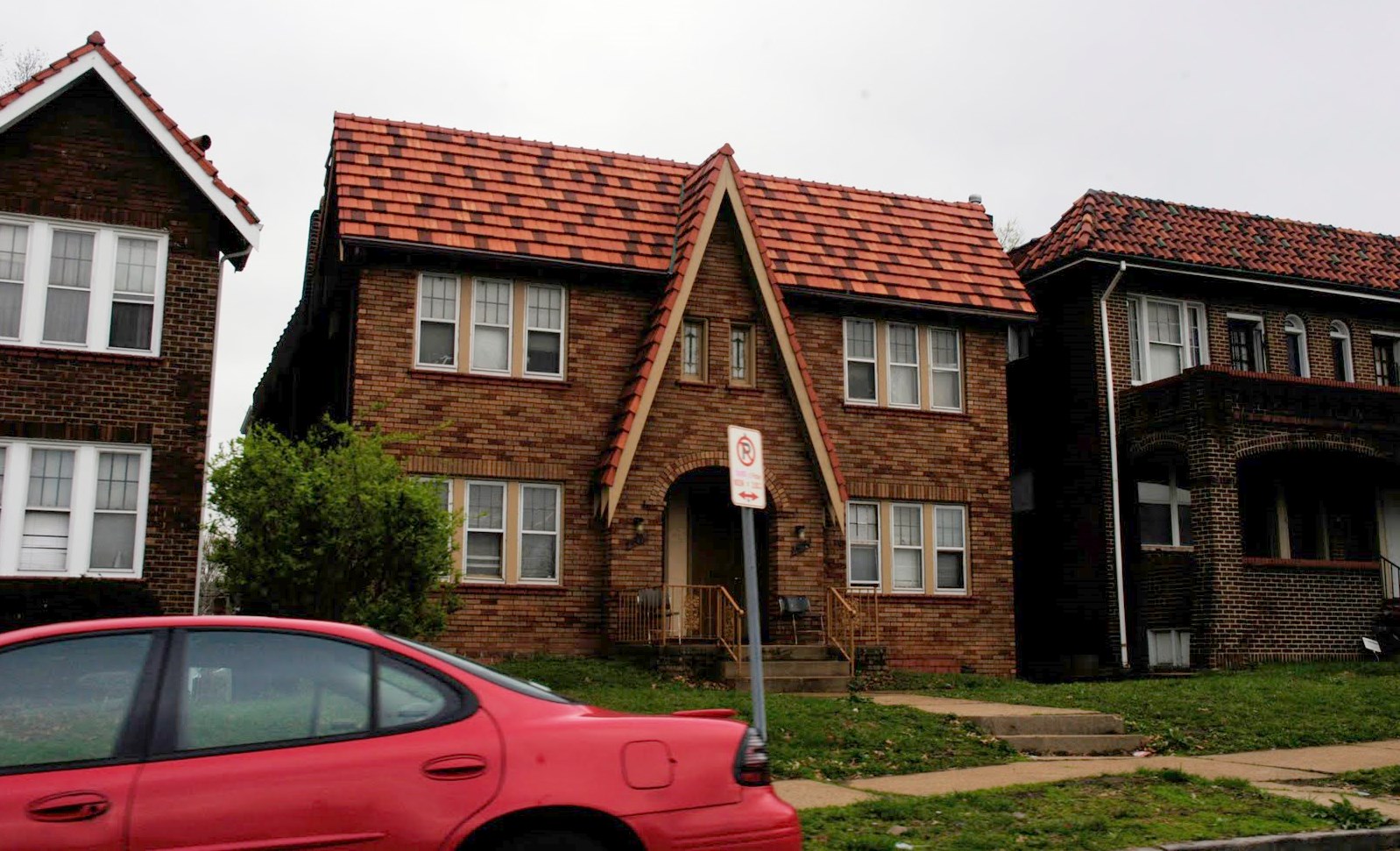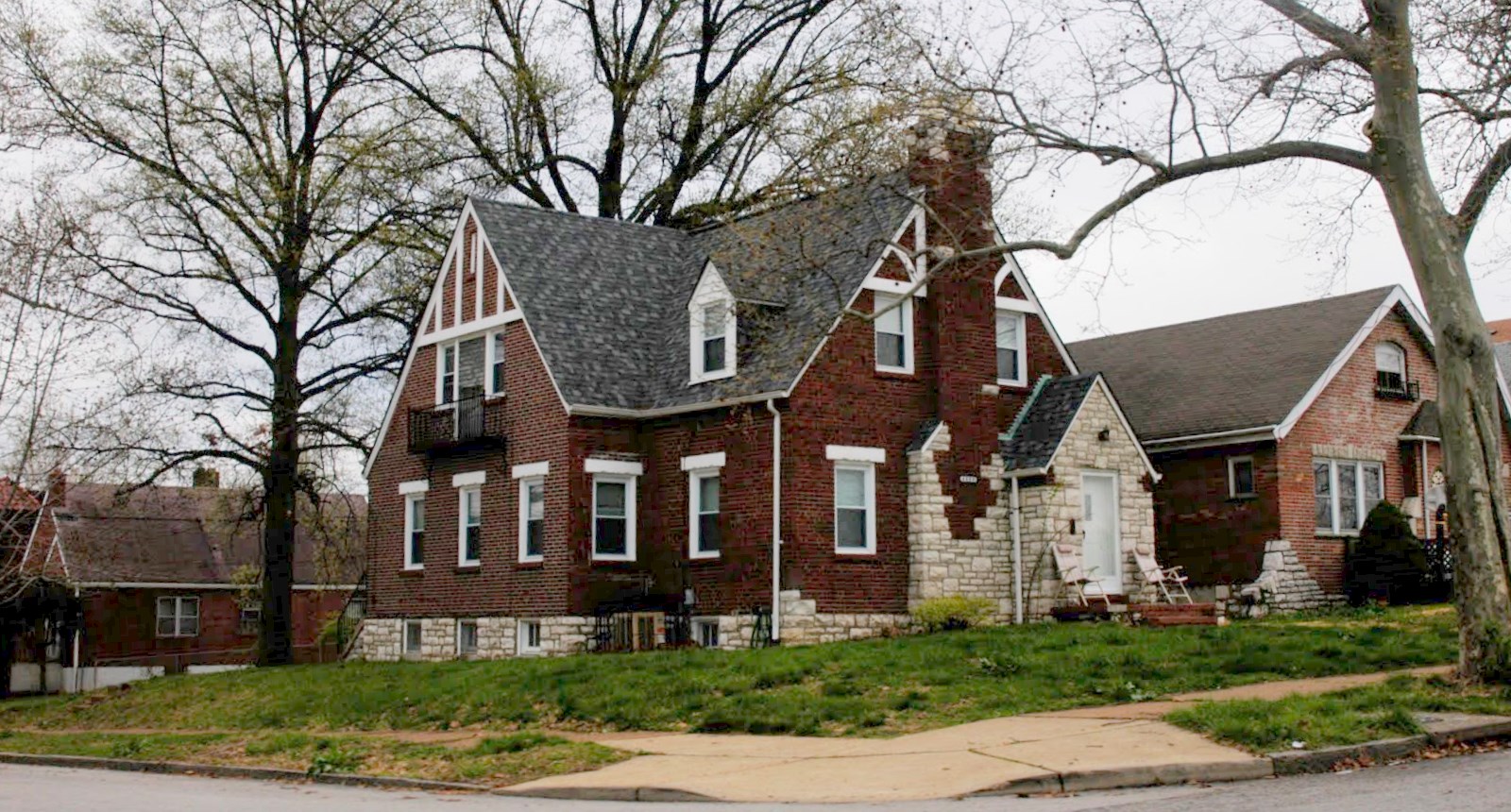 Due to the fact that Penrose is now eligible for tax credits, and it's a relatively stable neighborhood, I think it will look even better over the course of the next decade.