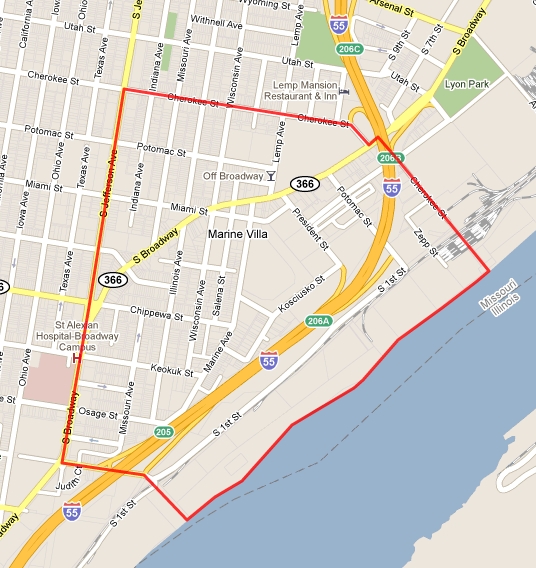 Marine Villa is a south St. Louis neighborhood bound by Cherokee Street to the north, Gasconade to the south, Jefferson and Broadway to the west and the mighty Mississippi River to the east.
So, Marine Villa had a rough decade from 1990 to 2000 losing 13% of its residents. 2,909 were counted, 47% black, 47% white, 3% Hispanic/Latino, 2% Asian. 1,576 housing units were counted in 2000, 75% of which were occupied. It's split 40%/60% owner/renter. The 75% occupancy (which is relatively low) seemed to be fairly real today as well. Marine Villa has a very active neighborhood association which has a, Facebook page and blog. They also have a very cool logo:

There are many landmarks within Marine Villa that are probably known to most. You have the awesome former Lemp Brewery and International Shoe Company factory. The complex is currently owned by investors and several redevelopment ideas have been floated in recent years. There are currently some warehousing on site, a salvage shop called Junque and the HOK model shop was here until moving to a new space downtown in 2010.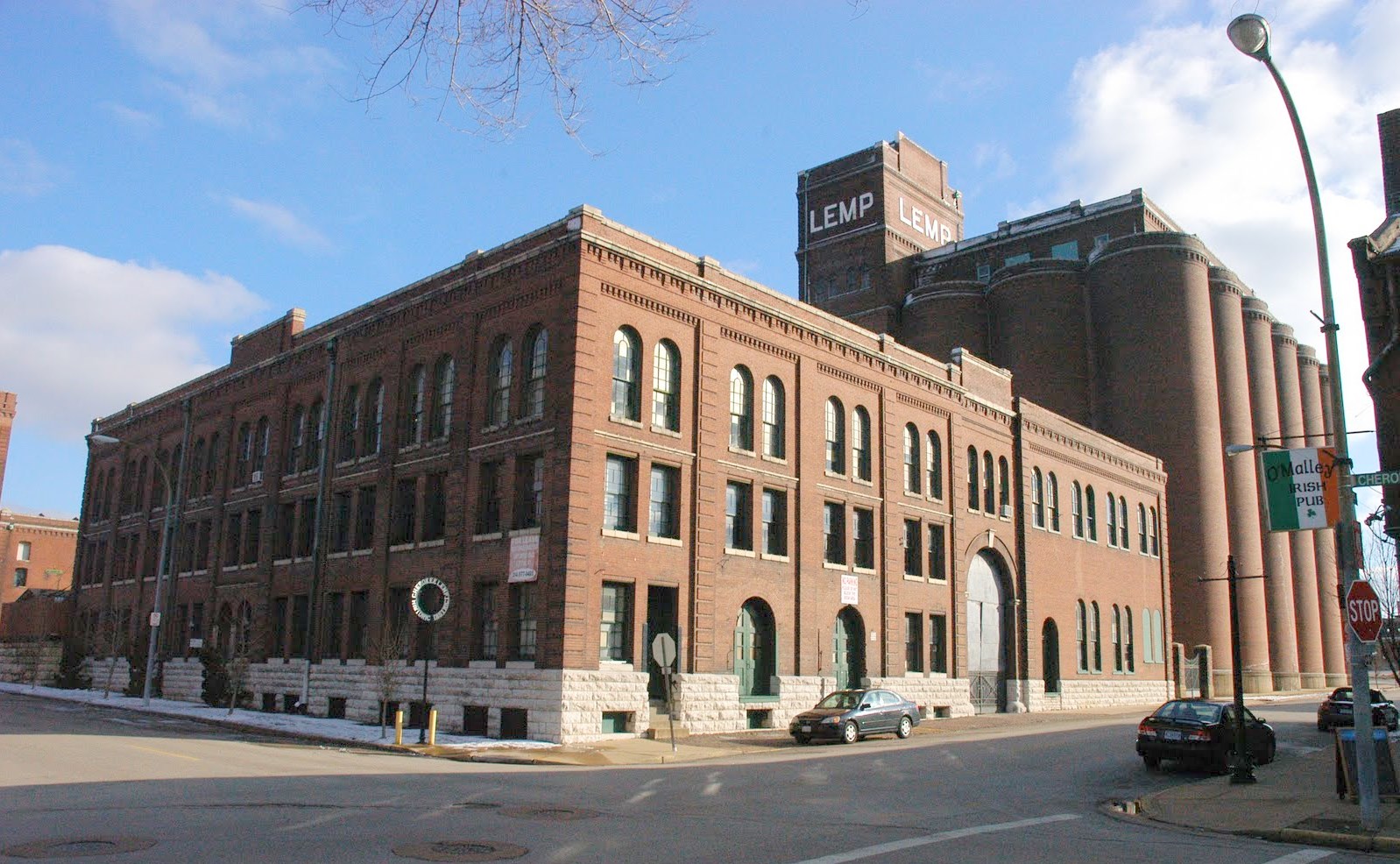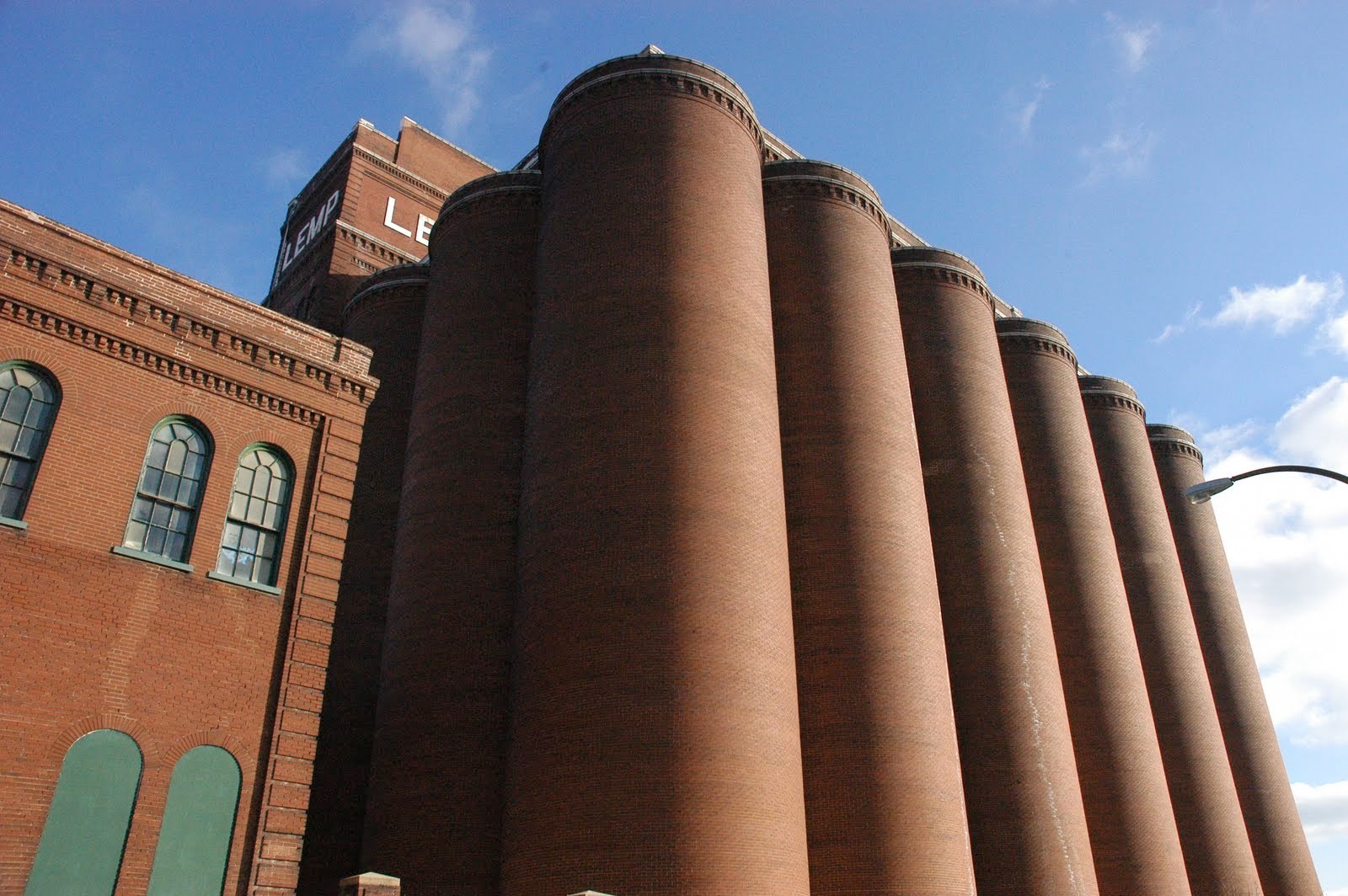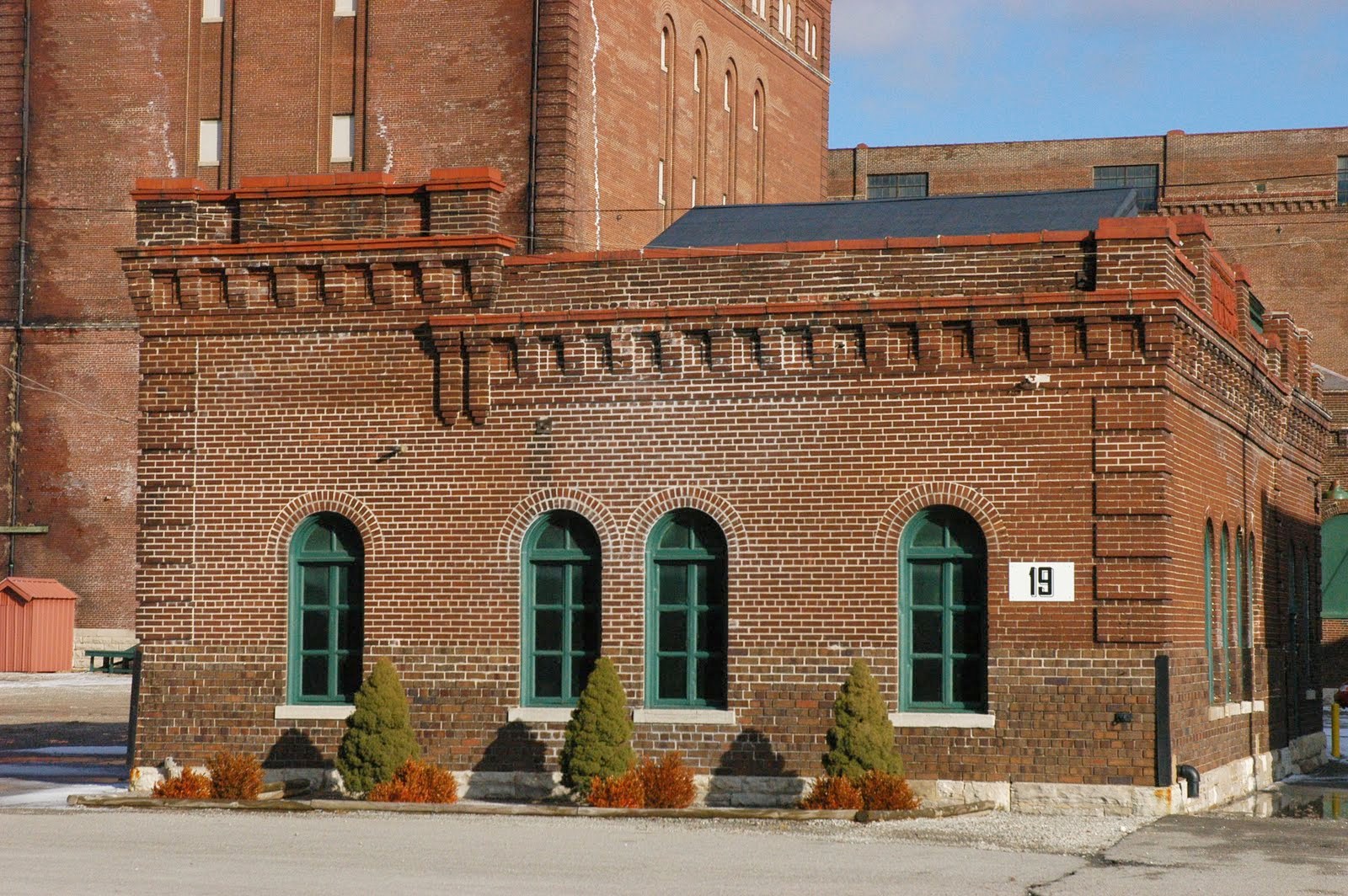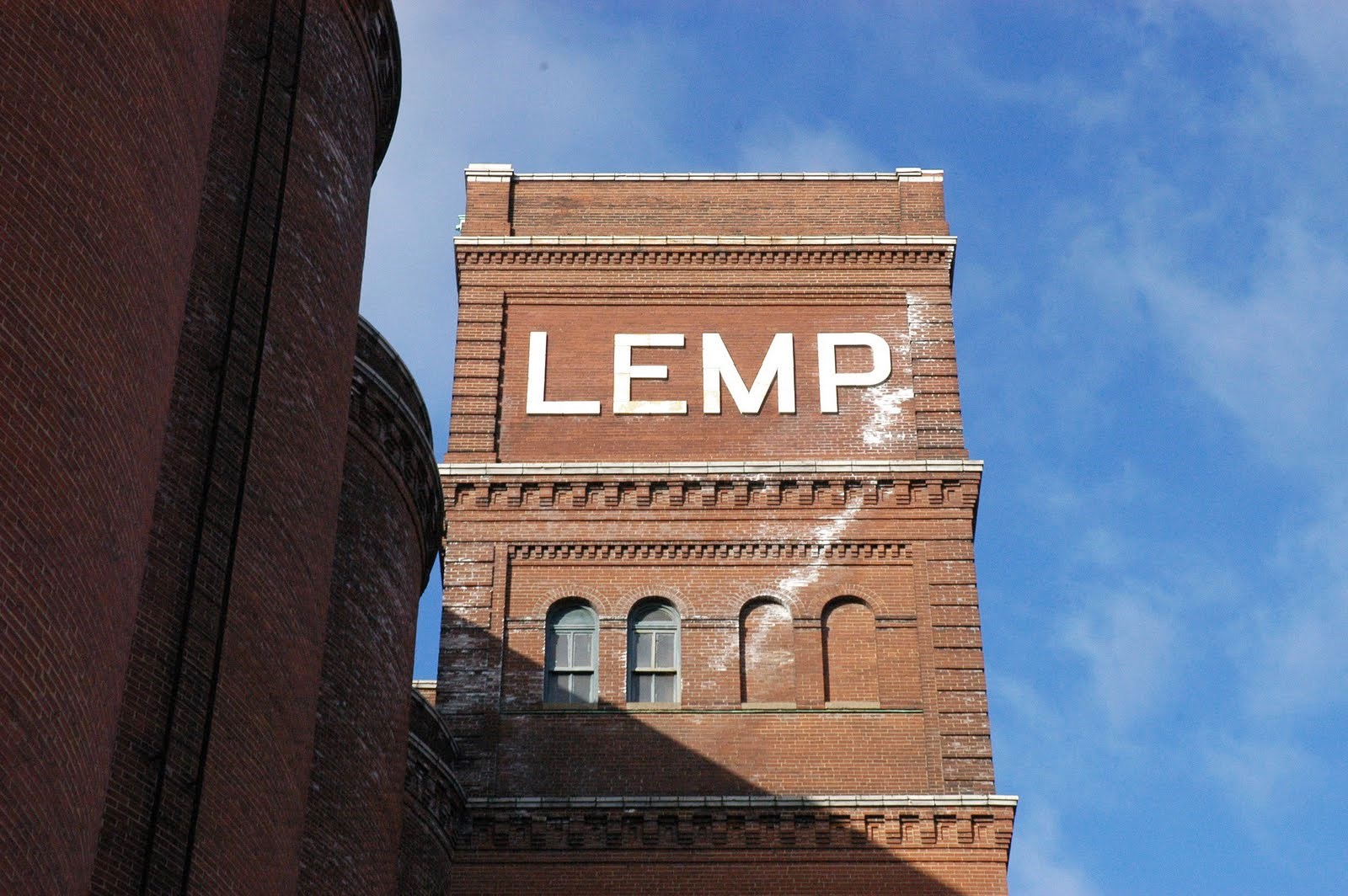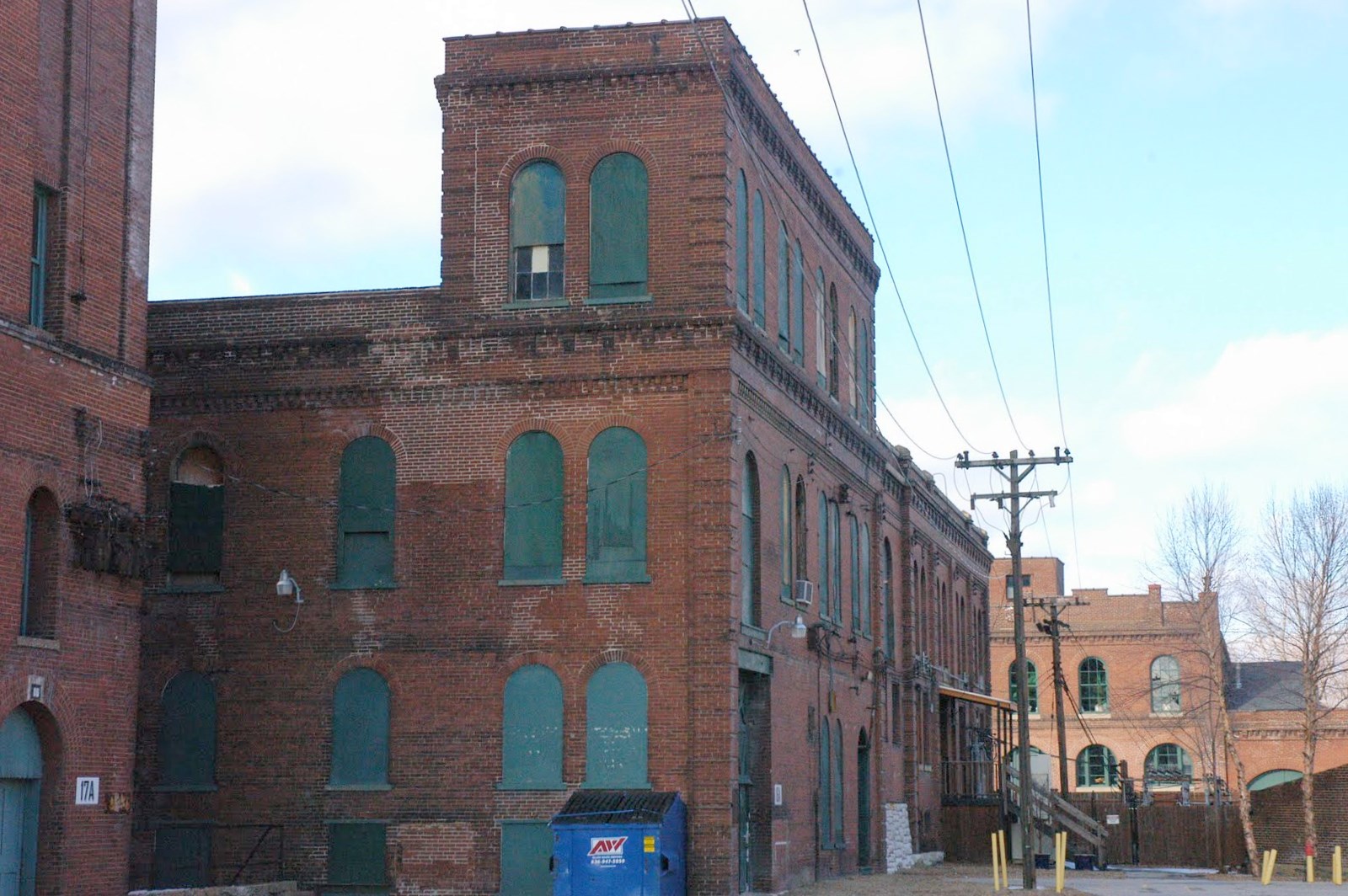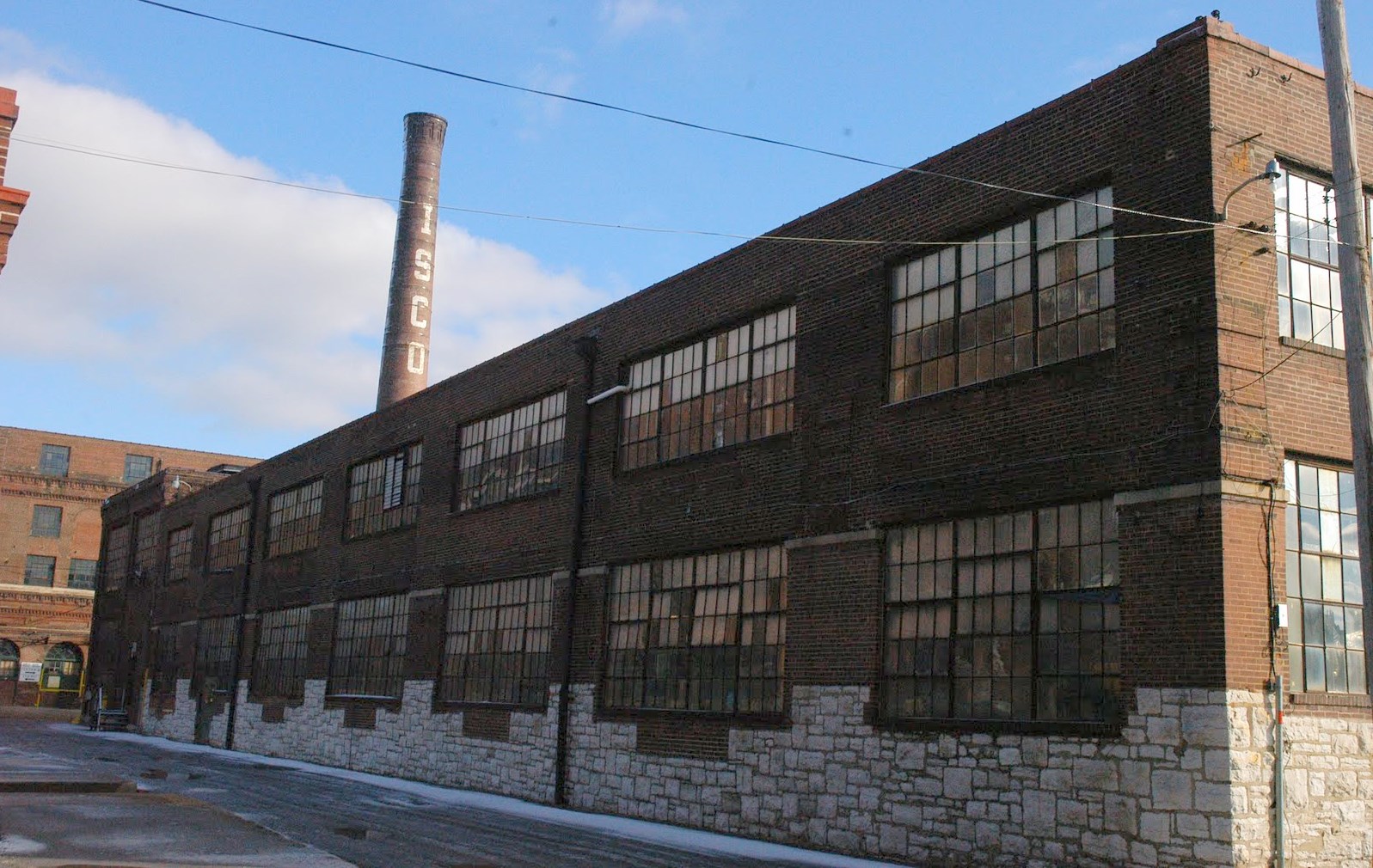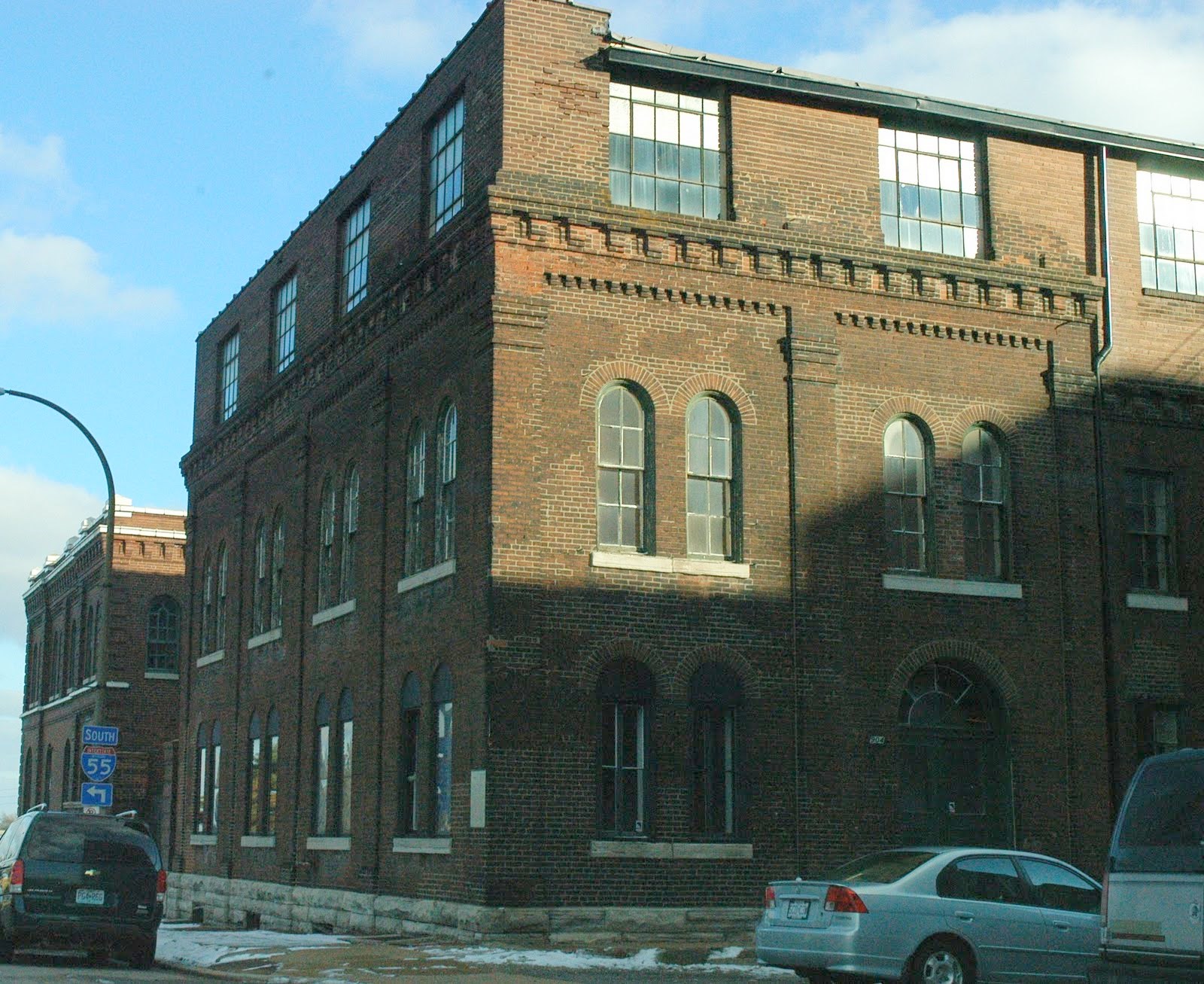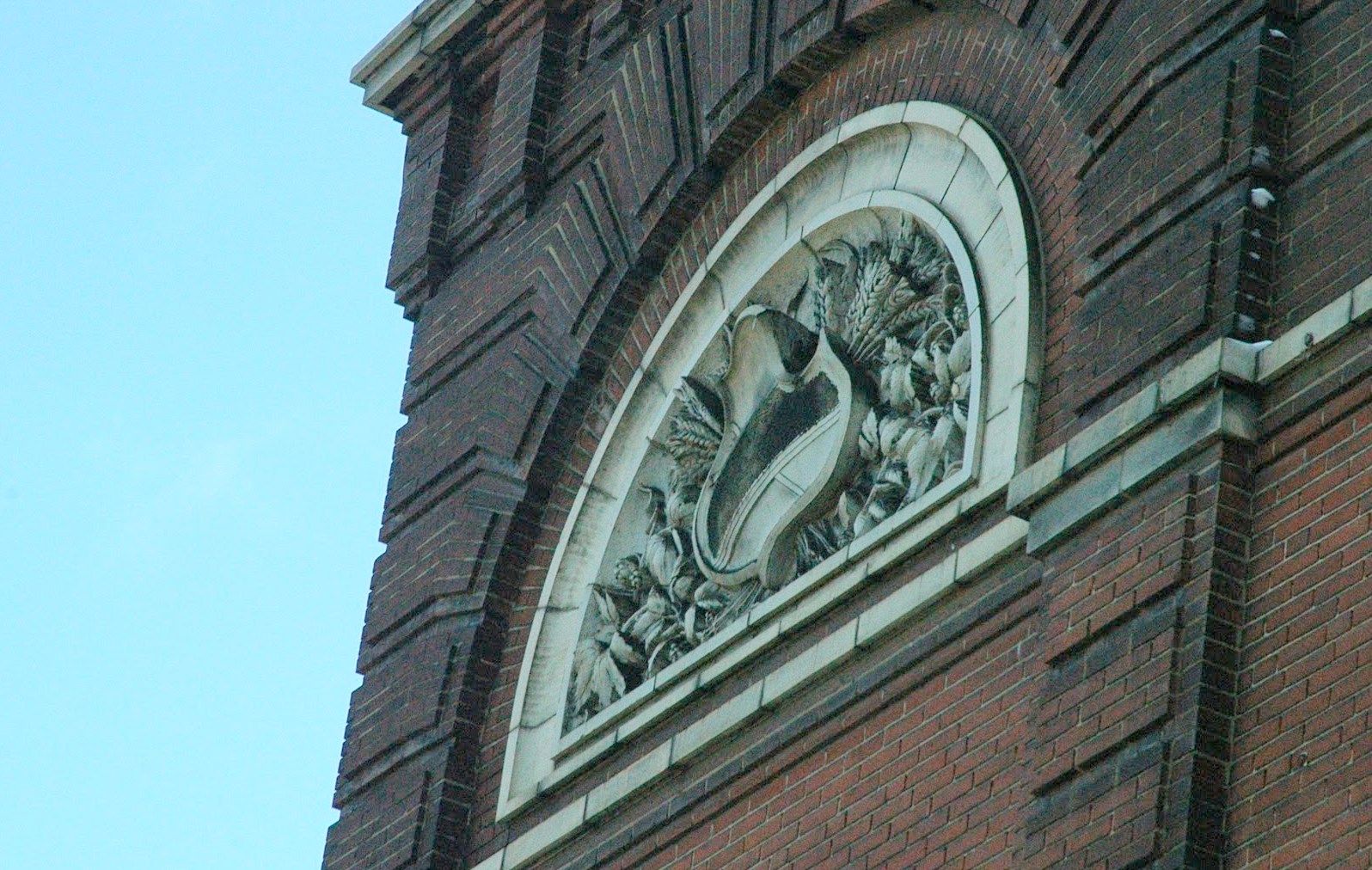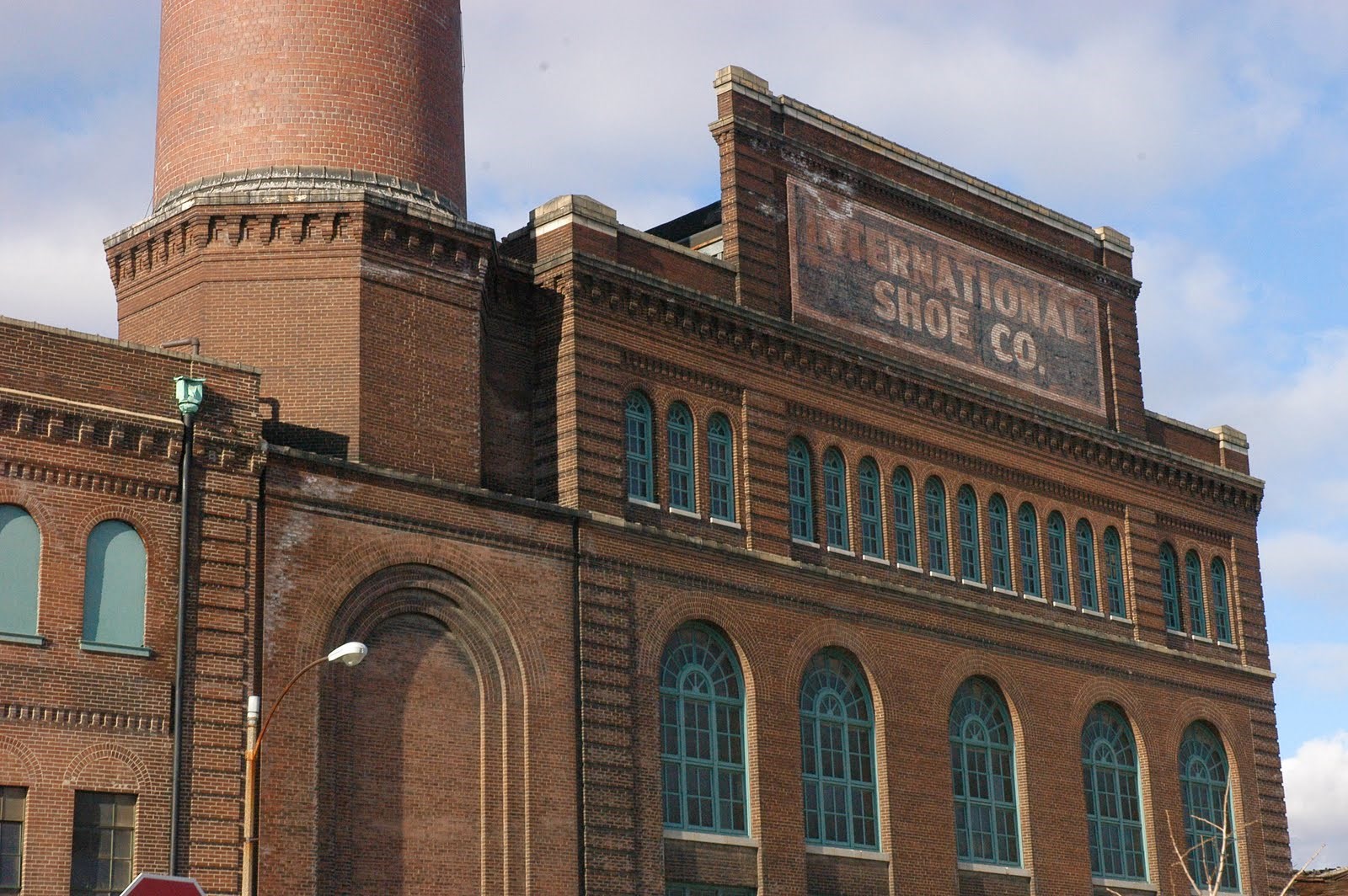 The south side of the Cherokee Antique Row resides in Marine Villa: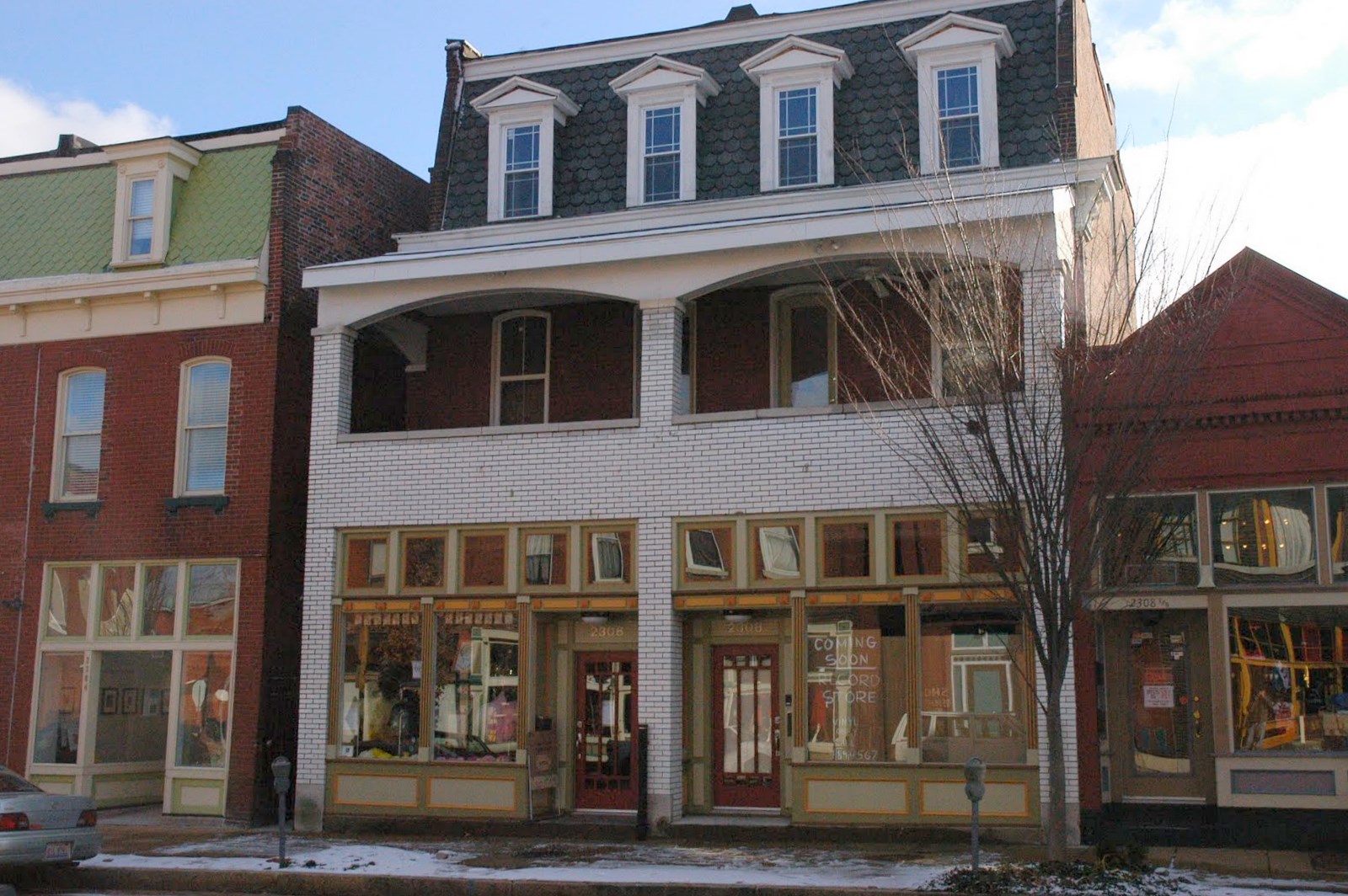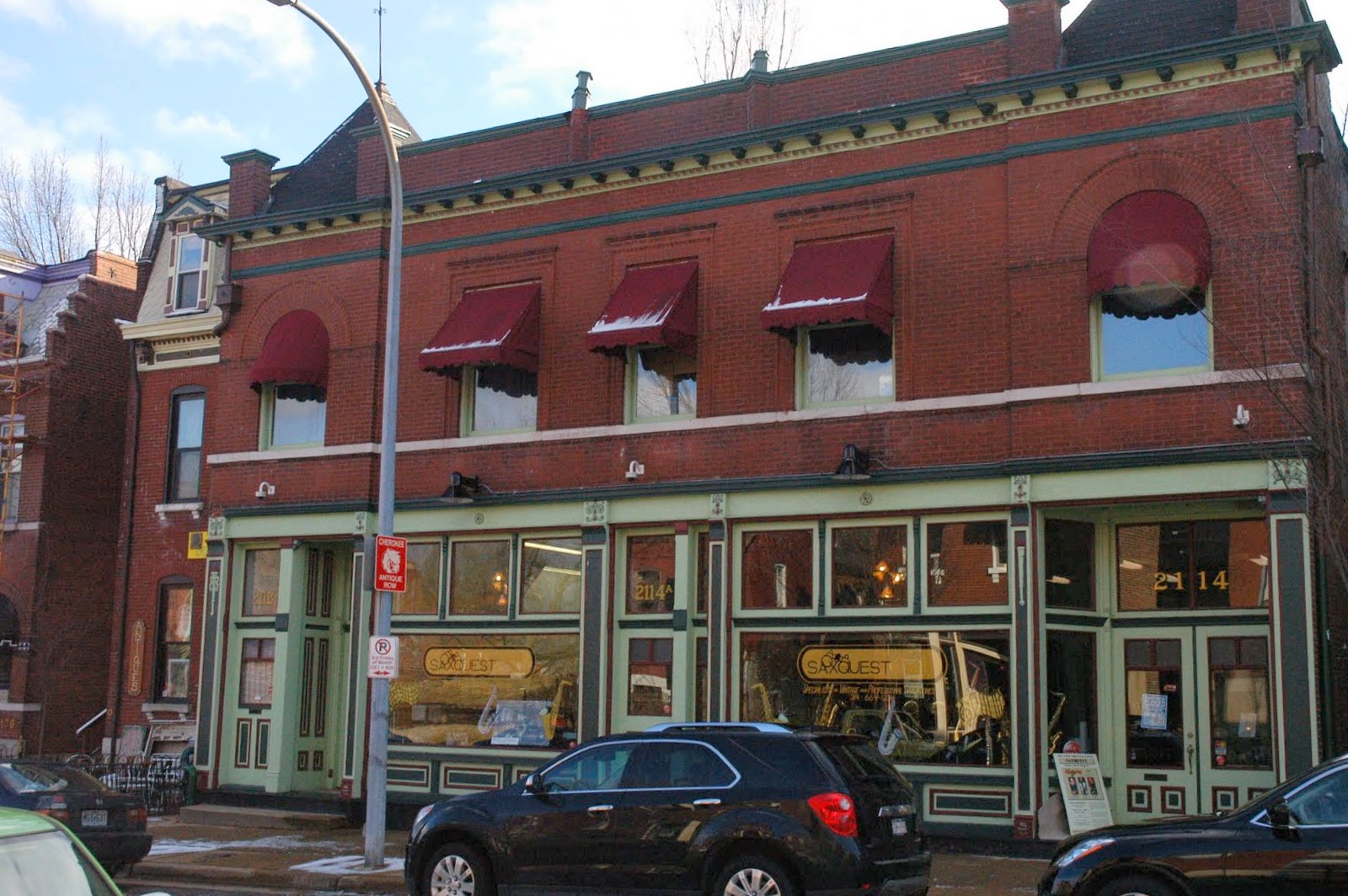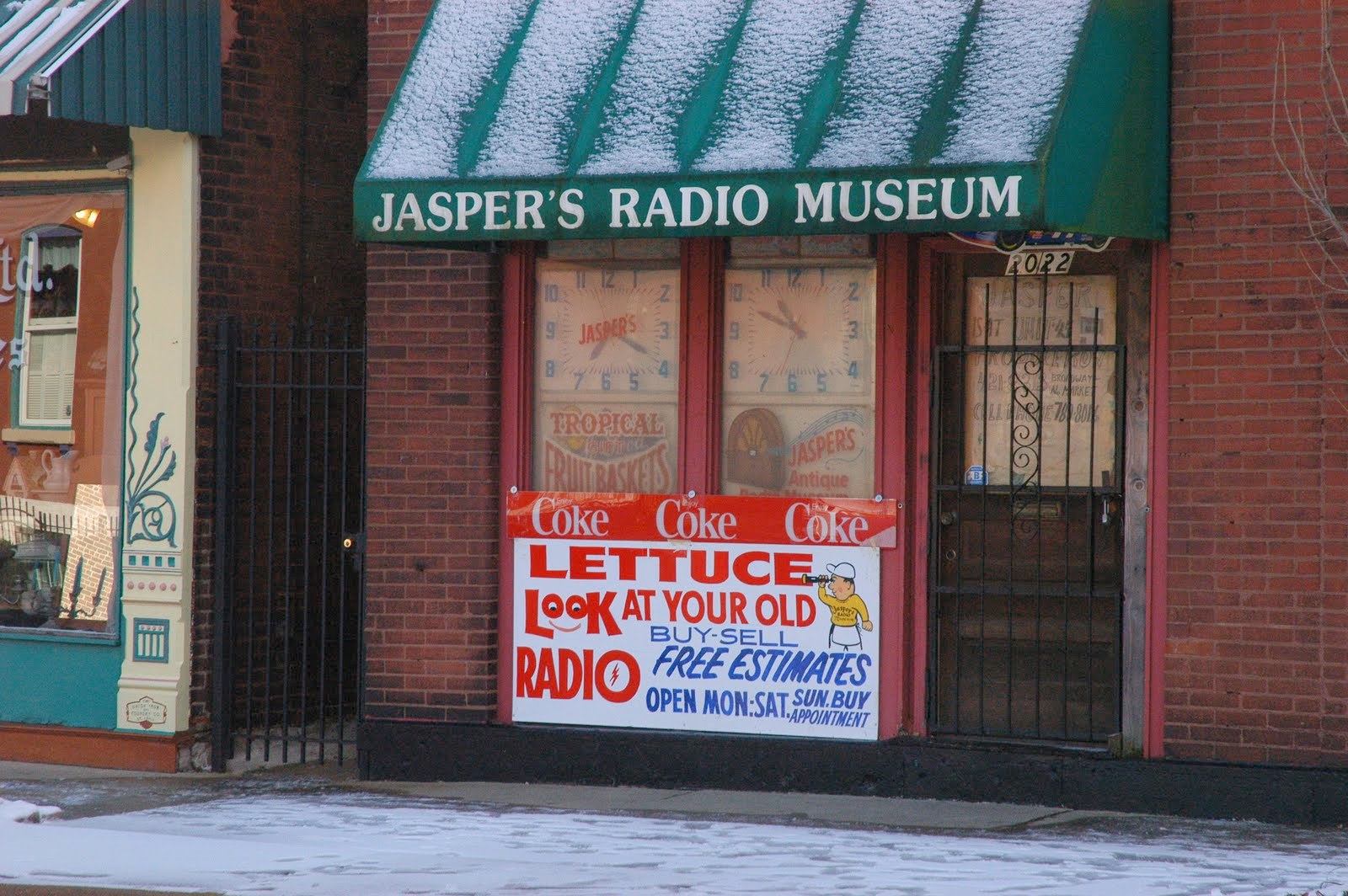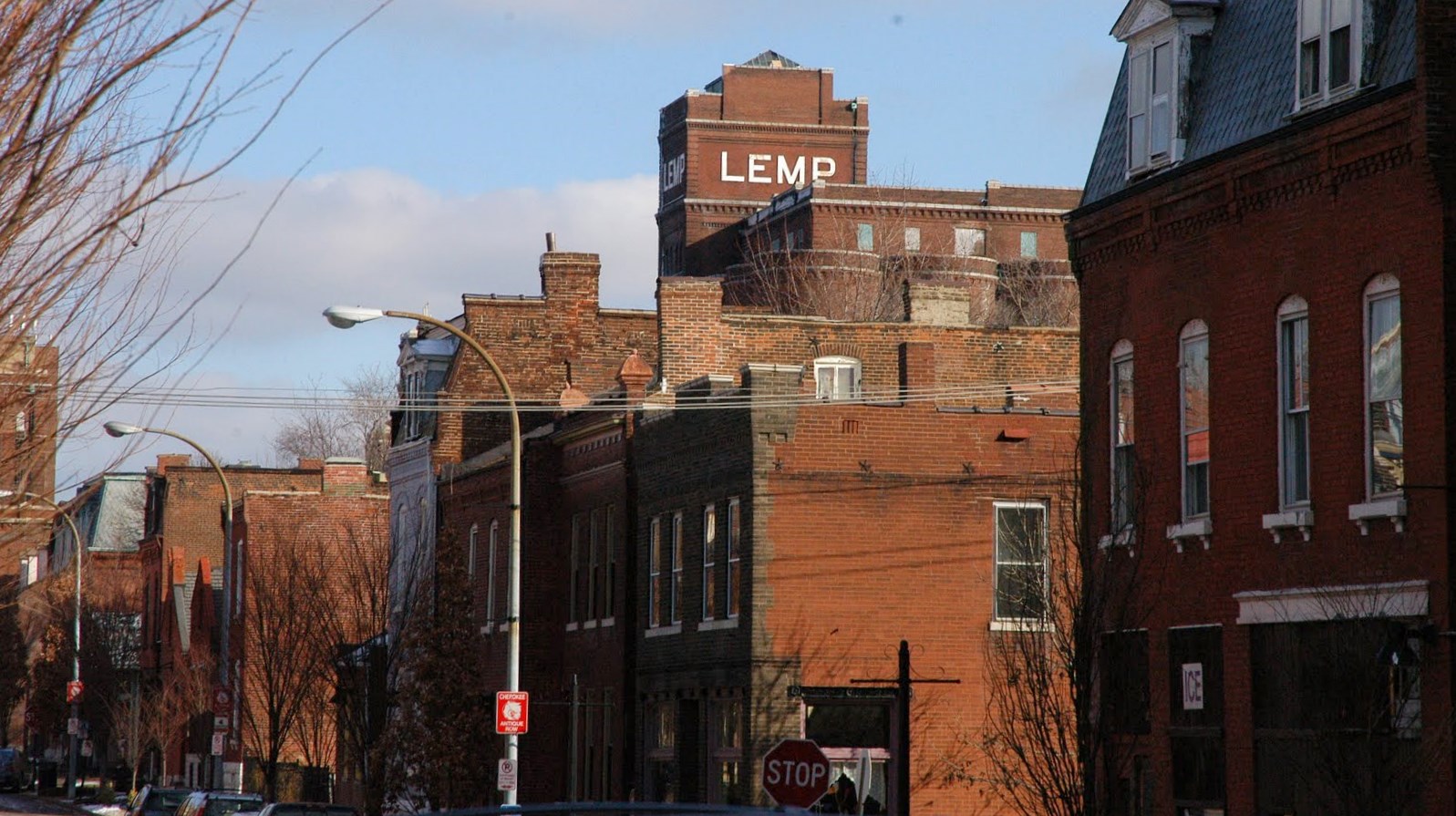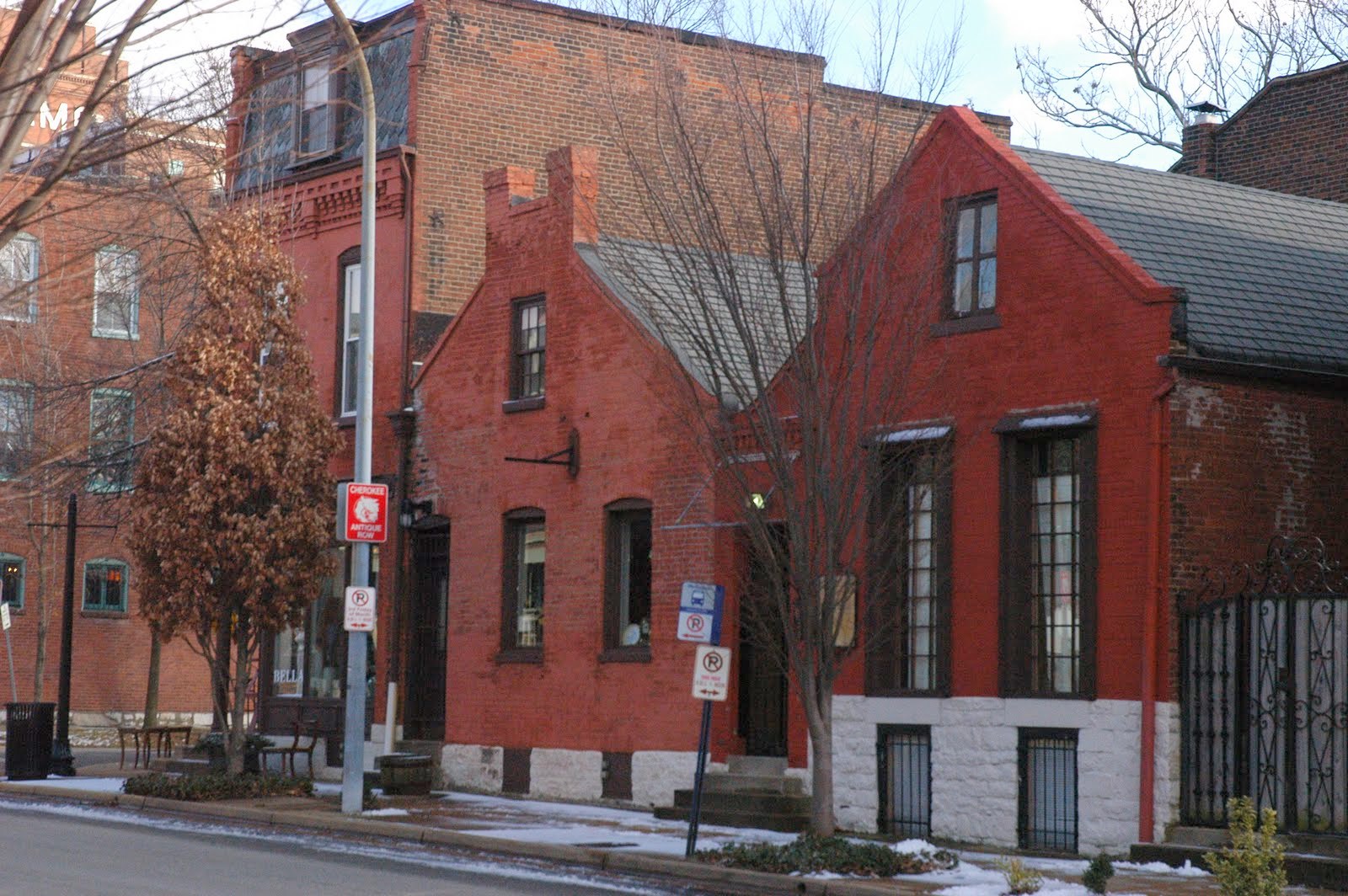 Many large employers exist in Marine Villa: Sigma Aldrich, Concordia Publishing House, the National Archives and Records Administration and Valvoline Oil and other industrial sites near the Mississippi River: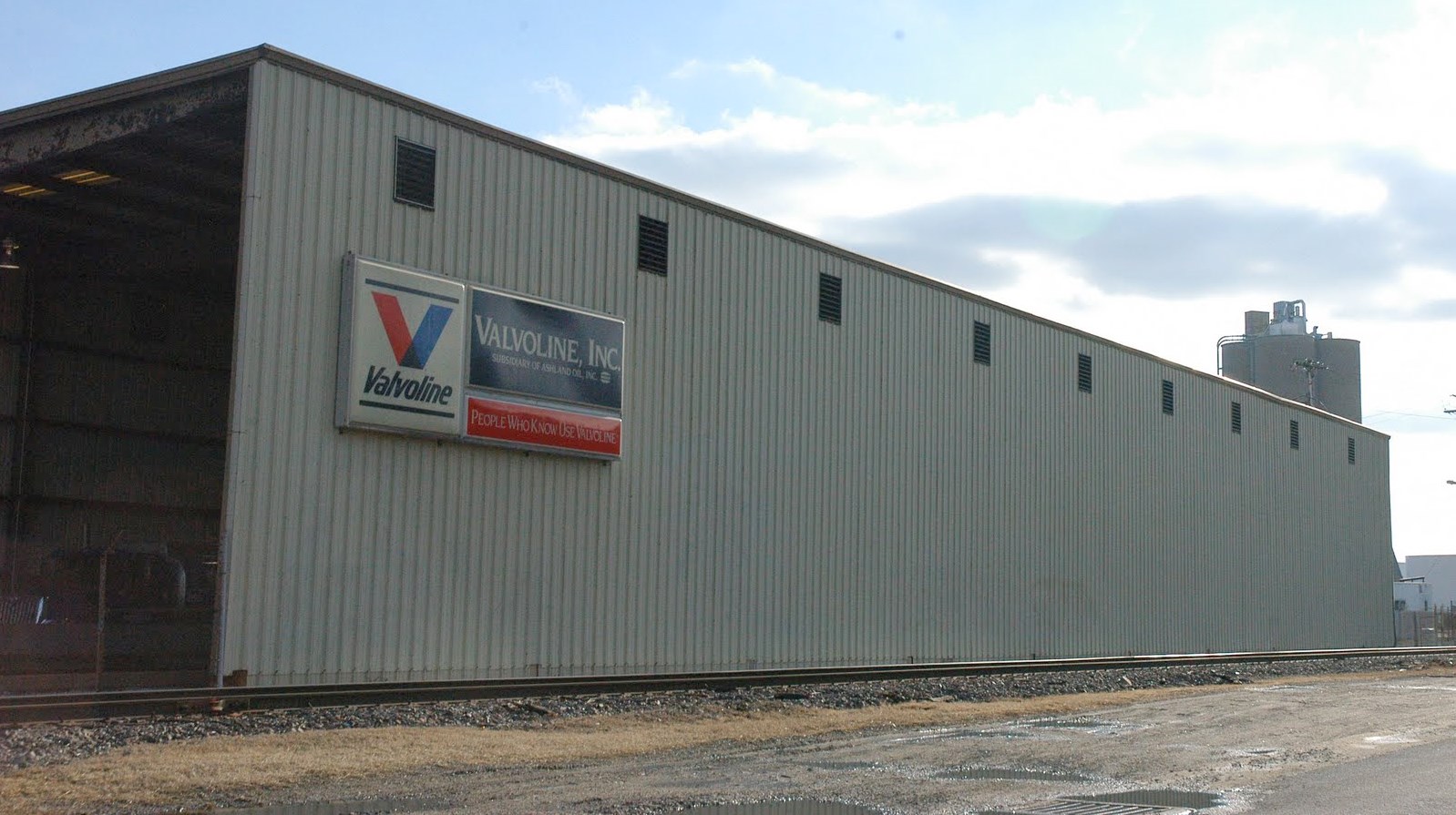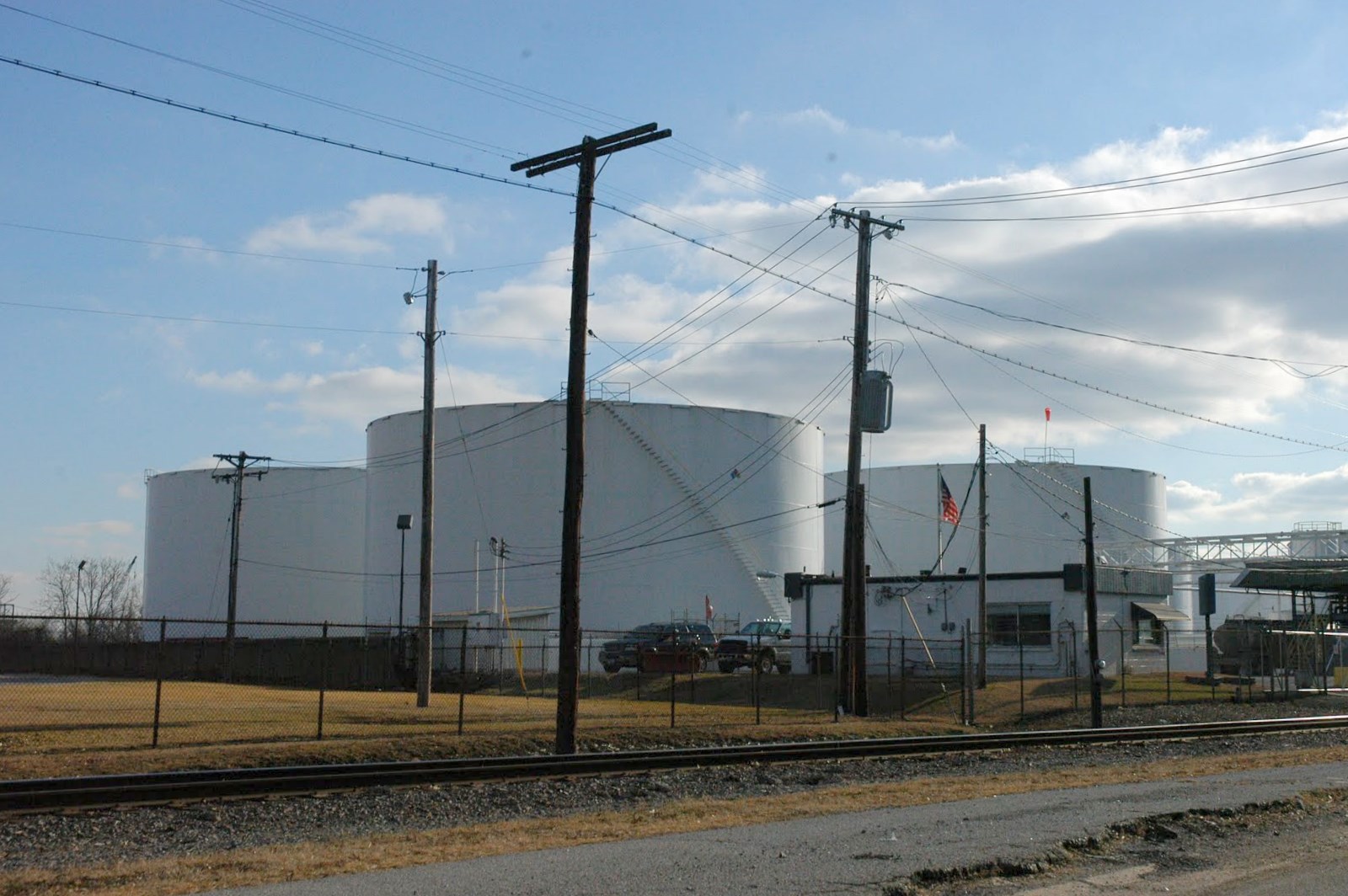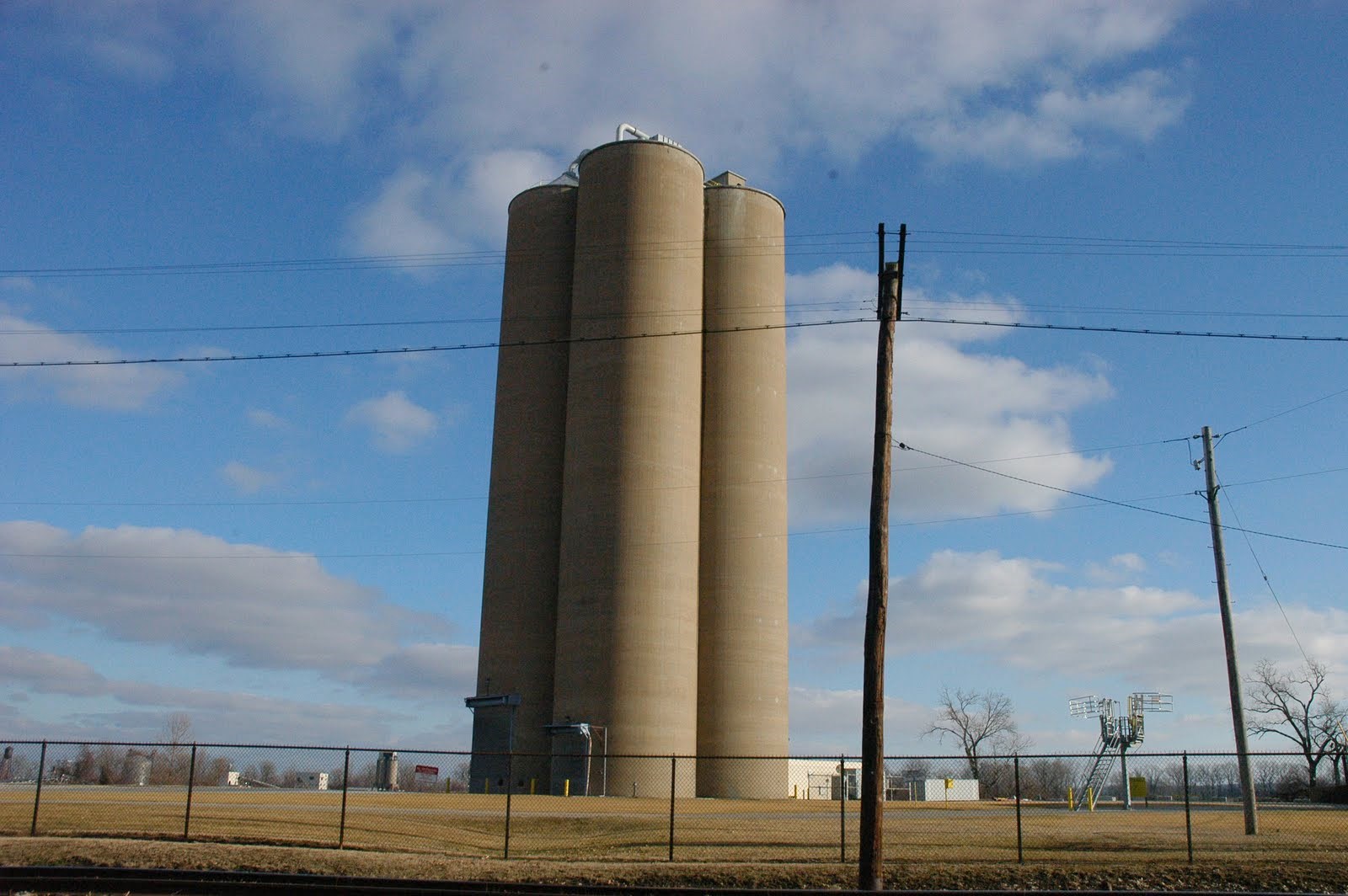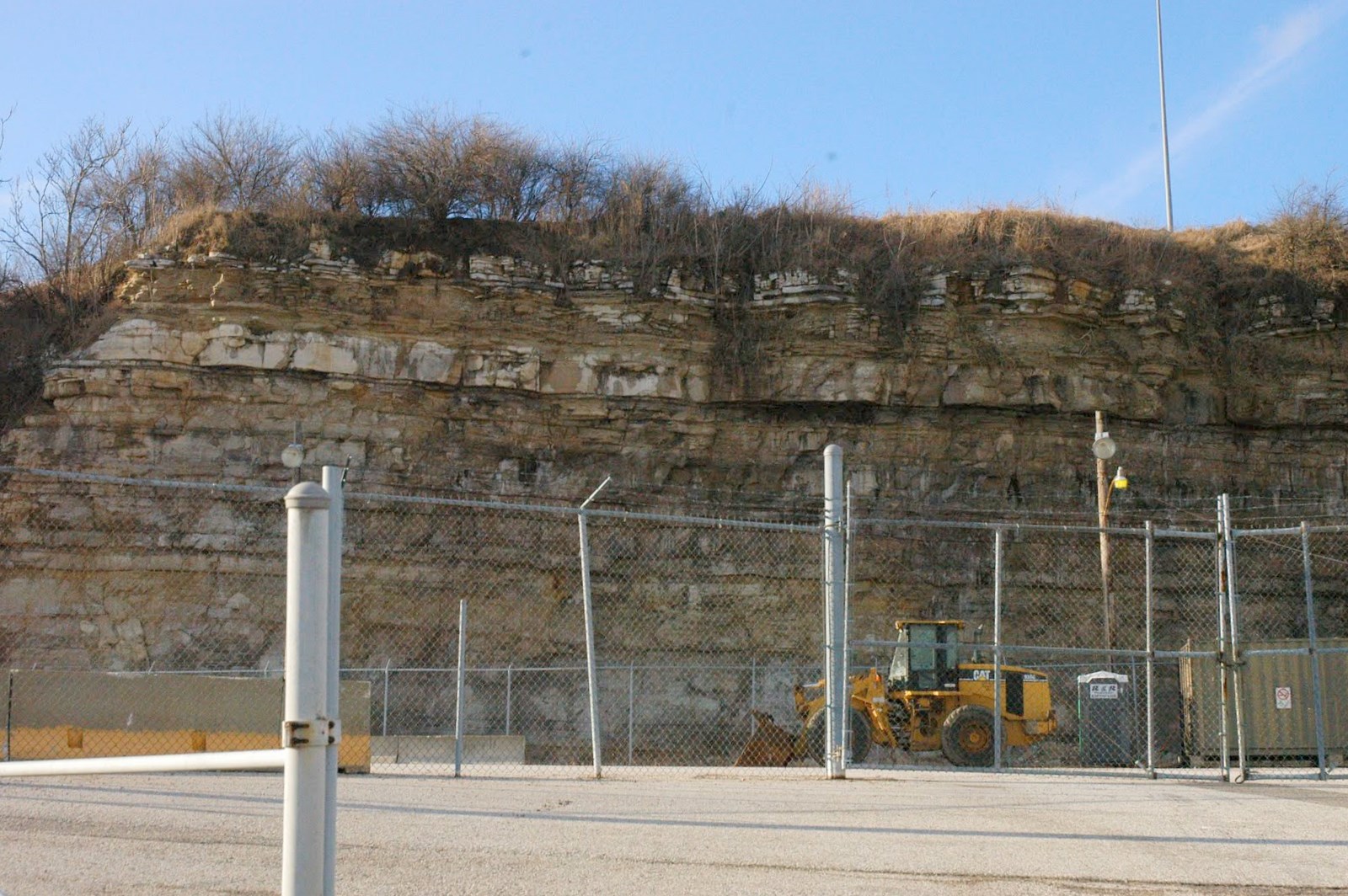 One of my favorite music venues and smoke free bars, Off Broadway: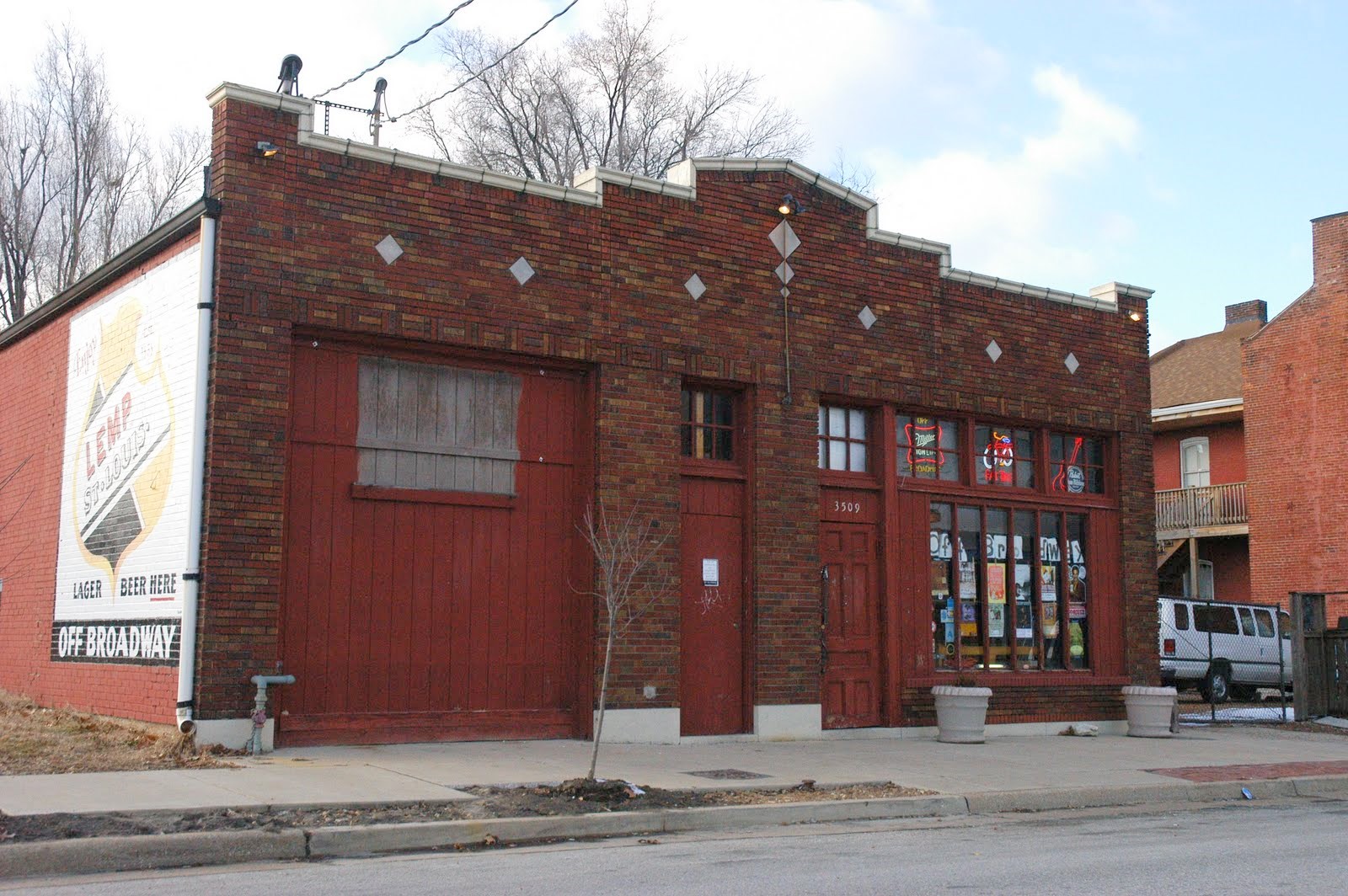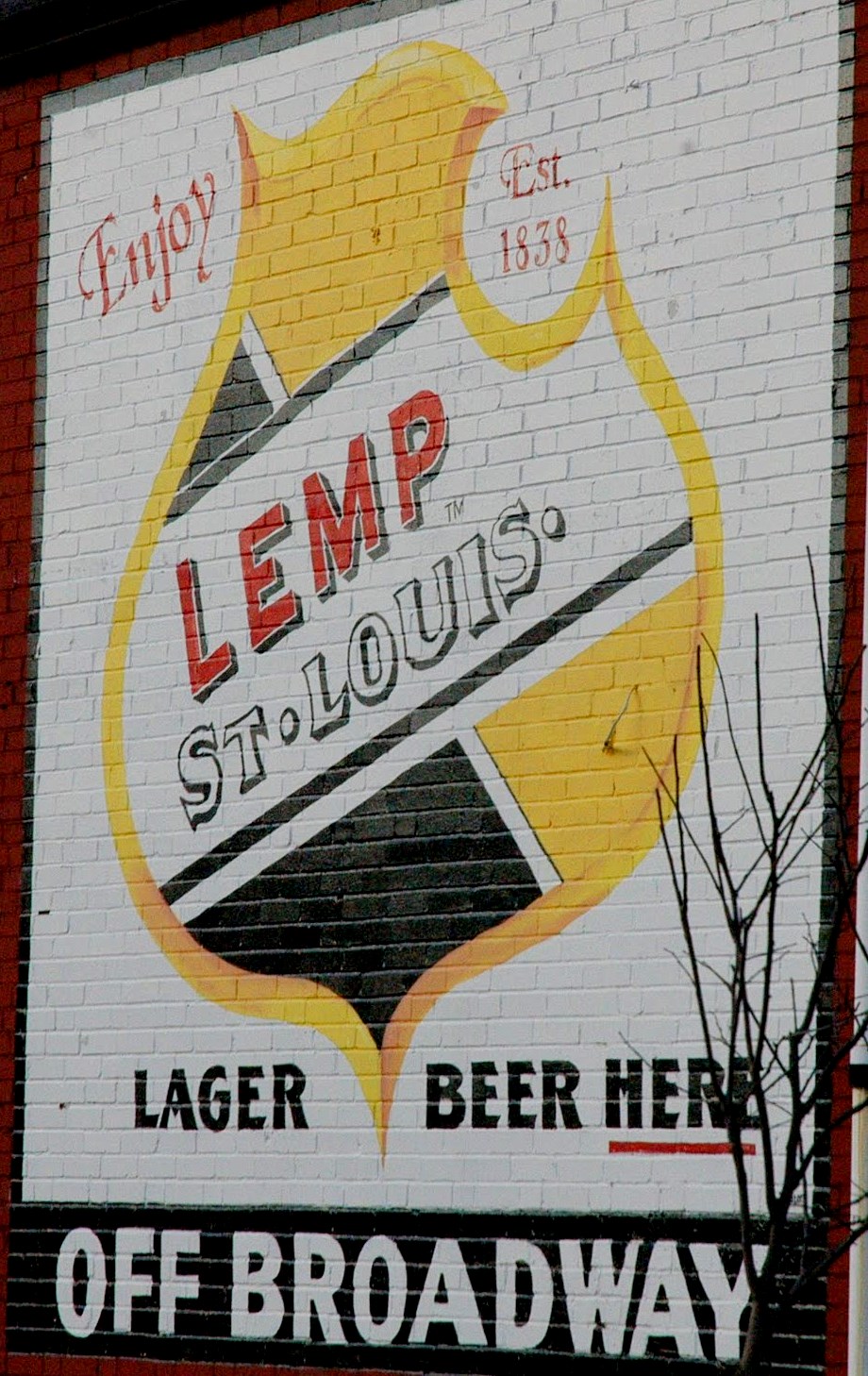 The intersection of Jefferson and Cherokee is a convergence of four distinct neighborhoods: the south east corner is Marine Villa, the south west is Gravois Park, the north west is Benton Park West and the north east is Benton Park. I was getting a cup of joe at Foam and asked the barista what neighborhood we were in (just to see if he knew), the place was filled with customers who overheard my question and several people chimed in with the info. These locals know their facts; I am consistently amazed at how engaged St. Louisians are in their neighborhoods and surroundings. Too bad the city doesn't know this info, as this sign is posted on Cherokee and Missouri: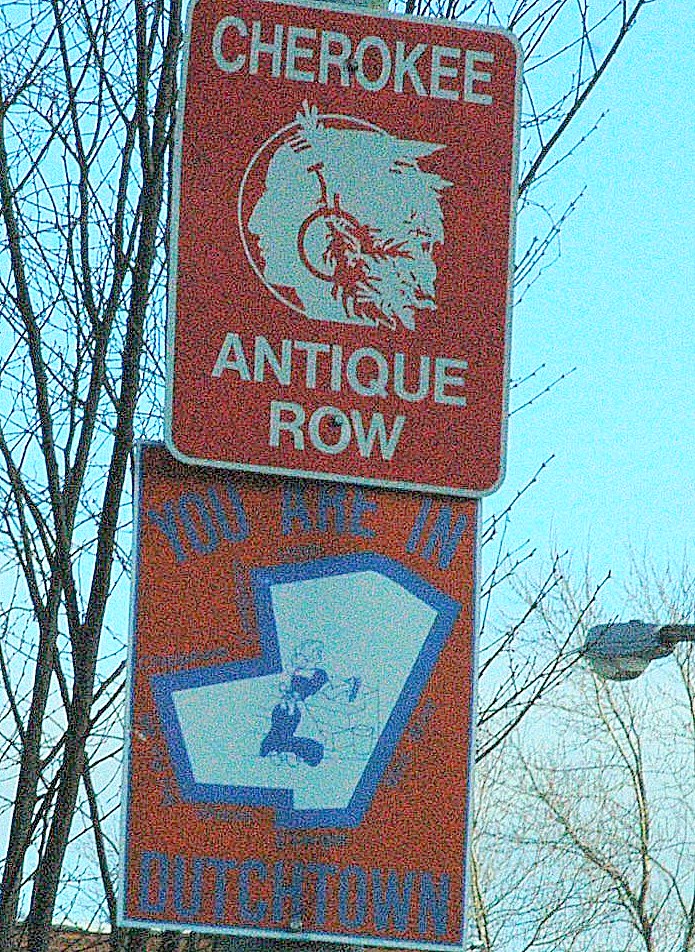 The sign says "You are in Dutchtown". Word up, you are not in Dutchtown, you're in Marine Villa….
There are many boarded up homes waiting for some tender love and care (Looks like little Johnnie got a paint ball gun under the tree this X-mas):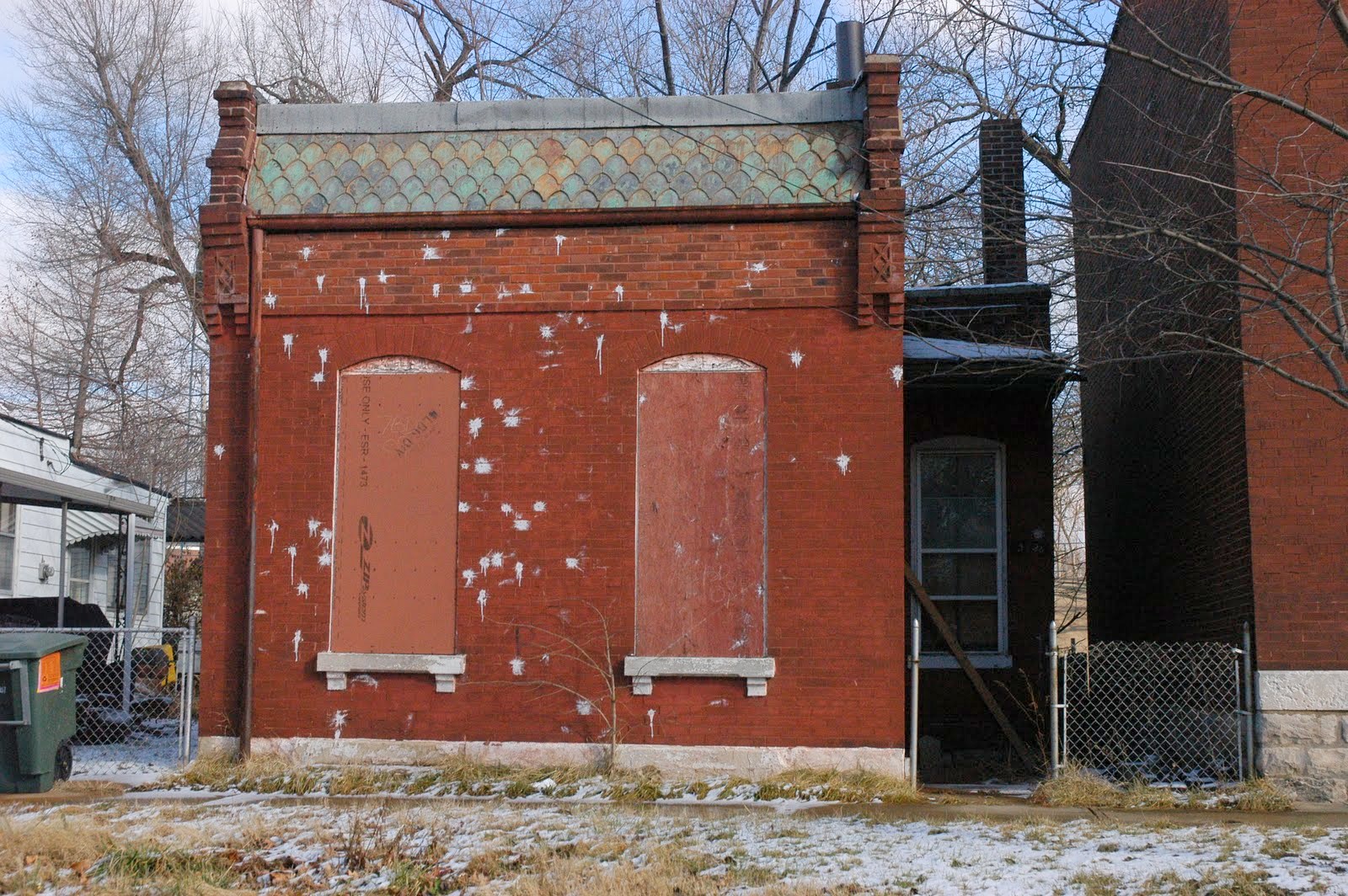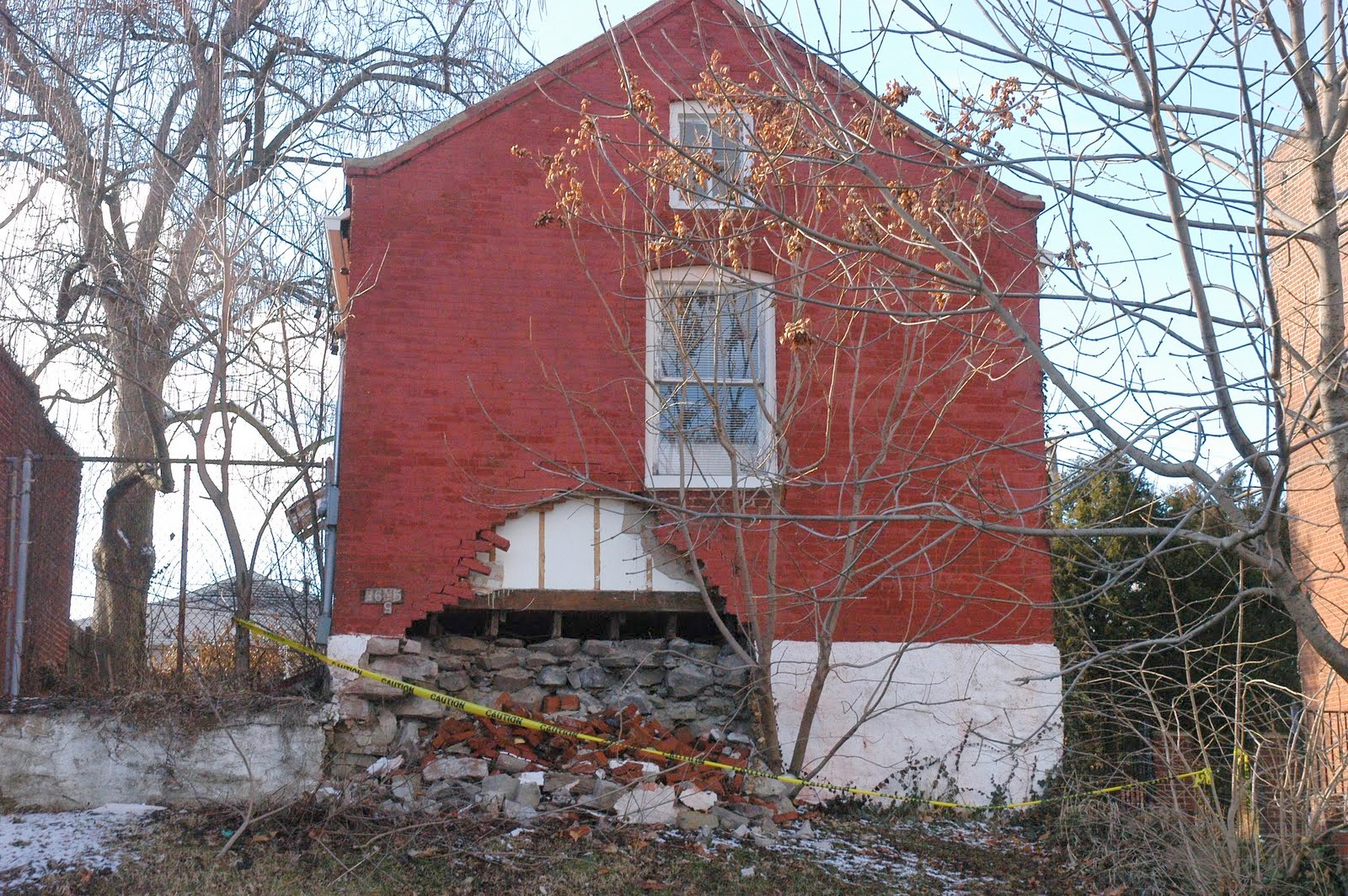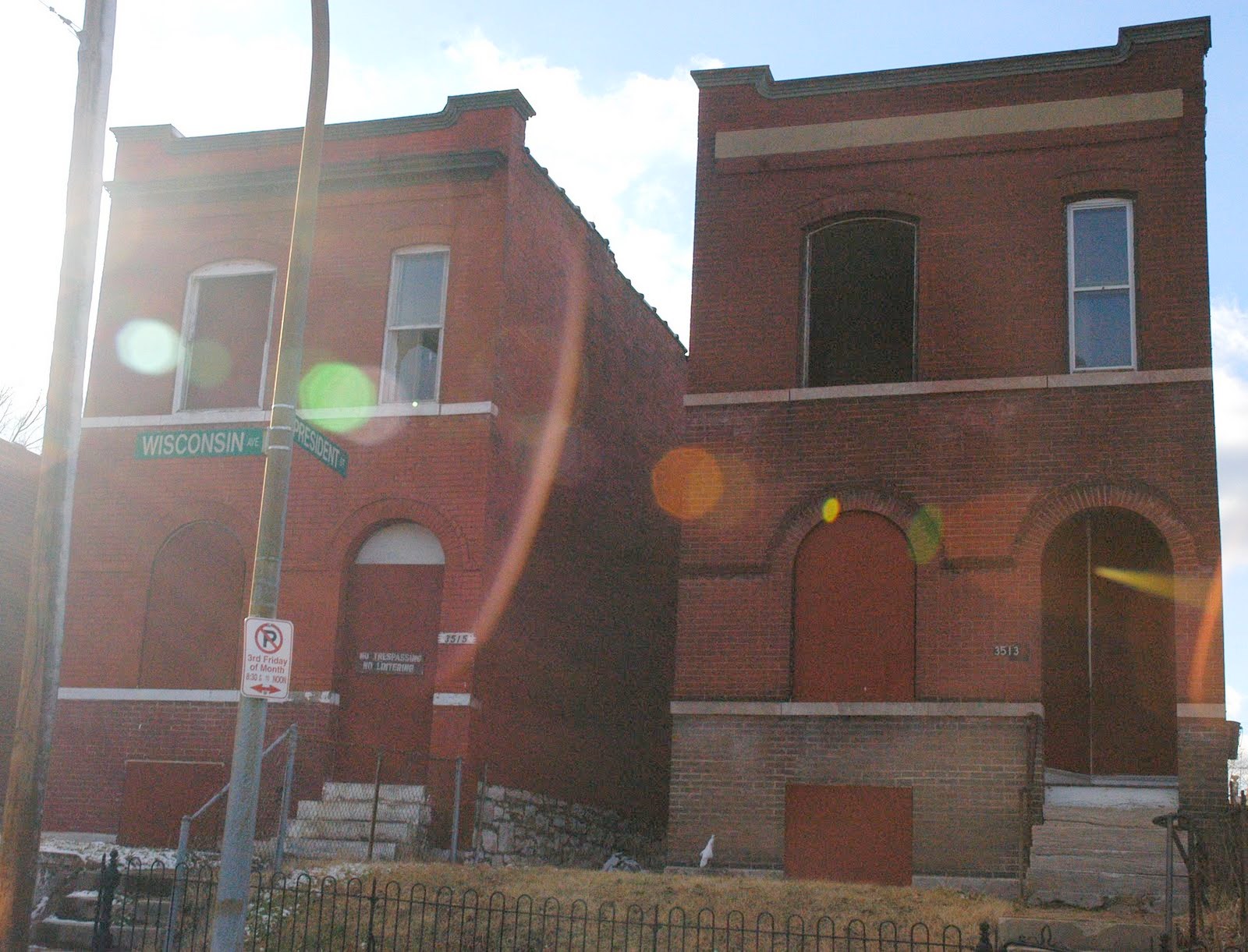 But don't let that get you down, these are not the prevailing scenes in Marine Villa. This is a rehabber's paradise. I was licking my chops thinking of all the opportunities. This would be a great place to invest. I could see this being the Benton Park or Soulard of the future. Many of the homes are really reminiscent of those two neighborhoods, put it's proabably a little more architecturally diverse. Take a look at some of my favorites: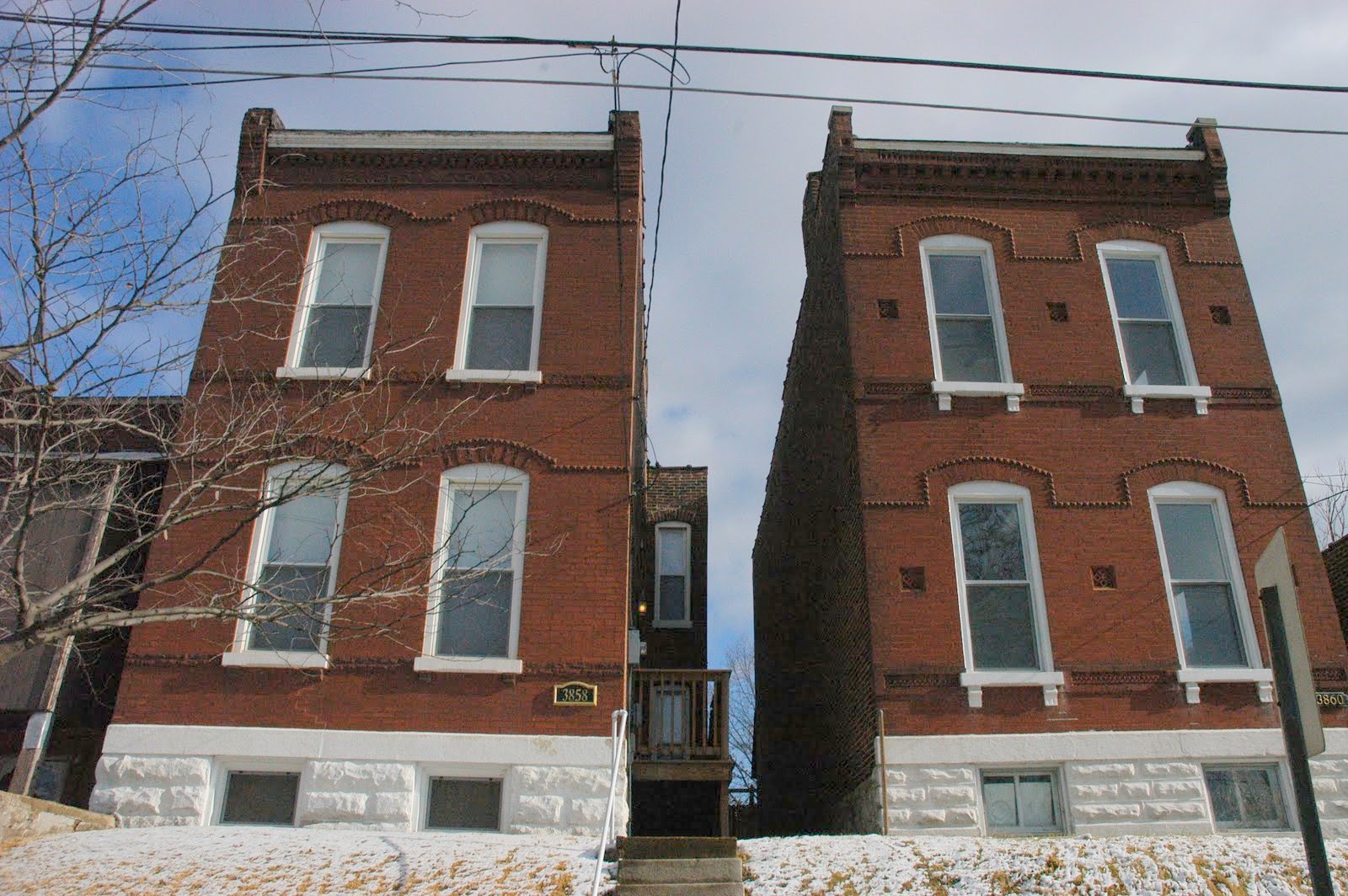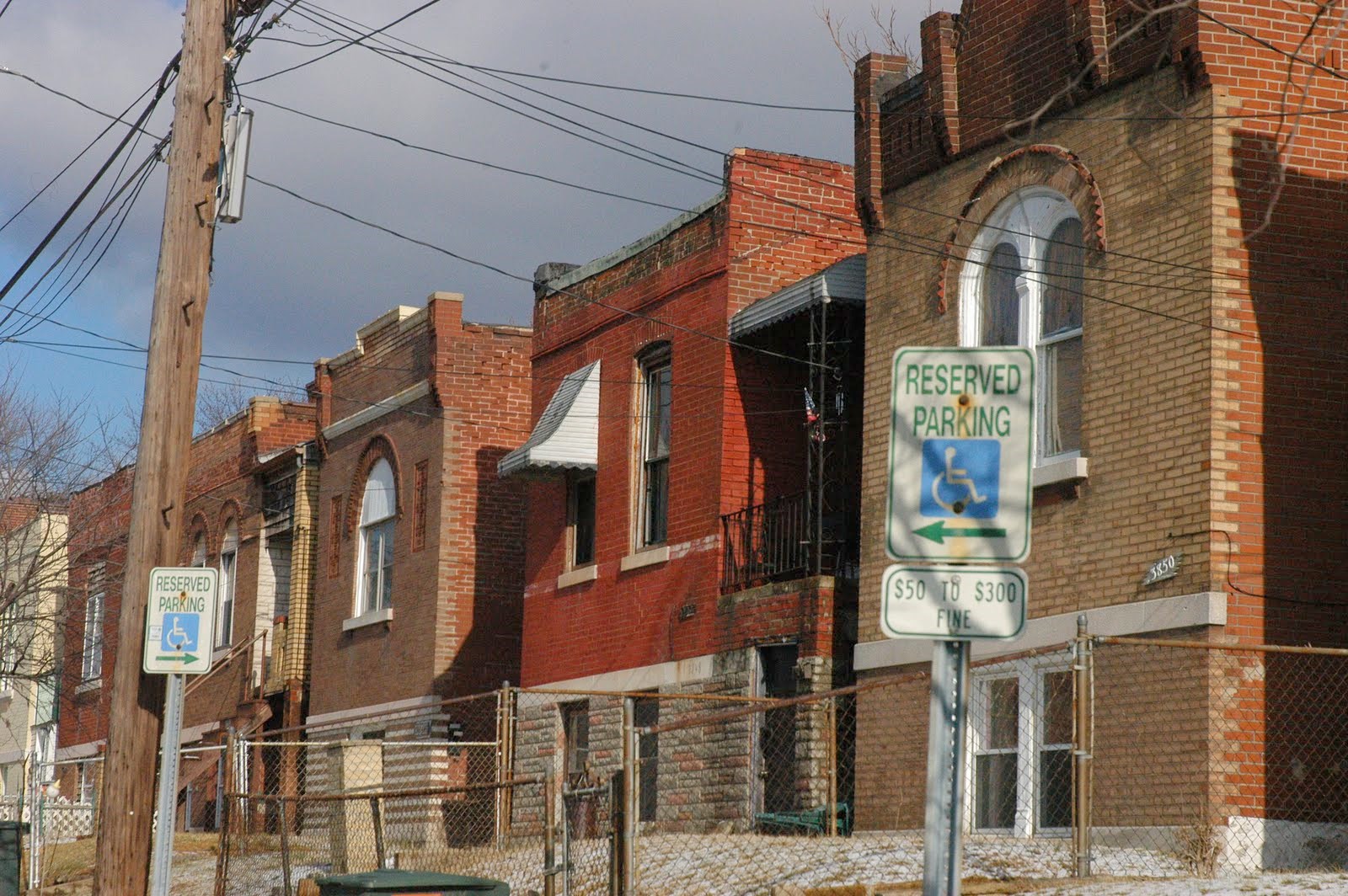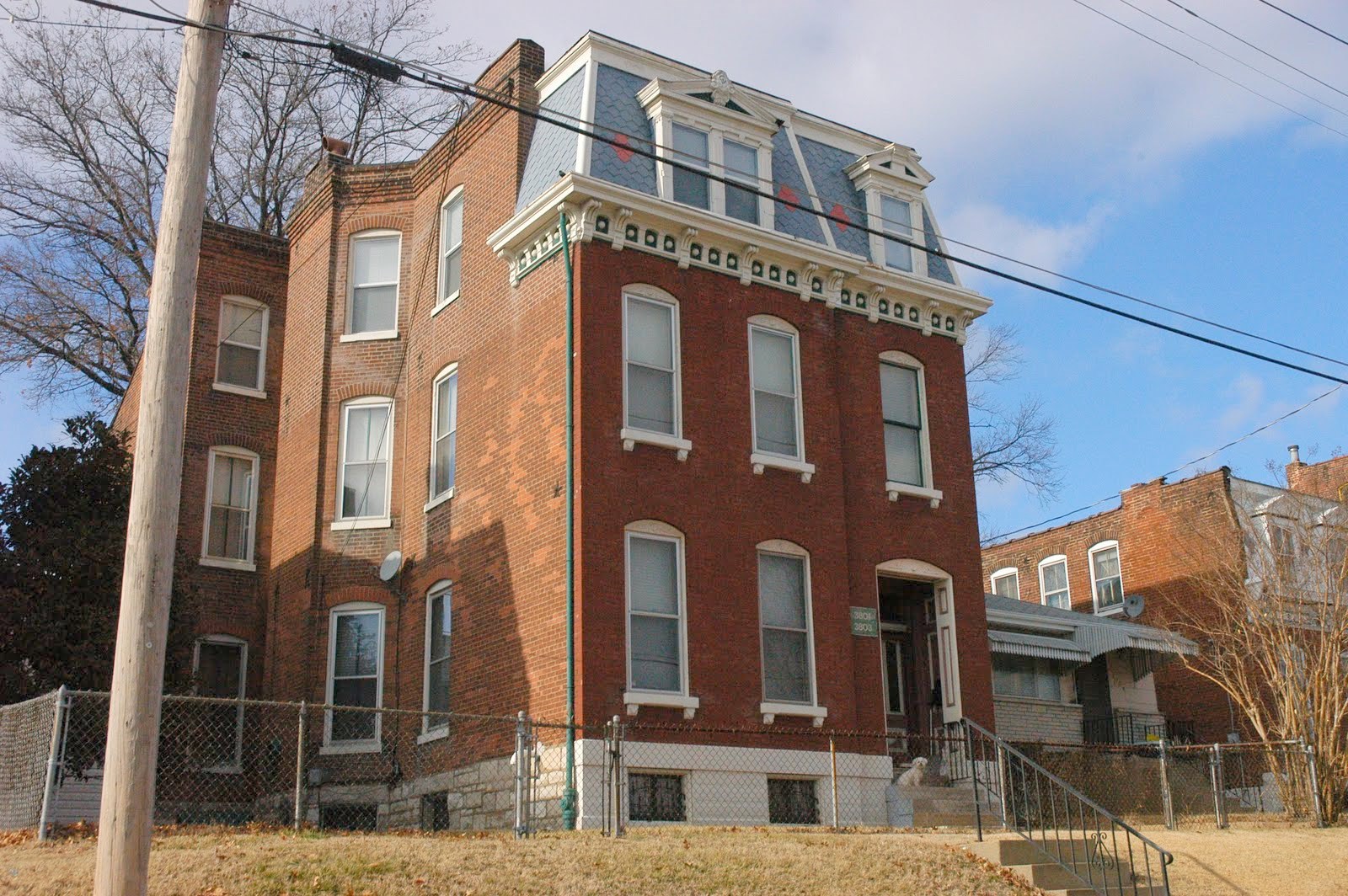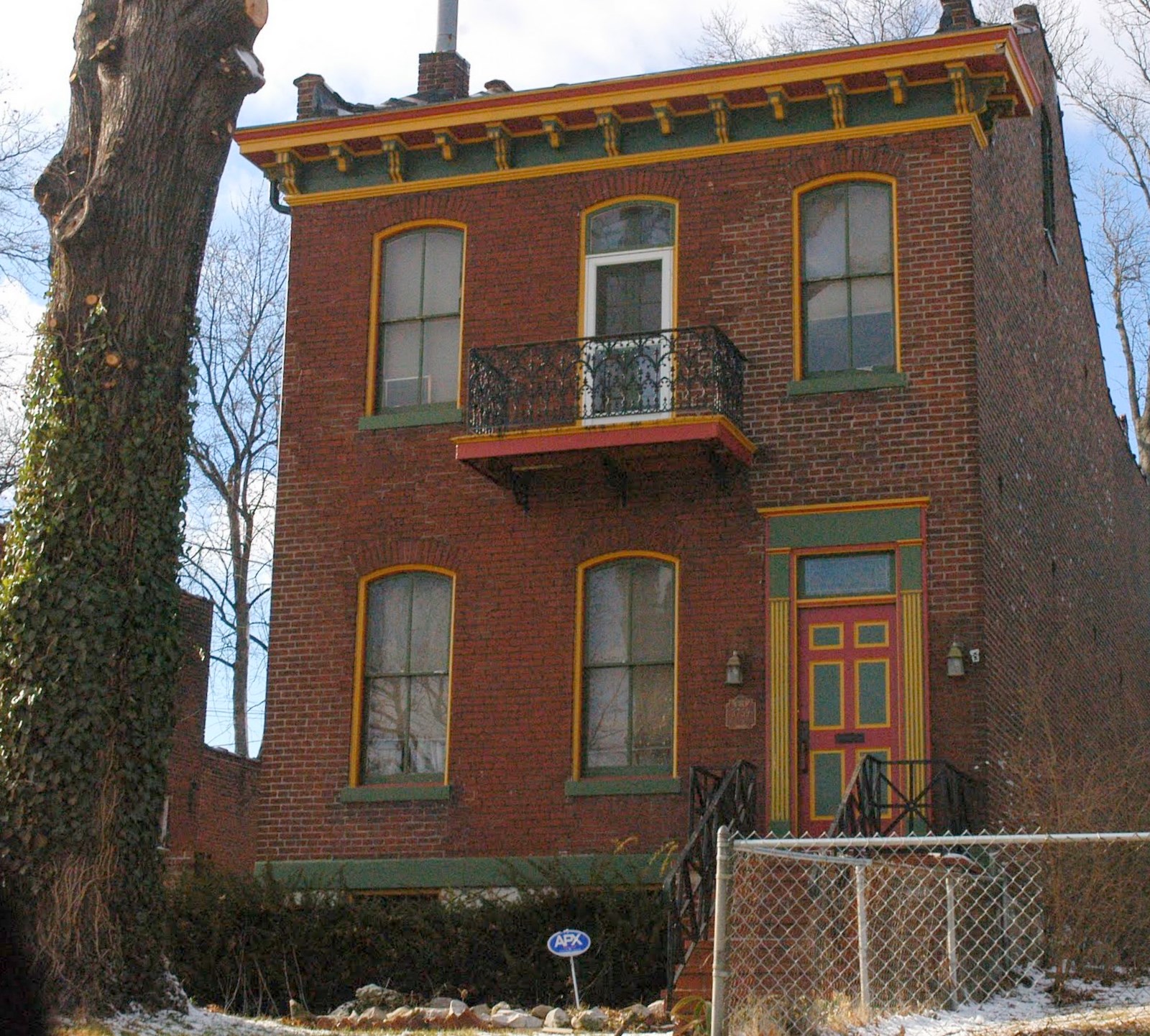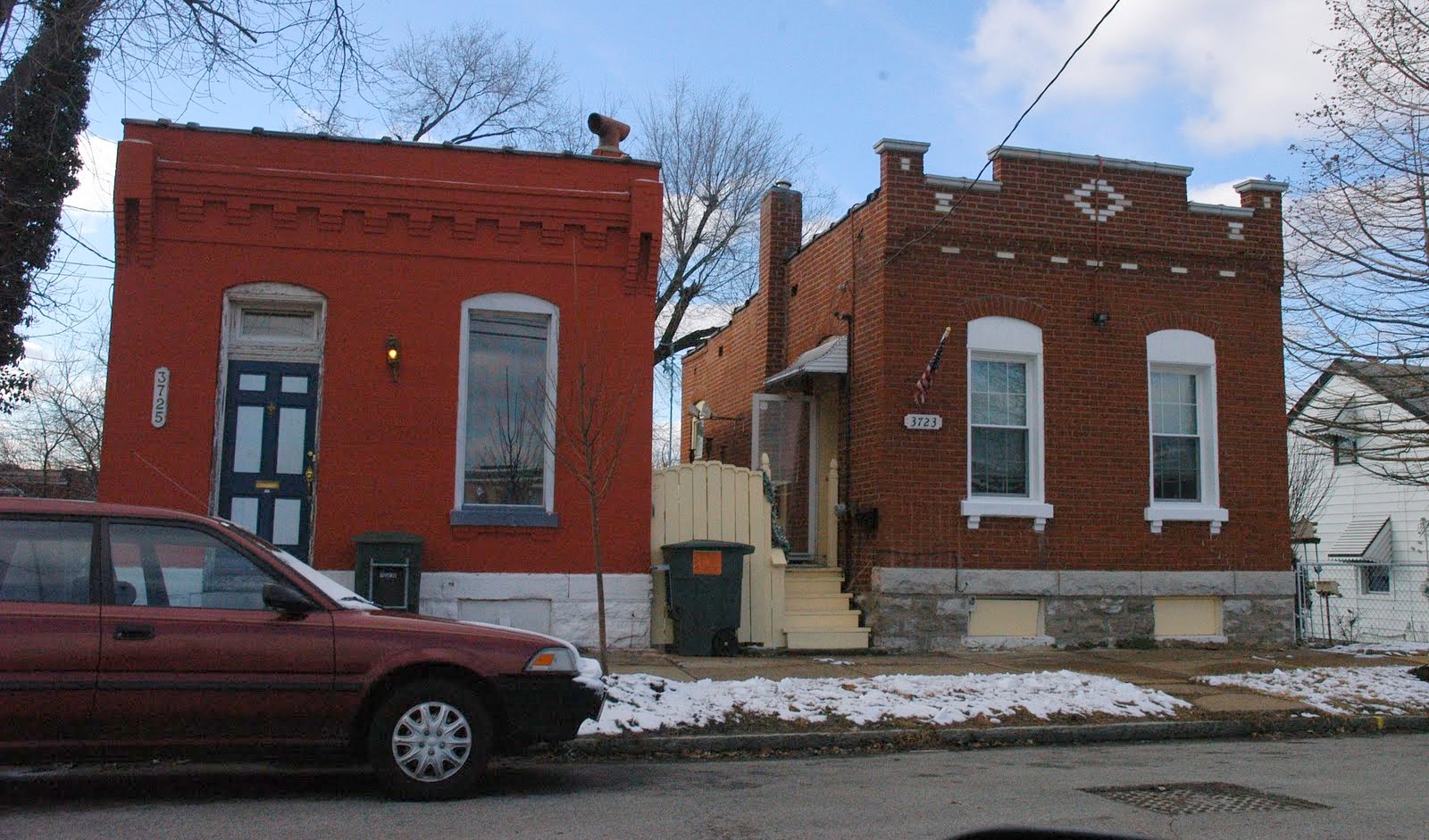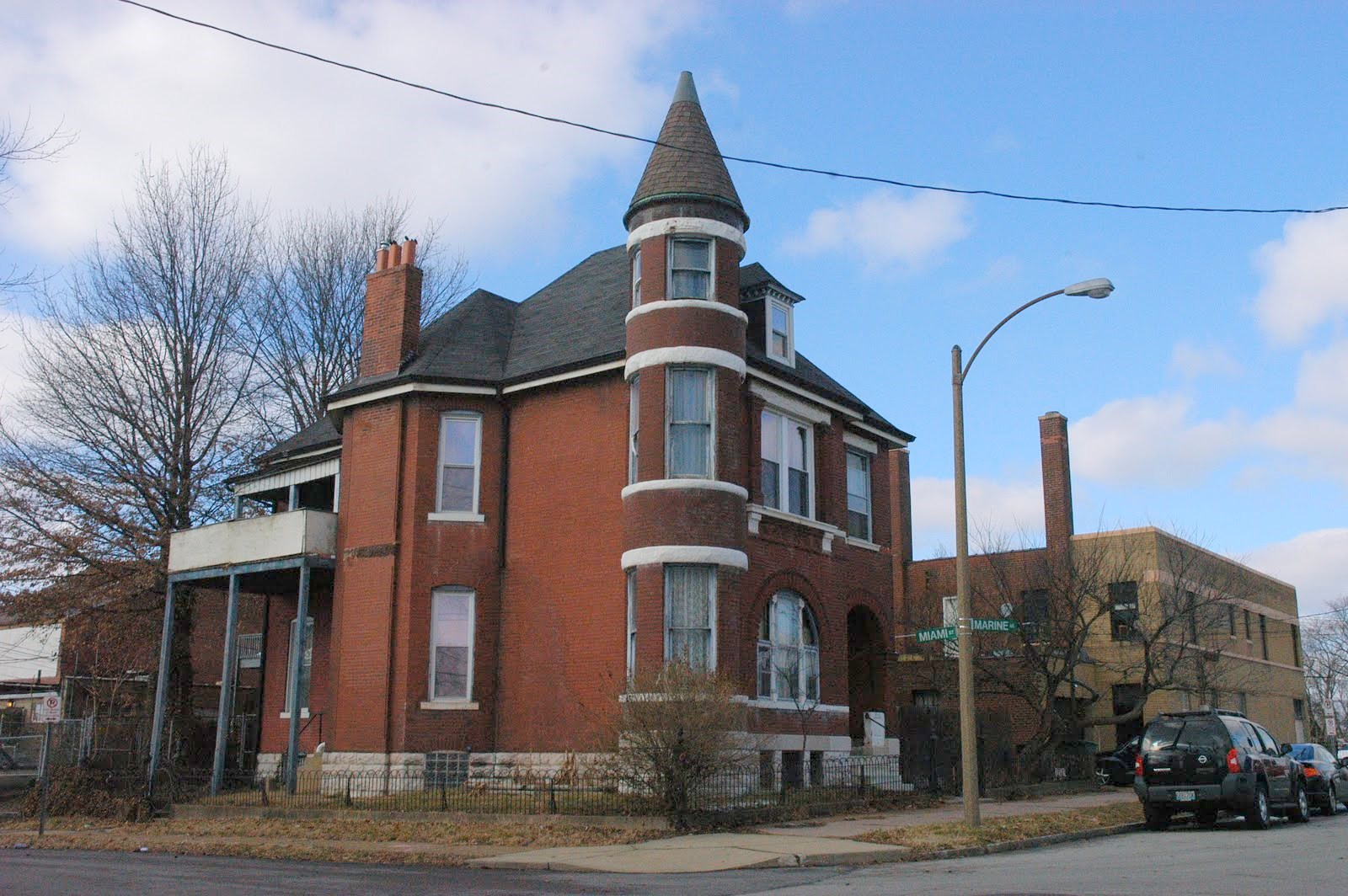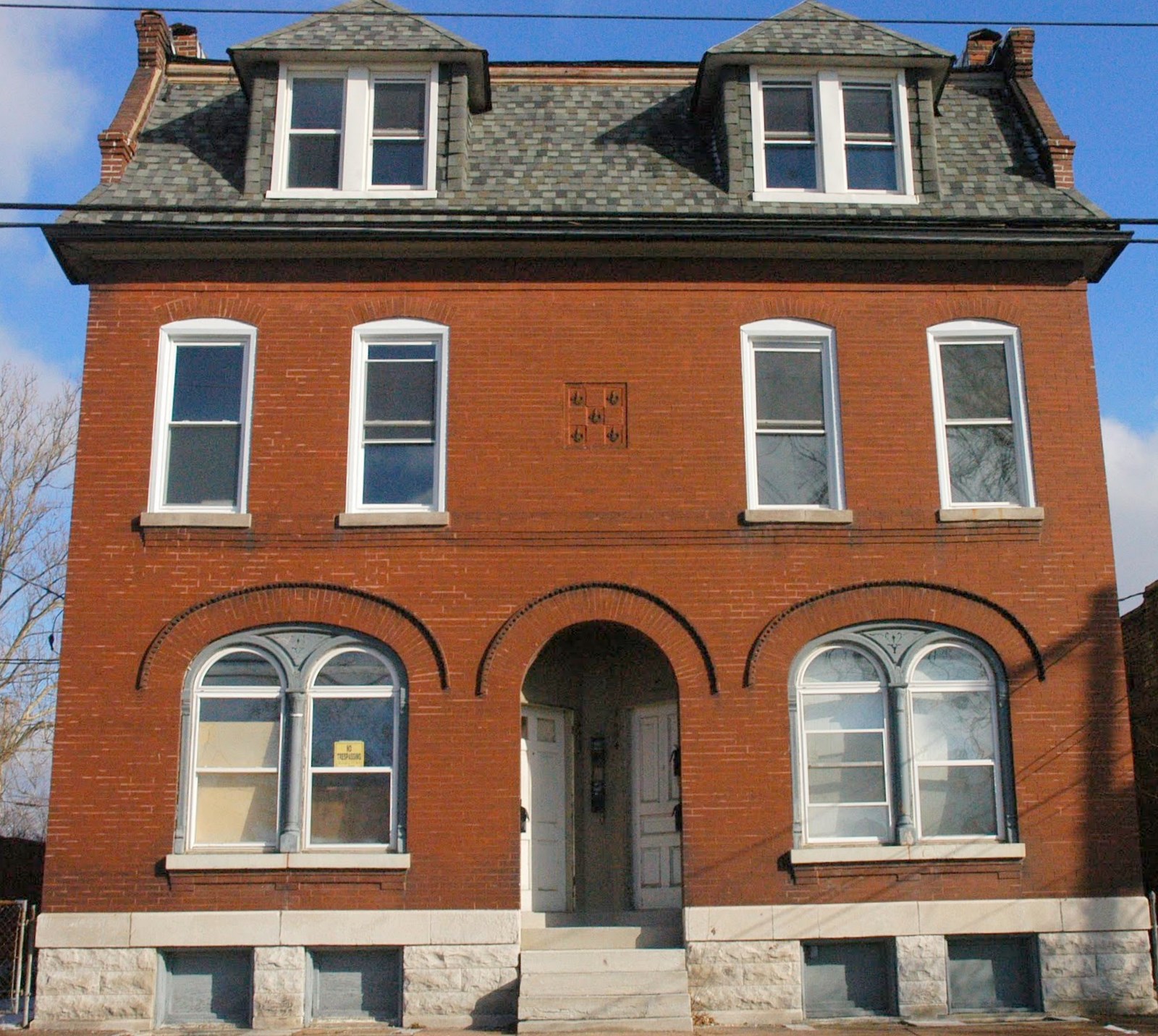 Notice the intricate fleur de lis in the brickwork: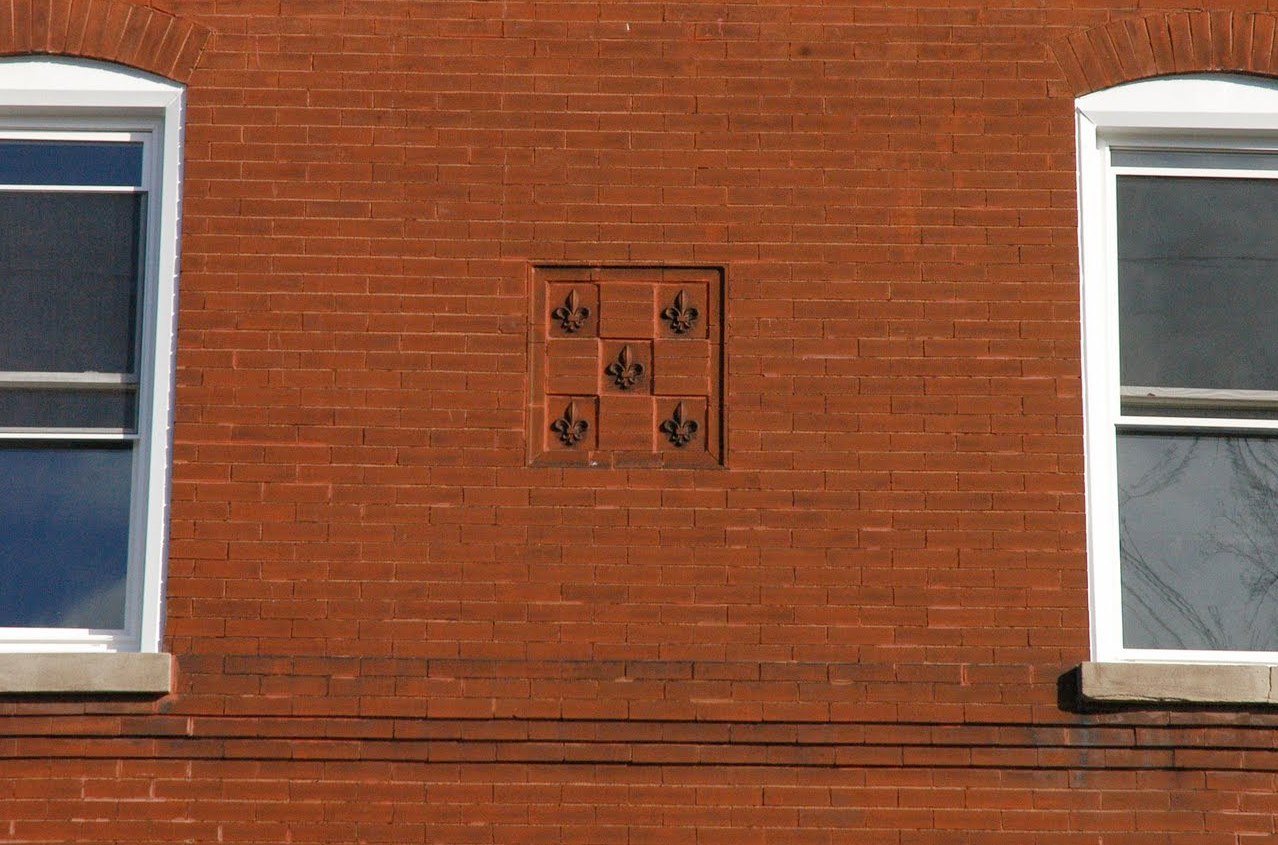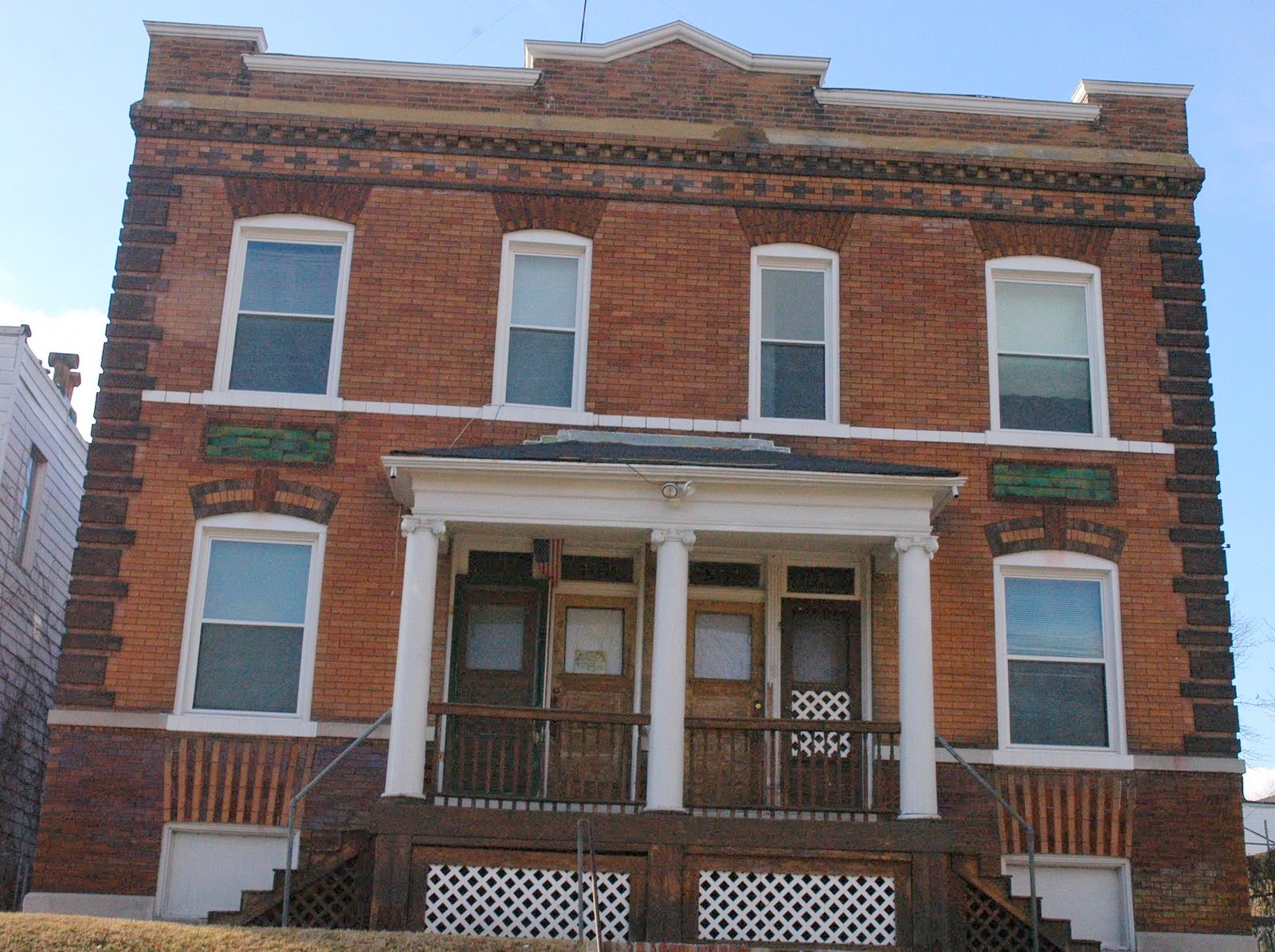 As I've mentioned before, I'm a huge fan of ceramic glazed bricks. This building is a treasure trove of such bricks: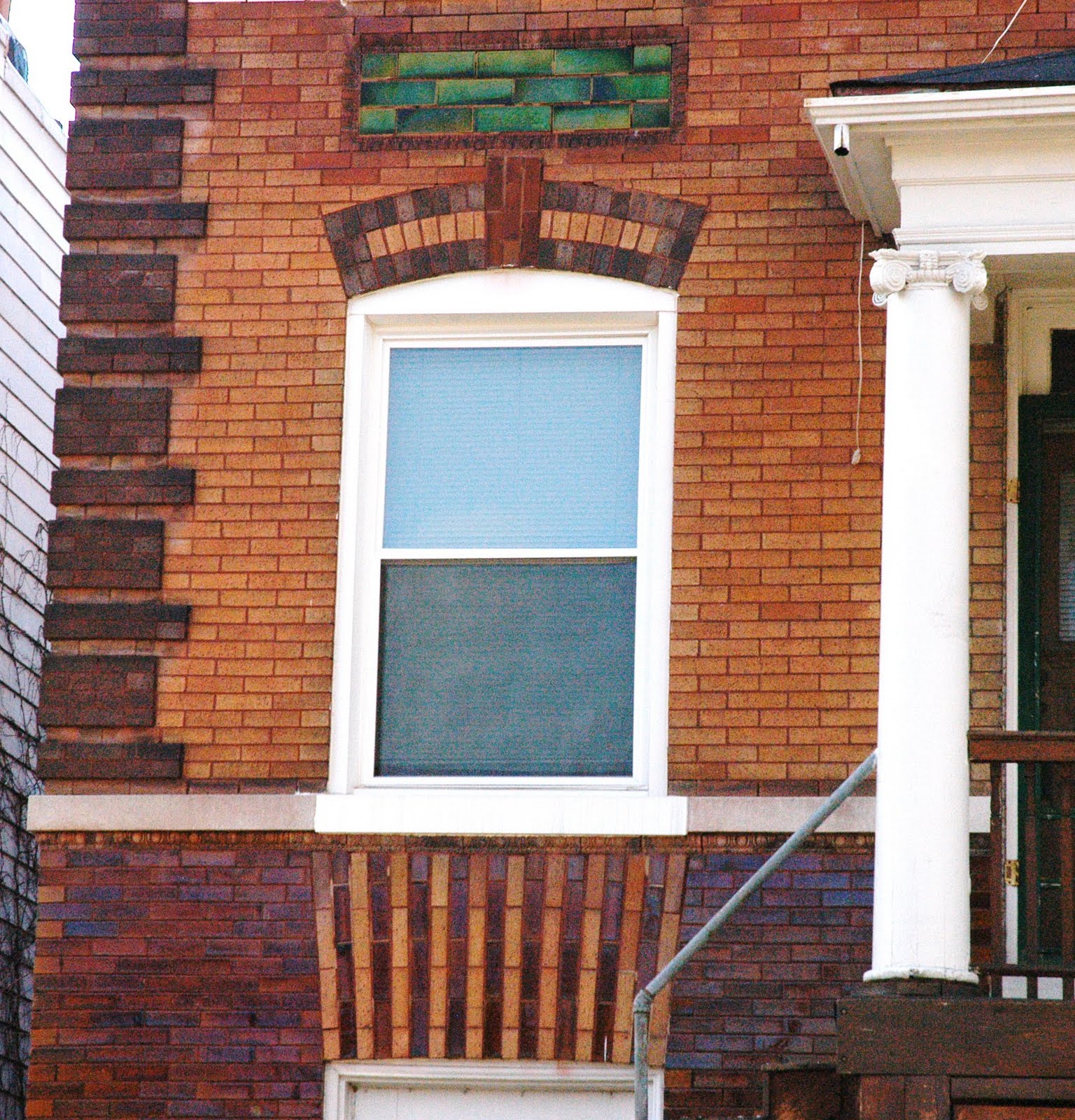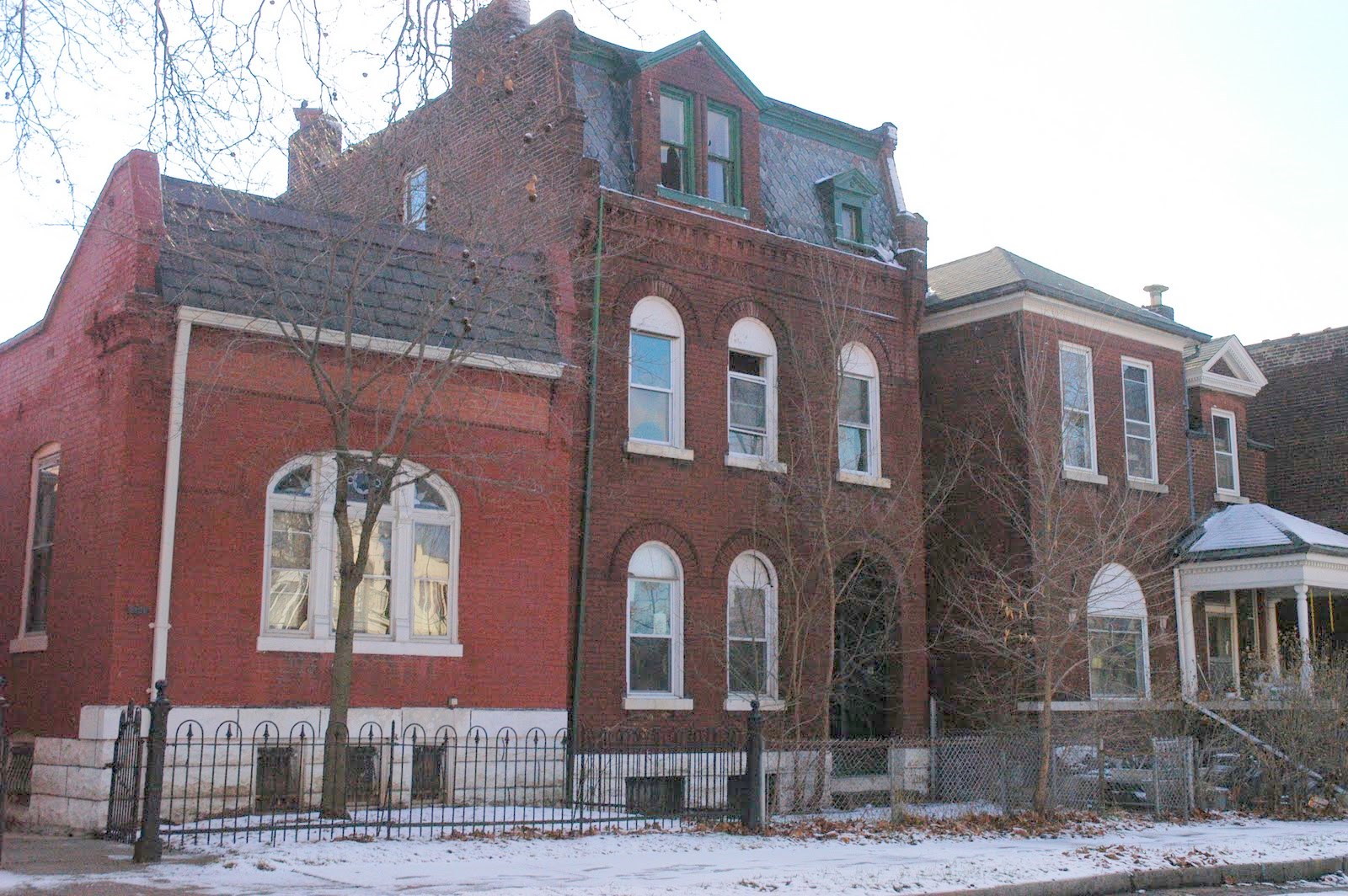 Notice the lettering patterned into the shingles: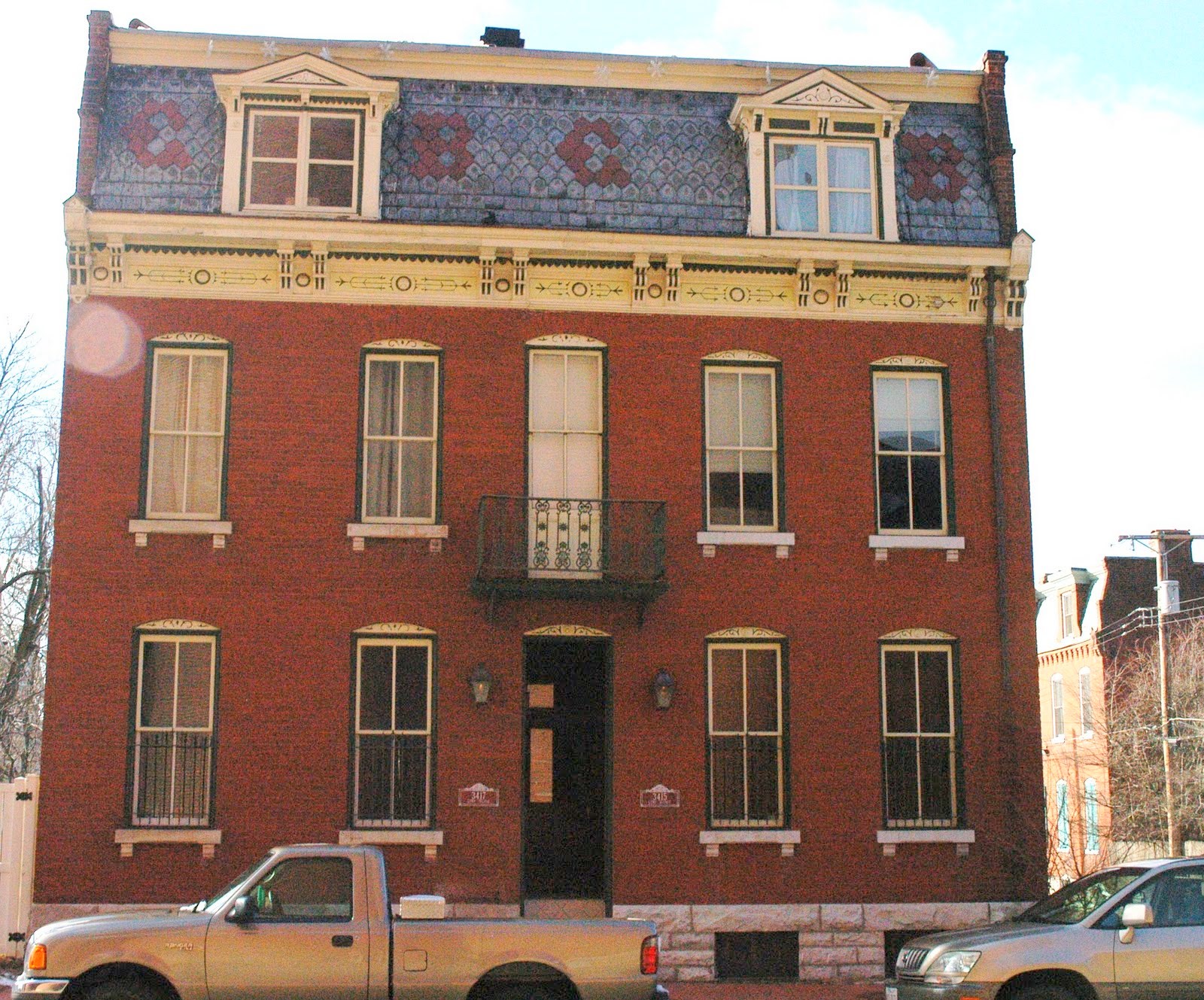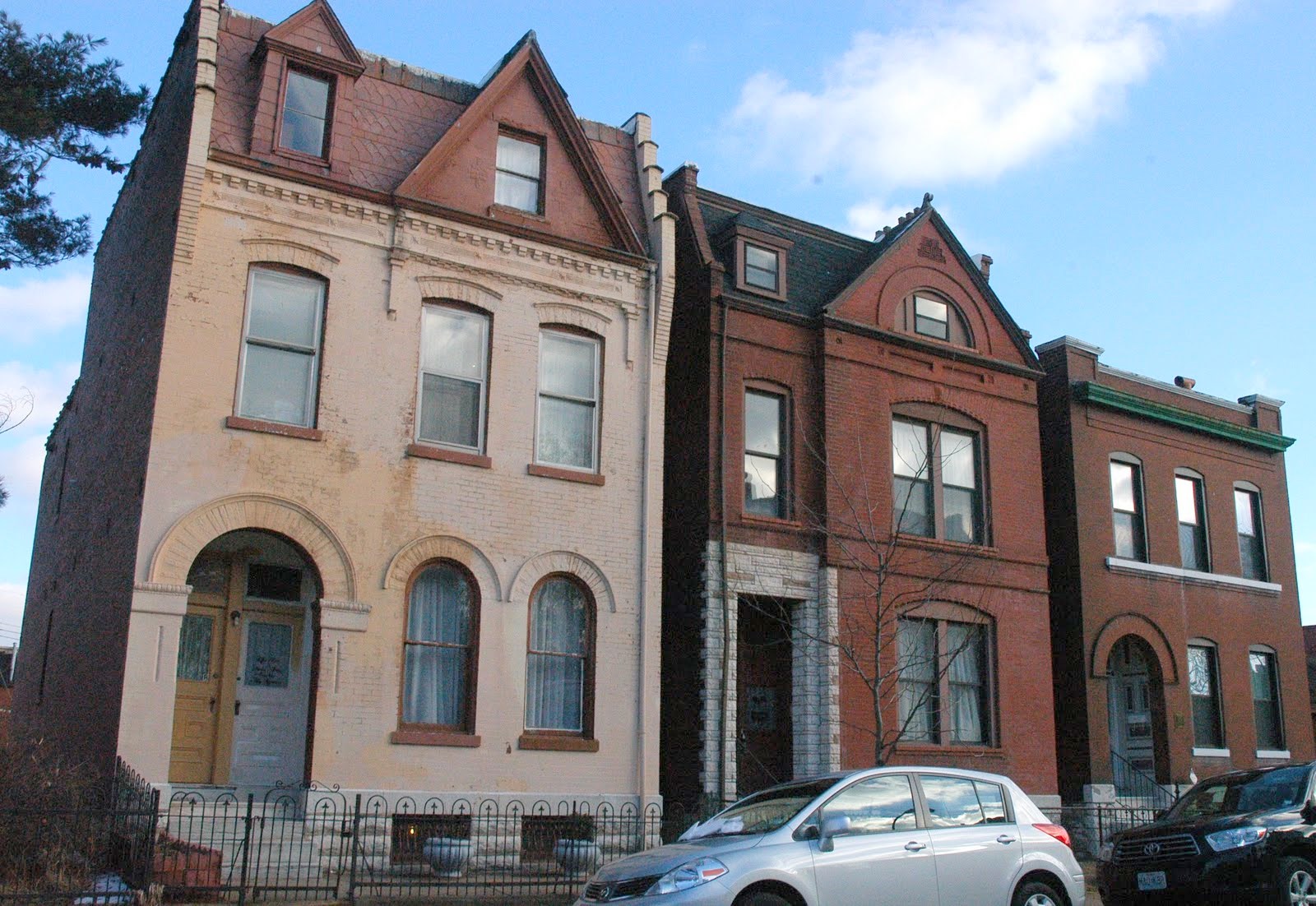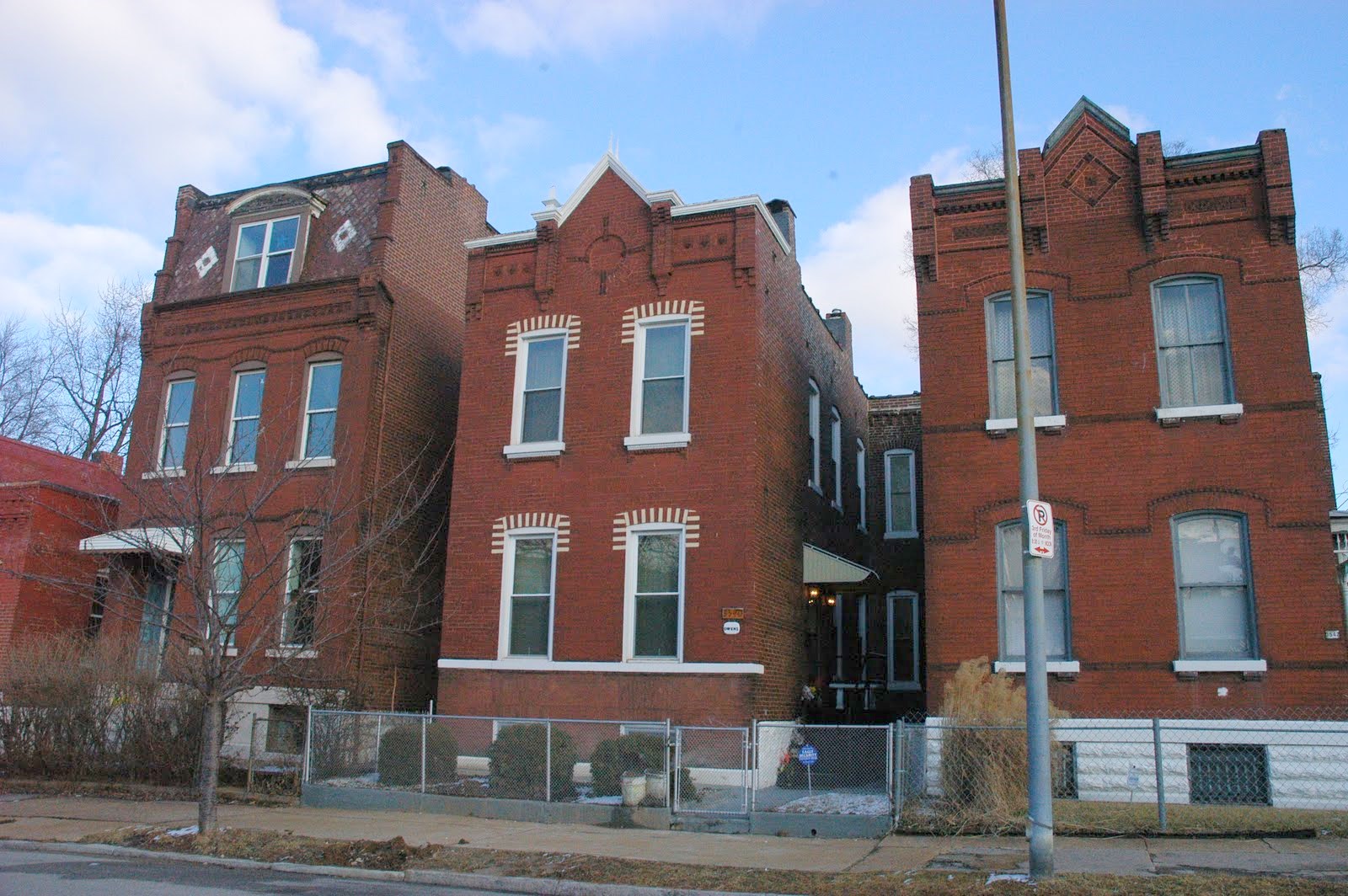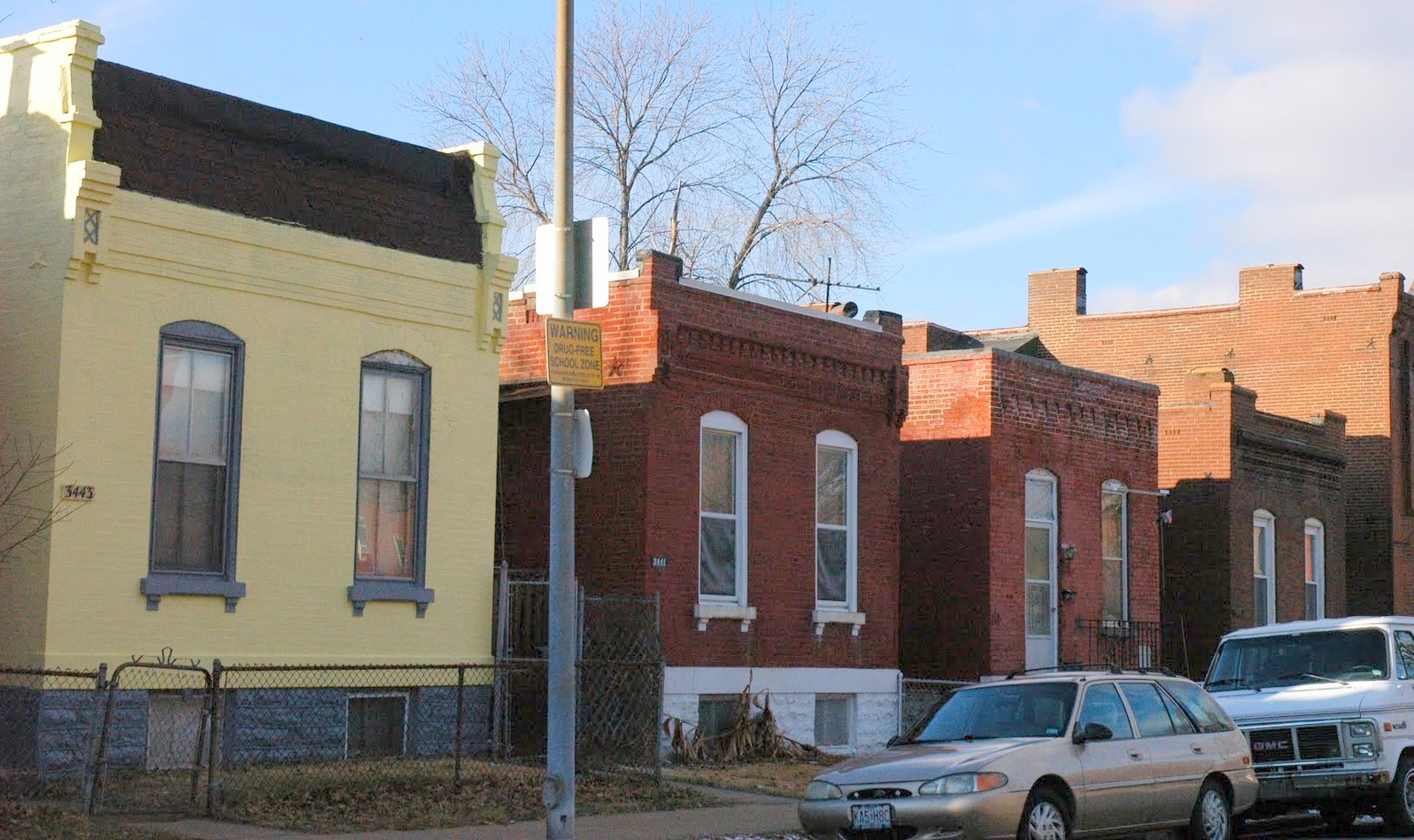 I found a couple examples of what are called "flounder homes" which are defined as (from the City of St. Louis website):
The flounder, sometimes called a half-flounder, is a house type which appears to be unique to St. Louis. The flounder is a narrow house, usually two or two and a half stories tall, and one or two bays wide. Entry was most often from the side elevation, which sometimes had a two-story gallery. Since these houses were exclusively working class homes, decoration was limited, confined to segmental arched windows and perhaps a corbelled cornice. Flounder houses were especially appropriate for dense neighborhoods, where space was at a premium. They were often constructed as alley buildings, sharing a lot with as many as two larger tenement buildings. Flounder houses can be found in the City's oldest neighborhoods, Old North St. Louis, Hyde Park and Soulard.
The brick house at 3810 Kosciusko Street, in the Broadway-Marine neighborhood, is an unusual flounder house in that the roof is not a half gable, but a half gambrel. The house is situated with the gable end parallel to the street. The entry is on the side elevation, and flanked by two windows. The half story above has two dormers, and a delicate brick cornice with dentils. The enclosure which projects above the entry porch is not original. The two-story brick house at 1825 South 9th Street in Soulard is a more typical flounder example. Like the house on Kosciusko, the narrow half gable end faces the street. There is a two-story side gallery, and a side entrance. The house is set well back from the street, along the alley.
Here are a couple flounders: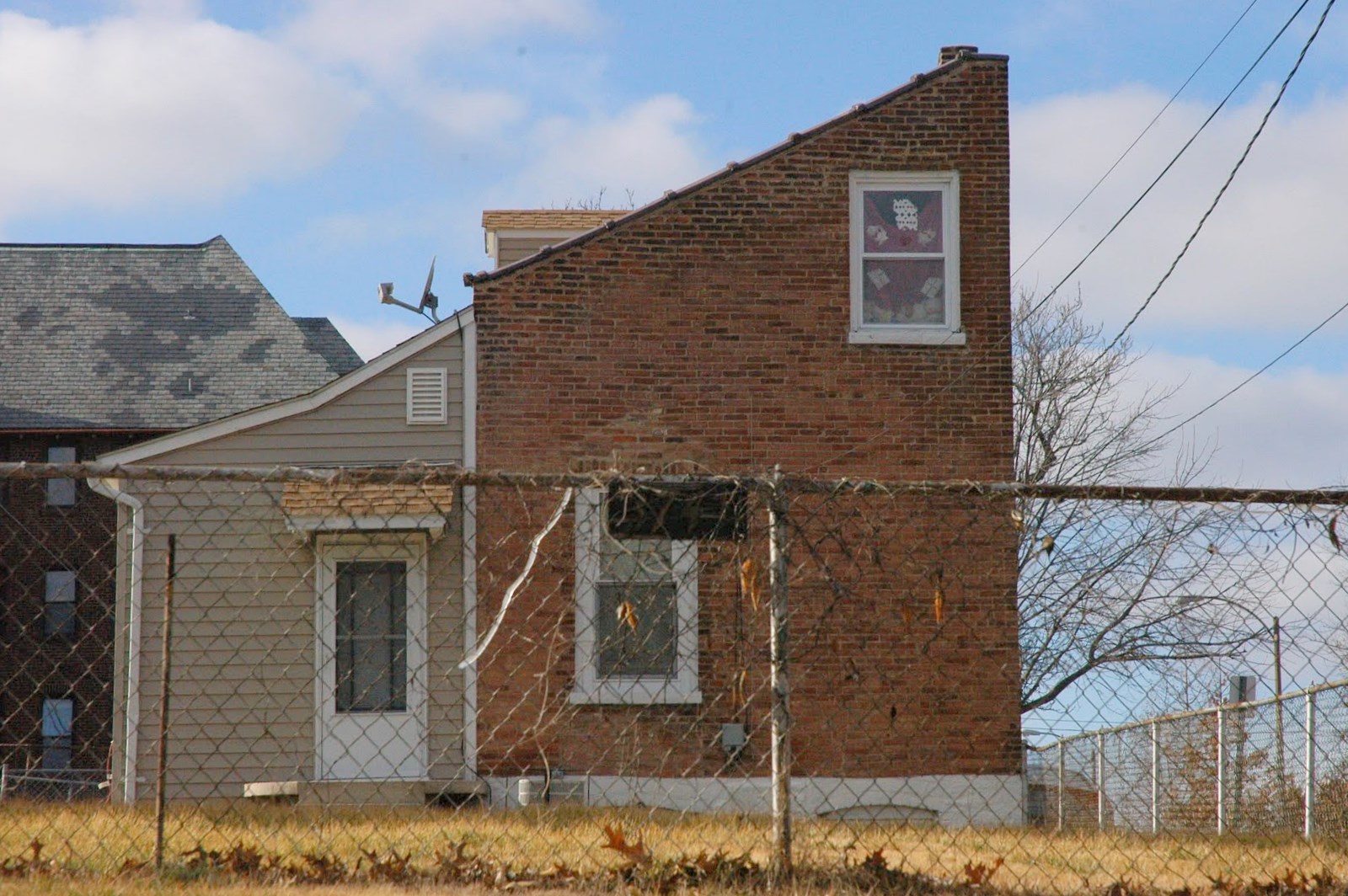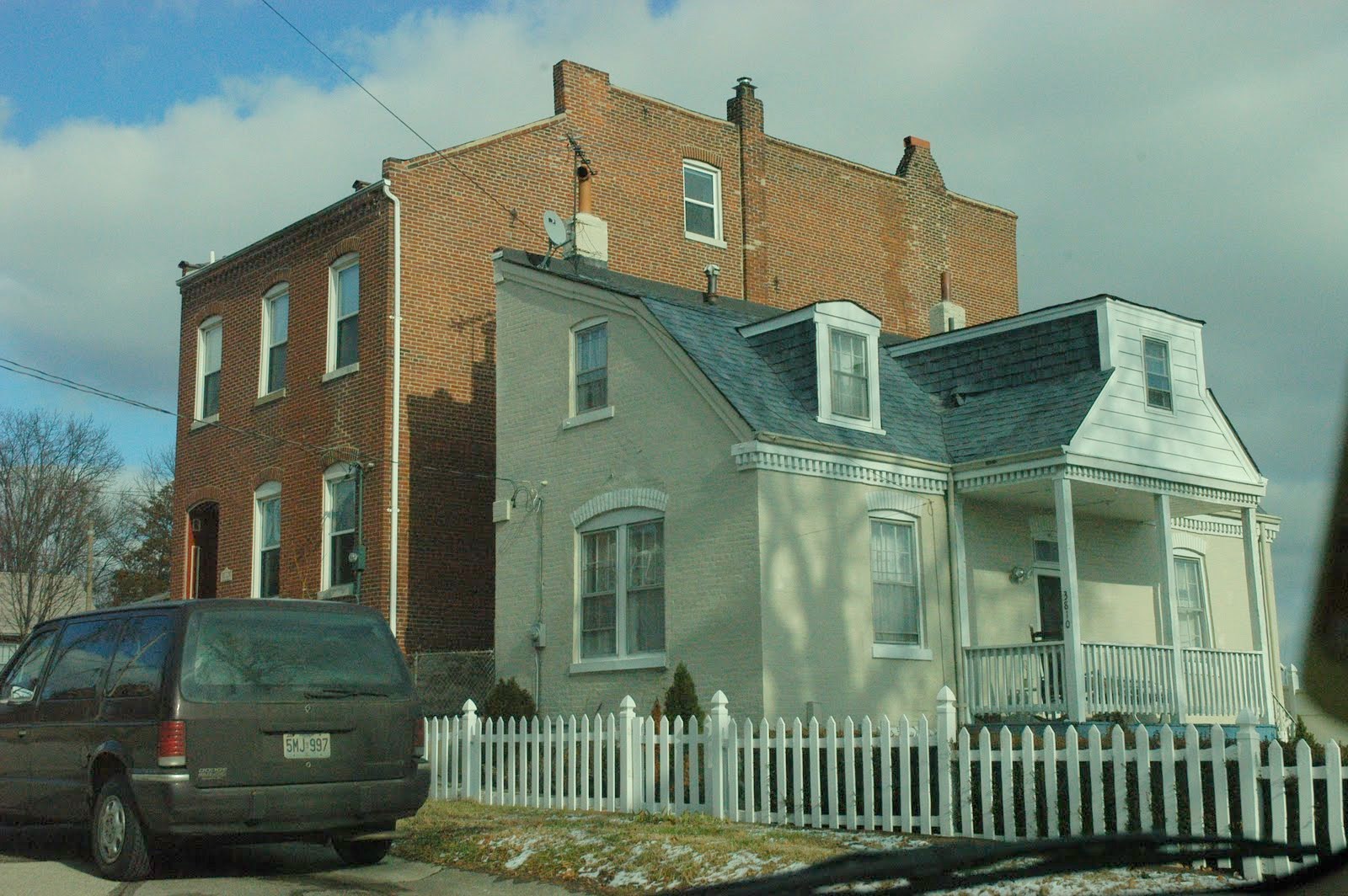 There are some smaller contemporary homes and apartments, especially nearest I-55, which stick out like a sore thumb and make no attempt to fit in with the older homes: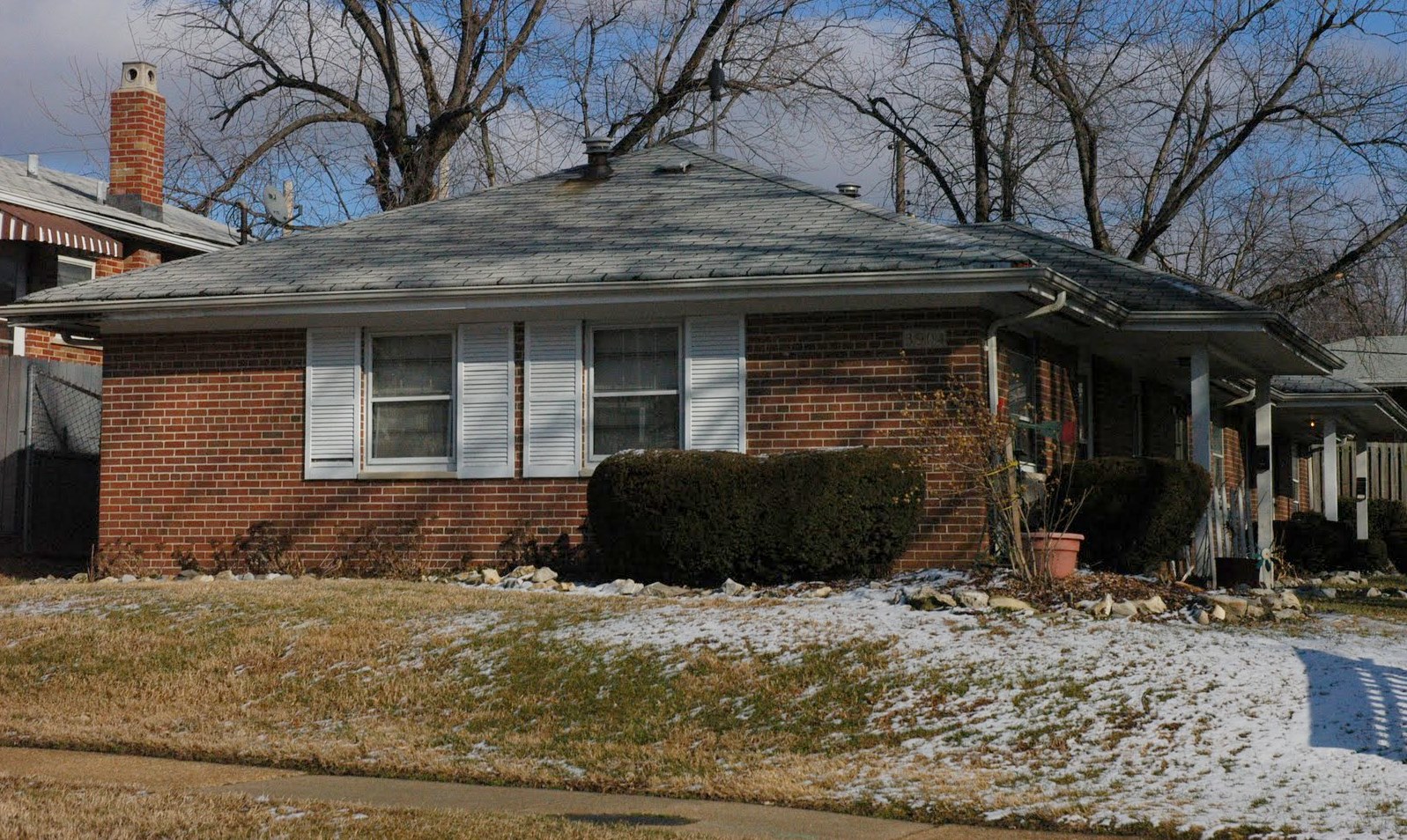 Yet, there are some examples of new infill that do attempt to match the native homes: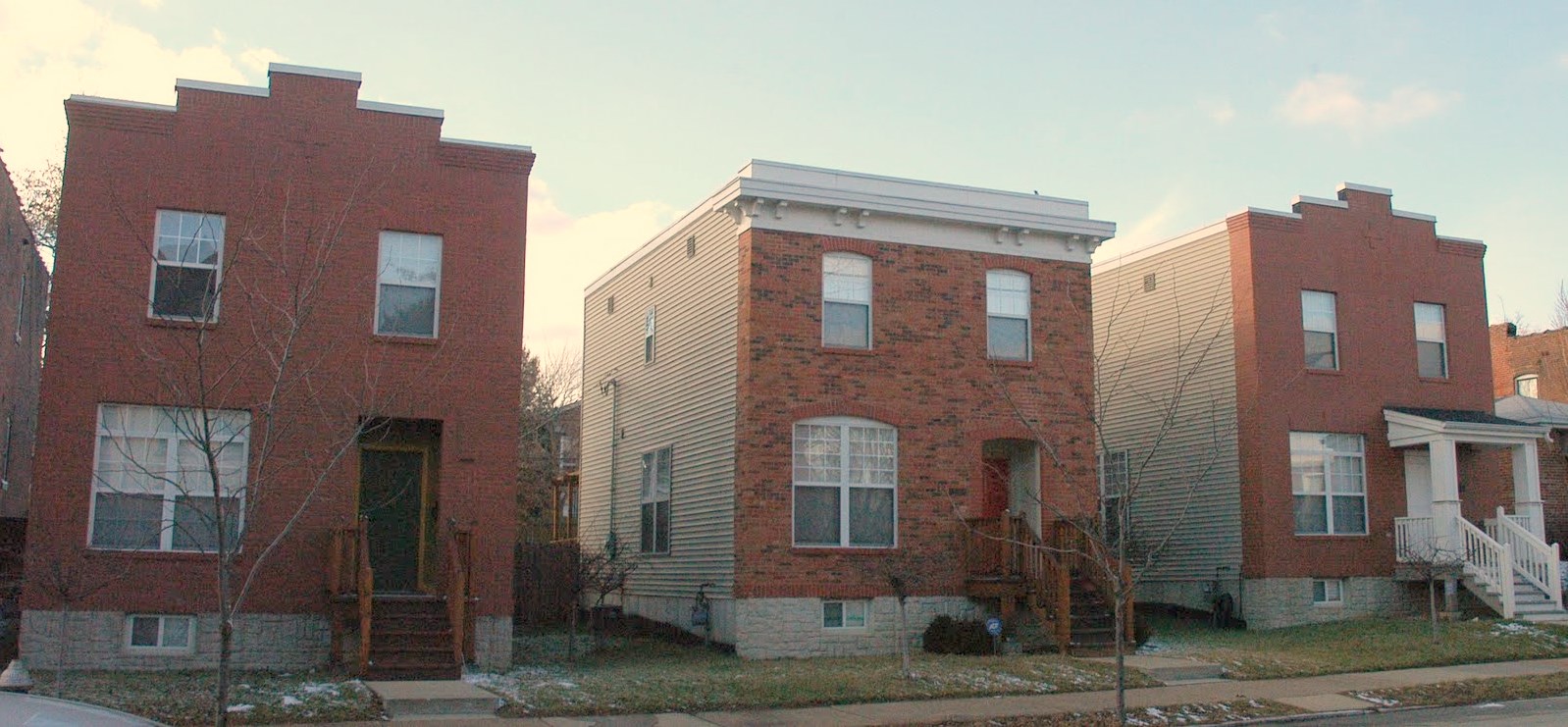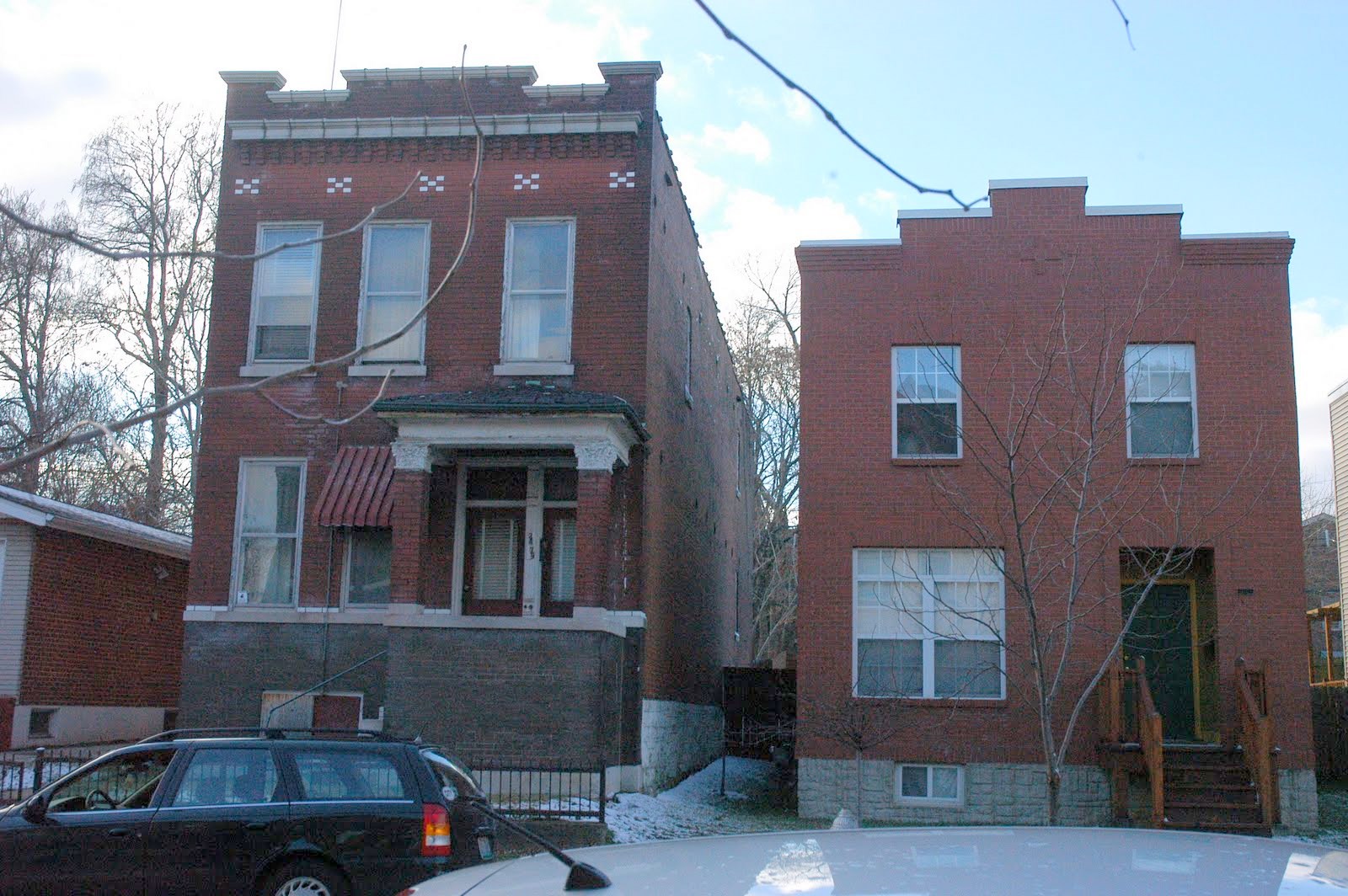 Some nuance: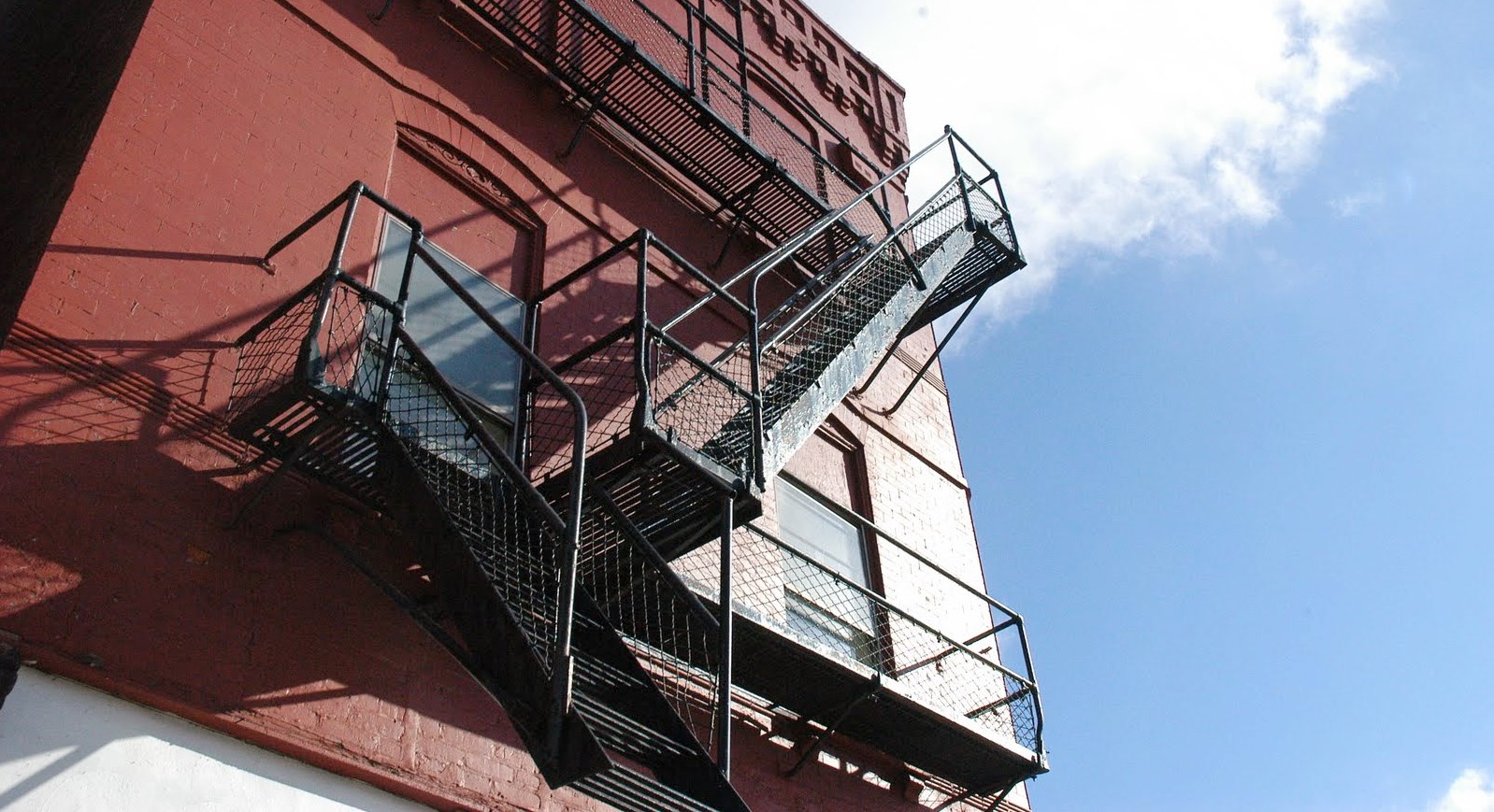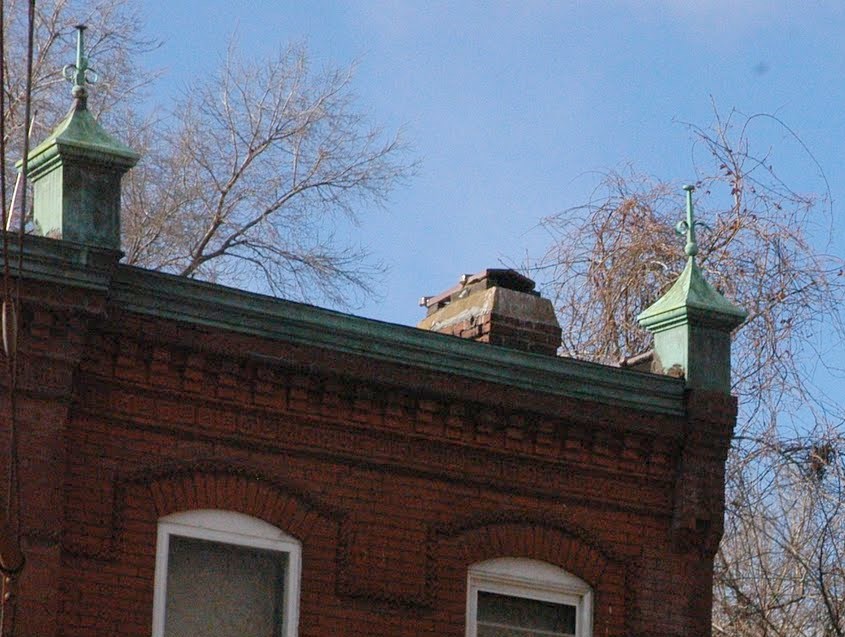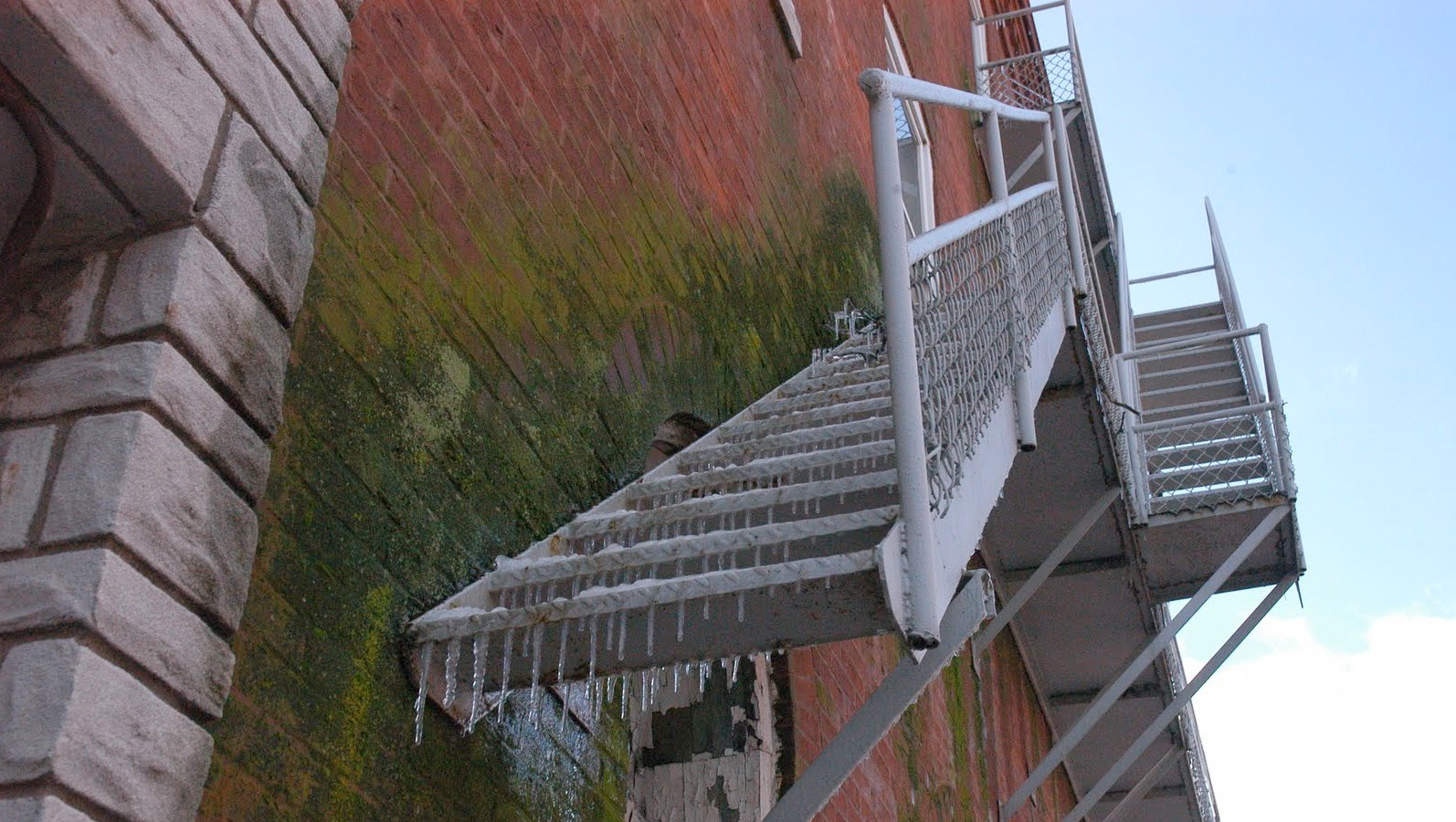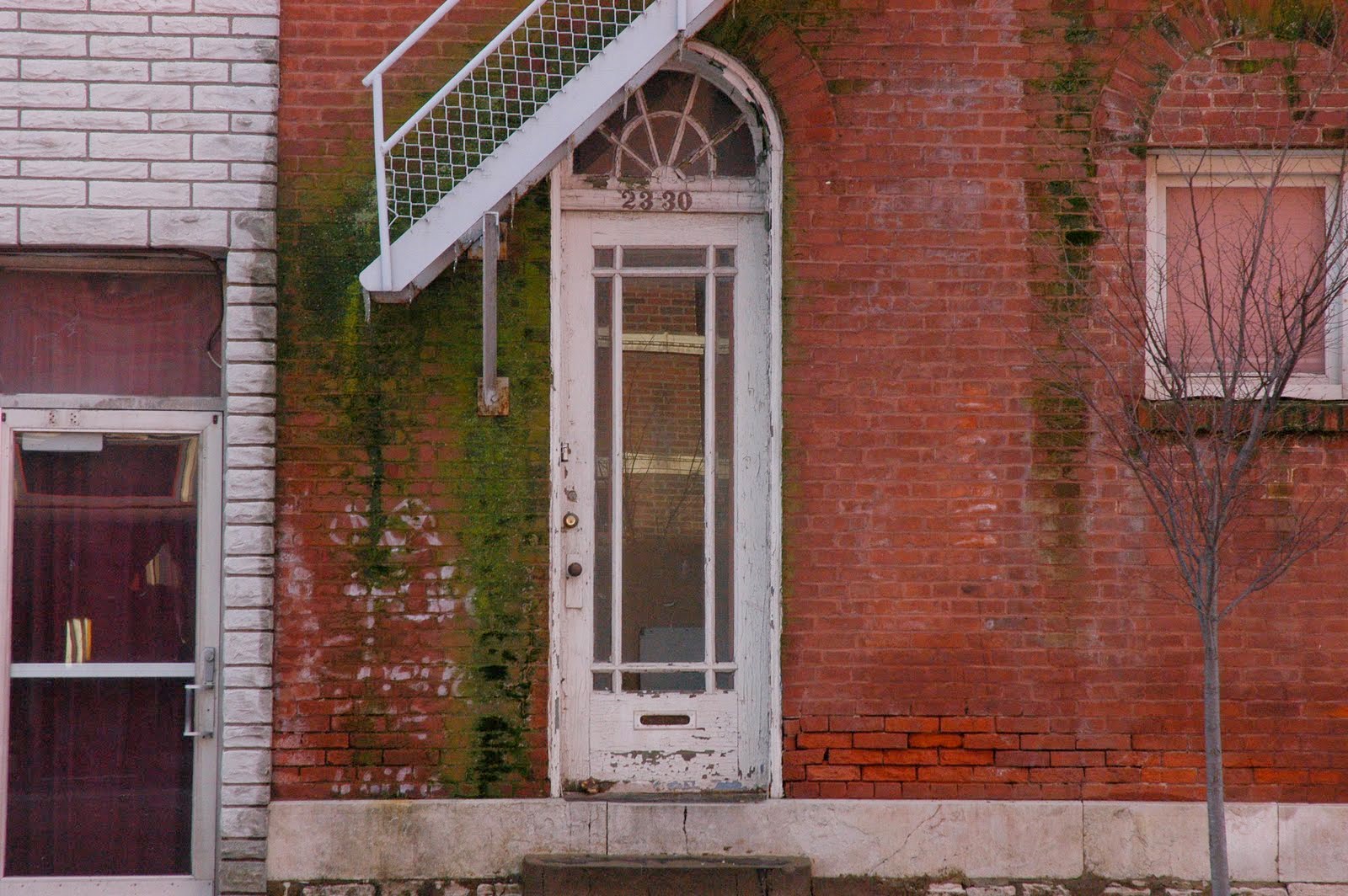 Broadway has some cool scenes: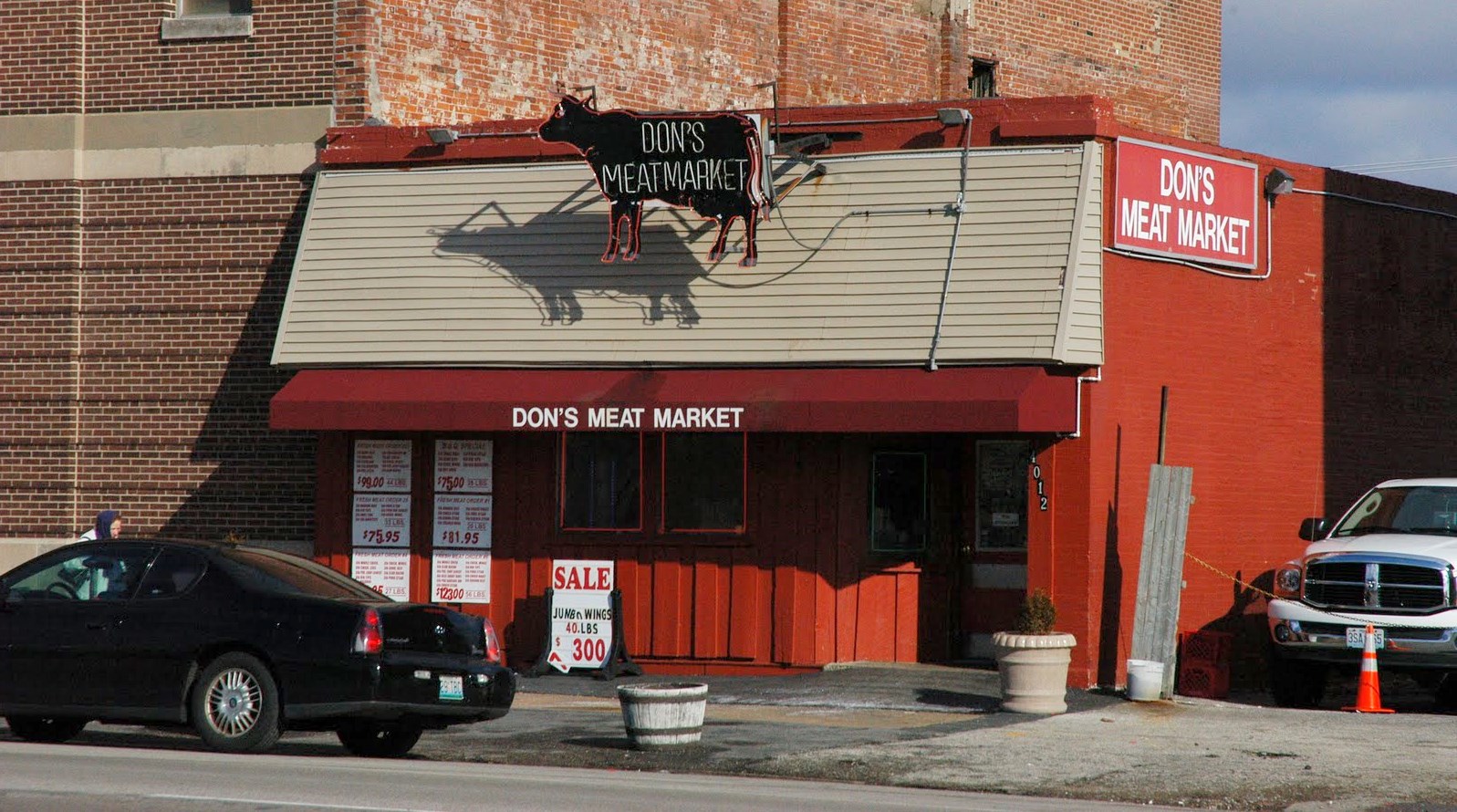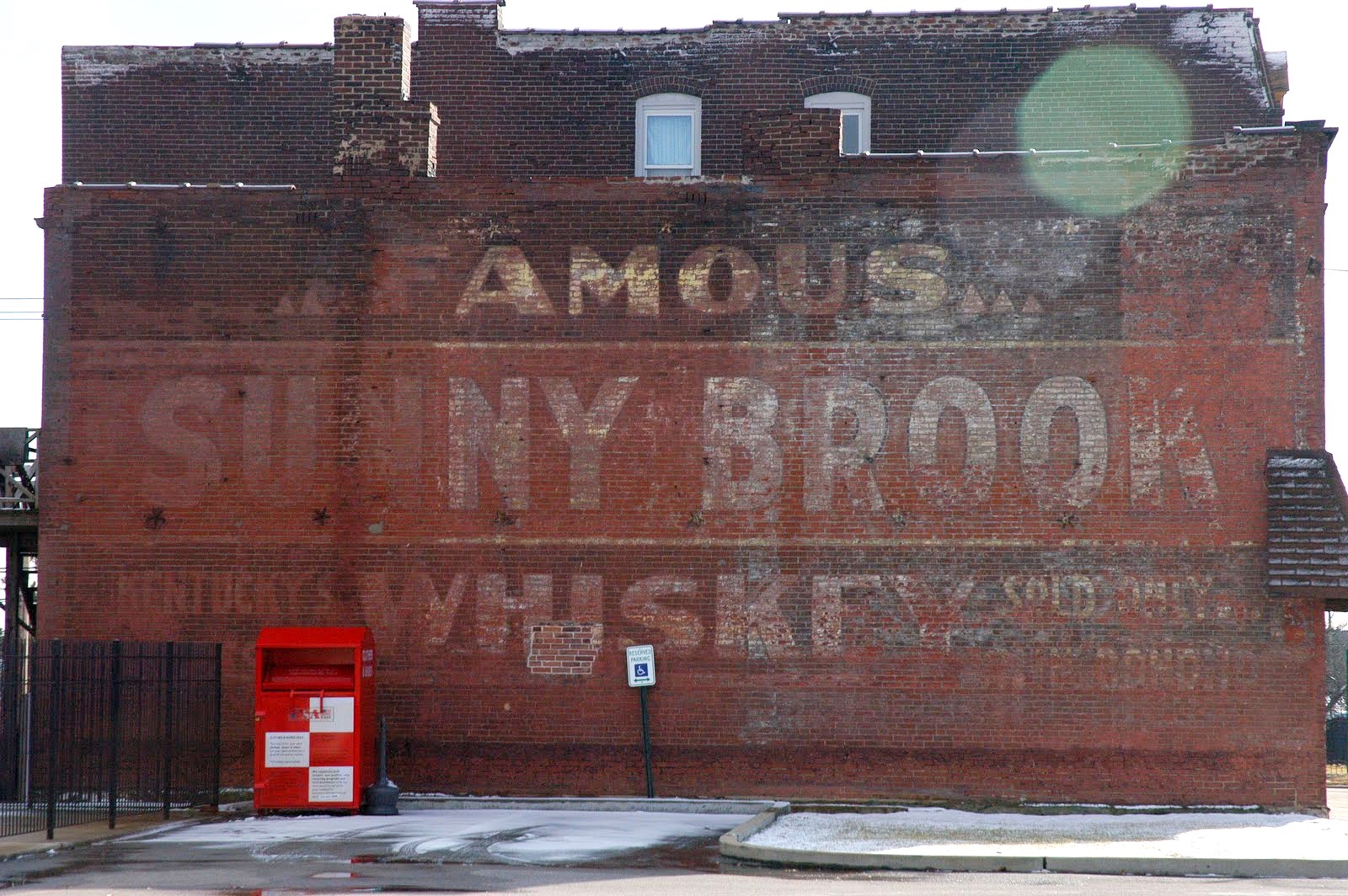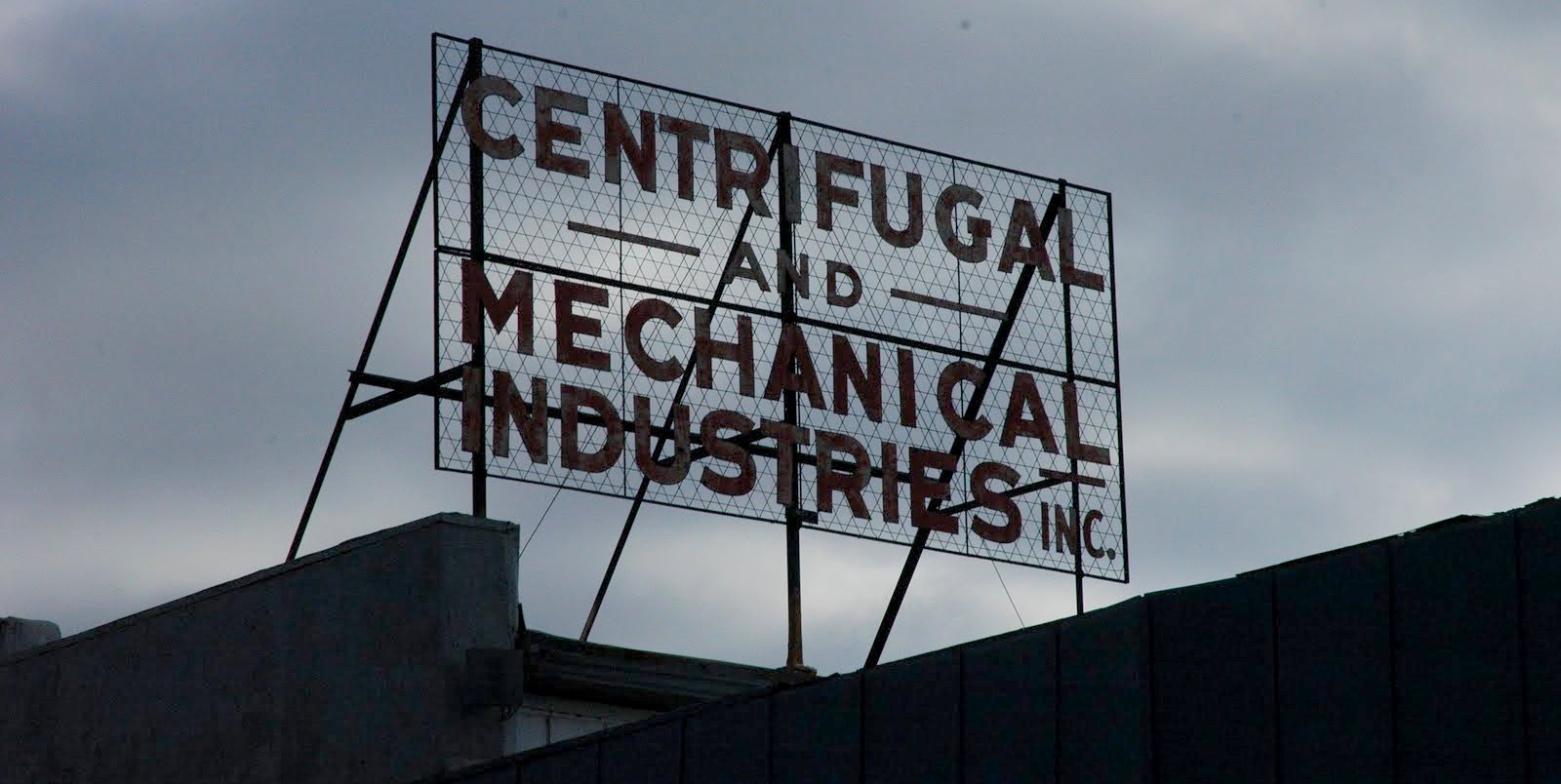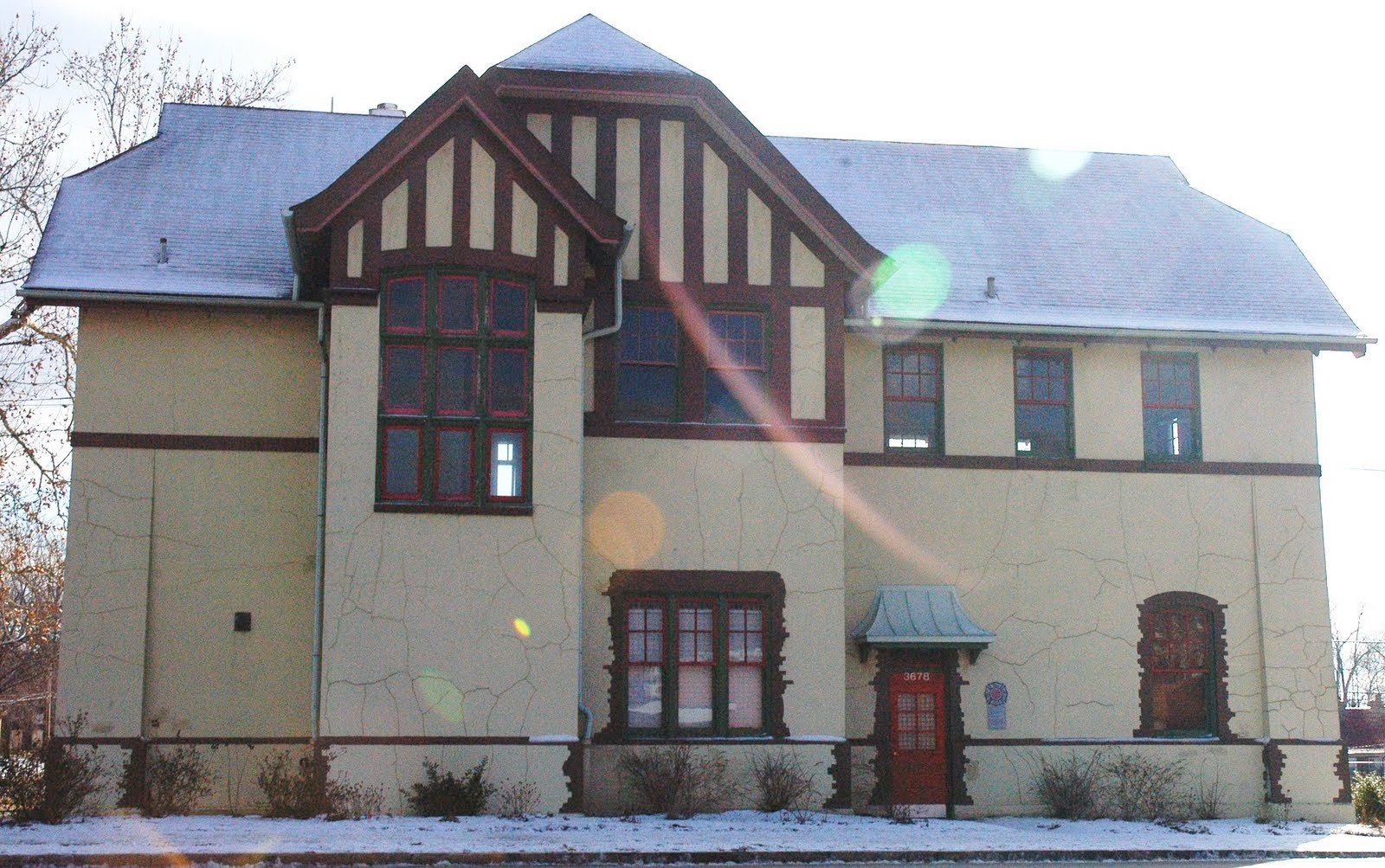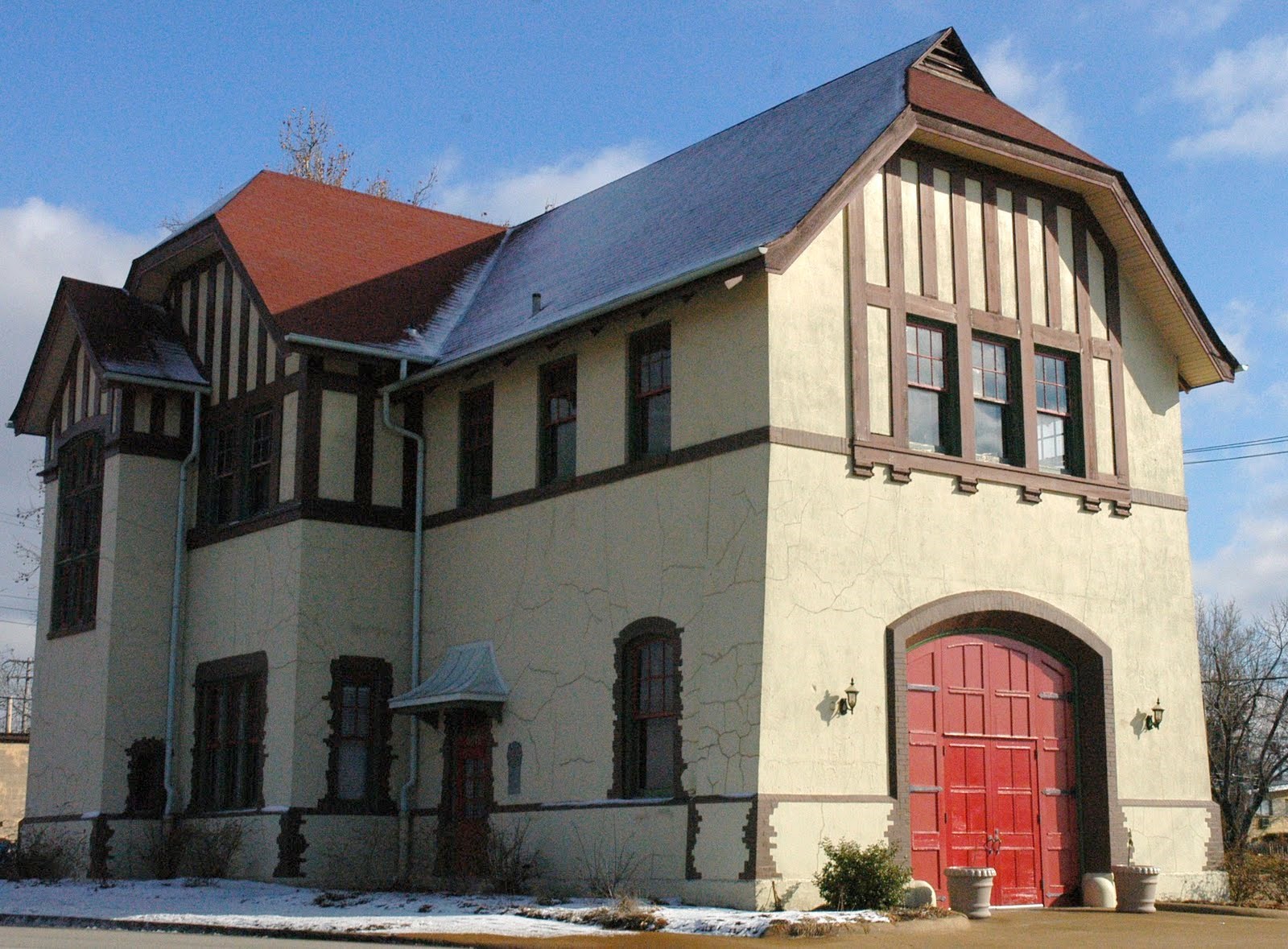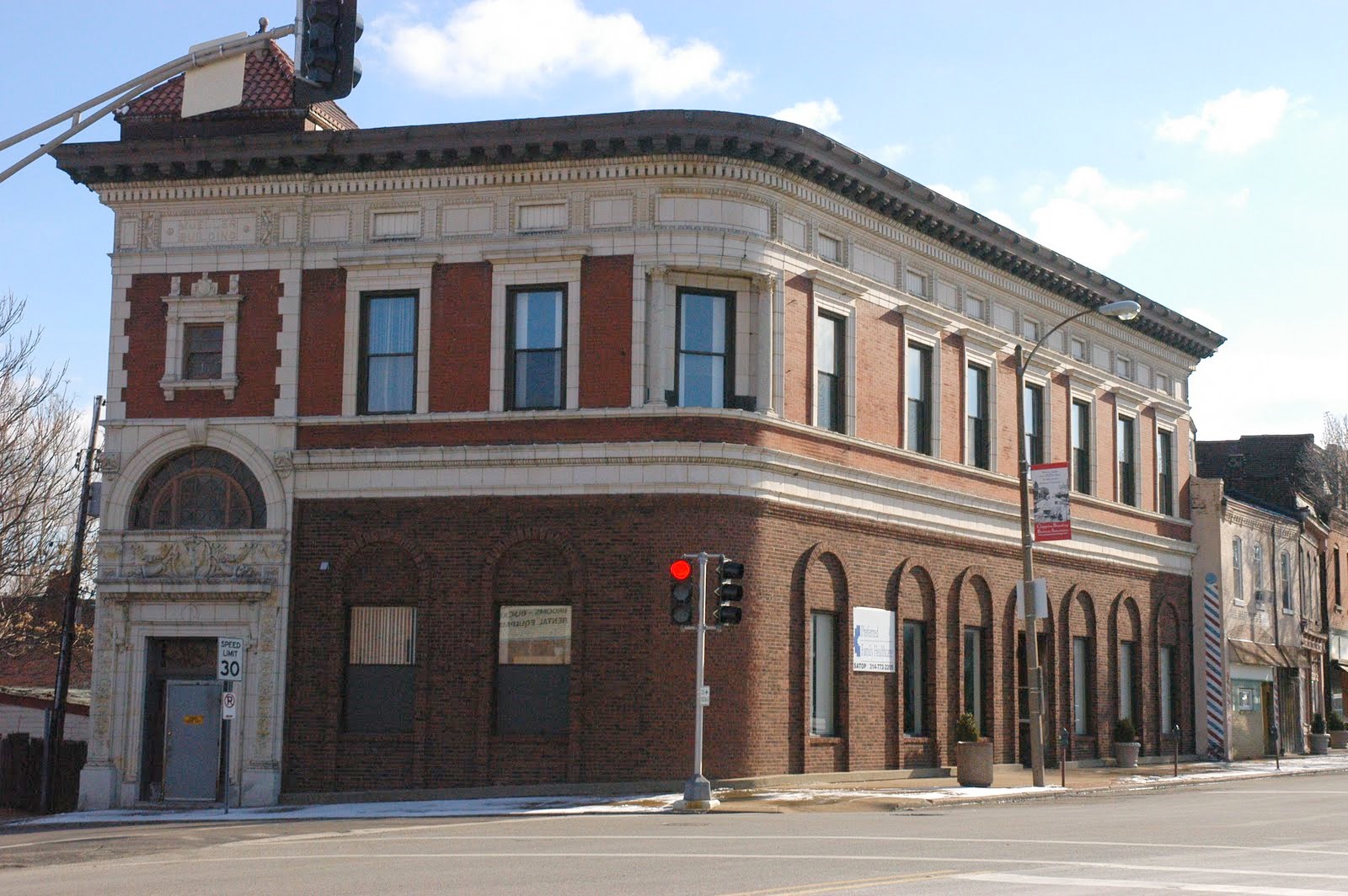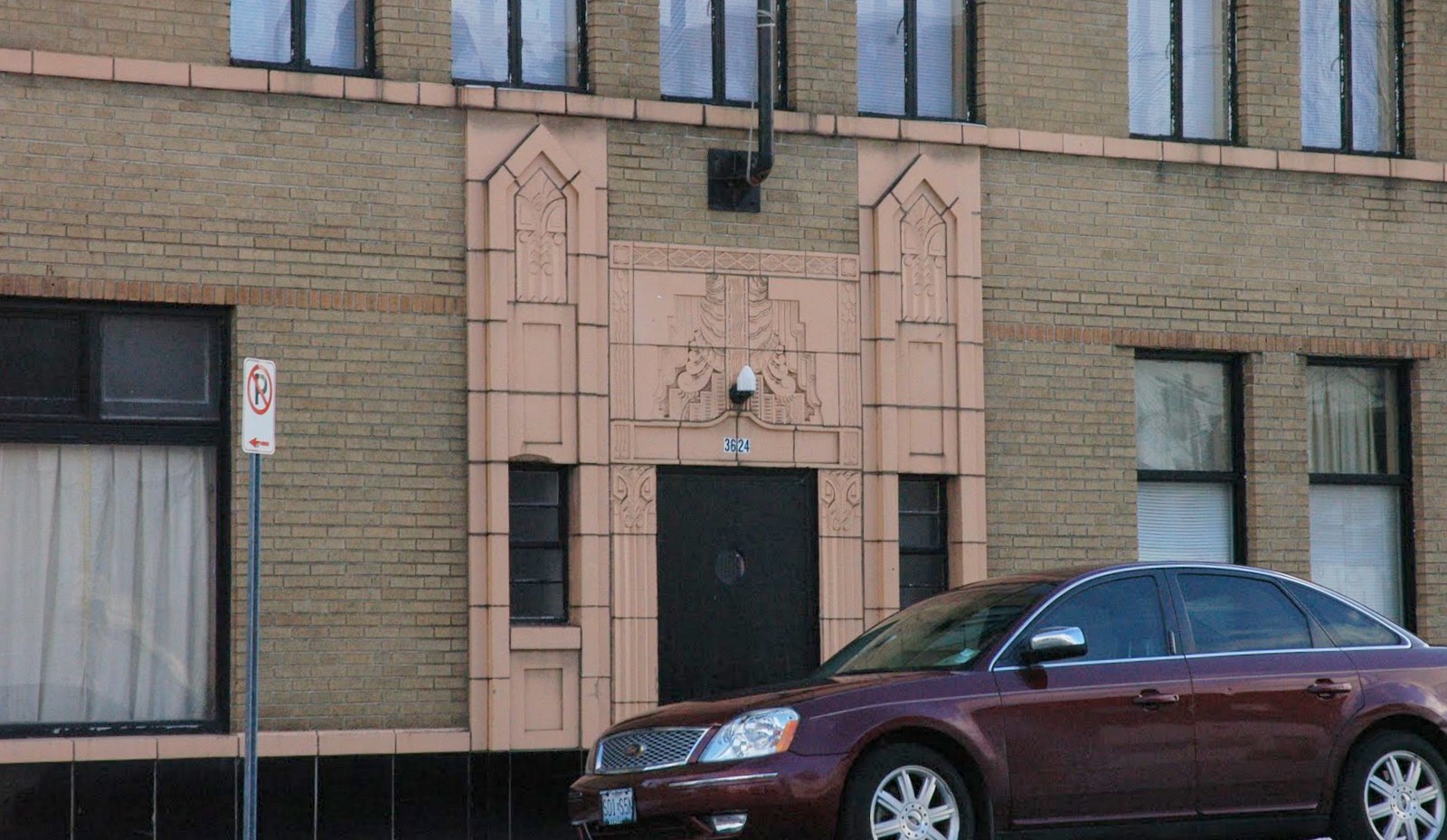 I'm bummed that the current owner of the former of the St. Louis Carnival Supply buildings on Broadway is dead set on destruction. And you guessed it St. Louis for a SURFACE FREAKIN' PARKING LOT for a AUTO-CENTRIC CONTEMPORARY STRIP MALL. *Update: the Carnival Supply buildings have been demolished. Click here for complete coverage from the Preservation Research Office.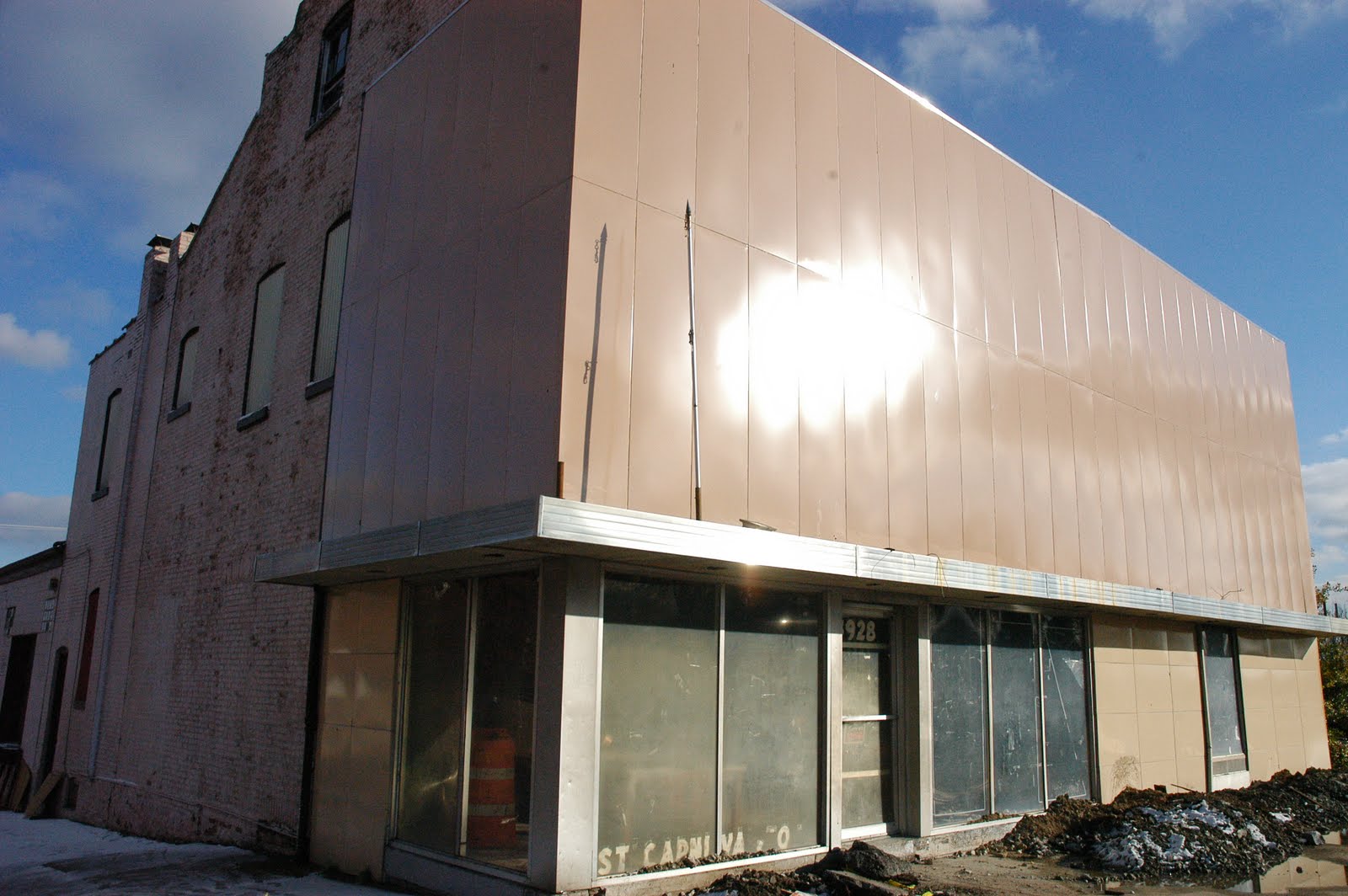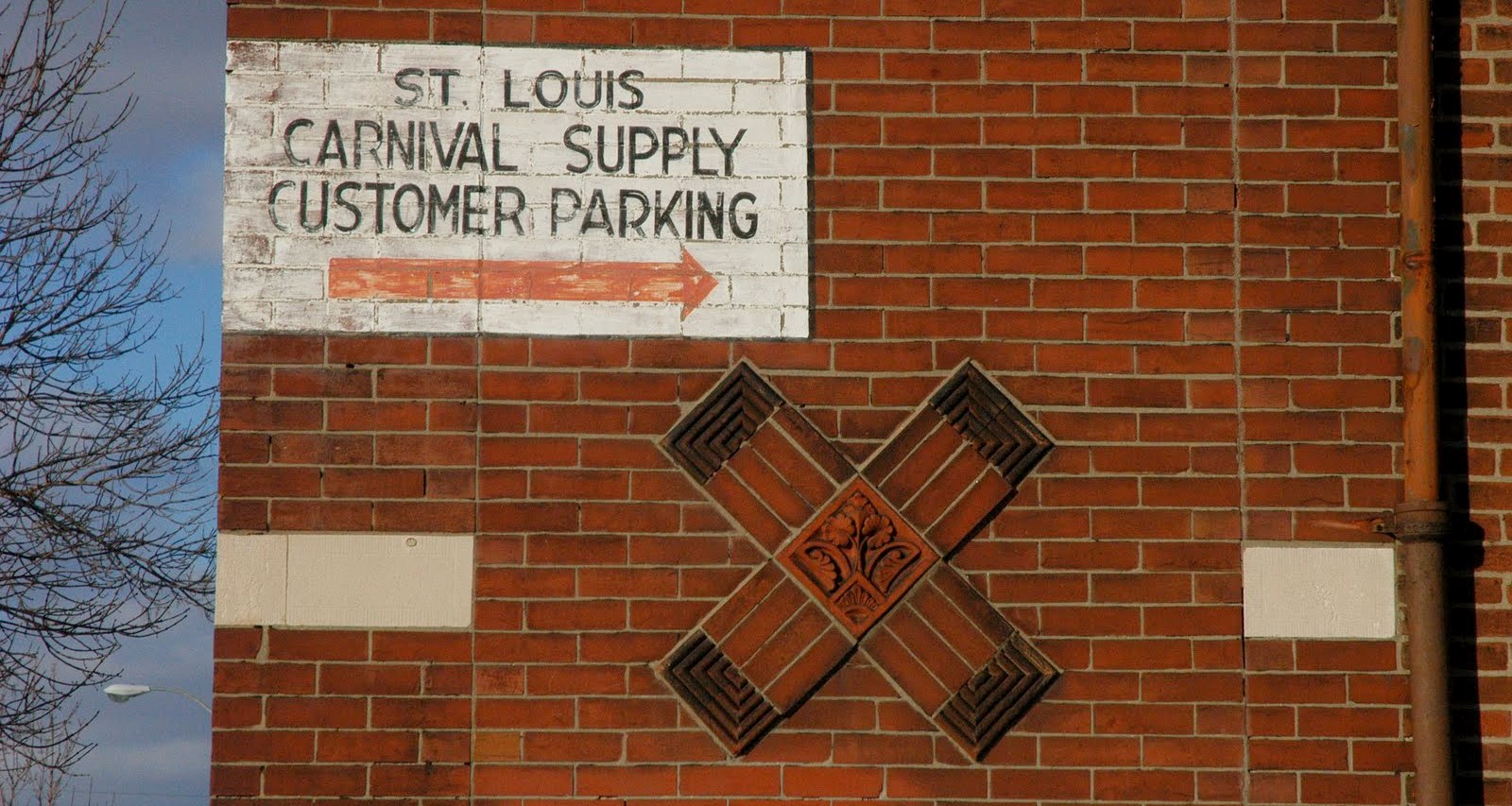 I'm also worried about the future of the former Brick bar that is now owned by Sigma Aldrich (click here for the story via the Preservation Research Office):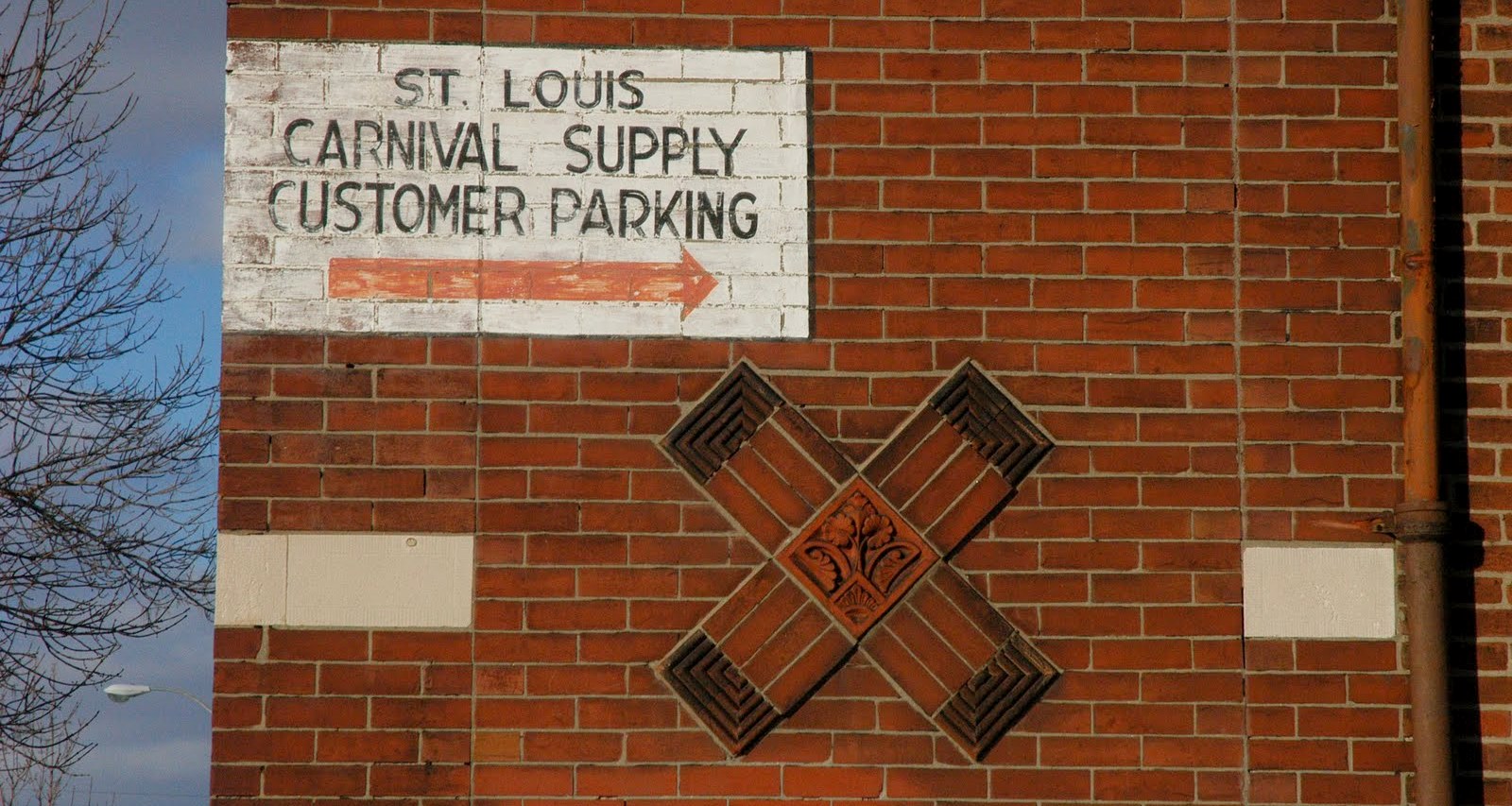 Marine Villa is a great spot with lots of near and long term potential, especially on the north side of the neighborhood. If the Lemp Brewery complex gets some more activity and the resident base rises, I think this will become a more recognized and frequented part of town for locals. My feel based on my walk through today is that this is a neighborhood that's attracting a lot of younger (20's and 30's) creative minded people (artists, designers, etc). There are scads of cool bars, restaurants, businesses (there is a vinyl only record store going in on Cherokee in MV!!!!), and it's a great location for highway and downtown access.