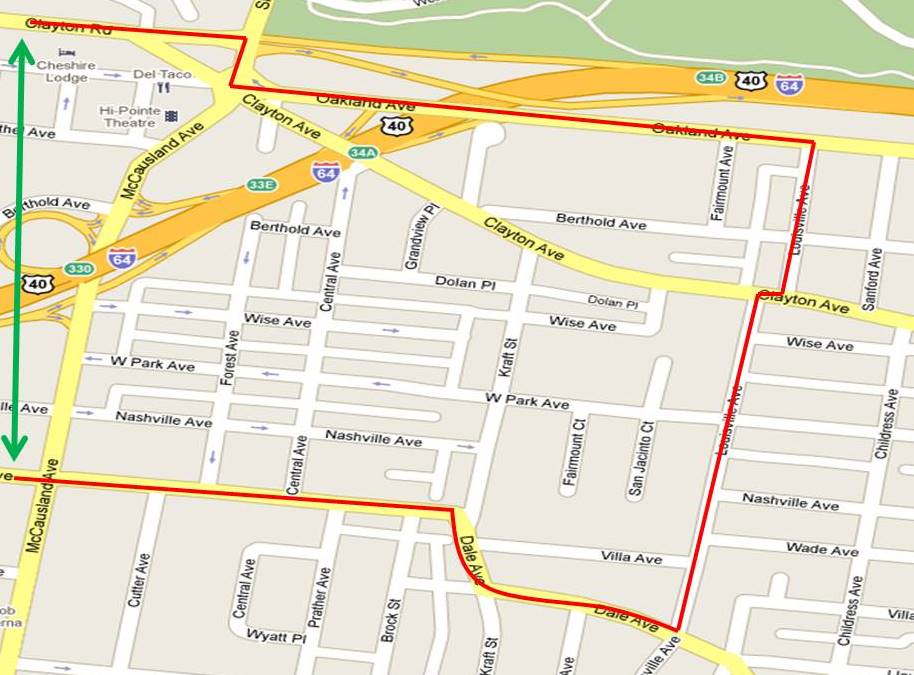 Hi-Pointe is a southwest St. Louis neighborhood located south of Clayton Road and Oakland Avenue, east of the city limits, north of Dale Avenue and west of Louisville Avenue. Hi-Pointe showed a decline in population from 1990 – 2000 of 7%, down to 2,454 residents. 86% white, 7% black, 3% Asian and 2% Hispanic/Latino. There are 1,331 housing units of which 94% were occupied, 49% owner, 51% renter.
Hi-Pointe is one of three neighborhoods collectively known as "Dogtown". Like its sister neighborhoods Franz Park and Clayton/Tamm, Hi-Pointe judiciously marks its territory with street light banners.
From the Hi-Pointe website:
Recent past history (within the last 100 years) includes farming, a goat farm, clay mining for fire brick and tile manufacturing, and a small airport landing field. There are people now living in our neighborhood who have witnessed many of these changes. Being at the furthest edge of St. Louis, this neighborhood has not been densely settled for as long as many areas farther east. However, people of various persuasions have been here for many years, pursuing various occupations throughout the years.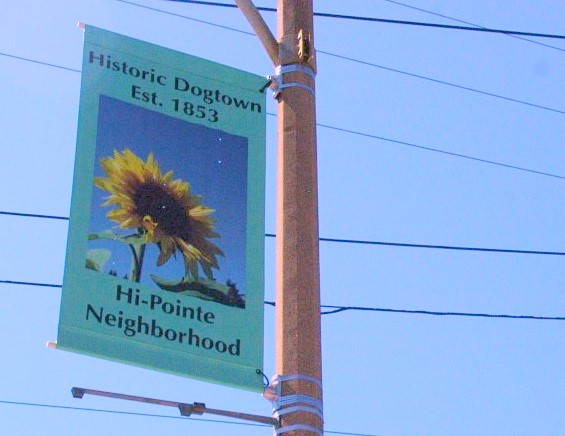 This area was once considered part of Cheltenham, which now is bordering on the east side of the Clayton-Tamm neighborhood, which is on our east. Cheltenham built up during the 1800's around two main enterprises, several fire-brick and tile companies along Manchester Avenue, and a Tourist Hotel and Health spa near Sulfur and Manchester Avenues.
The 1904 World's Fair in the western portion of Forest Park and part of what is now University City did much to promote this area and to help settle it with more inhabitants. Some of the building materials available when the Fair was over have been used in the Hi-Pointe Area, it is said.
Many people refer to this area as a region of Dogtown. This name has seeming good recognition with neighboring regions, but the name Hi-Pointe is preferred by many residents. We are naturally proud of our neighborhood and seek to promote it as a decent and good place to live.
Hi-Pointe's proximity to Forest Park, I-64, Metrolink, Washington University and the swanky suburb of Clayton makes this a highly desirable location. And, it's an affordable option, unlike the higher priced homes of Wydown/Skinker, DeBaliviere Place and the Central West End that also border the park.
The Hi-Pointe is also home to one of THE coolest movie theaters I've ever seen. This place not only shows great films, but the experience is like no other in town. It is legit and soulful in every way. It is not pretentious and it's a true relic of its time. Even the bathrooms (at least the men's room) is cool and unique. And it's much more affordable than other city and county options. If you haven't been to the Hi-Pointe Theater, you're missing out on a St. Louis landmark. It was built in 1922 on the highest point in the city of St. Louis.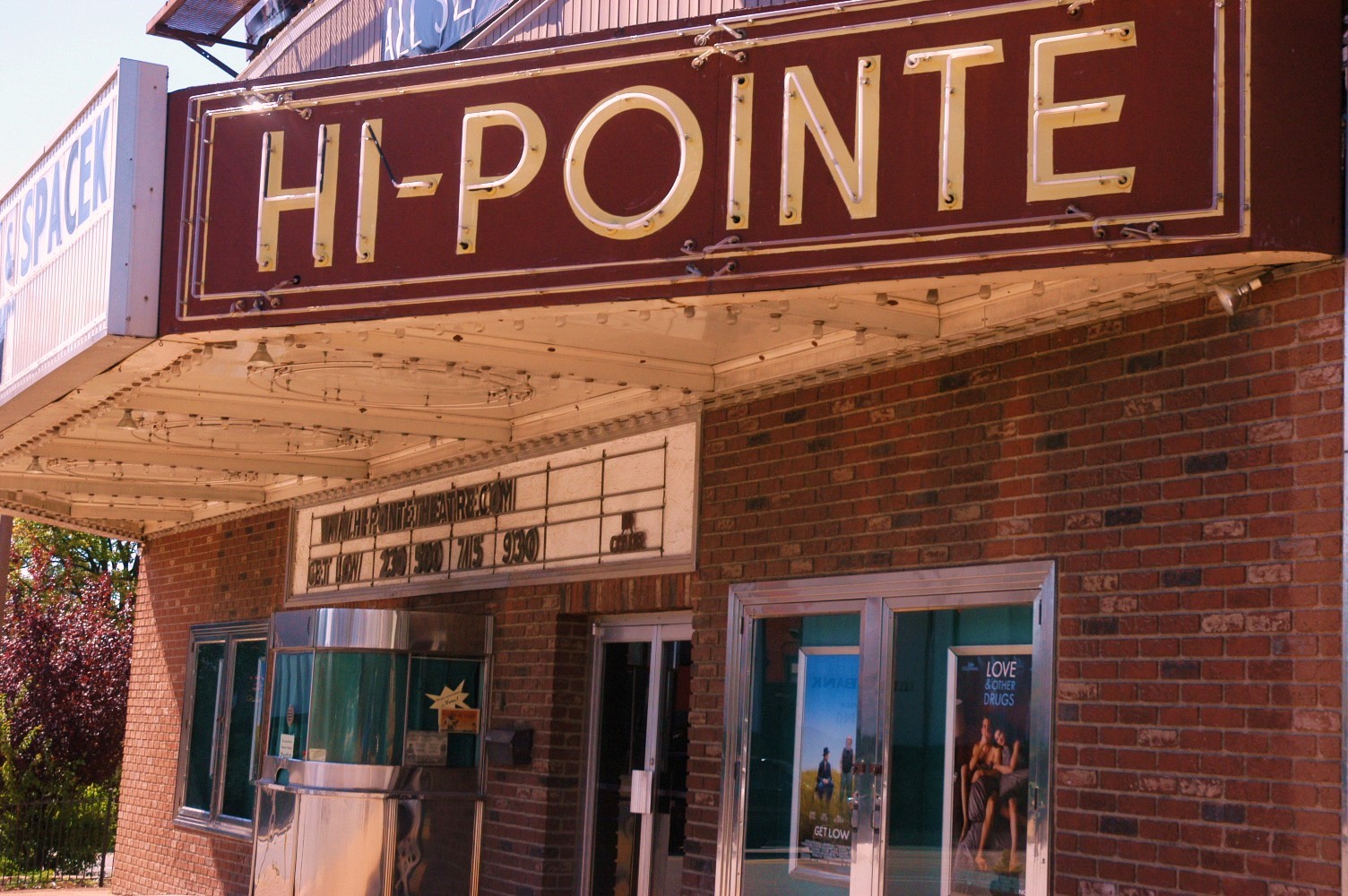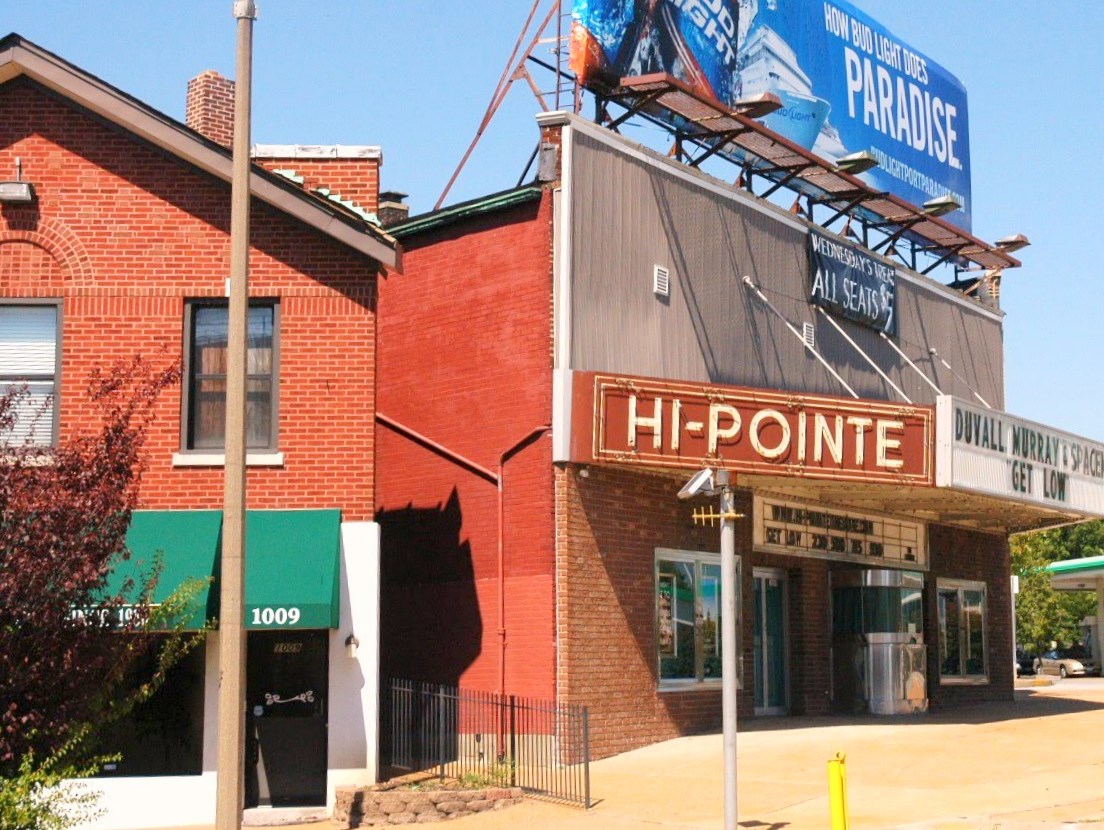 Hi-Pointe has a great mix of brick, stone and frame homes of all styles. Like most of Dogtown, there is not a prevailing style or consistency of homes and streets giving it less of a clear identity as other St. Louis neighborhoods such as the Hill, Lafayette Square, Fox Park, St. Louis Hills or Holly Hills.
But, as seen below, the brick homes in Hi-Pointe are as beautiful as just about any St. Louis neighborhood: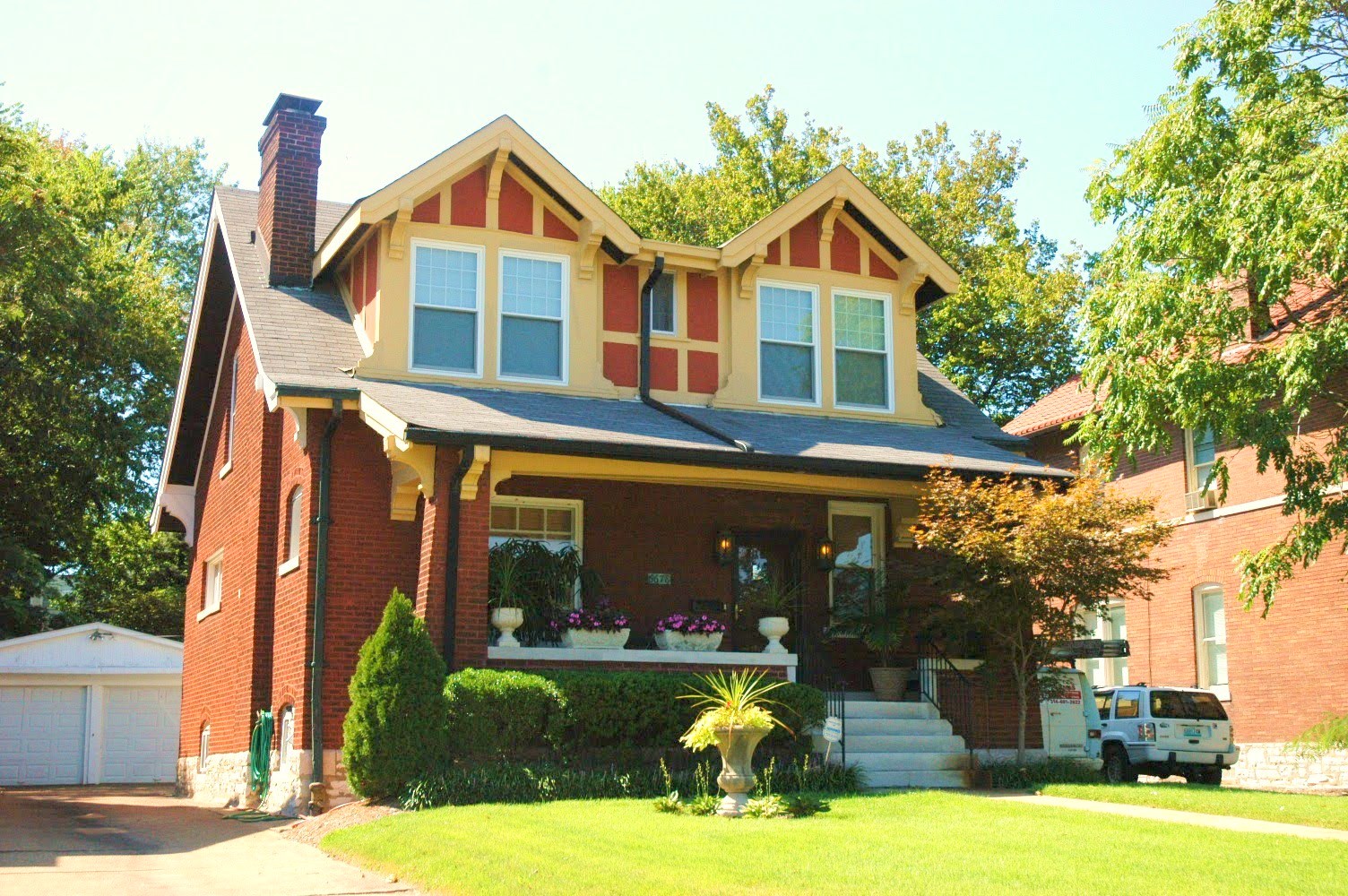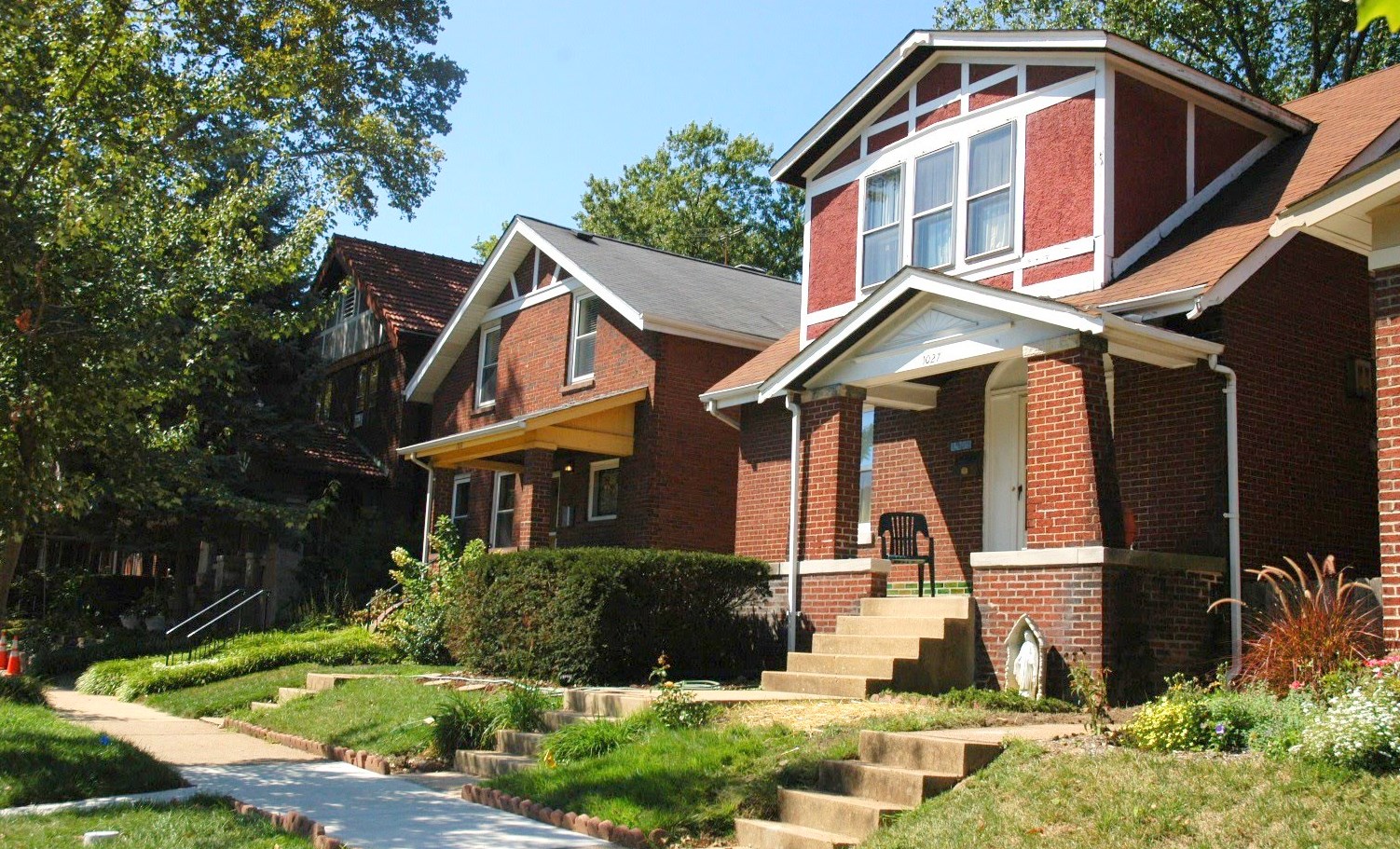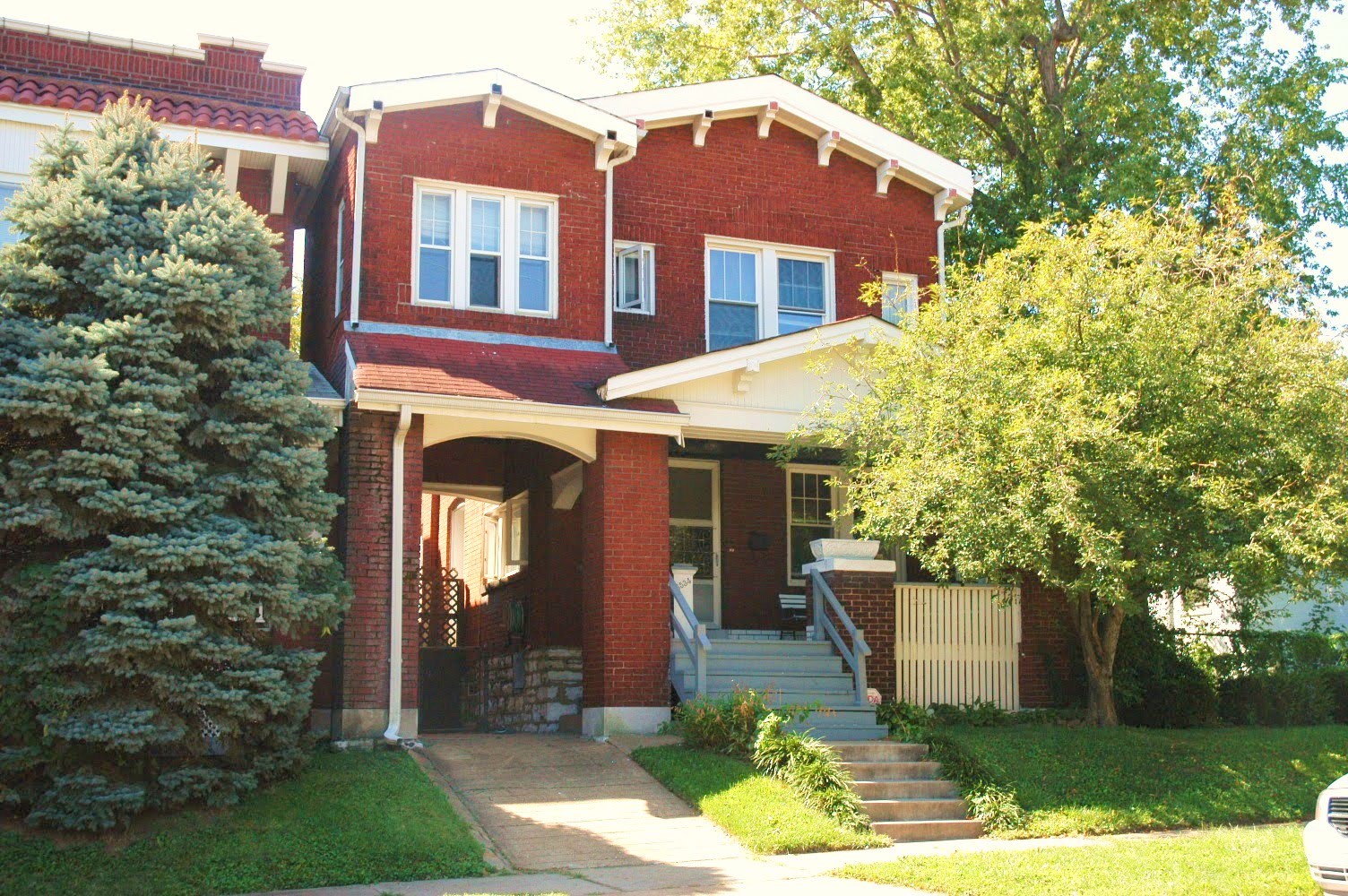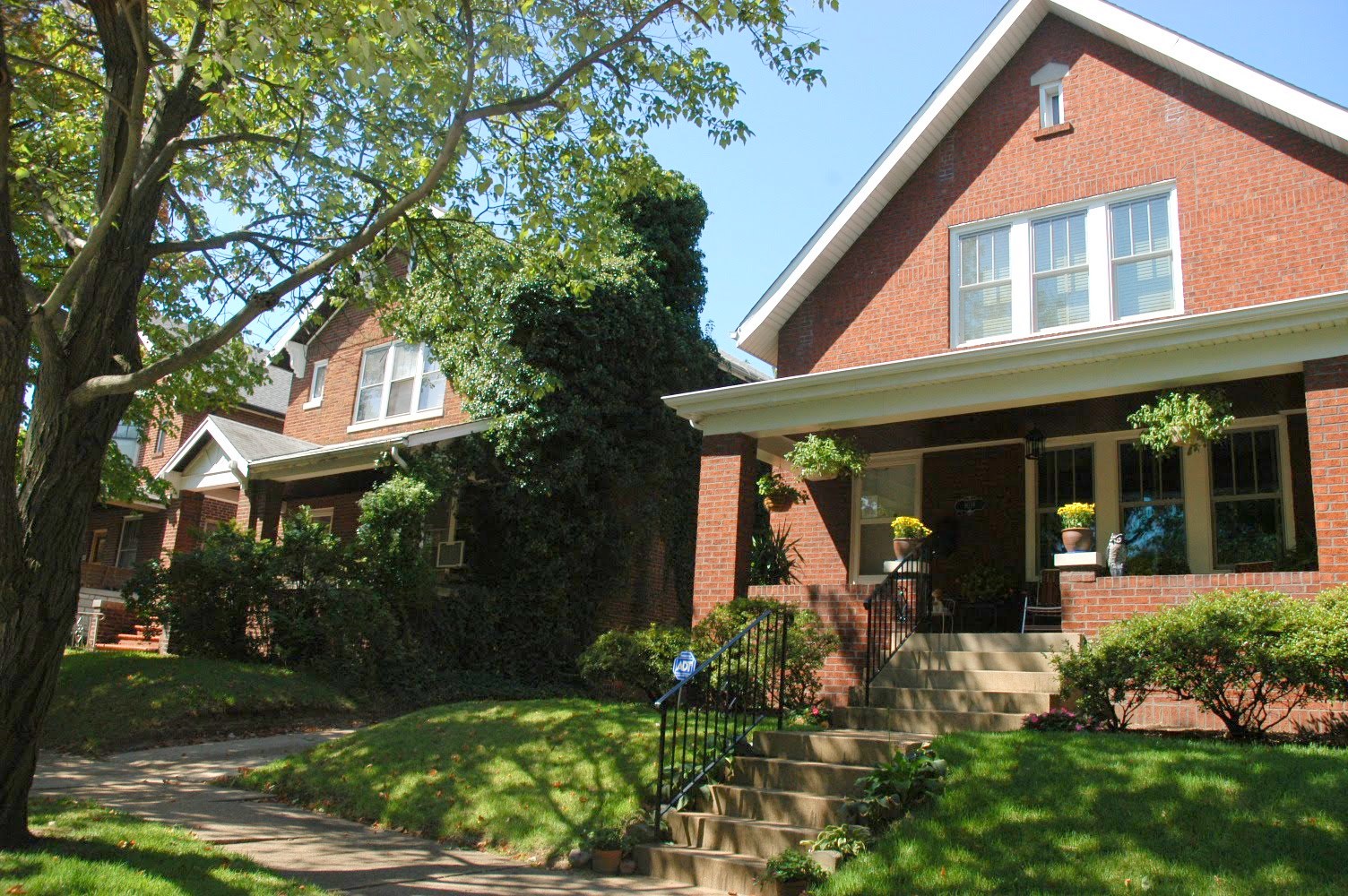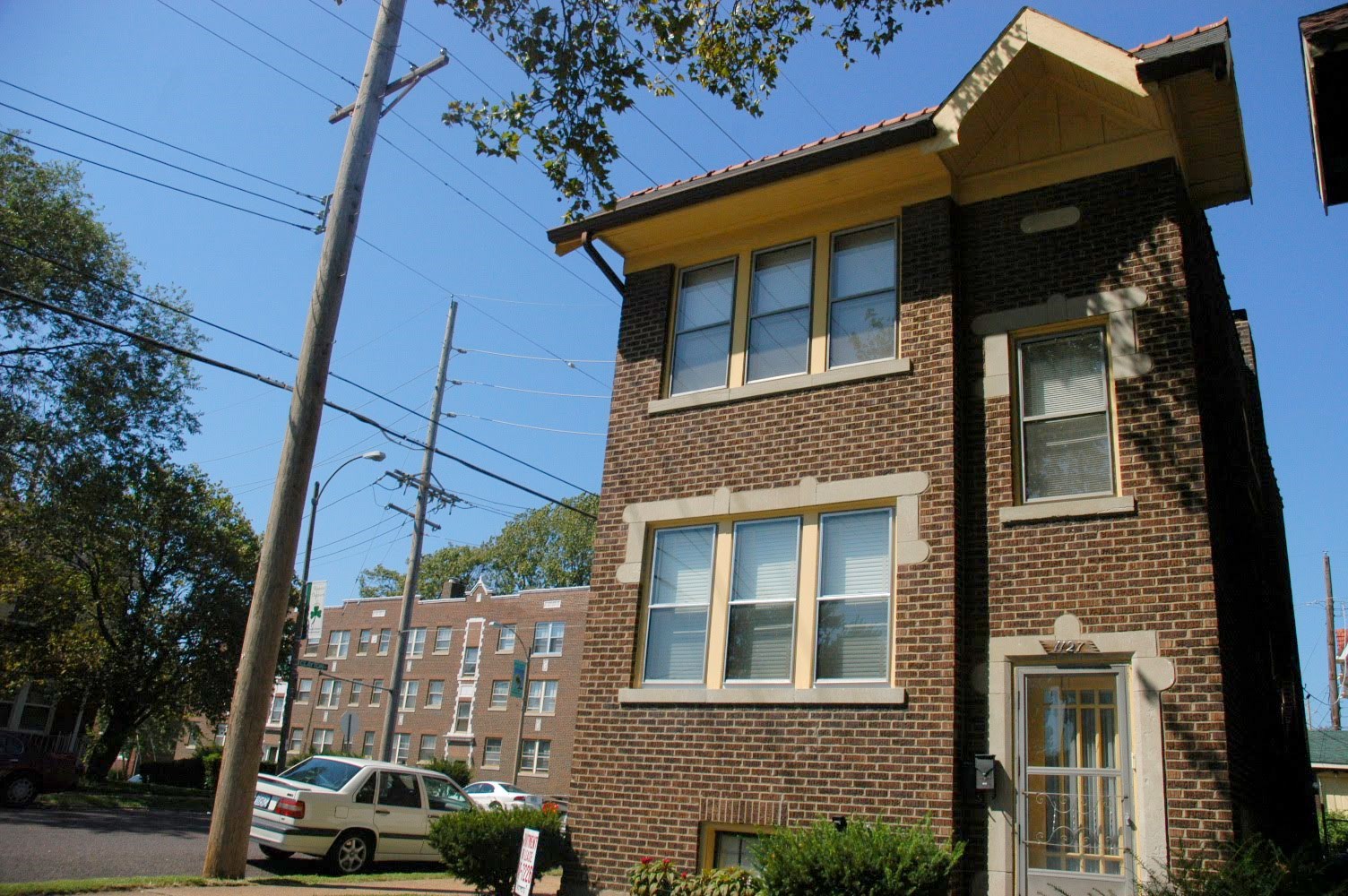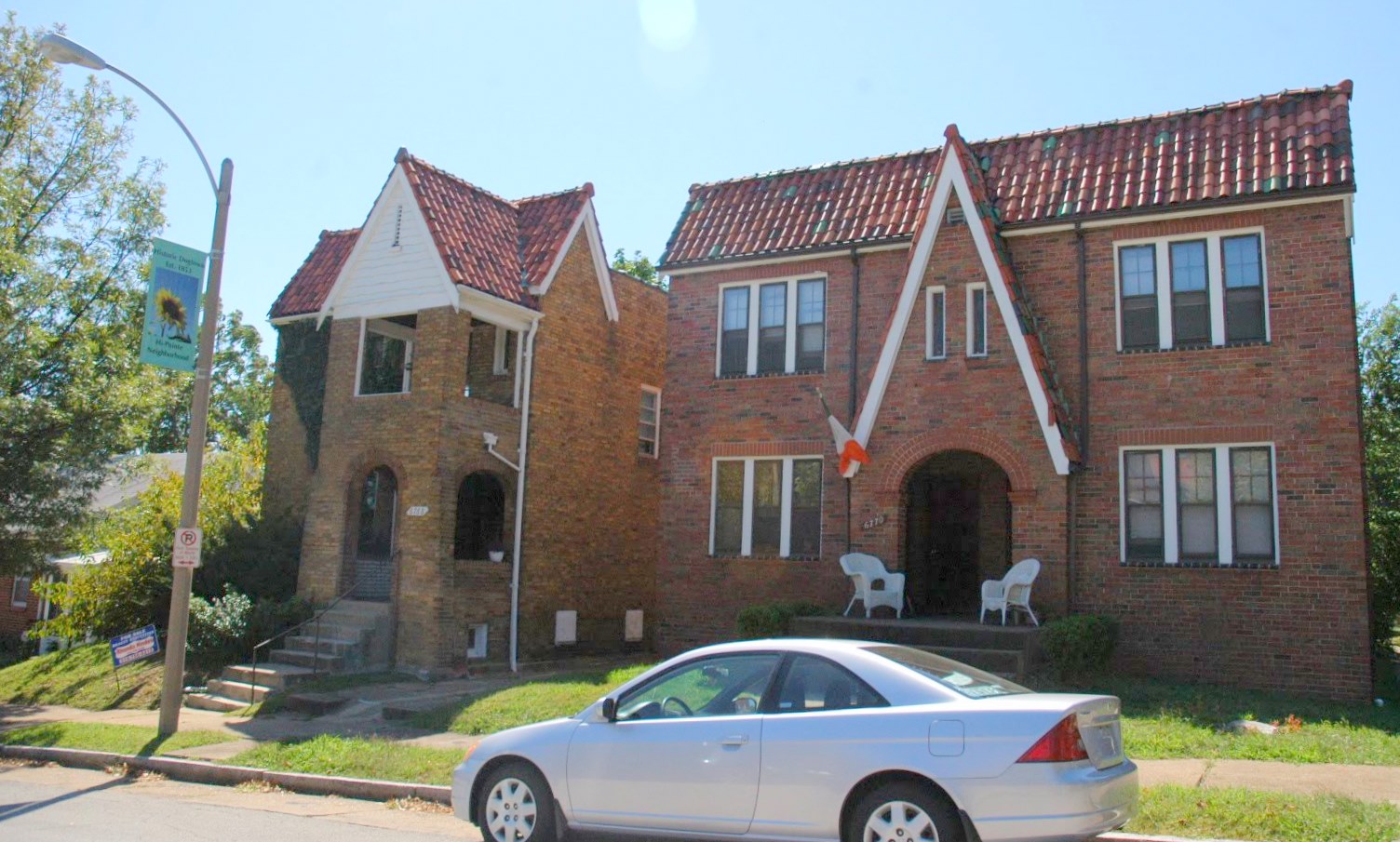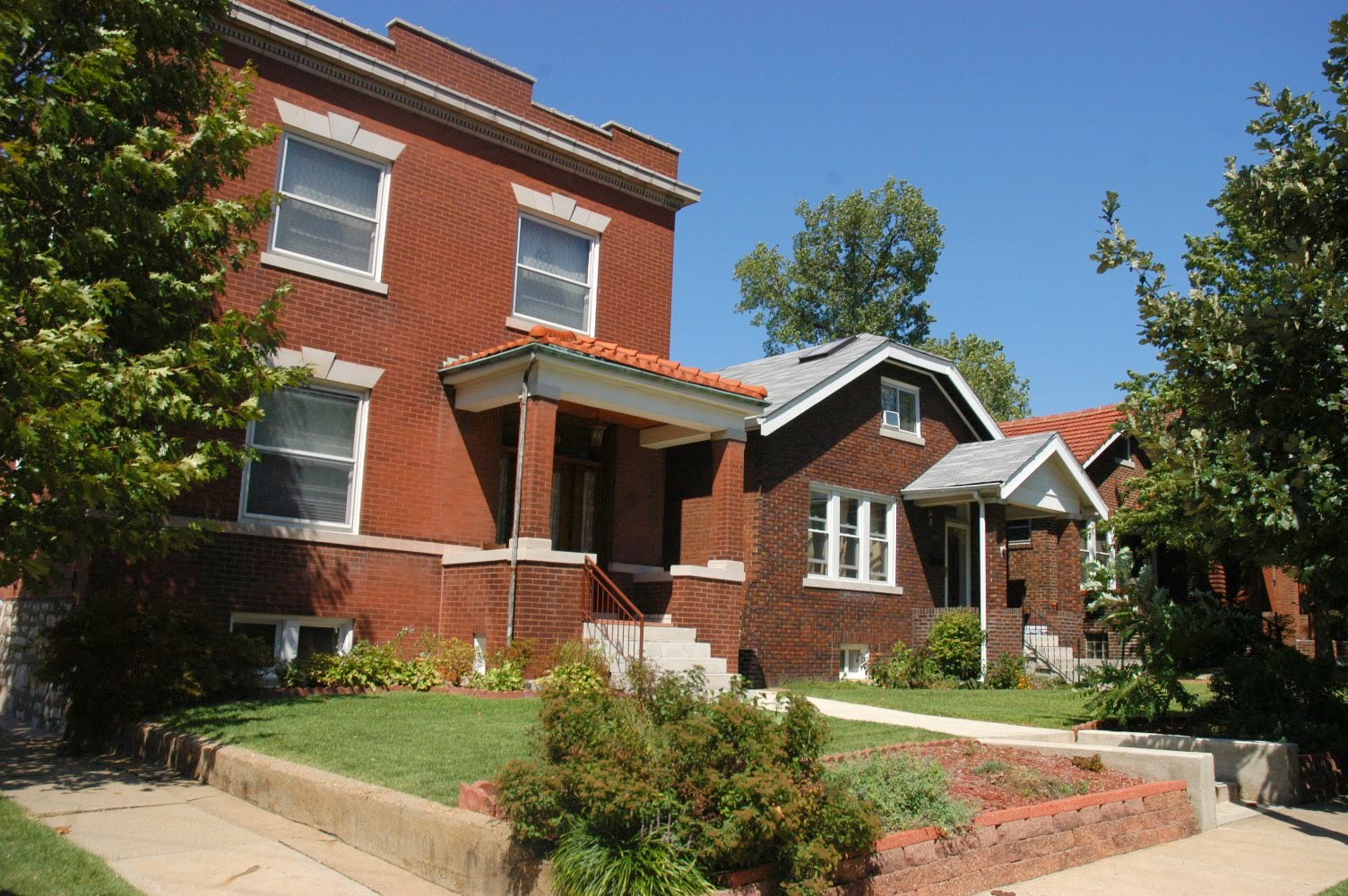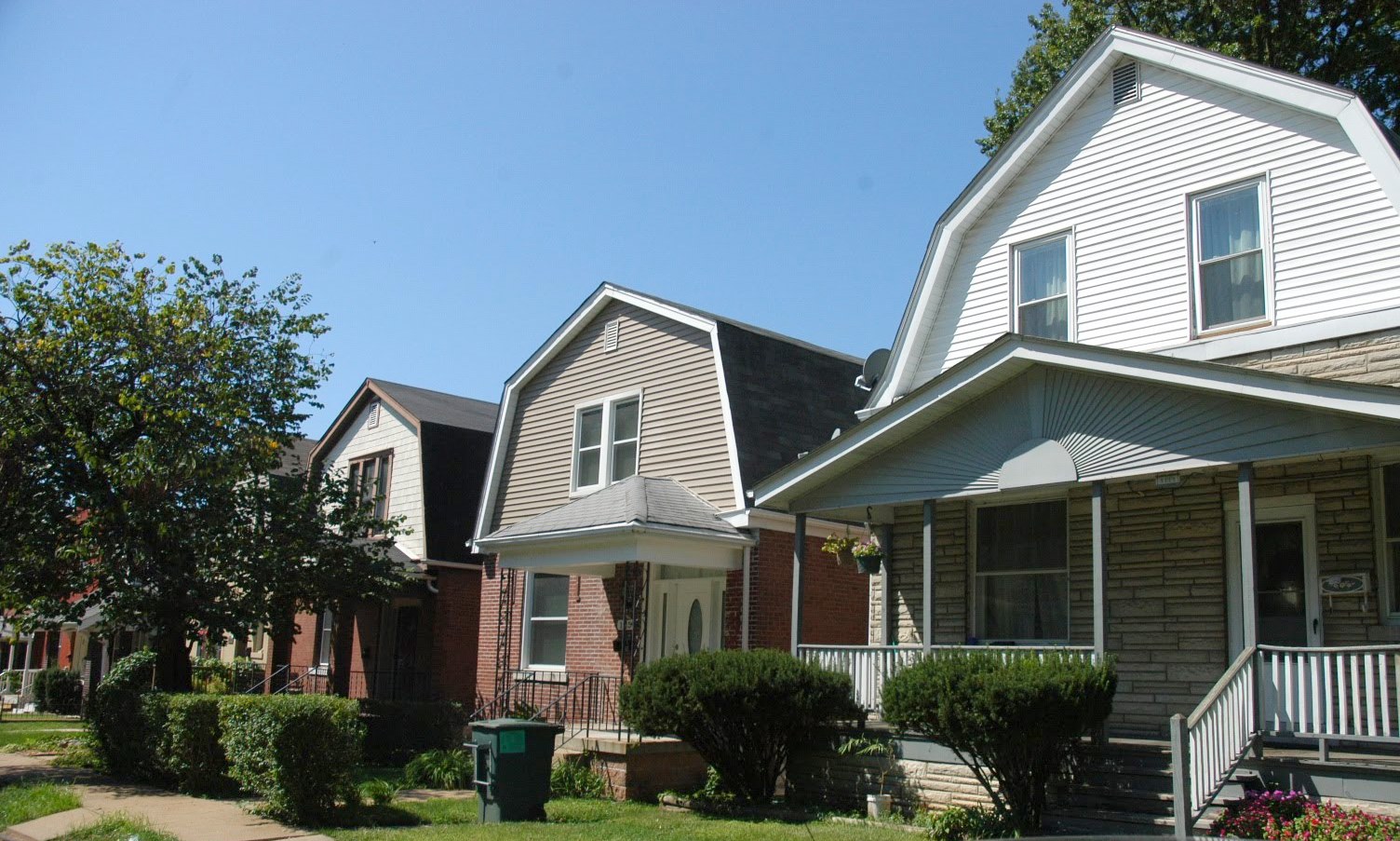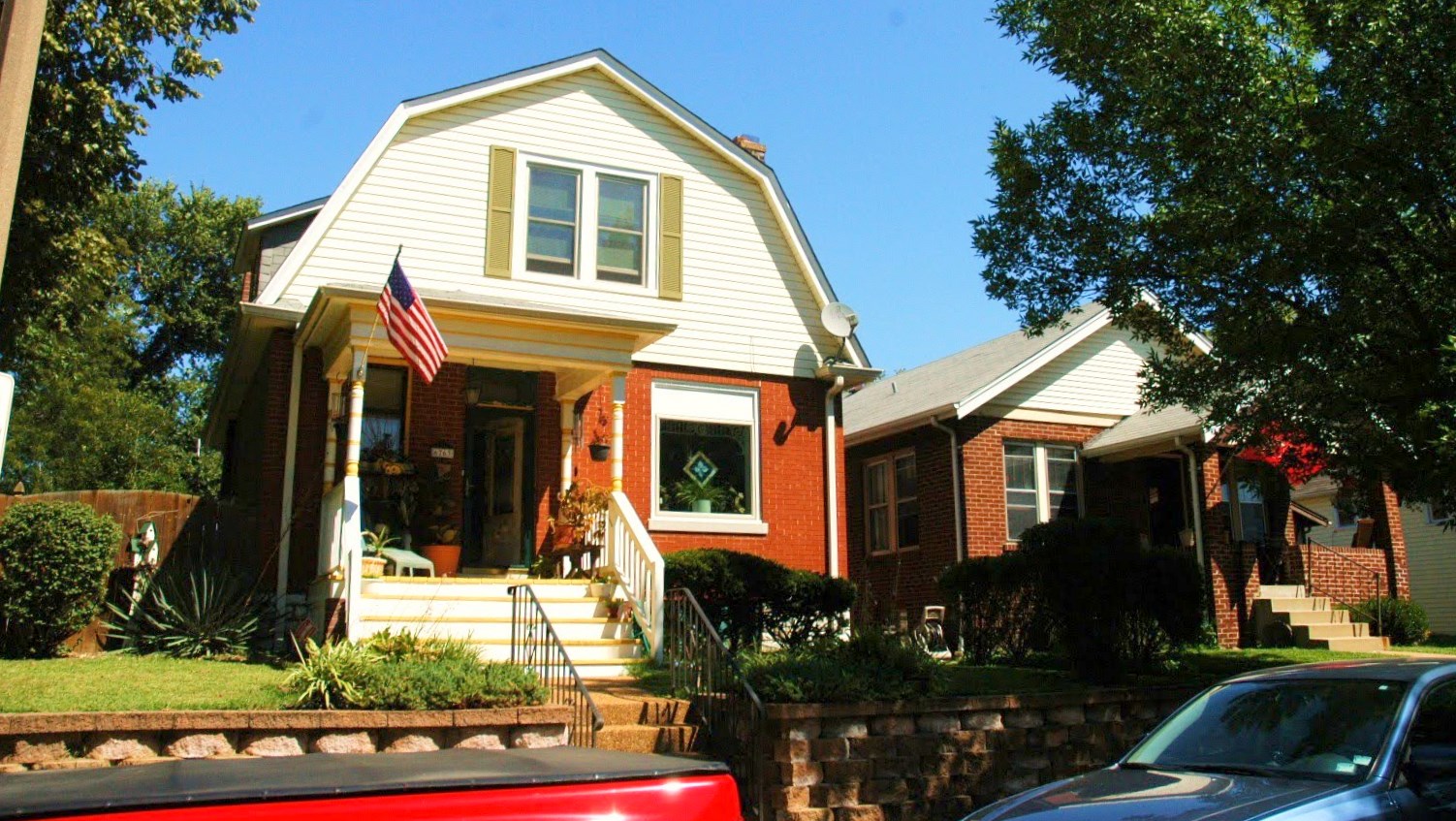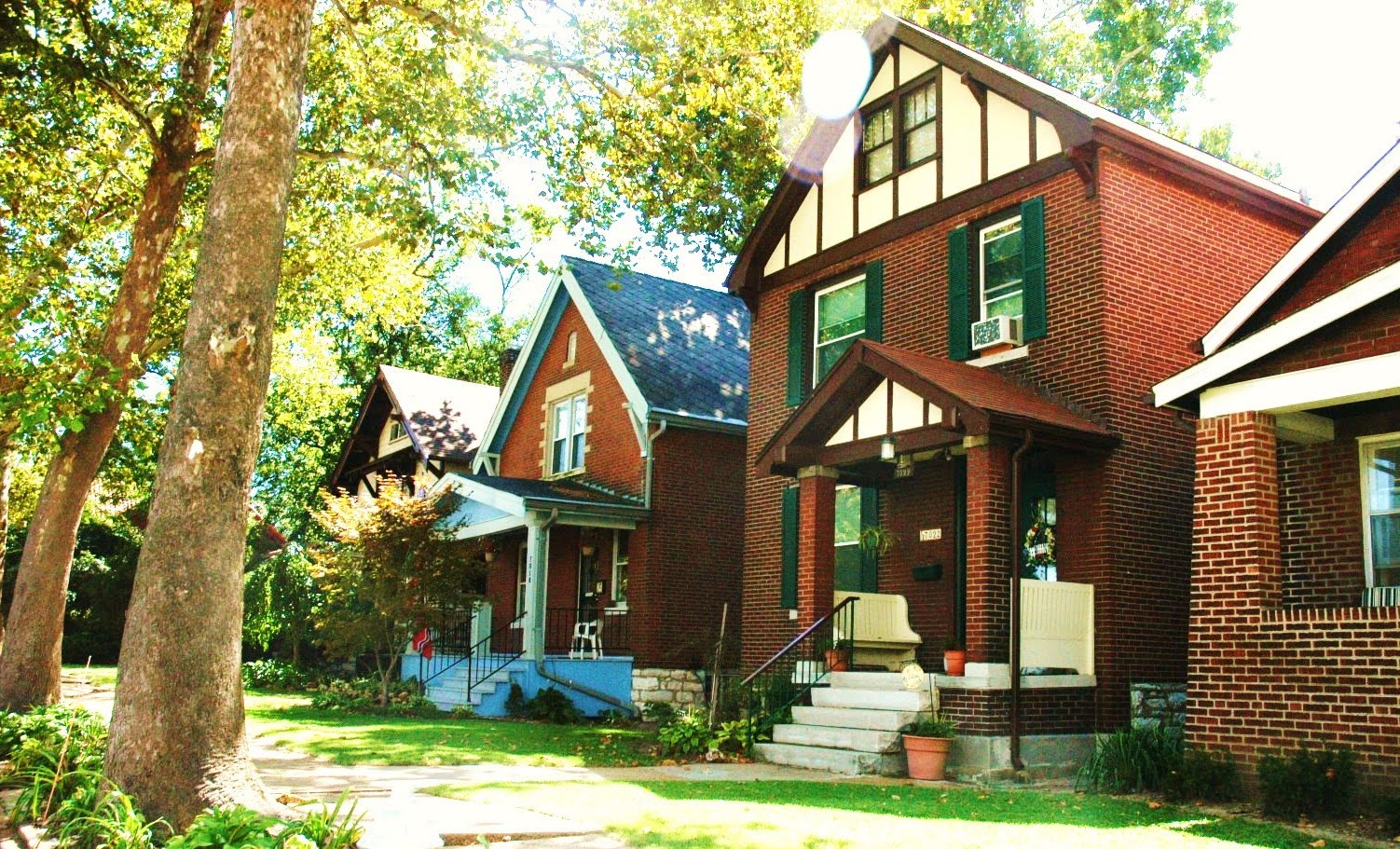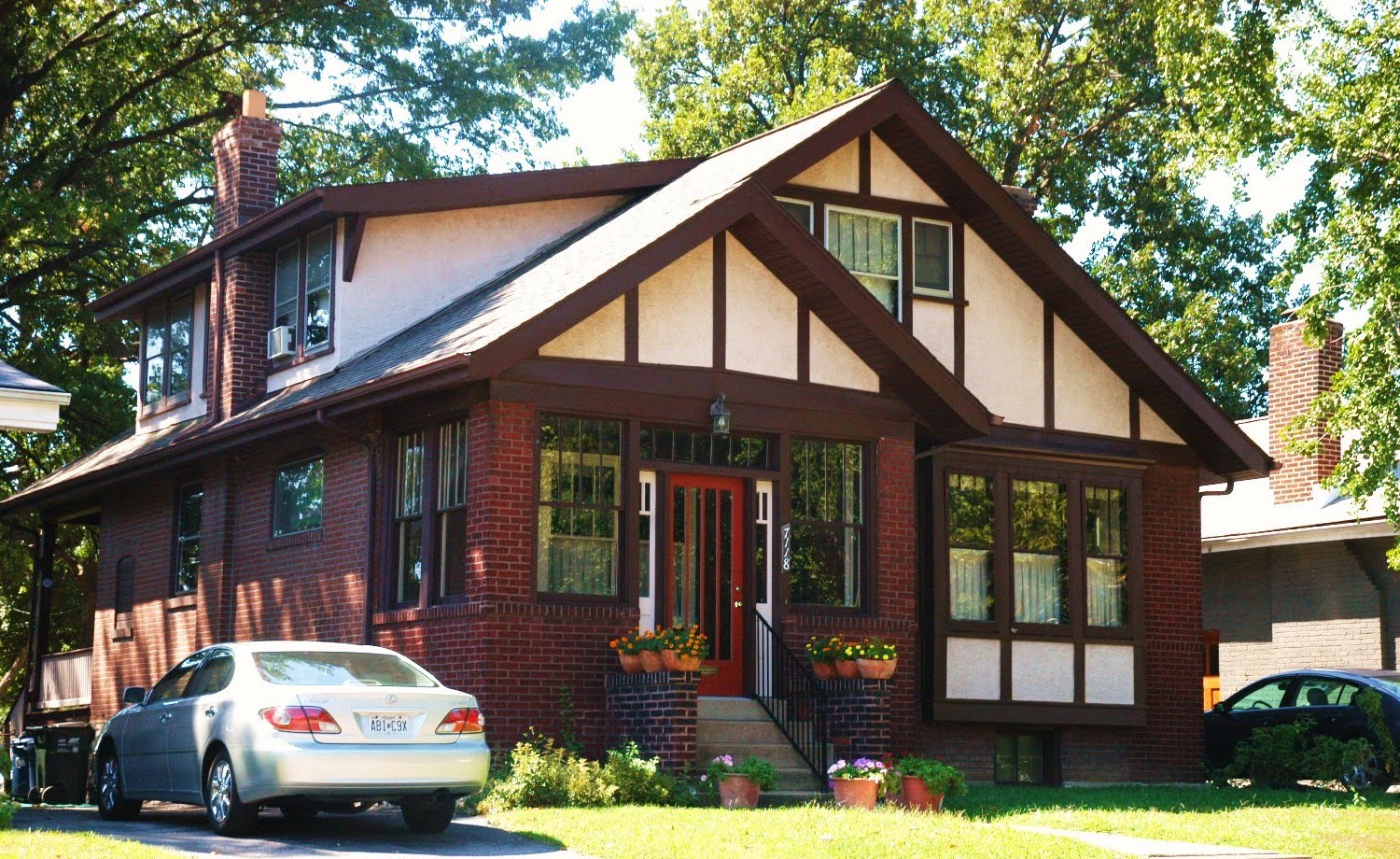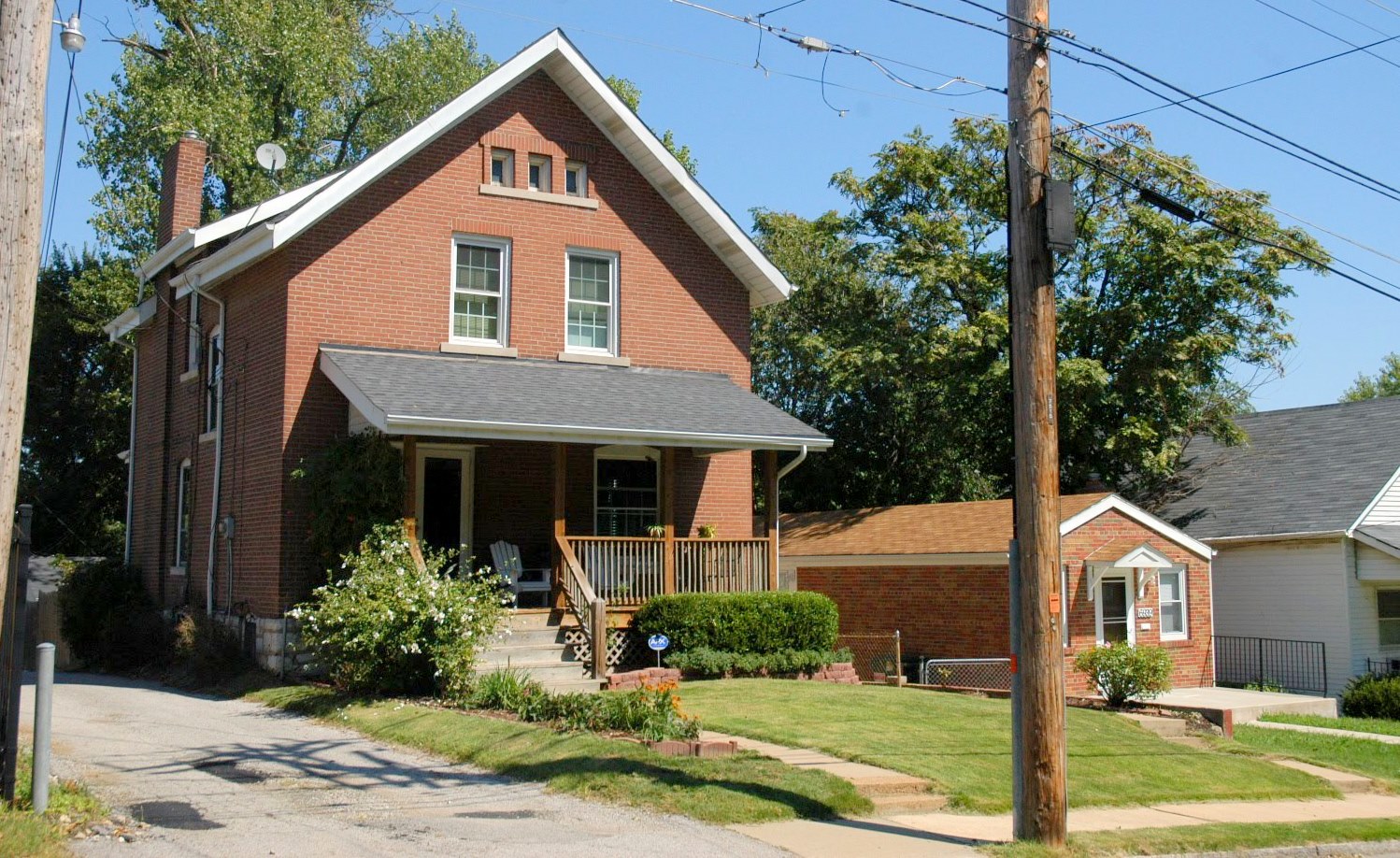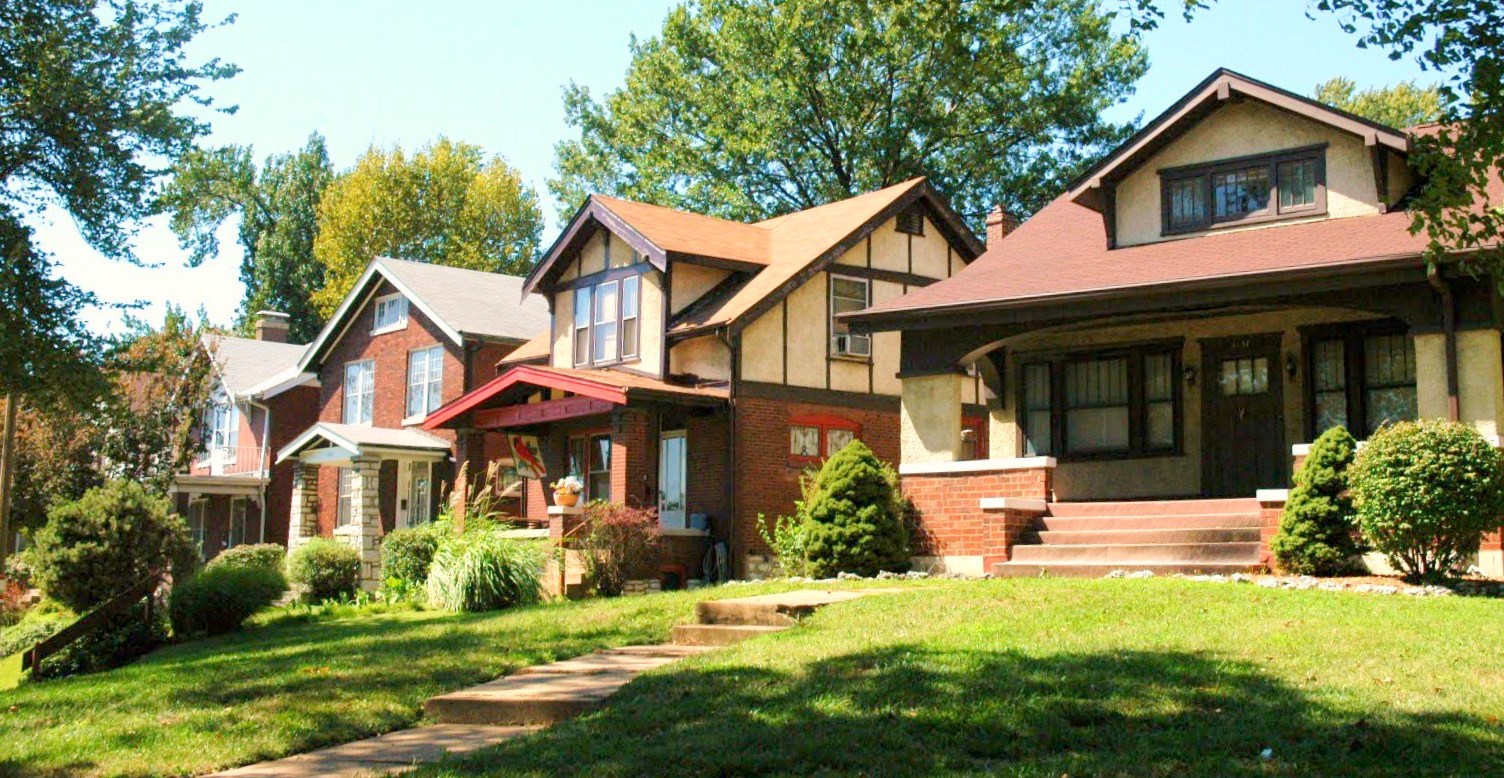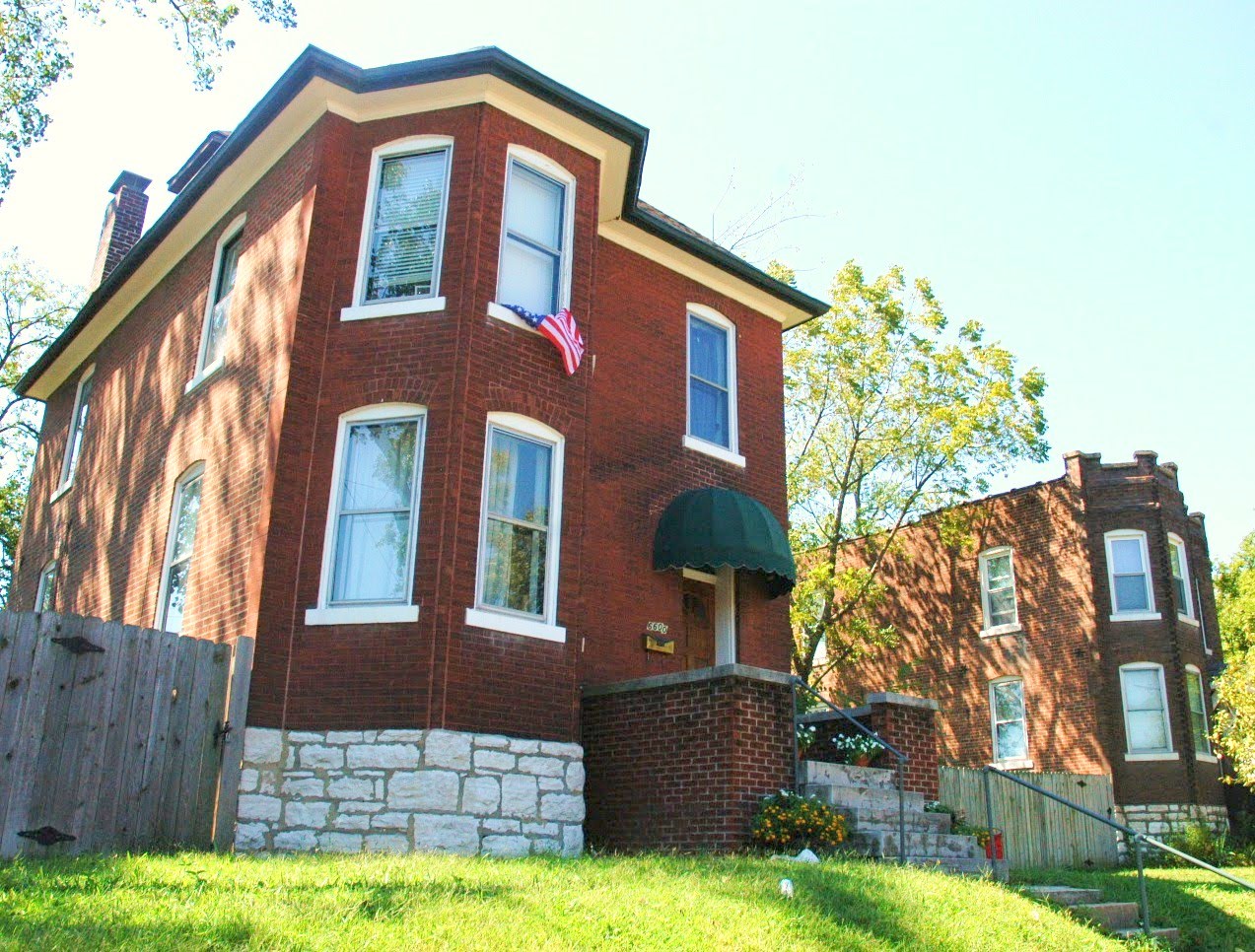 Here are some the stone homes I found: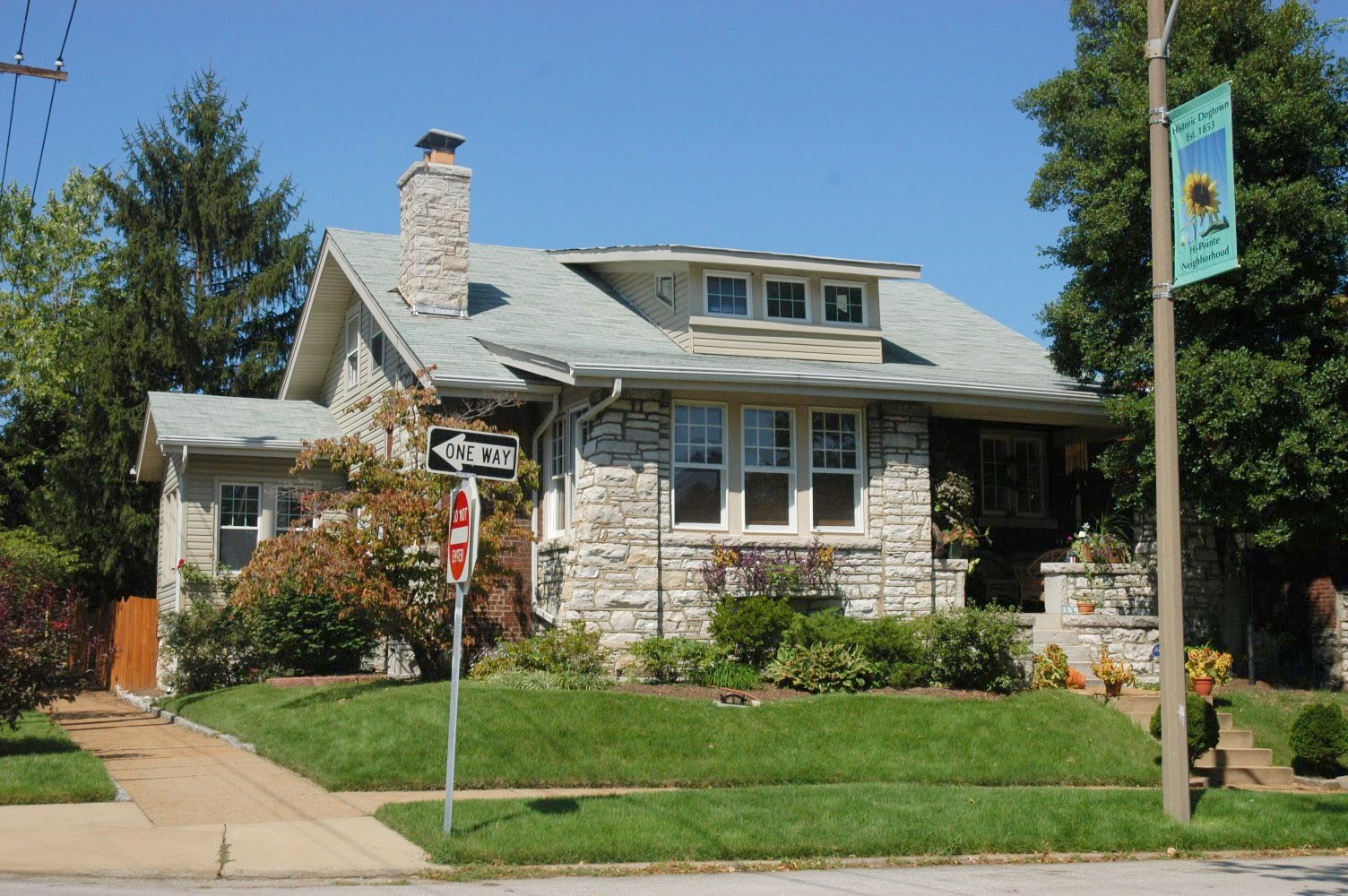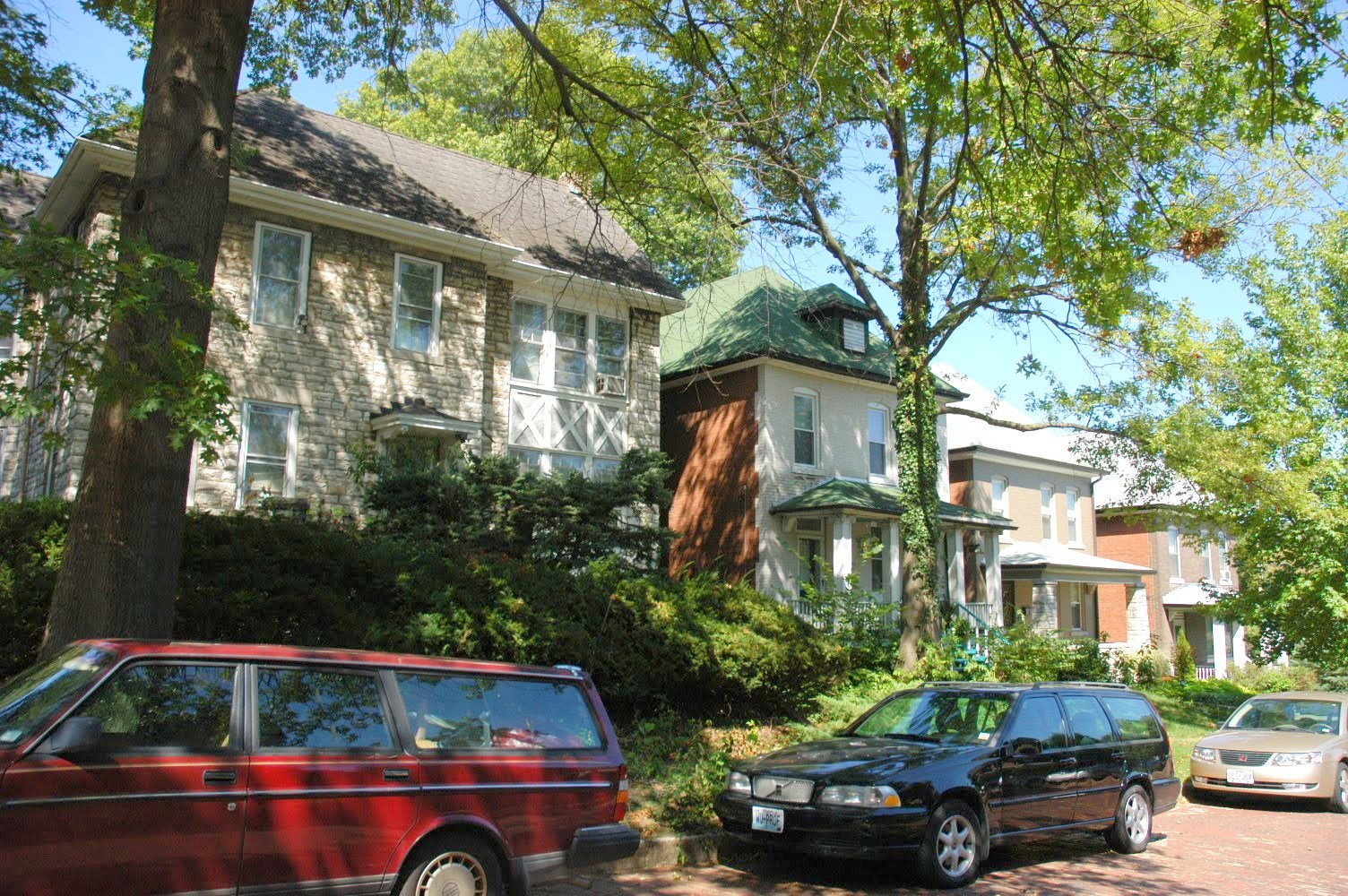 These two sit right next to each other: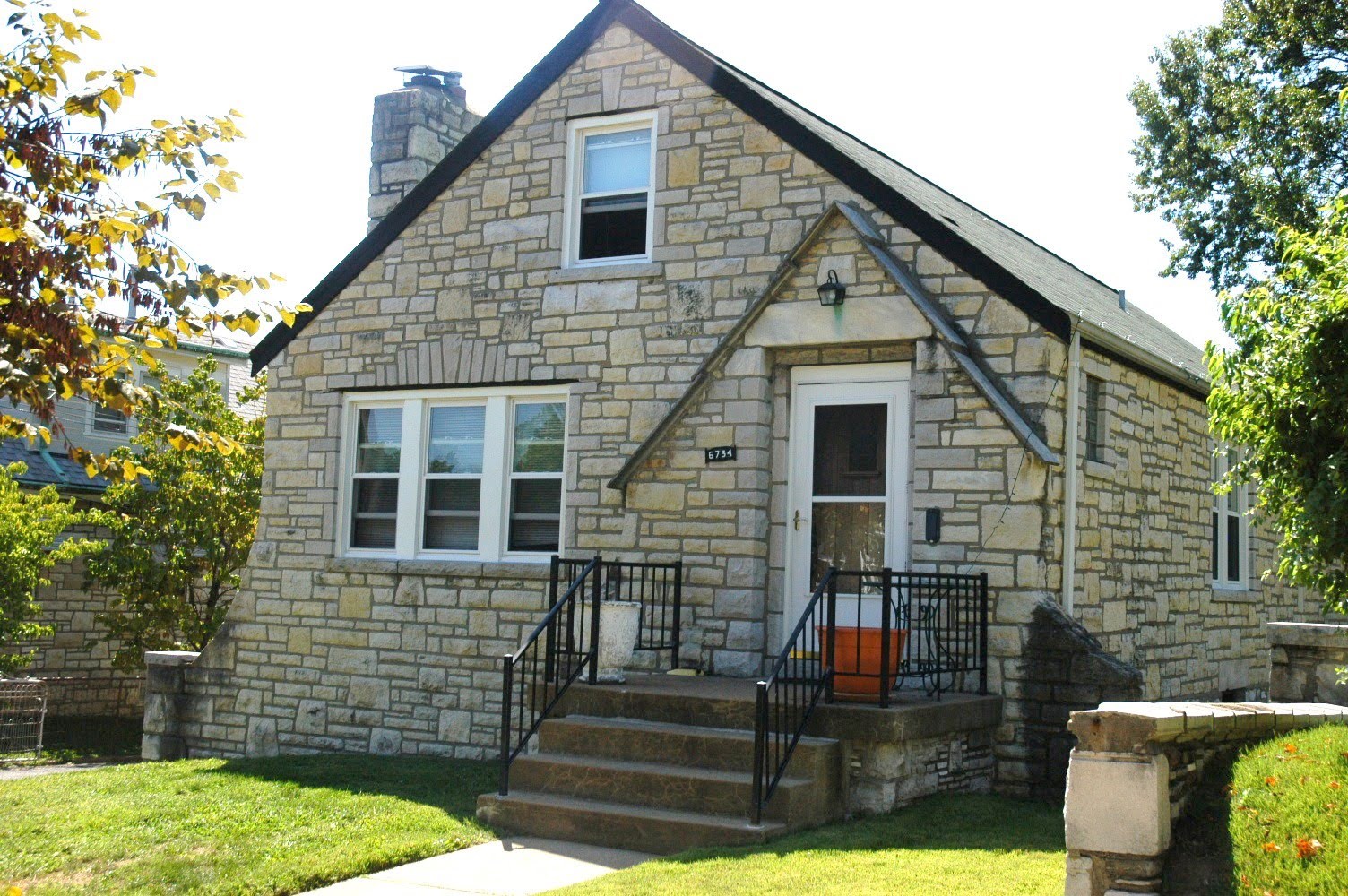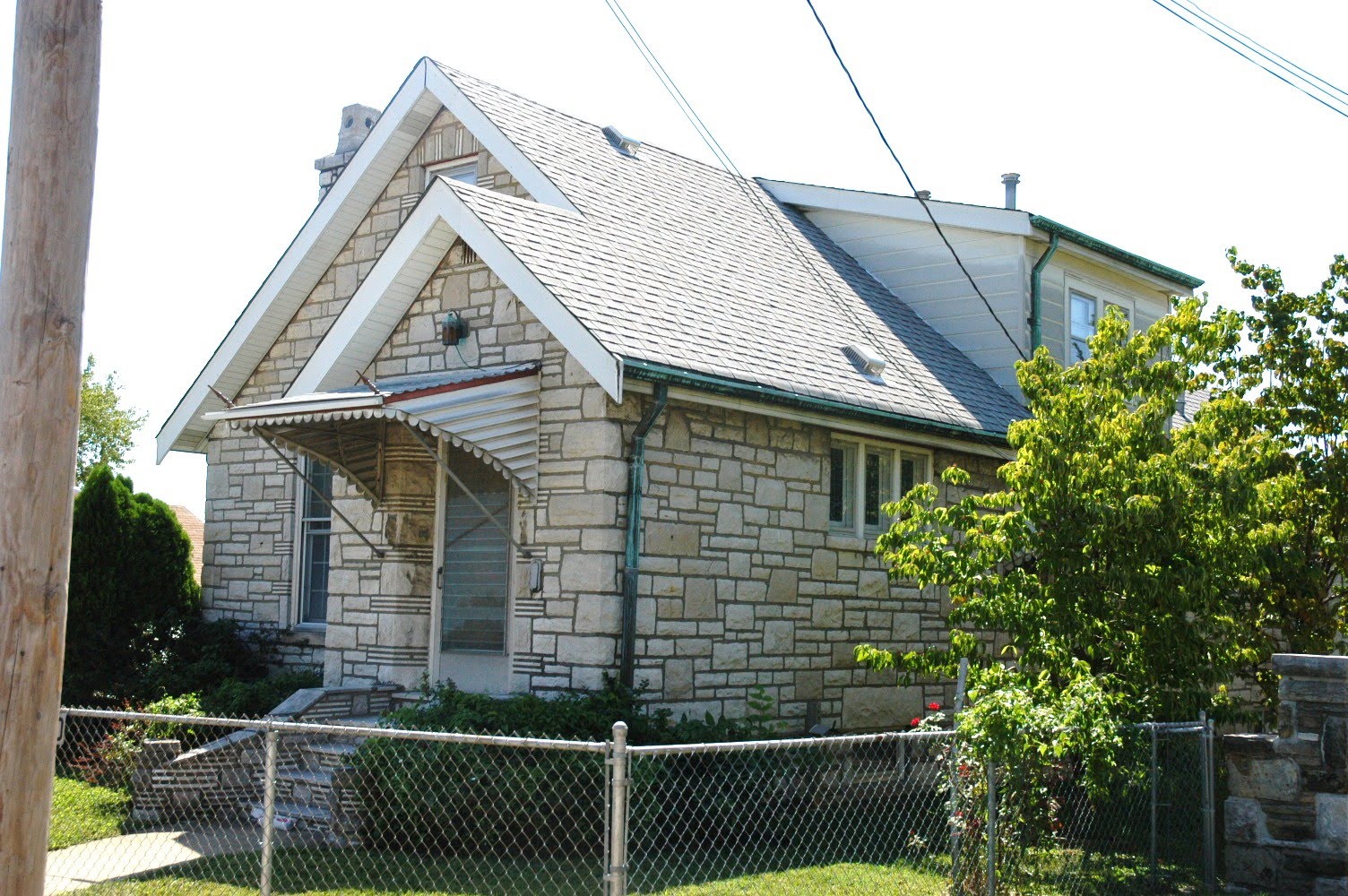 And while brick and stone homes are the overwhelming majority in this fine city, there are great examples of frame homes in Hi-Pointe, not unlike Clifton Heights or Ellendale: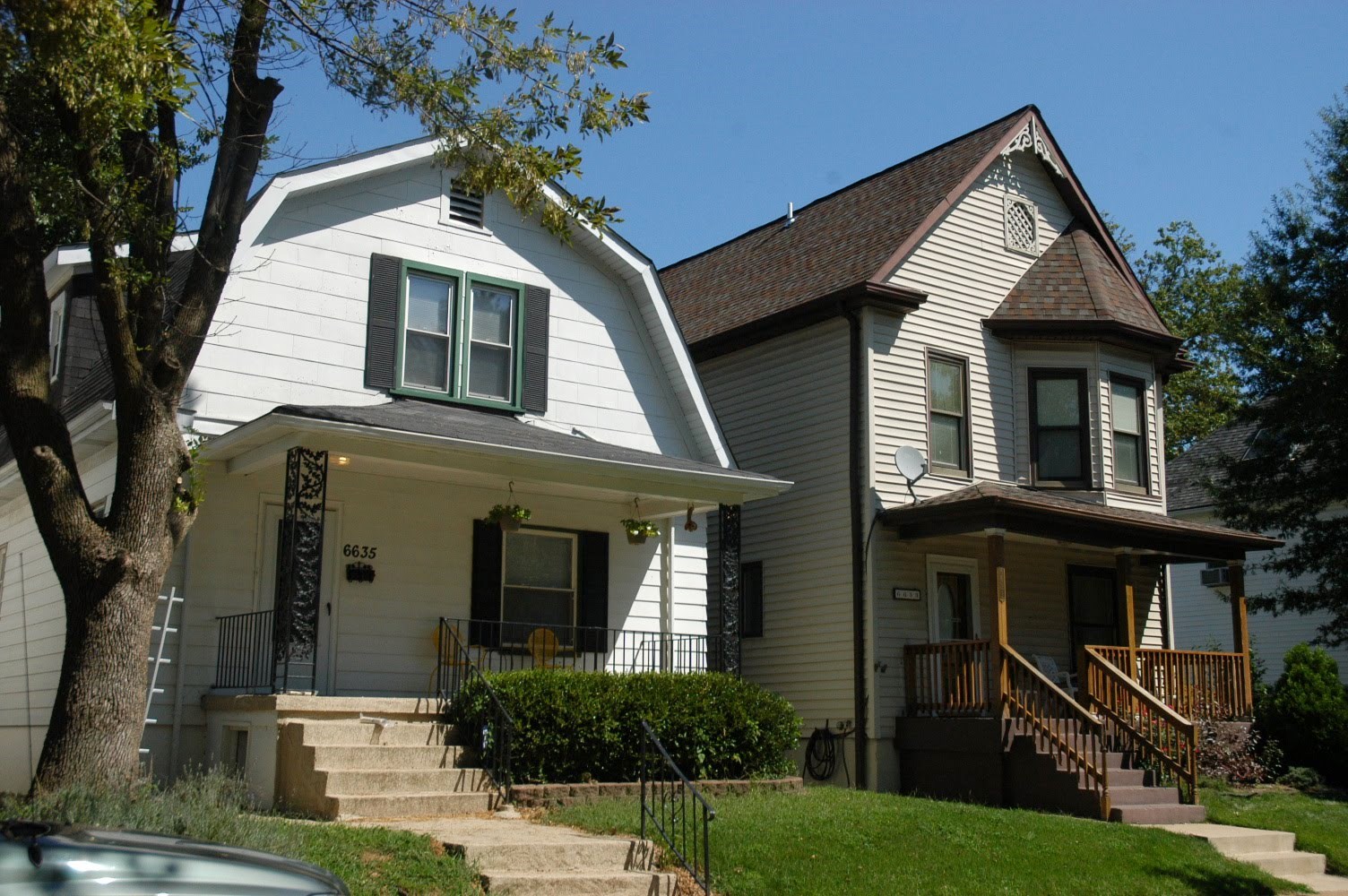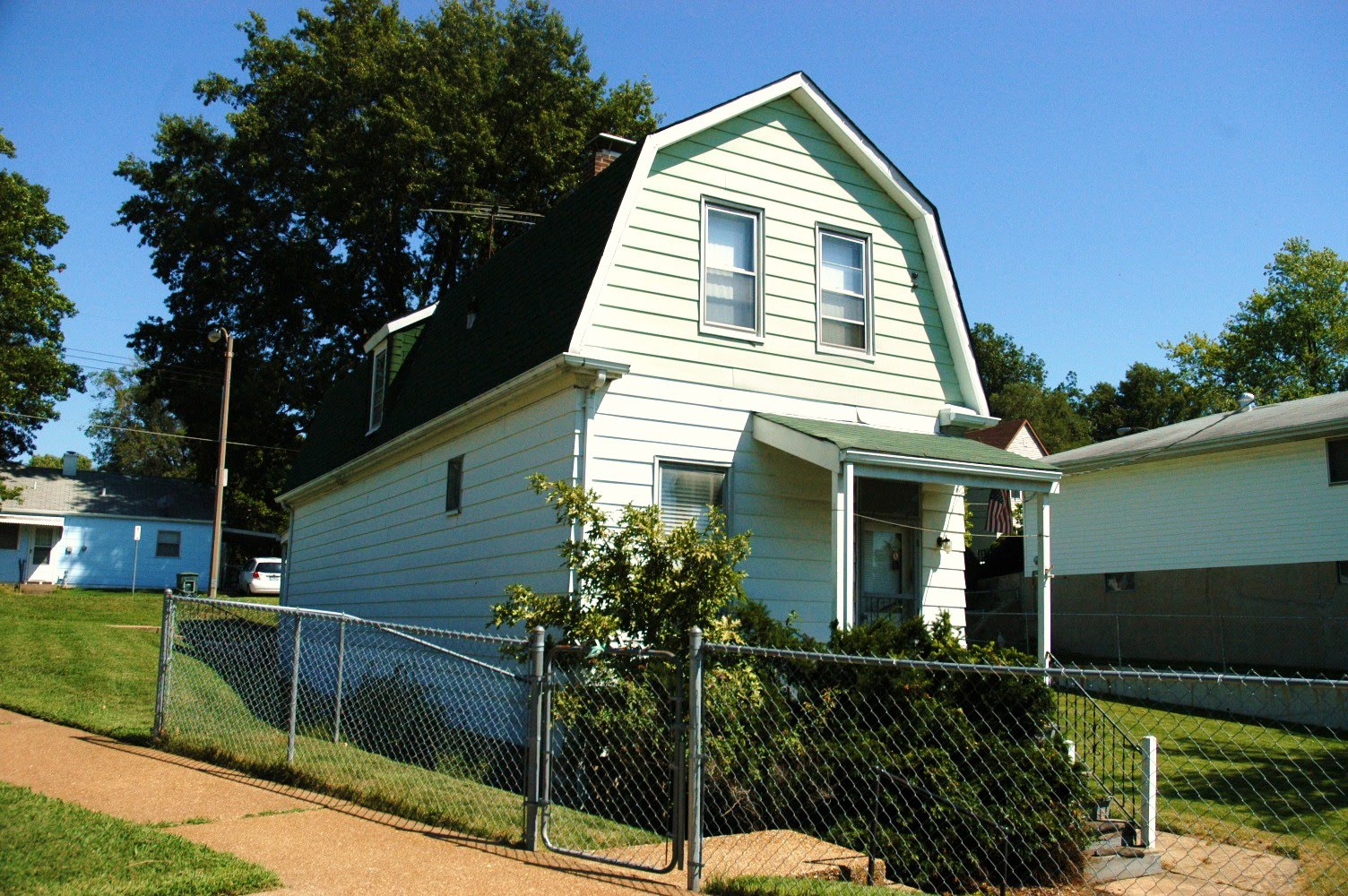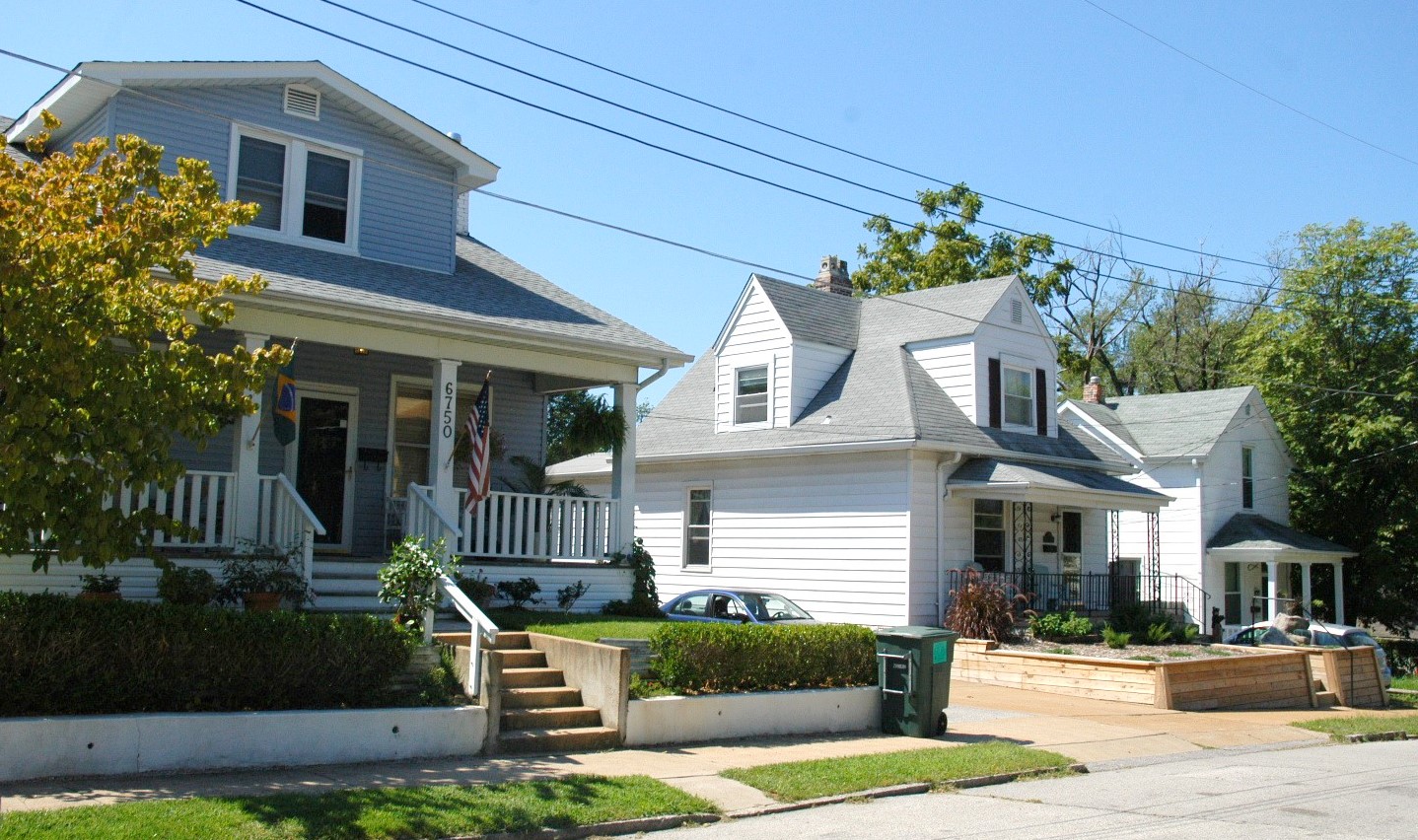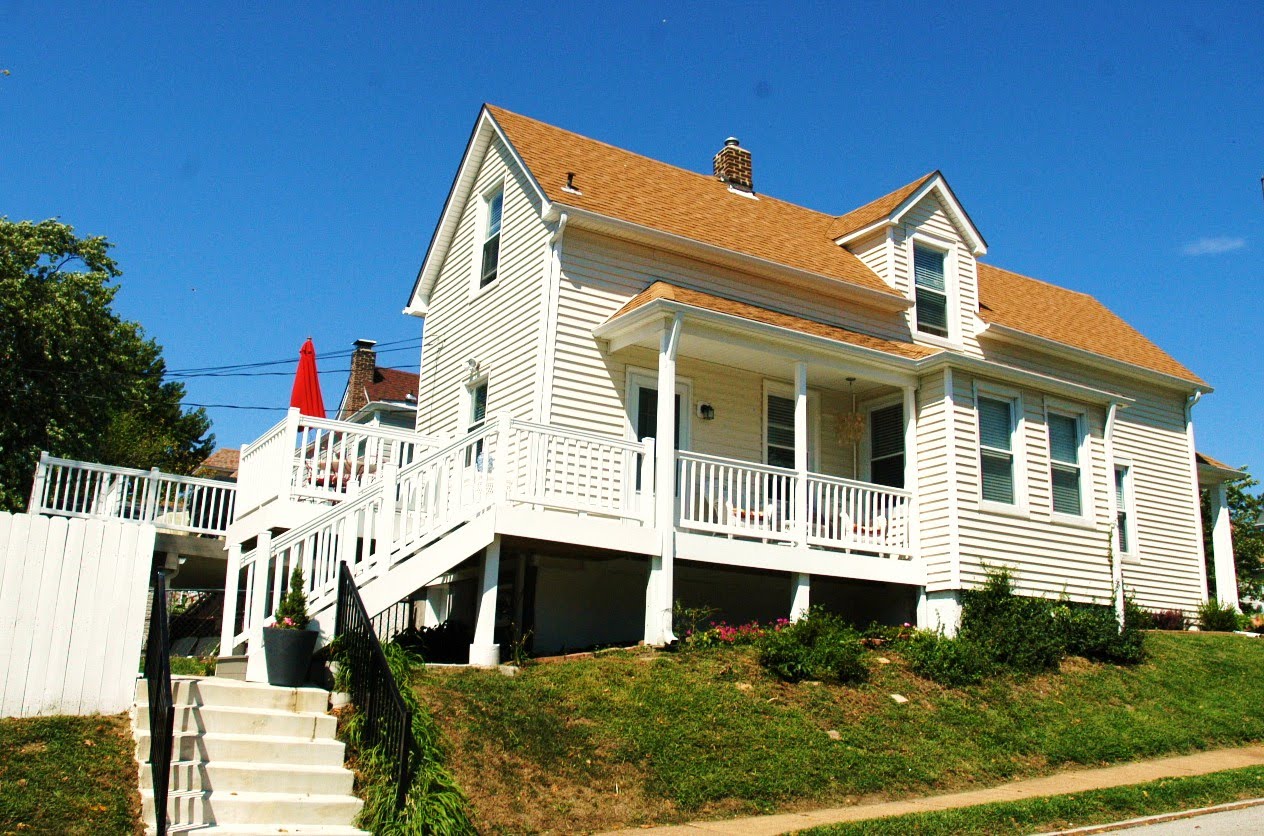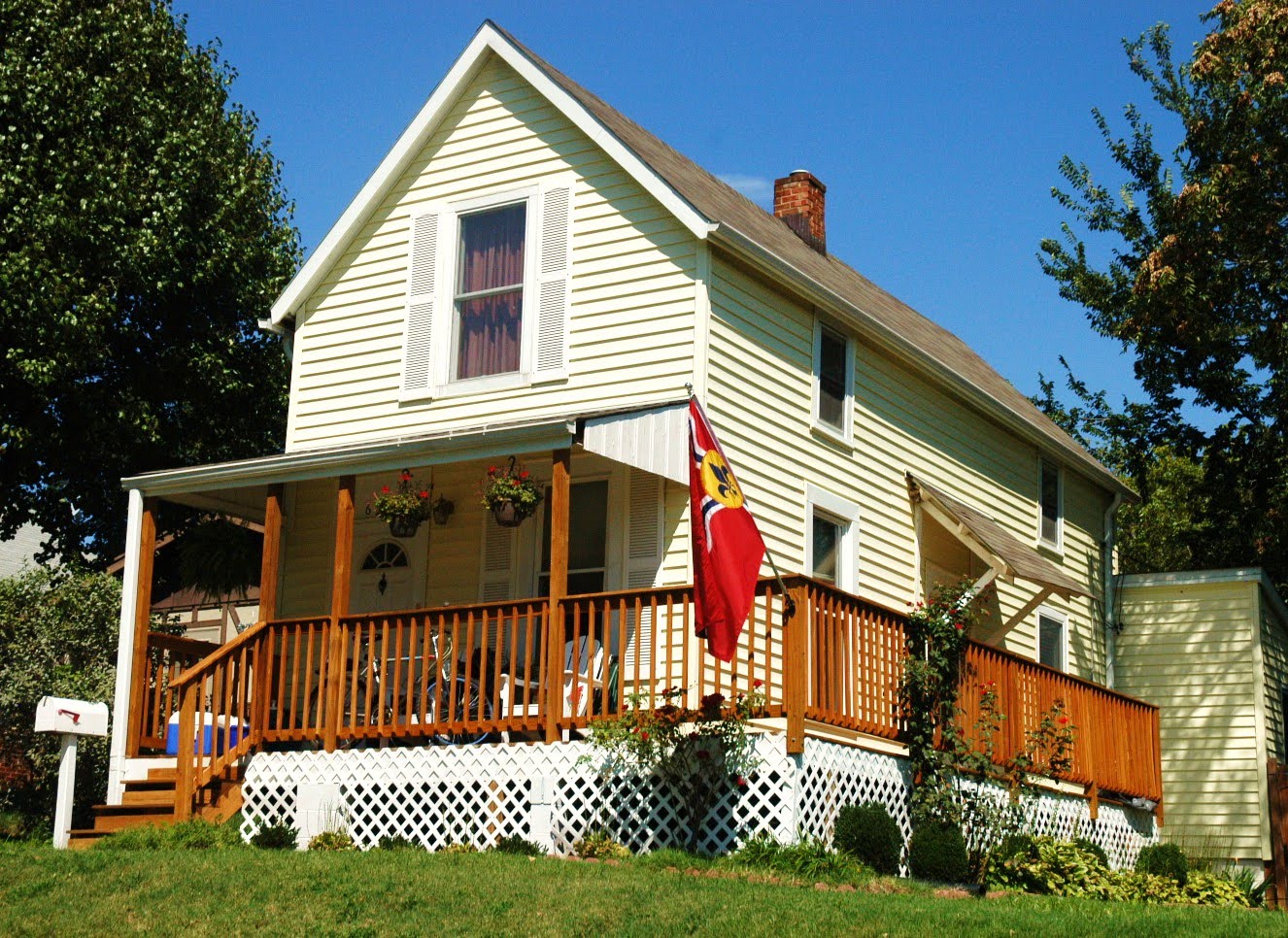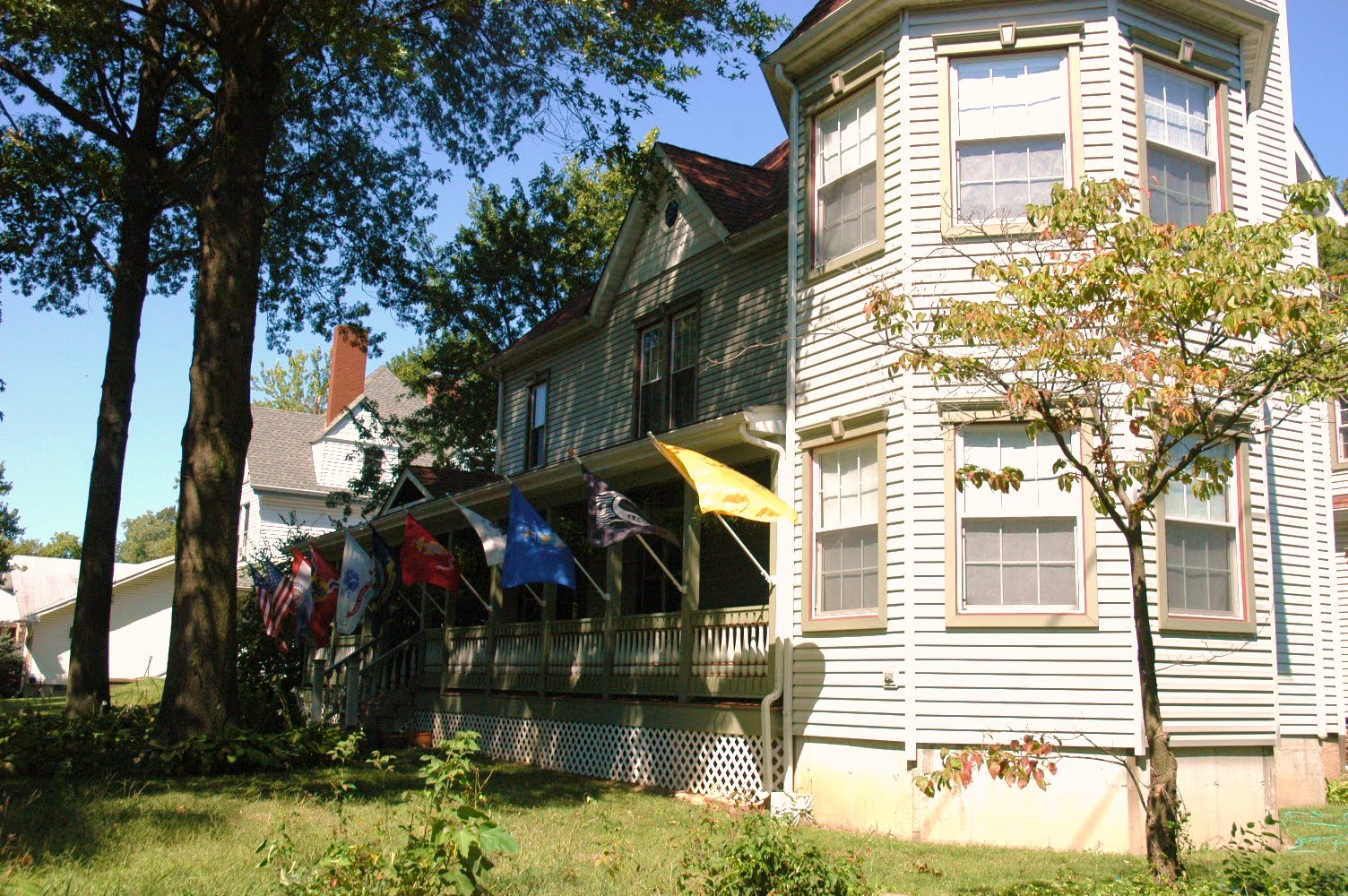 Hi-Pointe is similar to Franz Park in that there are several streets with rows and rows of modestly scaled homes, mixed between brick, frame and both side by side. First the brick examples: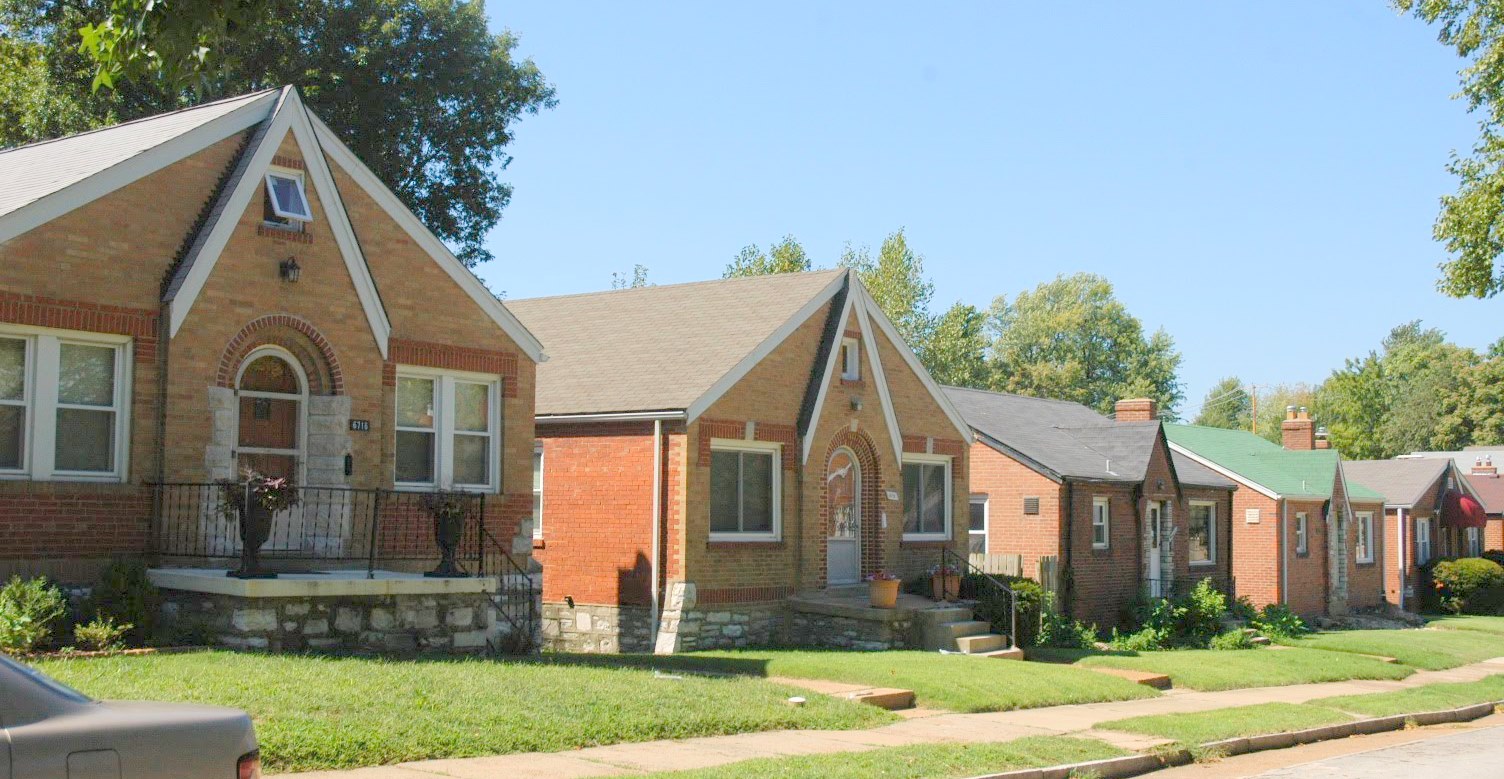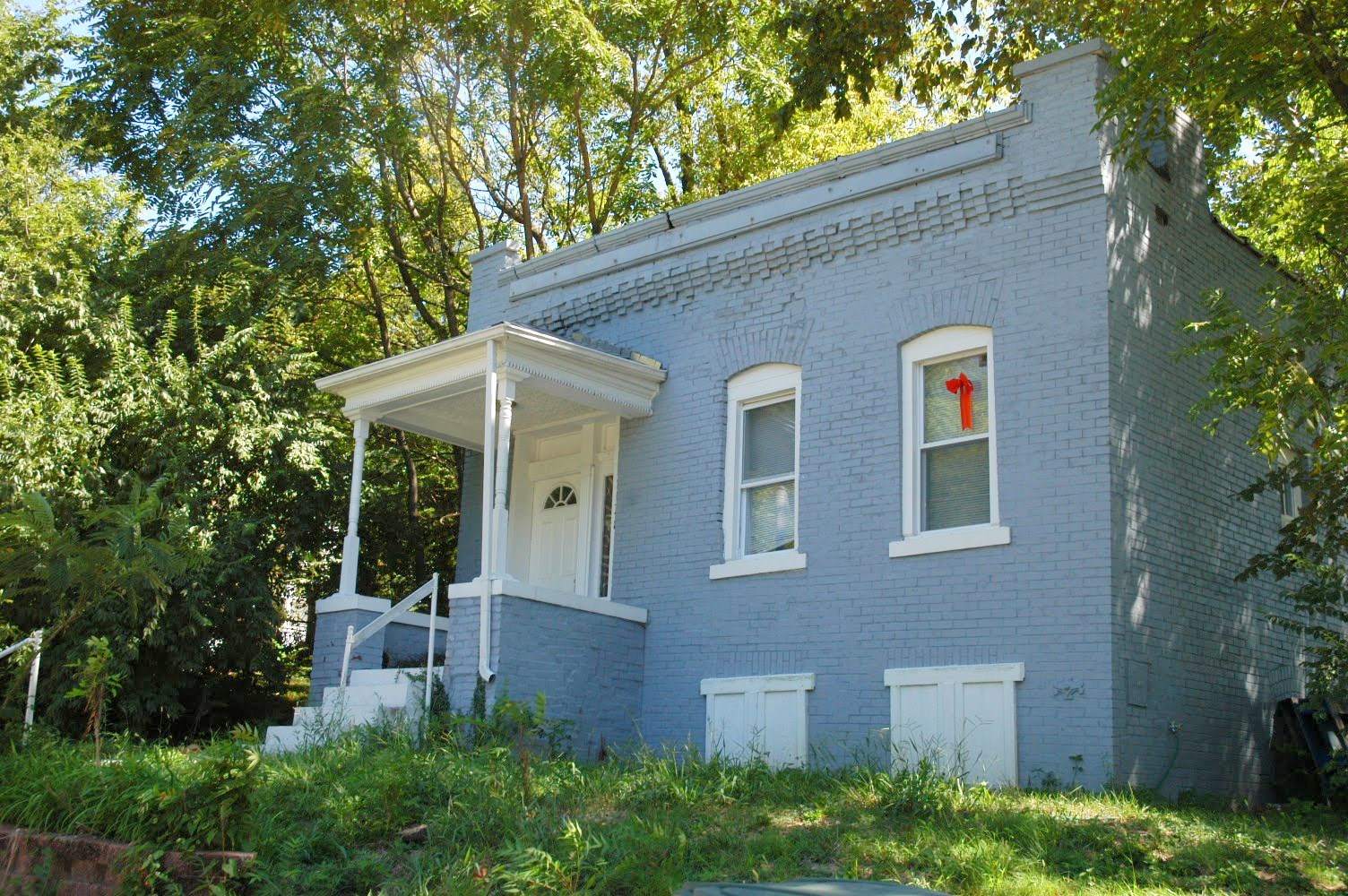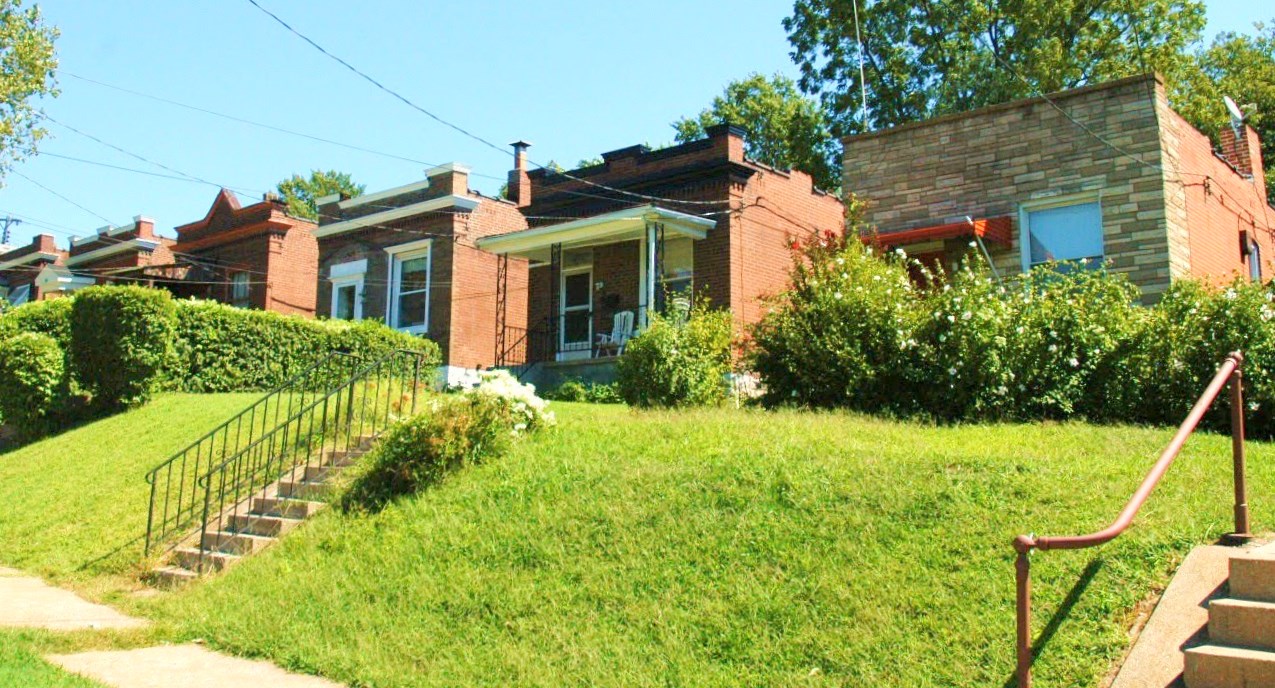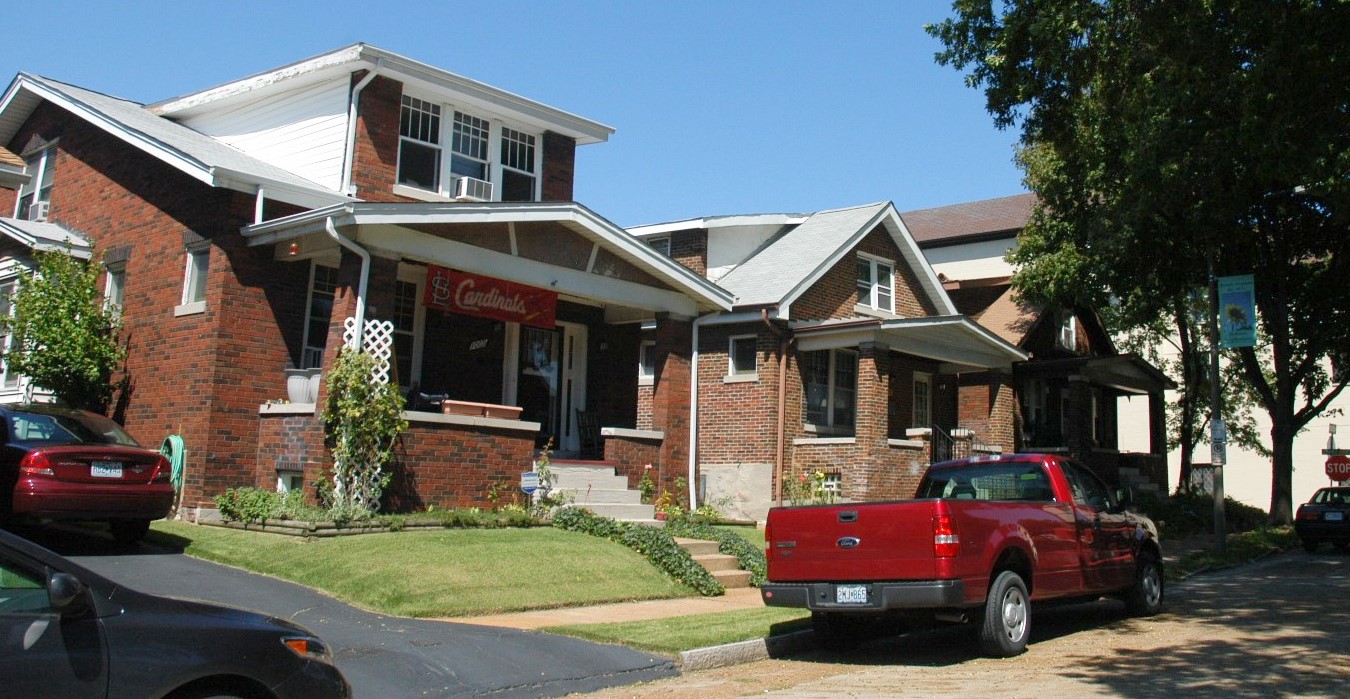 Then the frame/sided examples: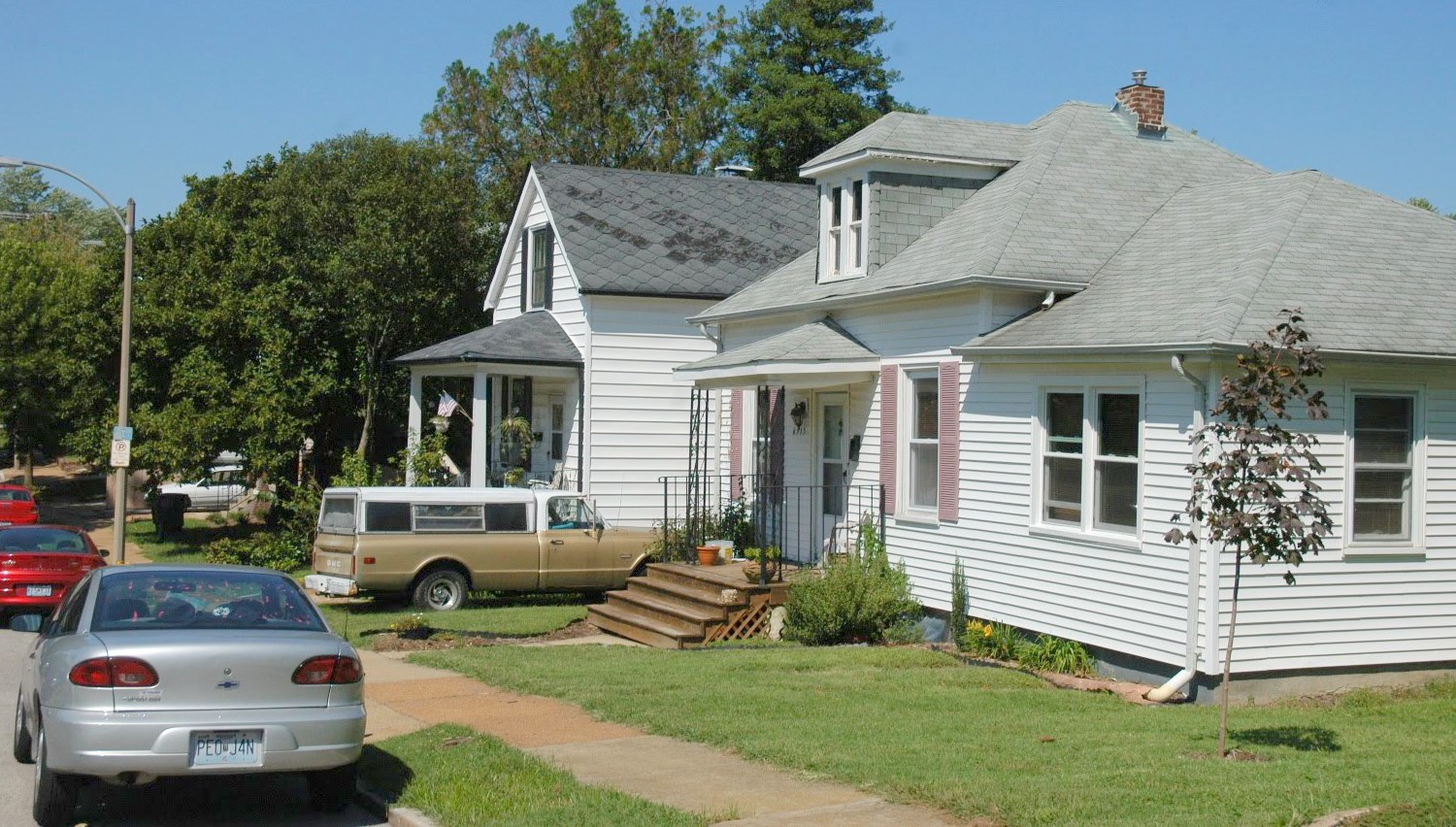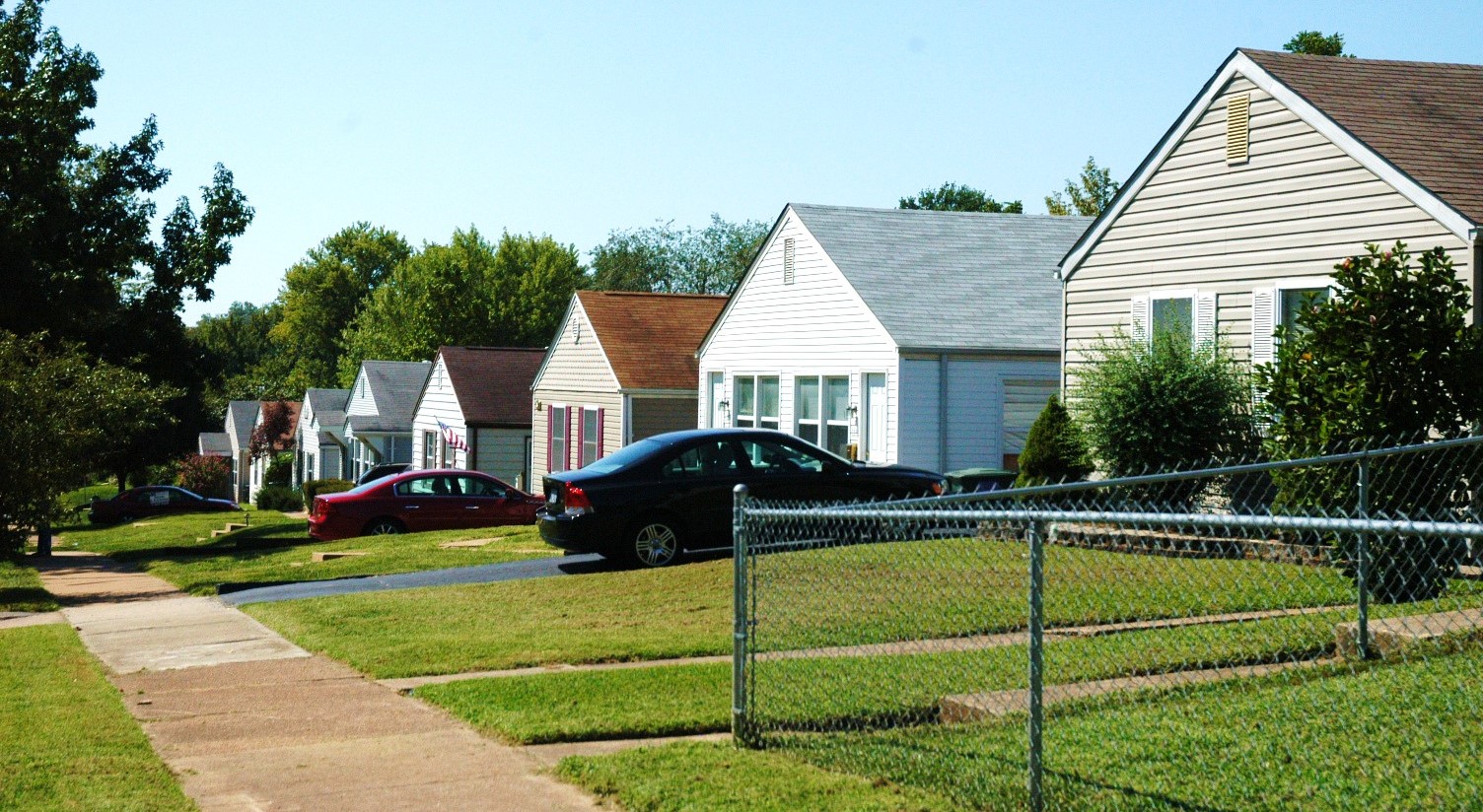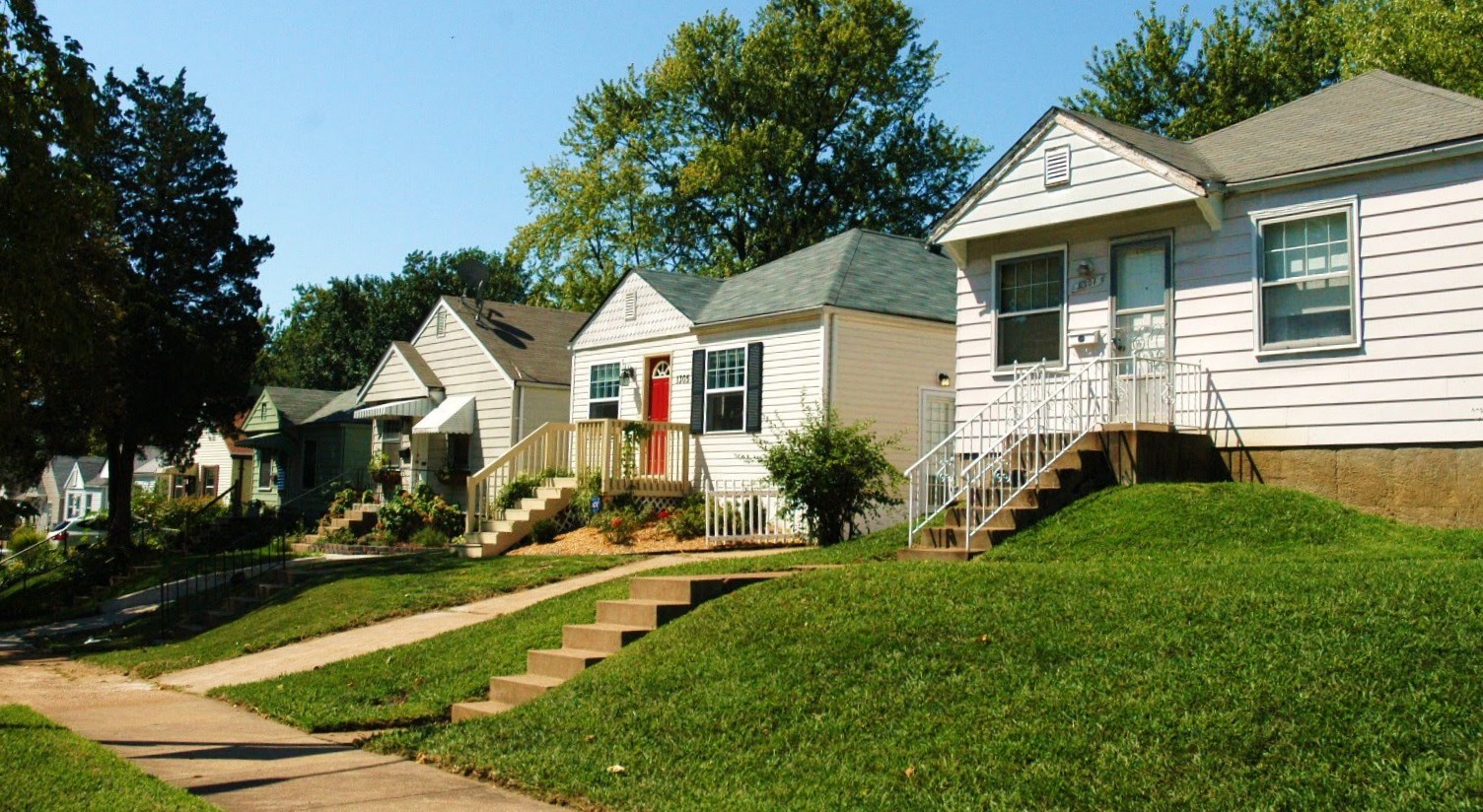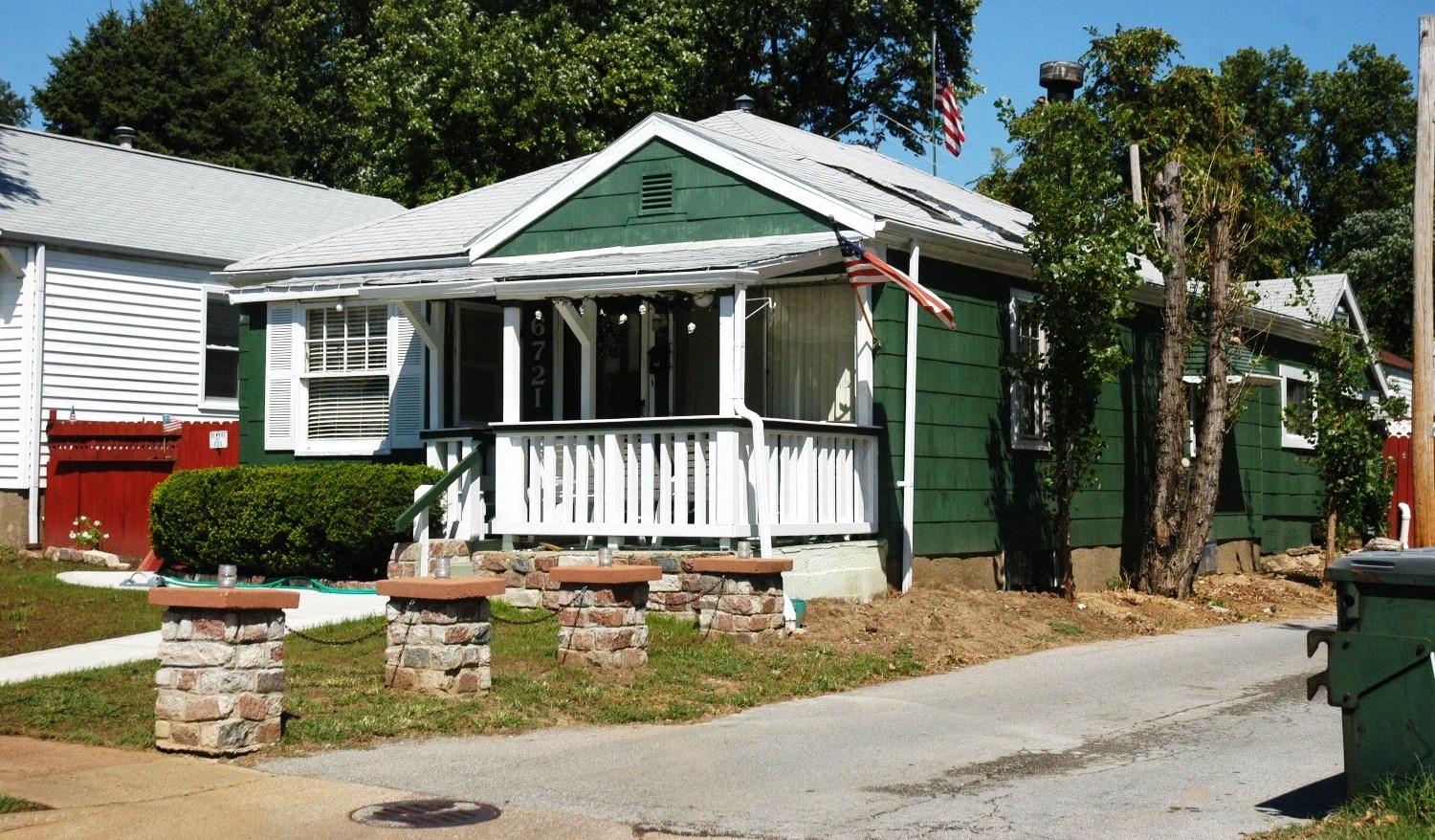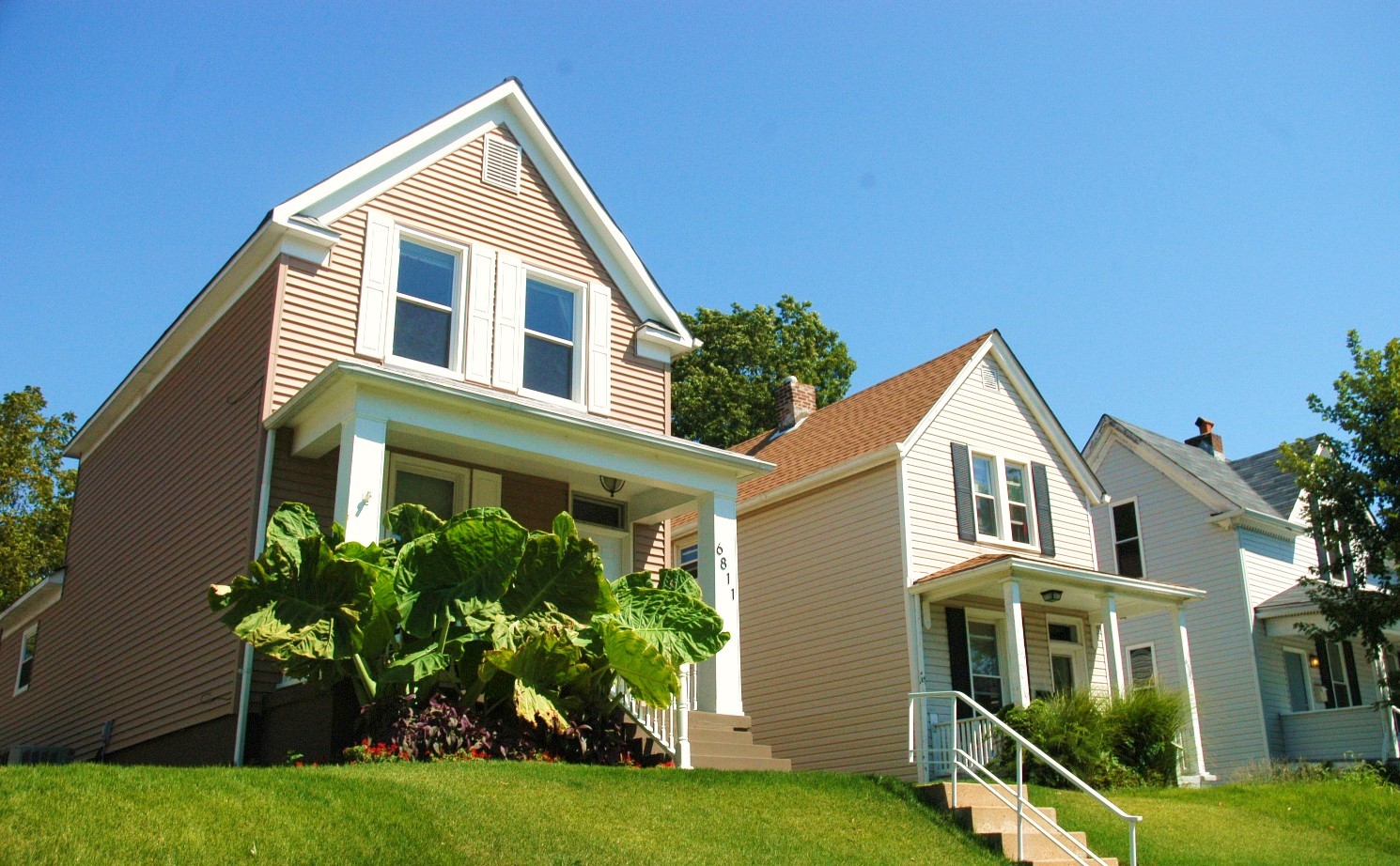 And then an example of a mixed brick and frame street: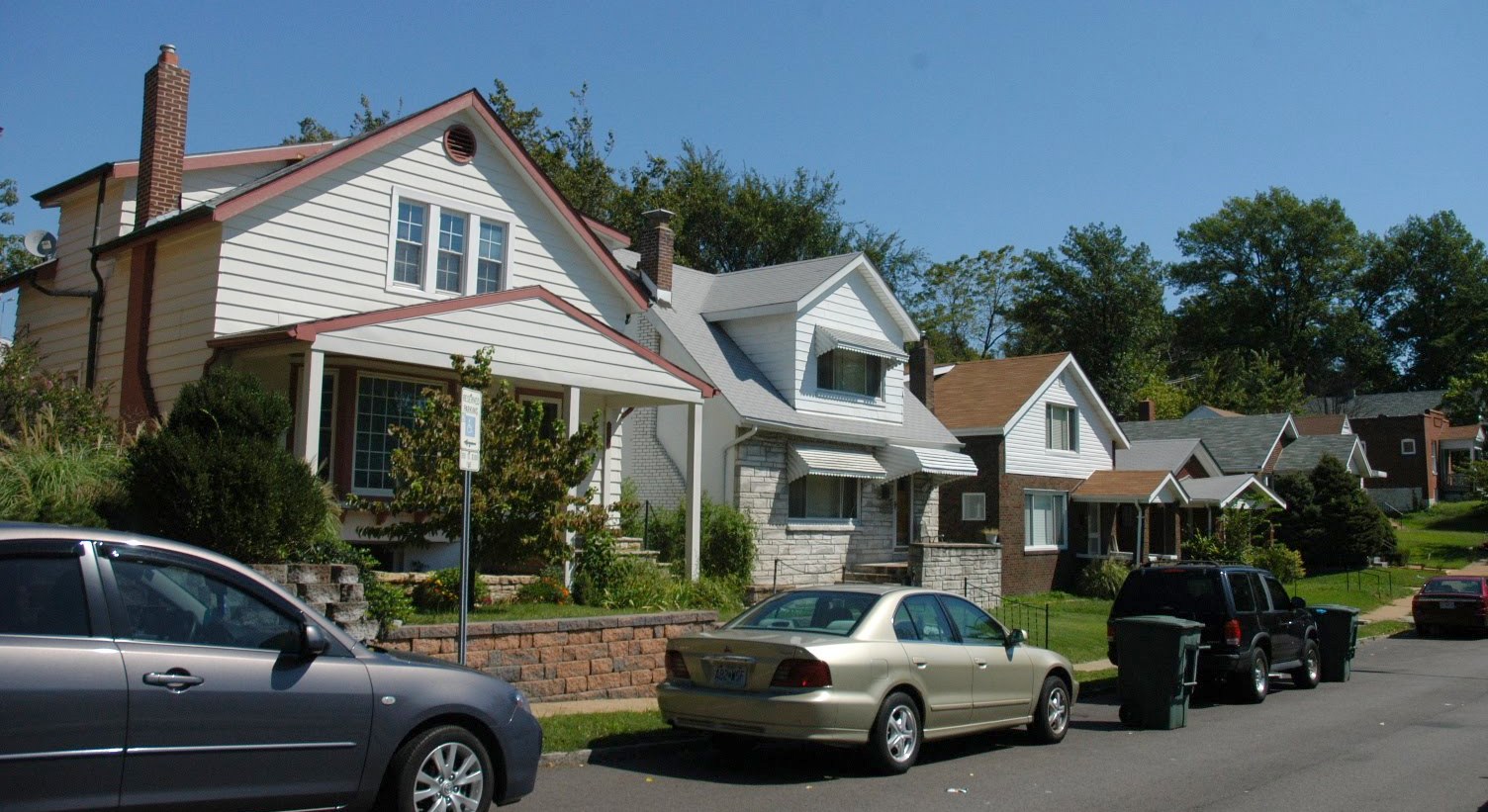 There are some awesome apartment buildings within Hi-Pointe: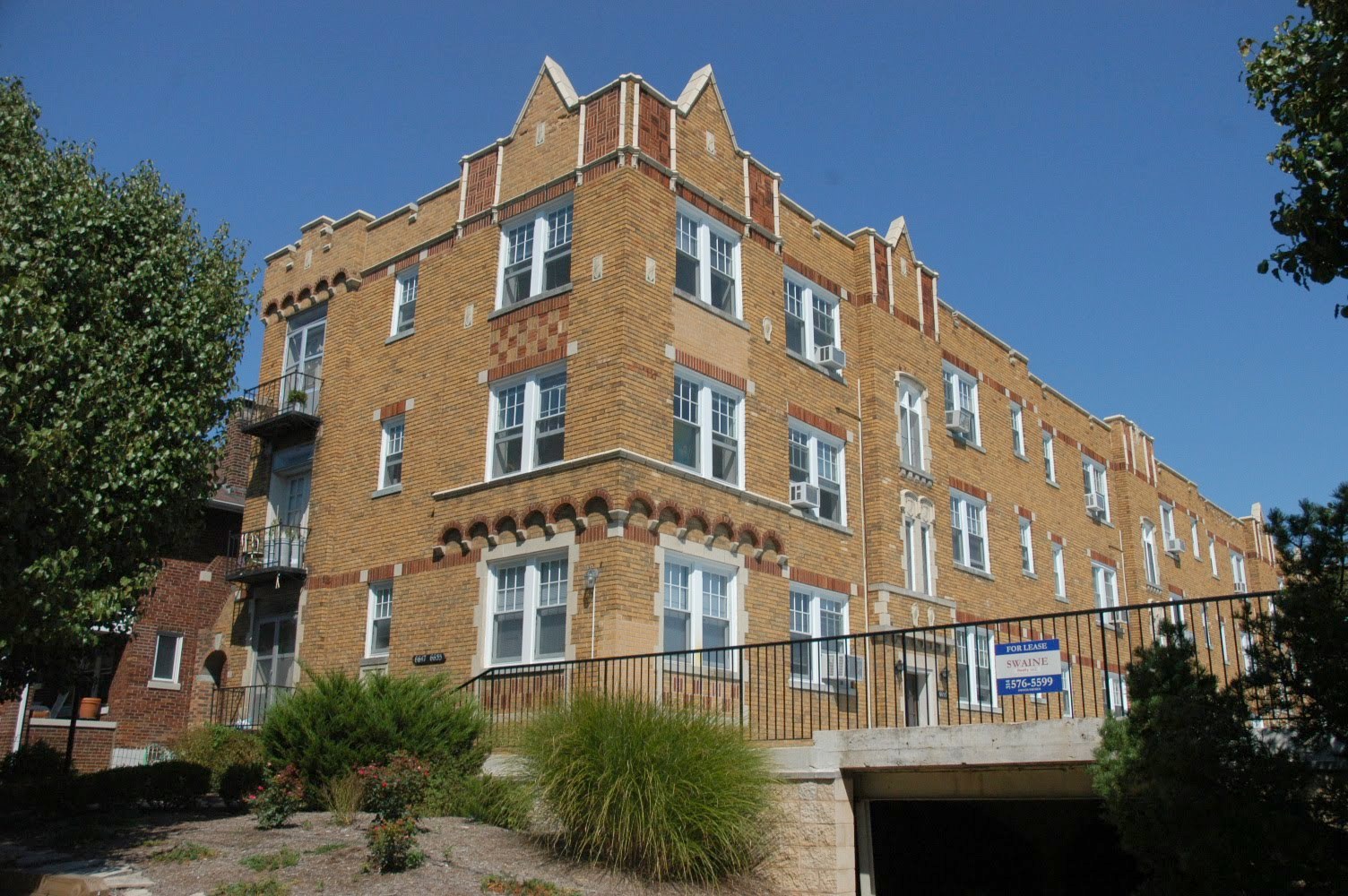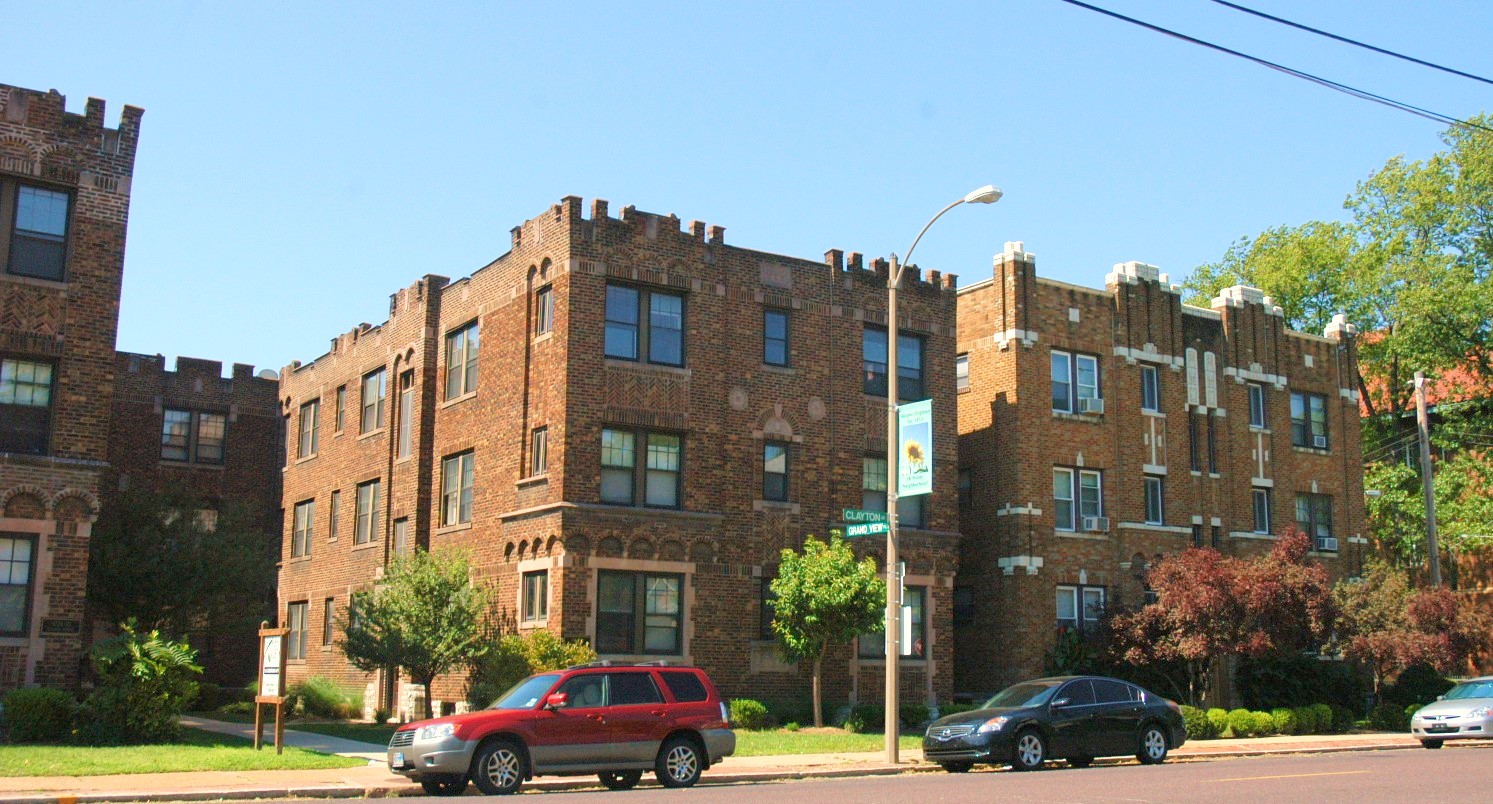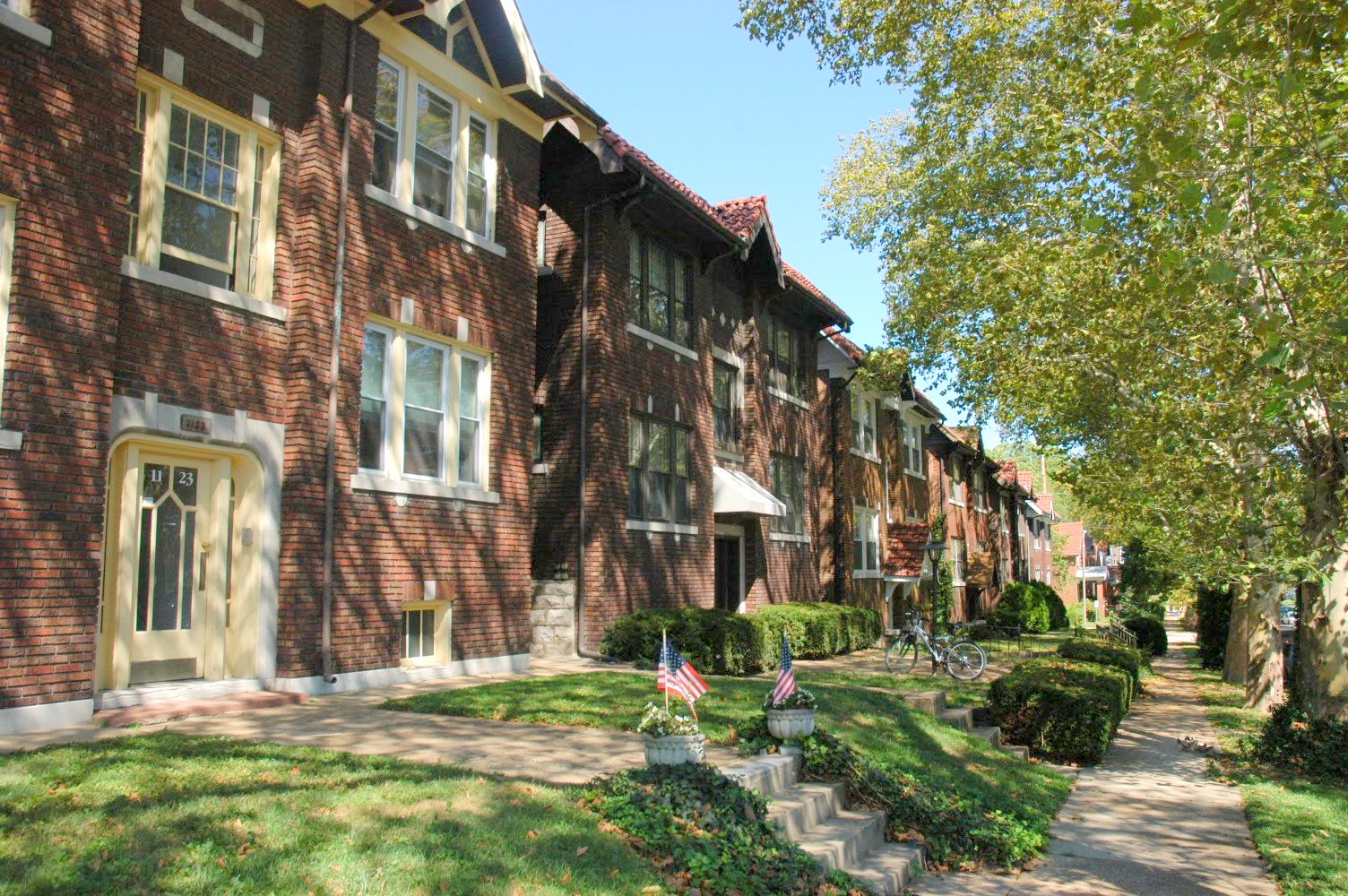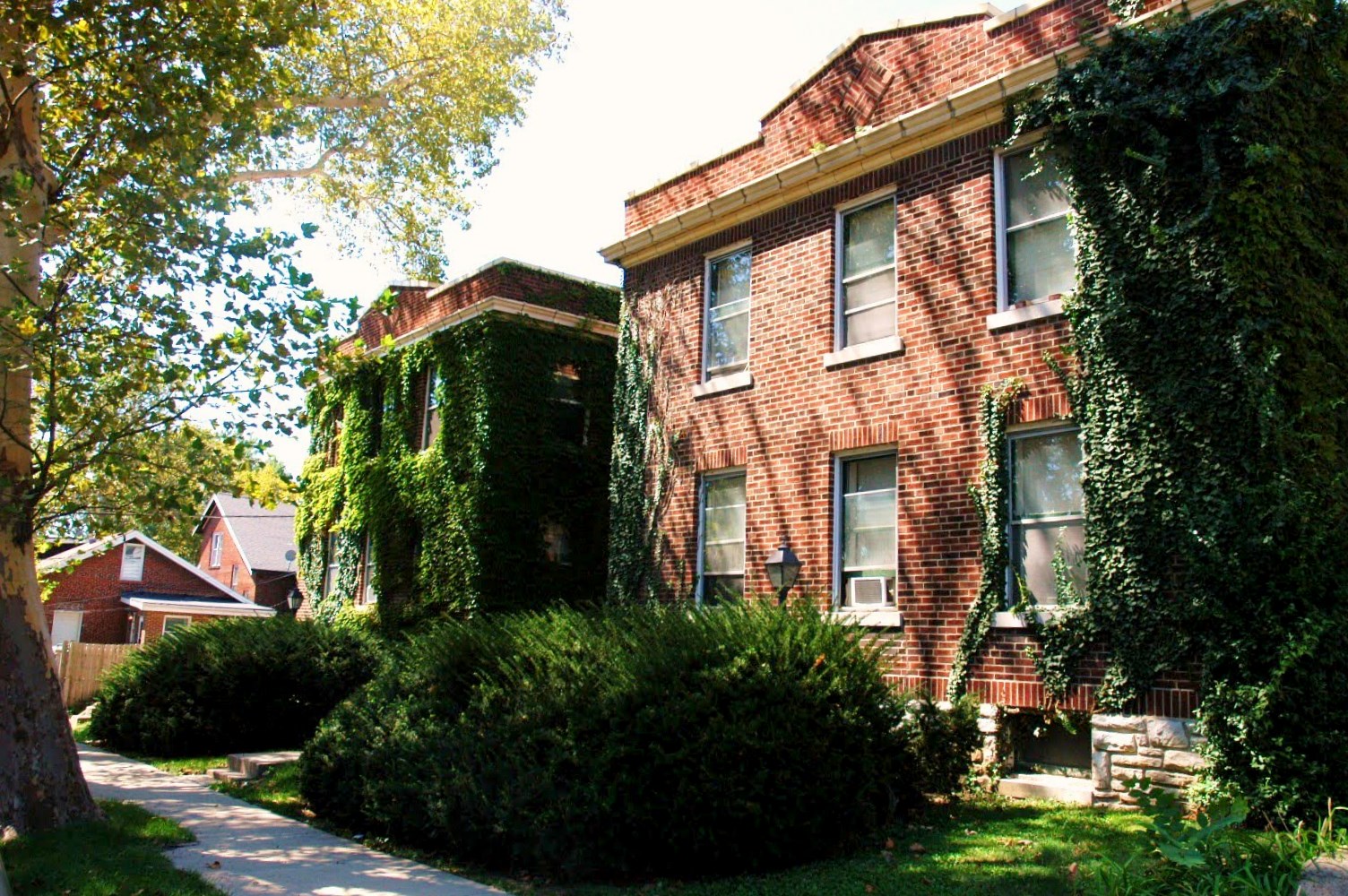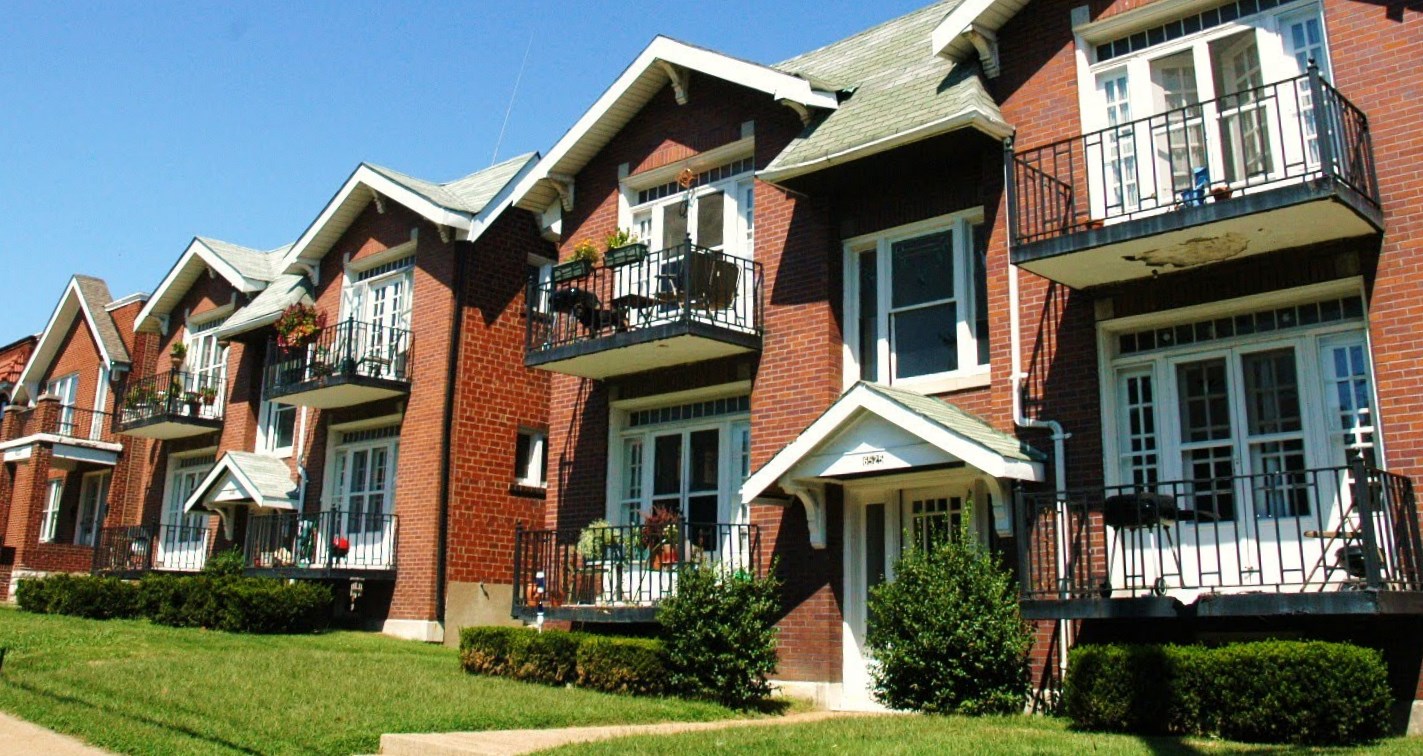 I was happy to find that Hi-Pointe has very few ramshackle properties and the rental property as well as the owned residential appears to be quite tidy, clean and well cared for. Here are a couple beauties, the Lois and Kuhs apartments near the Cheshire Inn; the latter is undergoing a renovation: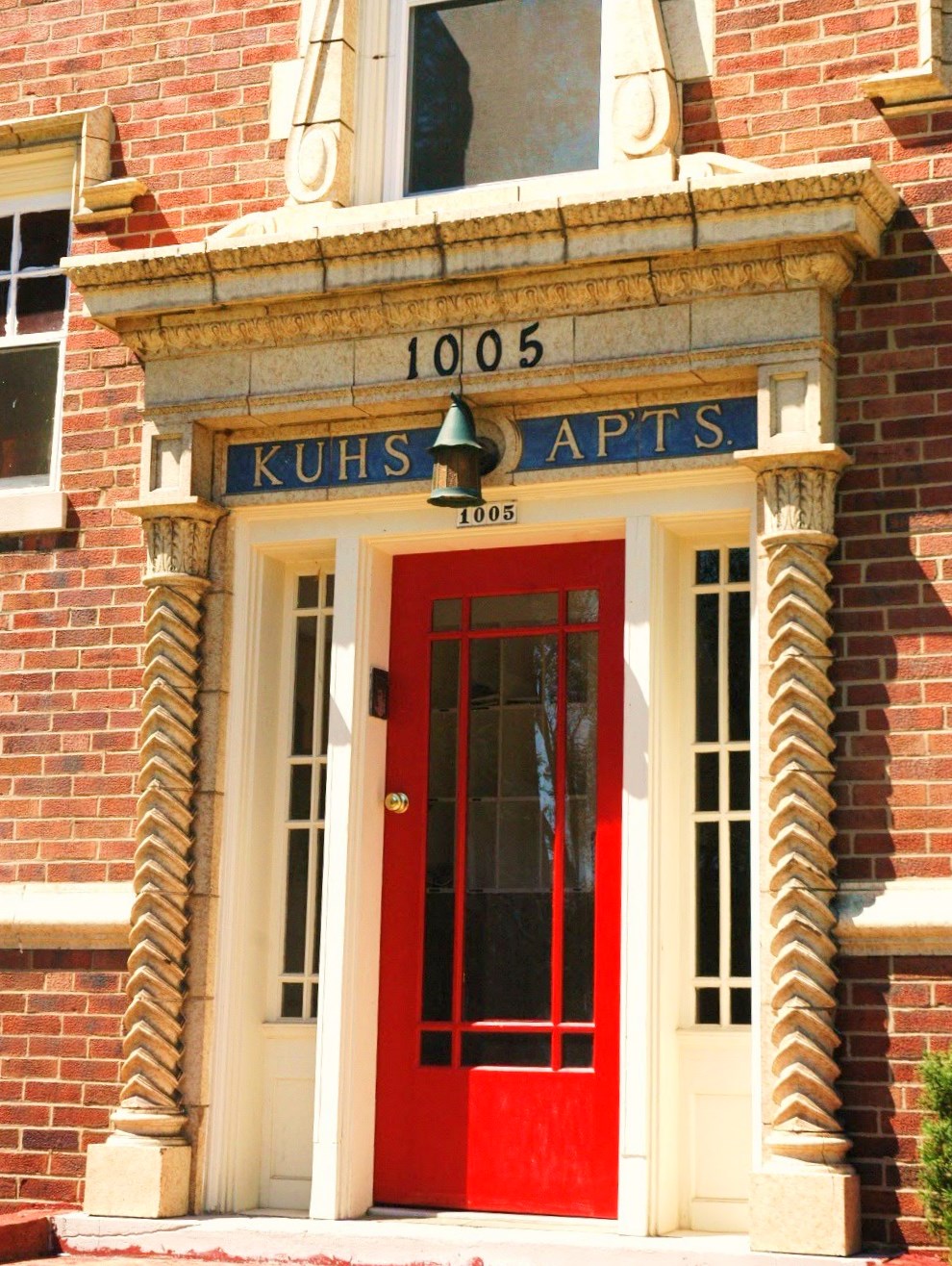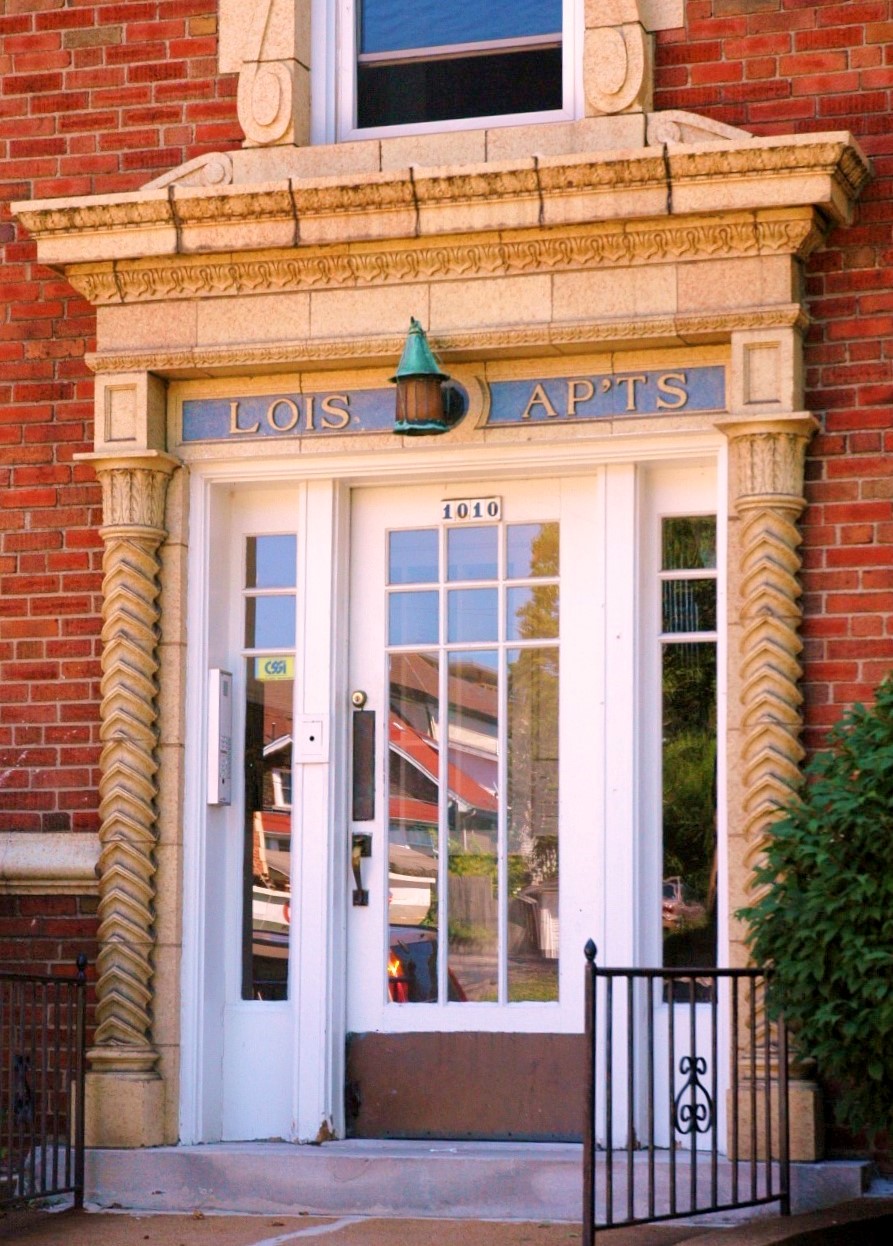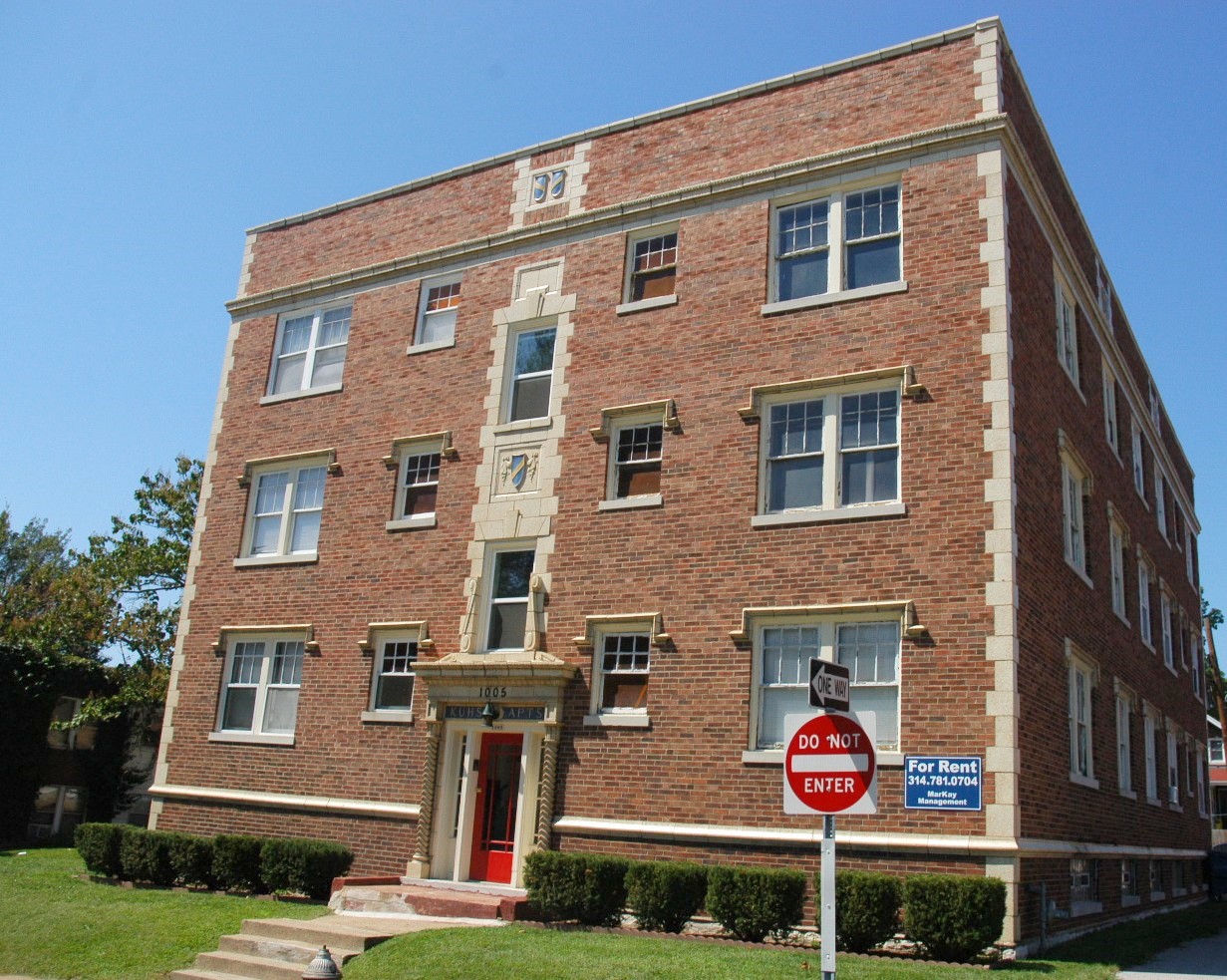 There are also some examples of contemporary construction within Hi-Pointe, but these are the minority. First you have some decent looking condos (aside from the Depot Doors):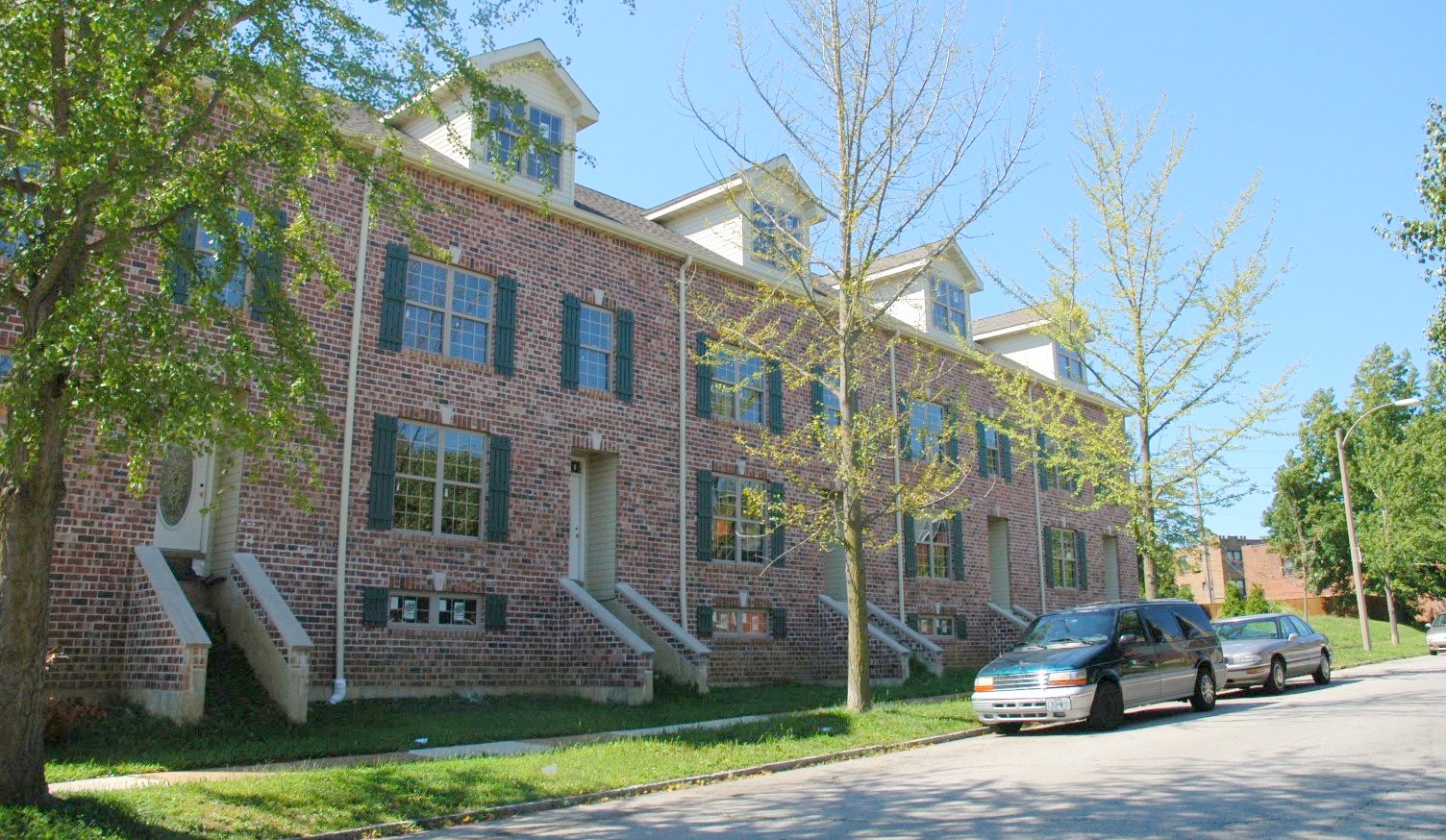 But hey, density is density and we need all the residents we can get and the occupancy rate of Hi-Pointe is sky high, so obviously people want to live here. The next apartments appeared to be near capacity as per the full parking lots. I wonder if this would qualify as a bad mansard: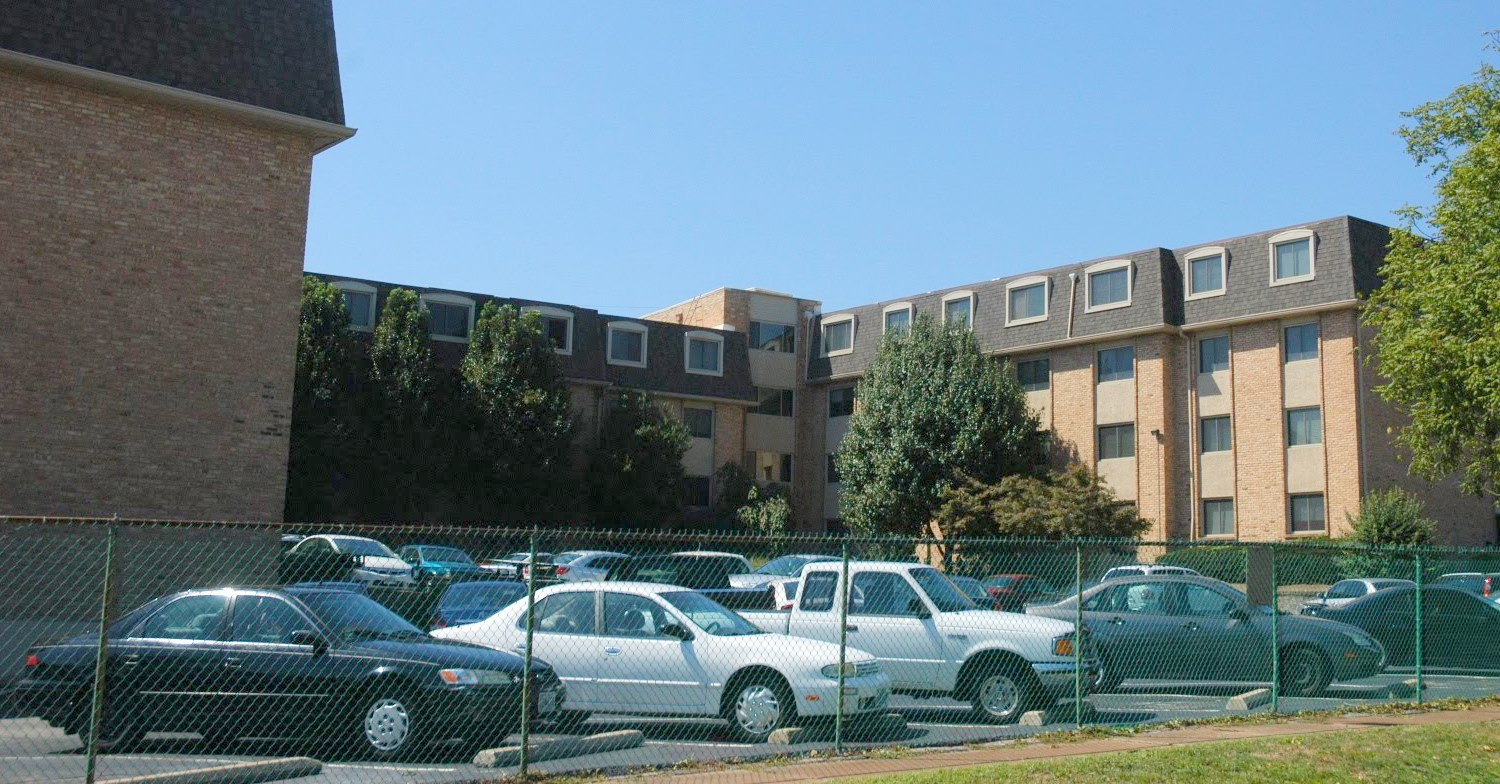 As per the map, I-64 runs through the north west part of the neighborhood, and many of the Hi-Pointe homes can be seen as you approach the Clayton Road overpass heading eastbound: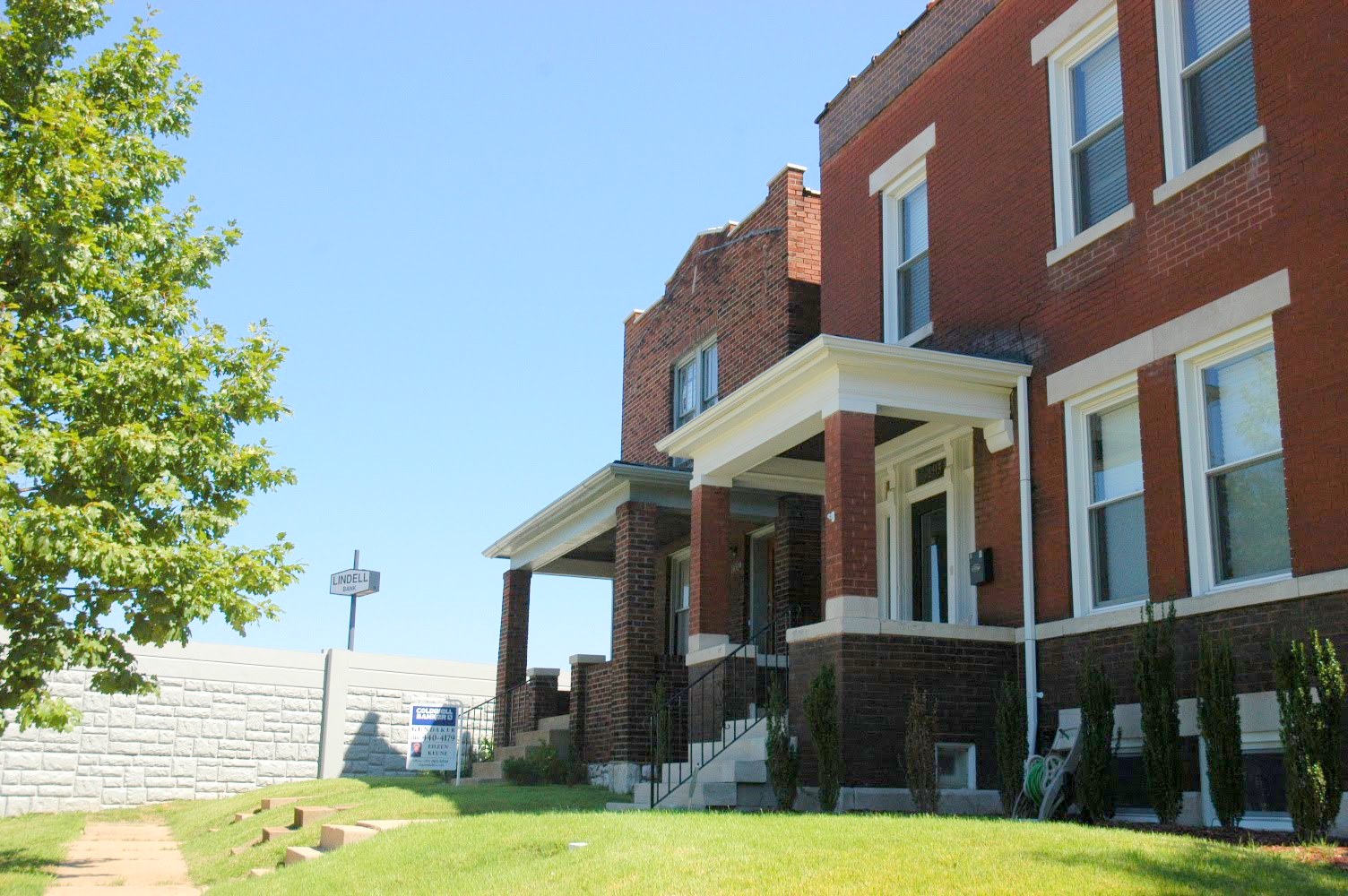 The uncalled for sound walls that block the views of our beautiful city have been incorporated into people's living spaces: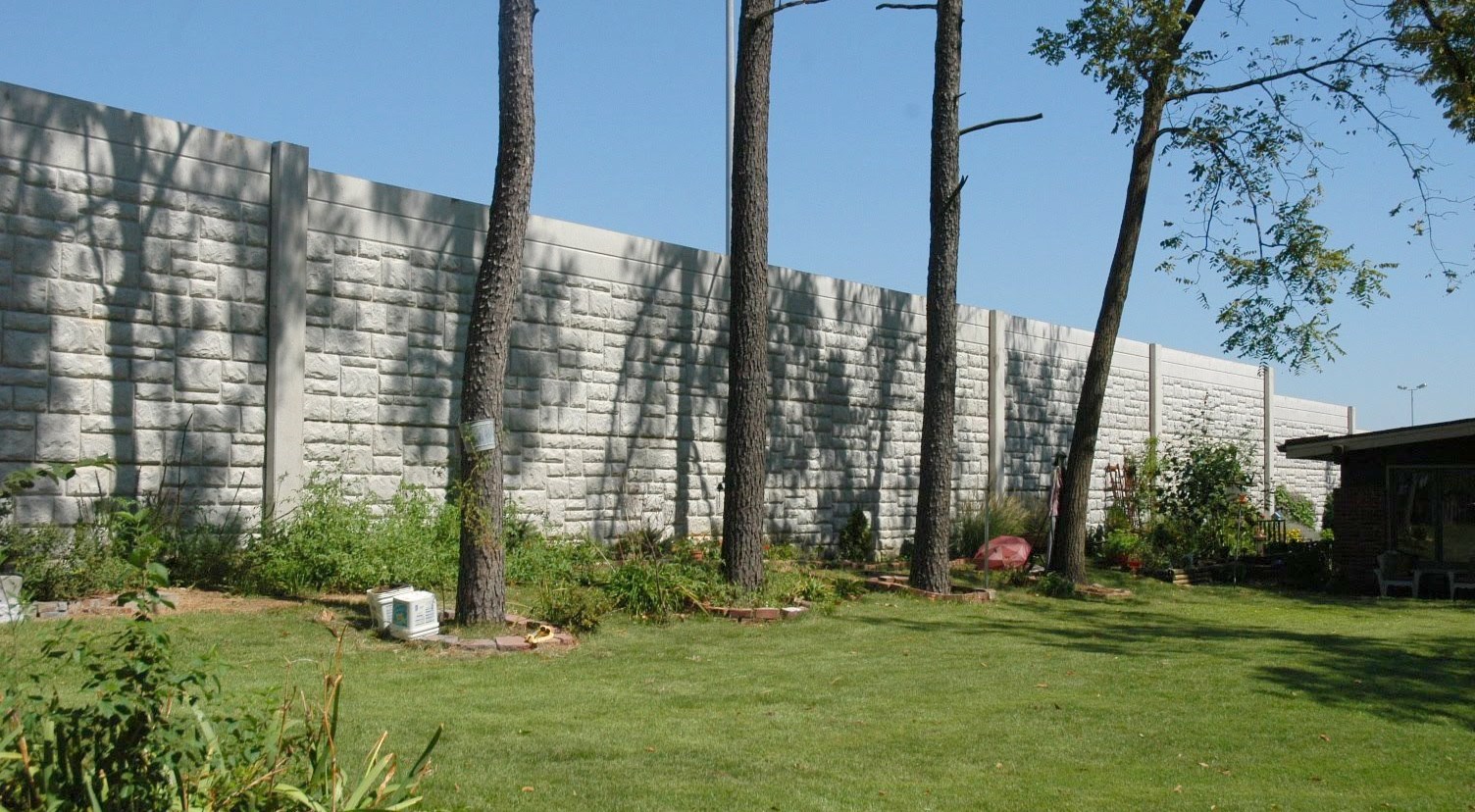 There are very few retail or other businesses within the Hi-Pointe neighborhood, but there are opportunities to add to the few open businesses that do exist today: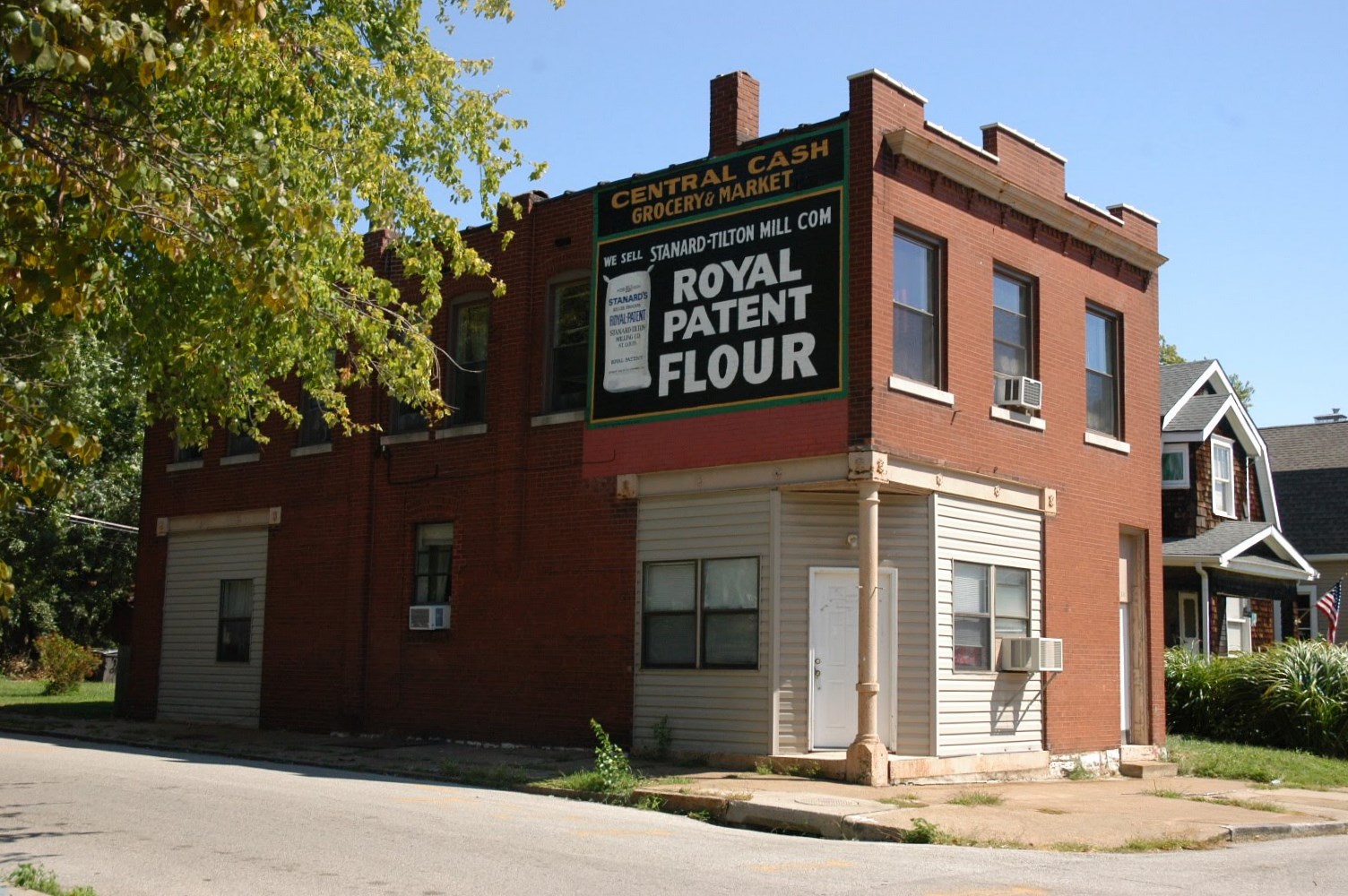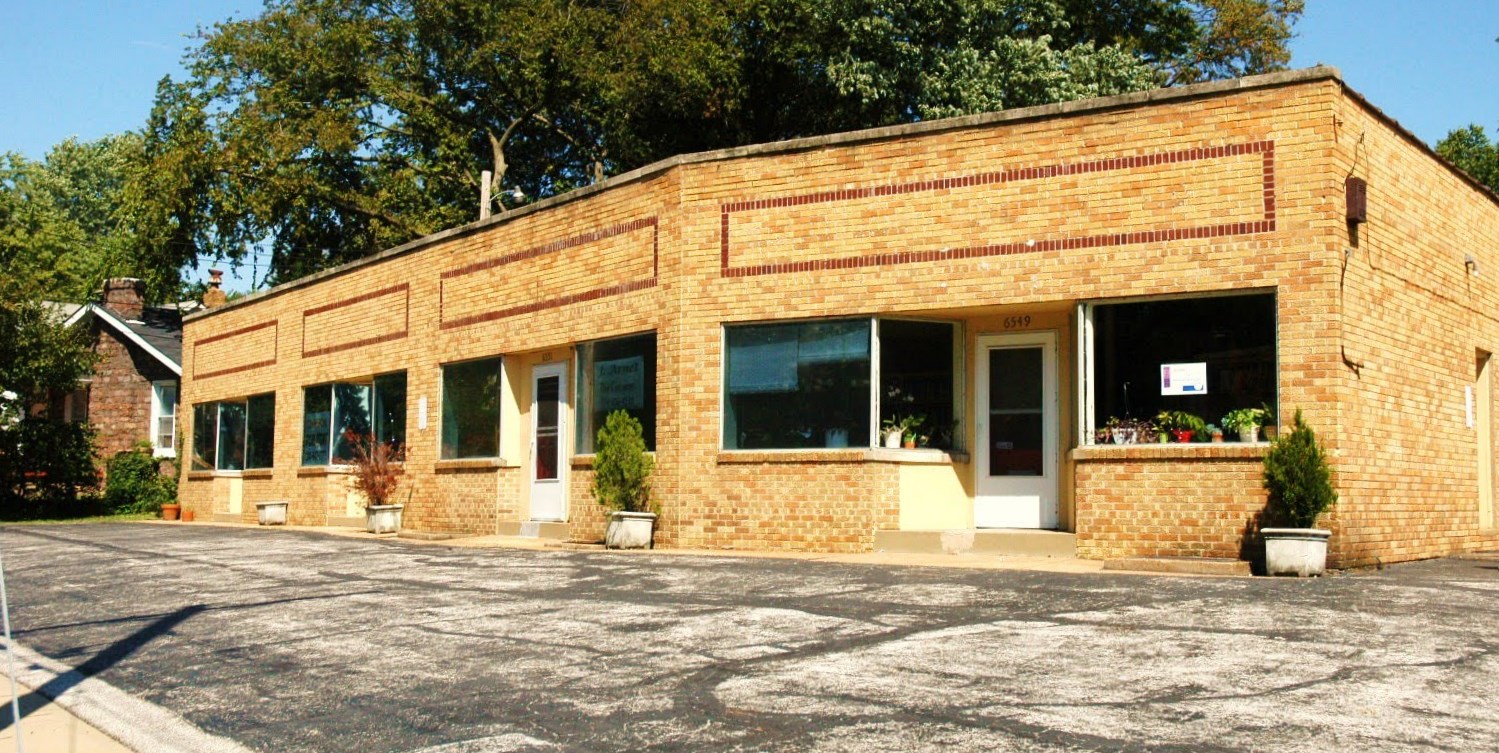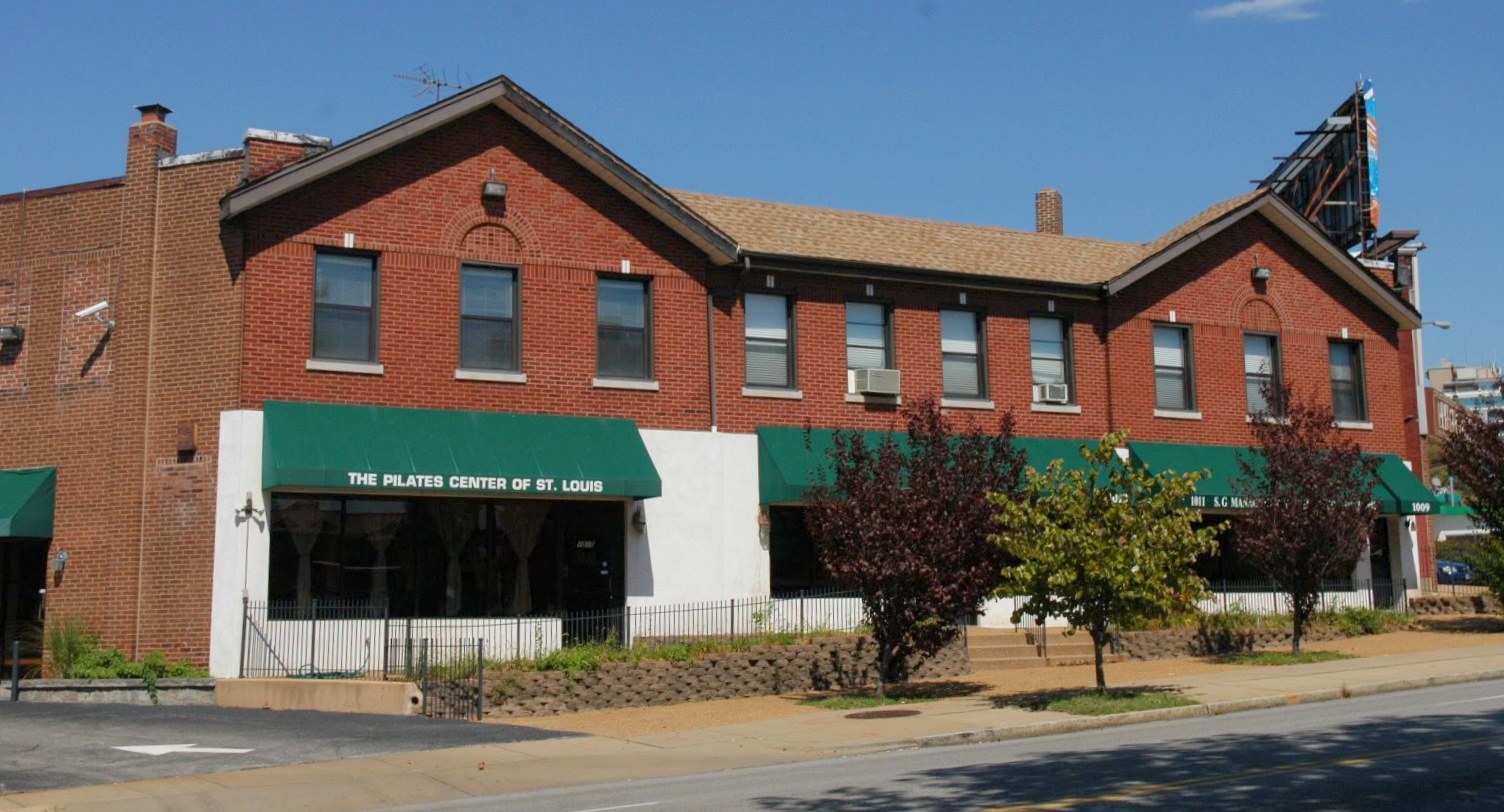 You gotta love this mid-century building: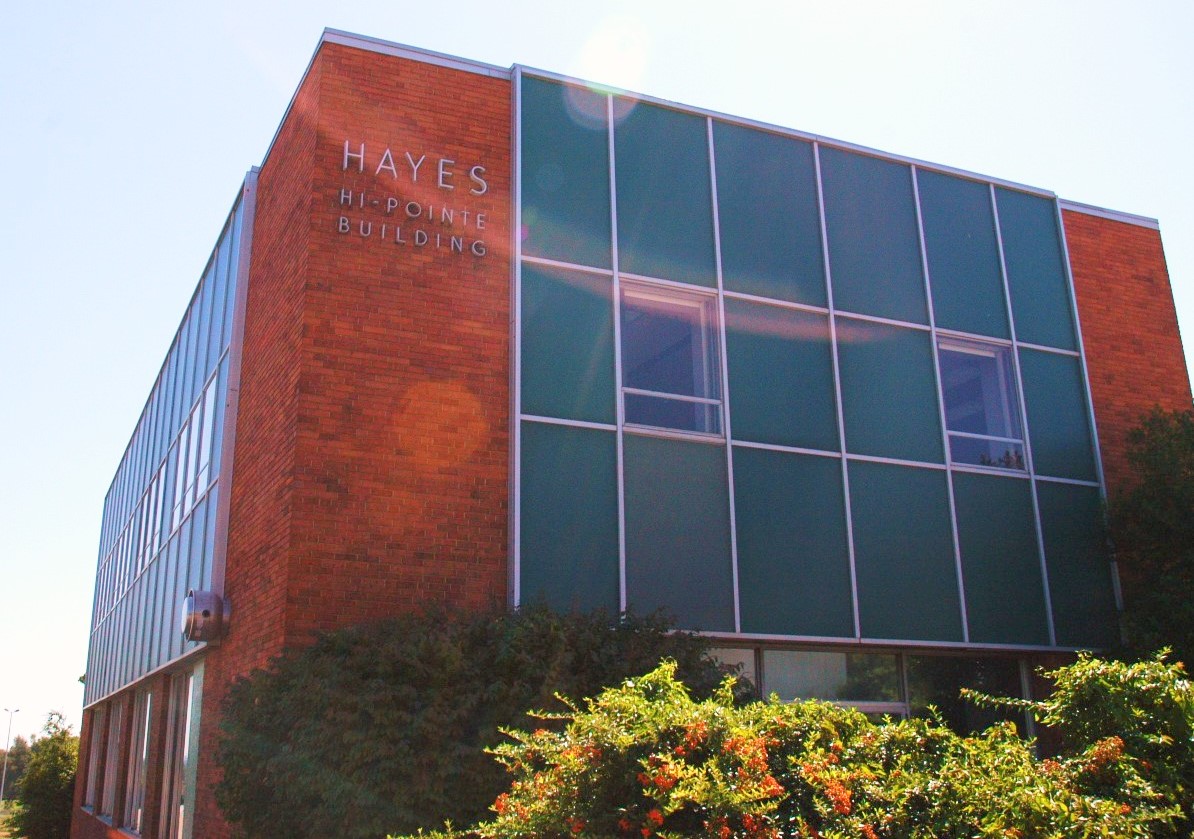 Hi-Pointe institutions include the cool firehouse right at the McCausland exit of I-64 and Dewey School (International Studies):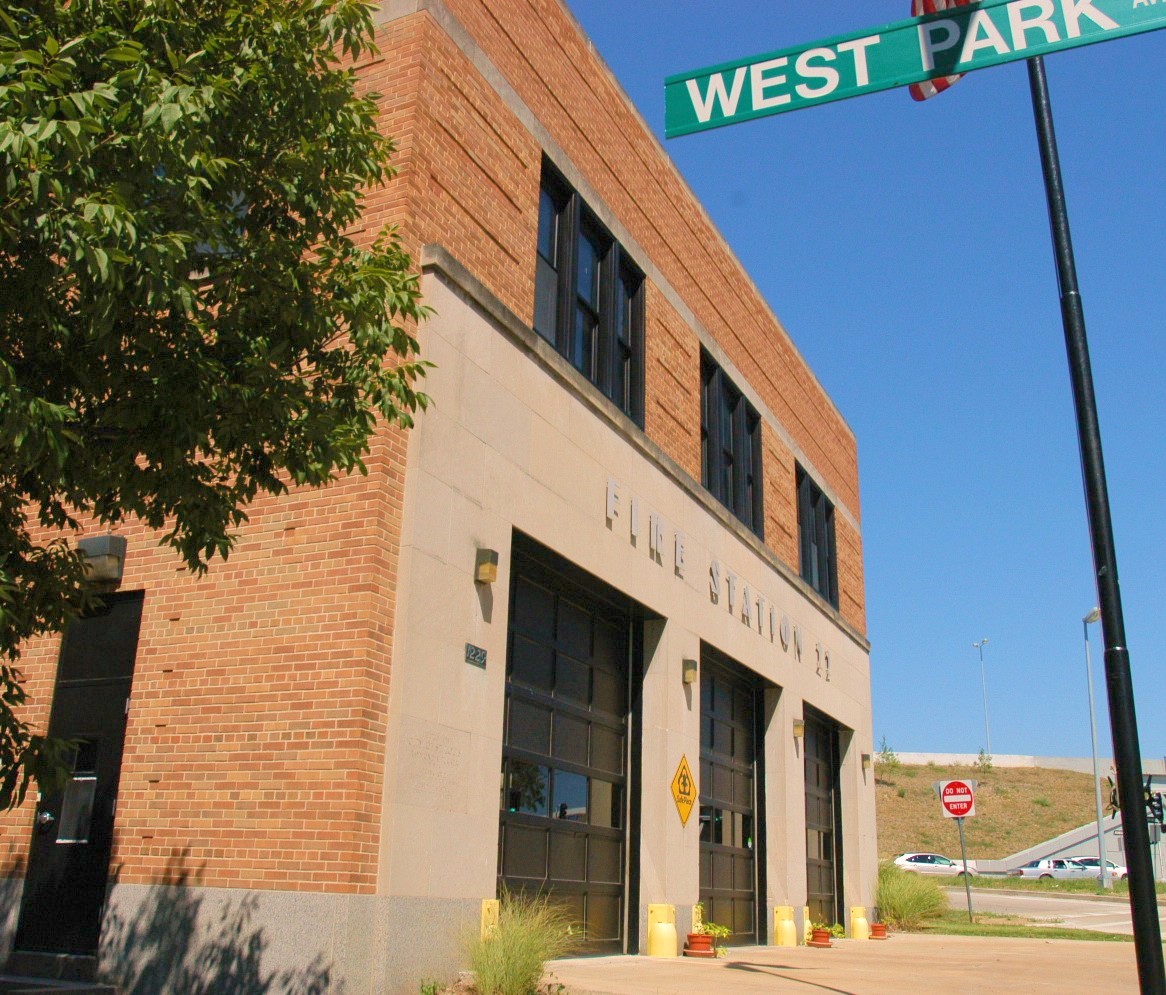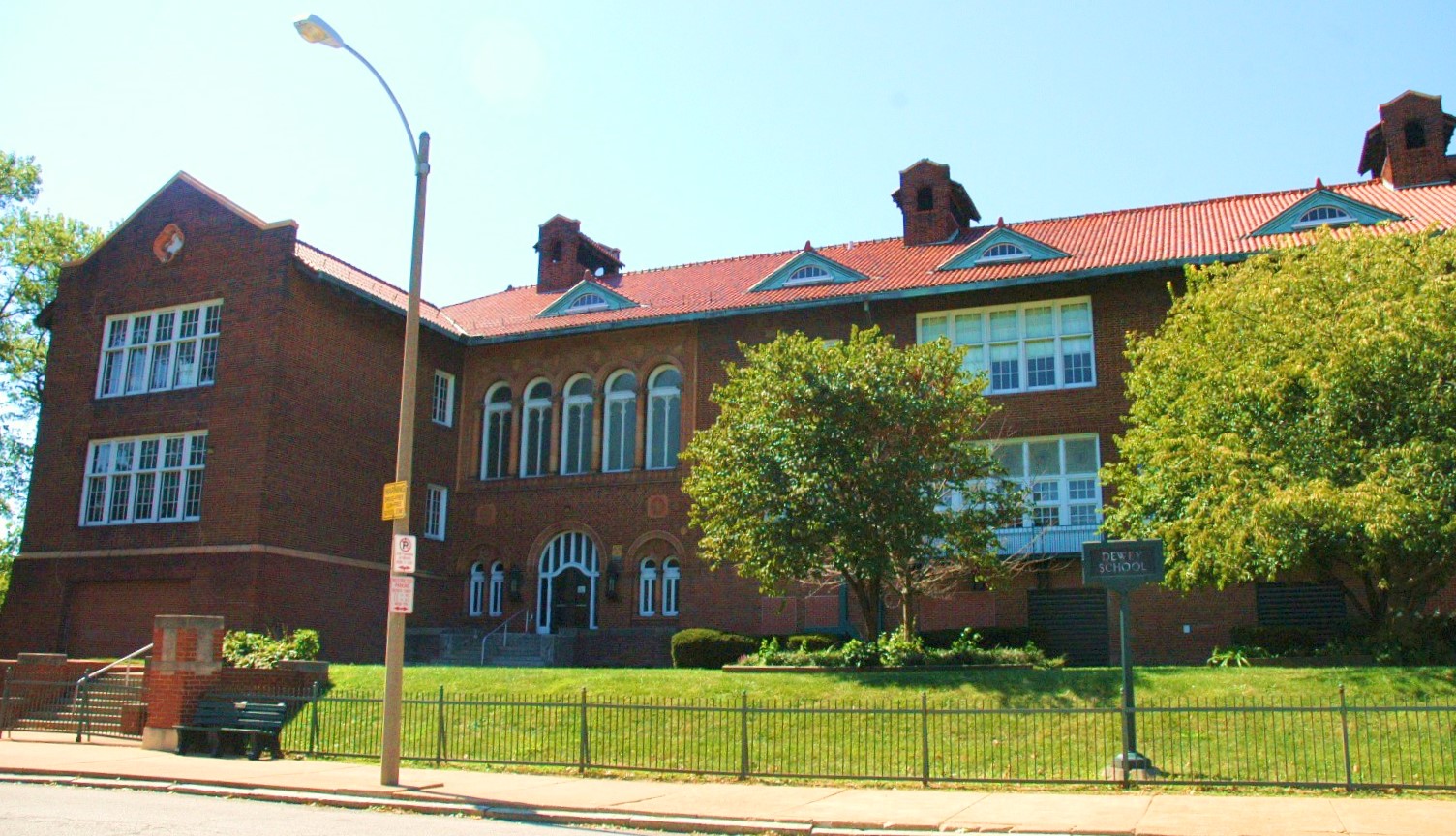 There was a unique closed street that I believe is right on the city/county border. I haven't seen one of these before in a working class neighborhood; as gated streets are usually reserved for the exclusive areas in Central West End, DeBaliviere Place, etc: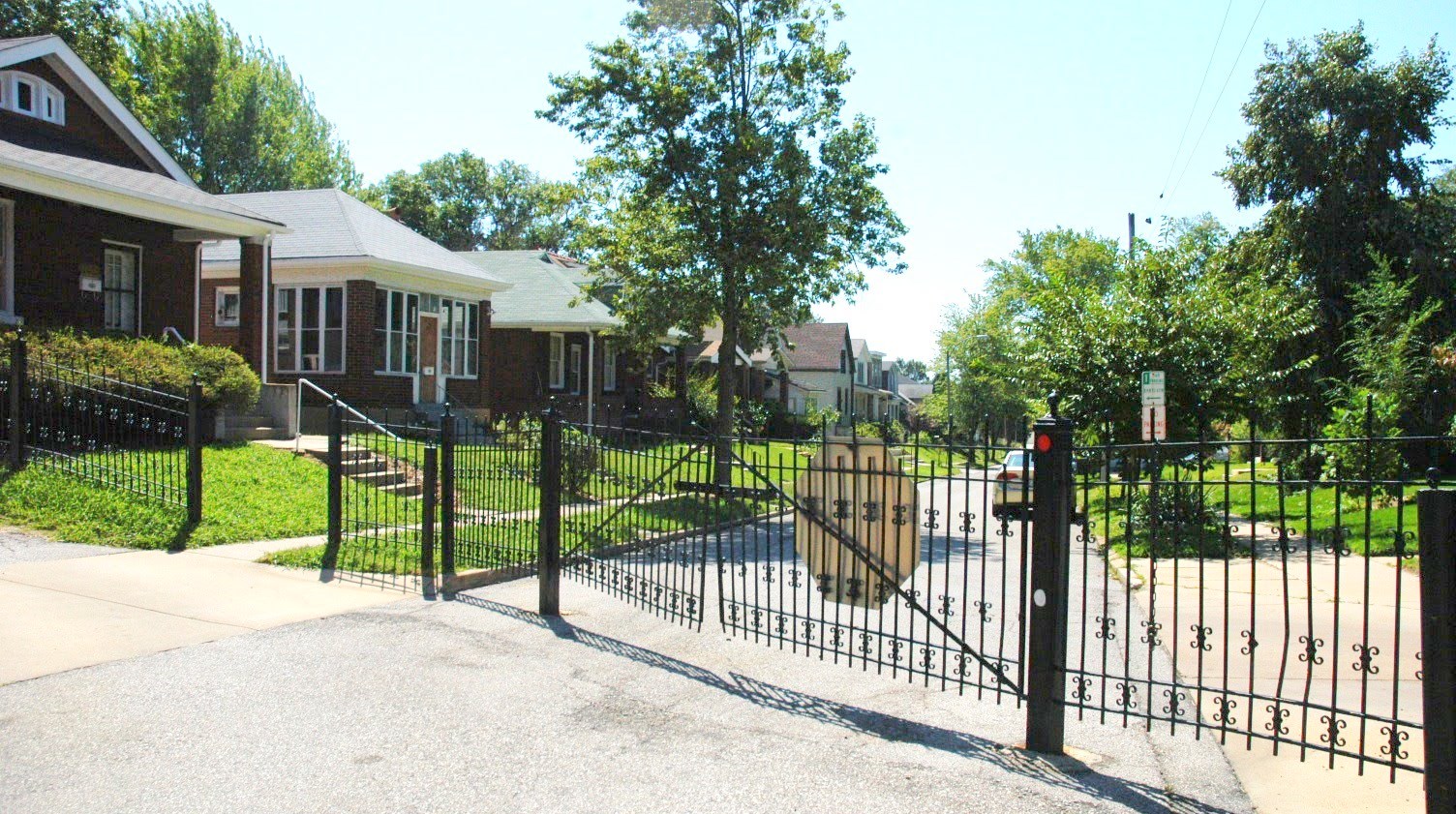 Overall, Hi-Pointe is a desirable place to live, with a nice mix of affordable to high end homes. The location is superb and the neighborhood is clean and well cared for. It's probably my favorite of the 3 Dogtown neighborhoods when it comes to housing stock, but Clayton/Tamm has many, many more businesses, restaurants and entertainment options.
I'll leave you with some of the nuance that I discovered along my way in Hi-Pointe: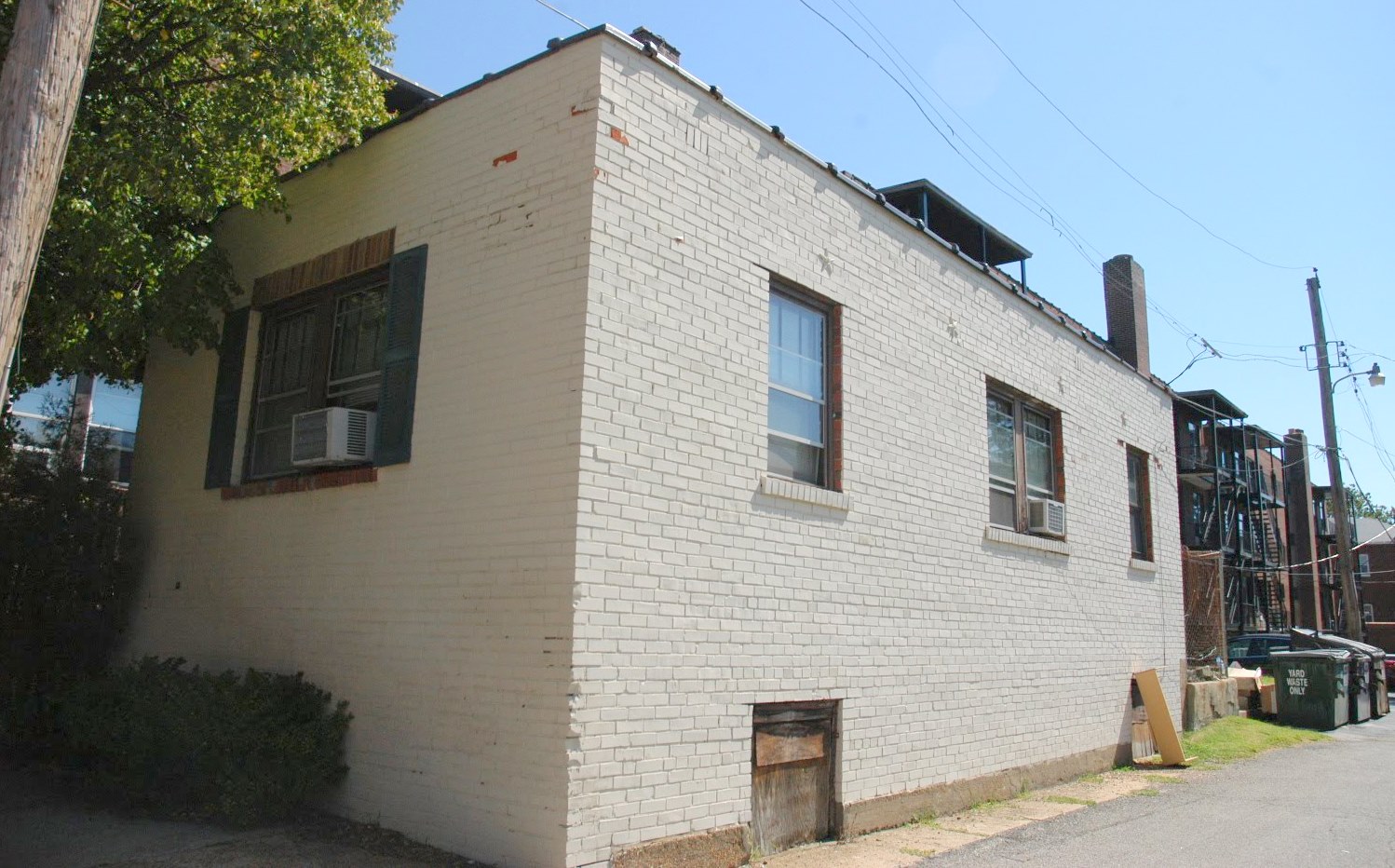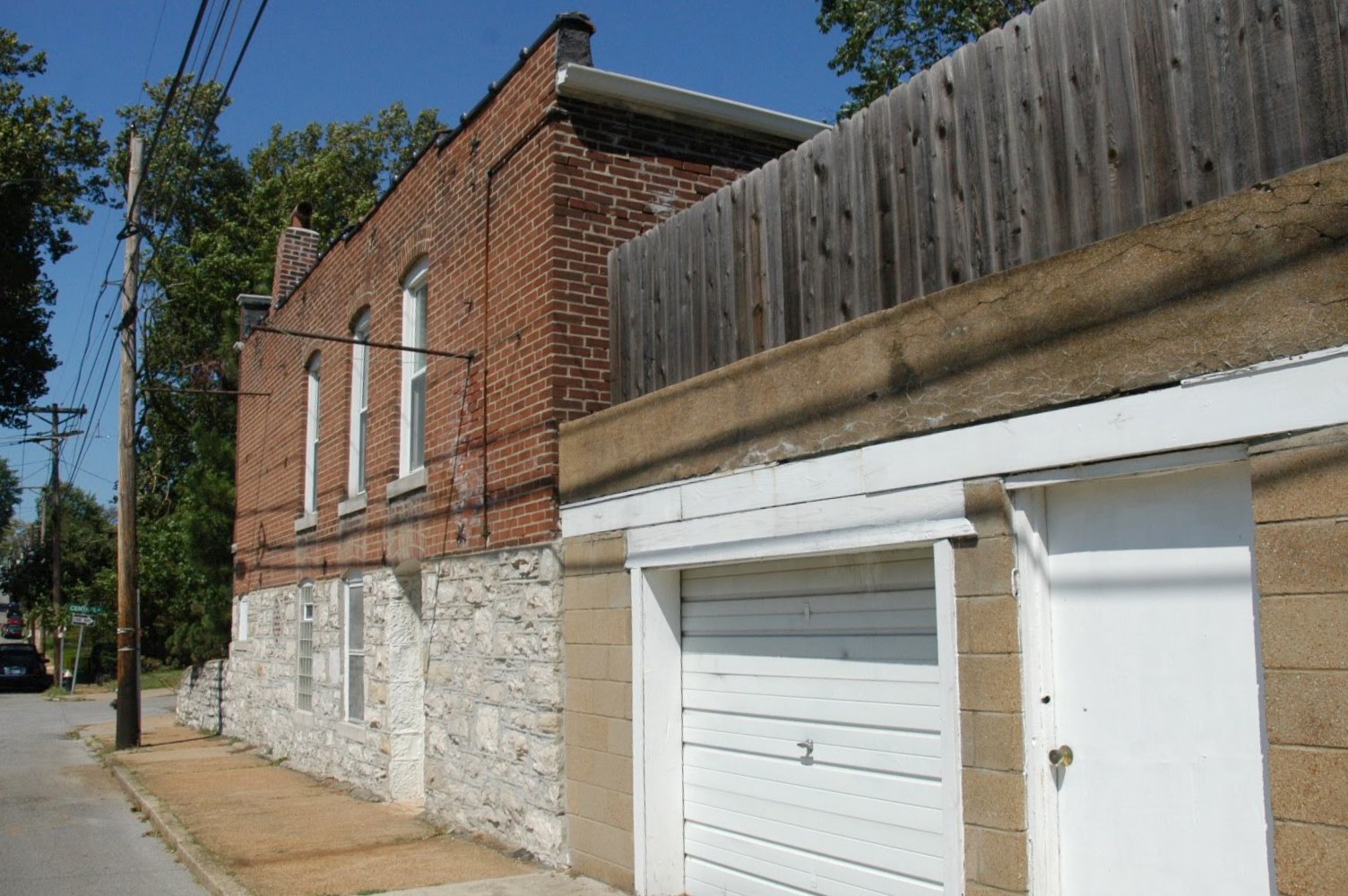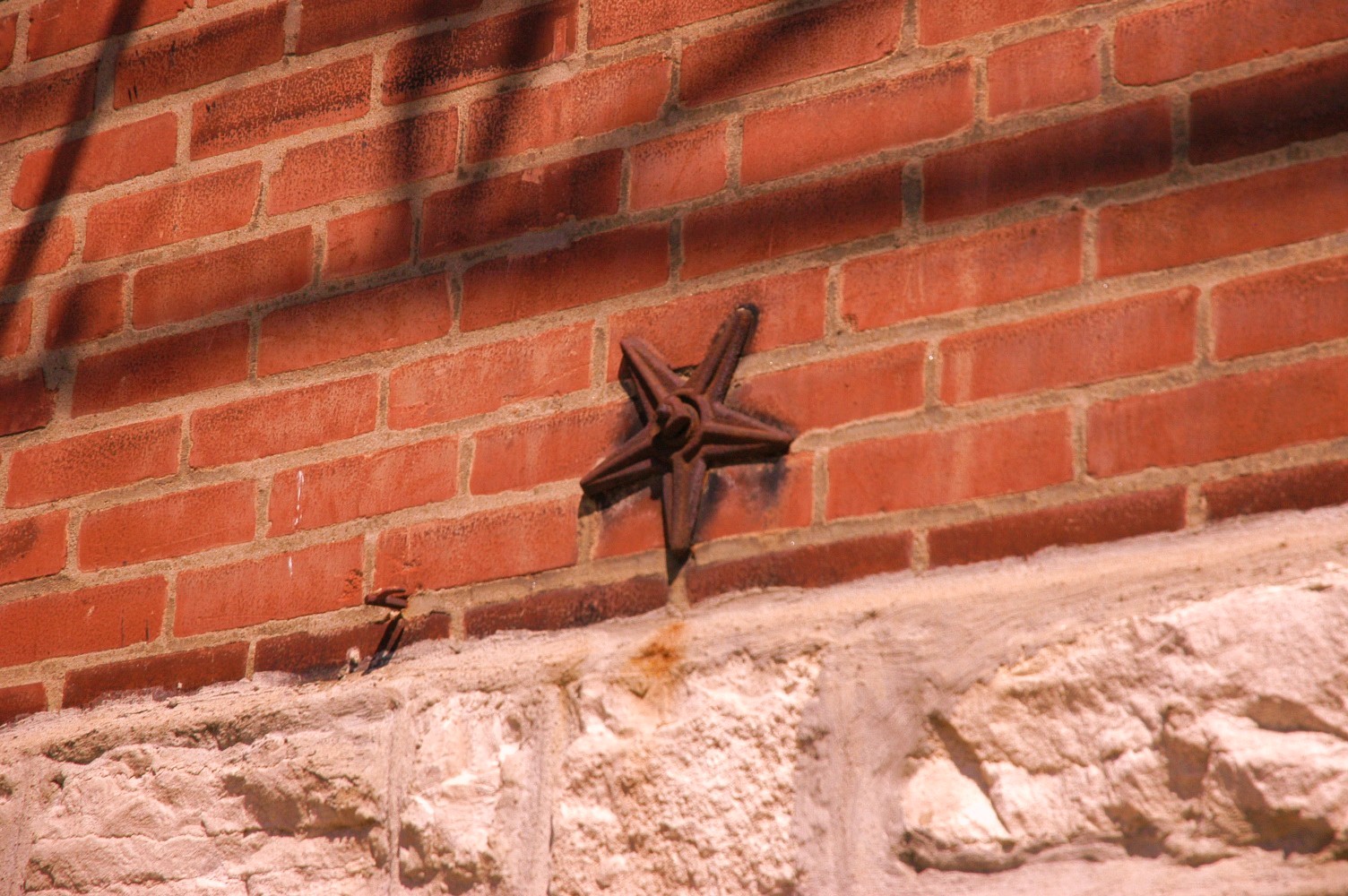 This next sign is obviously a reproduction, but is undeniably cool and quite well done; this is something I'd like to see continued all over the city.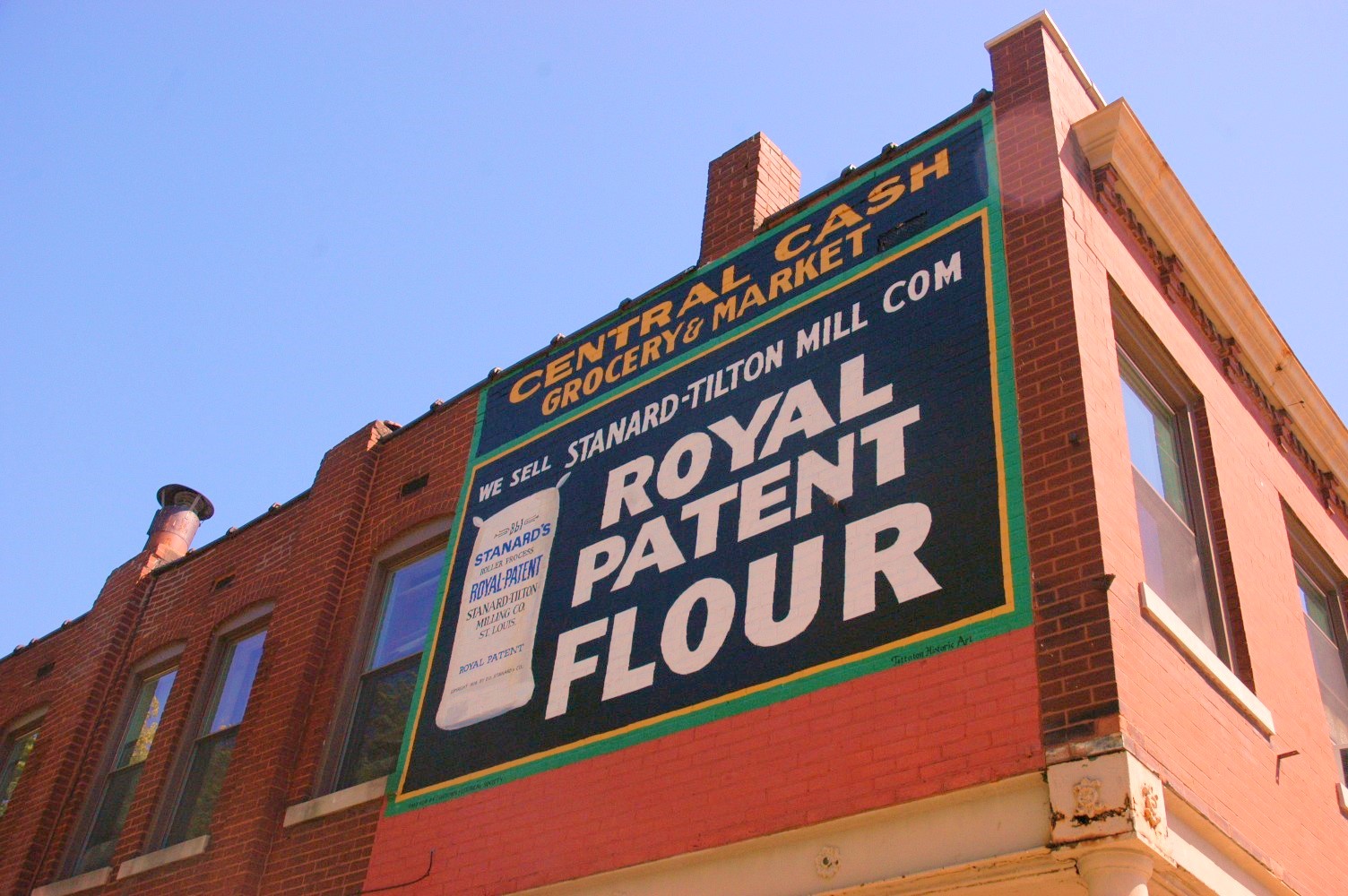 Usually Bob happy, but today Bob MAD and he wanted to let everybody know:

I even viewed some livestock, both real and decorative (yes this is a guy riding a donkey down a city street):