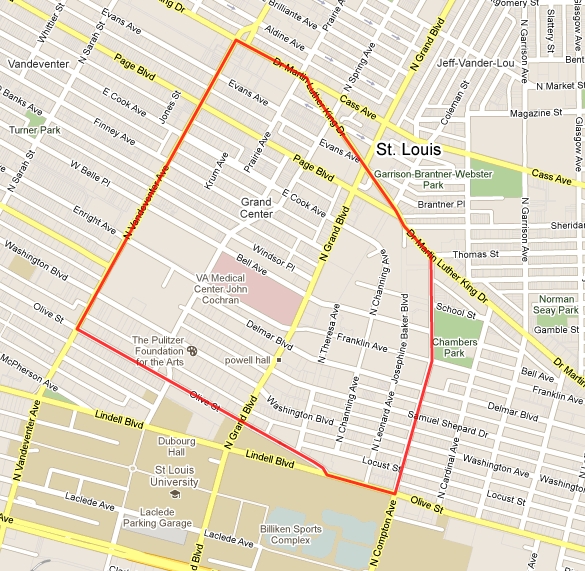 Covenant Blu/Grand Center is a north central St. Louis neighborhood bound by Dr. Martin Luther King Drive to the north, Olive Street to the south, Compton Avenue to the east and Vandeventer Avenue to the west.
The 2000 census data counted 2,758 residents (a decrease of 39% by the 1990s count) of whom 78% were black, 19% white, 3% Hispanic/Latino. There were 1,721 housing units counted, 73% were occupied (11%/89% owner/renter). The neighborhood website has no content on the city website. Nearly 40% of the people split in 10 years. Wow, that's staggering. I think the bleeding has stopped or at least will be curbed due to some newer housing (mixed blessing) that has recently been built. There are many homes that are in danger of the elements and demolition in this neighborhood.
But, luckily, there are 3 National Historic Districts in Covenant Blu/Grand Center (CBGC):
1. Locust Street Automotive District est. in September, 2005 and expanded to include 3133-3207 and 3150-3202 Locust in February, 2008
2. Midtown District est. in July, 1978
3. West Locust and Olive Commercial and Industrial District est. in September, 2006
With all the housing issues that CBGC has, this is undoubtedly one of the most beautiful spots in the entire city. Everyone knows Covenant Blu/Grand Center because of the Fabulous Fox Theatre, Powell Symphony Hall, The Black Repertory Theatre, etc. This is probably the arts center of the entire region, or at least it's billed that way. There is a lot of good info on upcoming events, etc at the Grand Center website.
CBGC is one my favorite parts of town because it's a convergence of the burgeoning Midtown Alley, SLU's main campus and a gateway to the Central West End to the west and Downtown West to the east. And it's one of the most photogenic spots in town. My favorite approach is heading south on Grand between Delmar and Lindell: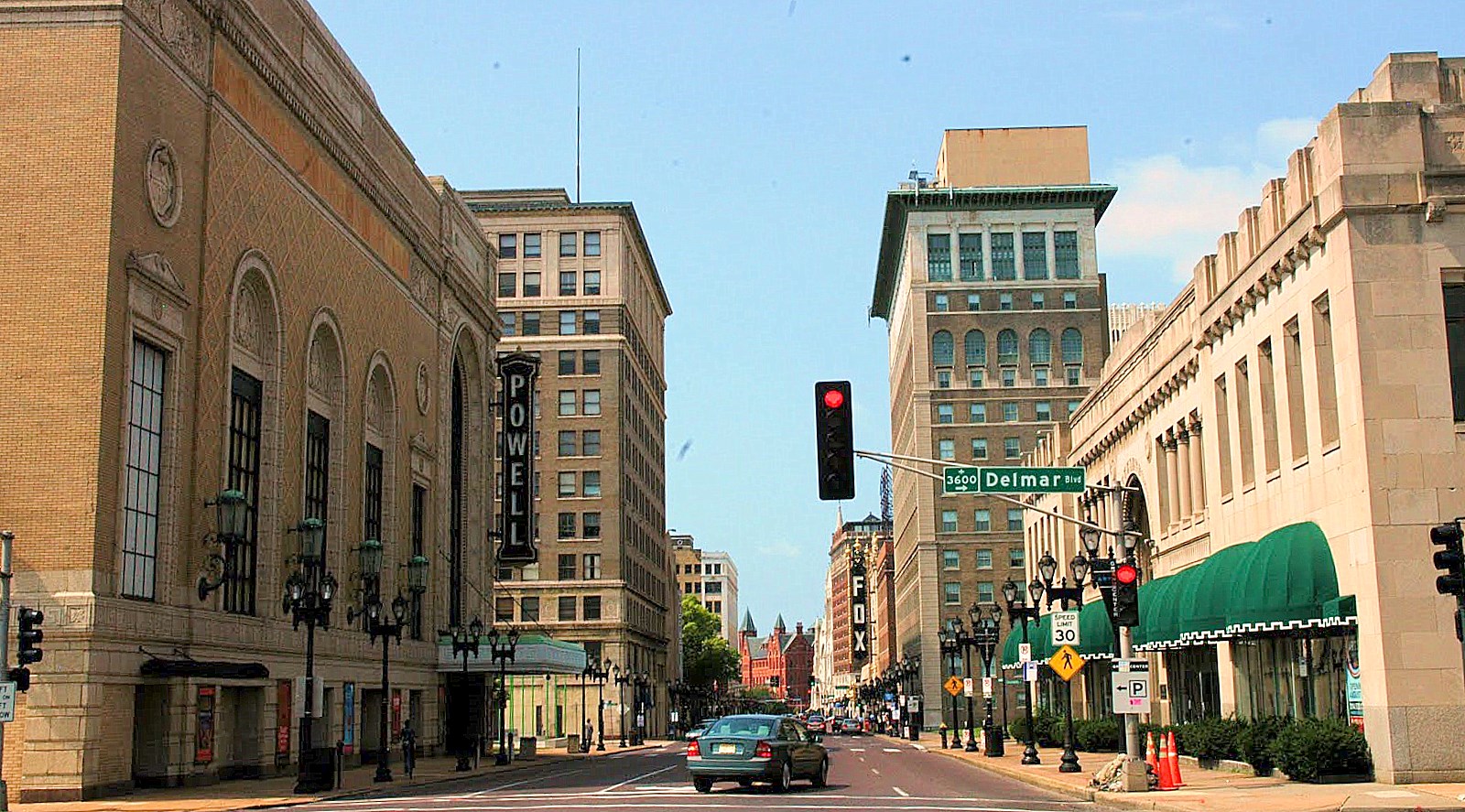 Let's start with what I consider the hub of CBGC, which is the area between and around Olive/Compton/Spring/Delmar.
The Fabulous Fox Theatre: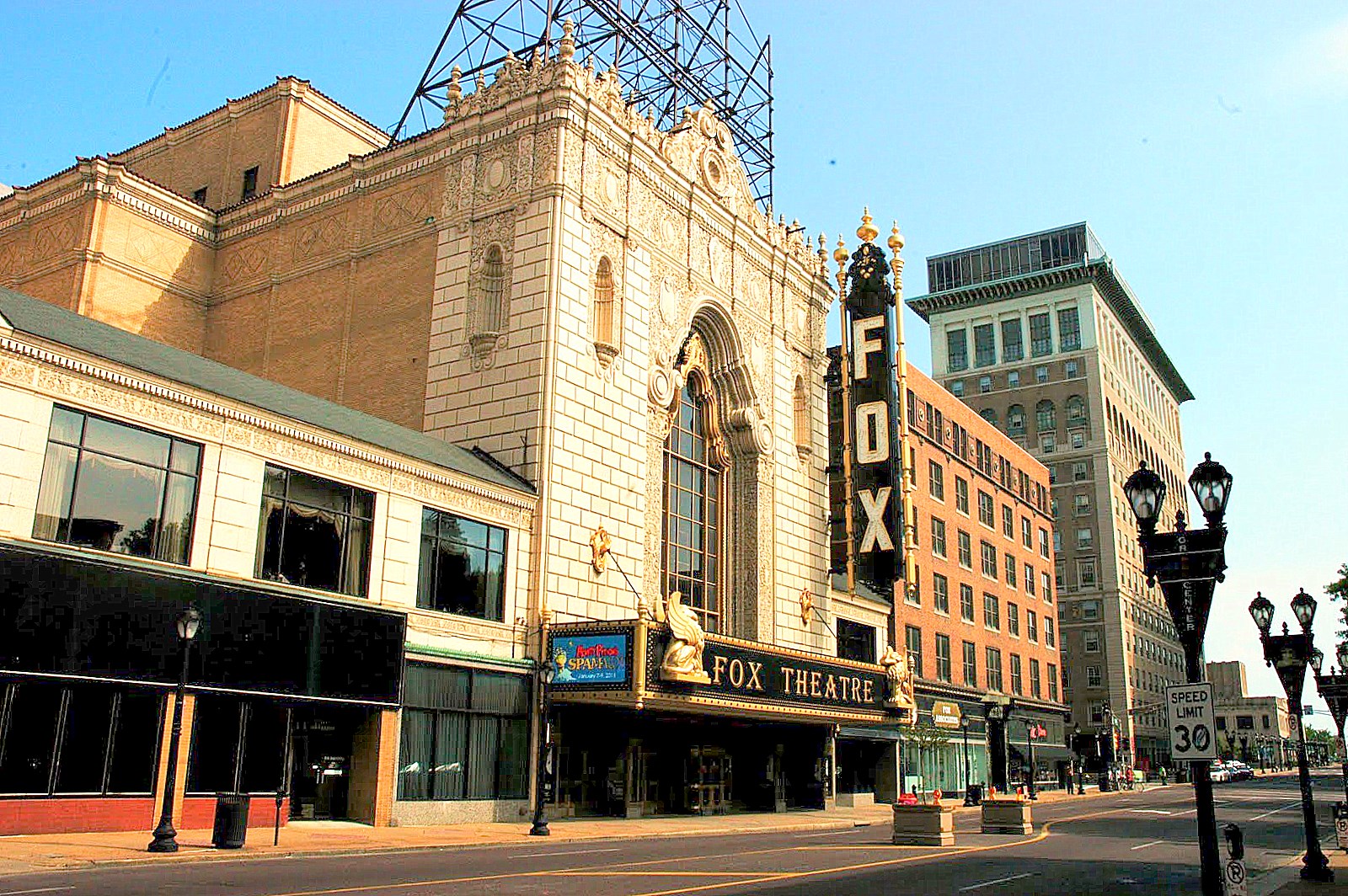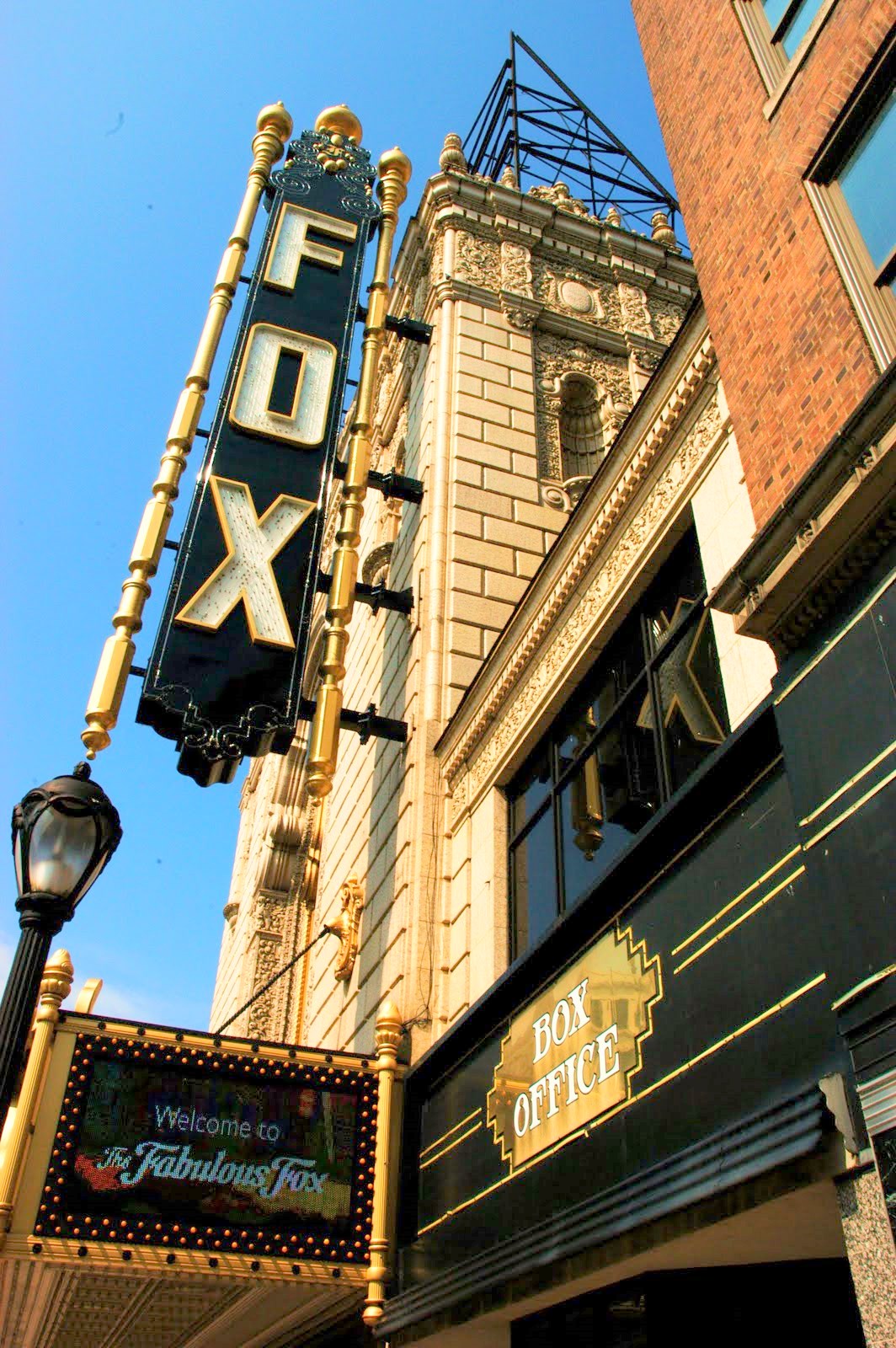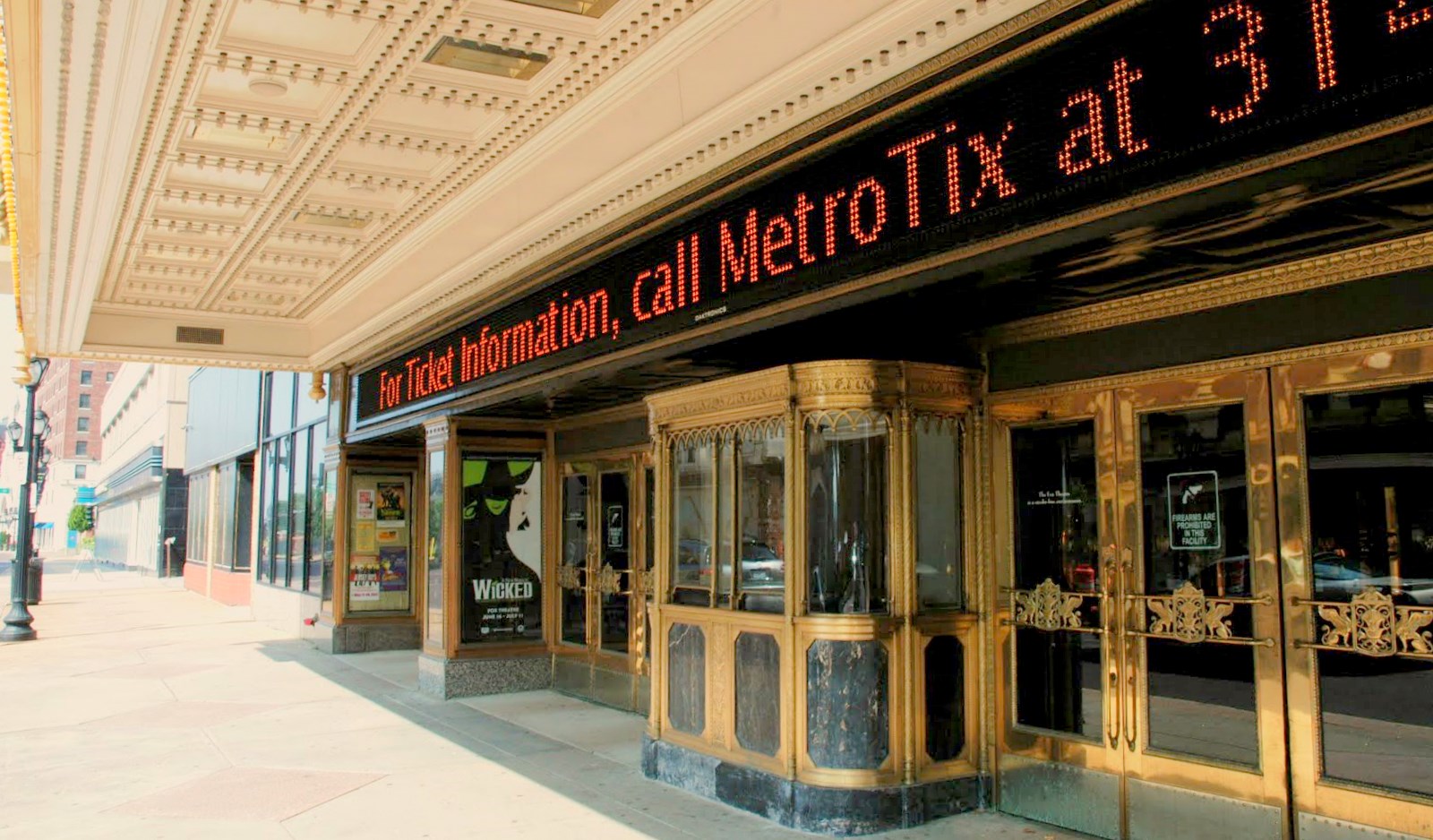 If you haven't seen a show here, you are missing out. Gawking at the lobby alone is worth the price of admission.
Third Baptist Church: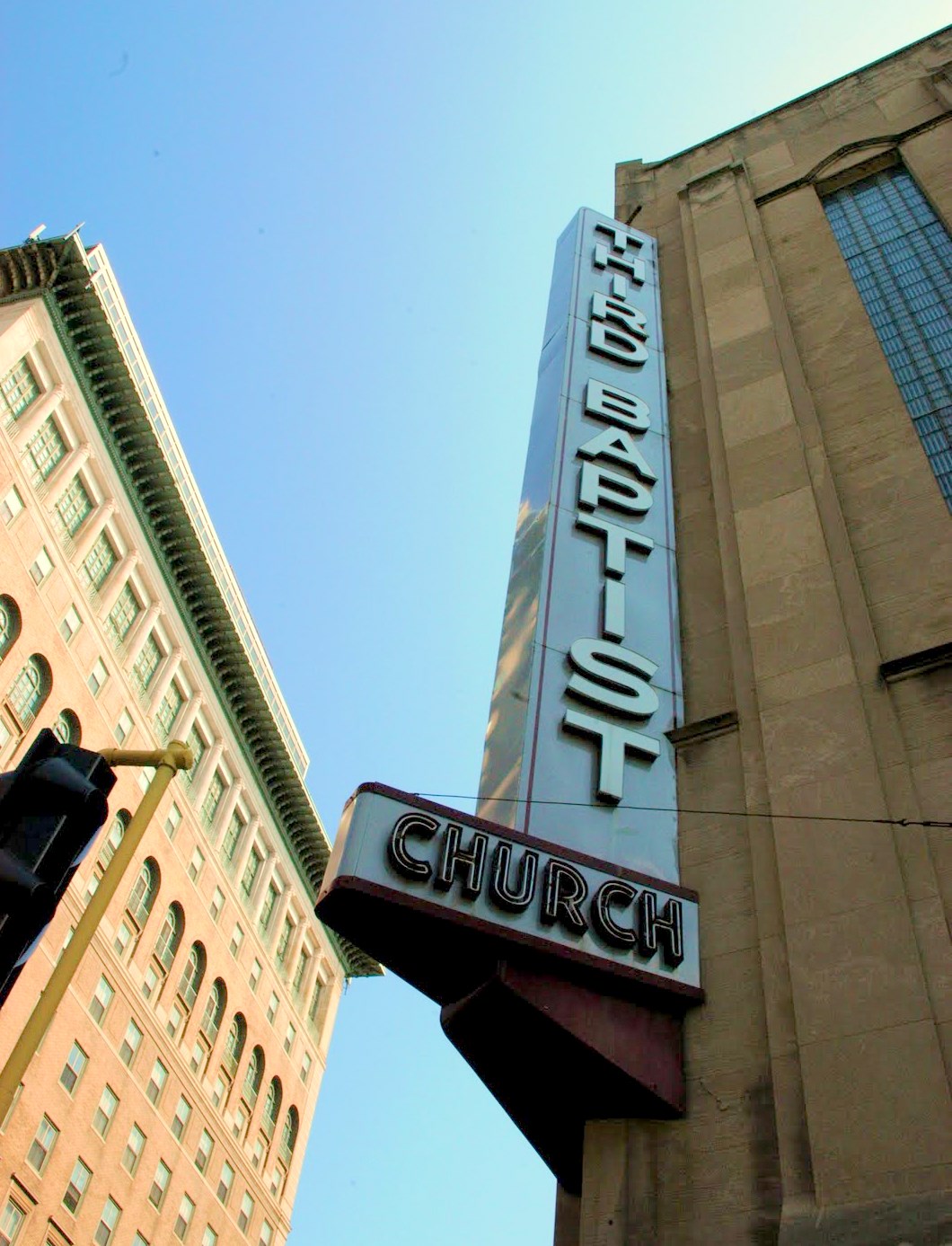 Strauss Park is my favorite pocket park in St. Louis, it reminds me of Manhattan: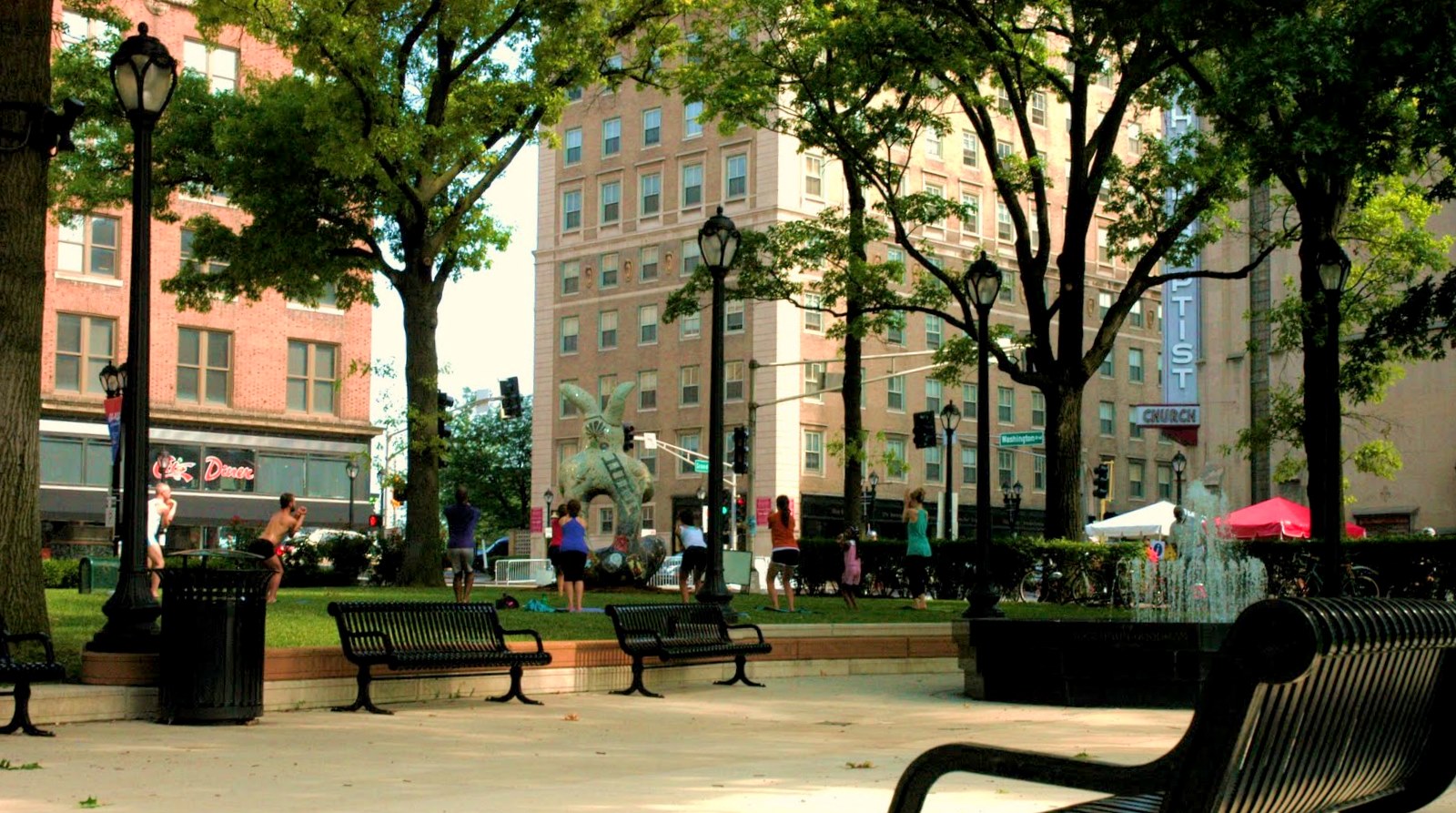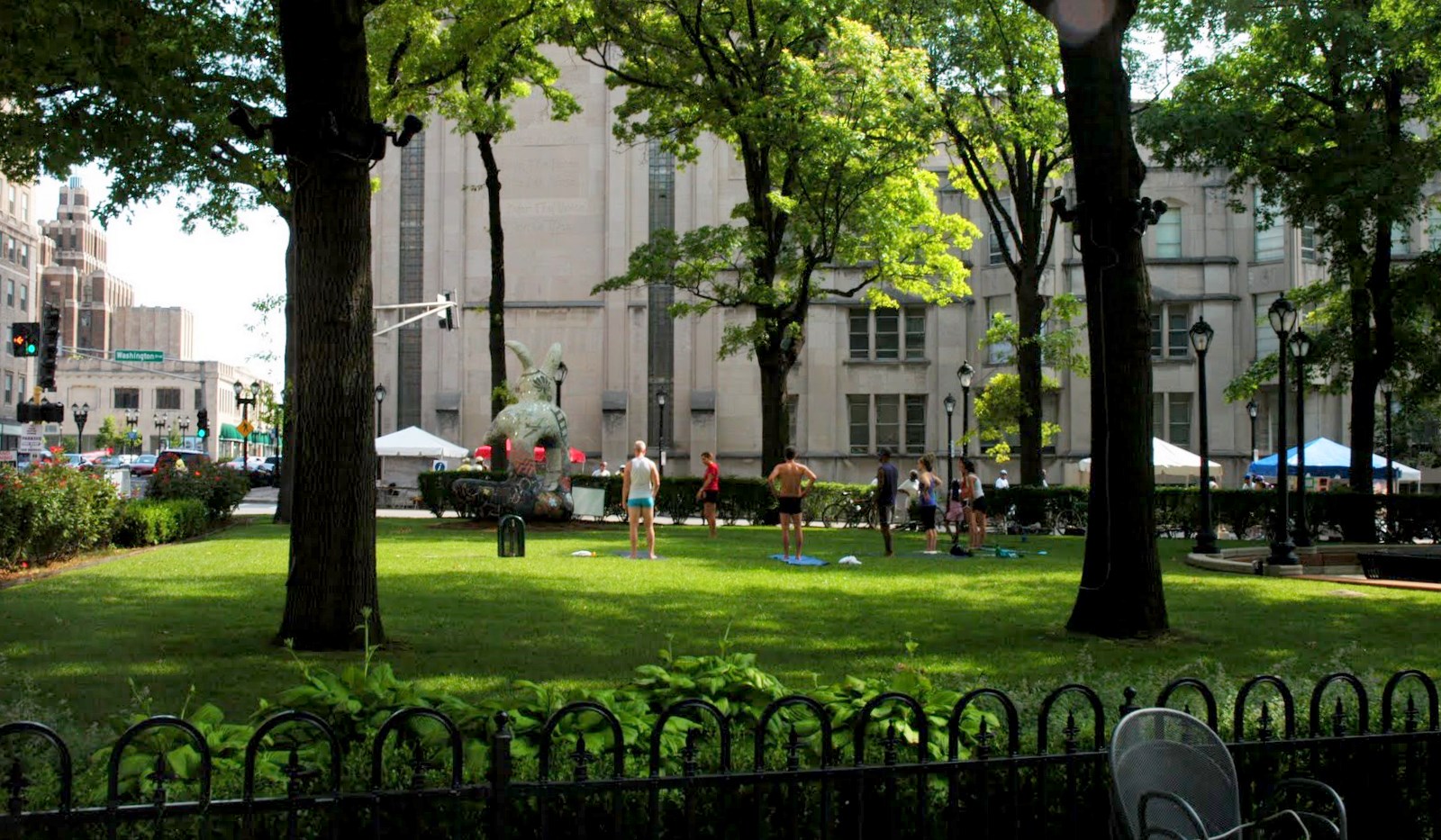 While we're on my personal favorites, bear with me while I try to capture what I think is the best looking sky scraper in the entire city: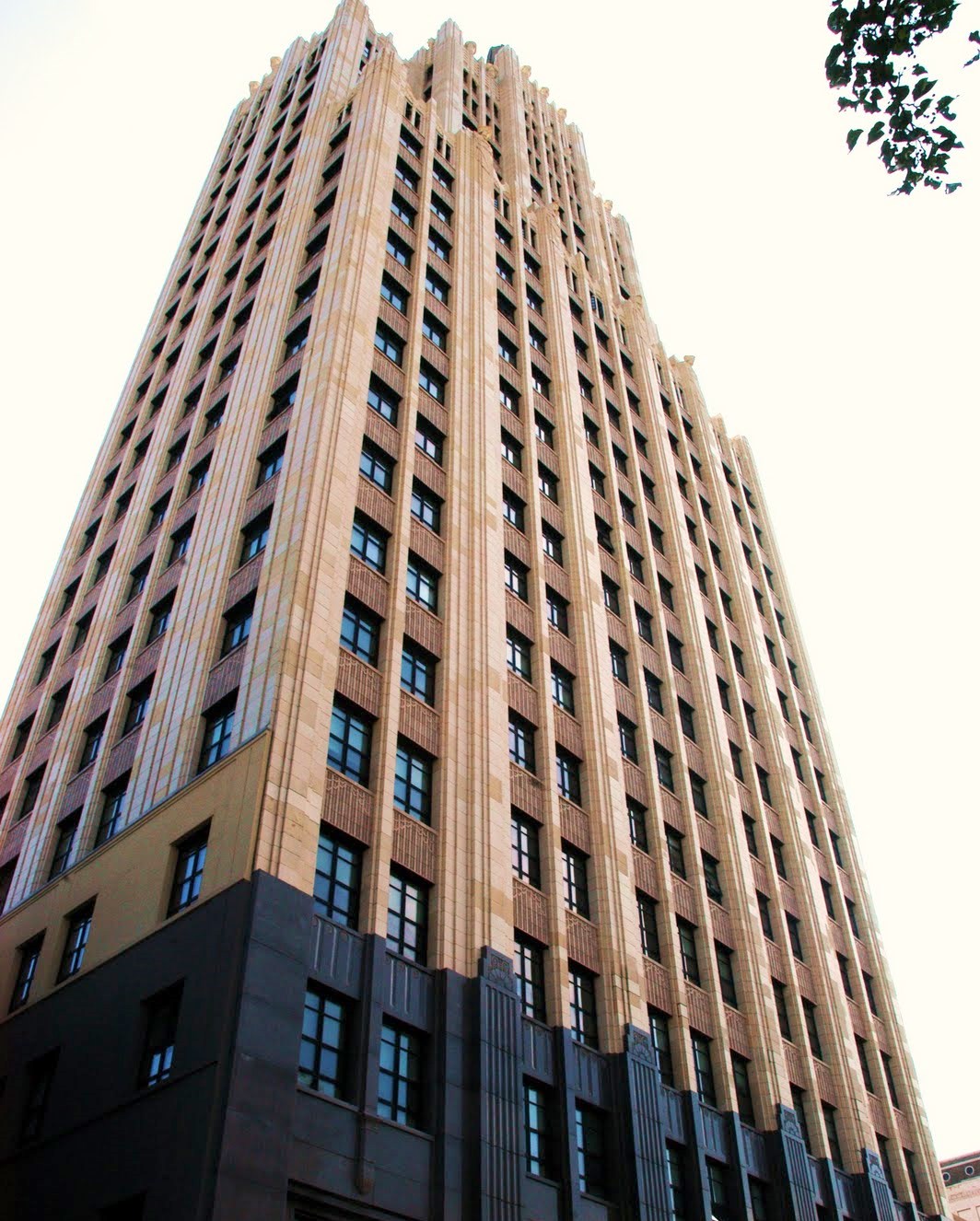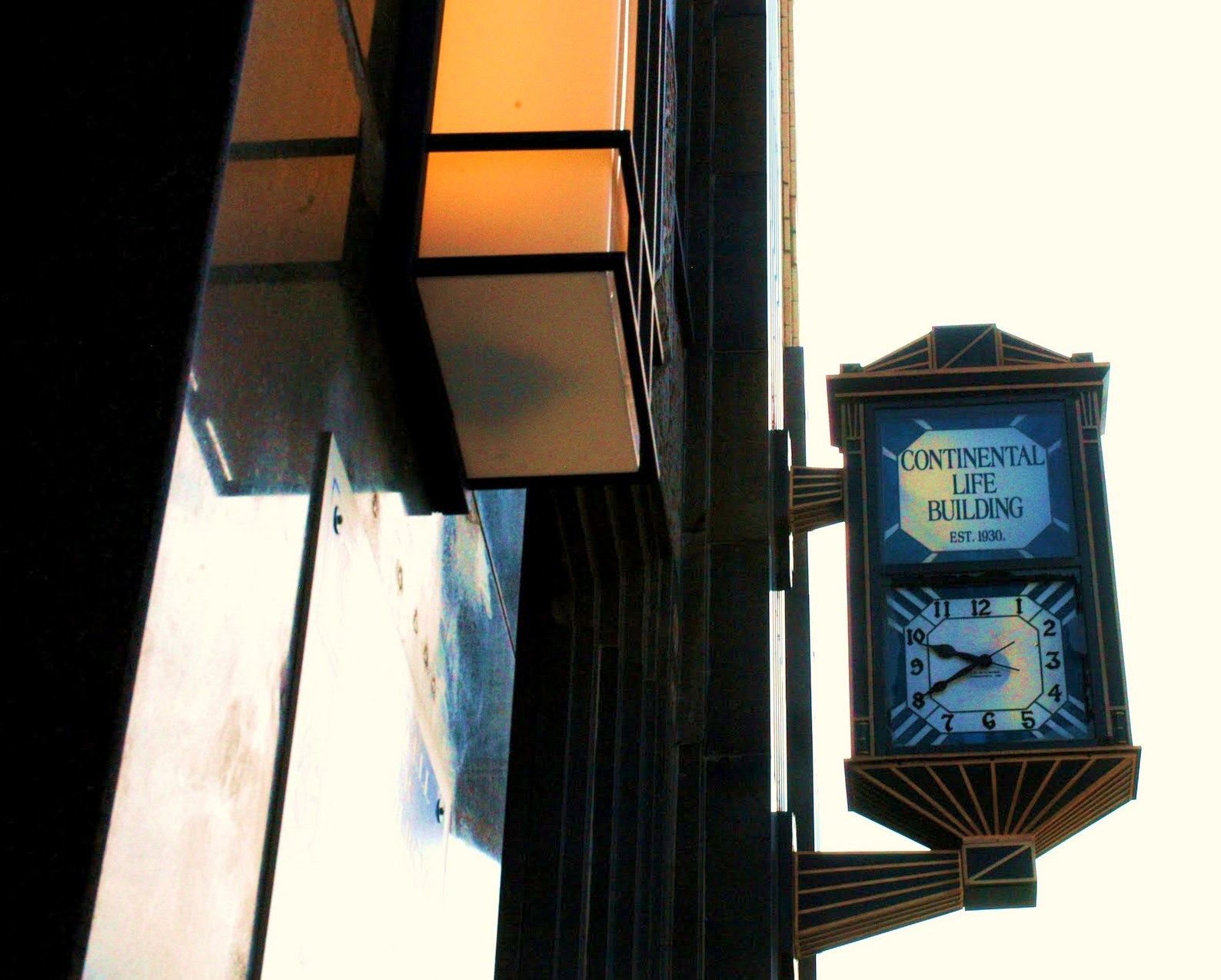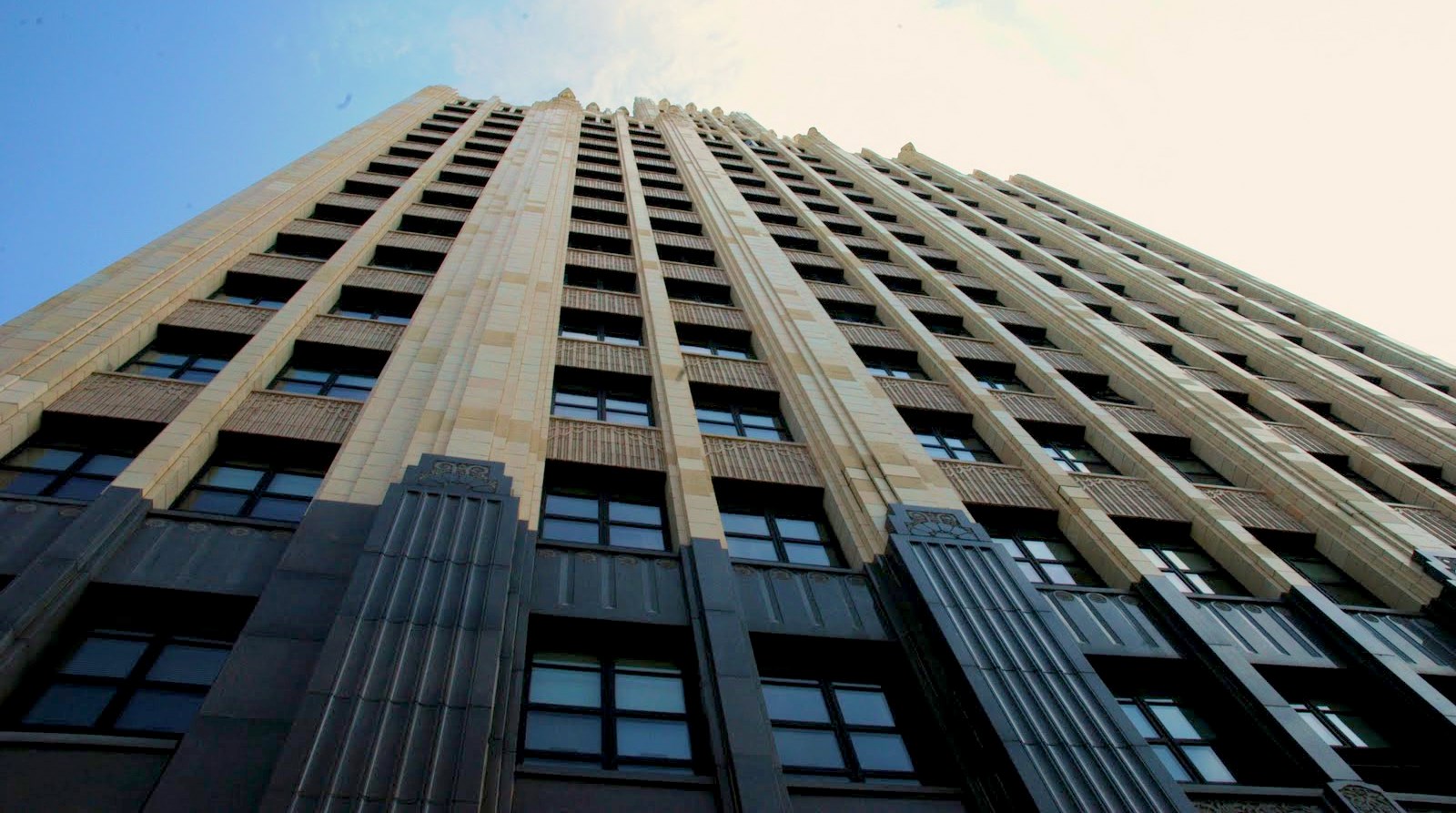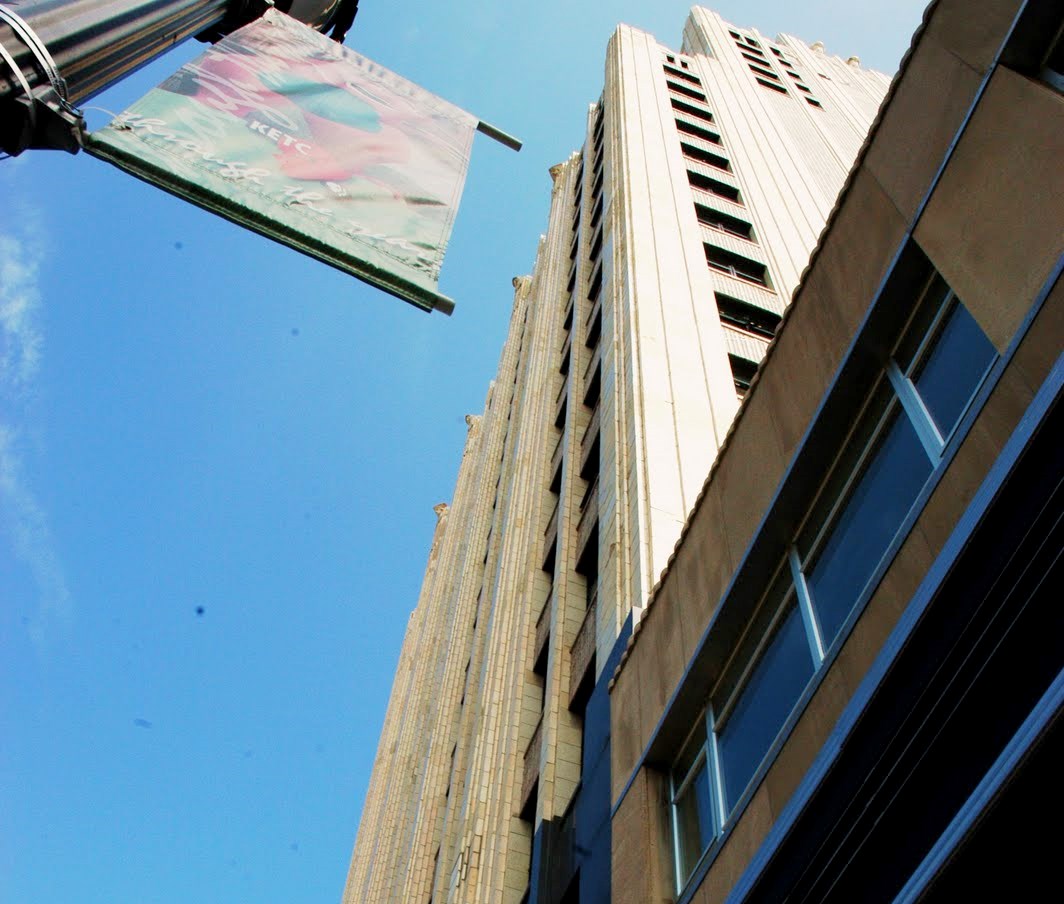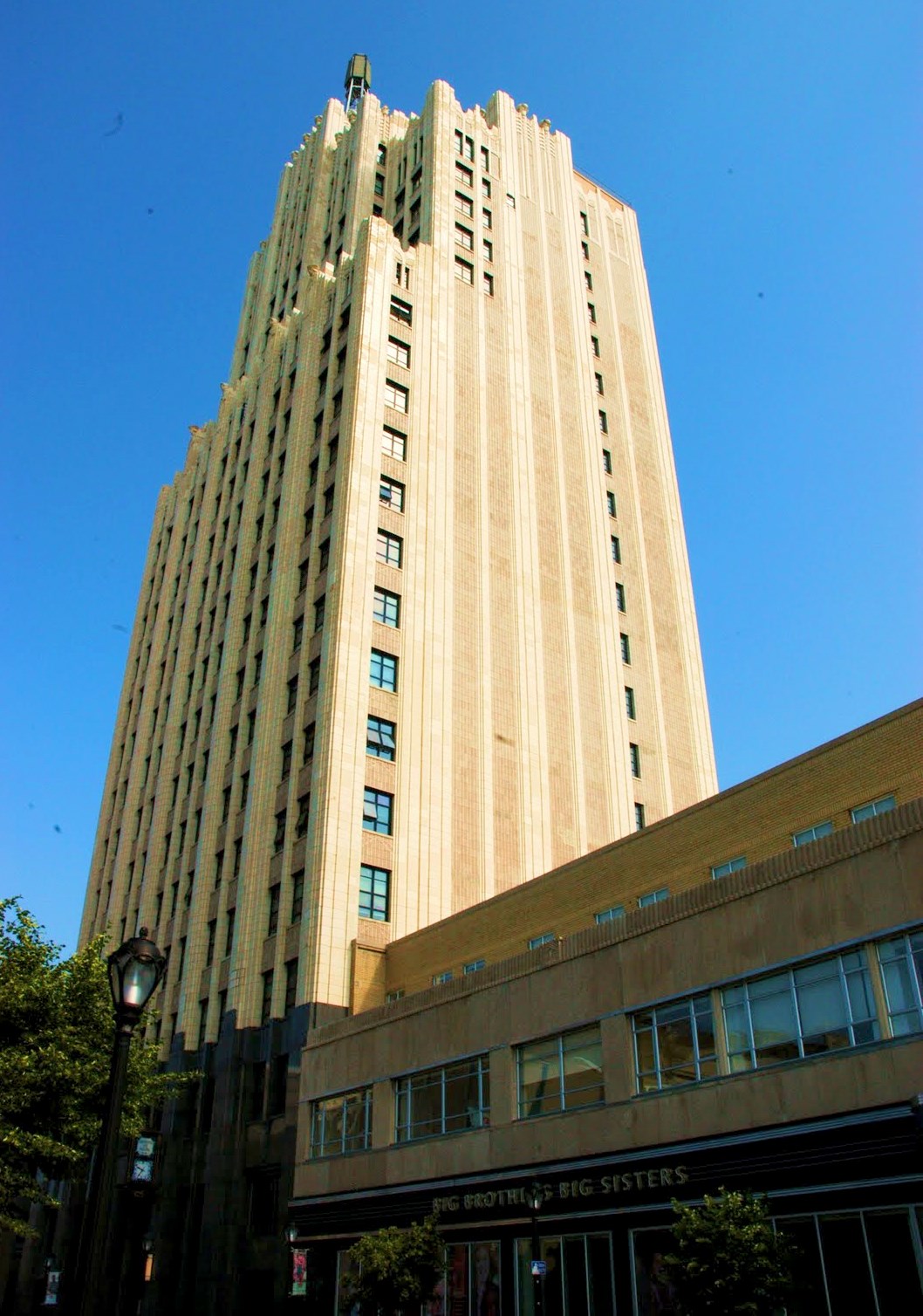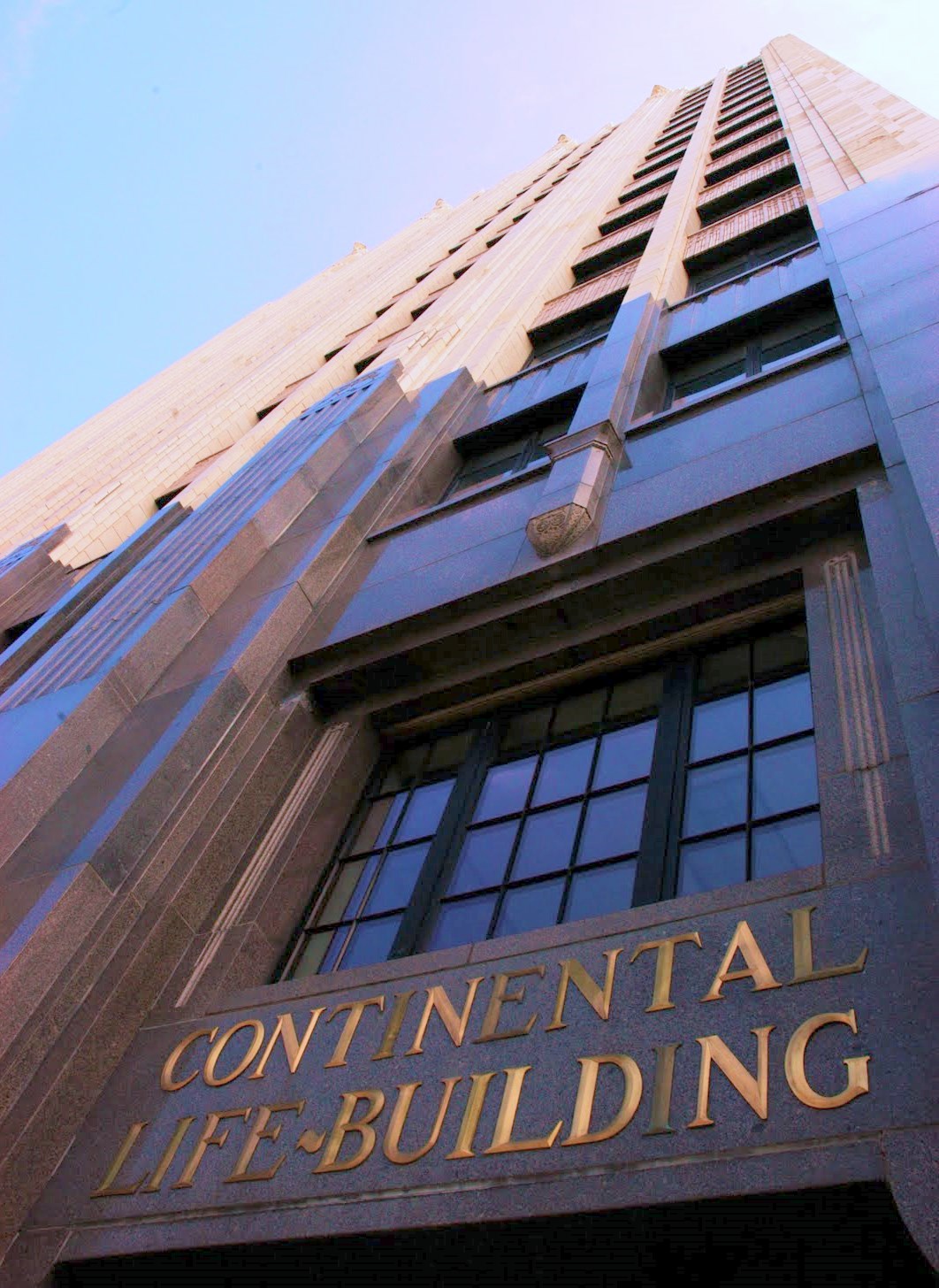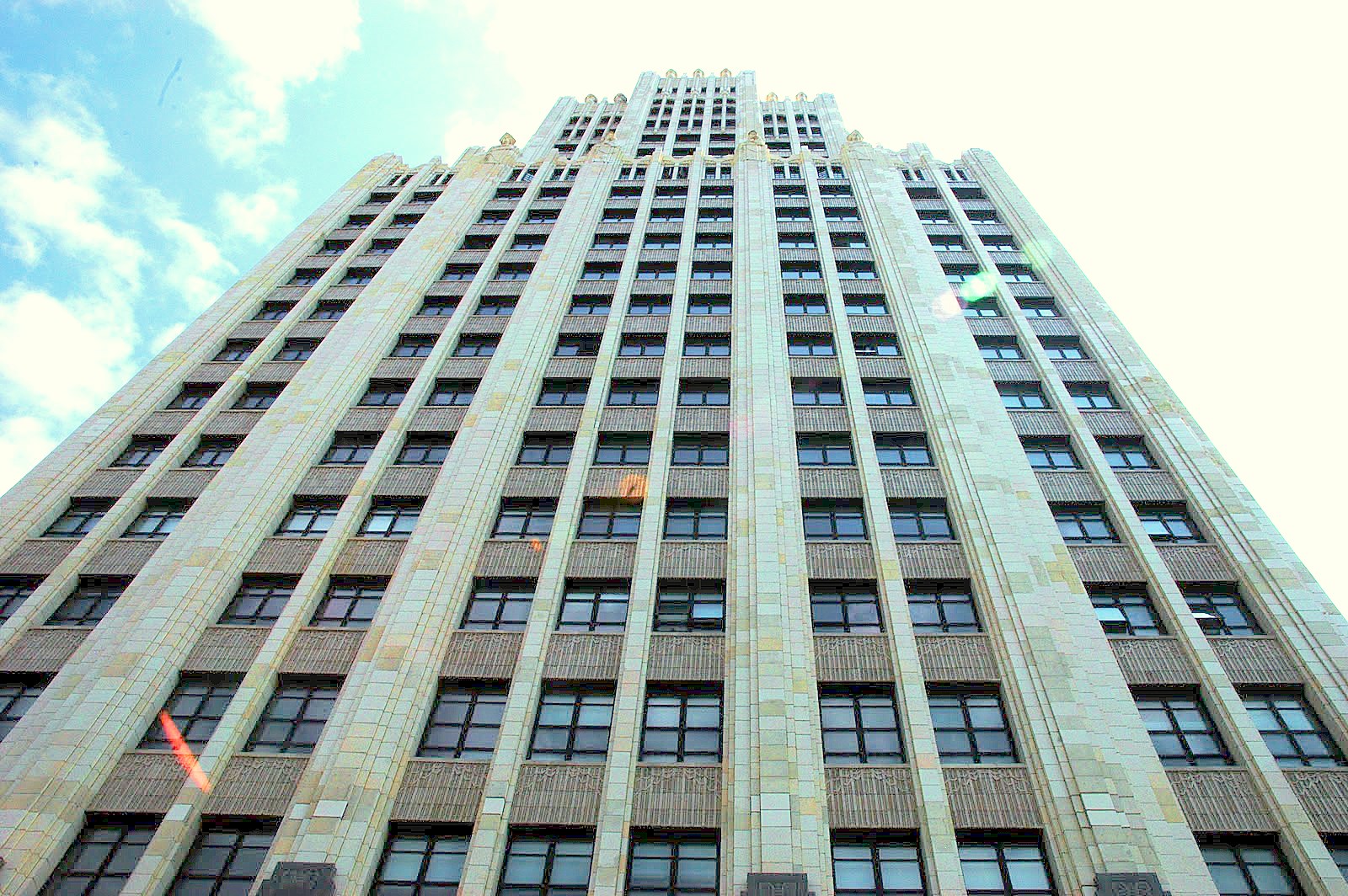 CBGC is home to vital institutions including KETC Channel 9, our excellent PBS station: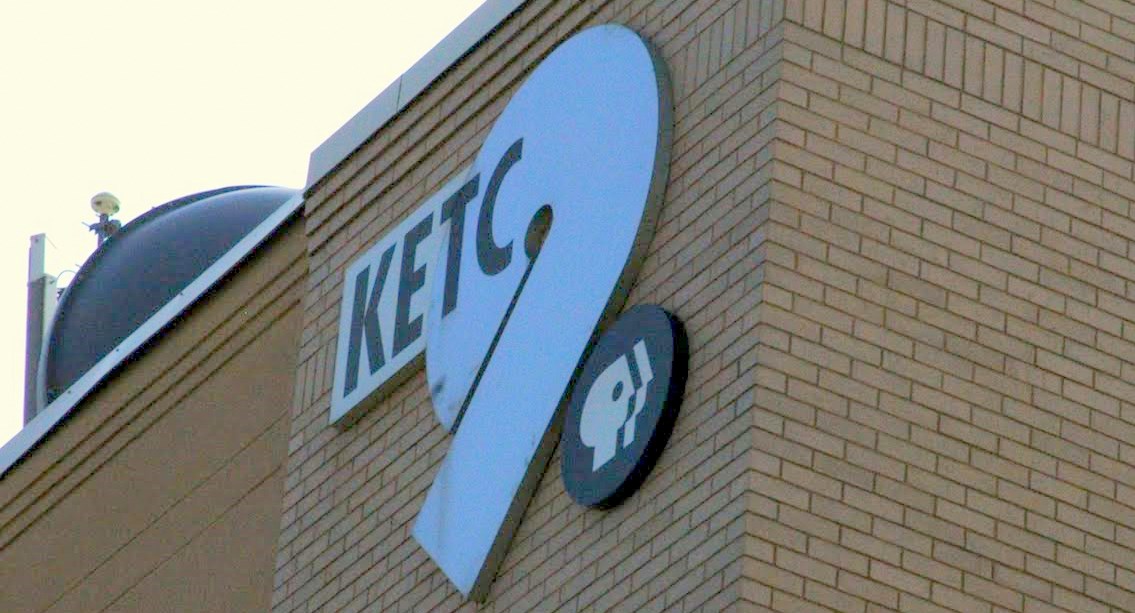 KETC will  soon be joined by the region's NPR station, KWMU. Currently located at the University Missouri – St. Louis campus, the station will be building a new station: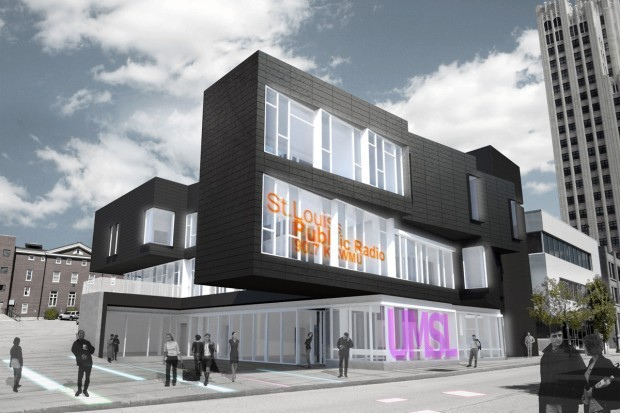 And local independent powerhouse KDHX has announced a move to Grand Center as well: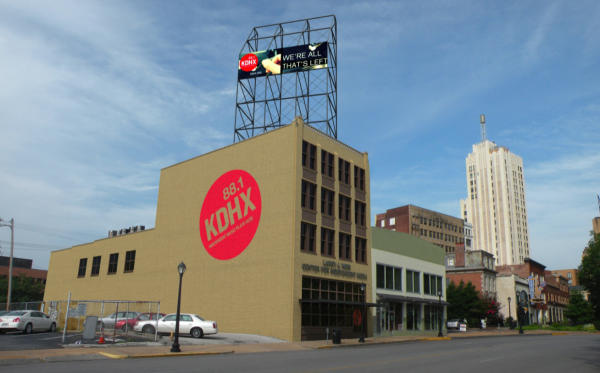 The Urban League: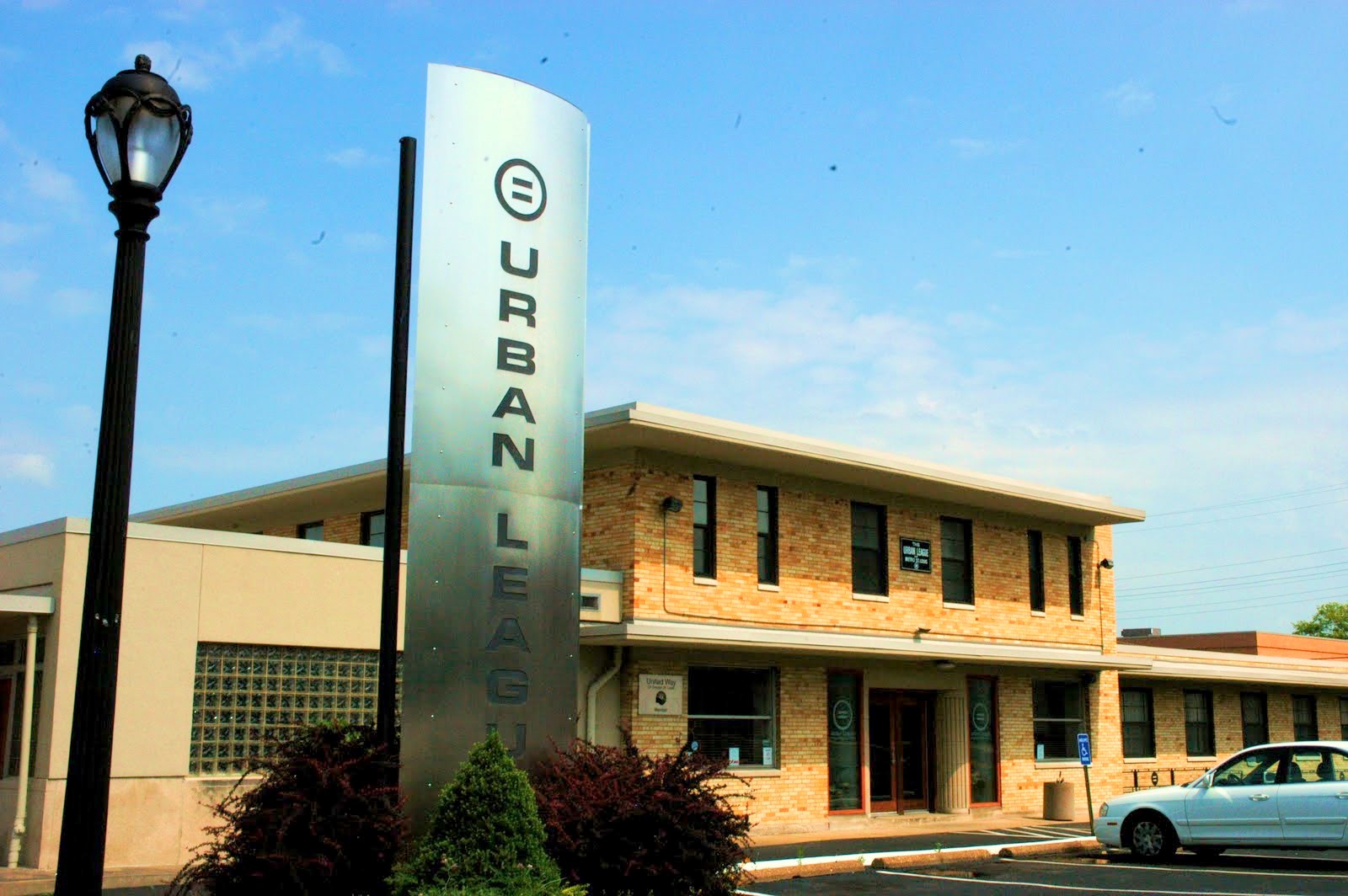 The awesome Contemporary Arts Museum: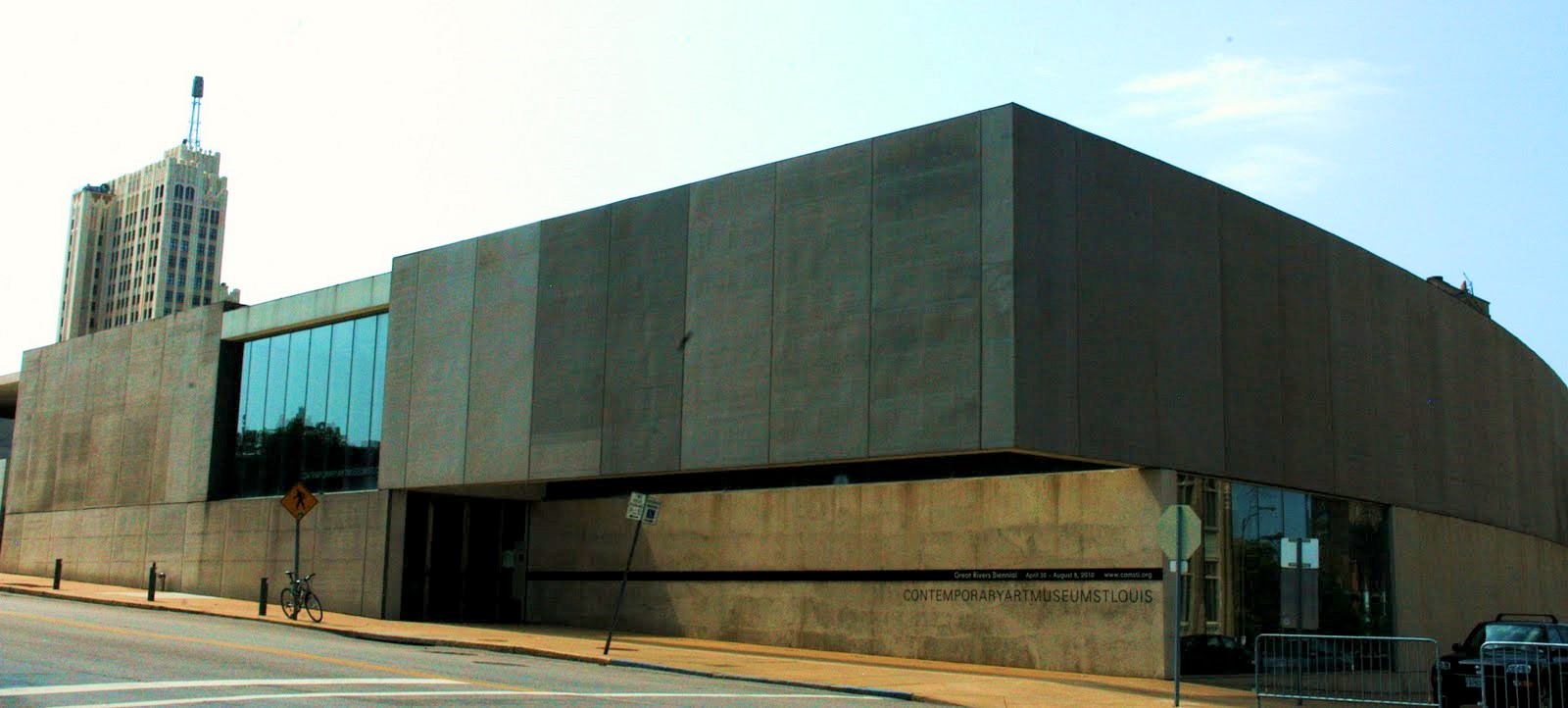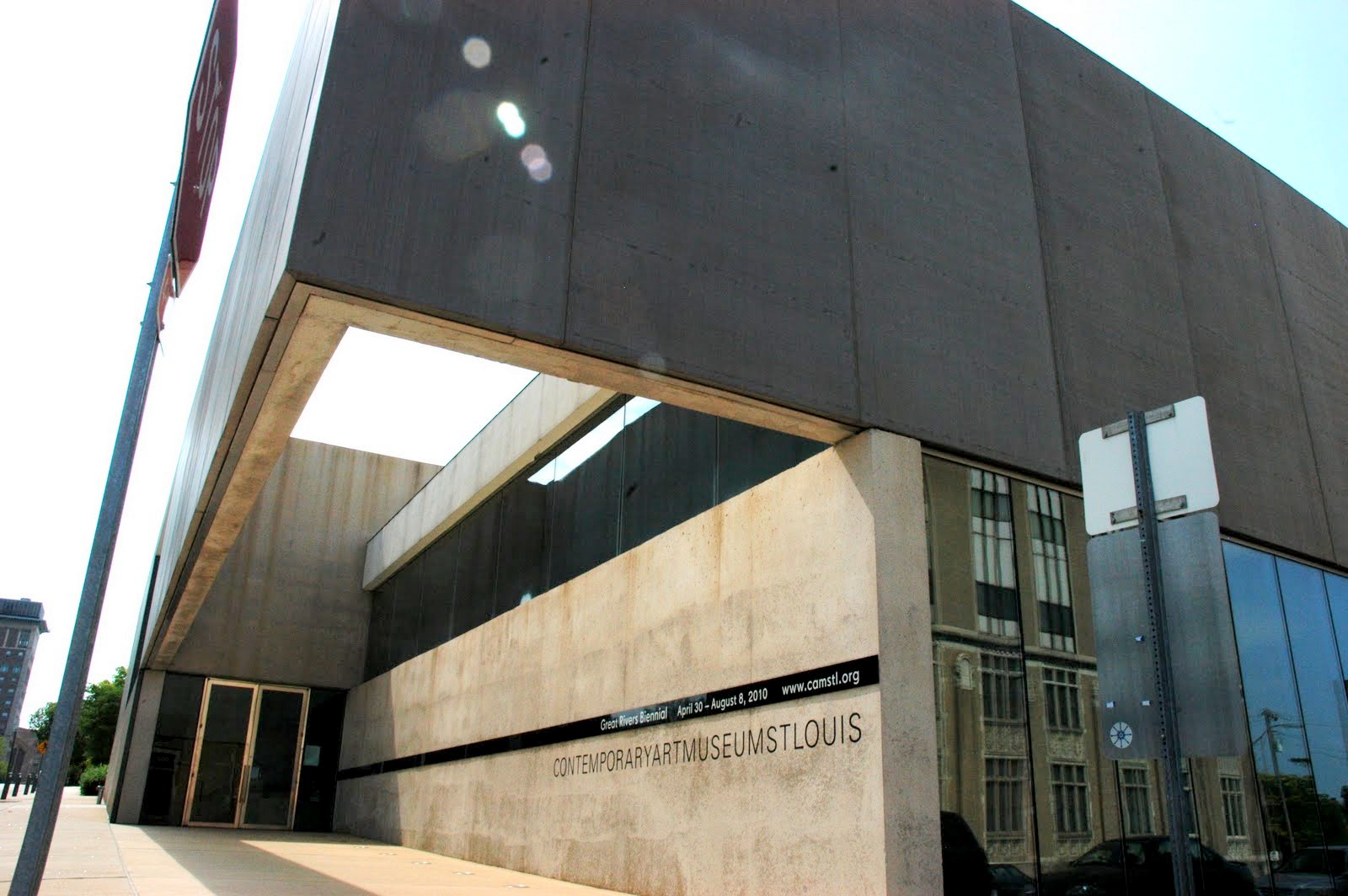 It's cool how the building follows the curve of the street: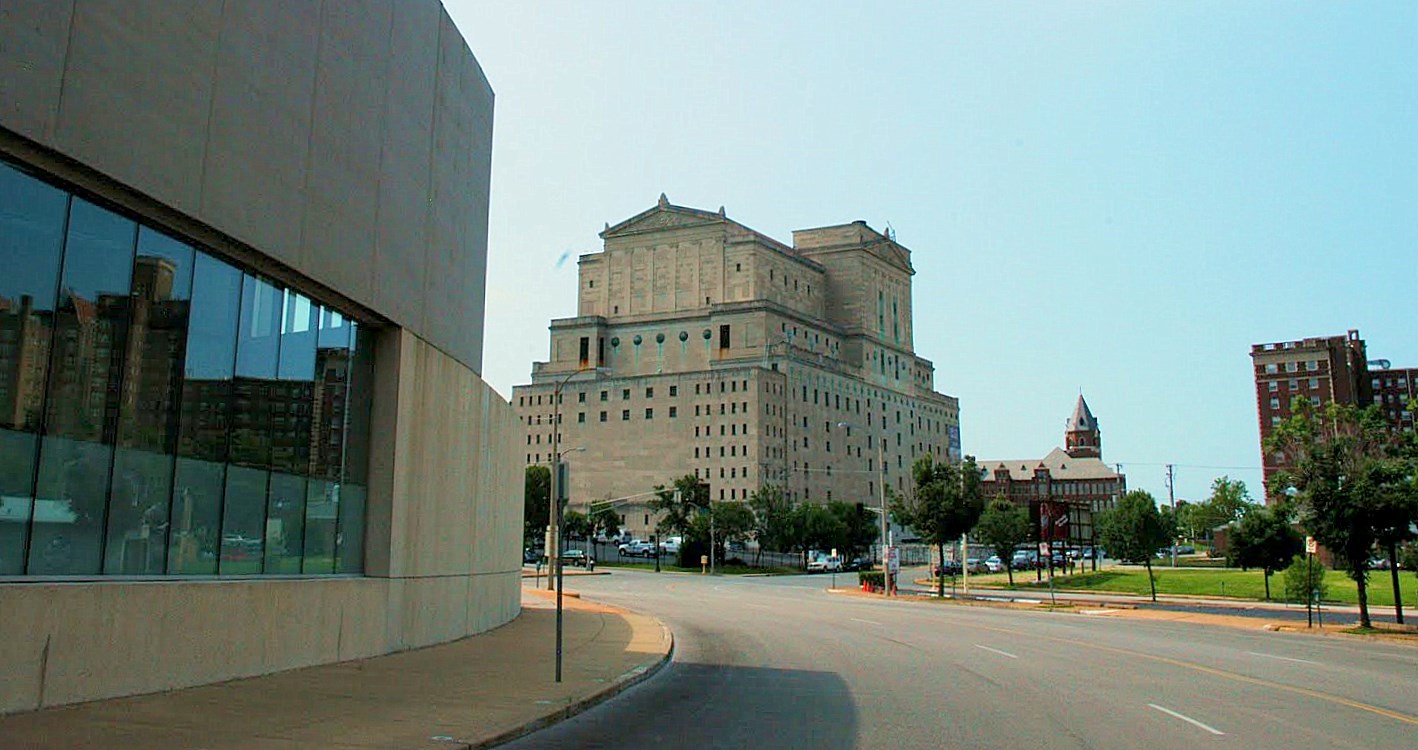 The John Cochran VA Medical Center: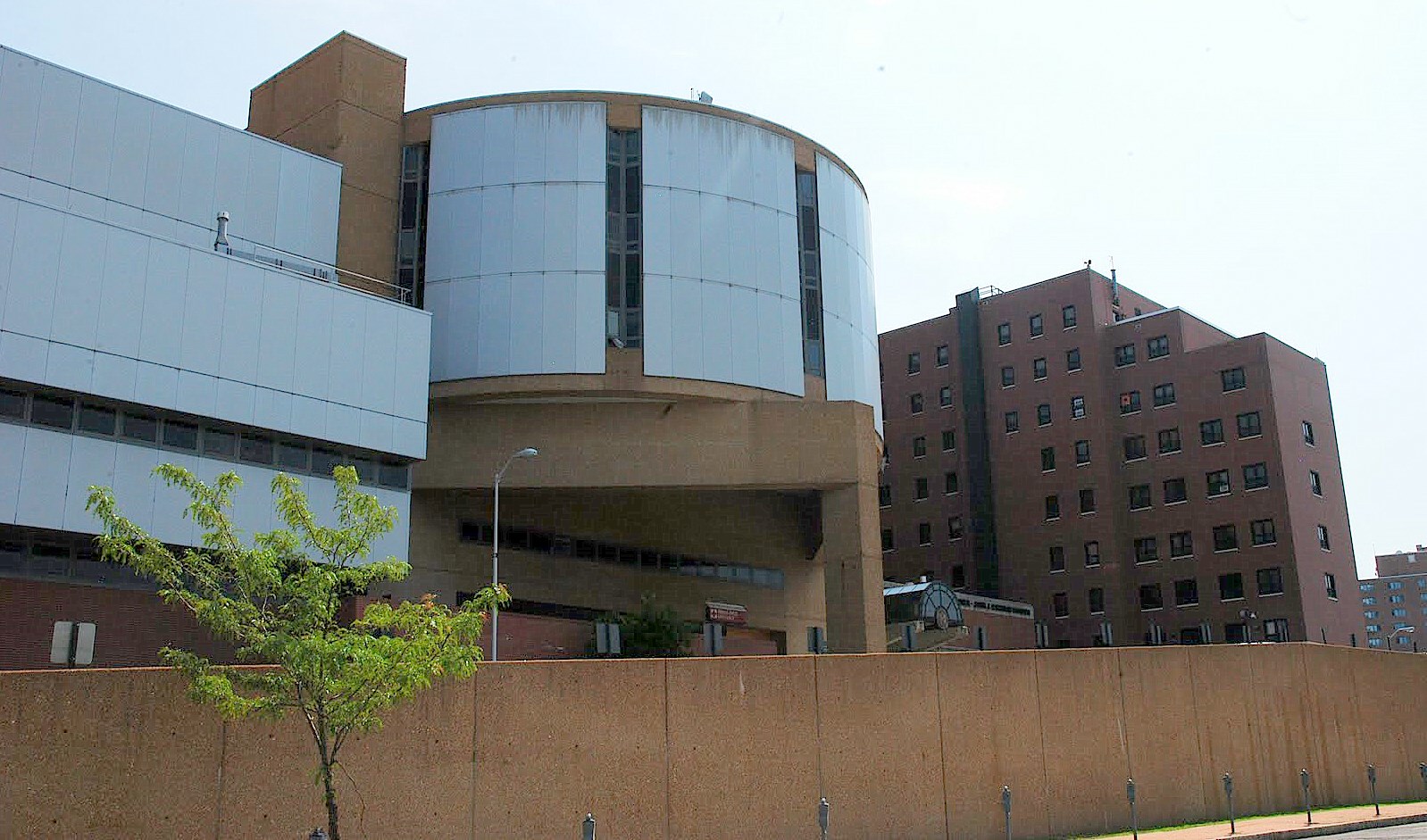 The Sun Theater is just waiting to be restored, or at least stabilized: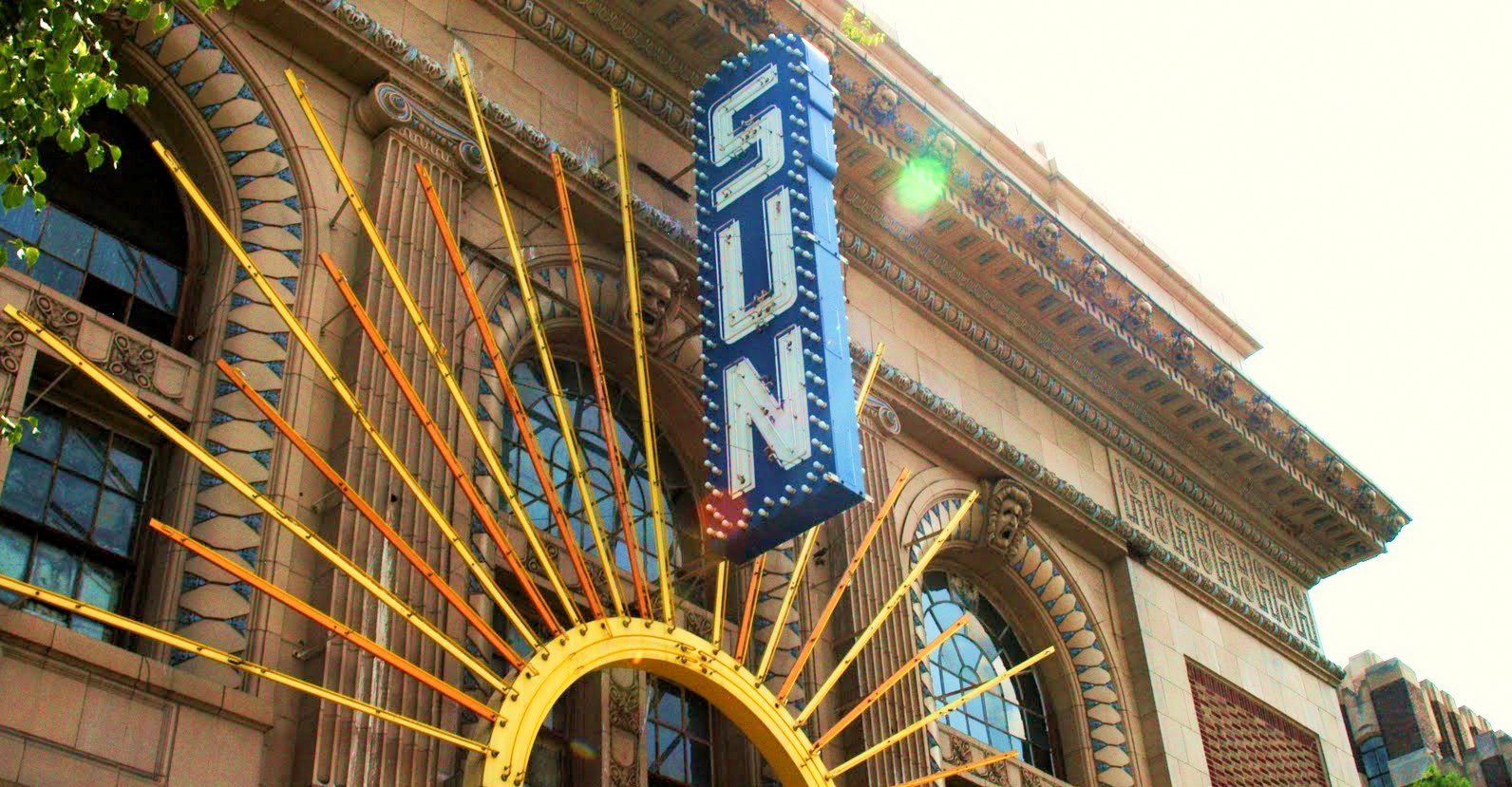 The former Woolworth's at Grand/Lindell has recently been renovated as a Big Brothers and Big Sisters office and a Craft Alliance center (it is handsomely lit up at night, adding to the vibrancy of the area). Here's a picture circa 1993 from the awesome Built St. Louis website: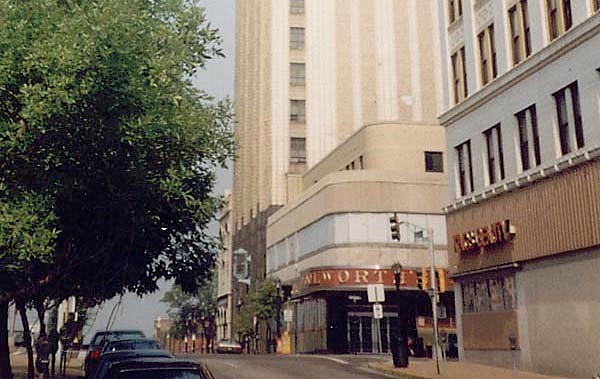 And a recent pre-renovation image: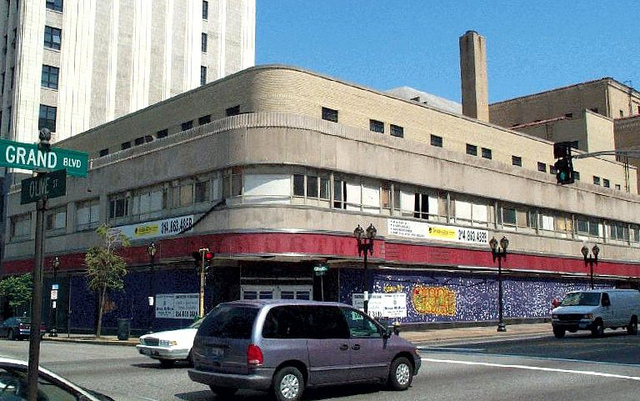 And here's what it looks like now: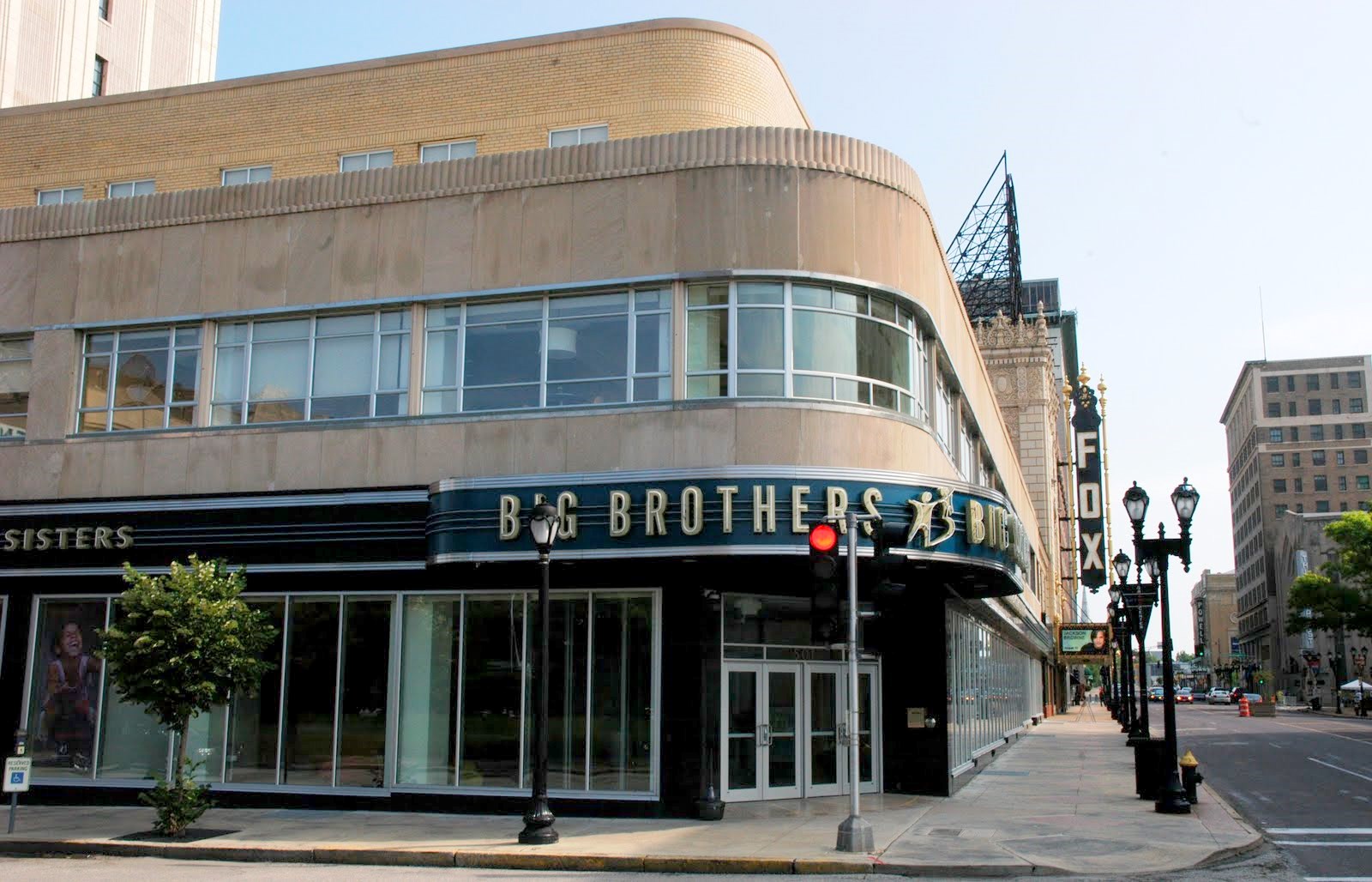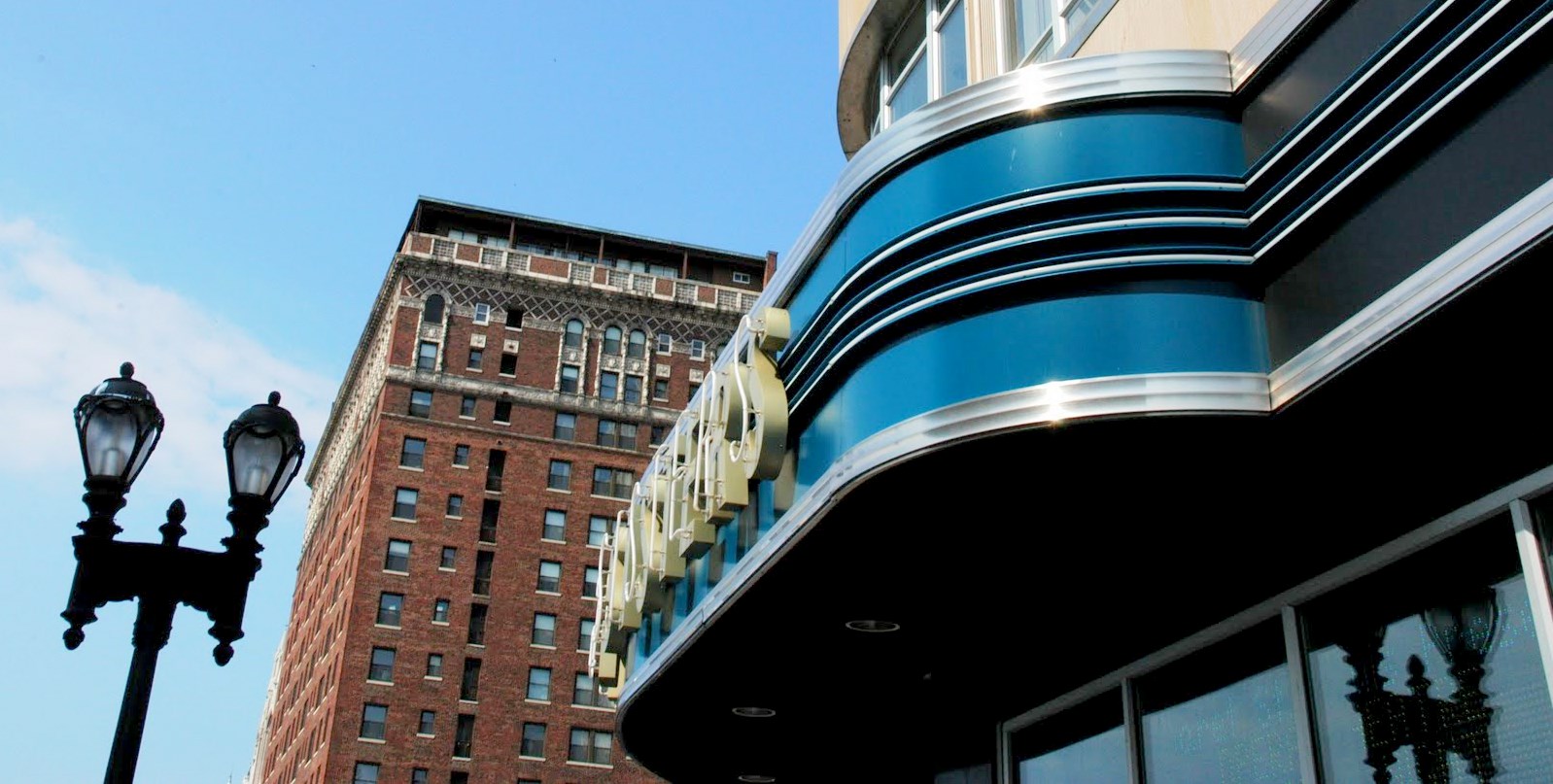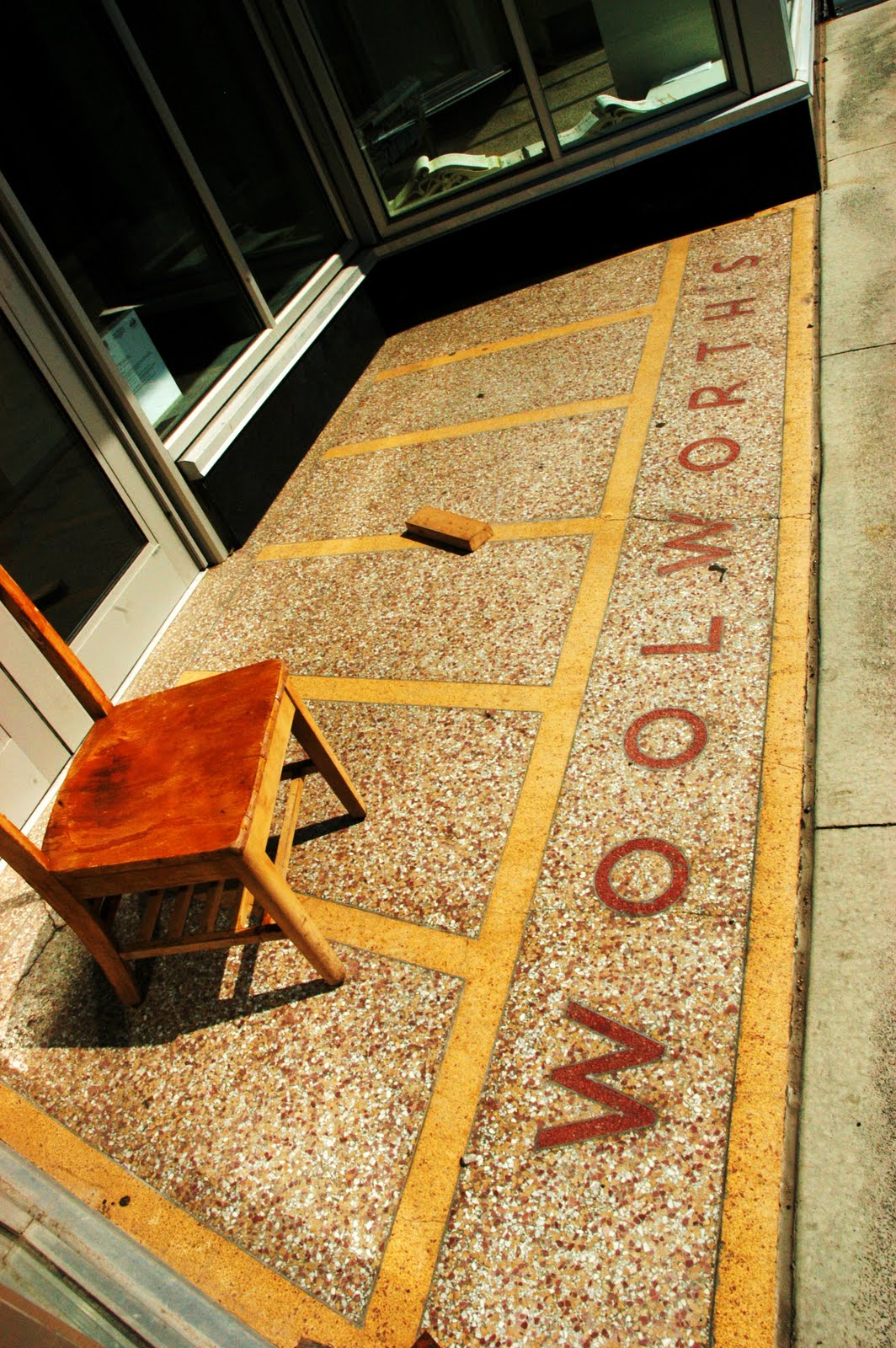 That has to be one of the best rehabs in the last 10 years! You should see it all lit up at night, courtesy of Flickr user ioensis: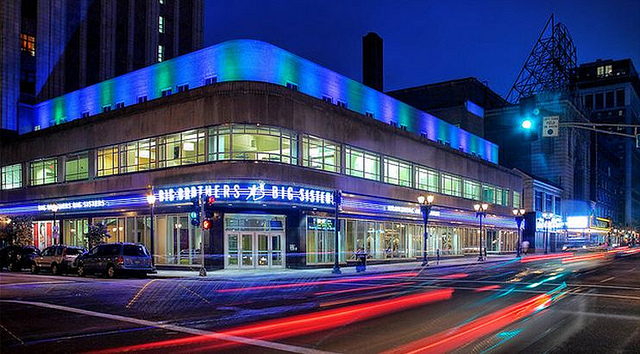 Here's one of the greatest opportunities for improvement in the area; I can't believe this building is sitting empty right at the intersection of Grand and Olive. In fact, interior demolition work began in 2010 and has now stopped. The building was to be converted into a hotel: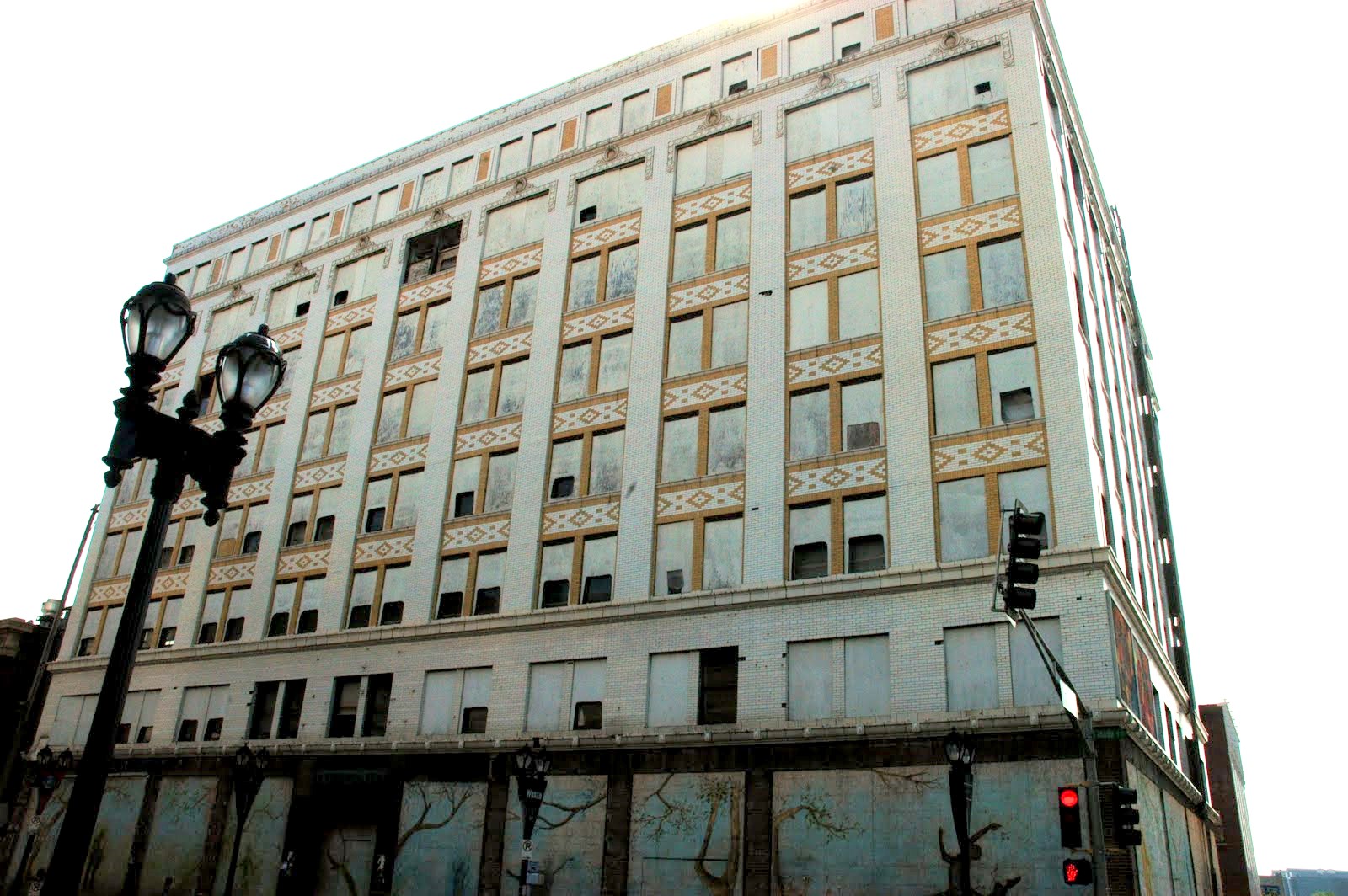 Right next door, on the northeast corner of Lindell and Grand, is a vacant lot scattered with sculpture, a SLU brick and iron gate and fountain. Nothing more is likely to be built there soon, but at least people are dreaming big. Here's one rendering of what the site could hold: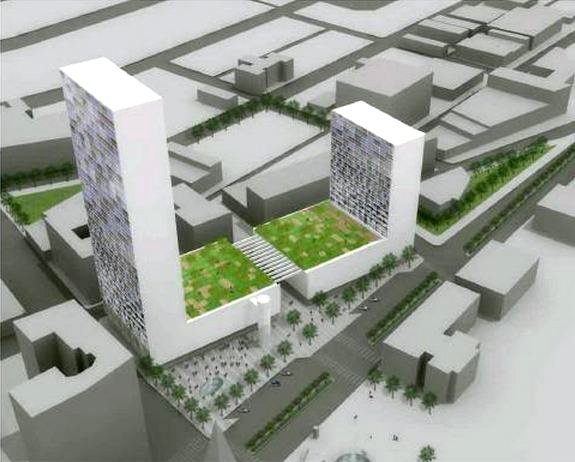 The City Diner, a longtime fixture in the Tower Grove South neighborhood recently opened a second location in the Humbolt building just north of the Fox: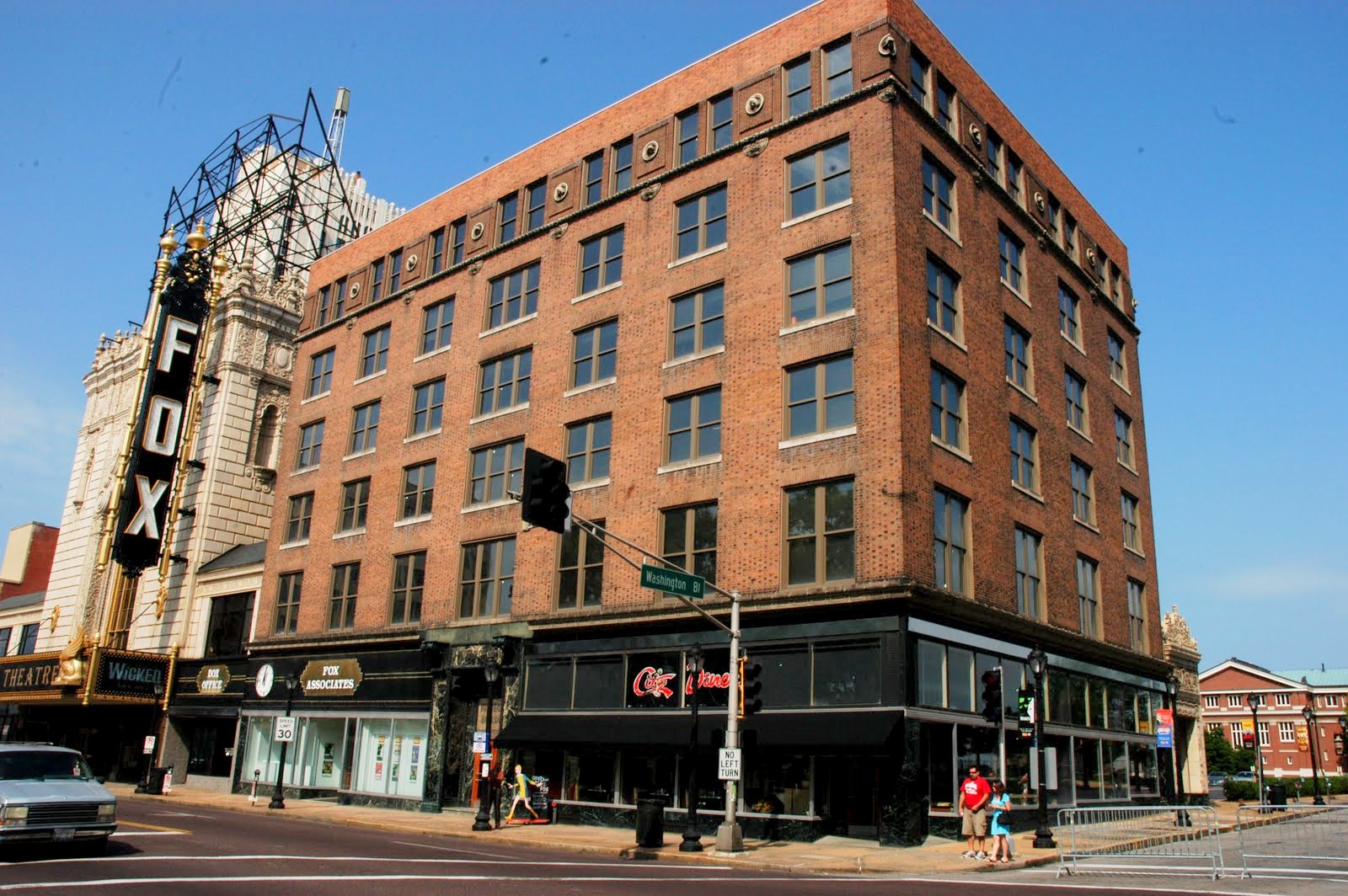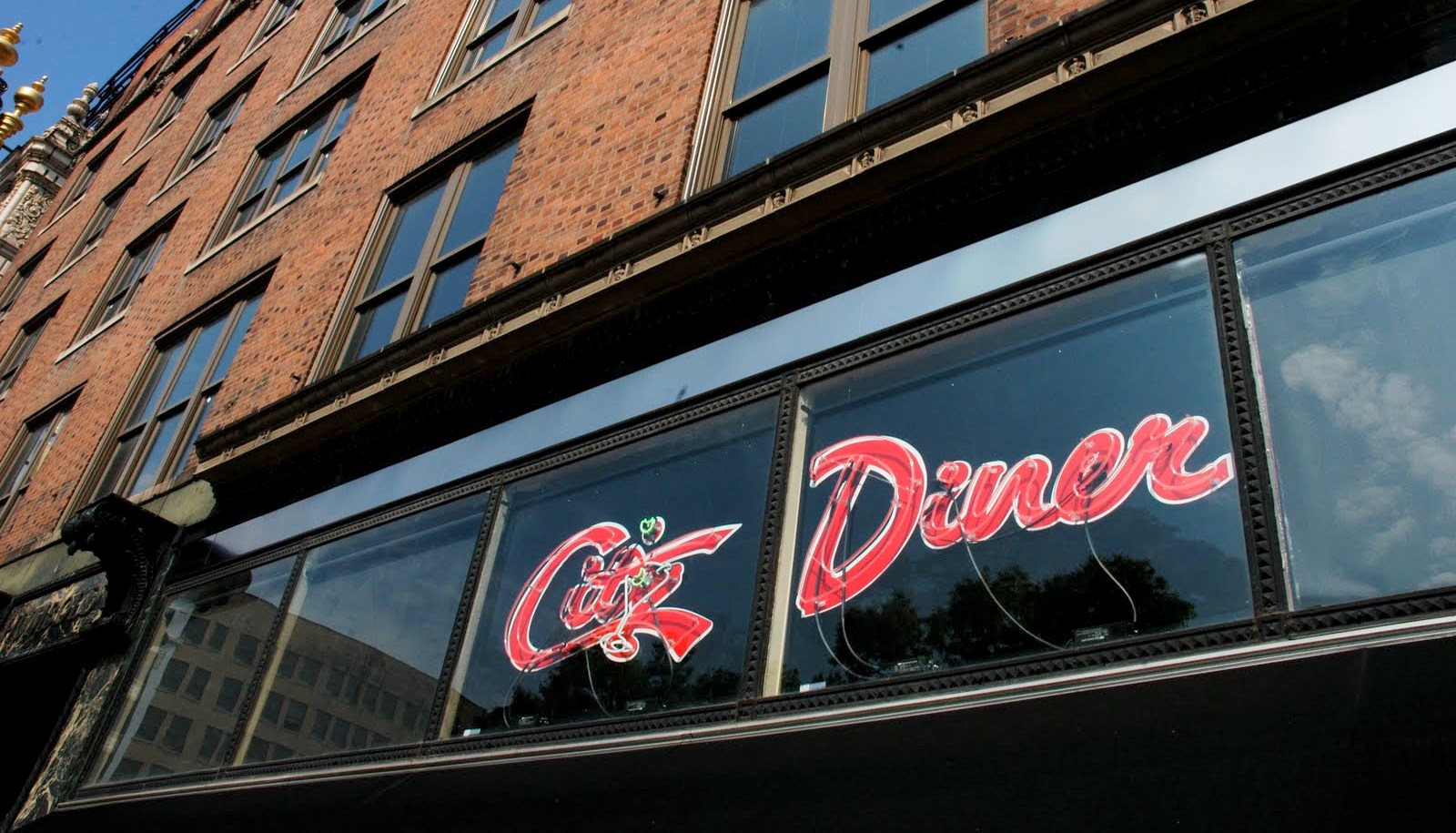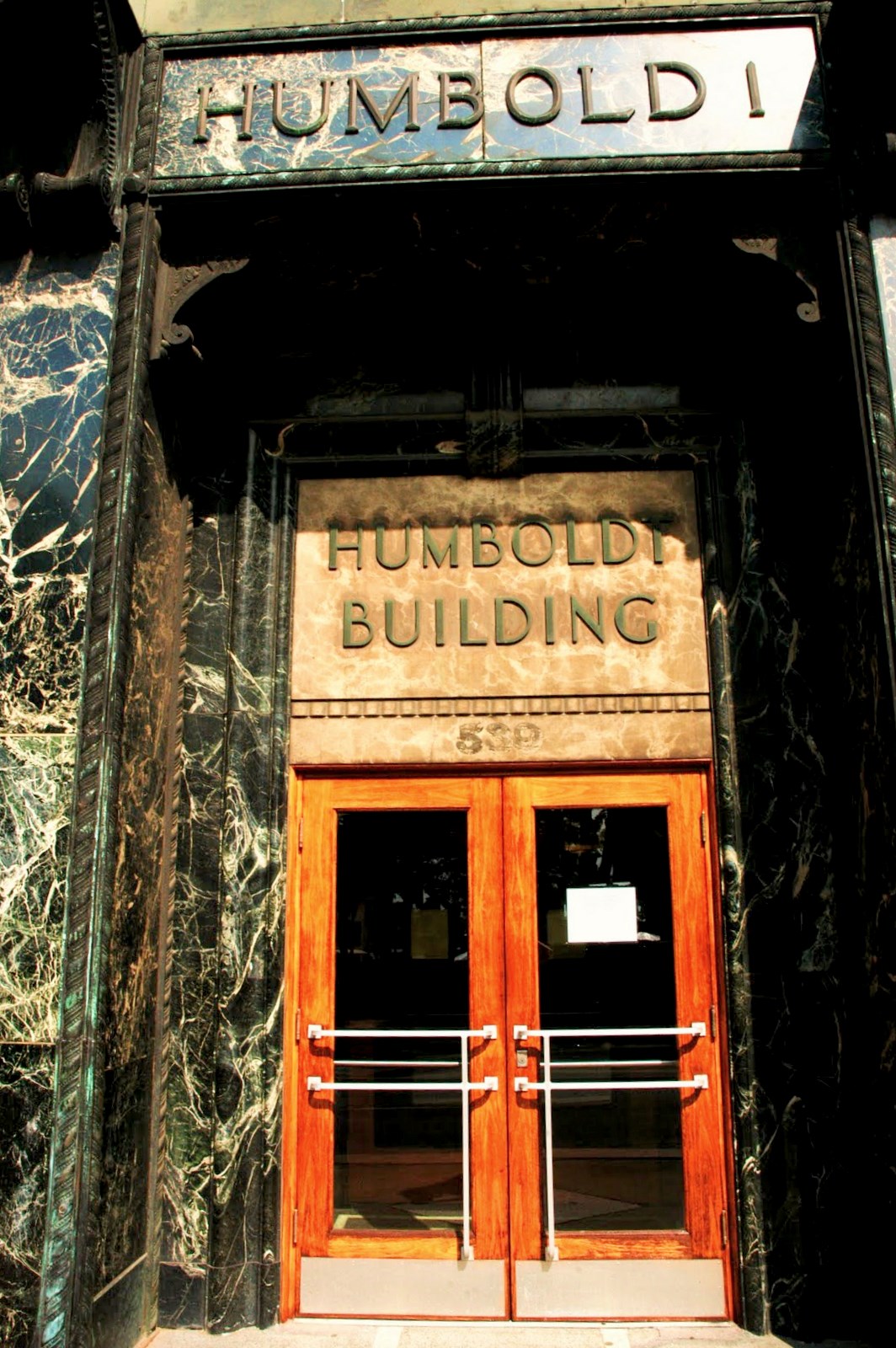 There are some other places just east of Grand including Kota Wood Fired Grill, the Best Steak House and Jazz at the Bistro: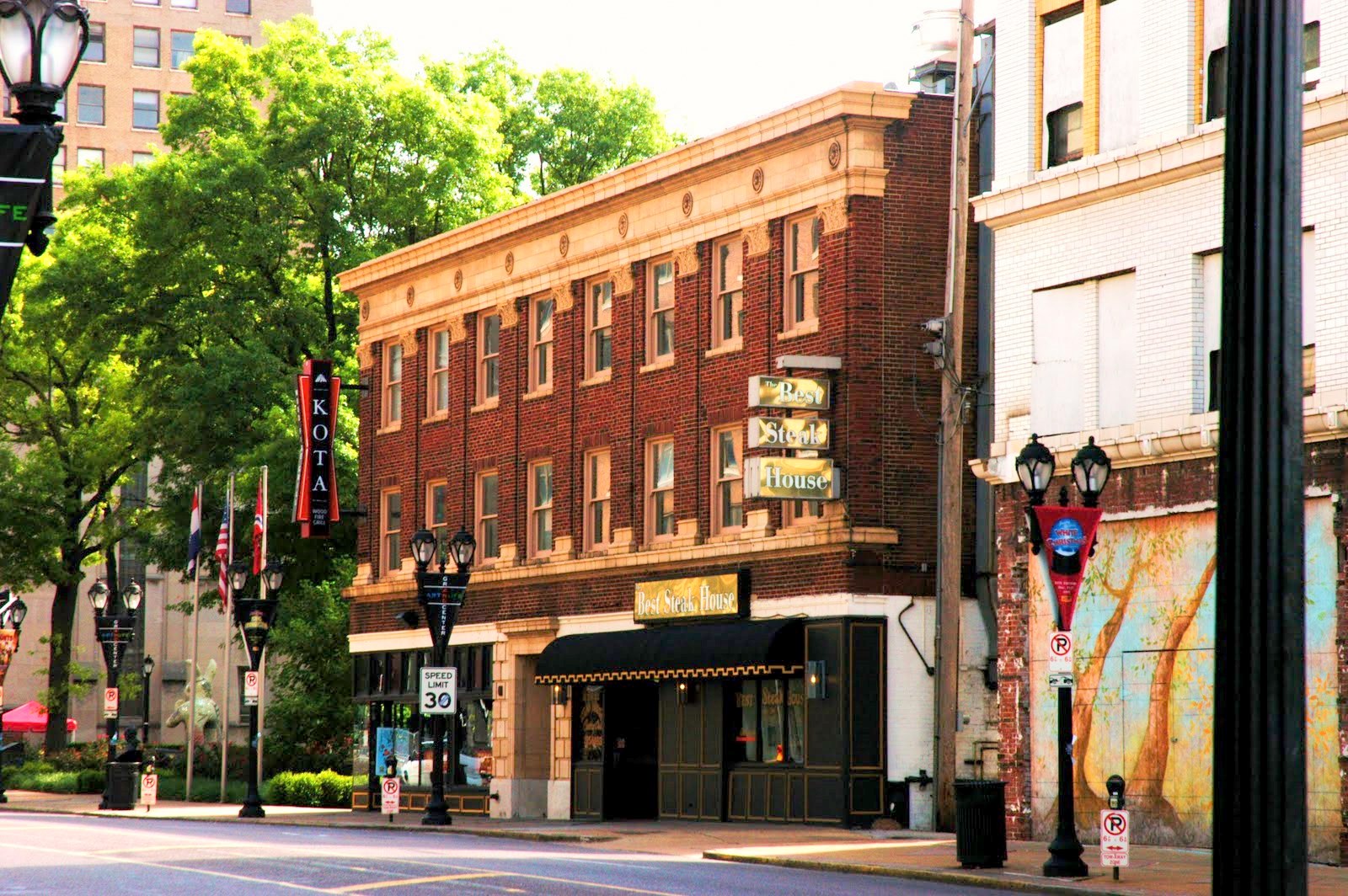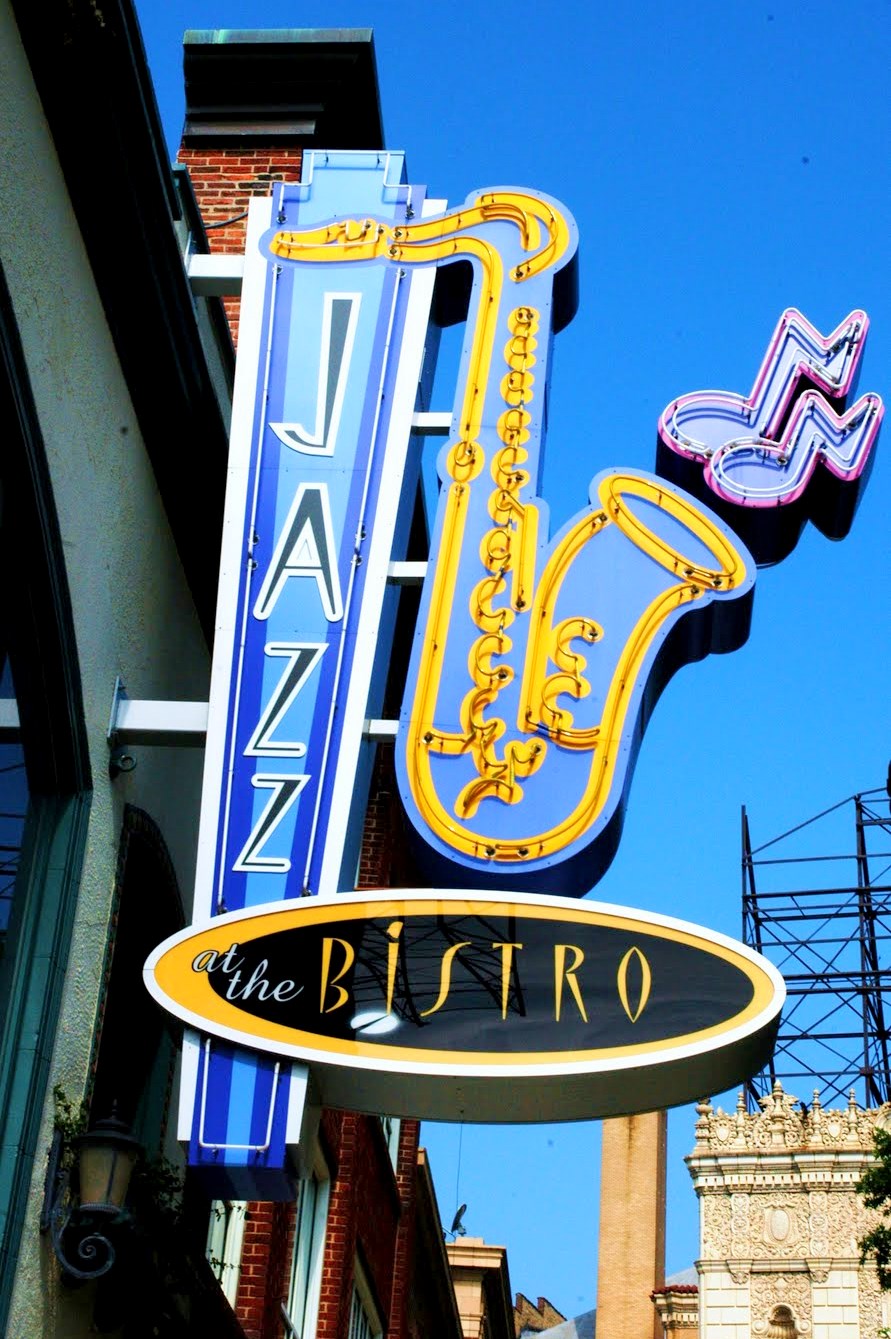 There is new life in a building just east of Jazz at the Bistro, which was nicely reworked to house a salon and a couple other businesses: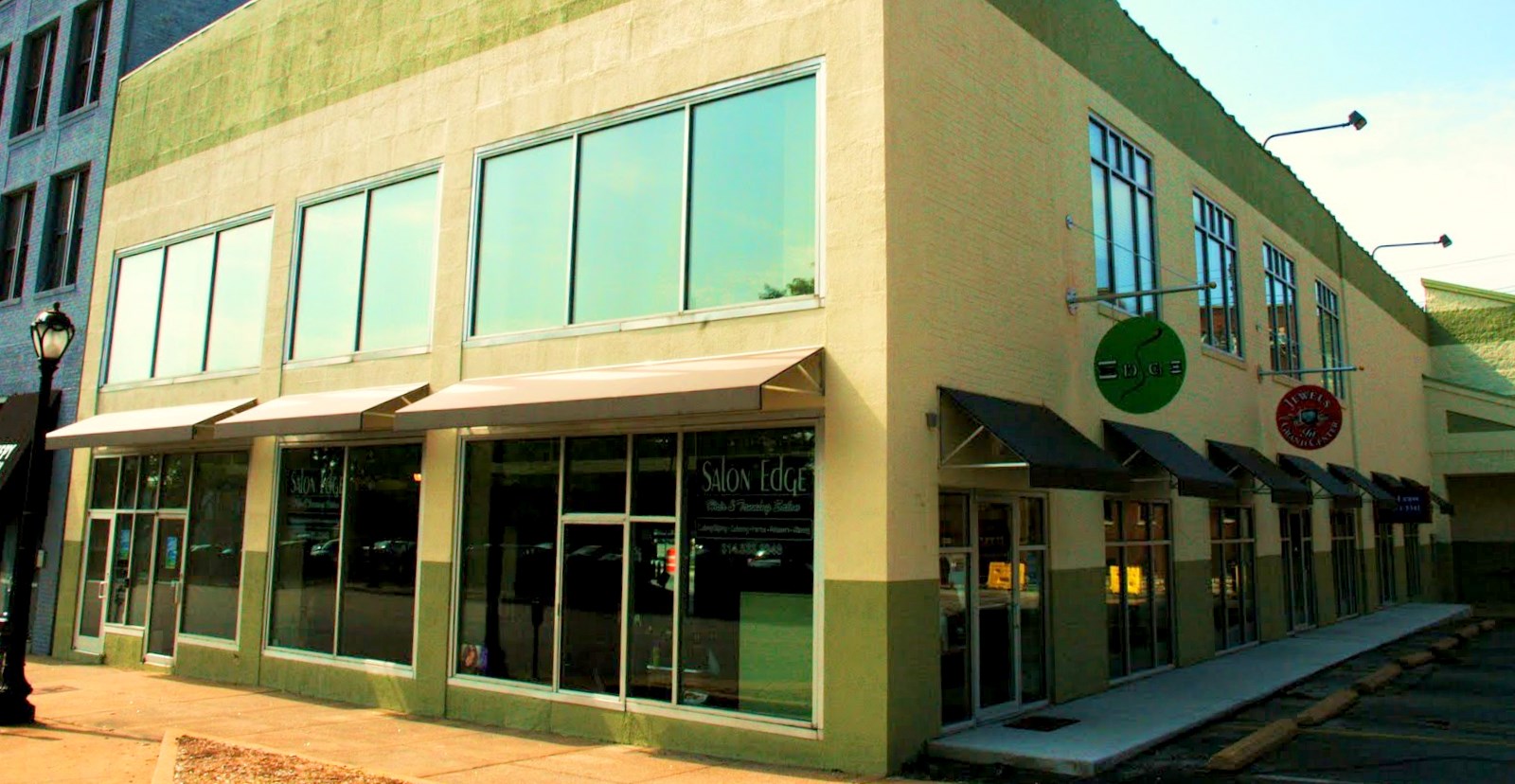 Some other cool sights in this part of CBGC: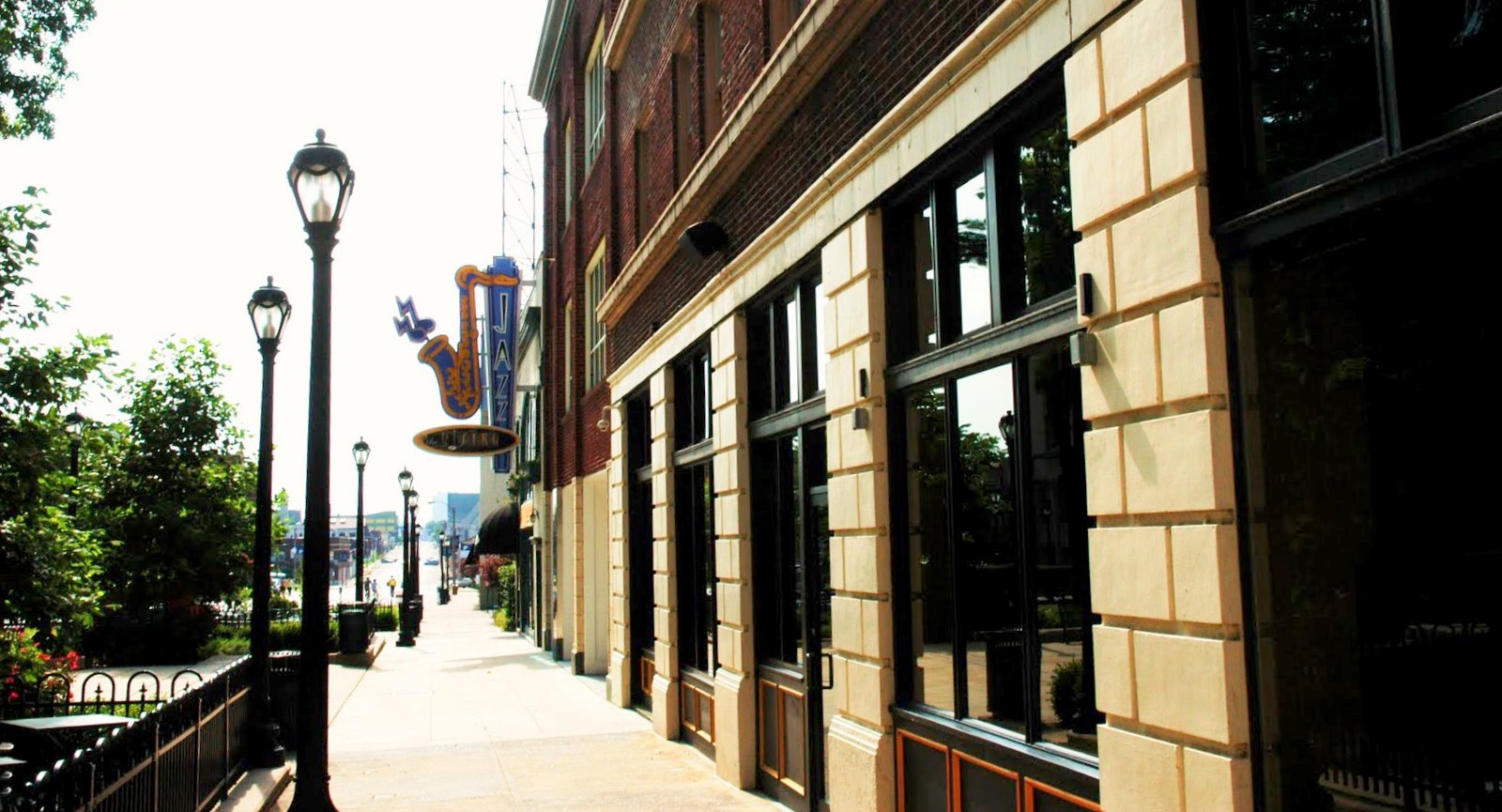 One of the landmark, cool buildings in Grand Center is getting a new life. The Beaux Arts/Carter Carburator is soon to become the Grand Center Arts Academy: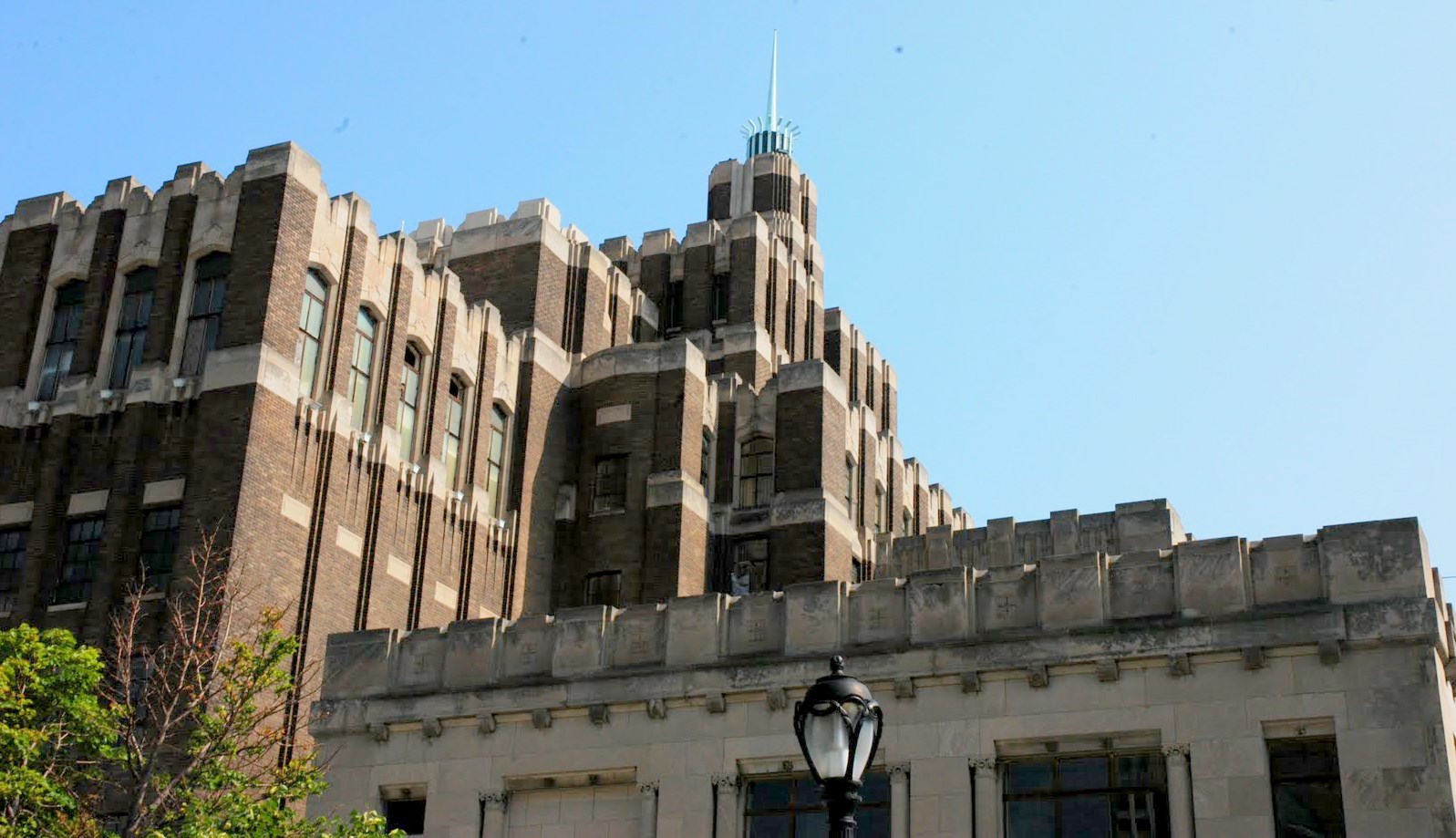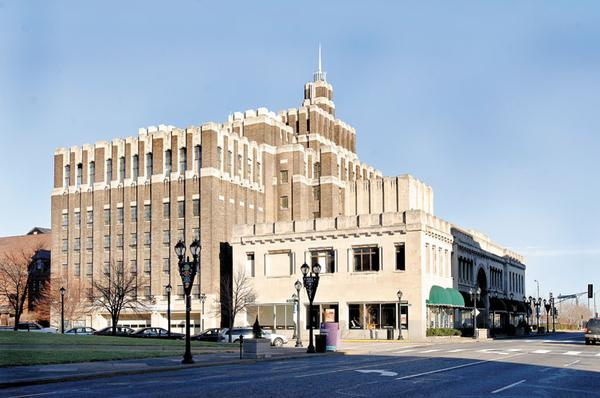 And one rendering from the Arts Academy of a future performance space: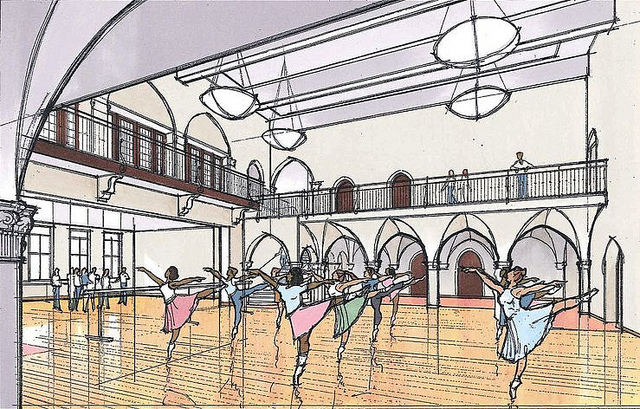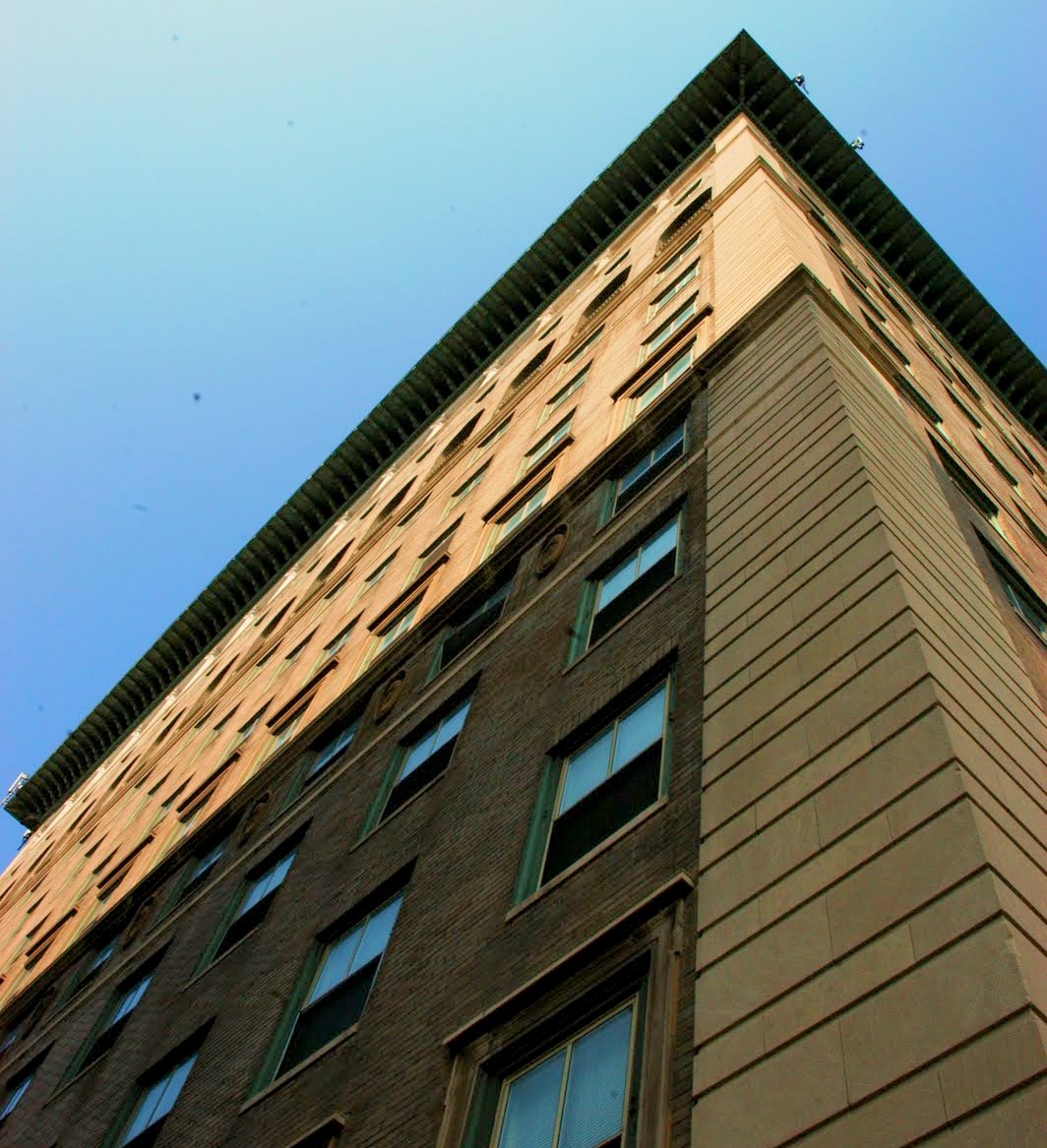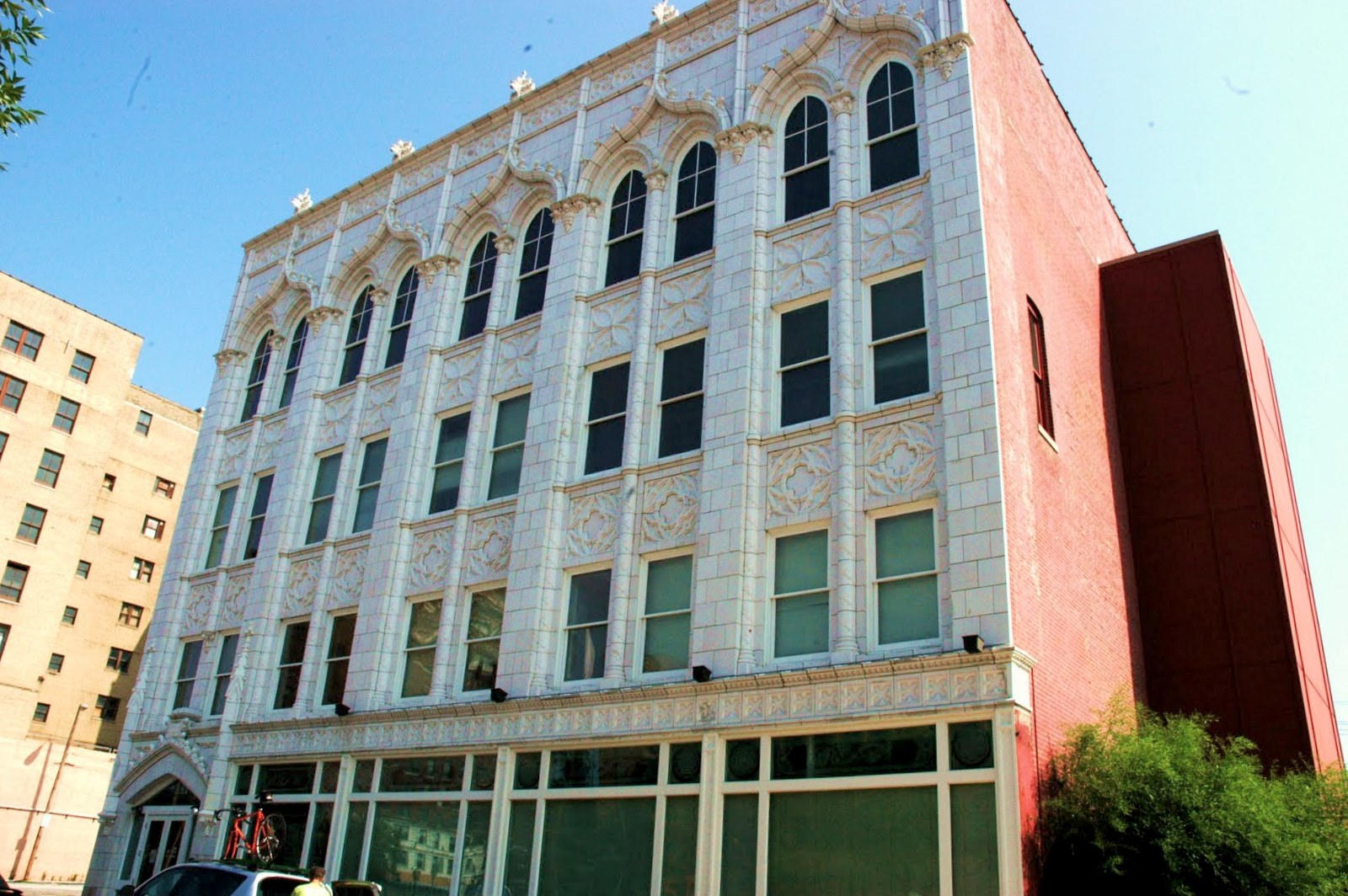 Other places of interest include the Moto Museum: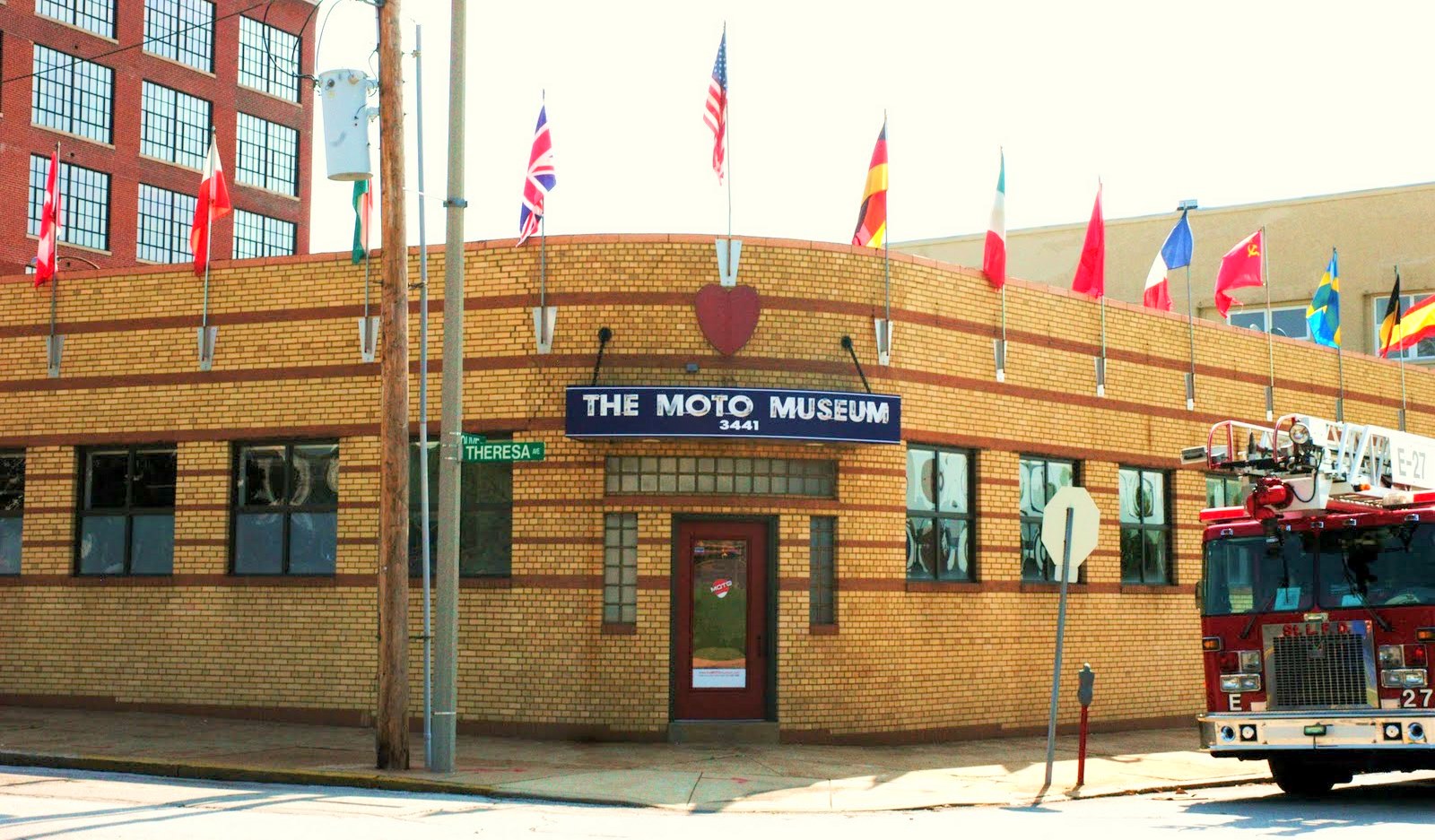 And a couple pictures from countondowntown.com of the new Ducati/Triumph dealership next door: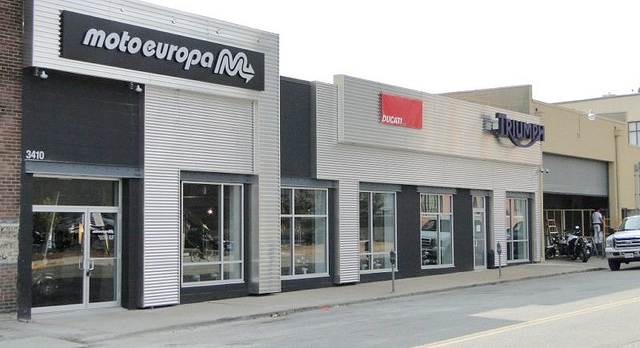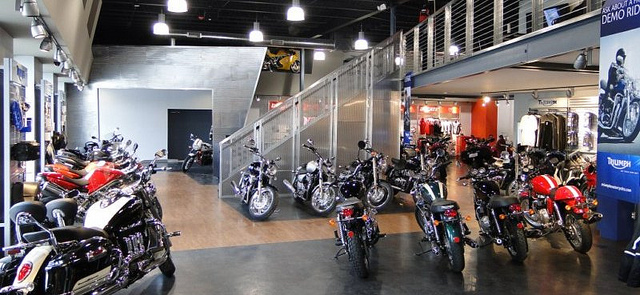 Triumph Grill, Hotel Ignacio, Drake Plaza and other sites along Olive: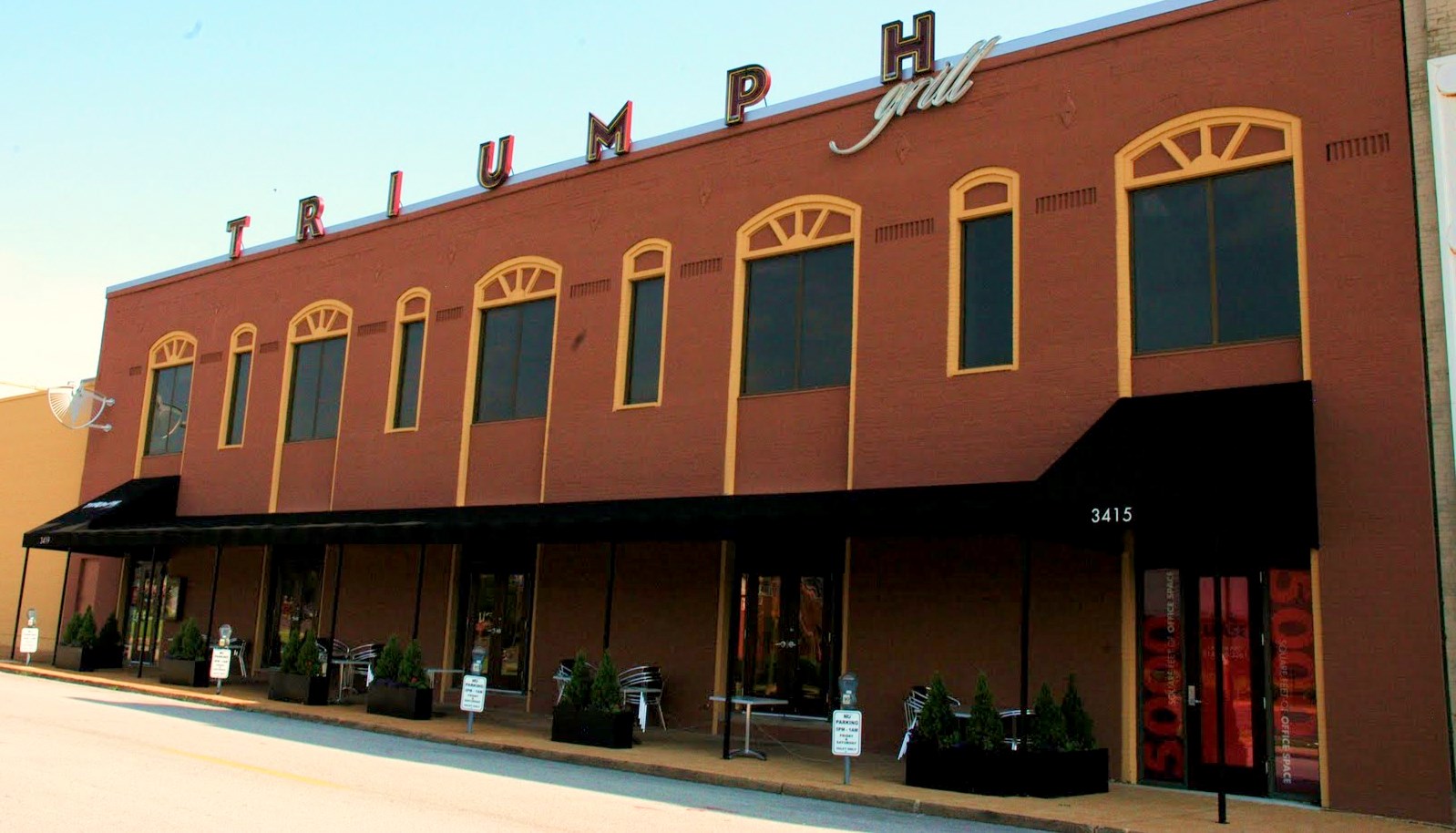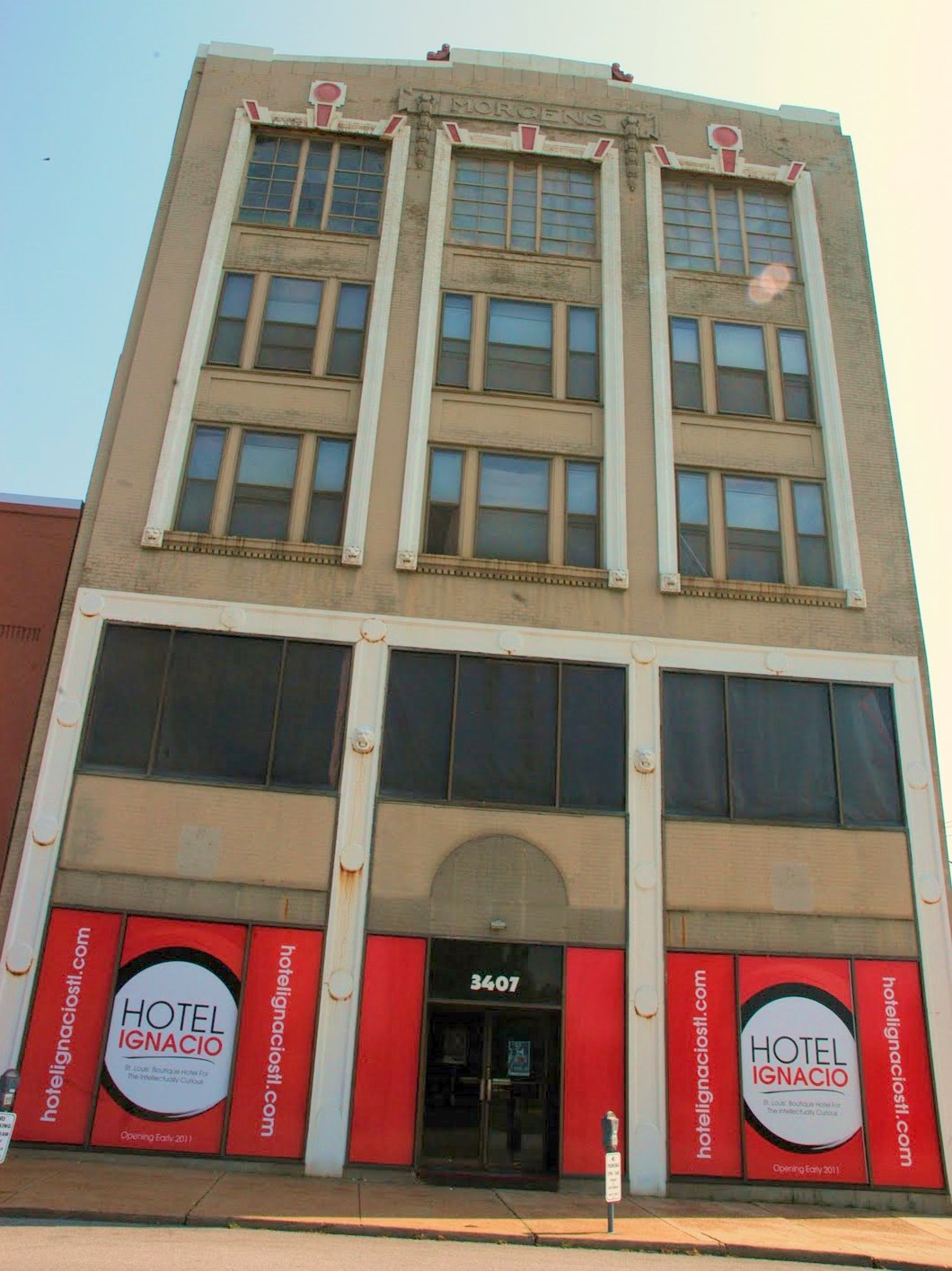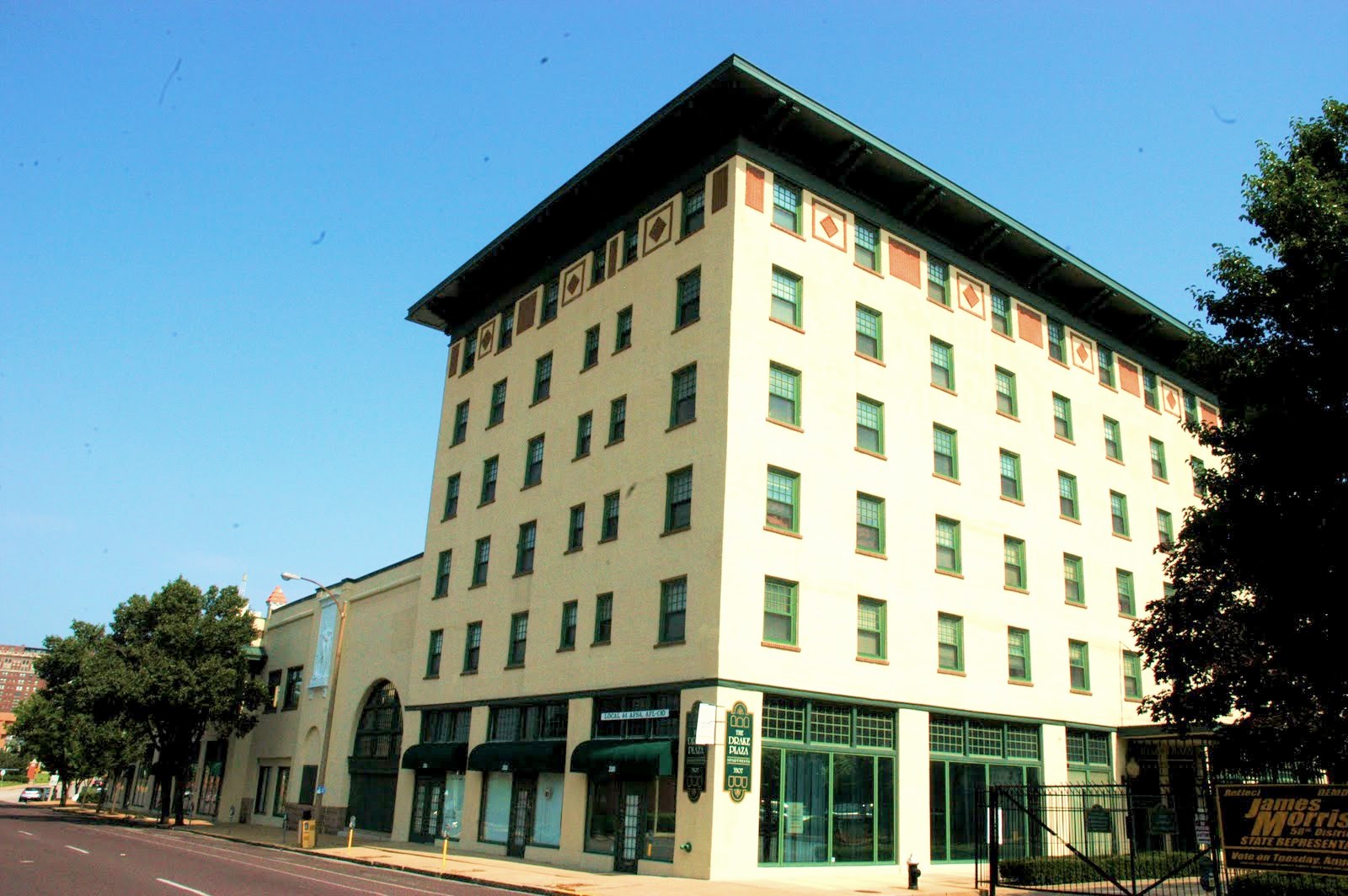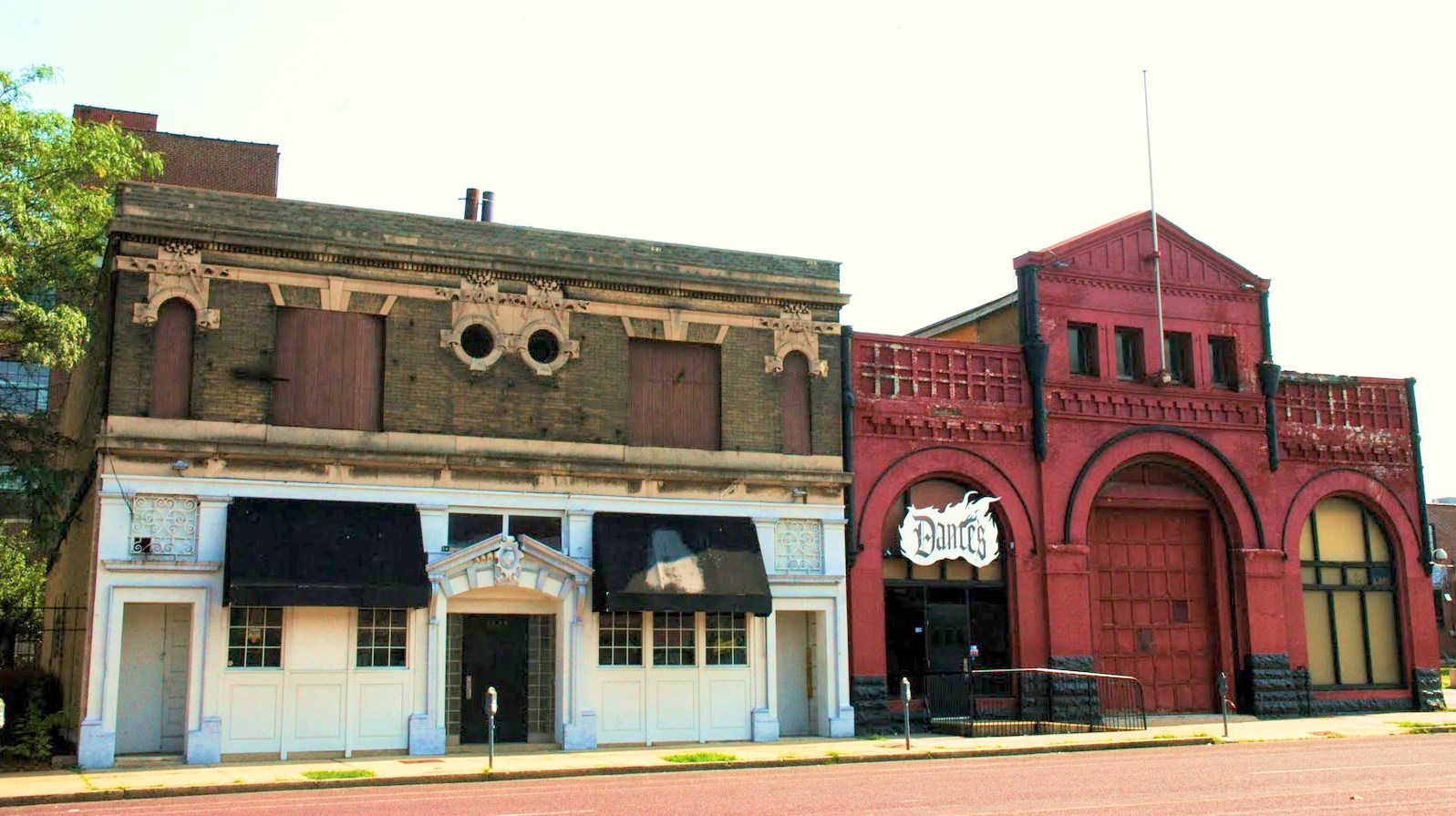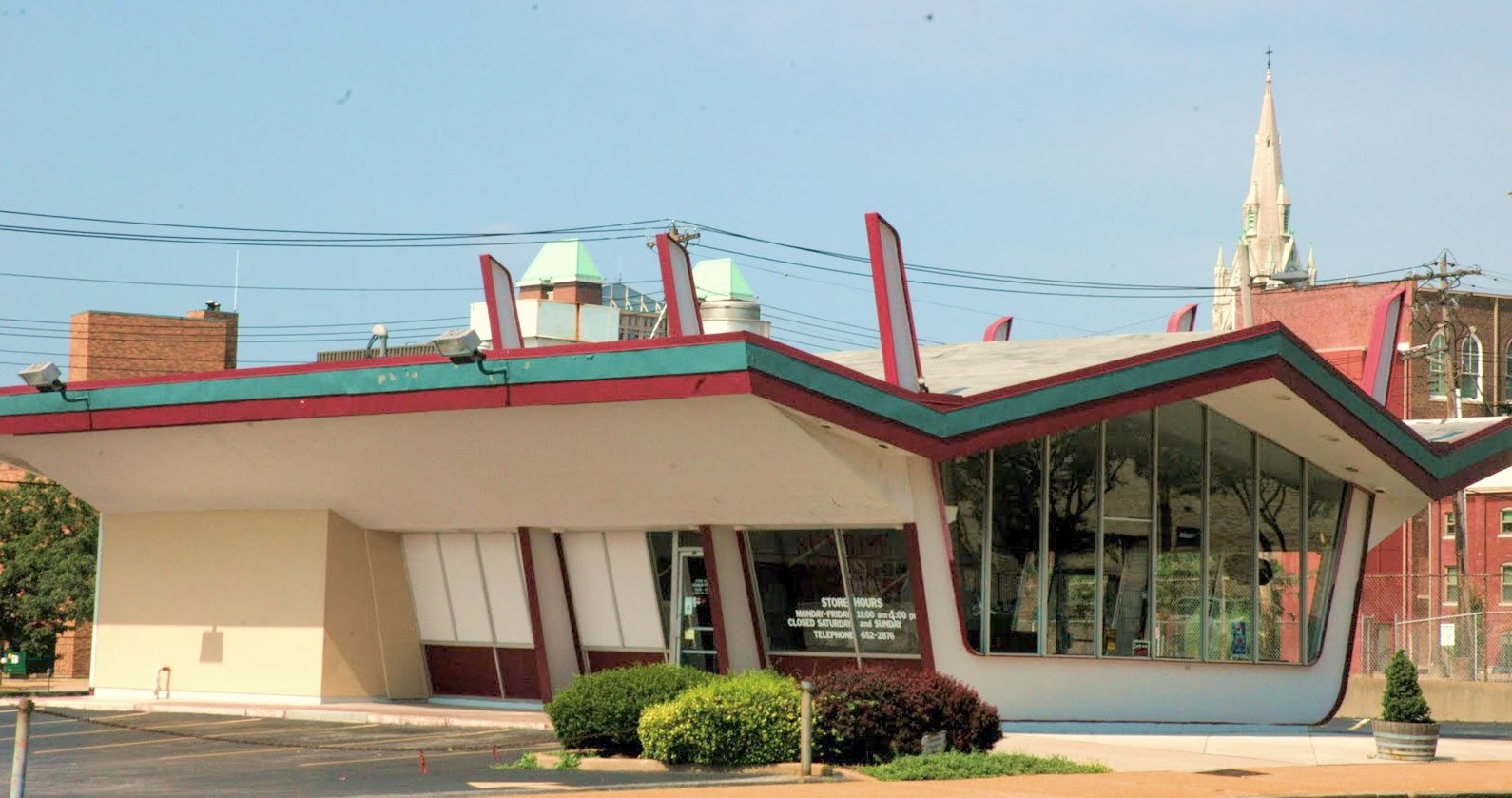 Some interesting site and opportunities along Compton: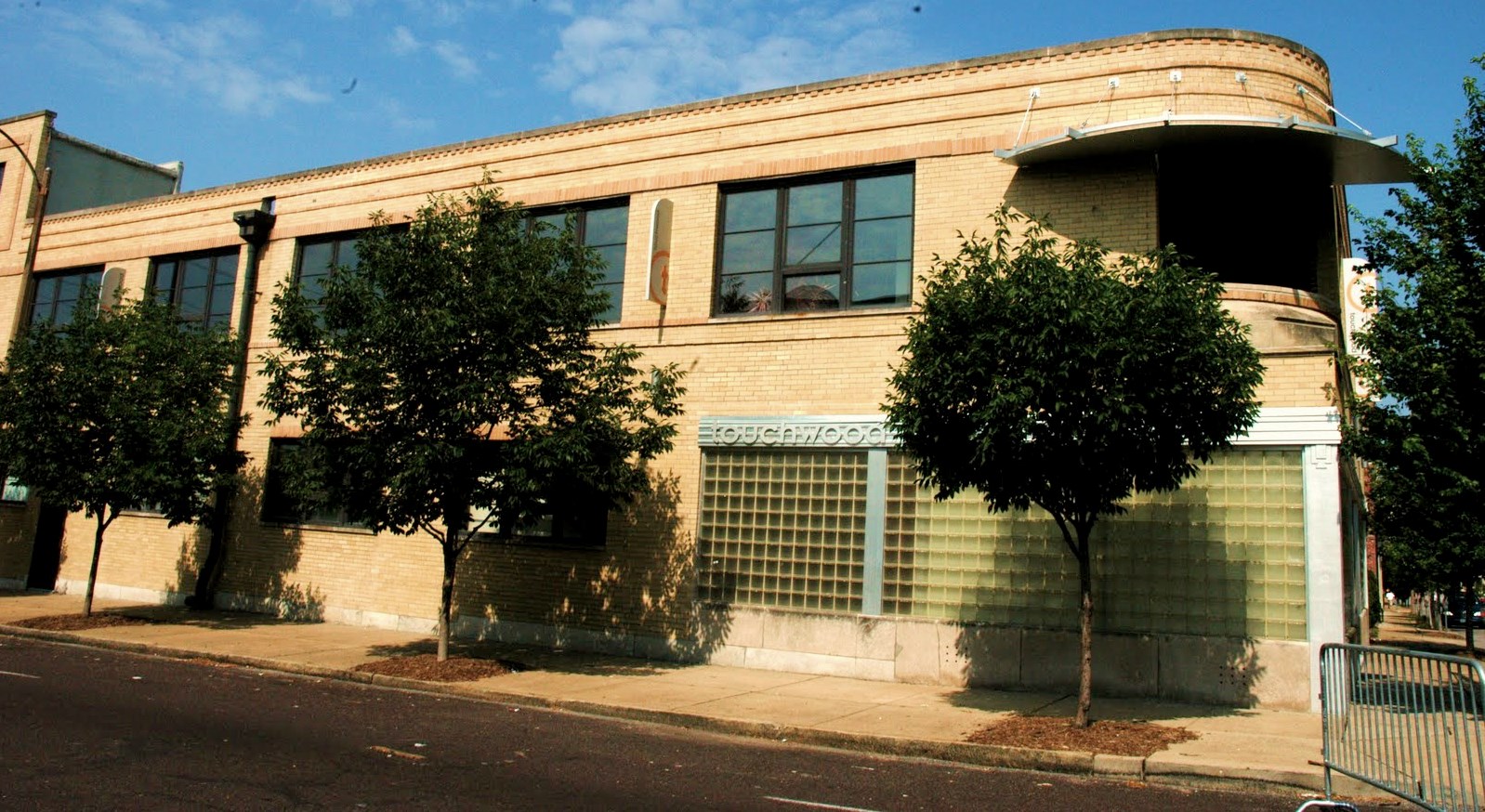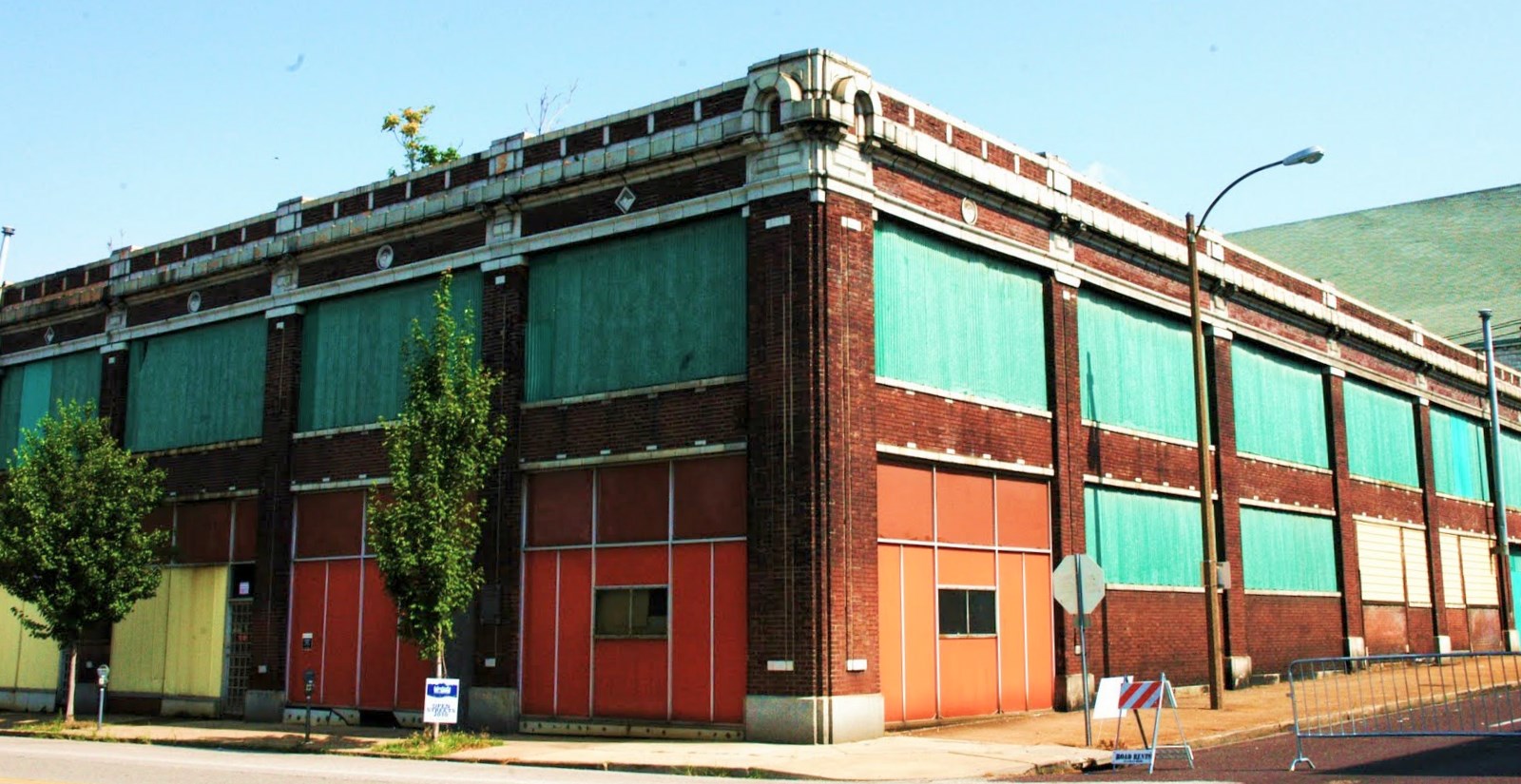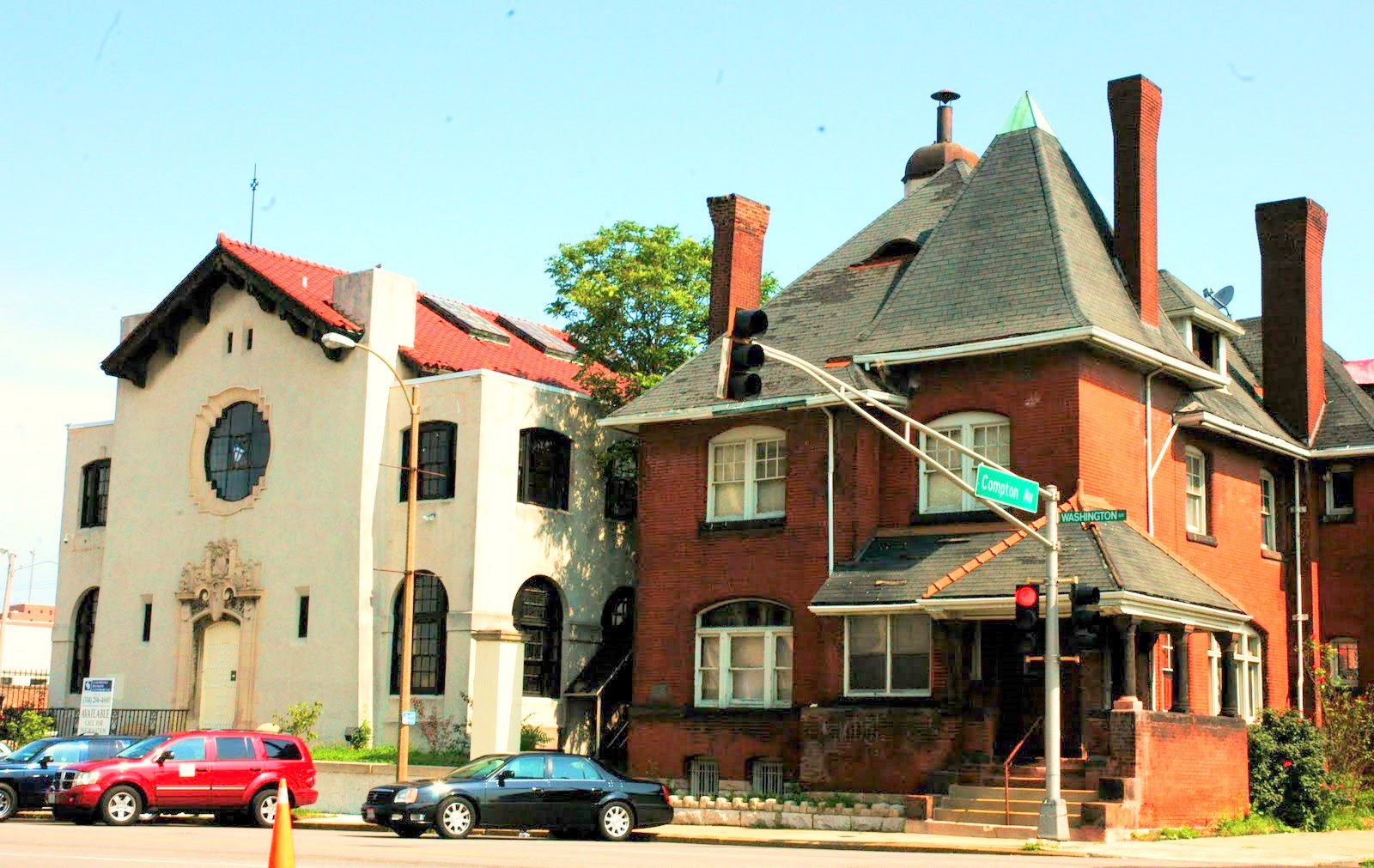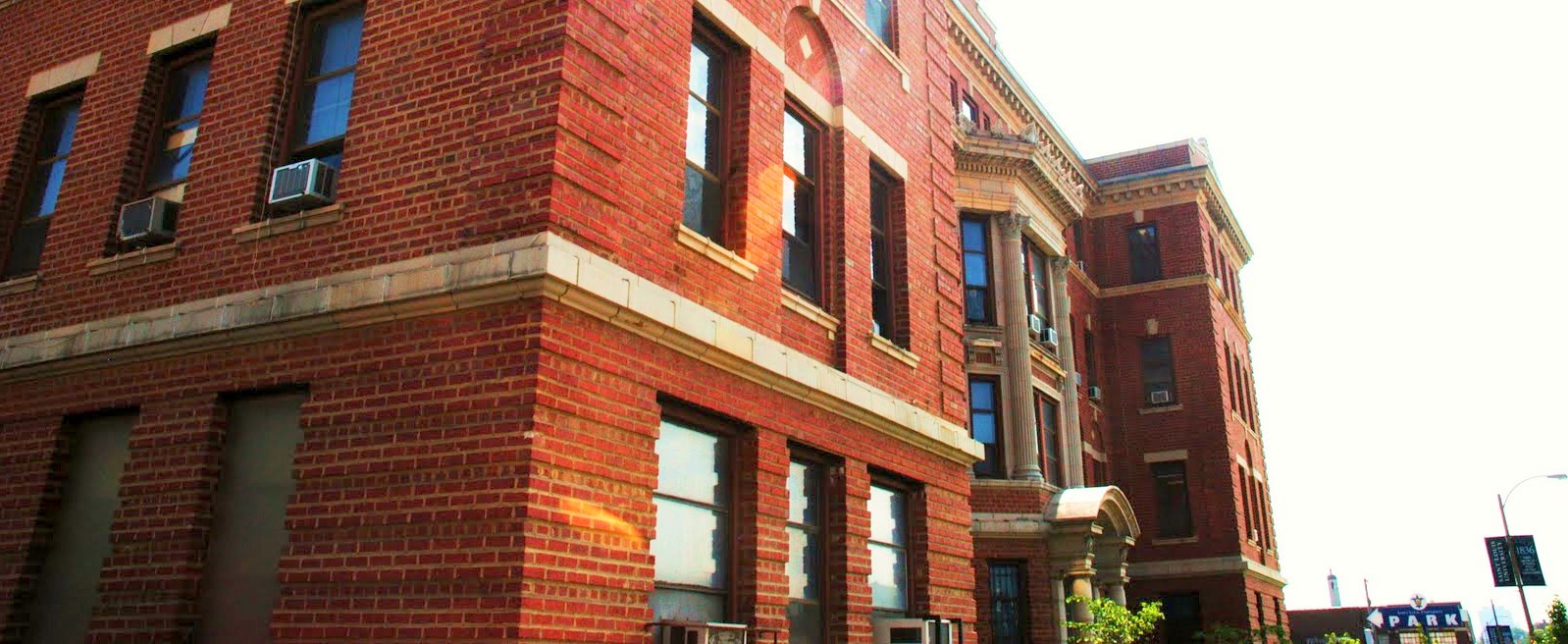 St. Louis University still has a big presence here. As much as I love SLU and want them to do well, they are freakishly obsessed with surface parking lots. Unfortunately, they are dead set on destruction of historic buildings in favor of catering to visitors and tourists that spend a mere matter of hours here and don't live here. They love branding the lots too: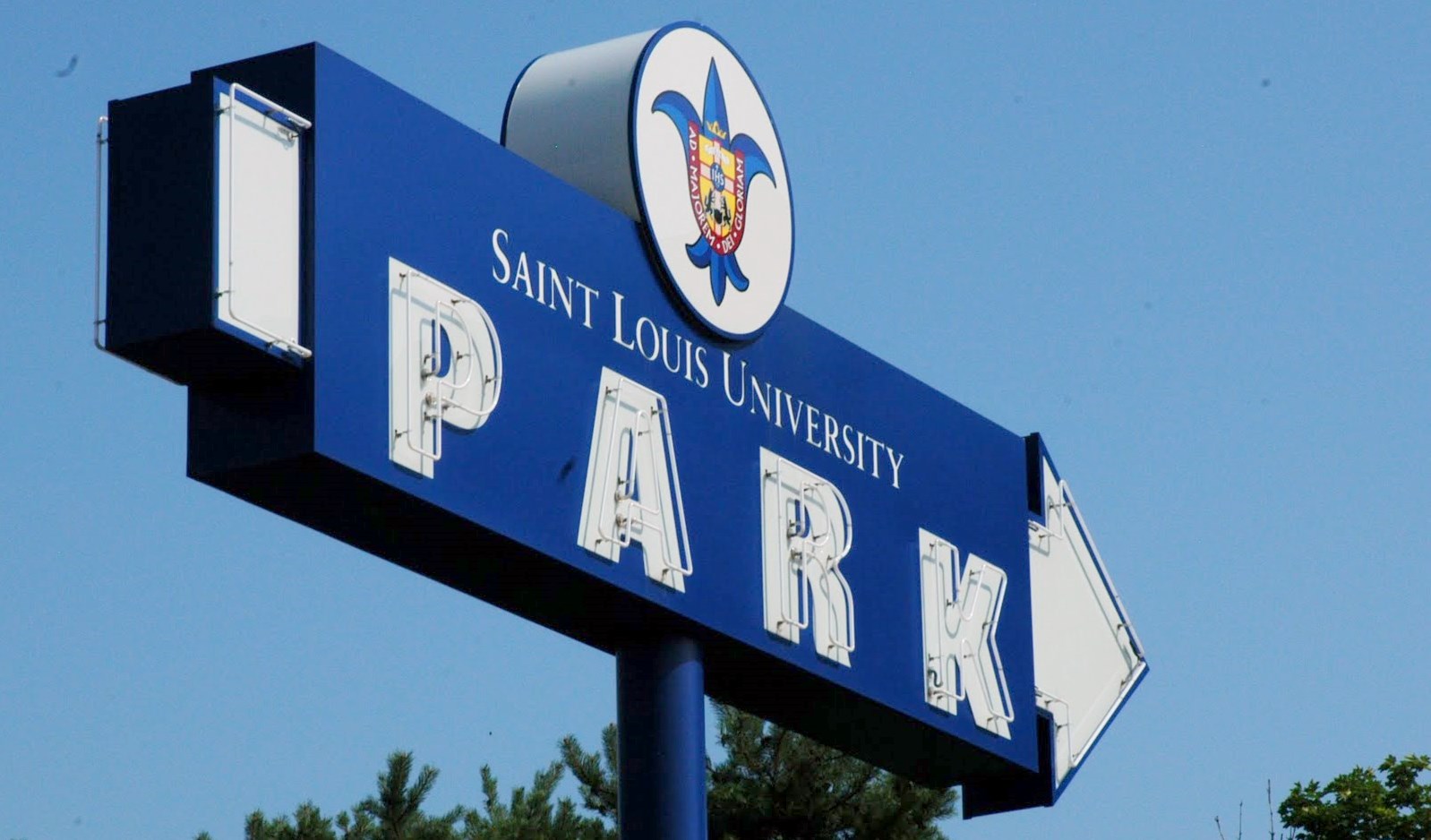 There are so many parking lots in the neighborhood that Brent Jones at the St. Louis Beacon recently did a parking audit and found 4,200 spaces. Each of those and more may well be needed, but the surface lots should begin to go.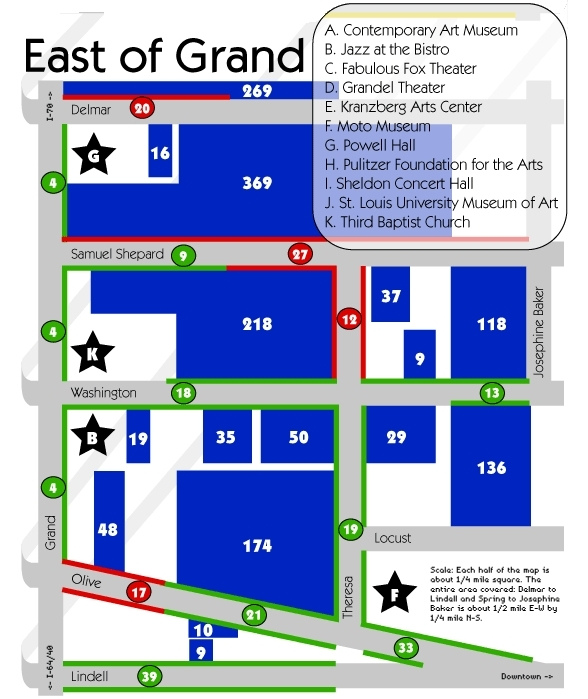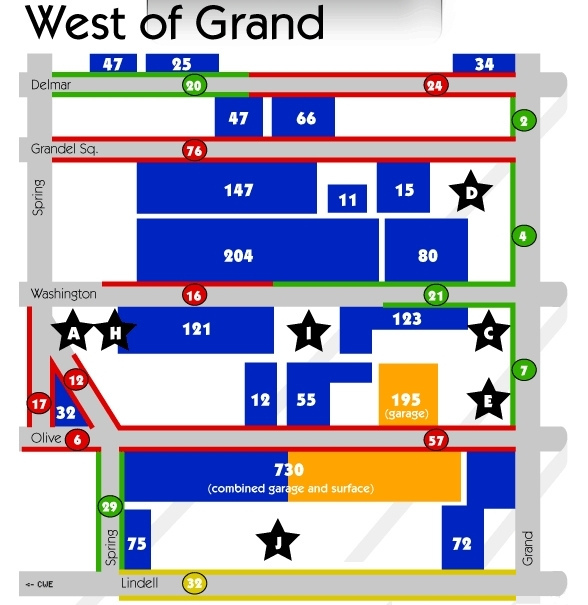 The parking signs are actually pretty cool. But it just seems like such a waste. How many shows do the Fox and SLSO book in a year? Seems like a high price to pay. But, we can reverse the trend, right? Build a large multi-level parking garage with street level retail and be done with it. Well moneyed and vocal people from the suburbs are scared to walk a block to get to their destination, and it hurts our heritage and historic continuity of our city.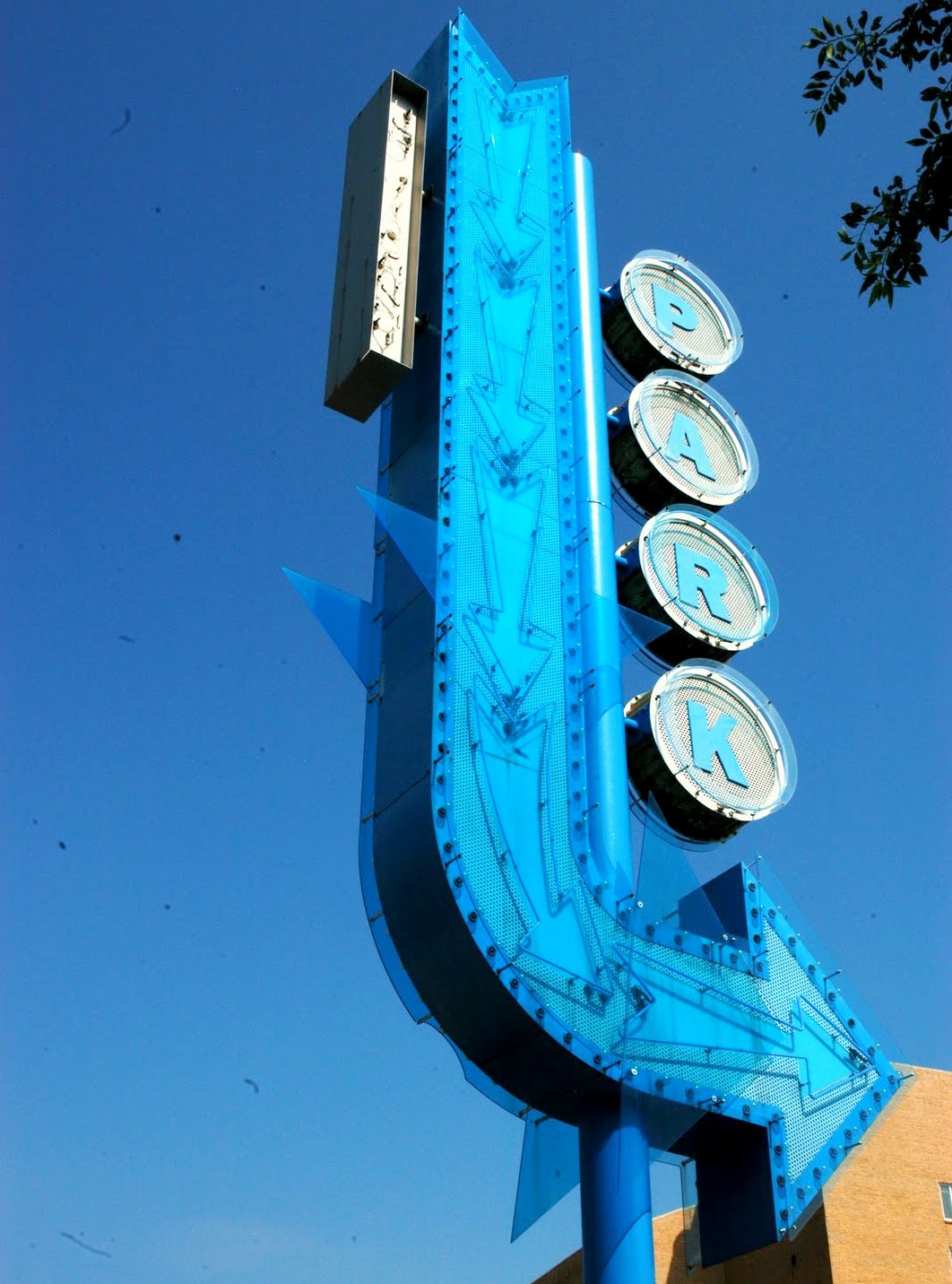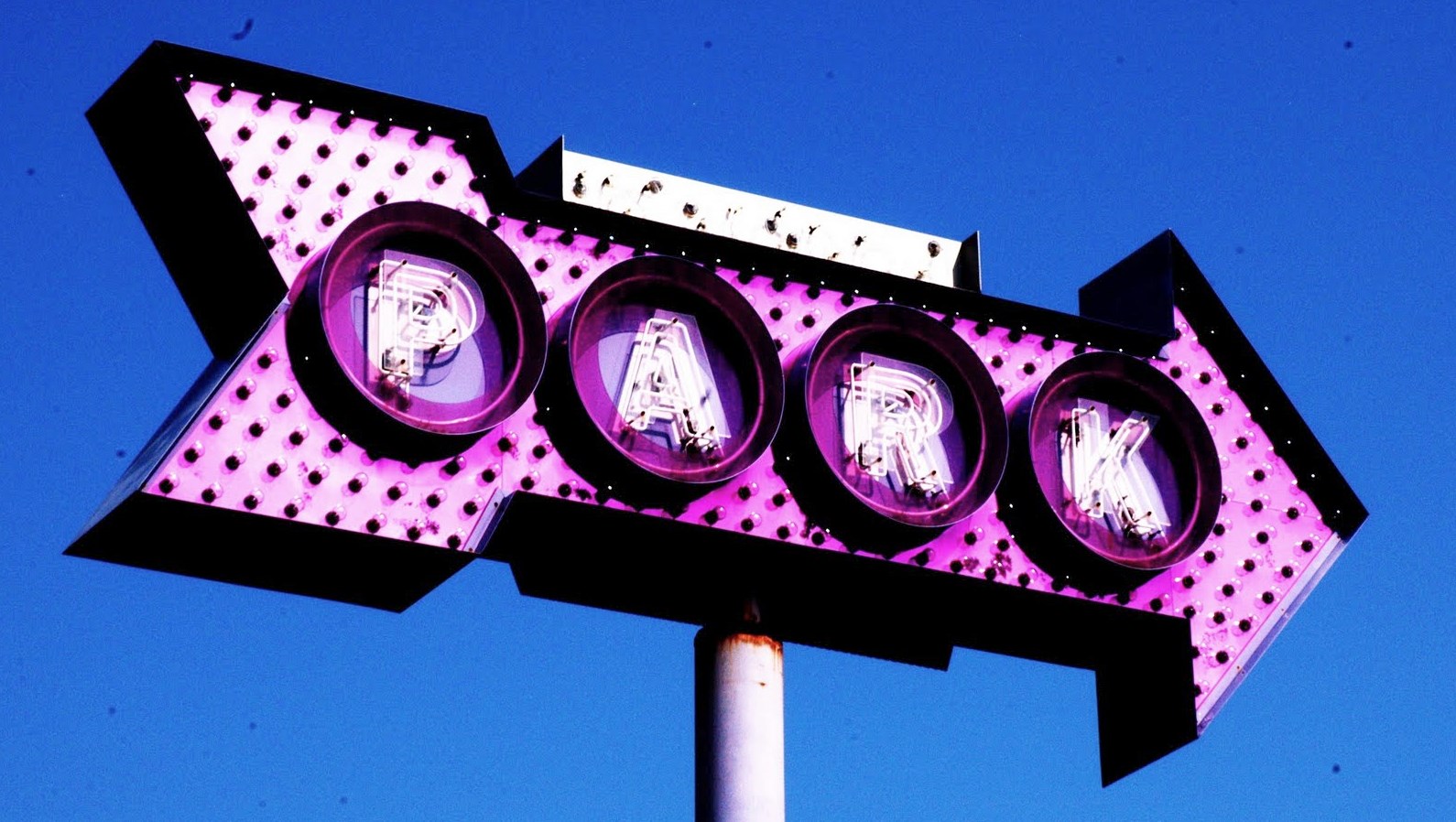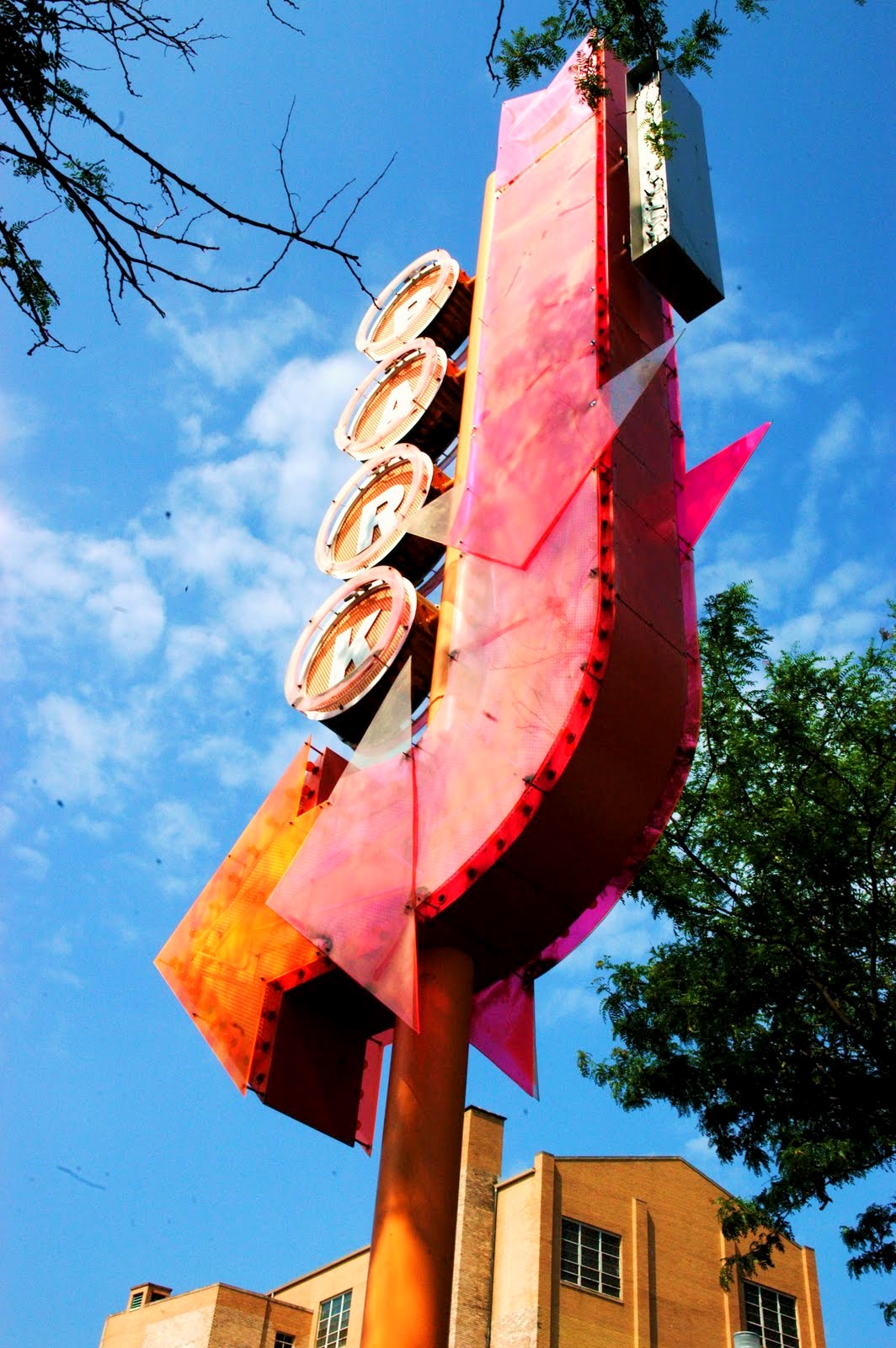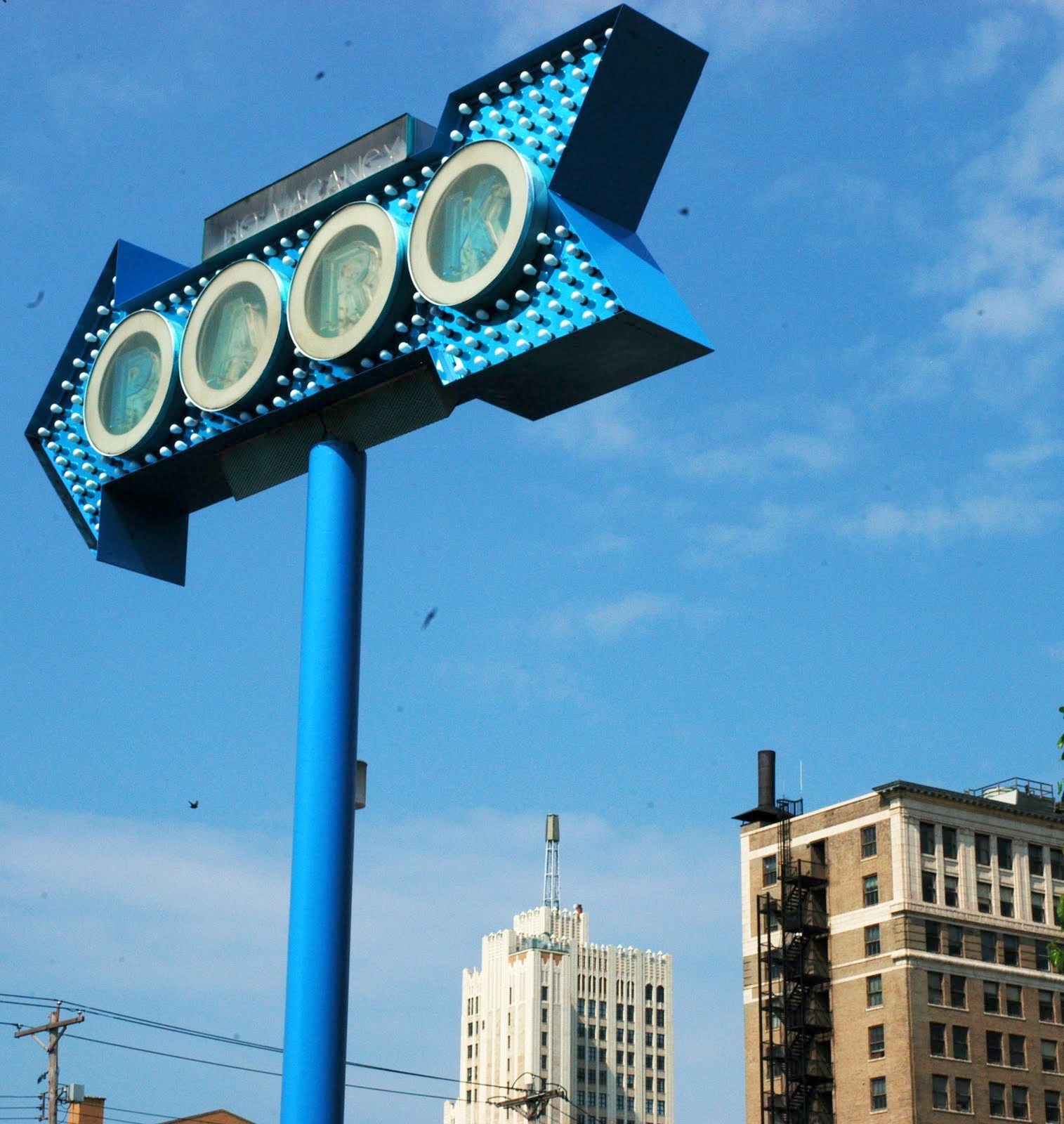 SLU also recently demolished the Livery Stable, built in 1885 to board the horses of wealthy St. Louisians who once populated the Grand Center area. In addition, an alley was vacated, giving visitors one less option in navigating Grand Center. The demolition was not without protest, and at least one architect offered an alternative option for rehabilitation. Photos are from Vanishing STL.
Before: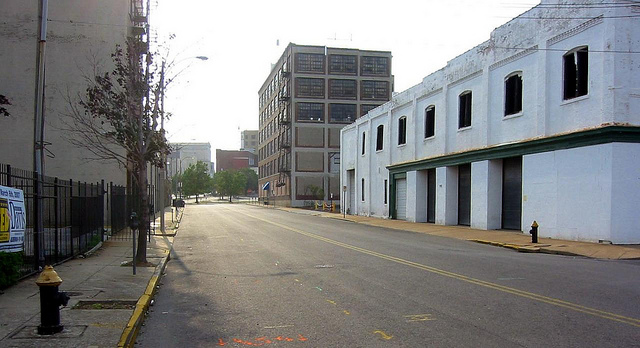 Rendering of possible renovation: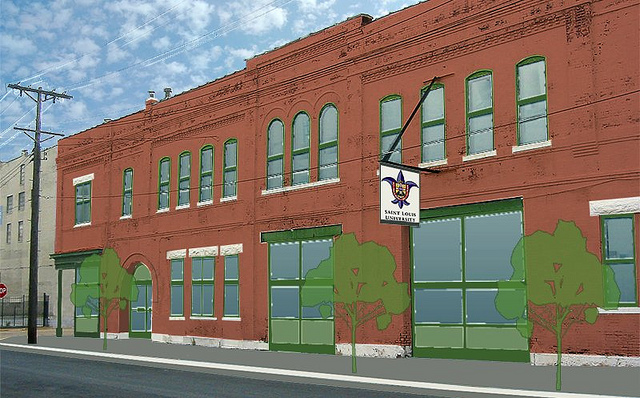 The parking lot after demolition: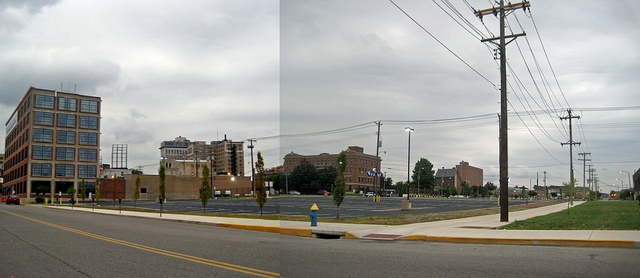 All right, now it's time for a little more not so good news. There is some bad suburban stuff dropped right in the middle of CBGC called (I believe) Compton Place. It's not my style and it adds nothing to St. Louis' resume as one the finest architectural cities in the country, but there are there are the old gems north, south and west of this large "community". Several developments are the work of local developer McCormack Baron Salazar and seem to be well above average for low-income housing.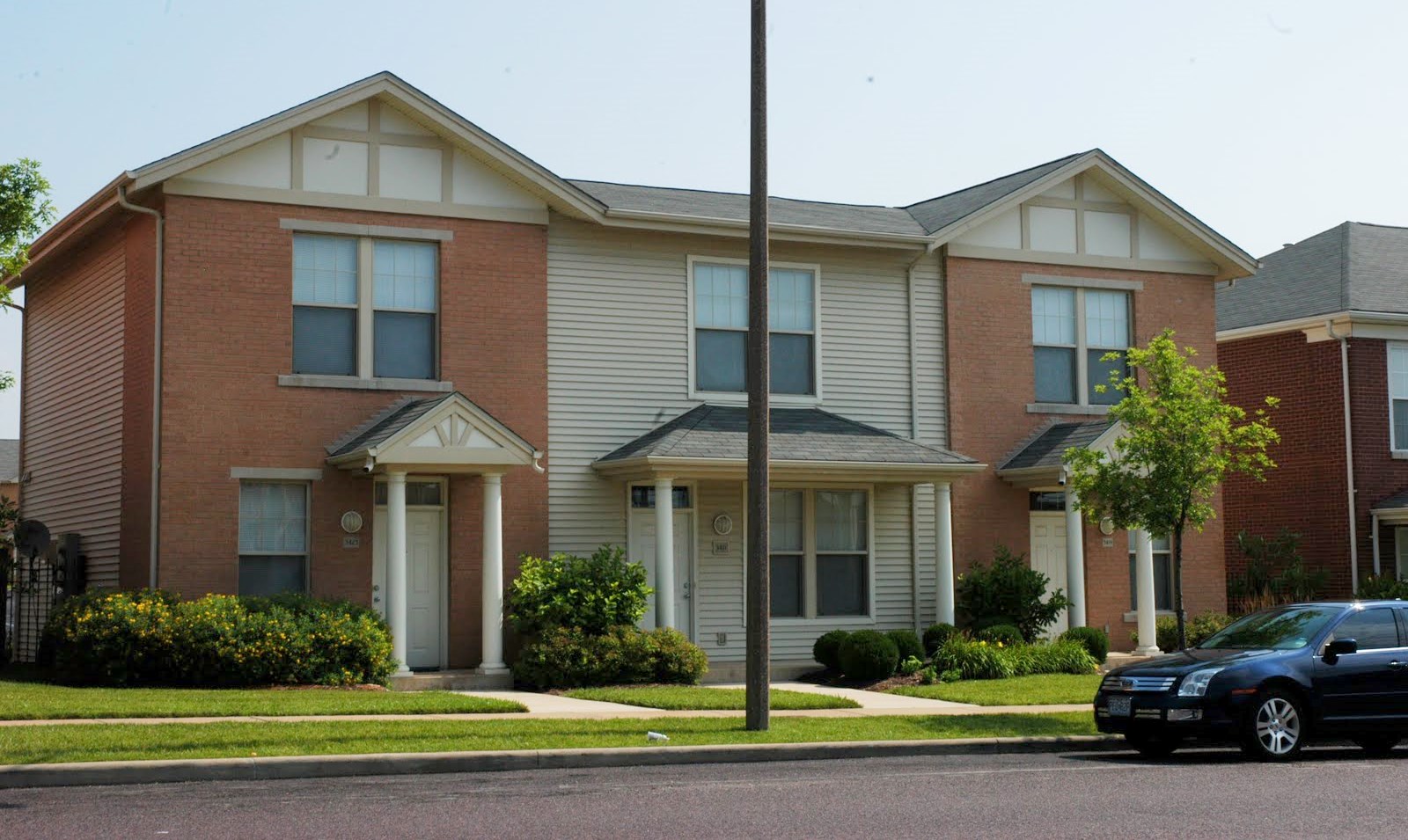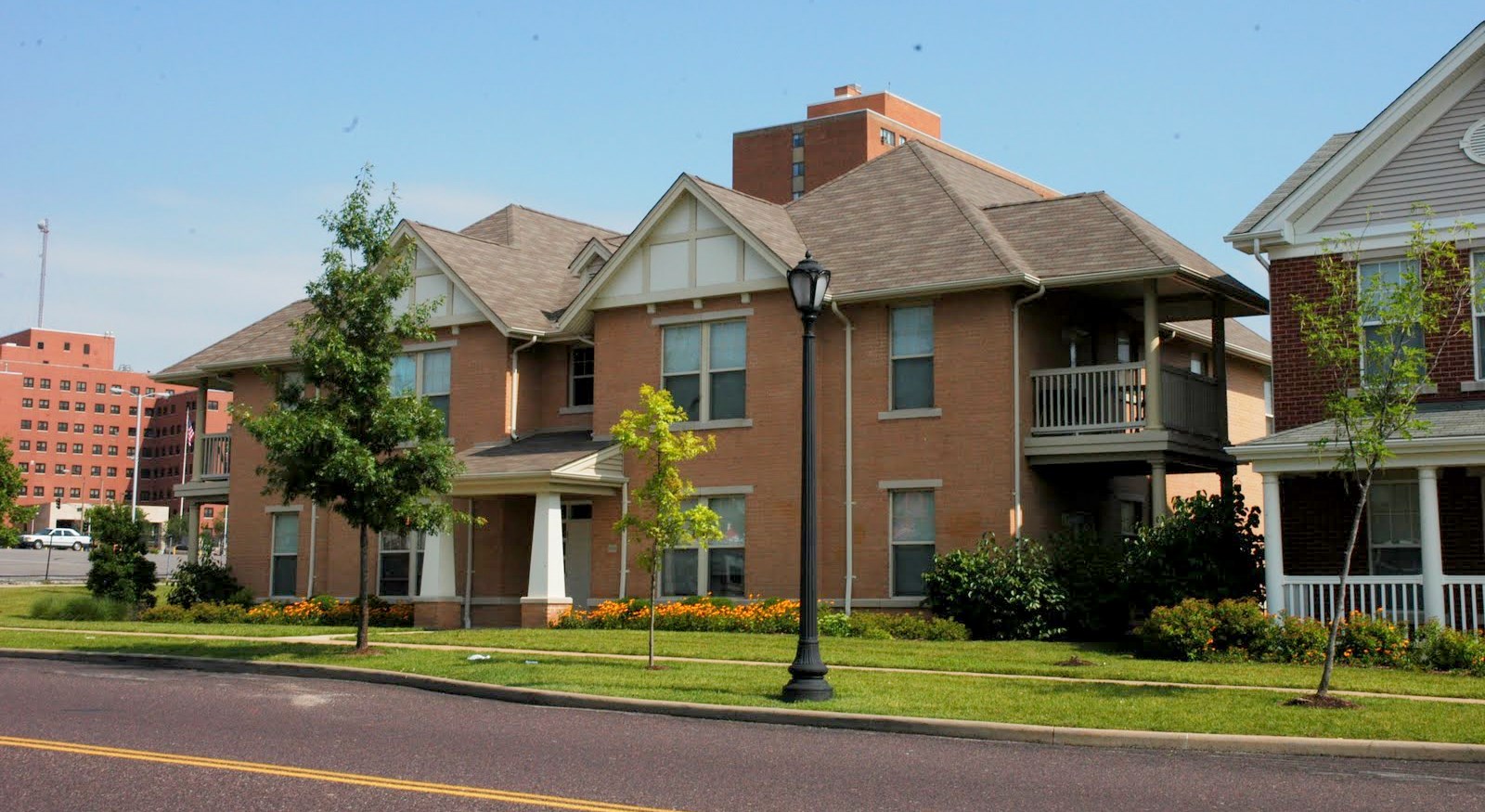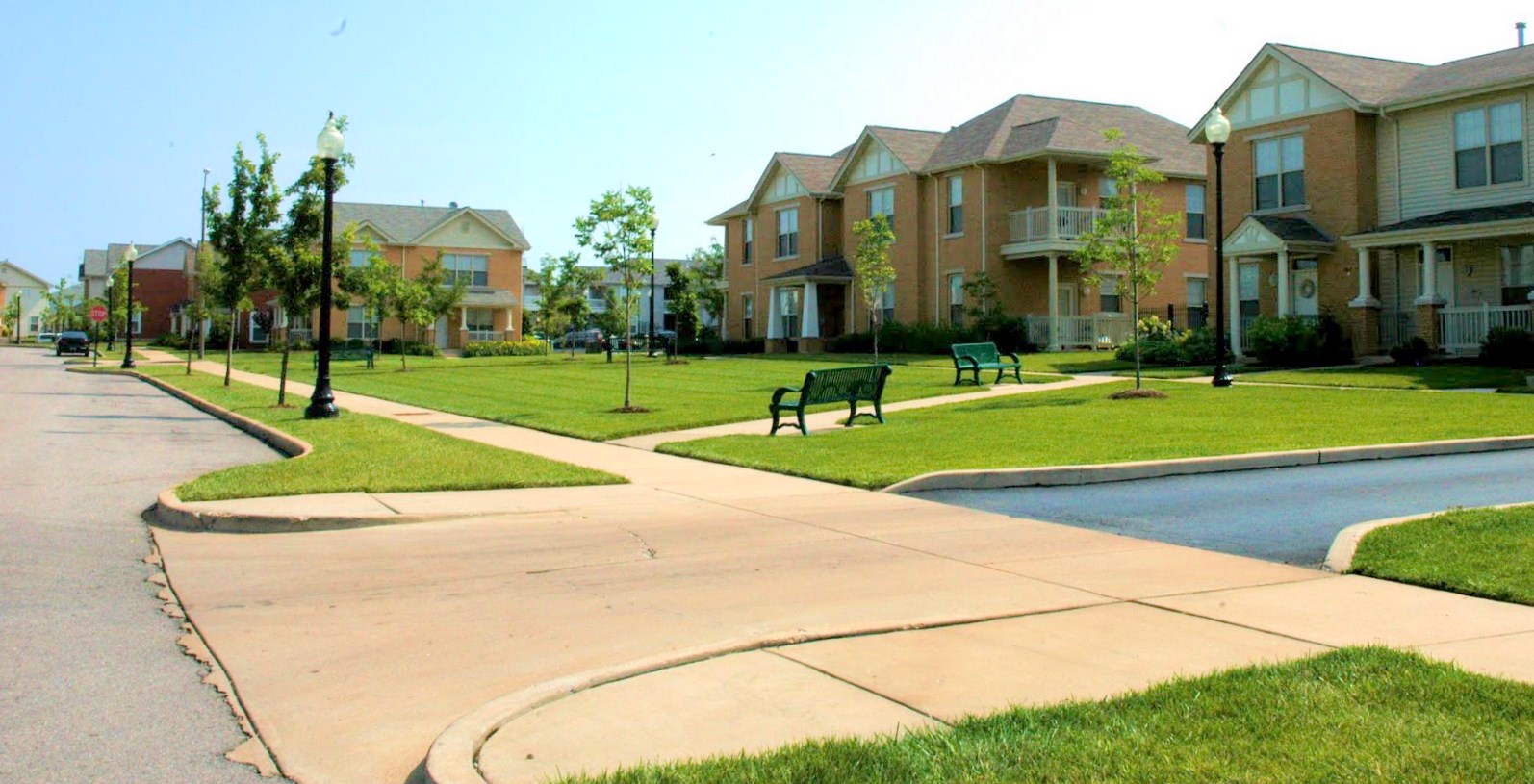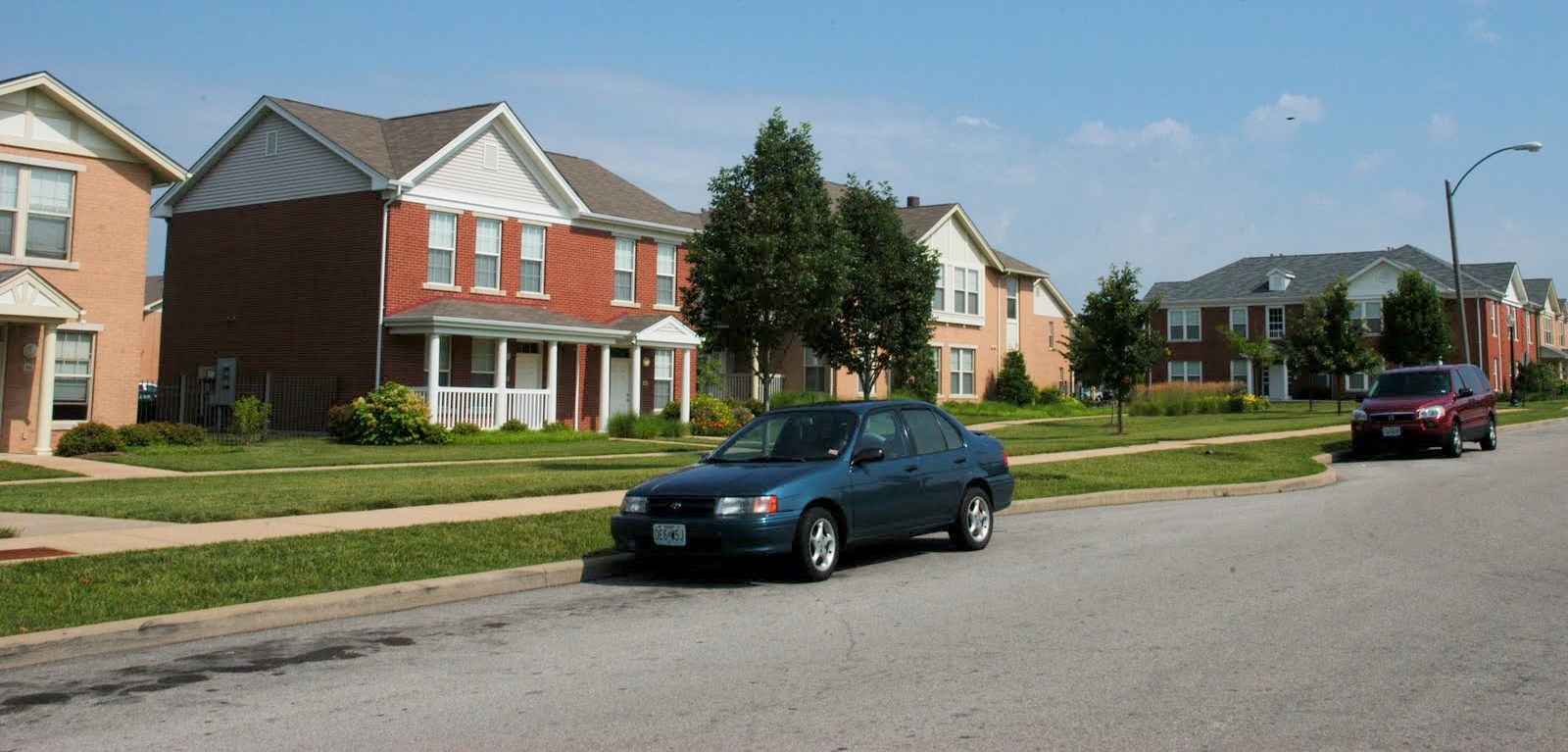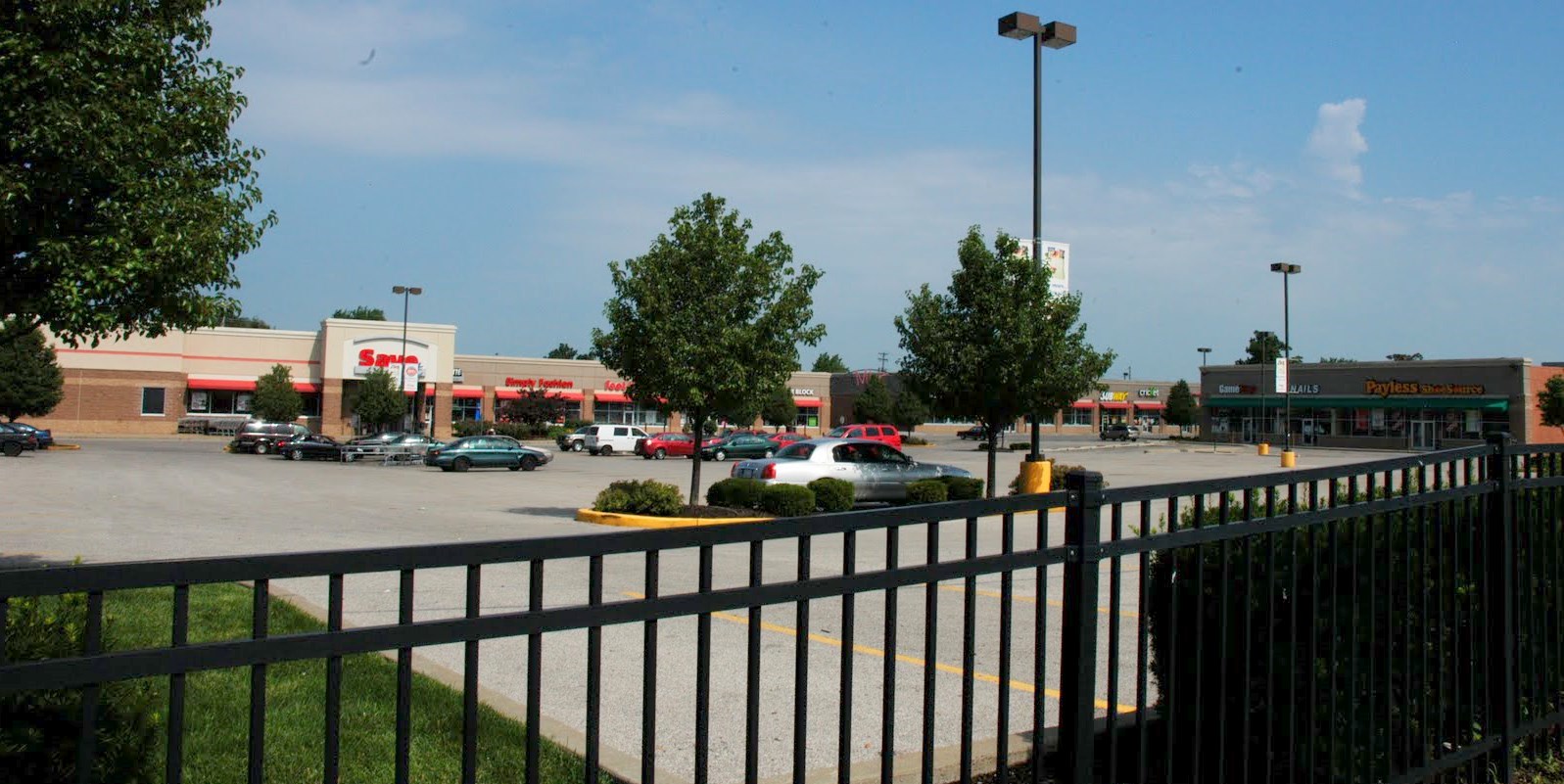 Urbanist types are critical of faux-historic new housing, but I think it works way better than the previous example. Here's what I mean: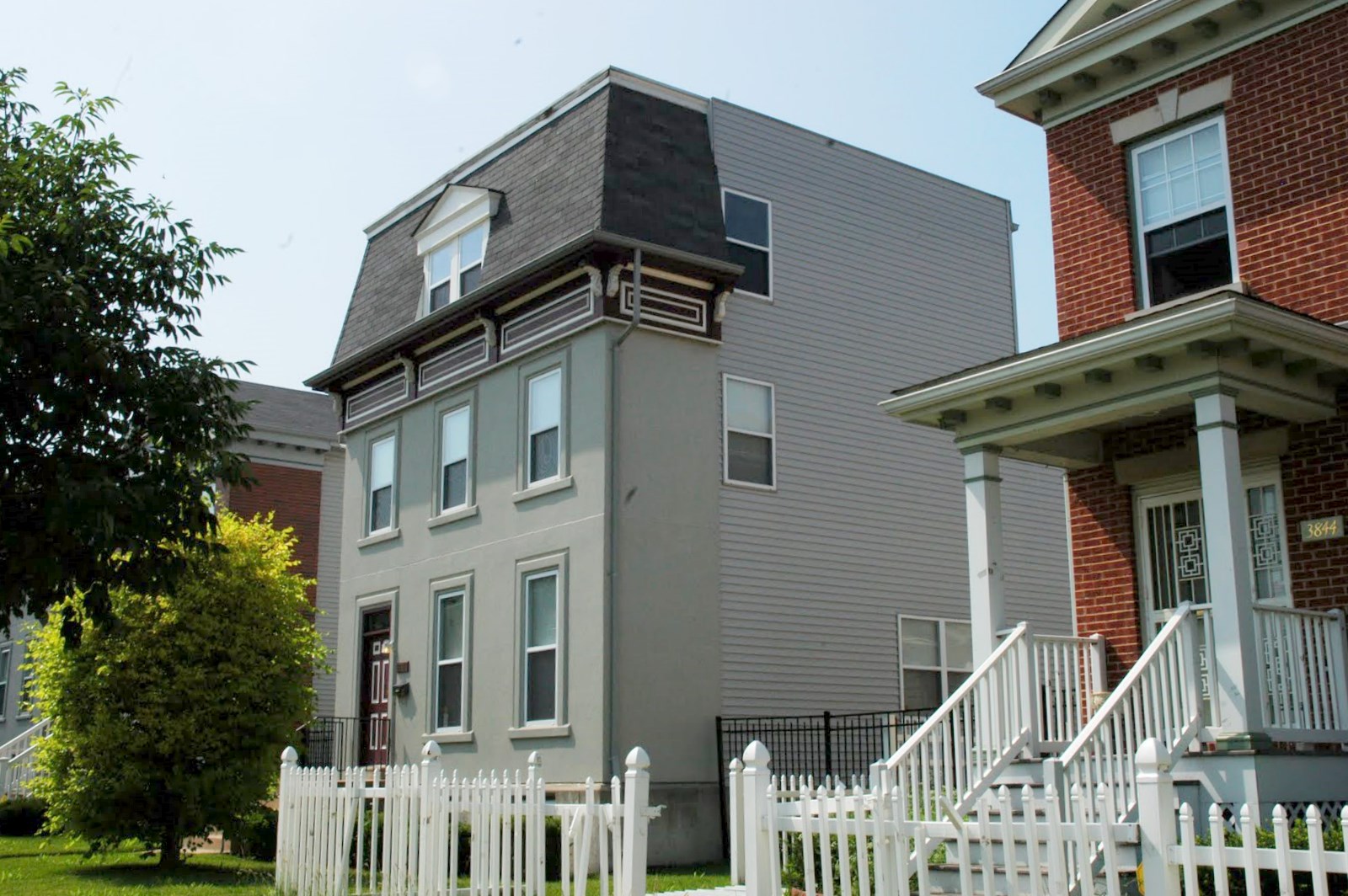 Although, my preference for infill is more on the mod/cutting edge contemporary design: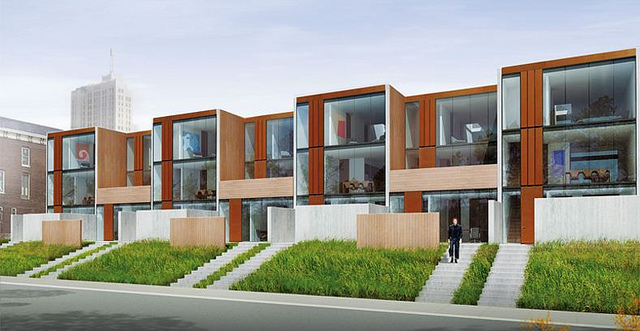 Man, wouldn't that be a sweet place to live? This is the kind of daring architecture we need as infill. Since being proposed in 2009, Art House has unfortunately gone nowhere. With just six units, albeit expensive ones, only three or four likely needed to be sold to break ground. Apparently the market isn't quite ready for this. One more big plan that may or may not come to fruition.
There are streets and streets and blocks and blocks of abandoned homes north of Delmar. I hope more and more people decide to live close to the exciting, invigorating, inspiring areas of the city and choose to rehab these aging beauties.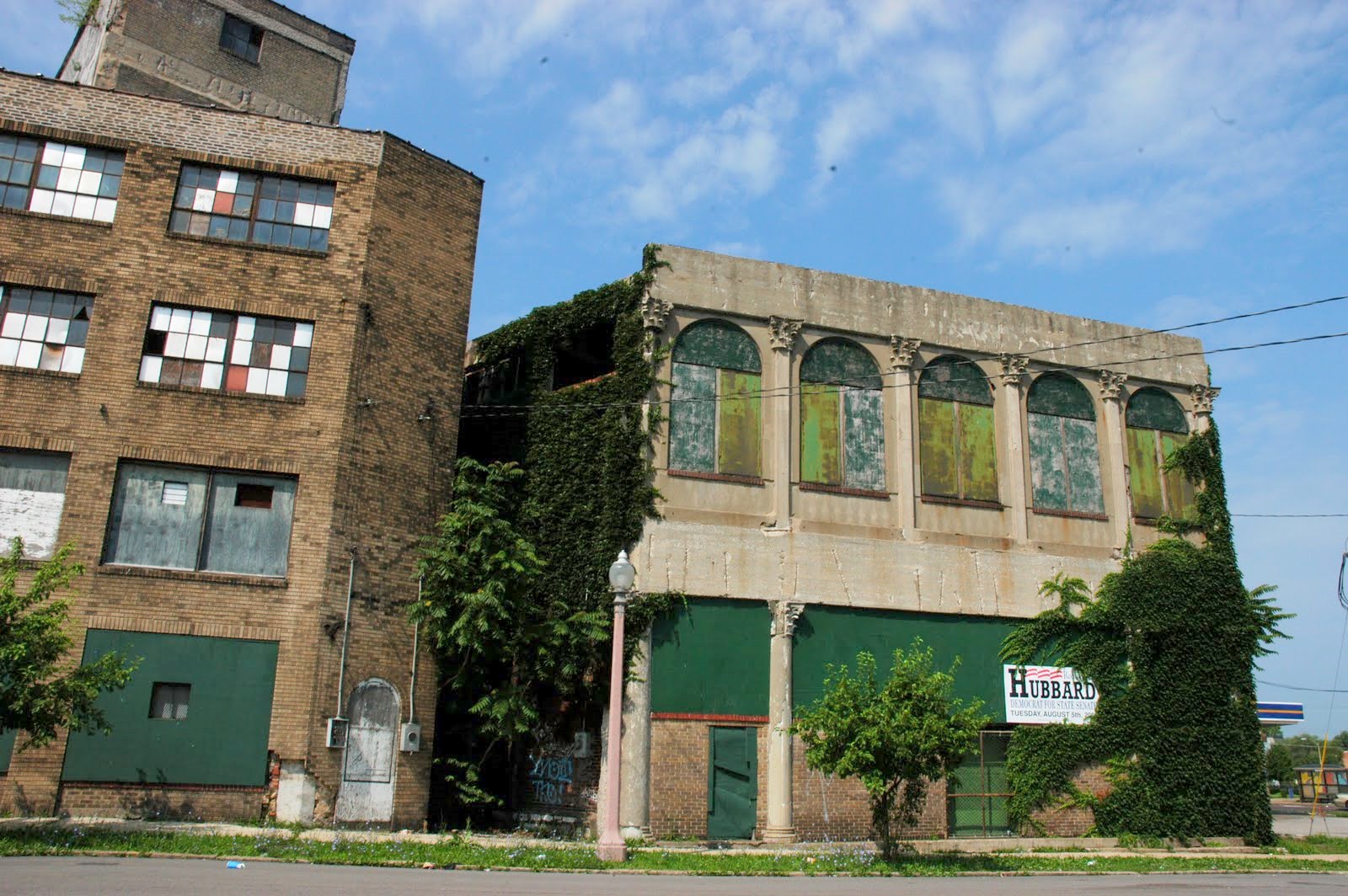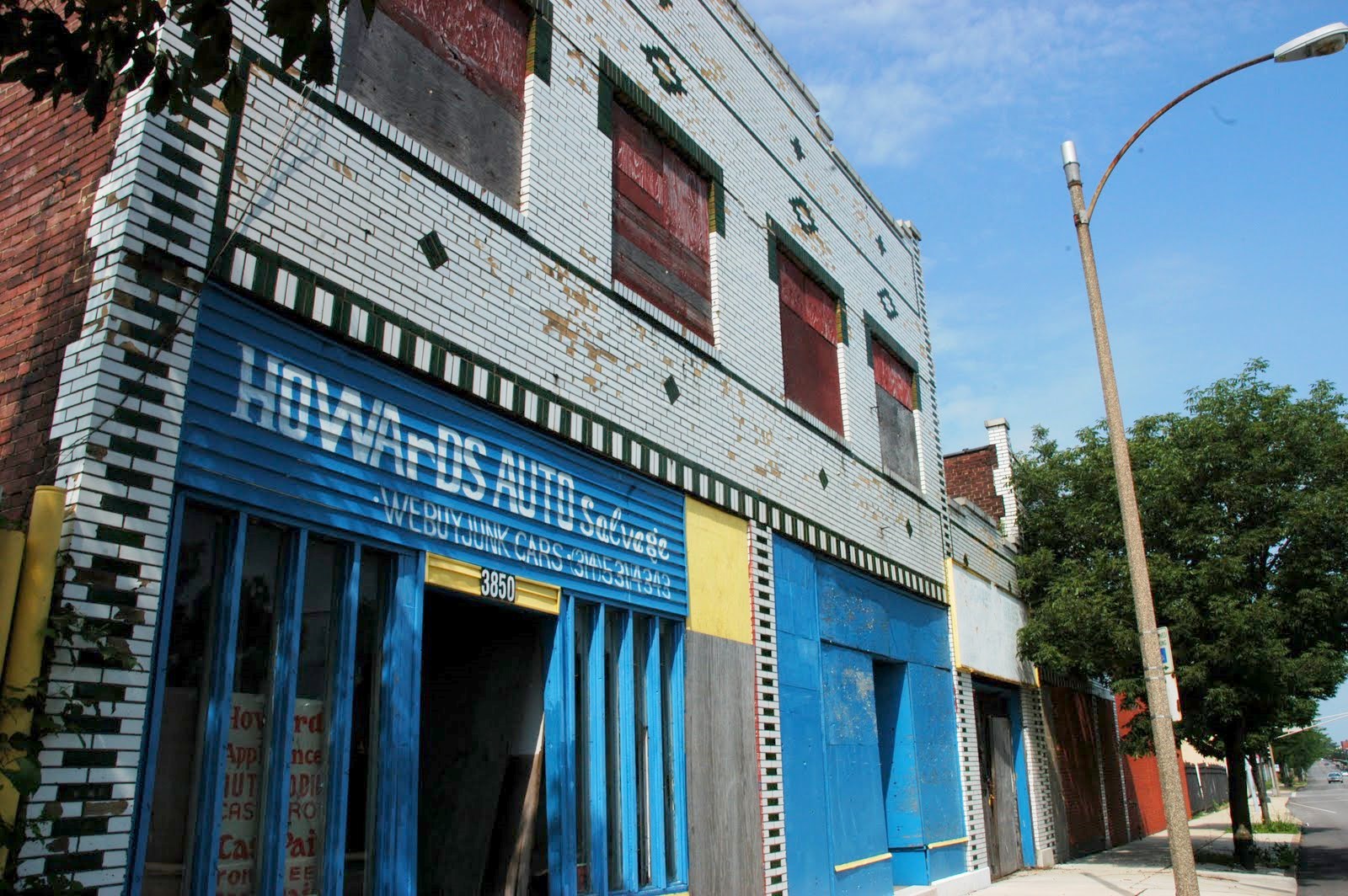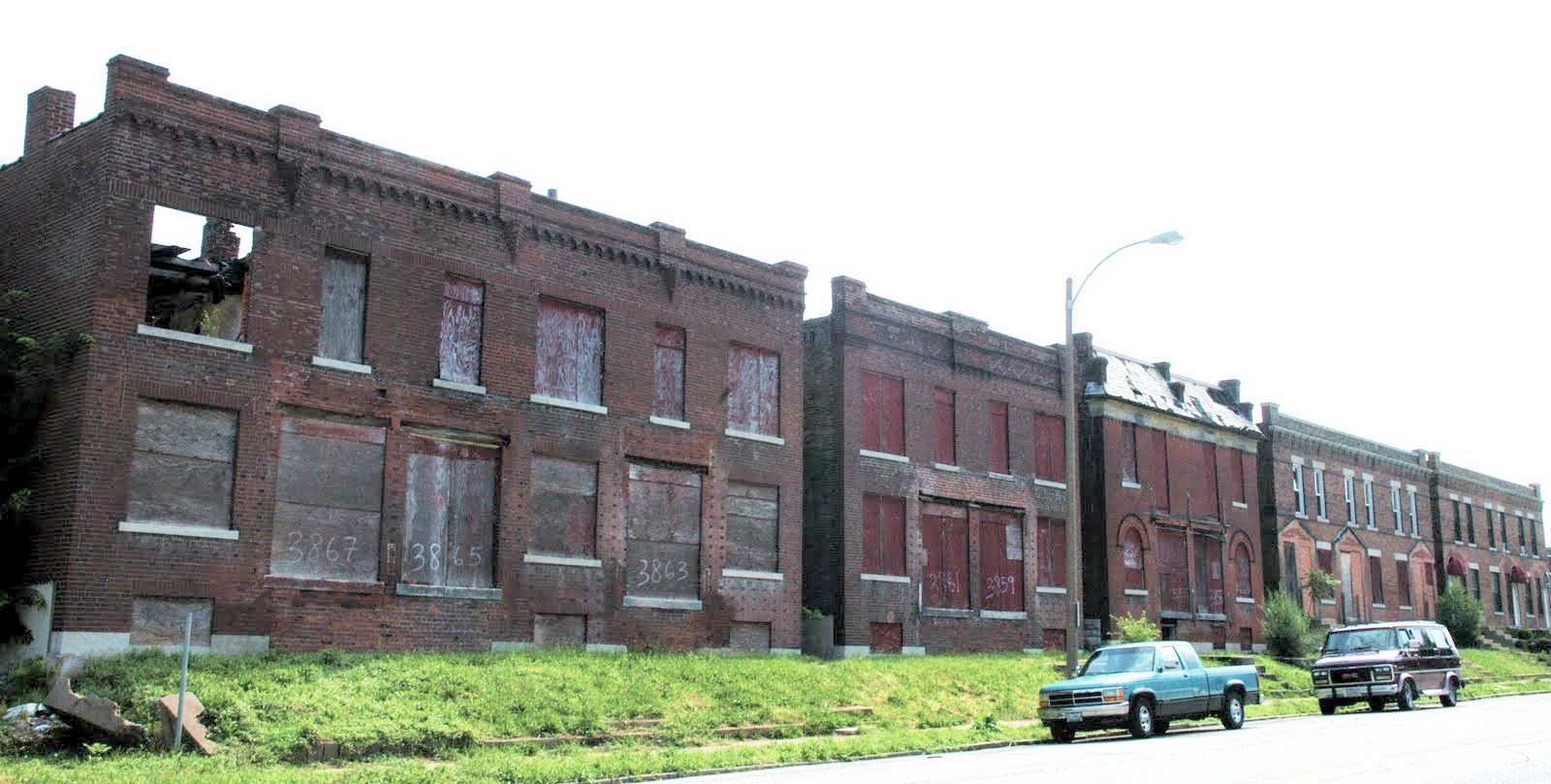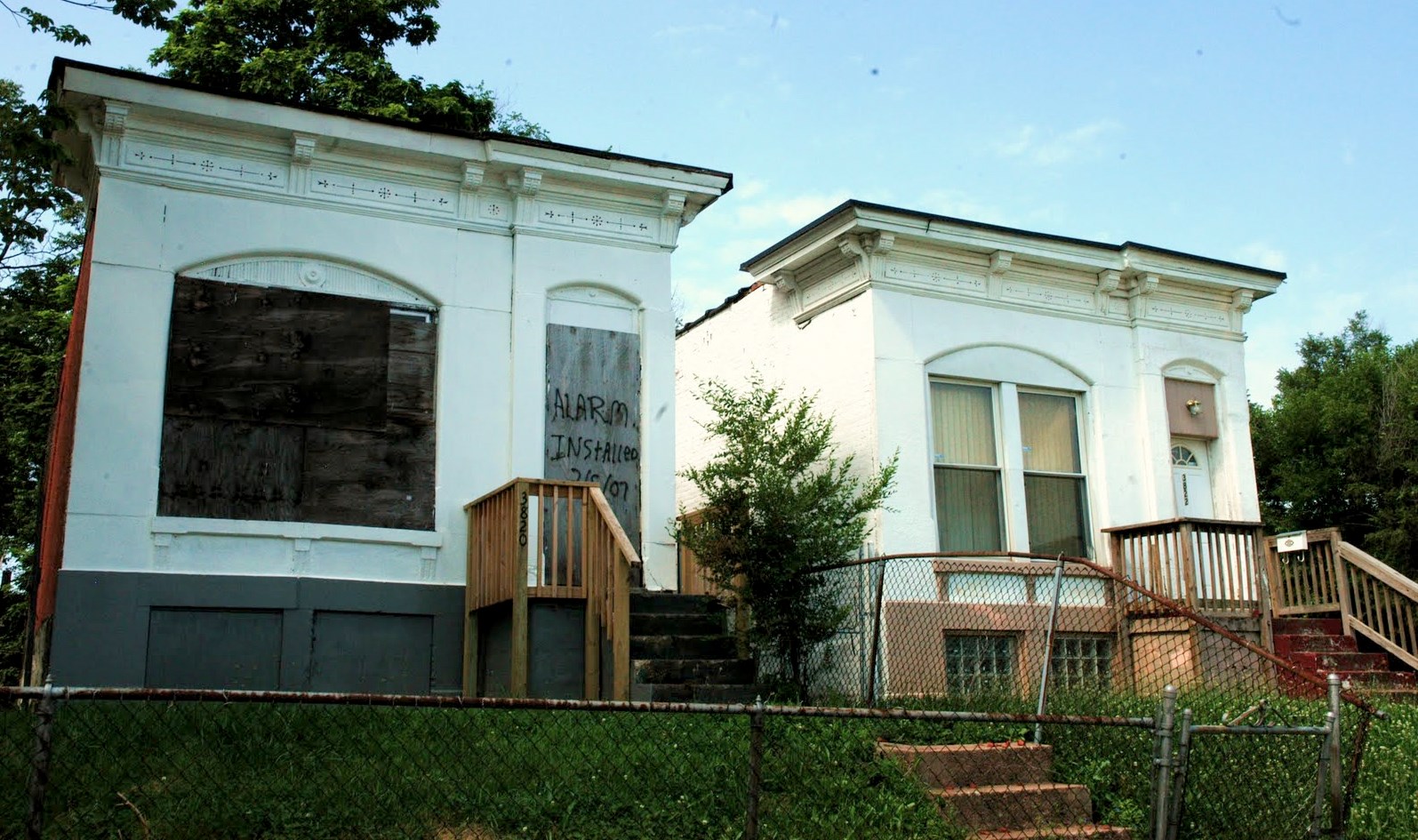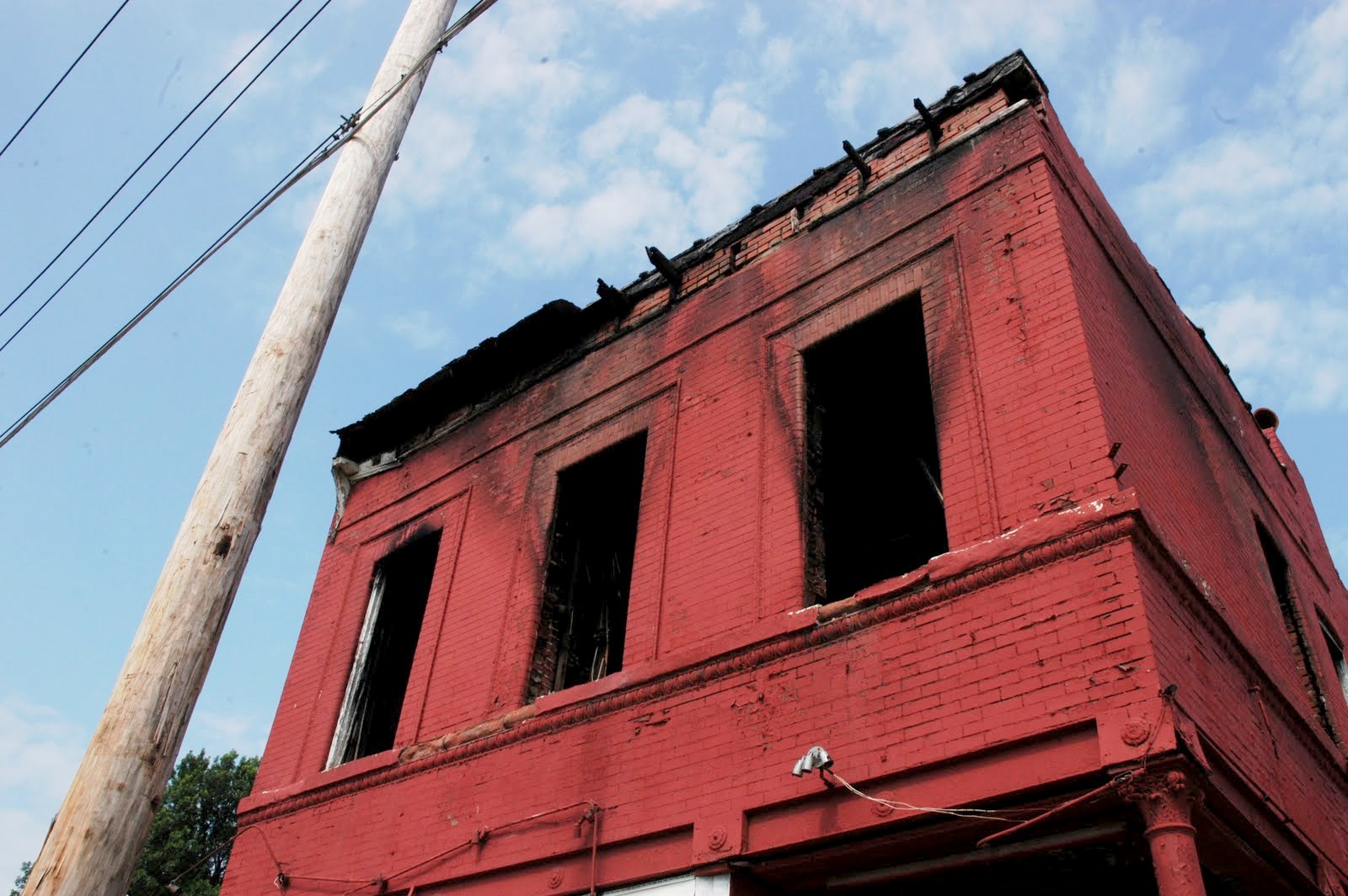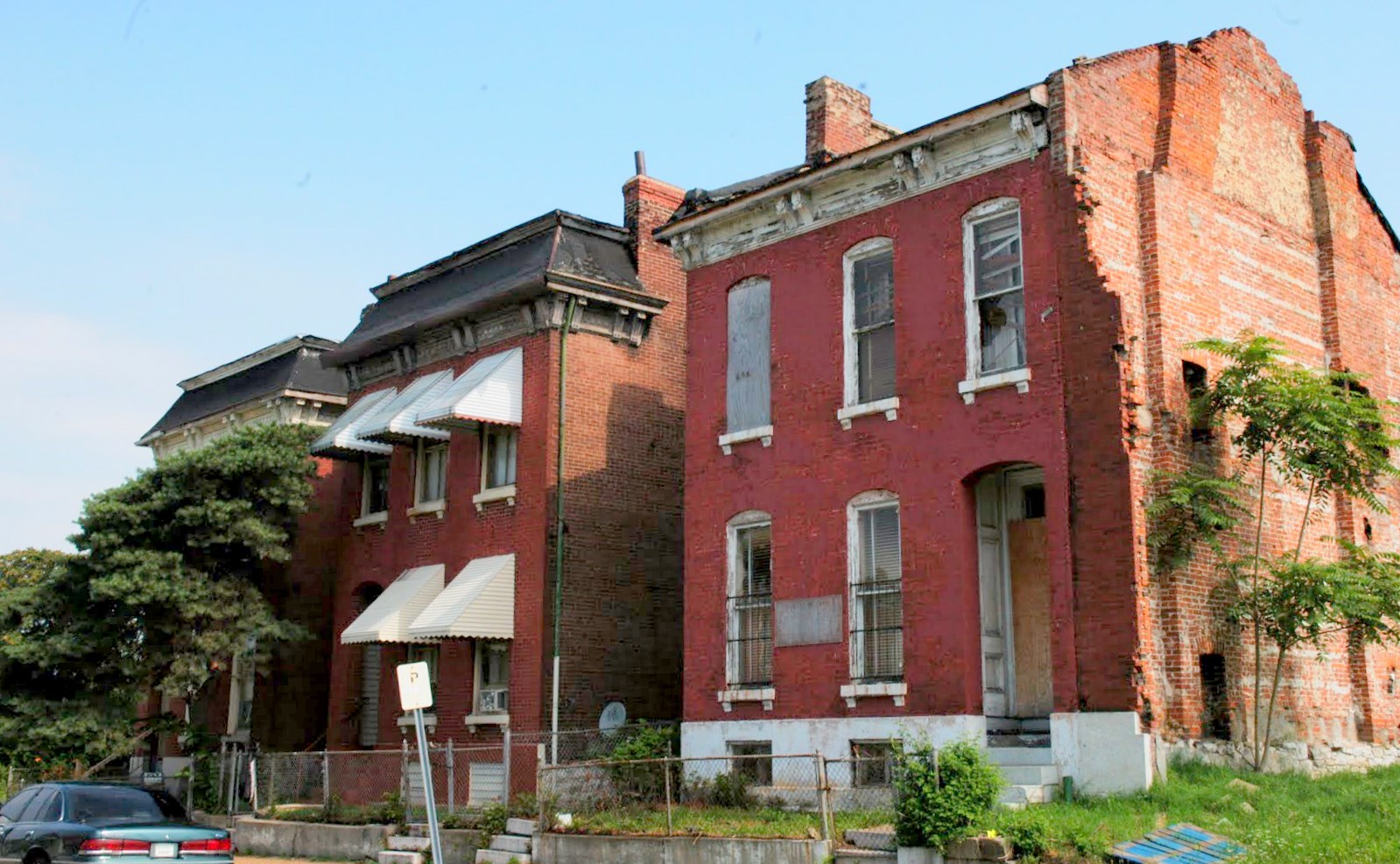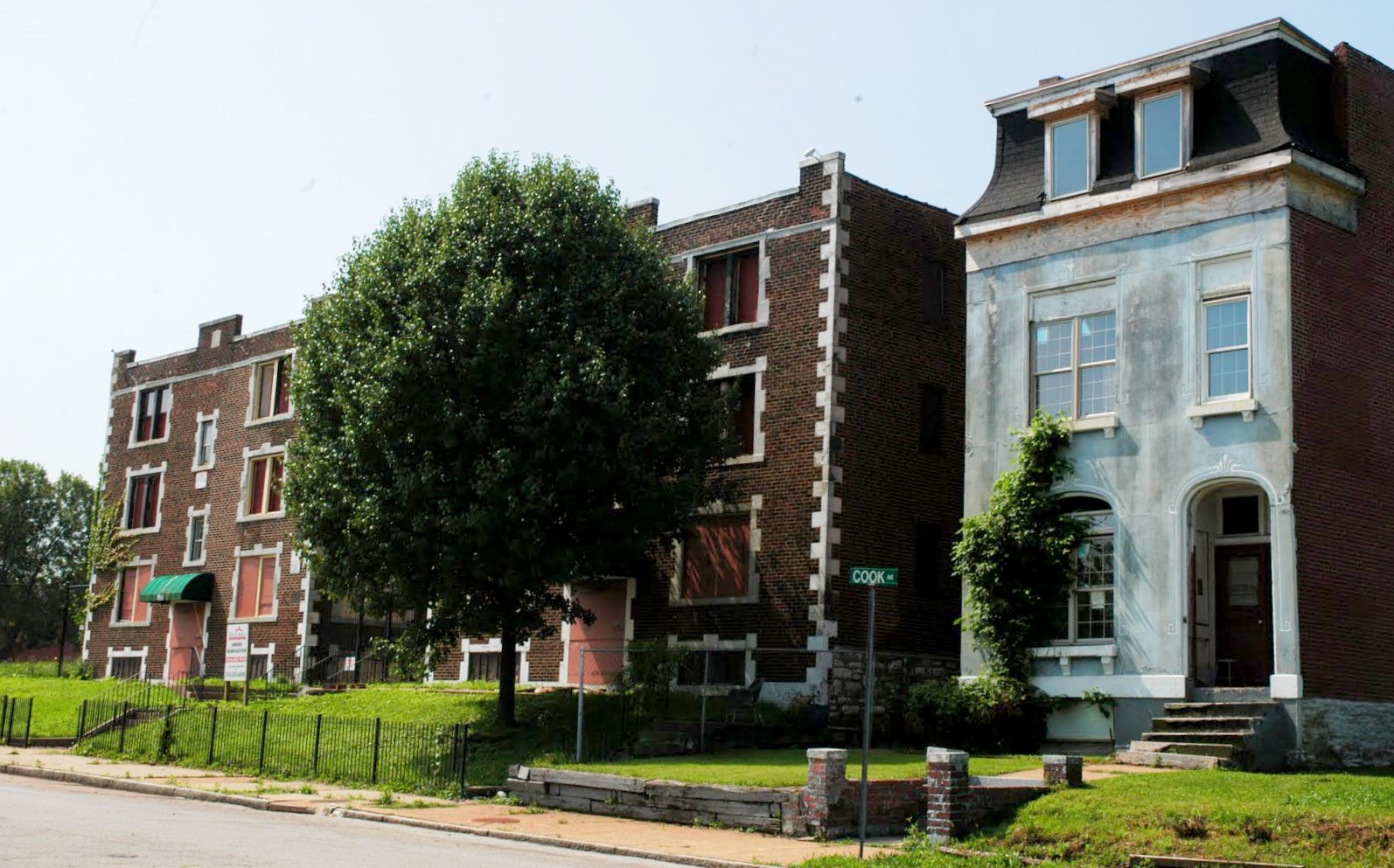 There are some nice parts of CBGC holding on: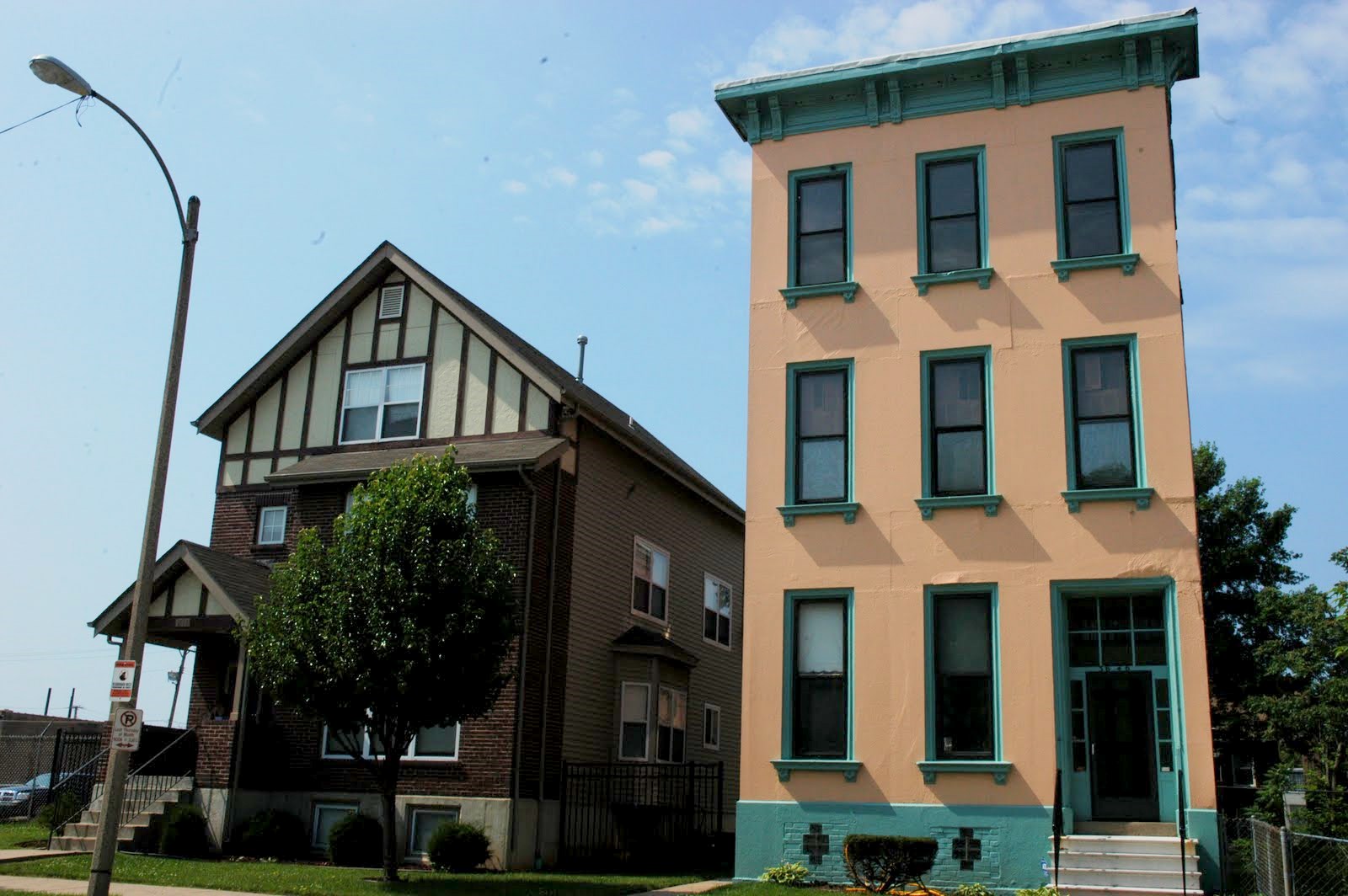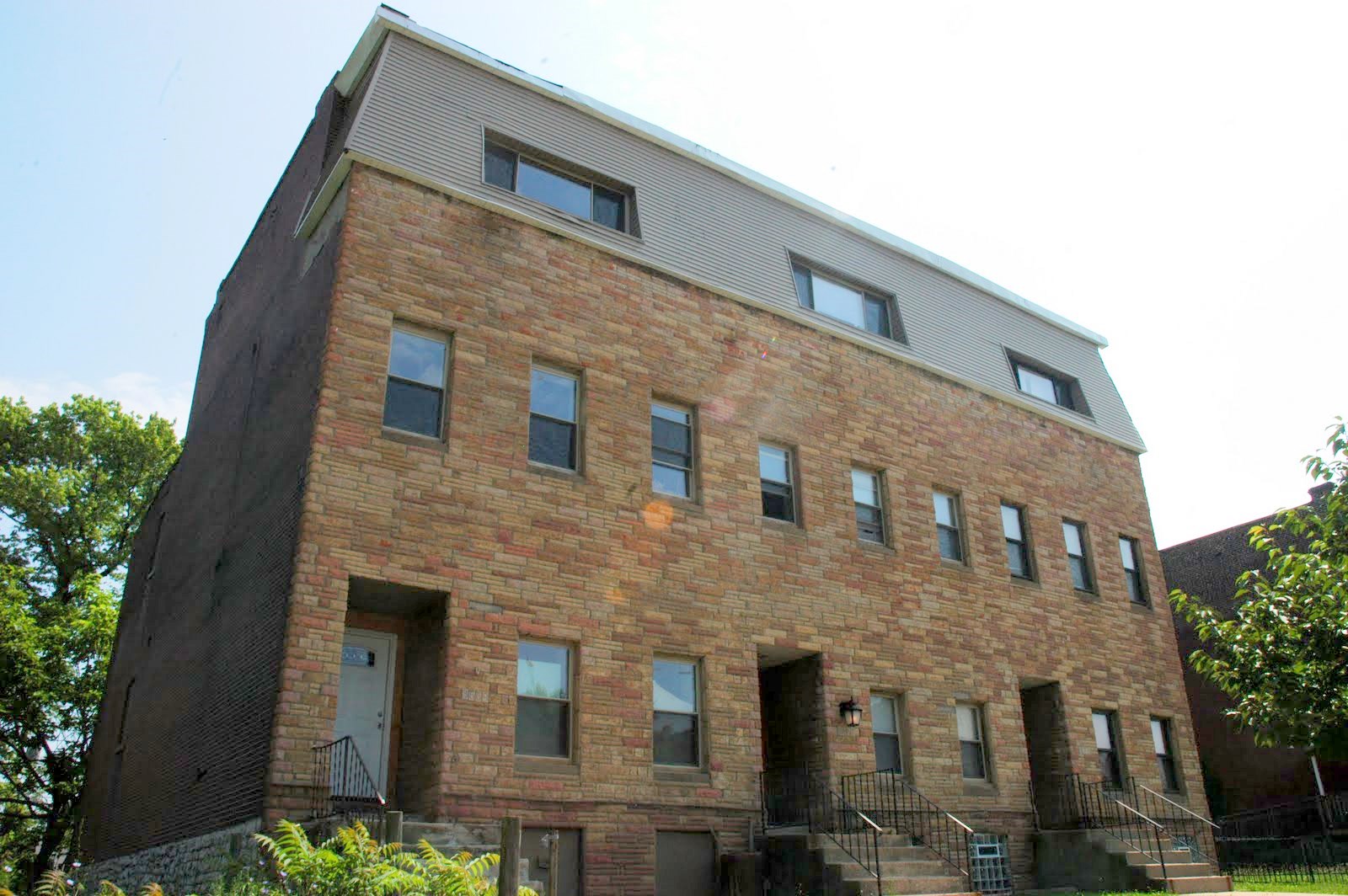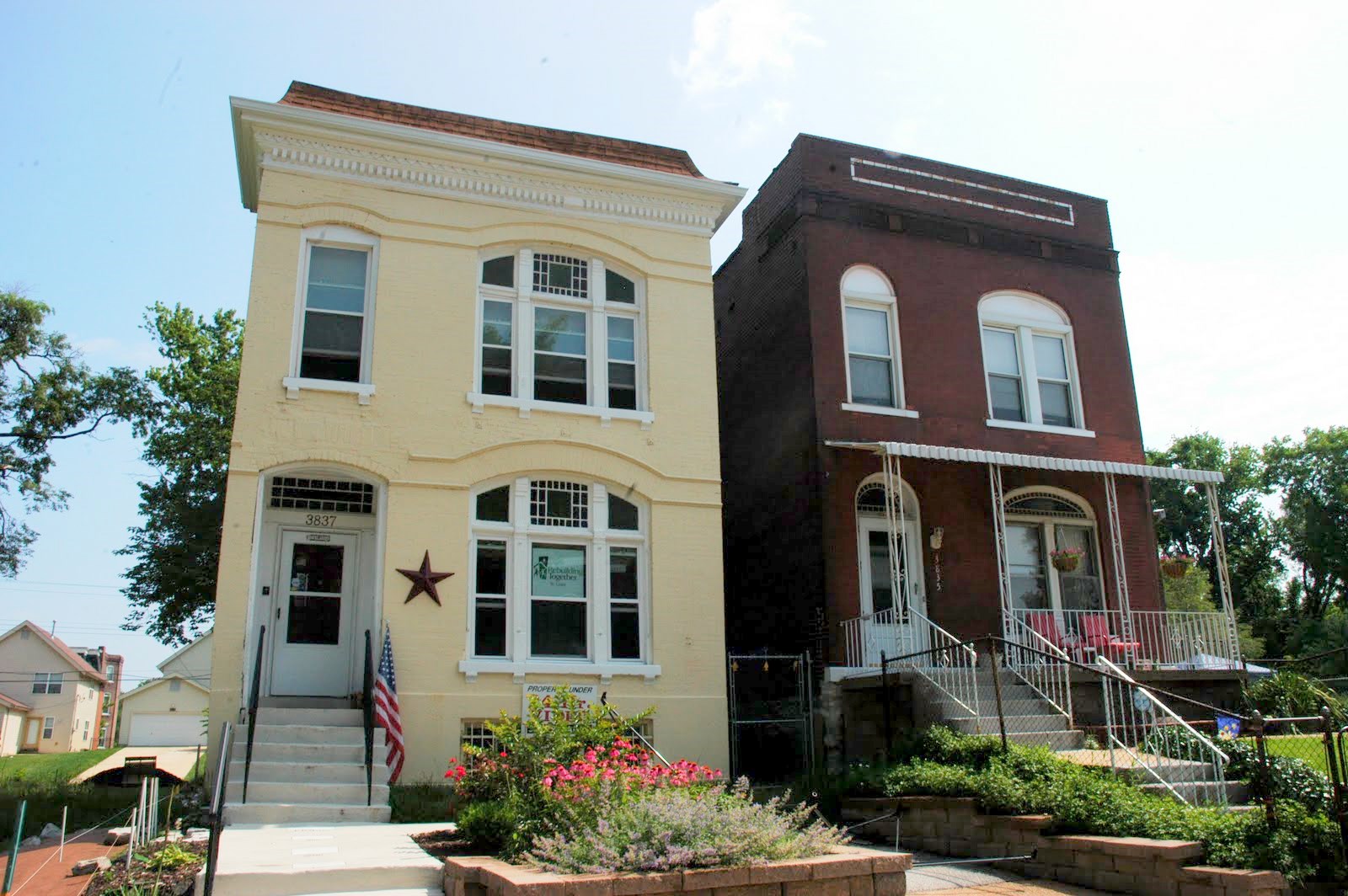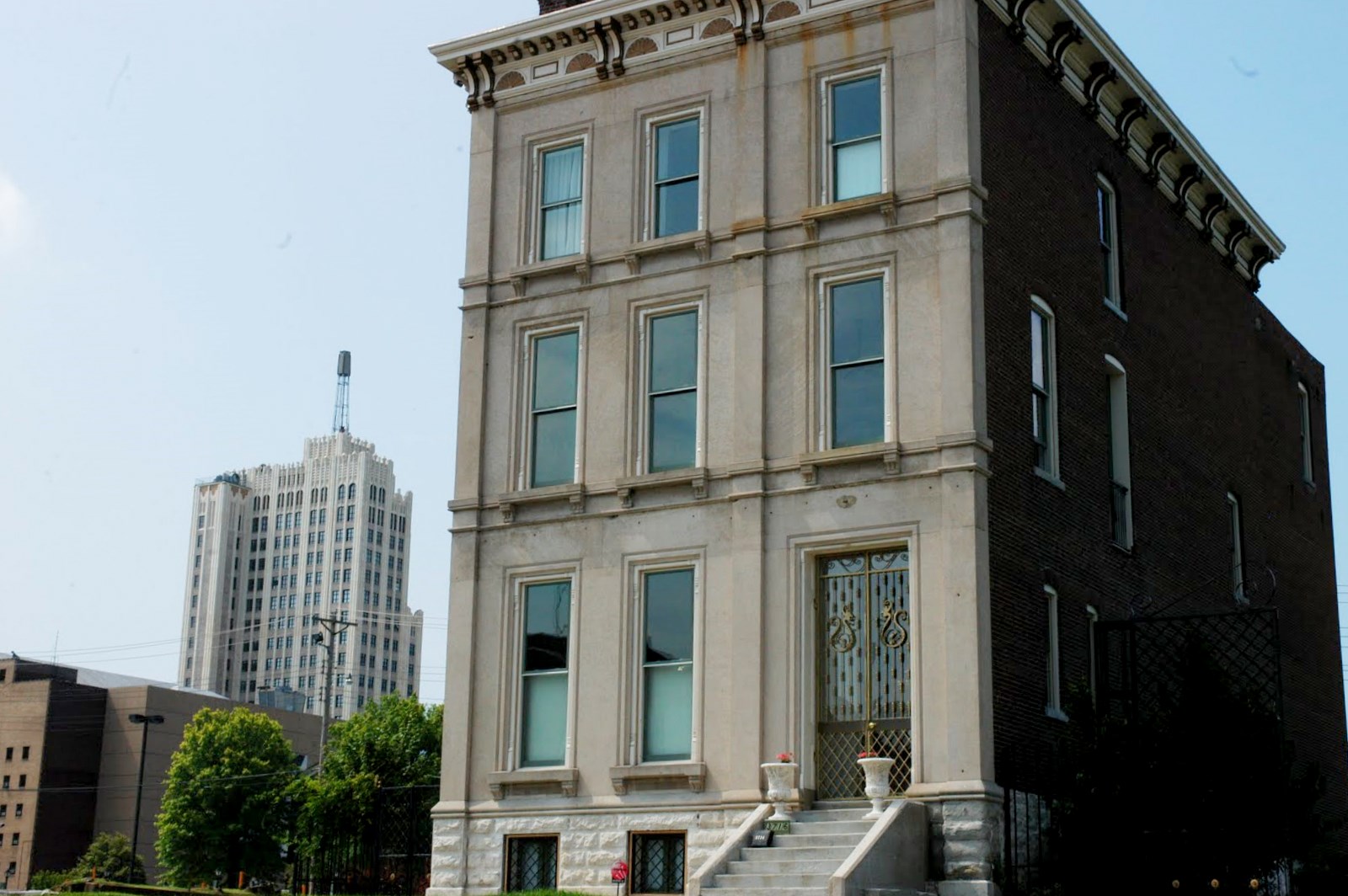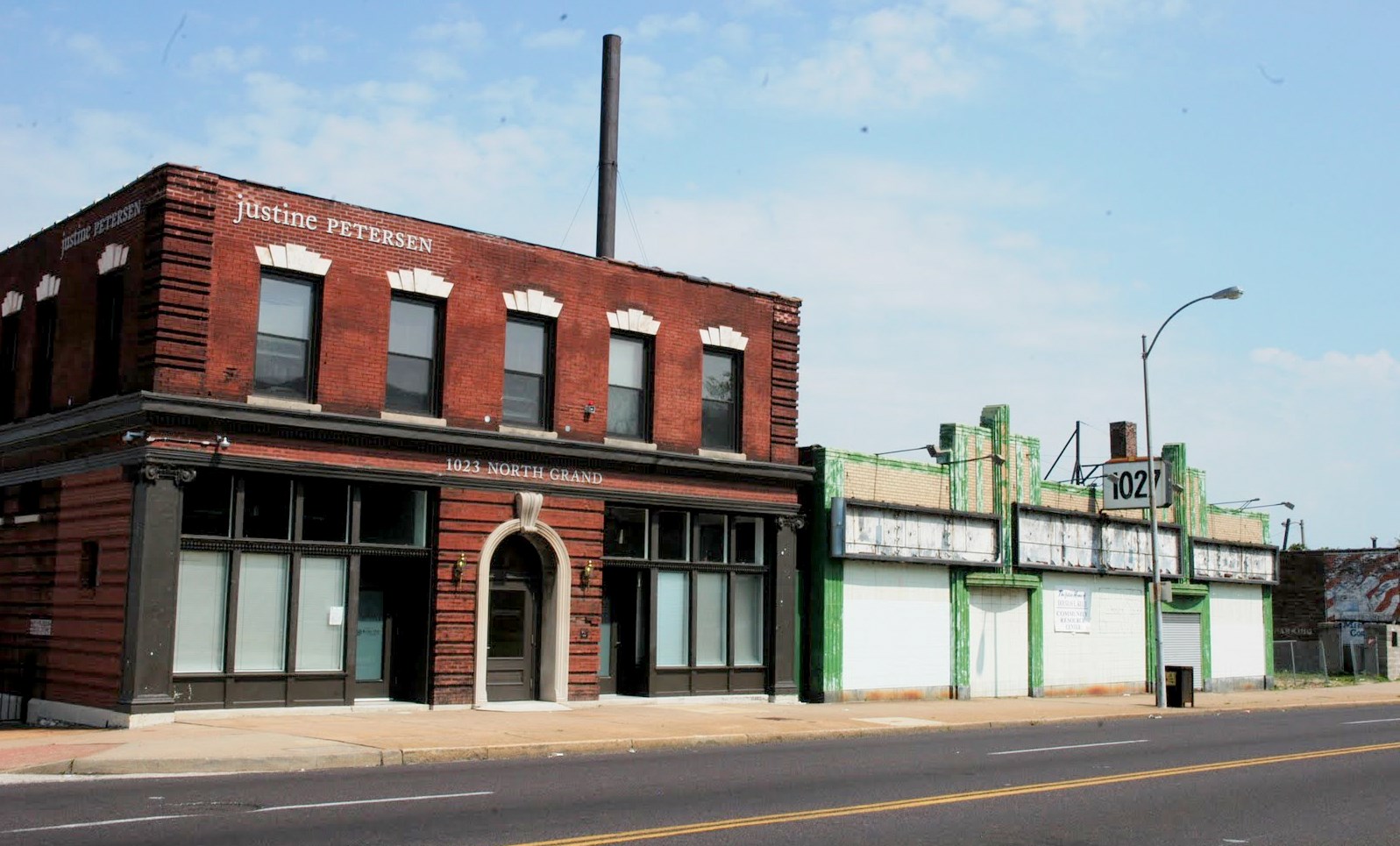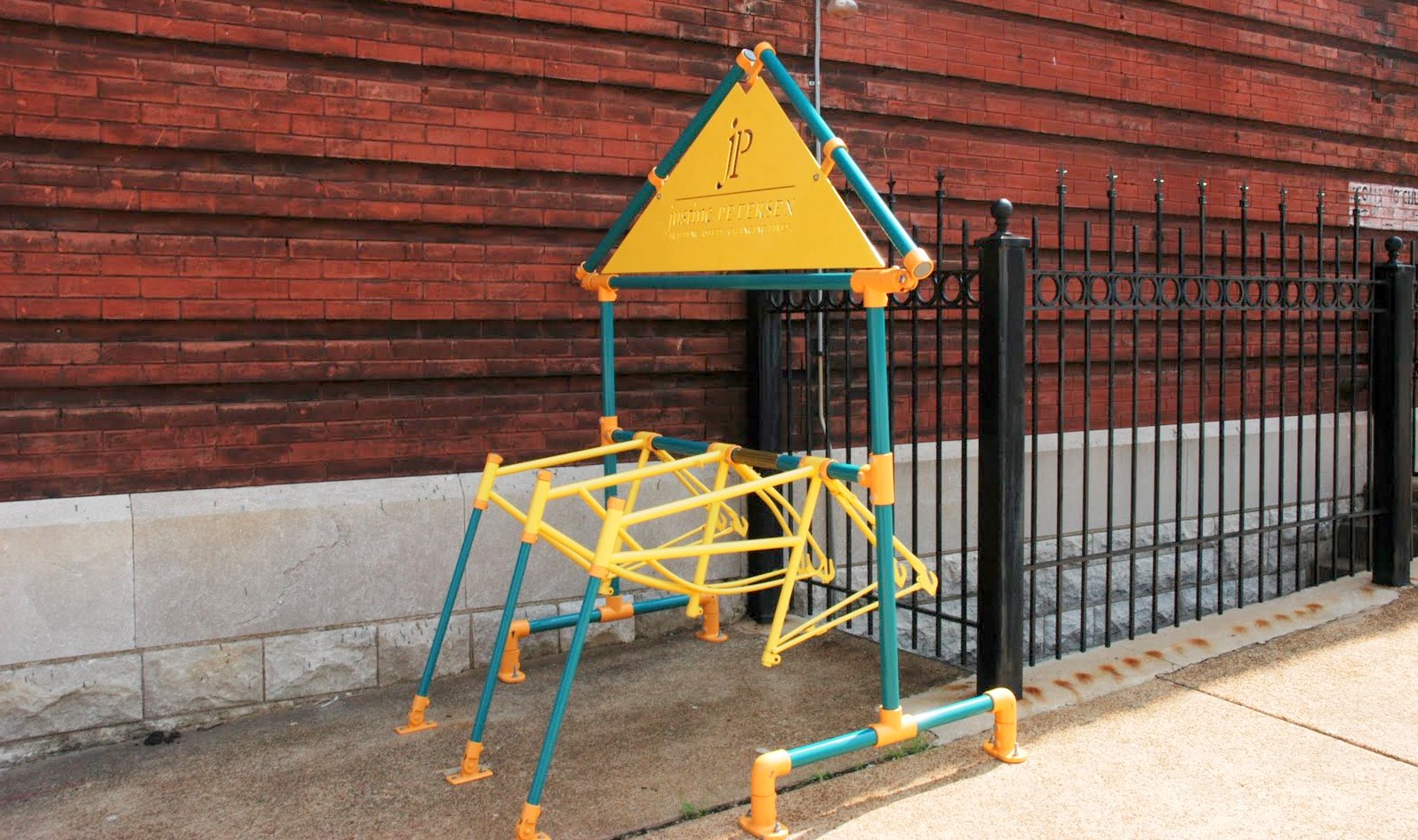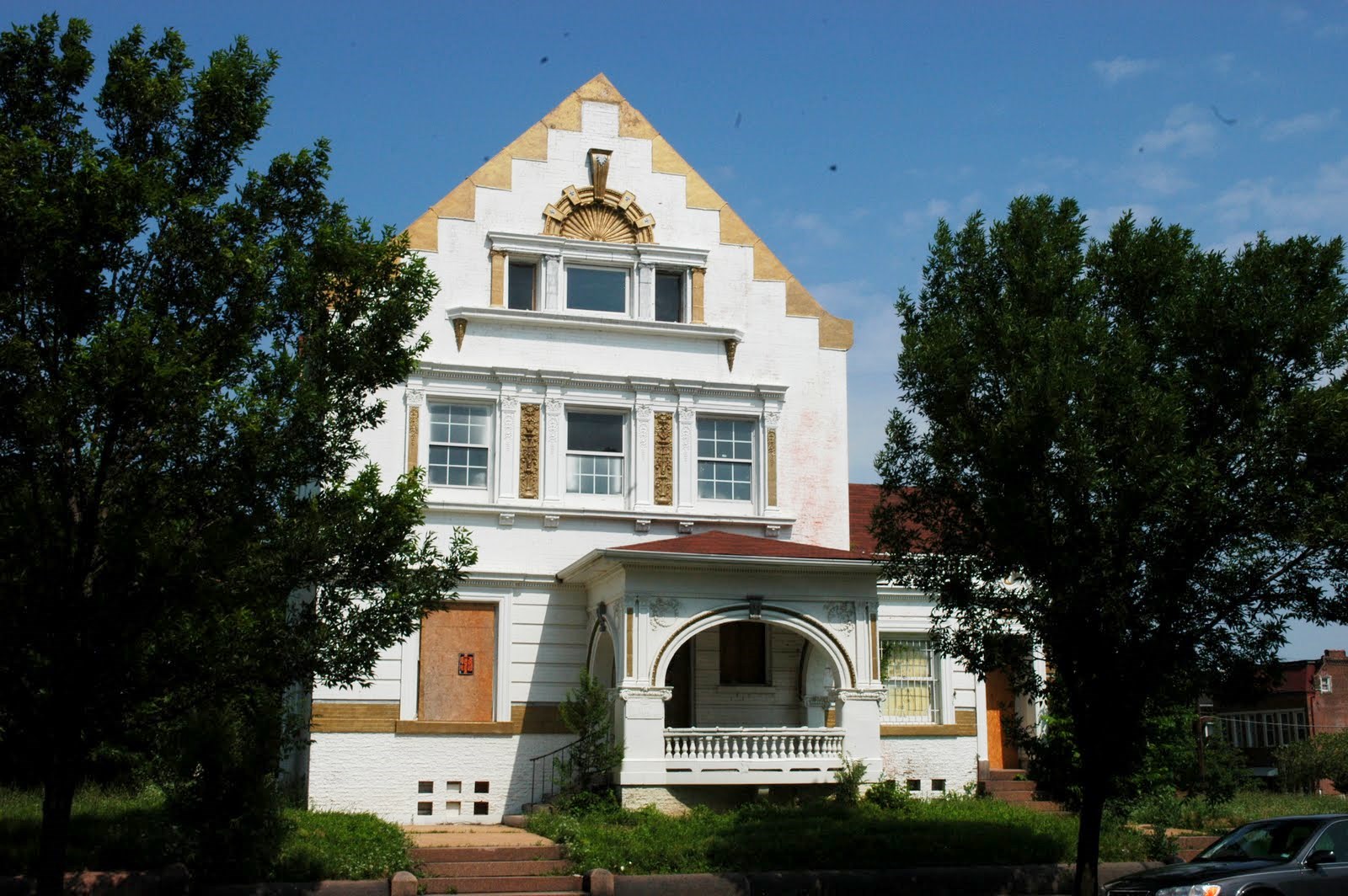 Gateway Greening, one of St. Louis' greatest resources, has a home base of sorts in CBGC at the Bell Garden: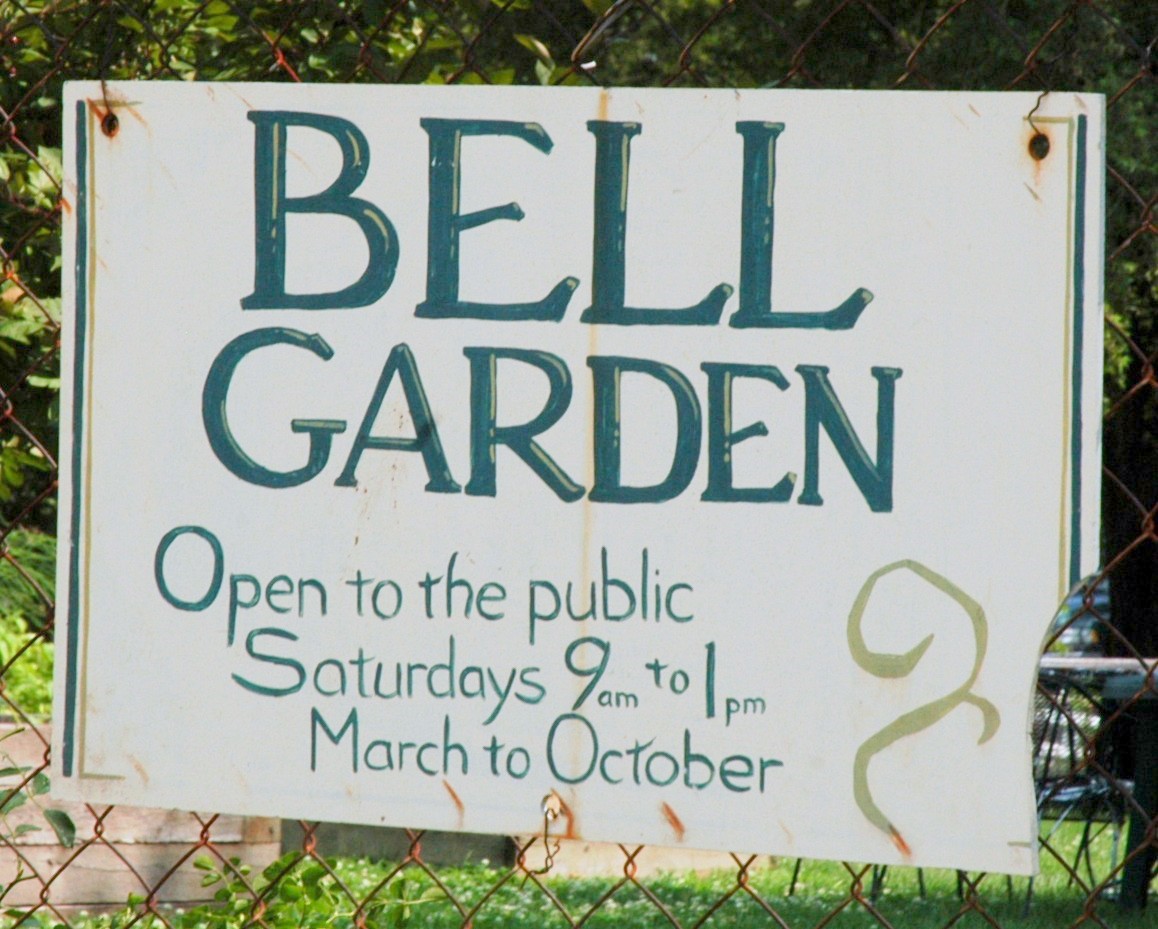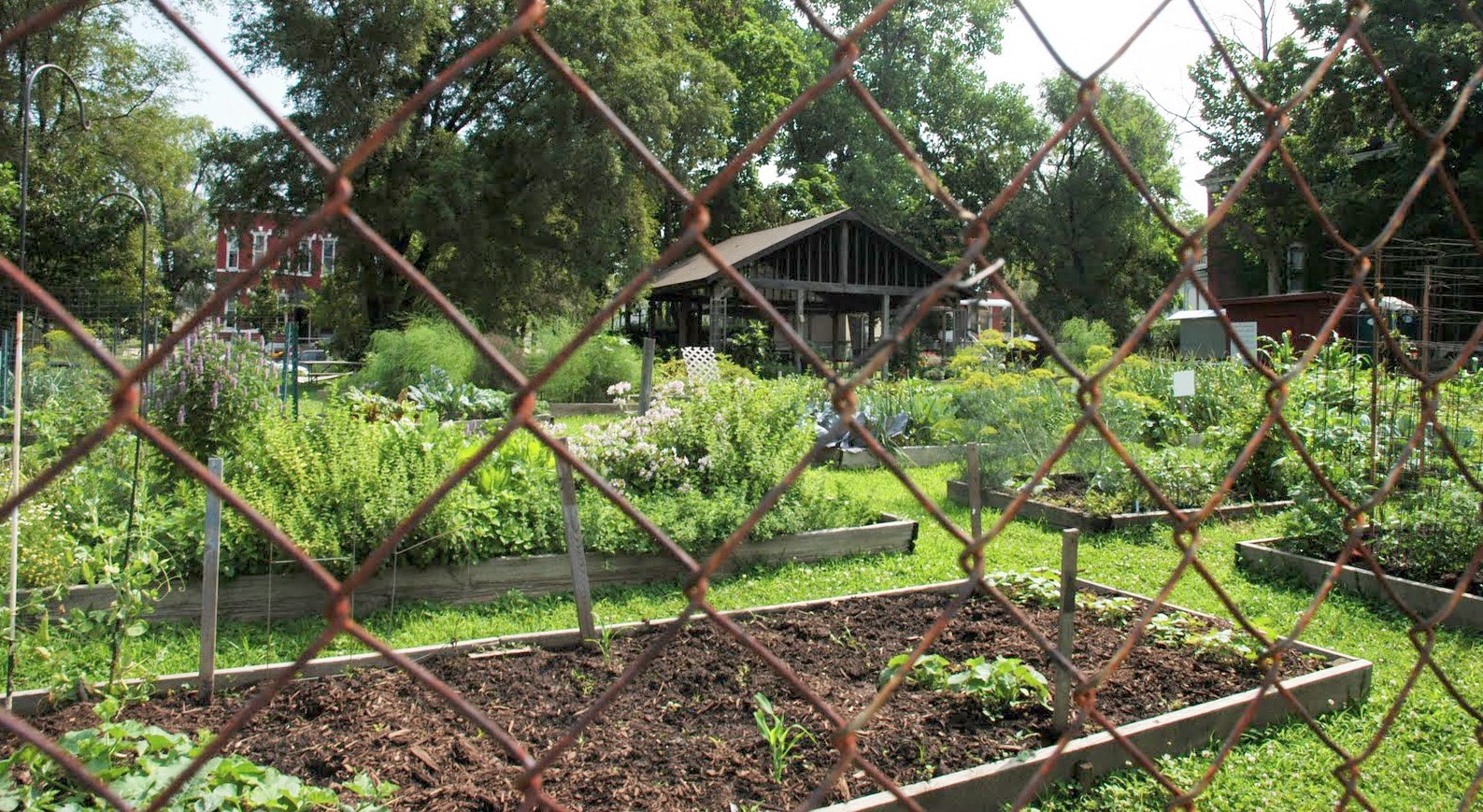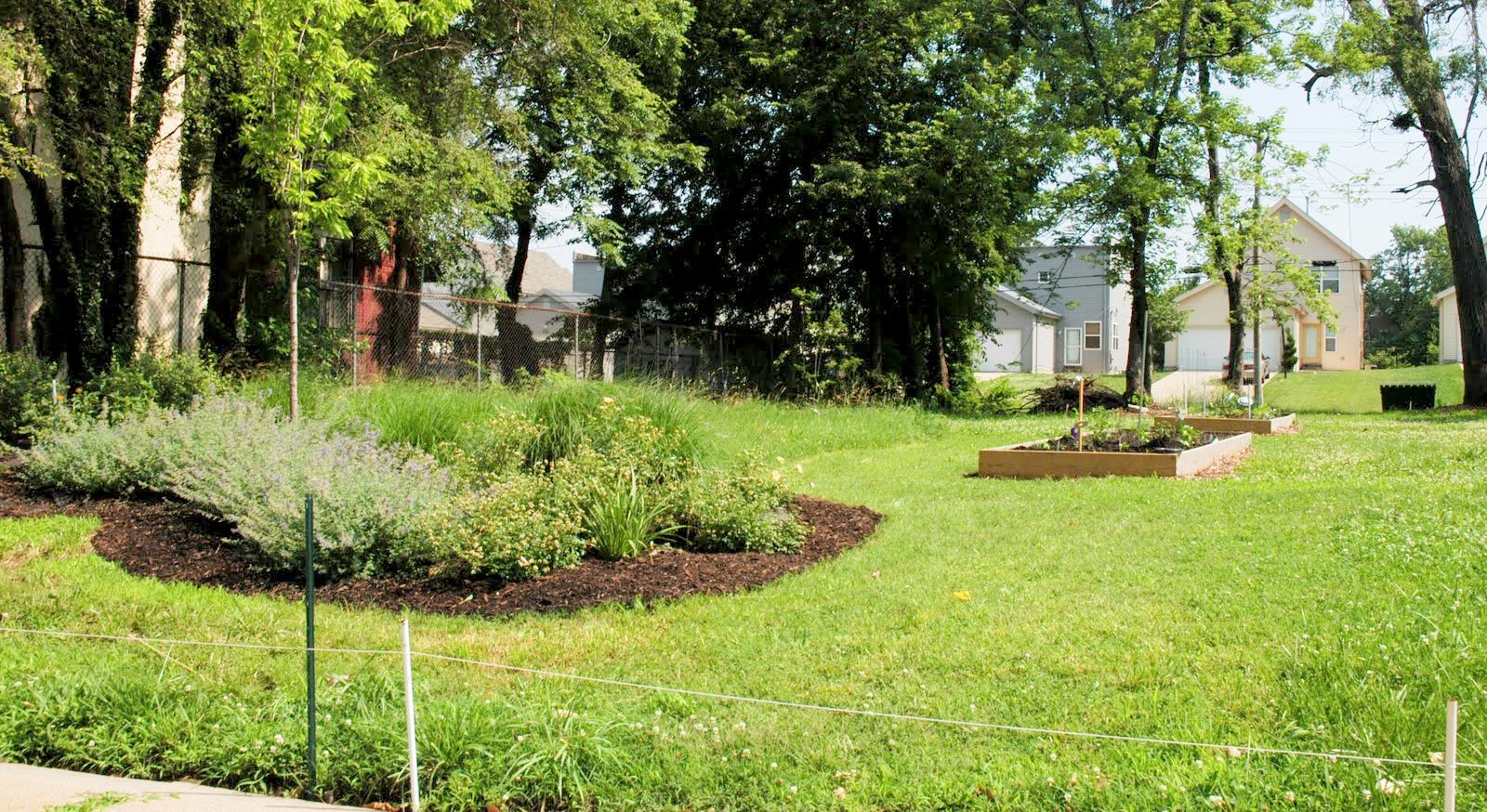 There are a couple noteworthy schools to mention. Cardinal Ritter College Preparatory and the Clyde Miller Career Academy: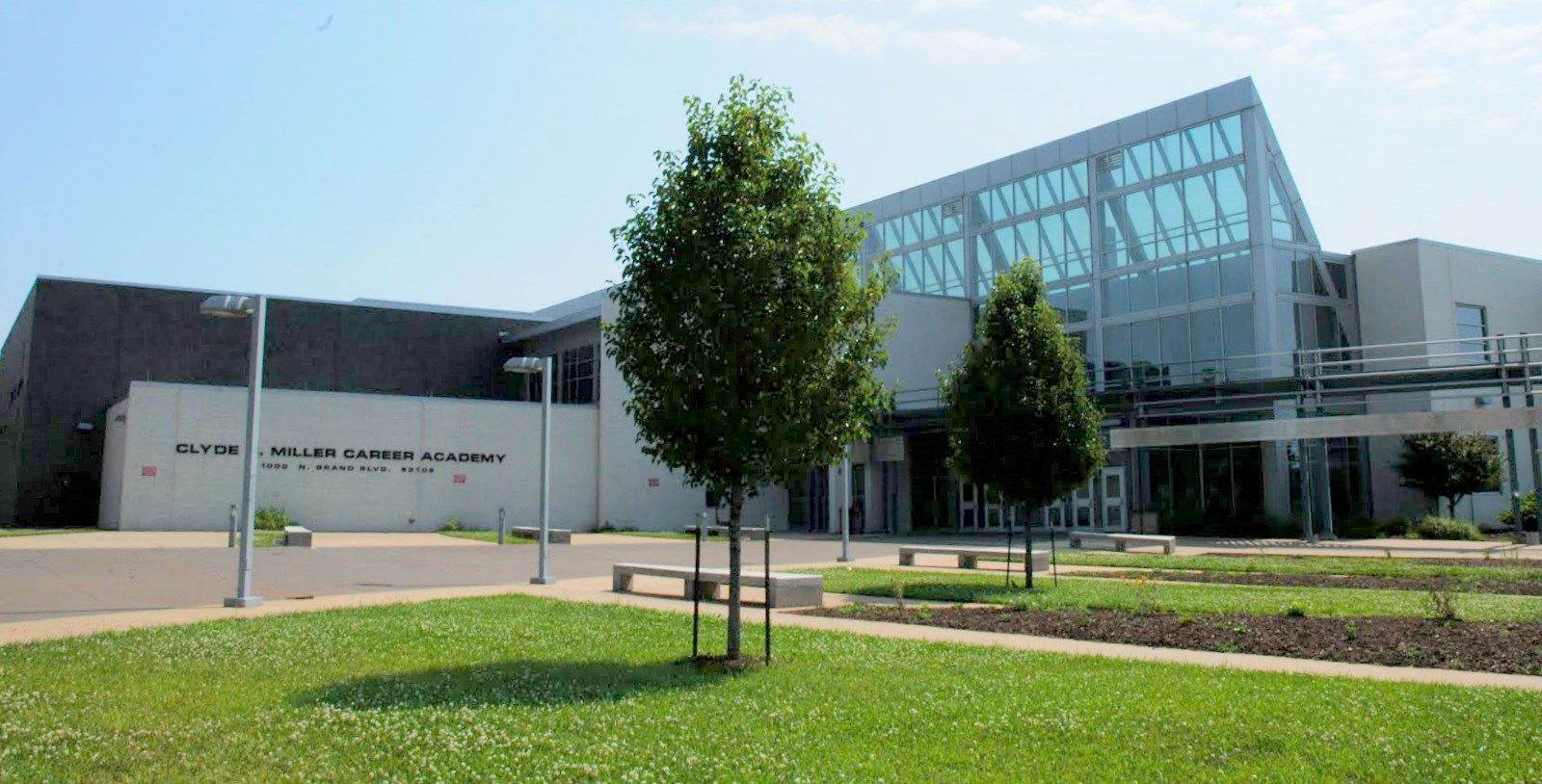 Cardinal Ritter: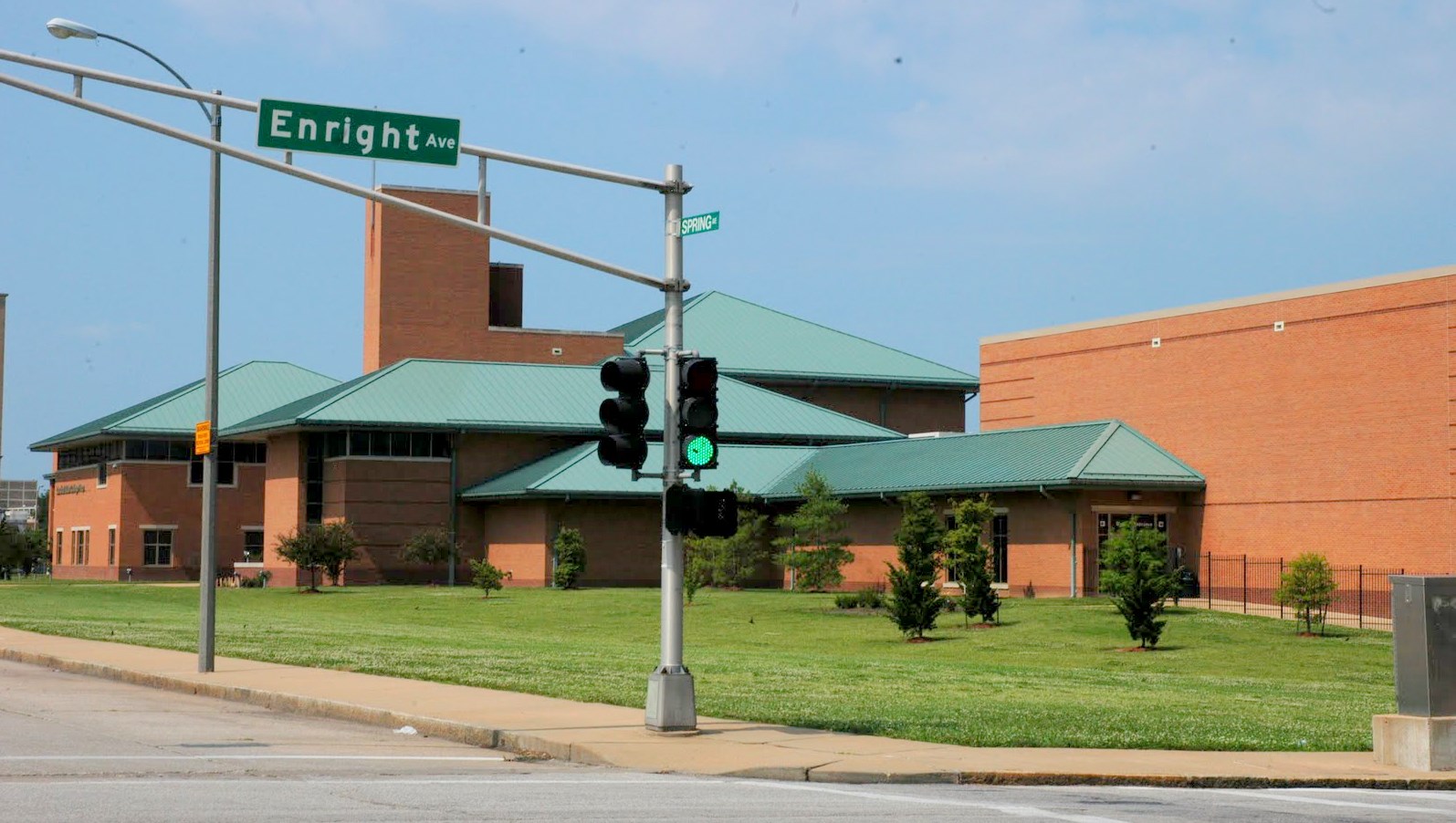 The churches are awesome, as usual in this town. You have the famous St. Alfonsus "the Rock" Church which was dedicated in 1872 and was struck by lightning in August, 2007 which resulted in a 5-alarm fire.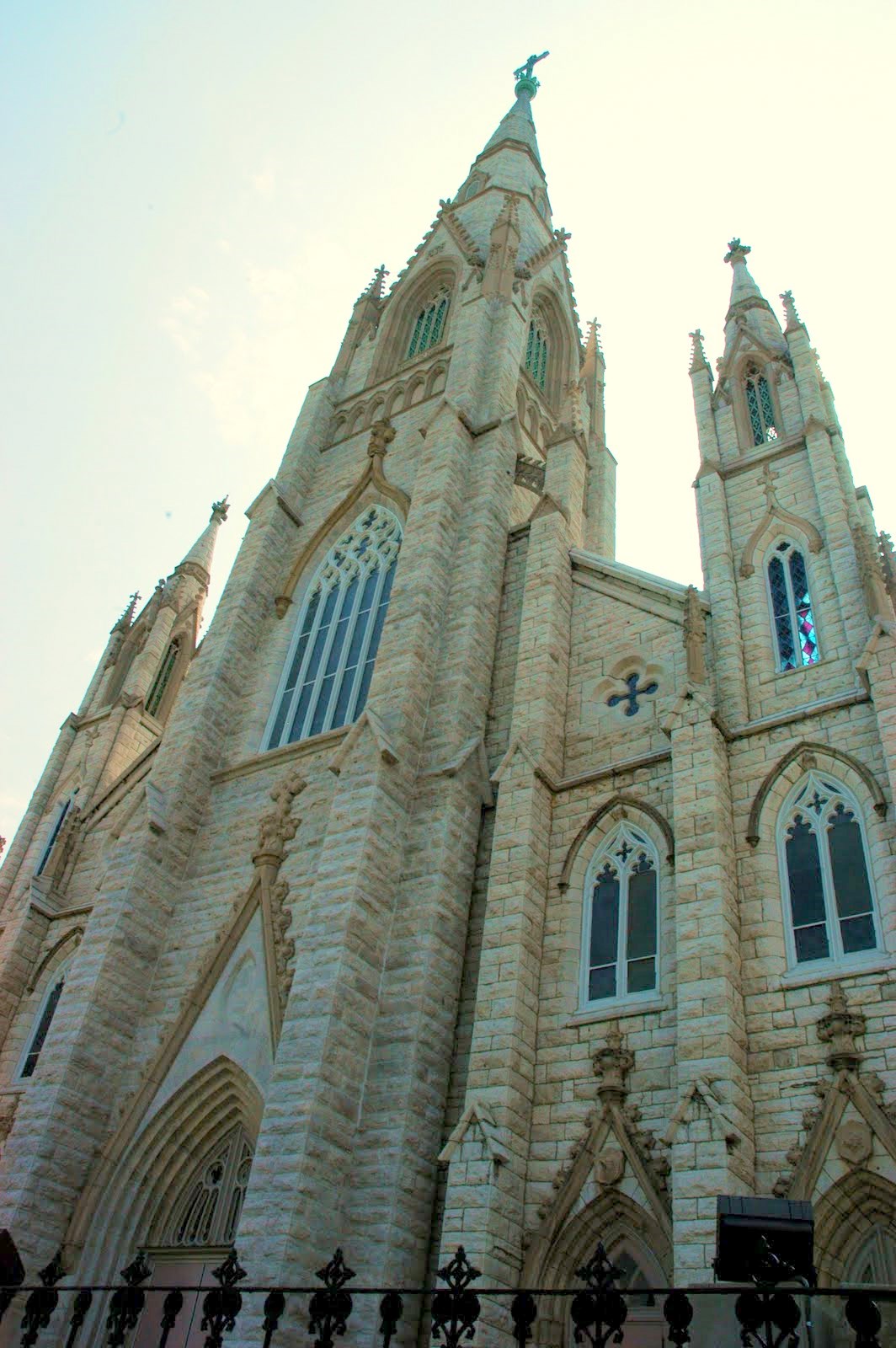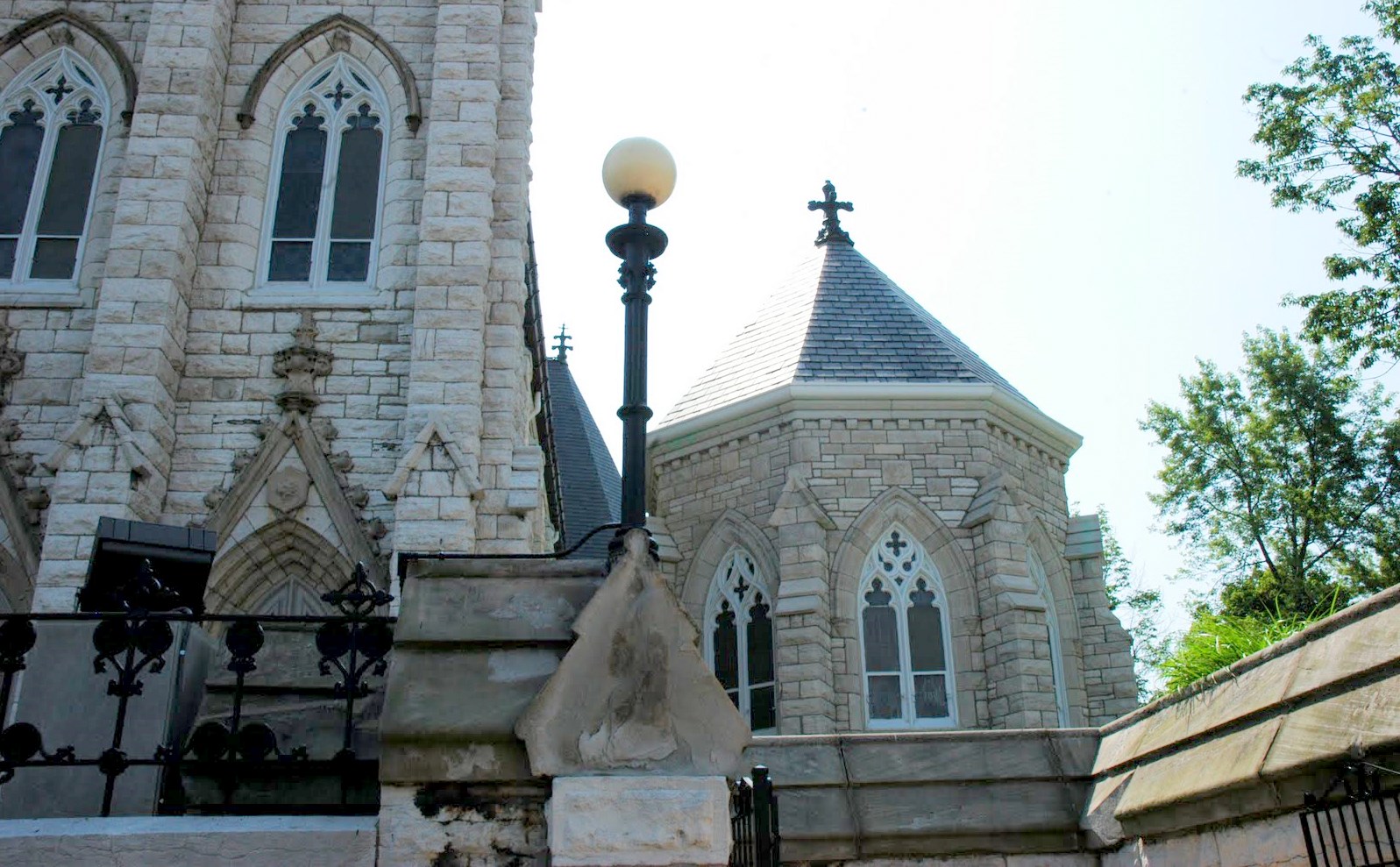 And others: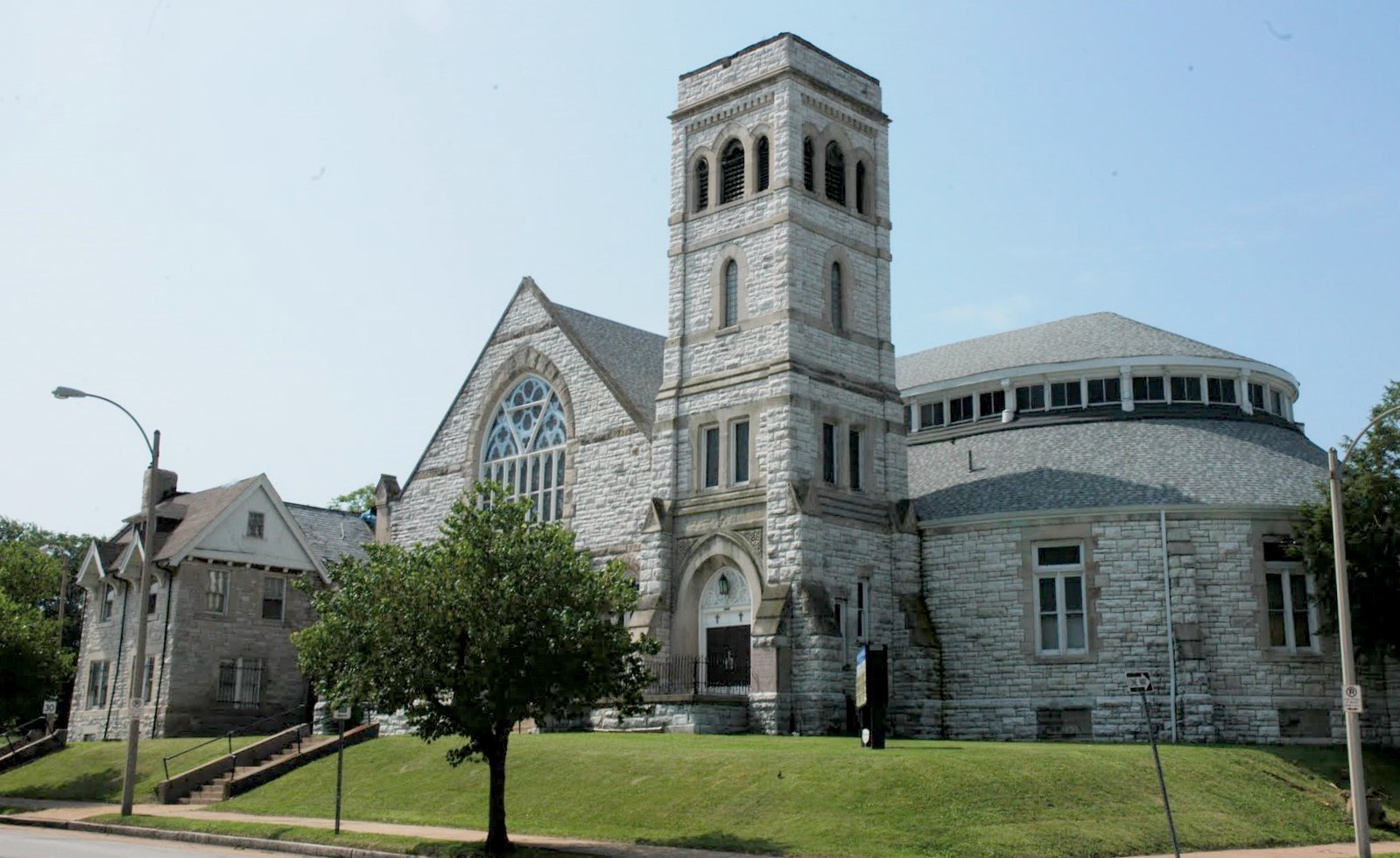 The shell of the church below was recently used as the stage for an incredible art installation. Photos of the project are from Common Lights: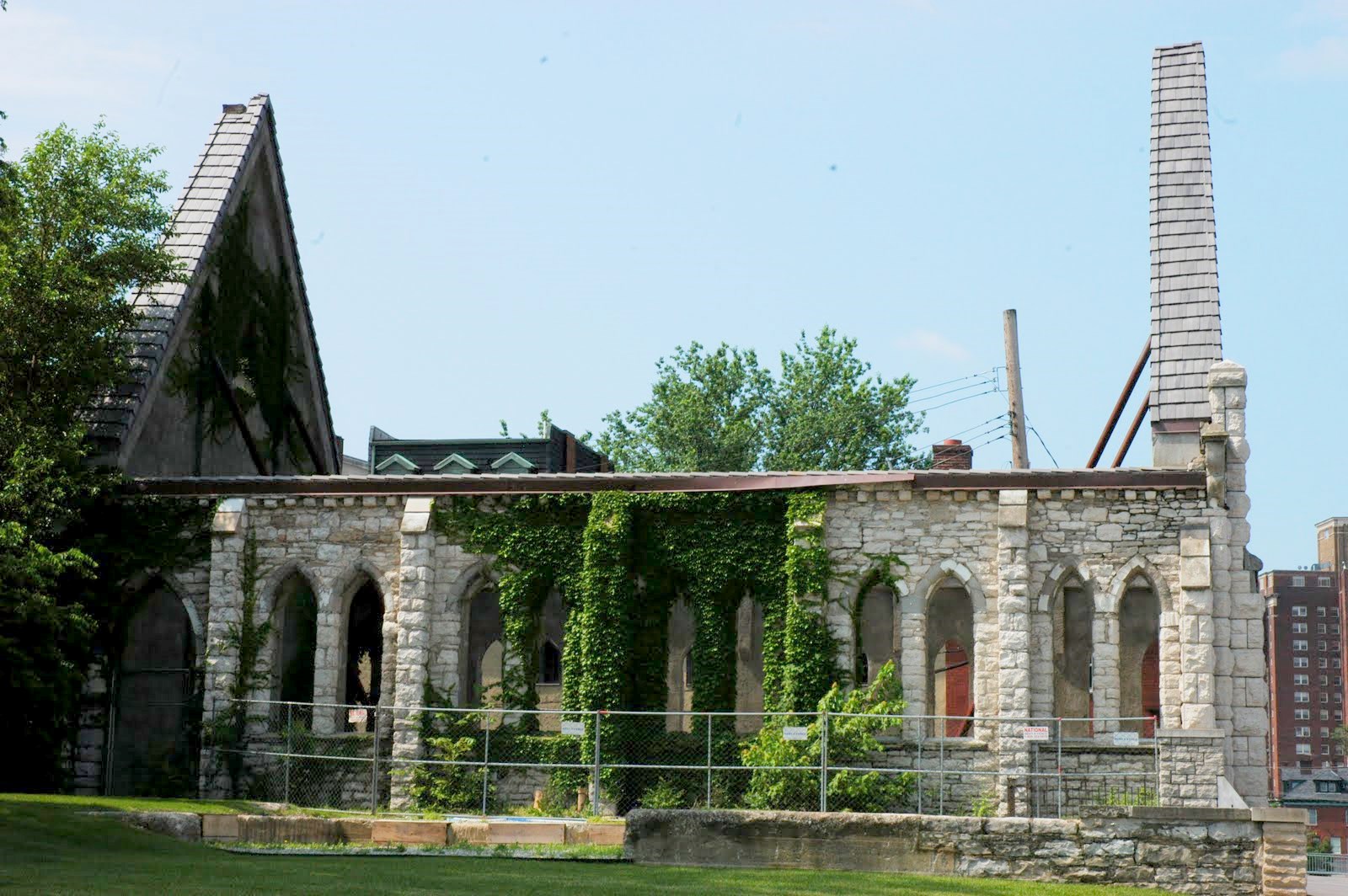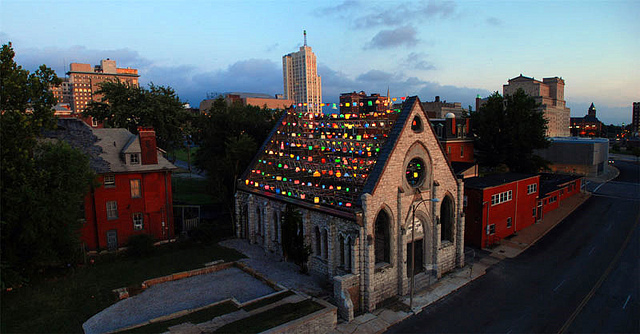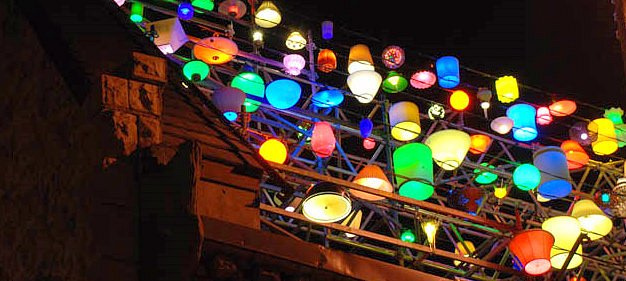 A tribute to a St. Louis classic: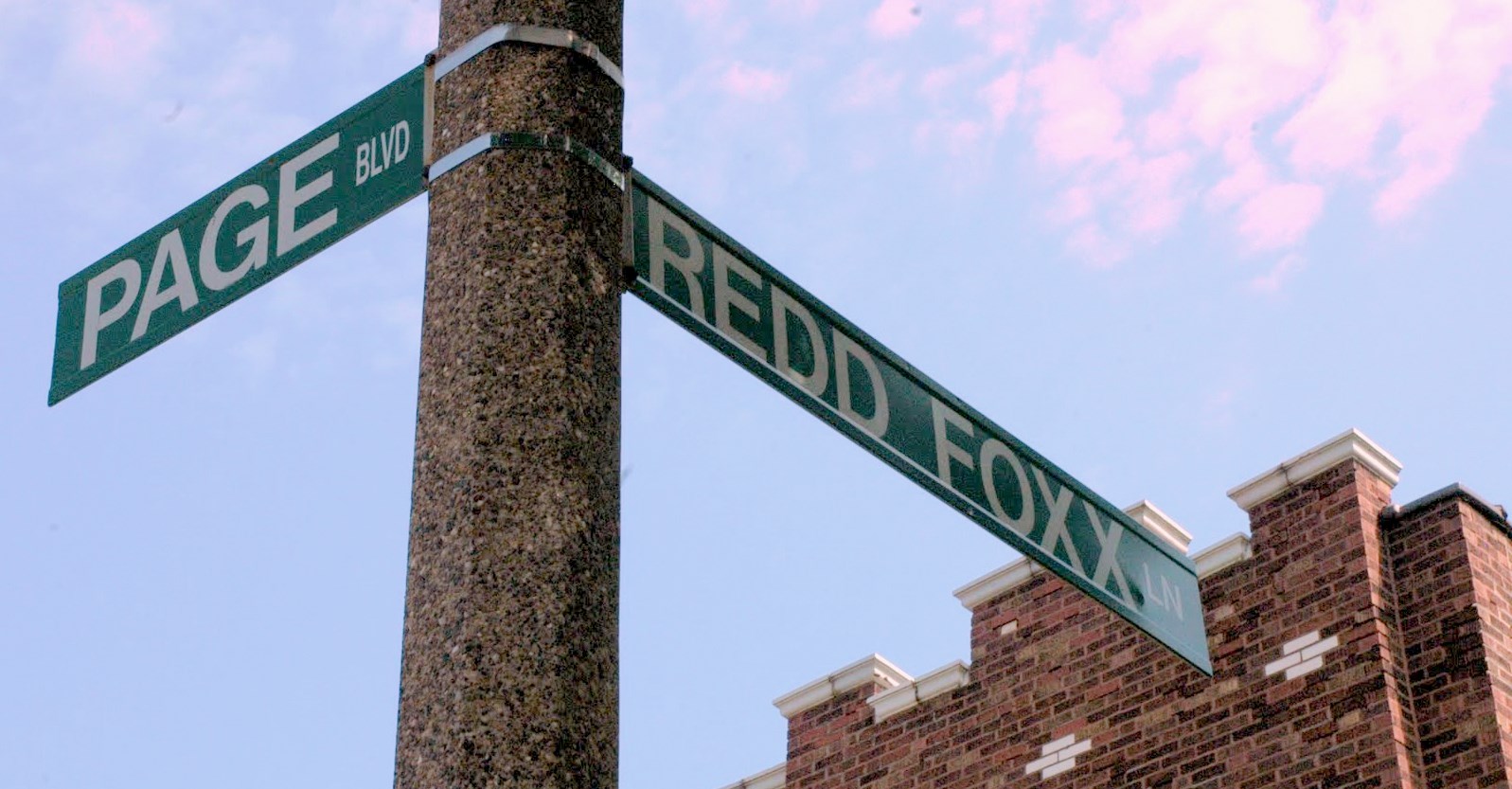 And some other miscellaneous sites.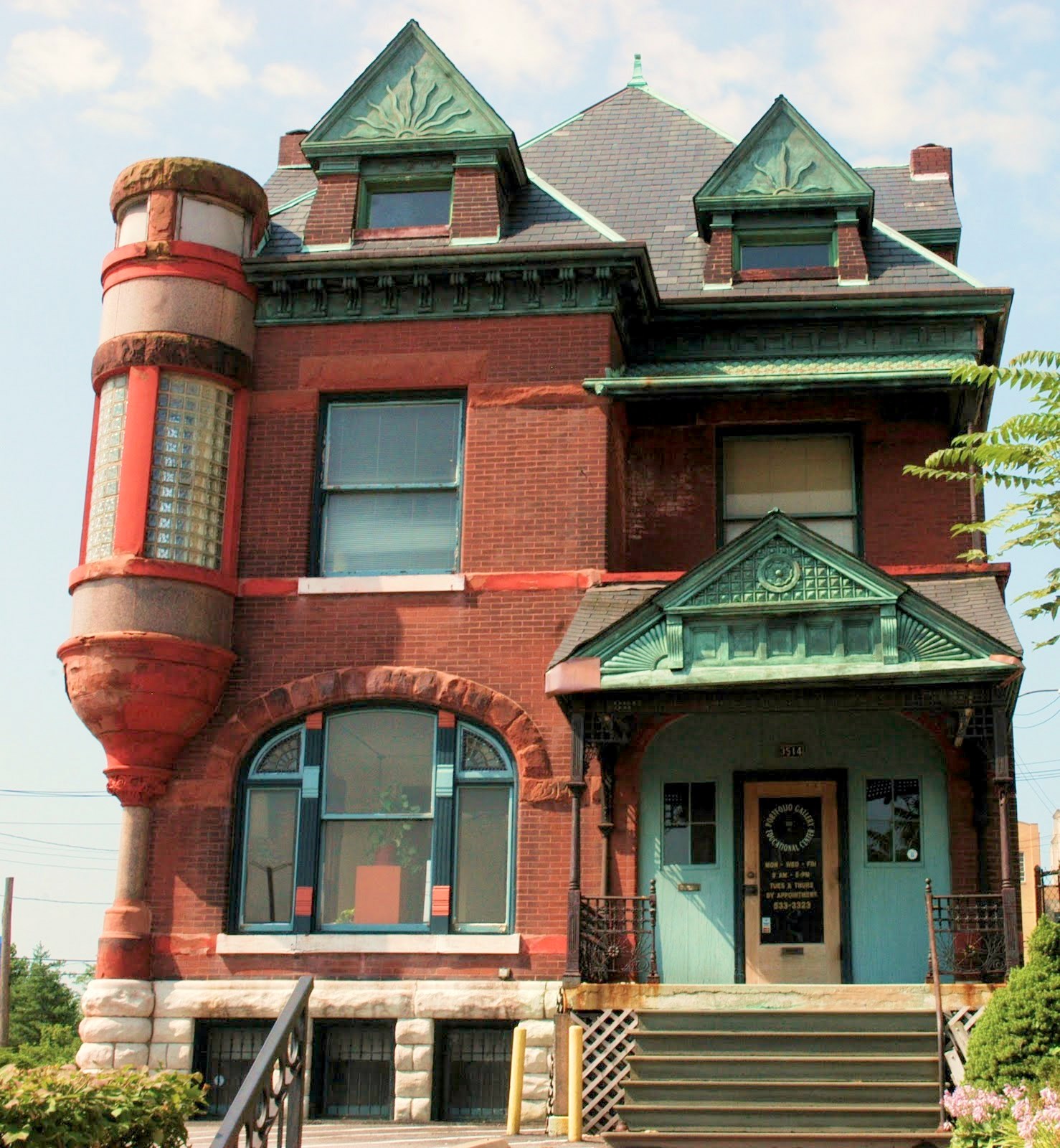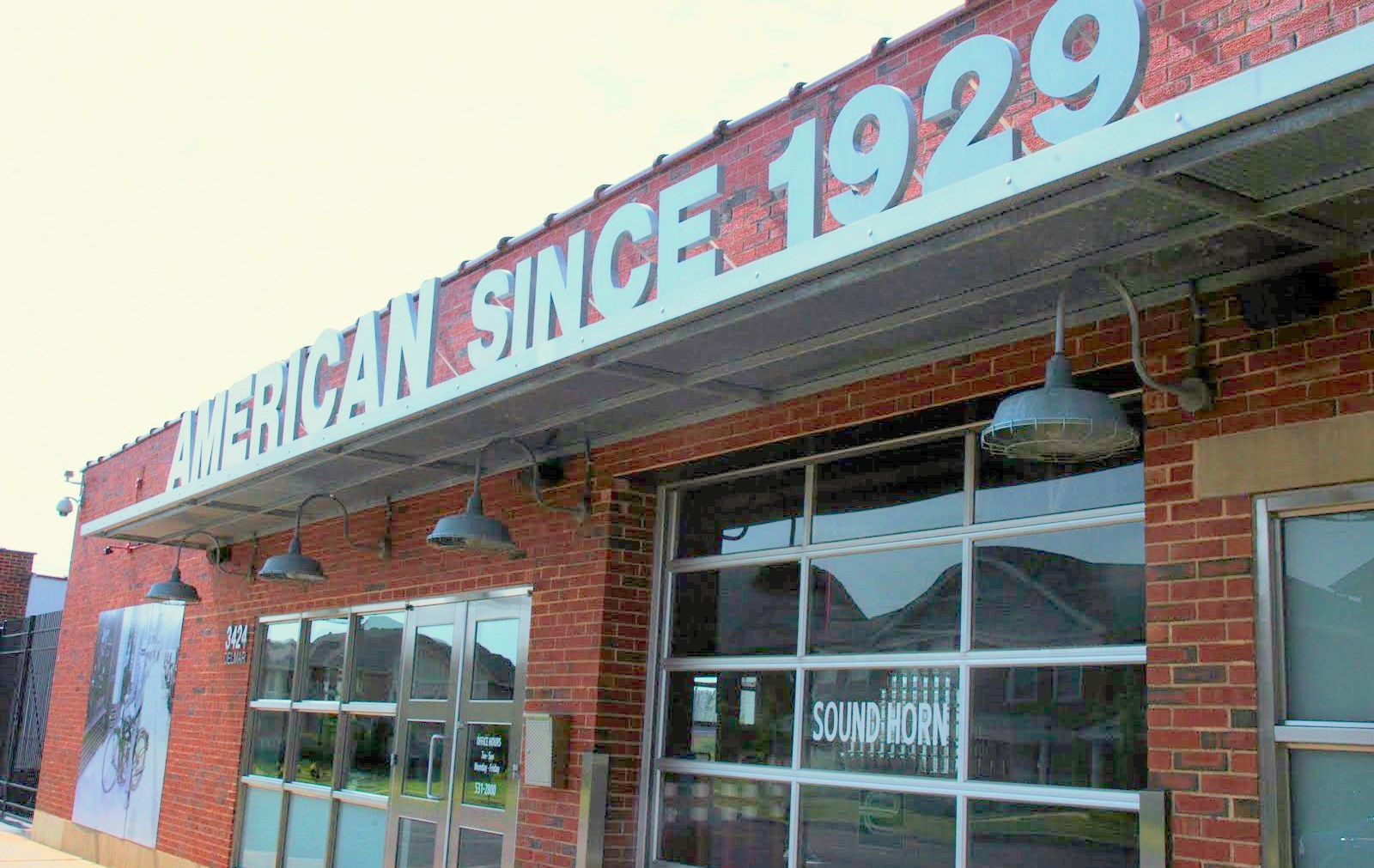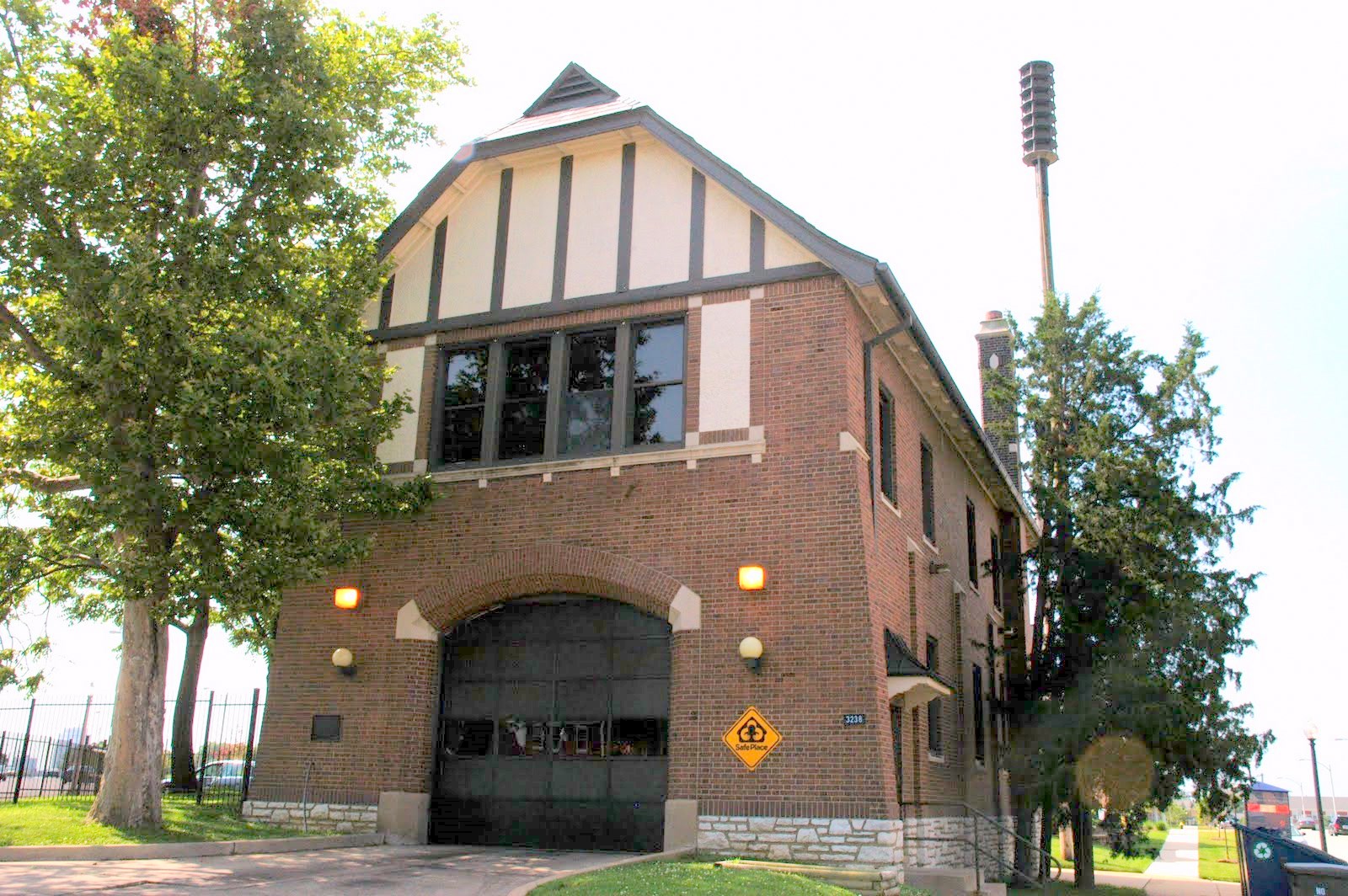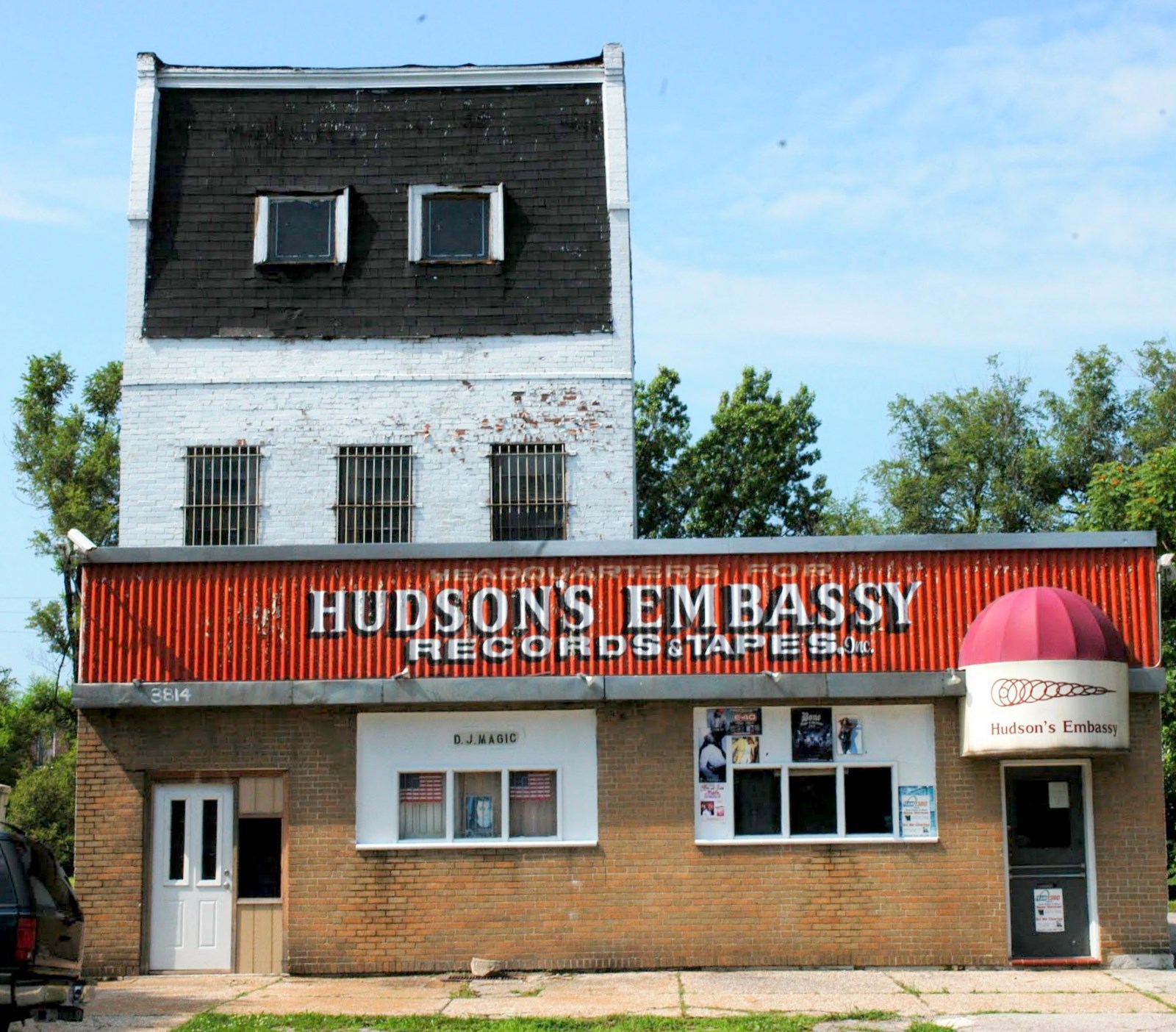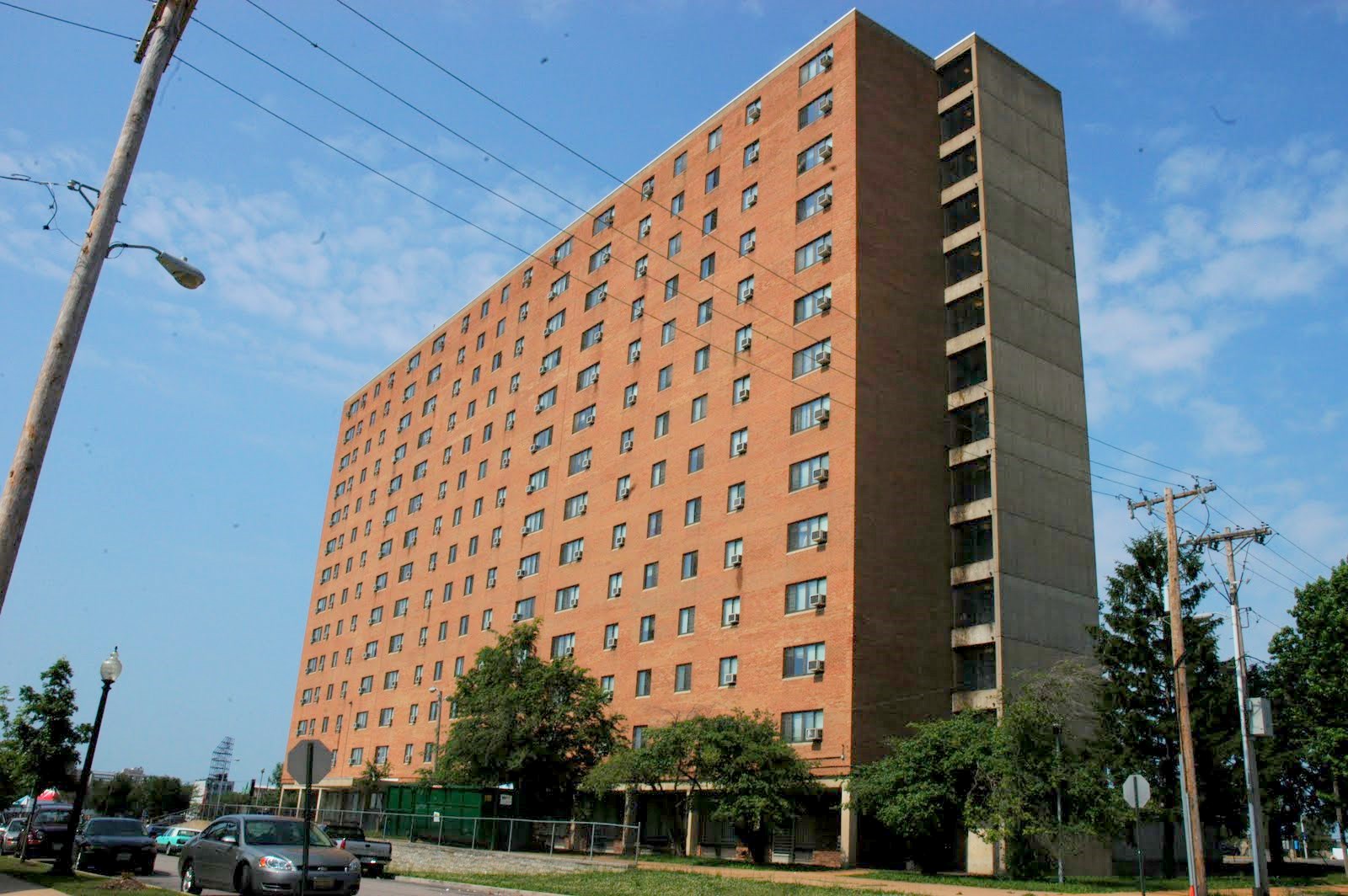 Next time I visit CBGC will be to get a vanilla shake at City Diner, and head over to Strauss Park to enjoy my new book Devil At The Confluence, a history of pre-war St. Louis blues music (thanks sis). With any luck, one or more of the big plans for Grand Center will be on its way to becoming reality. It's already the center for cultural institutions in the city, a few more developments could make it a true landmark neighborhood.